We research, evaluate and select travel destinations based on a number of factors, including our writers' experience, user reviews and more. We may earn a commission when you book or purchase through our links. See our editorial policy to learn more.
Was this article helpful?
---
A trip to New Mexico's largest city is not complete without taking in the city's culture and exploring the architectural styles of its Native American and Spanish ancestry.
Albuquerque is a quirky town. Known for its murals, galleries, monthly art crawls, and annual hot air balloon festival, it's a historic city whose residents pride themselves on their creativity.
A visit to ABQ starts in Old Town, where in 1706, early Spanish settlers put down roots not far from the Rio Grande. Today, it's Albuquerque's cultural center, with numerous museums, hundreds of shops, galleries, and restaurants. One of the main attraction's is the San Felipe de Neri Church, which was built in 1793 and now has an adjacent museum with religious artifacts.
And with 310 days of sunshine, Albuquerque's outdoors scene is always in play. For an excellent view of the city, take the aerial tramway to the 10,378 foot summit of Sandia Peak. There are also hundreds of hiking and biking trails in the Sandia Mountains. And the 24,000 ancient rock carving of the Petroglyph National Monument are also well-worth a visit.
With so much to do you'll want to spend the night, and depending on your preferences, one of these vacation rentals in Albuquerque should do the trick.
Whatever your reason to visit, choosing any of these vacation rentals will make you feel right at home.
Related Read: 8 Secluded New Mexico Cabins for a Relaxing Getaway
1. Casa La Huerta
Why you should stay: Live like a local in an authentic adobe home.
Sleeps: 5
Minimum stay: 3 nights
Rates from: $179/night
Tucked into a quiet neighborhood north of downtown in Albuquerque's Rio Grande district, this adobe home comes with a long history and a lot of character. Built in 1890, the single-story rental has undergone multiple renovations but keeps its charm. It's immaculately landscaped with native plants, sunflowers, lavender and a couple fruit trees.
The home also has a relaxing outdoor space with seating under a pergola, and an interior with both wood and brick floors and a cool blend of new updates and vintage elements. Outdoorsy types will love its proximity to nearby trails.
Check Availability
Related Read: 12 Best Spots to See the Fall Colors in New Mexico
2. Contemporary Uptown Residence
Why you should stay: Large home conveniently located in the Uptown district.
Sleeps: 7
Minimum stay: 2 nights
Rates from: $200/night
Close to the University of New Mexico and within walking distance to a mall and dozens of restaurants and bars, this modern minimalist home is perfect for anyone who wants to get out and explore the ABQ Uptown.
With an open floor plan, three bedrooms, and two full baths, it's a roomy home that becomes a decently priced vacation rental in Albuquerque if you divide the cost by seven. The kitchen has countertop seating ideal for entertaining, and the backyard hot tub is a great way to wind down.
Check Availability
Related Read: 9 Best Hot Springs in New Mexico for Soaking Your Worries Away
3. Modern Adobe Home
Why you should stay: An old adobe home with a modern touch.
Sleeps: 7
Minimum stay: 3 nights
Rates from: $169/night
Old meets new at this charming adobe home in Nob Hill. With its native plants and shrubs, the sand-colored, single-story Pueblo blends seamlessly into the desert landscape. But once inside the unassuming home, it's stunningly modern, especially the open kitchen.
With a large backyard, it's a great spot for a small group. Dogs aren't allowed, but kids (and adults) should have fun running around the lawn.
Check Availability
Related Read: 11 Awesomely Unique Places to Stay in New Mexico
4. Casa Azul
Why you should stay: A cozy, colorful casita in the heart of historic Old Town.
Sleeps: 4
Minimum stay: 3 nights
Rates from: $145/night
This cute cottage plays a lot larger than its 650 square feet. A vibrant space, the one-story home stays true to its New Mexican roots a fireplace and warm tons. It also showcases southwestern furnishings and crafts from local artisans, making it feel more like a suite in a boutique hotel than an entirely private vacation rental in Albuquerque.
Home chefs will find comfort in the kitchen – though quite small, it's very functional.  It mixes granite countertops with retro appliances and weathered wood cabinets, while a private courtyard with a porch swing adds an outdoor dining option. For those not keen on cooking, it's just a short walk to the restaurants and bars of Old Town Albuquerque.
Check Availability
Related Read: 7 Awesome Scenic Drives in New Mexico
5. Pool Home in the Foothills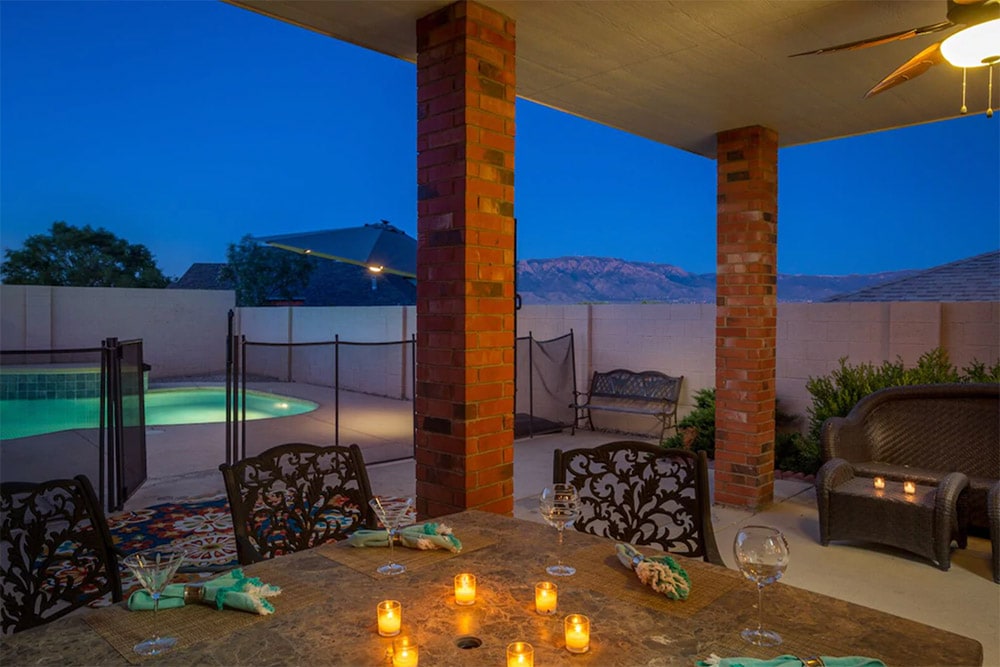 Why you should stay: Splash in your private pool after a long day of hiking.
Sleeps: 7
Minimum stay: 3 nights
Rates from: $200/night
After a day spent tackling the challenging La Luz Trail in the Sandia Mountains or a more moderate loop in the foothills, you'll love returning to this mountain view home to relax in the jacuzzi and play in the private pool. The outdoor space, with a covered dining area and the Sandia range in the distance, is absolutely stunning at sunset and feel like it was built for stargazing. If you're traveling with kids, they'll love the bunk bed room.
"My family stayed here for a few days and my kids loved it. It was very homey and clean, and was in a great location! Although it was still cold [in April] for pool time, we enjoyed the jacuzzi every day."
Check Availability
Related Read: 9 Beautiful Hikes Near Albuquerque, New Mexico
6. Mountain View Home
Why you should stay: Home in a gated community near the Cibola National Forest.
Sleeps: 6
Minimum stay: 3 nights
Rates from: $169/night
This sun-splashed home is designed to let the light shine in. Taking advantage of Albuquerque's endless sunshine, the three-bedroom house features several large windows and sliding glass doors inviting renters to enjoy their morning coffee in the light-filled breakfast nook.
This house in a gated community is the perfect vacation rental in Albuquerque if you're planning to hike, mountain bike, fish, camp, boat, or do just about anything else in the nearby Cibola Forest. The home has views of the Sandia Mountains and sits in a prime location near hiking and biking trails, along with several running and walking paths. After you get your cardio in, it's just a short drive to shops, movie theaters, restaurants and microbreweries.
Check Availability
Related Read: Take the Scenic Route on an Epic Denver to Albuquerque Road Trip
7. Bungalow in Nob Hill
Why you should stay: Quiet cottage near the University of New Mexico.
Sleeps: 4
Minimum stay: 2 nights
Rates from: $105/night
Tucked into the hip Nob Hill neighborhood, which is packed full of eclectic shops and cool hangouts, this little bungalow is ideal for a relaxing stay. A delightful sun room, dining nook, and cheery kitchen with sky blue walls and yellow countertops is sure to brighten your mood – as will the backyard. The comfortable outdoor space has shaded sitting and dining areas, and a grill for barbecuing.
Even if you're not visiting students or attending a university event, this is one of the best vacation rentals in Albuquerque if you like taking evening or morning jogs as the campus is perfect for runners and walkers.
Check Availability
Related Read: 11 Magnificent Hikes Near Santa Fe, New Mexico
8. Spacious Nob Hill Home
Why you should stay: Large neighborhood home in the University District.
Sleeps: 12
Minimum stay: 2 nights
Rates from: $225/night
Shoot hoops in the front yard and grill or just relax on the shaded patio out back at this quiet, remodeled home in a family-friendly neighborhood. It's a place where you'll feel like you're part of the community.
Renters rave about the well-stocked kitchen which has plenty of counter space to prep while chatting with other guests as they relax in the nearby living room. Centrally located by the university in Nob Hill, it's close to the city's major attractions like the ABQ BioPark and the Museum of Natural History and Science.
"The home is very well appointed and the personal touches made it one of the best places we have stayed. Neighborhood is very nice and safe."
Check Availability
Related Read: 10 Relaxing Cabin Rentals Near Taos, New Mexico
9. Nob Hill Apartment
Why you should stay:  One of the most affordable vacation rentals in Albuquerque for a couple's getaway.
Sleeps: 2
Minimum stay: 2 nights
Rates from: $55/night
This cozy apartment is ideal for solo travelers or a couple who don't demand much space but still want to be in the middle of the city.
Walls splashed in pastel green and baby blue, along with pops of yellow and brightly colored dishes make for a fun environment and comfortable, affordable stay. It's in a historical building, so know you might hear your neighbors here and there — it's best for people who plan to see the city, not relax inside all day.
Check Availability
Related Read: 12 Enchantingly Romantic Getaways in New Mexico
10. Ranch Estate with Pool
Why you should stay: Large property perfect for family groups, retreats, or reunions.
Sleeps: 18
Minimum stay: 2 nights
Rates from: $499/night
Groups can spread out at this 4,000-square-foot ranch-style home. Centrally located near hiking and biking trails and within 20 minutes of the mountains, downtown, and Nob Hill, it's a place worthy of a look if you're traveling in large numbers. Members of your group can also add services with the owners, like in-house massages or airport pickups.
The house comes with five bedrooms with a collective 15 beds and 3.5 baths. Two family suites include additional space and privacy: one with a separate children's sleeping lounge and another with a triple bunk bed. Both kids and adults will enjoy the game room, which contains an air hockey table, dart board and ping pong, while the living space extends to the backyard where a heated pool, hot tub, fire pit, gas grill and smoker await. You get plenty of amenities for a price that would get half of this (at best) in other cities.
Check Availability
Related Read: 10 Rad Weekend Road Trips from Albuquerque, New Mexico
11. Luxury Home on a Hill
Why you should stay: A palatial home in the hills overlooking the city
Sleeps: 12
Minimum stay: 2 nights
Rates from: $349/night
This palatial five-bedroom palace has spacious sleeping quarters, an equally large kitchen, and a view of the city from its hilltop perch and second-story, wrap-around balcony. At over 3,200 square feet, the home is comfortable and private enough for large groups.
And with its location in the foothills of the national forest, it's close to the trails and under five miles to bars and restaurants in the ABQ Uptown. It's close enough to everything you want to do that half of your group can go hiking while the other half takes a five-minute drive downtown to shop and explore southwestern art galleries.
Check Availability
12. Turtlehouse
Why you should stay: Quaint and colorful home on the edge of the mountains.
Sleeps: 6
Minimum stay: 2 nights
Rates from: $167/night
Sitting in the foothills of the Sandia Mountains, the Turtlehouse struts out modern appliances and furnishings in the footprint of a classic New Mexican-style pueblo home. It's a three-bedroom, two bath adobe house with an exposed wood-beam ceiling, arched doorways and a kiva fireplace (a signature of southwestern architecture.)
You also get a small backyard with a sitting area and grill, which should be plenty of space for three couples to hang out and enjoy a few local brews.
Check Availability
Explore More in the Southwest
Sign up for Weekend Wanderer to join thousands of readers getting epic travel and gear ideas every week.
Was this article helpful?
---