Rolling green hills, dozens of wineries, acres of olive groves… no, it's not Tuscany — it's the Texas Hill Country.
Found in the central part of the state, the Hill Country is one of the prettiest areas that Texas has to offer with its namesake picturesque hills, colorful wildflowers, and an array of lakes and rivers.
While its landscape, climate, and fast-growing wine region often lead people to compare it to parts of Italy, the charming small towns you'll find peppered throughout it are distinctly Texan. Delicious food and drink, cute boutique shopping, outdoor activities aplenty, and gorgeous scenery await in the Hill Country.
If you're thinking of visiting the Texas Hill Country but you're not sure where to start, check out the towns on our list below. When visiting, you may find yourself surprised by how much there is to do in the most popular areas of the region.
Related read: 7 Charming Glamping Spots in Texas Hill Country
1. Fredericksburg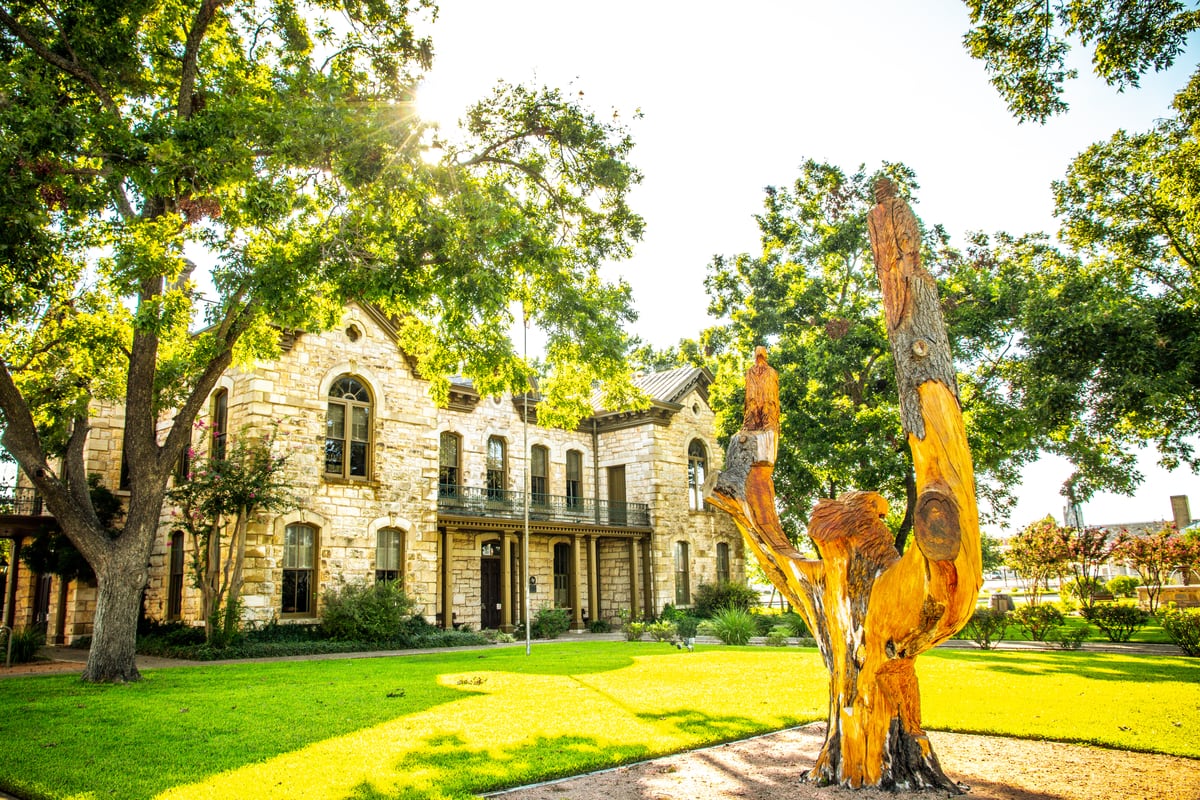 In terms of Texas Hill Country Towns, Fredericksburg is probably the most famous, attracting a wide assortment of visitors from rowdy bachelorette groups to couples looking for a romantic weekend getaway. Its main draw is its bounty of wine with over 50 wineries, vineyards, and tasting rooms in the area.
When you're not sipping, you can brush up on some history at the National Museum of the Pacific War or the Pioneer Museum. Shopping at the many boutiques along Main Street is another favorite activity while in town. If you really want to shop 'til you drop, plan your visit to coincide with Fredericksburg Trade Days, where over 350 vendors sell their wares from local barns. It happens on the third Saturday of every month.
Related read: 10 Romantic Getaways in Fredericksburg, Texas
2. Wimberley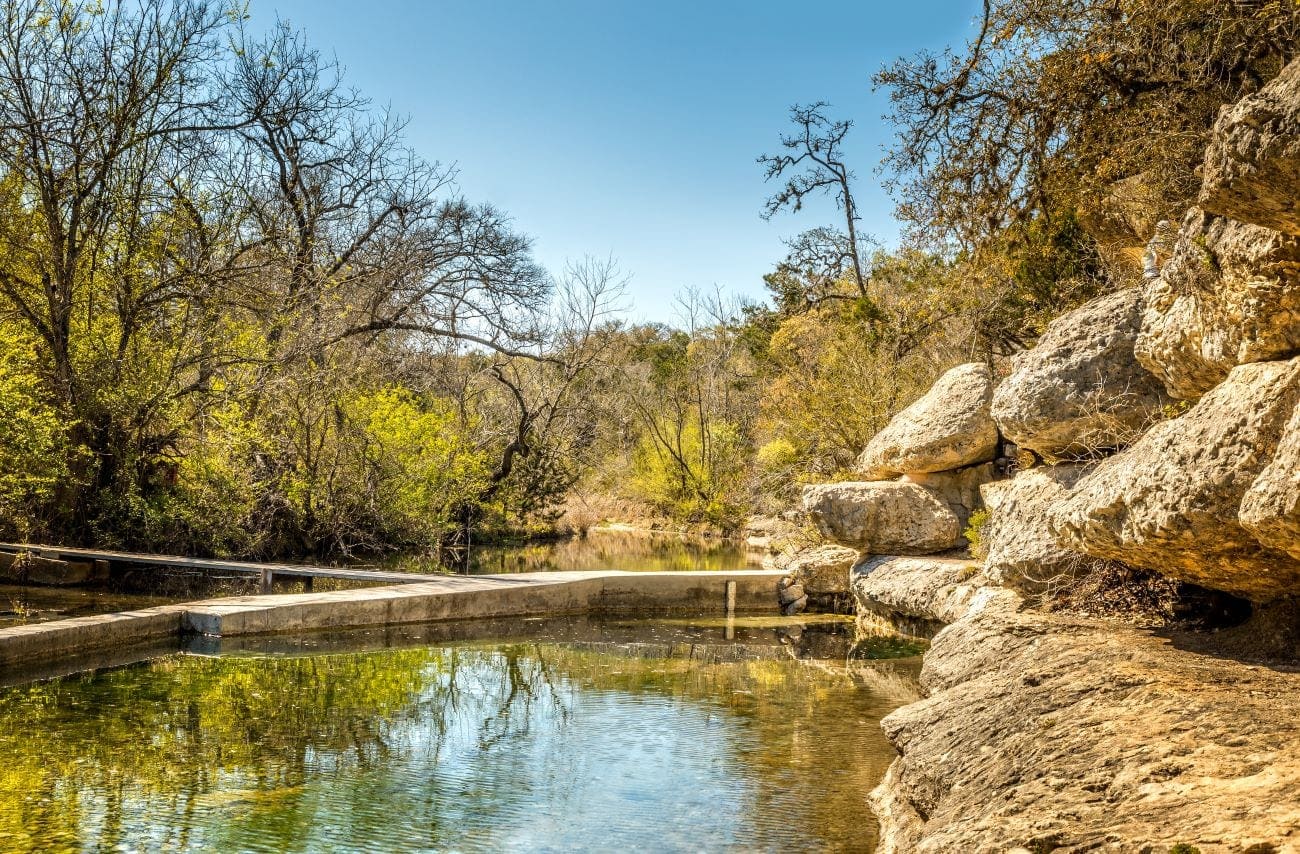 Wimberley is a charming destination for people who want both quaint, small-town vibes as well as loads of outdoor adventure. Art is a big draw here, and you can find tons of galleries clustered around the center of downtown.
For a delicious, seasonal meal, check out The Leaning Pear (their crab cakes are top-notch). For fun shopping, come when Wimberley Market Days are on to peruse nearly 500 different booths, ranging from jewelry to folk art, furniture, and more.
When it's nice out, you're spoiled for choice. Relax a little at Blue Hole Regional Park, go for a swim at Jacob's Well, hike up Old Baldy, or zoom away at Wimberley Zipline Adventures.
Related read: 10 Gorgeous Texas Hill Country Cabin Rentals
3. Dripping Springs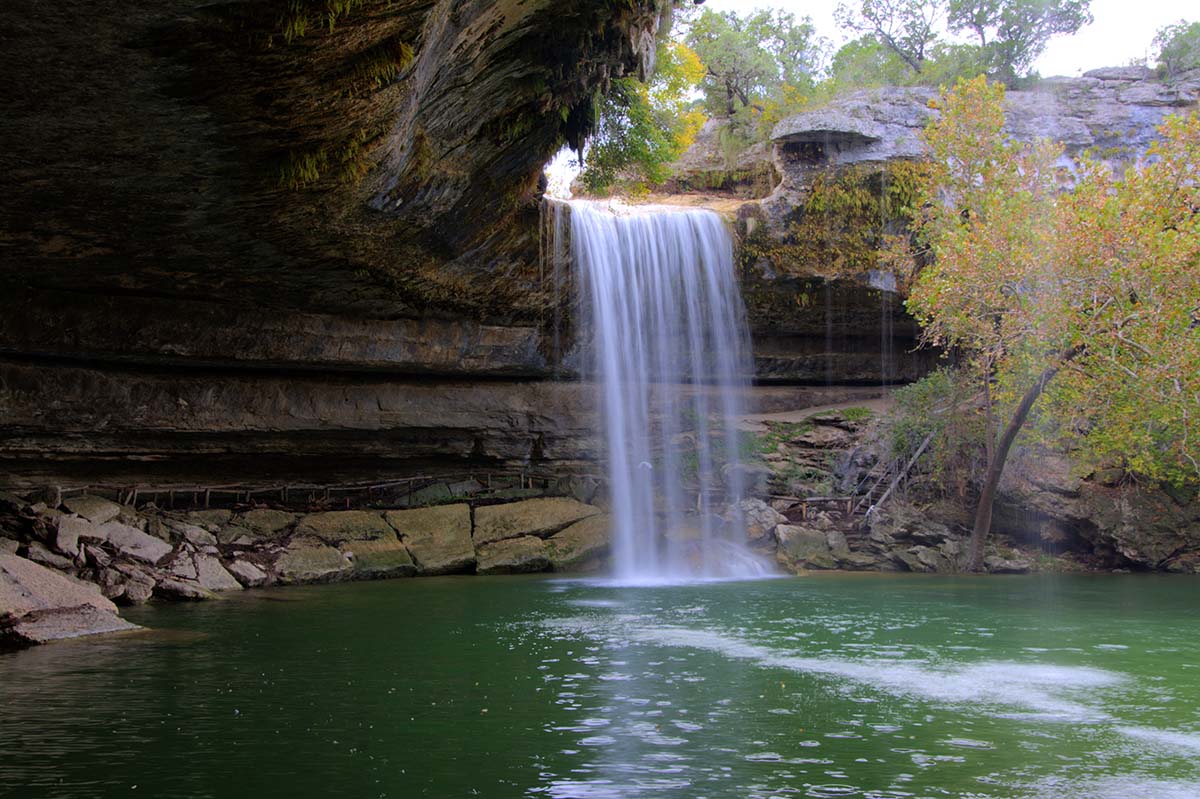 If you love to imbibe, then Dripping Springs is your adult playground. Twisted X Brewing Company, Deep Eddy Vodka Tasting Room, Dripping Springs Distilling, Bell Springs Winery, Treaty Oak Distilling… they're all here and then some.
Drinking is certainly not the only way to pass the time when you're in Dripping Springs. Hamilton Pool is a must-see, and whether or not swimming is allowed when you're in town, seeing the beautiful landscape alone is worth a visit. For family-friendly fun, check out Dreamland, an 86-acre complex with mini golf, disc golf, artsy sculptures, live music, and more.
Related read: 11 Best Texas Swimming Holes to Beat the Summer Heat
4. Driftwood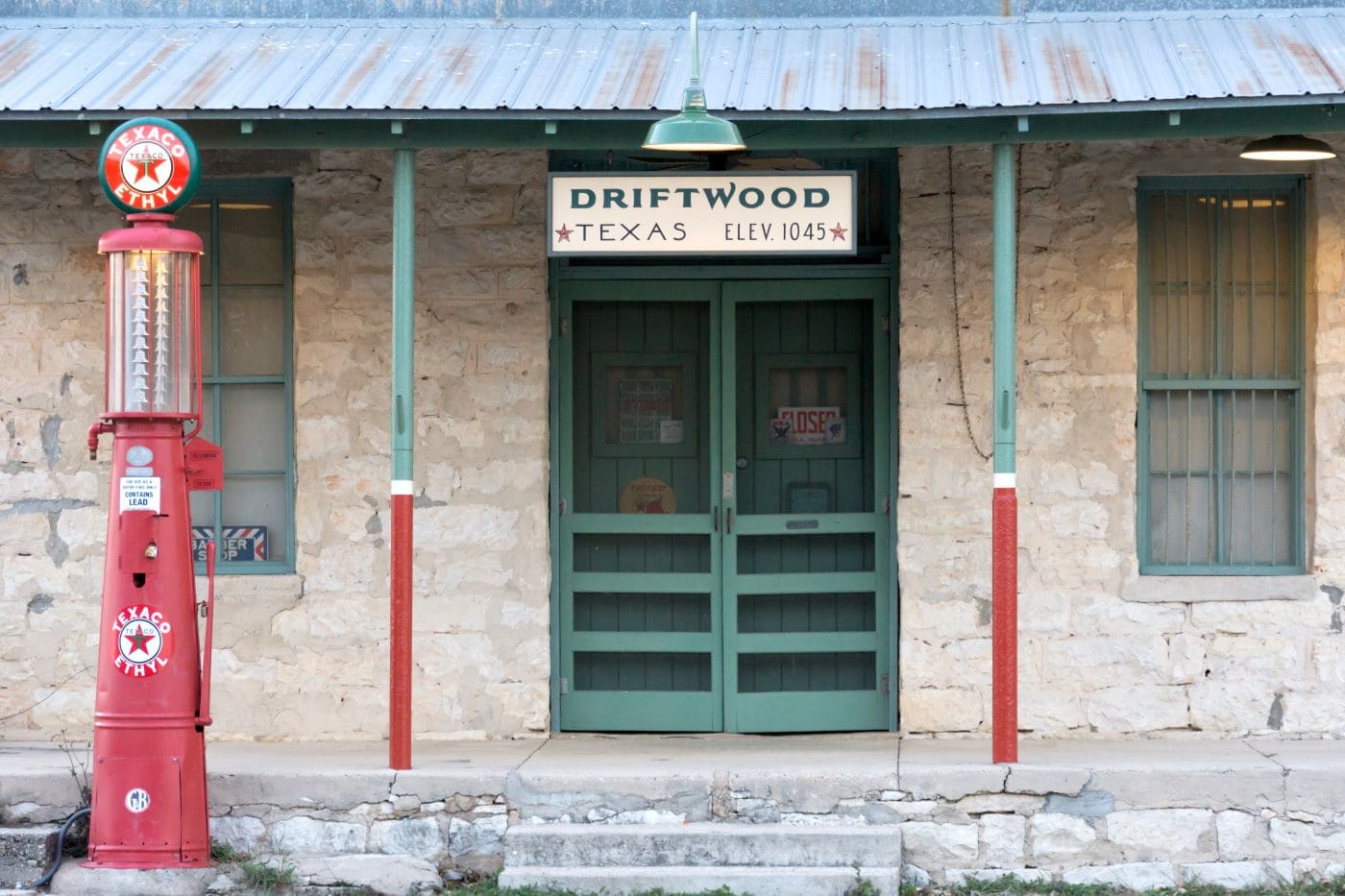 Driftwood is so close to Dripping Springs (just a little over 10 minutes down the road by car) that many people end up visiting both in one go. The main attraction in Driftwood is undoubtedly Salt Lick BBQ, the sprawling barbecue restaurant that's been featured on TV, in magazines, and online countless times. It's BYOB and there's often live music so you can make a real party out of your visit.
For all that food, you're going to want some beverages, and Driftwood has some great watering holes. Grab a beer at Vista Brewing, some Texas sotol at Desert Door Distillery, or wine at Duchman Family Winery.
Related read: 11 Best Resorts in Texas for a Rejuvenating Getaway
5. Marble Falls
Follow the winding Colorado River west out of Austin and it'll lead you right to Marble Falls. There's a little bit of something for everyone here depending on what suits your fancy.
Love to hike? Head off to Balcones Canyonlands National Wildlife Refuge. Is food and drink your focus? Blue Bonnet Cafe is a beloved institution famous for its pies, and Bear King Brewing Company is a good place to grab a cold one.
If you're traveling with kiddos, then you may want to spend some time at Lakeside Park, where there's a little swimming beach, or Johnson Park, where you can watch the ducks. Sweet Berry Farm is another popular family attraction, offering strawberry picking, pumpkin patches, and hayrides, depending on the season.
Related read: 11 of the Coolest Glamping Destinations in Texas
6. New Braunfels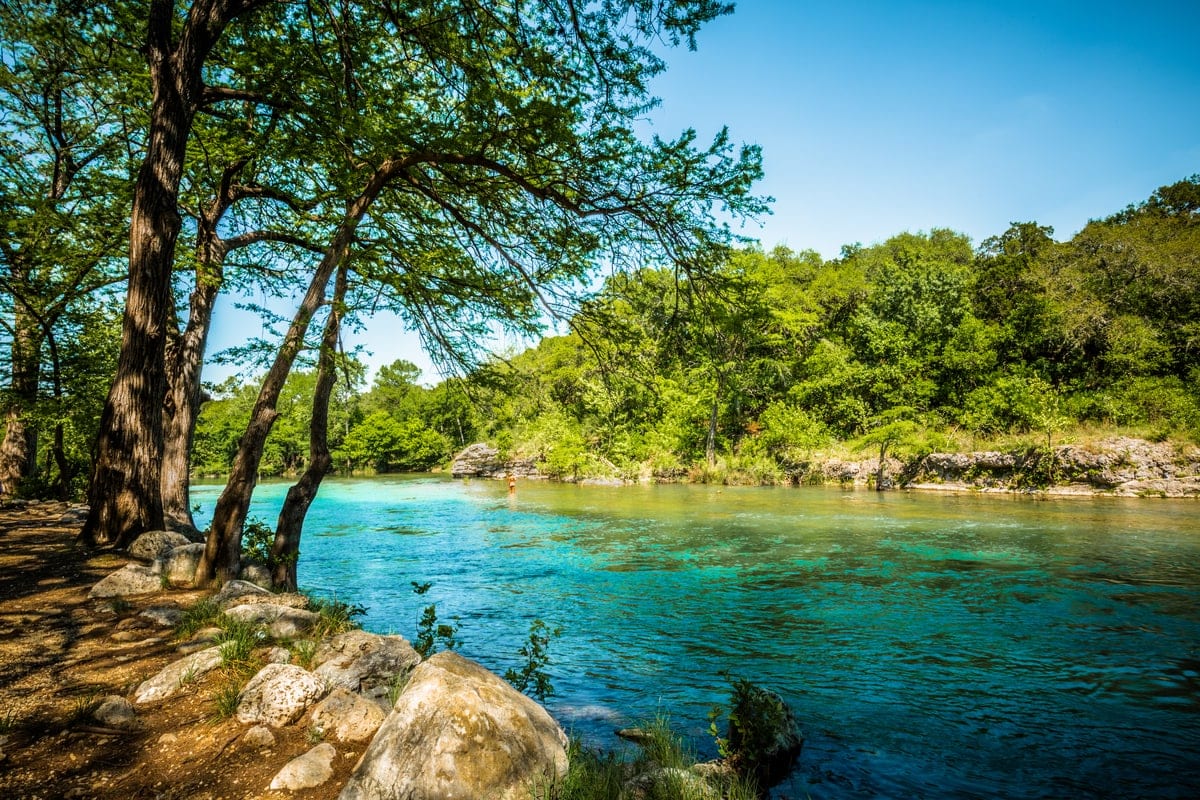 New Braunfels is one of the bigger destinations on this list, geographically speaking, making it worth your consideration if you want to experience the Hill Country but prefer not to be in the full-on countryside.
Schlitterbahn Waterpark is a highlight here, but if you're coming outside of the season, Landa Park and Animal World & Snake Farm Zoo are two nice alternatives to spend your time and have an exciting afternoon.
When you visit New Braunfels, it's kind of like two-for-one Hill Country towns since there's the Gruene Historic District within its borders. Back in the day, Gruene was a German immigrant settlement, but now it's a tourism hotspot with its historic architecture, famous, old dance hall, and boutique shopping. Despite feeling like a completely different town and worlds away, it's just a short drive.
Related read: 9 Awesome Cabin & Cottage Rentals Near New Braunfels, Texas
7. Johnson City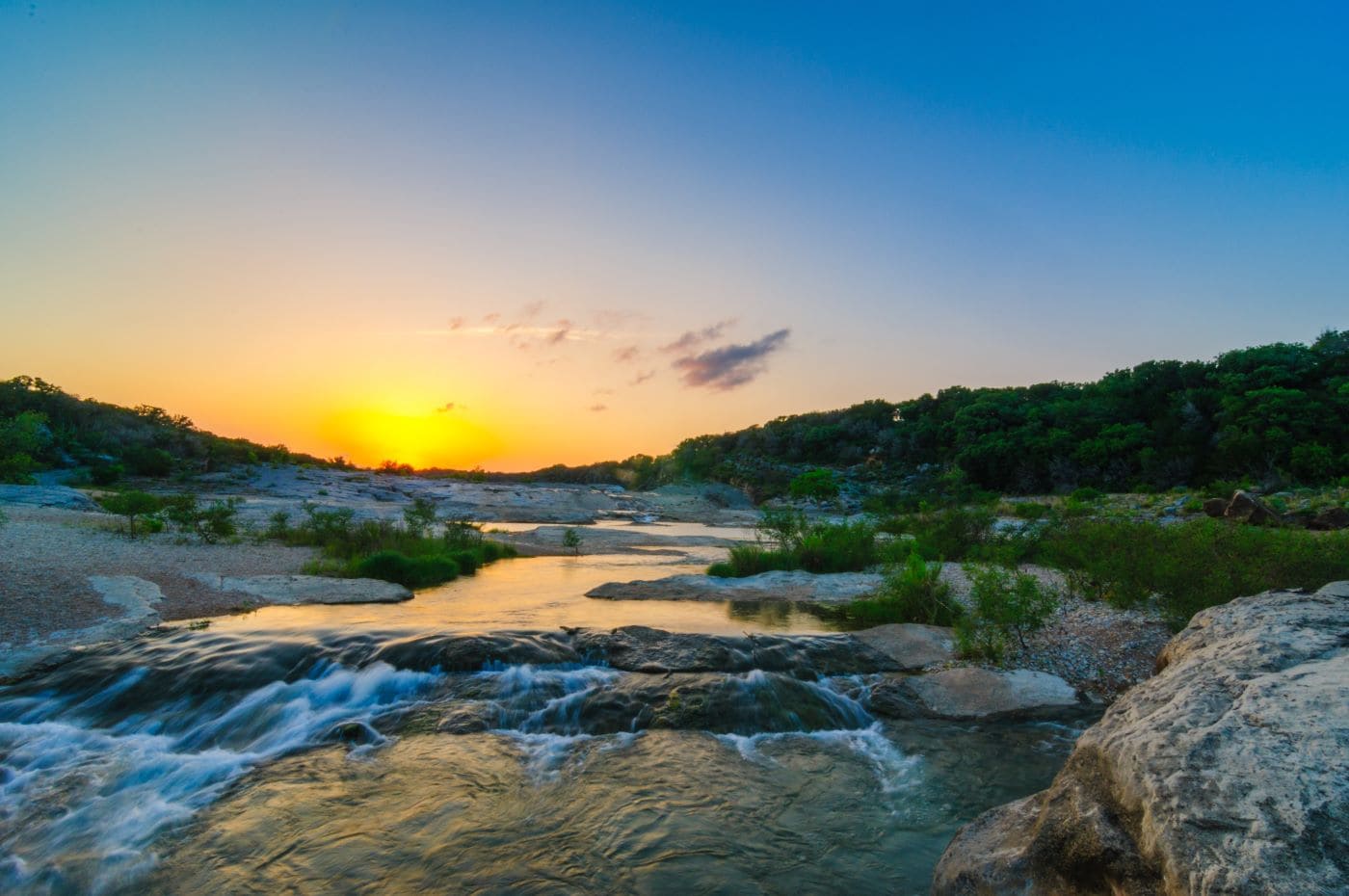 The "Johnson" in Johnson City isn't random. Fifteen minutes down the road is where former president Lyndon B. Johnson was born, and you can see his childhood home in Johnson City proper. And speaking of where Johnson was born — that's LBJ Ranch (aka the Texas White House), which is well worth a tour while you're in the area, even if it's technically in the town of Stonewall.
One of Johnson City's gems has nothing to do with presidential history. It's the Science Mill, a cool, interactive science and technology museum for kids located in an old mill. Here, you can let your little one's curiosity run wild with hands-on exhibits and demonstrations.
Related read: 9 of the Best Day Trips from Austin, Texas
8. Blanco
Blanco is called the Lavender Capital of Texas, so it goes without saying that the Hill Country Lavender Farm is the place to be. It claims to be the first commercial lavender farm in the state, and it's free to visit. Come in June and you can also immerse yourself in everything to do with the aromatic plant at the annual Blanco Lavender Fest.
Summer is an excellent time to visit Blanco because you can make the most out of the other top local attraction too, Blanco State Park. At this park, you can go swimming, tubing, paddling, and boating. If it's too cold when you're in town for any of that, then there's also a little bit of hiking and a lot of fishing you can do instead.
Related read: The 7 Best State Parks Near San Antonio, Texas
9. San Marcos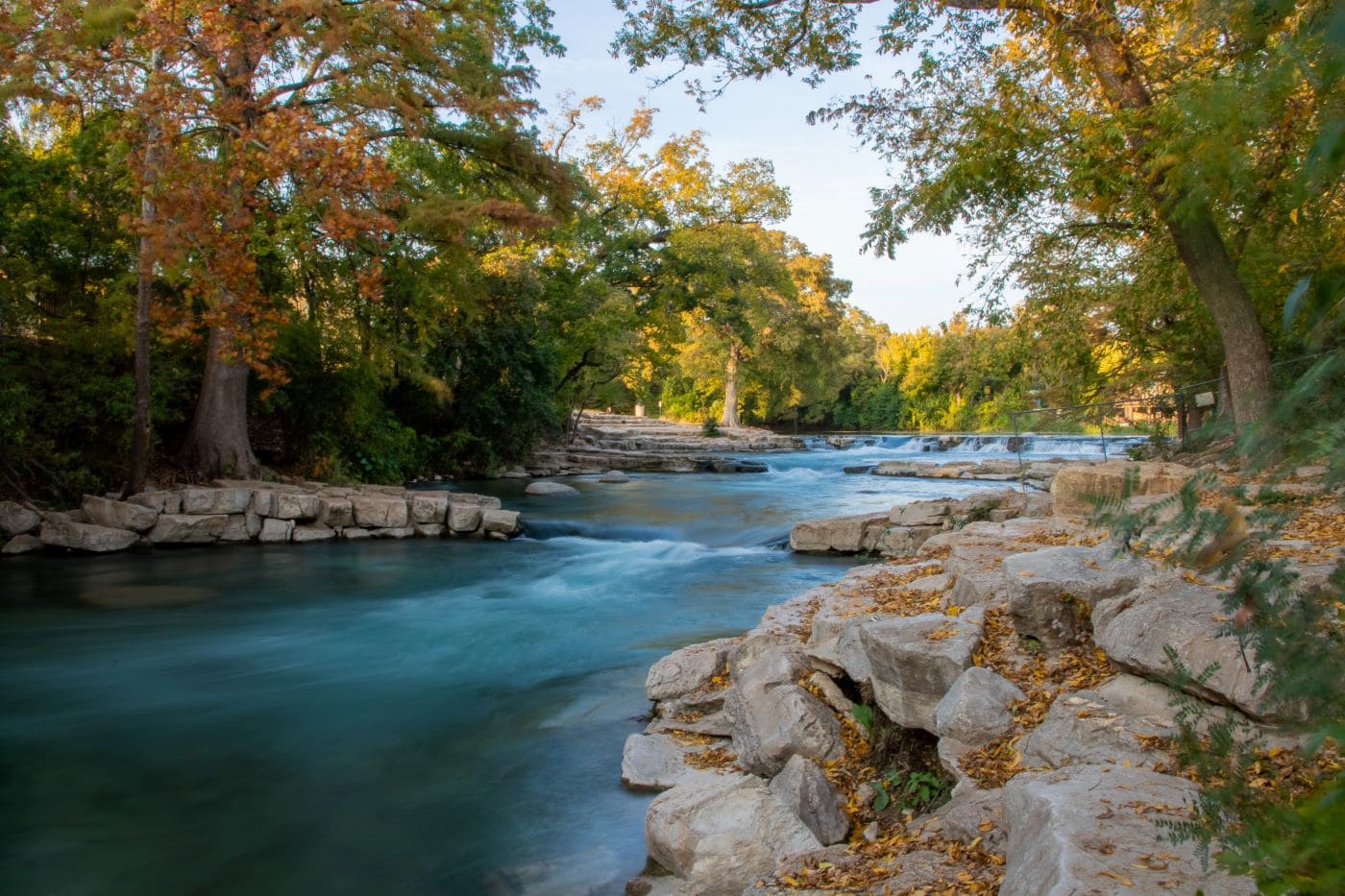 Home to Texas State University, San Marcos is a college town…but don't write it off as a place where only young people party. First off, outlet shopping is a huge deal here. There's the San Marcos Premium Outlets as well as Tanger Outlets, and their combined 1.2 million square feet of stores make for an easy place to blow through your budget.
Want to spend less time browsing racks of clothes and more time breathing the fresh air? Check out Rio Vista Park or go on a glass-bottom boat tour. Families will also find lots to keep the kids entertained at Wonder World Cave & Adventure Park.
Related read: The Ultimate Dallas to San Antonio Road Trip
10. Boerne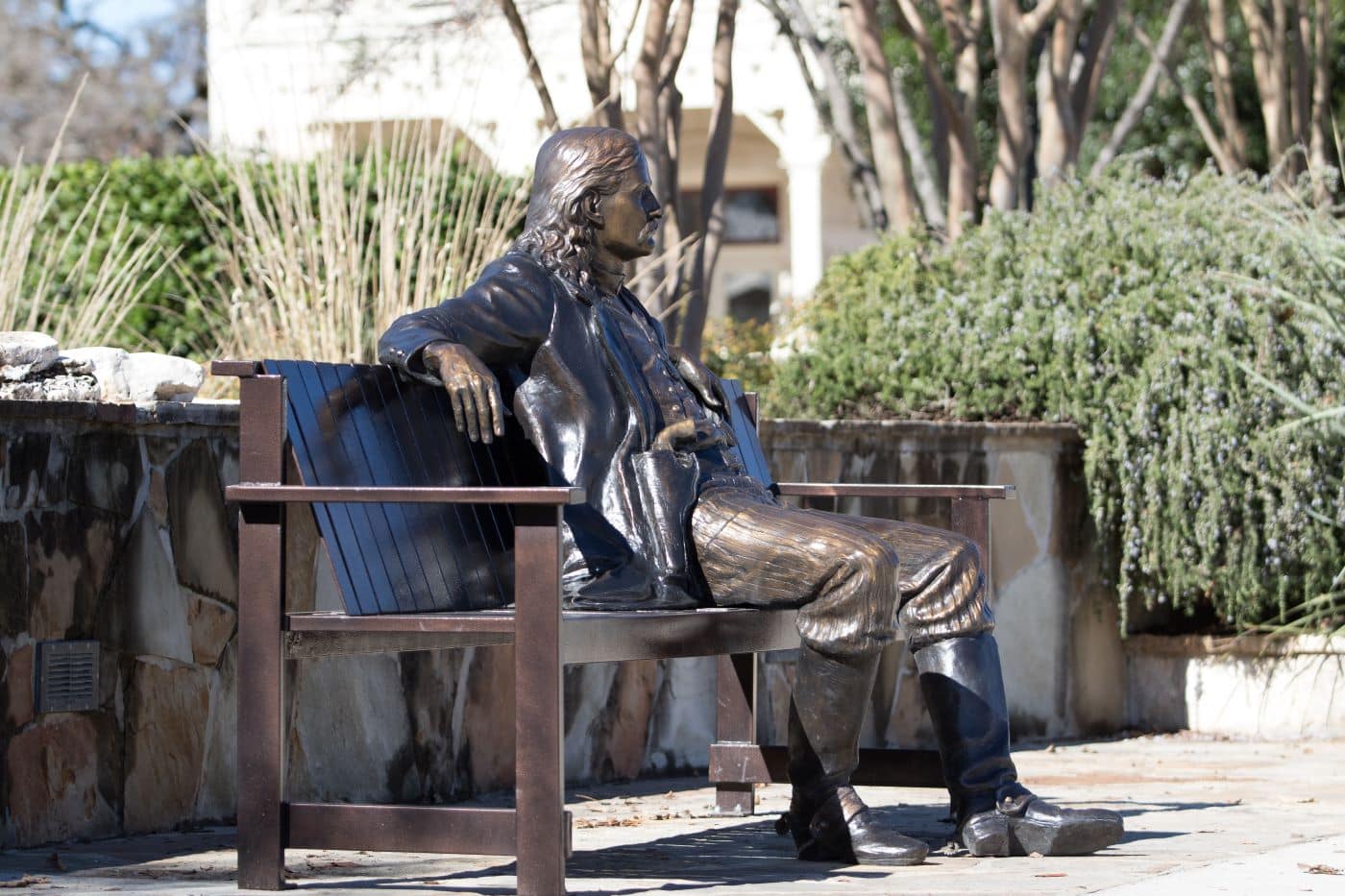 Quick pronunciation lesson: It's "ber-nee" not "born." Now that that's out of the way, let's talk about what there is to see and do in Boerne. Located just outside of San Antonio, the town is lucky to have two incredible show caves open to the public. There's Cascade Caverns, and Cave Without a Name, and both rank up there in terms of the best caves in all of Texas.
For above-ground fun, have a wander around the Cibolo Center for Conservation, where you can do some great bird watching along the miles of trails. Otherwise, there's more fun in the sun at River Road Park and Boerne City Park.
Related read: 10 Cool Caves in Texas for Exploring Underground
11. Bandera
If you make it to Bandera, then you can tell people that you've been to the Cowboy Capital of the World. The title comes from the fact that the town was an important cattle-driving area along the Western Trail during the 19th and 20th centuries. These days, you can embrace some local cowboy culture at 11th Street Cowboy Bar (fondly called "the biggest little bar in Texas") or with Bandera Historical Rides.
To learn more about Texas history and heritage, head over to the Frontier Times Museum. Then there's all the natural history you can learn about (hey dinosaurs!) at the Bandera Natural History Museum. Before you go, pop into Western Trail Antiques to shop for collectibles and other vintage items.
Related read: 10 Best Texas Dude Ranches for a True Western Experience
12. Luckenbach
Rounding out this list is the teeniest town of them all: good ol' Luckenbach. It doesn't get much smaller than this "town," which consists of a general store, bar, dance hall, and just 13 residents.
Seriously, that's it. Luckenbach reached new heights of recognition thanks to the Waylon Jennings' song "Luckenbach, Texas (Back to the Basics of Love)."
Luckenbach may not be the kind of place where you'll stay for a whole weekend, but it is a fun day trip destination if you love country music or quirkier road trip stops. Check Luckenbach's calendar to see which musical acts are playing and when. It's a good idea to buy tickets online ahead of time!
Related read: The 11 Best Small Towns in Texas To Visit This Year
Explore Texas
Sign up for Weekend Wanderer to join thousands of readers getting epic travel ideas every week.
---