Don't go chasing waterfalls… unless you're talking about all those epic ones in Texas, that is.
What is it about waterfalls that's so captivating? Whether a single tall powerful stream of water plunging down a towering rock cliff to great fanfare, or multiple, smaller streams of water quietly cascading down tiers of greenery, there's something undeniably beautiful about waterfalls.
They're so captivating that some vacations are completely centered around seeing them, and entire cities – like Niagara Falls  – can pop up simply to accommodate all the people who come to revel in their grandiosity.
In Texas, you can find waterfalls of all shapes and sizes in surroundings that are just as varying, from dense forests to desert canyons. Many of the best waterfalls are located within a relatively small radius in the central part of the state around the famous Hill Country, making it easy to see multiple waterfalls in a single weekend.
1. Pedernales Falls
Pedernales Falls is so pretty there's a whole state park named after them. While there's plenty else to see and do at Pedernales Falls State Park, the namesake falls, where the Pedernales River flows over giant slabs of limestone, is definitely the main attraction.
To see them, drive to the parking lot closest to the Pedernales Falls Trail System (the ranger at the gate entrance can point you in the right direction) and from there it's a short and easy walk to the overlook. If you'd like to get closer, you can walk down to the river and navigate its layered limestone bluffs, which are hundreds of millennia old, and get up close to the water. Just be mindful of the water level since the area is known to rise and flood quickly – that's also why swimming isn't allowed in the falls specifically.
Related Read: The 8 Best Camping Spots Near San Antonio, Texas
2. Gorman Falls
Easily one of the most picturesque and most famous waterfalls in Texas, Gorman Falls could even be considered one of the most beautiful places in the entire state. Located in Colorado Bend State Park, the falls reach 70 feet high, and you'll have to hike along the Gorman Falls Trail to see them. It's (obviously) the most popular trail in the park and is only 1.5 miles each way, but it can turn from moderate to difficult because of how rocky and steep it gets at the end.
This is the kind of trail you'll only want to take on with the right pair of sturdy hiking shoes so you can avoid any slipping once you get close to the falls. Please don't get any bright ideas about flip-flops! You might hear of Gorman Falls referred to as a "living" waterfall, that's because the mineral-rich water deposits calcite, creating travertine formations.
Related Read: 12 Beautiful Places in Texas Perfect for an Outdoor Adventure
3. McKinney Falls
For seeing some waterfalls without straying too far from civilization, it doesn't get much easier than visiting McKinney Falls. They're found in McKinney Falls State Park, just a few minutes outside of Austin. There are actually two parts to the falls, the upper falls and lower falls. At both, the water from Onion Creek flows over large limestone ledges and swimming is allowed.
To reach the upper falls, hike the easy Onion Creek Hike and Bike Trail. To visit the lower falls, go along the Homestead Trail, which is more moderate in hiking level. This route also brings you past remnants of the old McKinney homestead, which was in use from 1850 to 1940. The daily entrance fee to McKinney Falls State Park costs $6 for adults.
Related Read: The 10 Best Hiking Trails in Austin, Texas
4. Hamilton Pool Waterfall
Full disclosure: How visible the waterfall is at Hamilton Pool Preserve can vary a lot depending on how dry the season is, but rest assured it's always there in some form, even if it's just a trickle. If you're lucky to come when the rain has been sufficient and it's really flowing, you'll be treated to a gorgeous display of water falling 50 feet from the limestone outcroppings above. It's really the cherry on top of the overall splendor of the grotto, and the area is a true Hill Country paradise.
These days, you can't access the trail that goes beneath the cliff to the bottom of the waterfall because of the danger of rocks falling, but you can still easily appreciate the scene from the beach area where visitors are allowed.
Just make sure to book your reservation to the preserve in advance since it's required regardless of whether you're swimming or not. Fees for daily park use are $12 for a reservation (paid online) and then $8 per person (paid upon arrival).
Related Read: The Coolest Hot Springs in Texas for a Relaxing Soak
5. Westcave Preserve Waterfall
There's another waterfall waiting for you over at Westcave Outdoor Discovery Center, just down the road from Hamilton Pool. Like its neighbor, you'll need a reservation if you want to visit, but here, there's no free roaming. Access (and waterfall viewing) is only granted to those on a paid tour – $20 per adult. The guided tour leads through a canyon to a 40-foot waterfall in a lush, enchanting grotto. But your tour doesn't stop there! Your guide will then take you behind the waterfall into a limestone cave. It's about a one-mile hike and takes around 1.5-2 hours.
If you're into photography, consider doing the special guided photography hike where you'll get ample time to shoot the waterfall and grotto. Other events hosted here include bird hikes, night hikes, and forest bathing. Sorry, but there's no swimming allowed here!
Related Read: 7 Best Houseboat Rentals in Texas for a Vacay on the Water
6. Krause Springs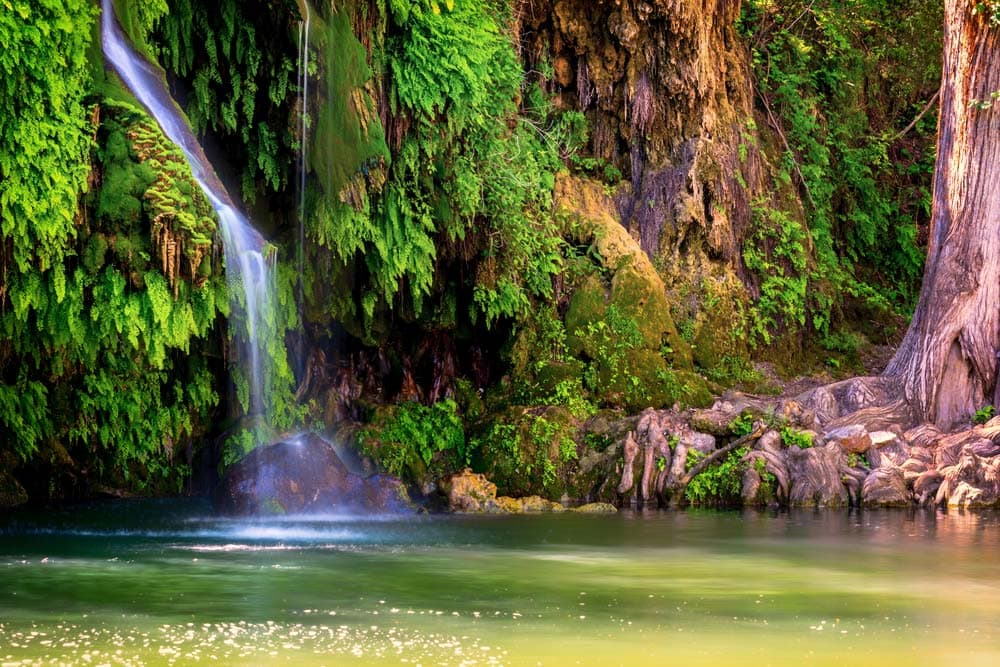 Family-owned for over 50 years, the scenic Krause Springs has long been a favorite swimming hole for Hill Country locals and is even in the National Registry of Historical Places. Here, there are 32 springs, a man-made pool, and a natural pool – and yes, there's also a waterfall that cascades down the little grotto. The waterfall isn't that big, but what it lacks in size it makes up for in attractiveness, especially given the overall surroundings.
Krause Springs admission costs $9 per adult, or $15 if you're camping overnight, but keep in mind that the springs temporarily close for the winter and generally reopen around mid-February.
Related Read: The 11 Best Places to See Bluebonnets in Texas
7. Dolan Falls
Dolan Falls sits near the intersection of Devils River and Dolan Creek in West Texas – far away from any major town or city. While the Dolan Falls Preserve is not open to the public, the nearby Devils River State Natural Area is, and from there you can park at the River Gate Access Parking Area, hike one mile down the Devils River Trail to reach the water, and then paddle downstream to the falls.
The thing is, this is no easy paddling trip, and you're not going to want to paddle right up next to the falls. Due to the challenging rapids, this journey is really only for experienced, well-prepared paddlers and even then the park recommends portaging around Dolan Falls unless you want to risk injury or equipment loss.
All of that is to say, if you manage to see this difficult-to-reach, unspoiled falls, you'll be one of just a few to do so. Want to go on a guided paddling or rafting trip in the area? Contact a local outfitter like Angell Expeditions or Imagine That Outfitters and you'll be in good hands – both of them are approved by the Texas Parks and Wildlife Department.
Related Read: 13 Awesome Things to Do in Lubbock, Texas
8. Cattail Falls
Located in Big Bend National Park, Cattail Falls is another waterfall you'll need to hike to see. About 1.5 miles–long one way, the Cattail Falls trail starts at Oak Spring Road and is a relatively easy hike into a canyon to reach the 80-foot waterfall. Sometimes the water here may not be flowing at all, but come when there's been heavy rain and you'll get the opportunity to see a stunning waterfall pouring down the reddish rock walls. But with heavy rain comes the risk of flooding, so check with a park ranger about the road situation in the area before setting off to see this spot.
There are tons of other more popular trails in Big Bend, so there's a good chance you'll be able to have the waterfall all to yourself. To enter Big Bend National Park, you have to pay a $30 vehicle fee, which stays valid for seven days. At the moment, the park isn't issuing day passes or putting a limit to the number of visitors entering per day.
Related Read: 10 Beautiful Texas Hill Country State Parks You Need to Visit
Explore More in Texas
Get epic travel ideas delivered to your inbox with Weekend Wanderer, our newsletter inspiring thousands of readers every week.
---