We research, evaluate and select travel destinations based on a number of factors, including our writers' experience and expertise, user reviews and more. We may earn a commission when you book or purchase through our links. See our editorial policy to learn more.
---
Some stays don't leave much of an impression — and there are other stays that you know you're never going to forget.
Adventure and excitement don't just come from what you see and do while on a trip —
they can also come from where you stay. In fact, deciding for more unique accommodations can often turn a good vacation into a great vacation.
That "uniqueness" may be because of uncommon architecture, unexpected luxuries, or something else entirely out-of-the-norm. Texas happens to offer travelers a good number of places with that extra special something across the state's varied landscape.
From yurts and teepees in the desert to swanky hotels in the city, these one-of-a-kind stays in Texas are sure to leave you with fond, lasting memories of a sleep well spent.
Related Read: The 6 Best Places to See Fall Foliage in Texas
1. Wildcatter Ranch & Resort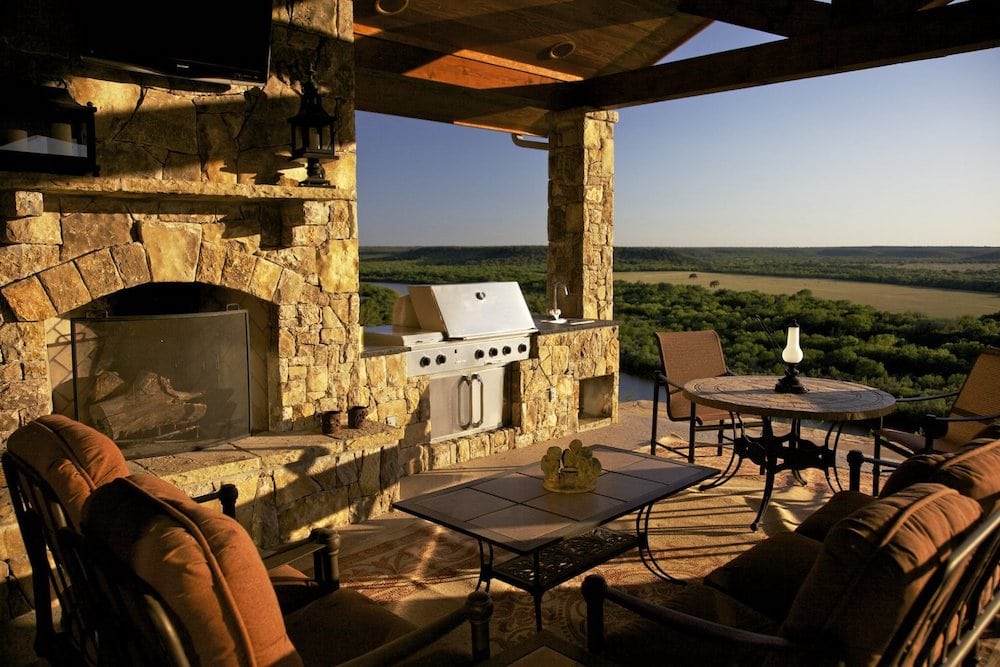 Why you should stay: Escape the city and live your Western fantasy at this ranch resort close to a popular lake.
Nearest town: Graham
Sleeps: 4
Minimum stay: 1 night
Rates from: $167/night
A couple of hours' drive west of Dallas, the 1,500-acre Wildcatter Ranch offers visitors a taste of the Wild West — but with all the appreciated comforts and conveniences, of course. Depending on how fancy you want to get, you can choose between a guest home, cabin suite, or hotel room, and all offer distinctly Texan decor. We have listed the Wildcatter Ranch as one of the best resorts in Texas.
You don't have to leave the property to have some fun given the activities offered to guests. There's horseback riding, tomahawk throwing, ranch roping, a rifle and pistol range — basically everything you'd want to feel like a real cowboy (here's a cowboy name generator if you need it).
If you do want to do some exploring, Possum Kingdom Lake is right nearby. When you're worn out from all of that, you can enjoy a hefty steak at the Wildcatter Steakhouse.
Check Availability
Related Read: The 7 Best State Parks Near San Antonio, Texas
2. Live Oak Treehouse at HoneyTree Farm
Why you should stay: This charming, picture-perfect treehouse is a dreamy escape nestled in nature.
Nearest town: Fredericksburg
Sleeps: 2
Minimum stay: 1 night
Rates from: $299/night
Aesthetic-wise, Live Oak Treehouse at HoneyTree Farm knocks it out of the park with its design and decor—from the inviting nook (a book worm's dream) to the twinkle lights wrapped around the ceiling's wooden beams. Even the retro, pastel kitchen appliances are cute. Location-wise, the stay is a winner too being an elevated cabin surrounded by oak trees. Who doesn't love a treehouse?
The garage-style door in the living room opens right up to the upper deck where you can enjoy views from above the treetops (the deck is literally built around some tree trunks) or recline on the hammock. It's hard not to feel at peace down below too where another hammock and the little outdoor bathtub await on the patio.
Check Availability
Related Read: 10 of the Best Pet-Friendly Cabin Rentals in Texas
3. Hotel Emma
Why you should stay: It's Texas glamour at this 19th-century brewhouse turned hotel located in a vibrant neighborhood.
Located in: San Antonio
Sleeps: 4
Minimum stay: 1 night
Rates from: $595/night
With its many restaurants and retailers, the historic Pearl district is one of the most popular places to hang out in San Antonio, and Hotel Emma puts you right in the heart of the action. Back in the 19th-century, this hotel was a brewhouse. These days, it offers elegant rooms and suites that exude luxury Southern living.
For example, if you claim the Emma Koehler suite, you can gaze out to views of the river from two levels of giant windows, cozy up by your own fireplace, and play on our own in-suite grand piano. The hotel's room options aren't shabby either: One comes with a private terrace and another has a little sitting area under a "secret cupola."
If you needed any more reason to stay, Hotel Emma was listed as one of the top hotels in Texas in Condé Nast Traveler Readers' Choice Awards in both 2019 and 2021.
Check Availability
Related Read: 10 Best Tiny House Rentals in Texas
4. Air Castle by Highpoint Treehouses
Why you should stay: This one-of-a-kind treehouse has multiple levels spanning from 10 to 50 feet in the air.
Nearest town: Ladonia
Sleeps: 4
Minimum stay: 1 night
Rates from: $330/night
The Air Castle probably isn't like any other "treehouse" you've seen before. Made out of four shipping containers, this multi-level, industrial-looking stay boasts five balconies and a crow's nest at 50 feet up.
One of these aforementioned balconies has a hammock where you can feel like you're really floating in the air. If you want another place to chill, how about the hot tub on the screened porch? If you ever feel like coming down to Earth, there's a covered area with a fire pit for your enjoyment as well.
And sorry kids, the Air Castle is only available for ages 12 and up.
Check Availability
Related Read: 10 Adventurously Romantic Getaways in Austin, Texas
5. Rosewood Mansion on Turtle Creek
Why you should stay: Once a private mansion, this five-star stay offers sophisticated rooms in the center of Dallas.
Located in: Dallas
Sleeps: 4
Minimum stay: 1 night
Rates from: $555/night
It's grand living at Rosewood Mansion, a luxe, five-star hotel in a former mansion built in the early 1920s. It's no surprise if you feel a little like you're in a European palace seeing as the architecture was supposedly inspired by estates in places like Spain, Italy, and France. Come here, and you can add your name to a guest list that includes Franklin D. Roosevelt and Tennesee Williams.
While staying at Rosewood Mansion, you can also make use of the hotel's swimming pool (which is conveniently temperature controlled year-round) and fitness studio (which has a sauna). Another unusual perk: Hotel guests can also test-drive a new Lexus here.
Check Availability
Related Read: 12 Awe-Inspiring Airbnbs Near Big Bend National Park
6. The Helm
Why you should stay: Close to the famous Magnolia Market, this attractive tiny home is made from shipping containers.
Nearest town: Waco
Sleeps: 6
Minimum stay: 1 night
Rates from: $210/night
Who said tiny houses have to feel tiny? With The Helm, two shipping containers come together to create an inviting, two-story stay. It has everything you need, including two full bathrooms and a full kitchen. You even get a rooftop deck, which makes for the perfect place to unwind in the evenings.
Another plus in the guest experience is that everything is decorated with a stylish touch, possibly inspired by the city's famous residents: HGTV couple Chip and Joanna Gaines. Magnolia Market, the couple's shopping complex and one of Waco's most popular attractions, is less than 15 minutes away by car.
Check Availability
Related Read: 8 Awesome Cabin Rentals Near San Antonio for a Country Getaway
7. El Cosmico
Why you should stay: Take your pick between yurts, teepees, safari tents, and more at this eclectic hotel and campground in the desert.
Located in: Marfa
Sleeps: 3
Minimum stay: 1 night
Rates from: $75/night
El Cosmico seems to capture all that is weird and wonderful about West Texas. This campground hotel offers a variety of accommodations to travelers. There are spacious yurts, sturdy safari tents, an assortment of retro trailers, a futuristic-looking casita, and even some teepees.
Whichever abode you decide to call your desert home, you'll get access to the property's communal amenities, which include an outdoor kitchen and hammocks. There are also bicycles available for rental and hot tubs you can reserve at an additional cost.
Check Availability
Related Read: 9 Stunning Texas Treehouse Rentals for a Sky-High Getaway
8. Austin Proper Hotel and Residences
Why you should stay: Treat yourself to a first-class stay that feels like a mini resort right in the middle of lively downtown Austin.
Located in: Austin
Sleeps: 4
Minimum stay: 1 night
Rates from: $375.20/night
It doesn't get much more central than Austin Proper Hotel and Residences, a five-star hotel in Austin's Second Street District. Walk one block south and you're at Lady Bird Lake. Walk a few blocks north and you're at the famous Sixth Street strip.
Looking inside the hotel, you'll find tastefully decorated rooms that range from the already quite luxurious king room to the really lavish penthouse suite.
When the sun is out, there's no better place to chill than the pool deck on the fifth floor. When you're hungry, there are four restaurants located on-site to get some grub.
Check Availability
Related read: 12 Best Texas Lakes for Swimming, Sun & Shoreline Lounging
9. The Belle Plain Caboose
Why you should stay: Forget Airstreams and trailers — how about an old-timey caboose? Plus, there's the fun of staying on a ranch.
Nearest town: Baird
Sleeps: 2
Minimum stay: 2 nights
Rates from: $250/night
You may never have wished to sleep in a caboose before, but why not give it a try at The Belle Plain Caboose? Inside, the parked train car and the connected screen porch, you have comfy accommodations with just the right amount of railroad decor. As a special touch, the host provides breakfast and champagne, making for a bit of extra glam to this quirky stay.
The caboose is located on an 800-acre ranch, and you're free to roam the property. But all you have to do is walk out to your back deck to enjoy your own private fountain show on the water. If you like fishing, have a go at the ranch's various stock tanks.
Check Availability
10. Kettle House Galveston
Why you should stay: Once featured on HGTV, this unusual, repurposed house is just a short walk to the beach.
Located in: Galveston
Sleeps: 6
Minimum stay: 2 nights
Rates from: $292/night
Once upon a time, Kettle House Galveston was a storage tank. Now, it's been reimagined into a comfortable beach house. Here, you're less than ten minutes to the beach by foot.
Kettle House's interior has an attractive, retro flair. Given the house's architecture, you'll notice some special arrangements like the small spiral staircase to the round downstairs bedroom with sloped walls.
Outside, you can lounge on the wraparound deck to soak up the sun, or hang out underneath the house in the furnished patio area, which has an outdoor shower.
Check Availability
11. Commodore Perry Estate
Why you should stay: This historic, picturesque property offers gorgeous suites and on-site guest experiences.
Located in: Austin
Sleeps: 5
Minimum stay: 1 night
Rates from: $565/night
Considered a historic landmark, the 10-acre Commodore Perry Estate features a beautiful mansion designed in the Italian Renaissance Revival style.
When staying here, you can decide between a room at the inn, a one-bedroom suite at the inn, or a mansion suite. Located in the original mansion, the latter are really the stars of the show, and each one is completely unique—from the LaVerne Suite, which is decked out in floor to ceiling florals, to the Hal Thomson Suite, which is an eye-catching mix of vintage and modern.
During your free time, walk the estate's beautiful gardens or check out what "experiences" they have going on, which can range from cooking demonstrations to yoga to palm reading.
Check Availability
12. Yurtopia
Why you should stay: It's all about the yurts at this property with multiple stays to choose from, some with far-reaching Hill Country views and others with direct river access.
Located in: Wimberley
Sleeps: 2
Minimum stay: 2 nights
Rates from: $250/night
Yurts have become one of the most popular out-of-the-box accommodation options, and at Yurtopia, you can choose from nine different ones (all climate controlled). Some are in a "remote zone" up on the hilltop where you can enjoy your full privacy and excellent views while others are in the "community zone" down by the river where you have access to shared recreational amenities.
Check Availability
Whichever yurt you choose, however, you can count on having private facilities like a bathroom and outdoor kitchen.
Explore More in Texas
Sign up for the Weekend Wanderer to join thousands of readers getting epic travel and gear ideas every week.
---