Drive any direction out of Austin, and you'll easily find another city or small town worth exploring — or maybe even worth a dedicated trip.
Whether you're into historical establishments and museums or like to spend your free time hanging out at wineries and breweries — or you're looking for some excitement at an amusement park — there are enough day trips from Austin's city limits to fill a full vacation. There's a lot more to the area than just funky and fun Austin, though Austin itself is pretty fantastic.
Below, you'll find the best day trips from Austin for travelers who want to see more of Texas. And one big plus? None of them are more than a two-hour drive from the city, so you can spend most of your time enjoying the attractions rather than sitting in the car.
Related Read: 10 Best Glamping Getaways Near Austin, Texas
1. San Antonio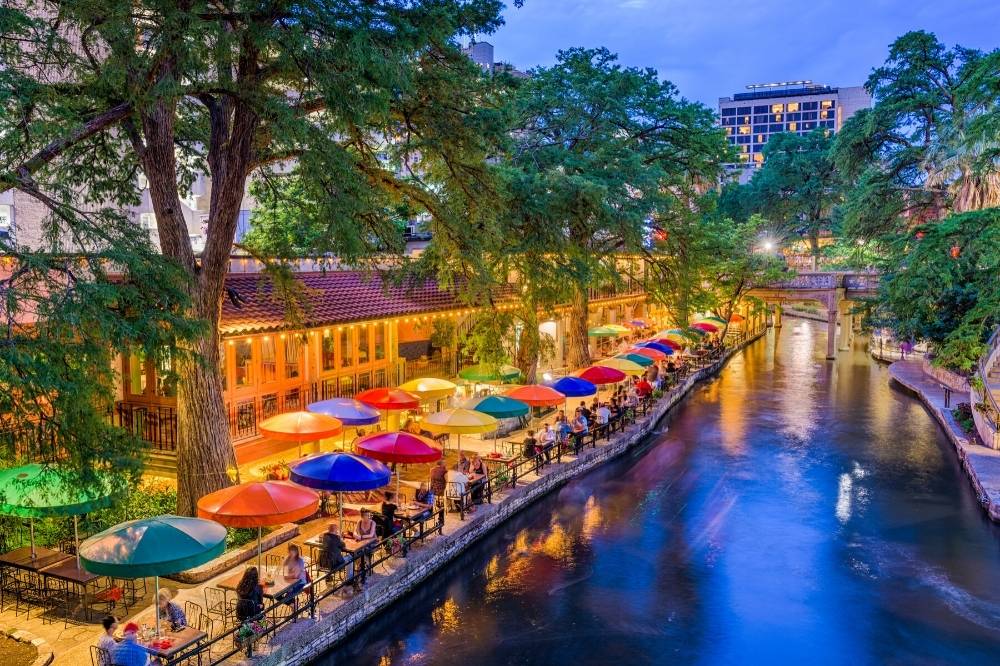 Austin happens to be located close to another one of the state's major metropolitan areas: San Antonio. While San Antonio is certainly close enough for a quick excursion, you'll find more to see and do here than you can fit into just one day.
For starters, a trip to San Antonio isn't complete without a visit to the Alamo, an 18th-century mission and key battle site during the Texas Revolution — you've probably heard people say "Remember the Alamo!" If you're a history buff, keep your tour going by checking out the other beautiful Spanish missions that make up the San Antonio Missions national park, the only UNESCO World Heritage site in Texas.
Make sure to save some time to stroll along the picturesque River Walk, where you'll come across plenty of restaurants, bars, and shopping. If you've visited all these hotspots before, you can easily spend hours at Fiesta Texas, a Six Flags amusement park, or SeaWorld. San Antonio's culture is more Spanish colonial than much of the rest of Texas, giving it a unique vibe many travelers really love.
Distance from Austin: 95 miles (approx. 1 hour, 20 mins)
Related Read: The 8 Best Weekend Road Trips from Dallas, Texas
2. Fredericksburg
Fredericksburg is most known for two things: wine and, oddly enough, a German heritage. The charming city is located in the heart of Texas wine country, meaning there is quite a long list of local vineyards and tasting rooms to explore. If you don't want to worry about planning or transportation, hop onto a wine tour or shuttle. Fredericksburg is definitely the best day trip from Austin if you enjoy under-the-radar wine destinations.
Founded by German immigrants in 1846, Fredericksburg has plenty of spots that celebrate its roots. You can get to know more about the German settlers at the Pioneer Museum or you can have a meal at one of the local German restaurants or biergartens, which range from the casual to the upscale.
Another can't-miss attraction is the National Museum of the Pacific War as Fredericksburg was the hometown of Admiral Chester W. Nimitz, the Commander in Chief of the U.S. Pacific Fleet during World War II. While a bit north of Fredericksburg, Enchanted Rock State Natural Area is just a short drive away if you're into hiking.
Distance from Austin: 78 miles (approx. 1.5 hours)
Related Read: 10 Romantic Getaways in Fredericksburg, Texas
3. Wimberley
Wimberley is a little spot of Hill Country heaven just southwest of Austin. You'd do well to plan your trip here when the weather is nice since two of the city's biggest attractions happen to be natural swimming holes. There's Blue Hole Regional Park, which offers a swimming area and trails through 126 acres of natural forest. And of course, there's Jacob's Well, which one of the most beautiful places in all of Texas. It's a natural spring that connects to an extensive underwater cave system and reaches depths of over 130 feet.
Another popular time to visit Wimberley is during one of its famous market days. It's the Hill Country's largest outdoor market with over 450 vendors, and it takes place on the first Saturday of every month from March to November. Wimberley also has several "honky tonks," which is a uniquely Texas concept. Think of it as a line dancing/cowboy dance hall, complete with a bar, live music, and plenty of cowboy hats.
Still have more time? Hike up Old Baldy to get some excellent views of the area's rolling green hills.
Distance from Austin: 38 miles (approx. 45 mins)
Related Read: 11 Best Texas Swimming Holes to Beat the Summer Heat
4. Dripping Springs and Driftwood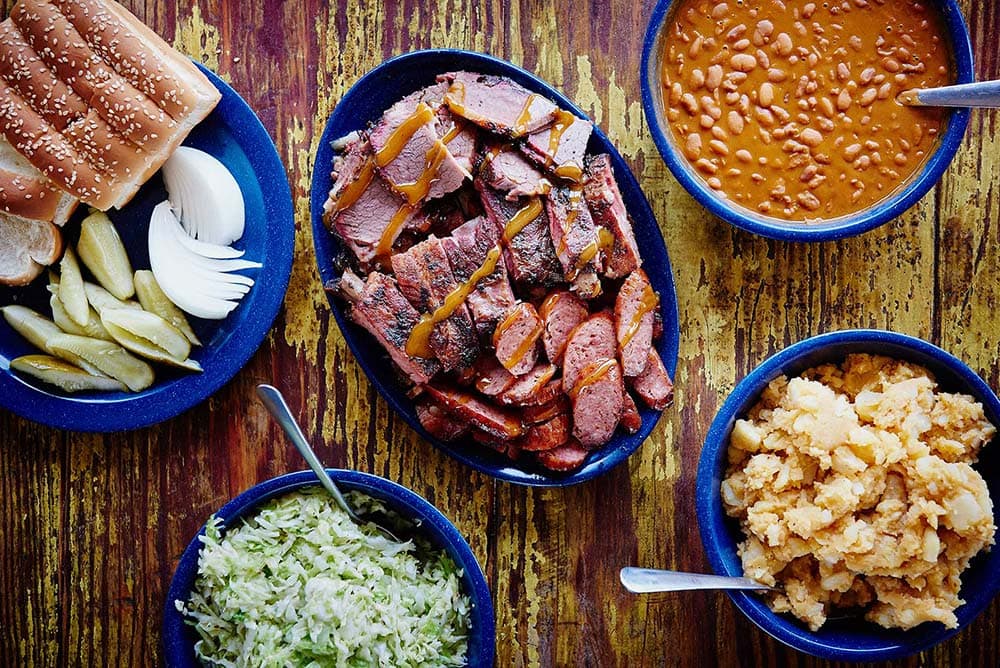 While technically two different places, Dripping Springs and Driftwood are less than 15 minutes apart by car, so you can easily hop from one to the other during your day of exploring.
In this area of Texas, beer is the star of the show, with a plethora of local breweries within spitting distance of each other. There's Twisted X Brewing Company, Suds Monkey Brewing Co., 12 Fox Beer Co., and Vista Brewing, among many others. Beer not your thing? No problem, seeing as there are plenty of distilleries as well, including Treaty Oak Distilling (whiskey), Desert Door Distillery (sotol), and the Deep Eddy Vodka Tasting Room (you guessed it: vodka).
When you're not busy imbibing, fuel up at Salt Lick, a world-famous barbecue restaurant where it's B.Y.O.B. — and there's an all-you-can-eat option.
Distance from Austin: 23 miles (approx. 35 mins)
Related Read: The Ultimate Houston to Austin Road Trip Itinerary
5. New Braunfels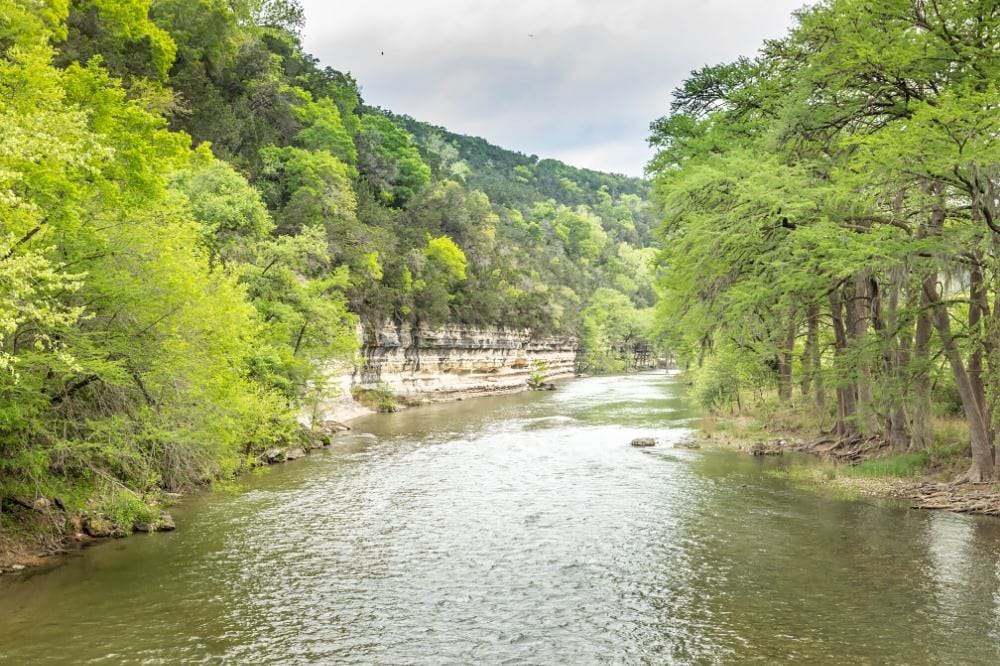 Near San Antonio, New Braunfels is another city in Texas known for its German heritage. There's no better place to place to immerse yourself in the area's history than in the Gruene Historic District, where you can visit Texas' oldest continually operating dance hall and peruse quaint boutique shops.
If you're here during the spring or summer, then you may want to pay a visit to Schlitterbahn Waterpark and Resort. The name translates from German to English as "slippery road," and the park has previously won the title of "World's Best Waterpark" on more than one occasion.
For water recreation of another kind, you can take part in the beloved Texas tradition of floating the river. There are a few local companies that offer tube rentals on the Guadalupe or Comal River, which join up in New Braunfels. And don't forget to get a tube for your cooler — drinking on the water is A-ok (just make sure to keep your wits about you.) As you might imagine, there are also a few good swimming holes and areas to paddleboard, too.
Distance from Austin: 43 miles (approx. 50 mins)
Related Read: 9 Awesome Cabin & Cottage Rentals Near New Braunfels, Texas
6. Marble Falls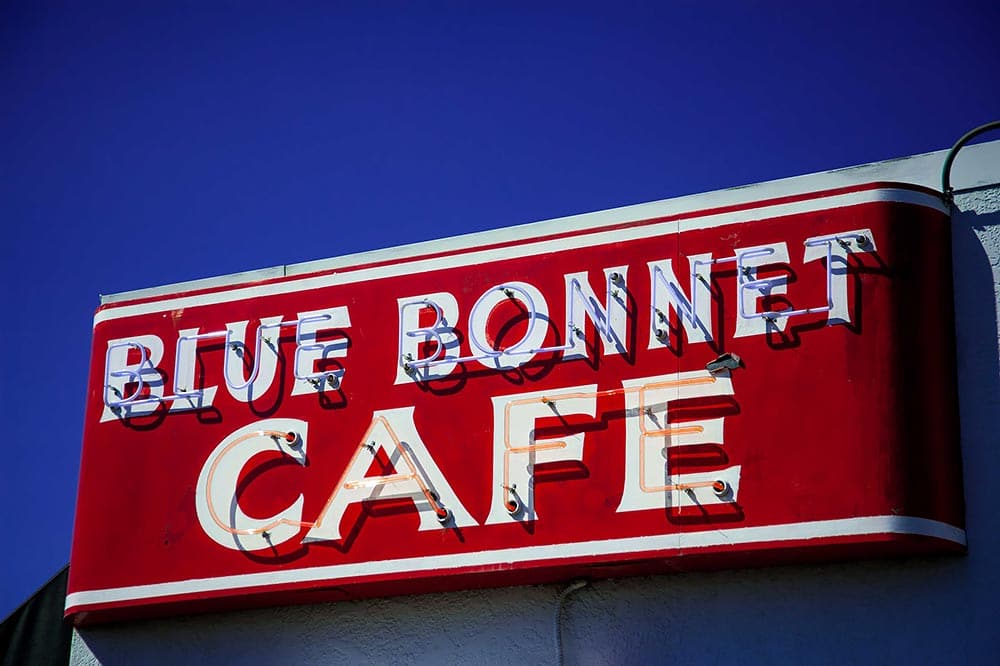 Go west along the Colorado River out of Austin, and you'll wind up in Marble Falls. As the city is on the river, watersports are the area's main draw. Johnson Park and Lakeside Park are two popular waterfront spots to have a picnic or take the boat out, and of course, summer kayak and paddleboard rentals are available at both places.. Thrill seekers may be interested in another local park: Hidden Falls Adventure Park, where you can take ATVs, UTVs, and dirt bikes for an off-road adventure.
For hiking and birdwatching, head to Balcones Canyonlands National Wildlife Refuge, a rugged area with multiple trails and a variety of endangered species like the golden-cheeked warbler.
If you only have one meal in Marble Falls, let it be at Blue Bonnet Cafe. Opened in 1929, this beloved institution is famous for its all-day breakfast, Texas-sized portions, and incredible pies. You'll almost certainly want to get one to take back to Austin with you.
Distance from Austin: 48 miles (approx. 1 hour)
Related Read: 12 Refreshing Swimming Holes Near Austin, Texas
7. Johnson City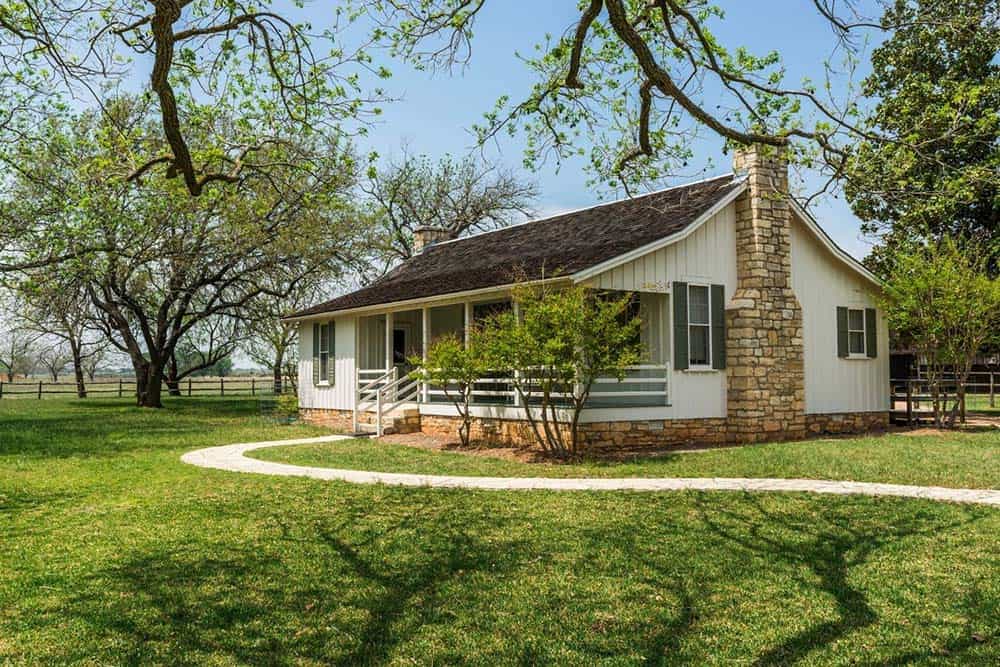 Located west of Austin, Johnson City was founded by President Lyndon B. Johnson's great-uncle. While here, you can take a tour of LBJ's boyhood home, plus see more exhibits from his life at the Lyndon B. Johnson National Historical Park Visitor Center. It's one of the best day trips from Austin if you're interested in U.S. history and is actually divided into one section for his boyhood home and one section with exhibits on American history.
For even more history, it's absolutely worth making a 20-minute drive to the LBJ Ranch in nearby Stonewall. This residence is also called the Texas White House because of how much time LBJ spent here while in office.
It's not all things LBJ, though. If you're traveling with kids, you'll want to take them to the Science Mill, a cool museum in a refurbished mill with interactive exhibits on science, technology, engineering, and math. Kids and adults alike will enjoy the city's Exotic Resort Zoo. This attraction offers a drive-through experience where you can interact with over 500 animals spanning 50 different species all from the comfort of your car.
Distance from Austin: 48 miles (approx. 1 hour)
Related Read: The 9 Best State Parks Near Austin, Texas
8. Georgetown
Going straight north on I-35 from Austin will bring you quickly to Georgetown, which boasts the claim of "the Most Beautiful Town Square in Texas." To see for yourself, walk around the city's historic downtown where beautifully restored buildings house an assortment of restaurants, tasting rooms, and shops.
If the weather is warm during your day trip, pack a swimsuit so you can go for a dip at Blue Hole Park. Bordered by limestone bluffs, this lagoon is part of the San Gabriel River. Another attractive place to enjoy the fresh air is Berry Springs Park and Preserve.
There's more to see in Georgetown than just what's on the surface. Open to the public since the late 1960s, Inner Space Cavern happens to be one of the best-preserved caves in Texas and its formations are quite stunning. Kids especially will love panning for gemstones (though it's pretty fun for adults, too.)
Distance from Austin: 28 miles (32 mins)
Related Read: 10 Best Texas Dude Ranches for a True Western Experience
9. Waco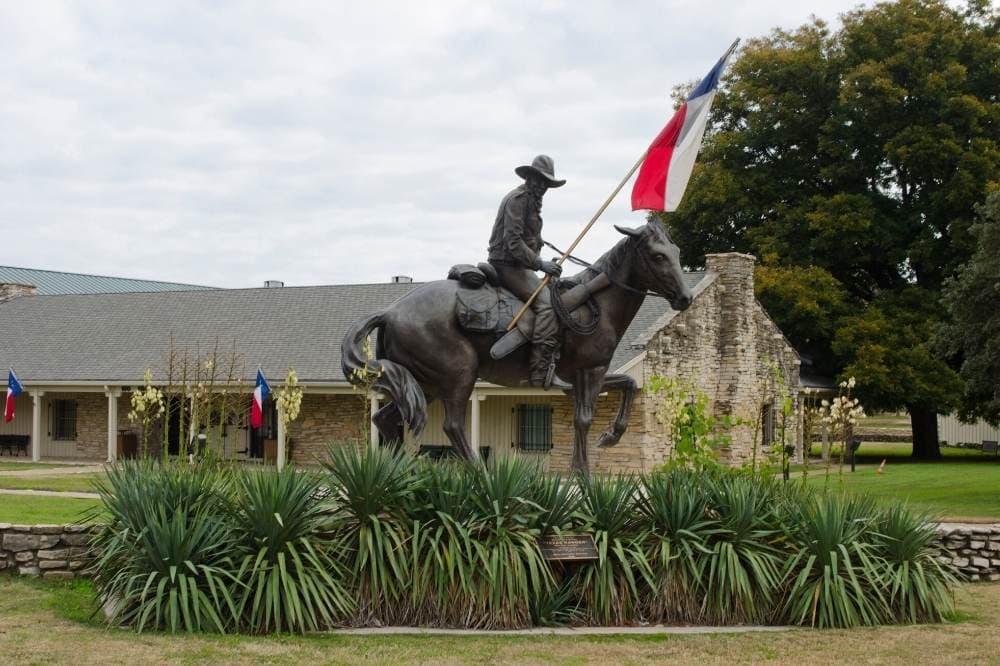 Do you watch HGTV? Then, you must know Waco, the home of Chip and Joanna Gaines from HGTV's hit show "Fixer Upper." Fans of the show and design lovers in general can make their pilgrimage to Magnolia Market at the Silos, a charming complex owned by the famous couple with shopping and food trucks.
Waco is also home to several unique museums. You can day trip from Austin to the Dr. Pepper Museum (yup, the soda was invented here way back in 1885) or the Texas Ranger Hall of Fame & Museum (designated by the state as an official historical center) and the Waco Mammoth National Monument (where you can see fossils of Columbian mammoths).
But wait, there's more! Waco also has the Mayborn Museum Complex (a natural science and cultural history museum that's part of the Baylor University campus) and the Texas Sports Hall of Fame — the state was the first in the country to have its own sports hall of fame! Though it doesn't have quite the reputation as a tourist destination of some other towns in Texas, there's actually quite a lot to do here.
Explore More in the Southwest
Sign up for Weekend Wanderer to join thousands of readers getting epic travel and airbnb ideas every week.
---