The Oregon Coast is the ideal vacation destination if you're seeking seaside serenity.
There are no big cities on the Oregon Coast. Much of the land is wild. A number of enchanting coastal towns and beachfront neighborhoods dot the coast, and each one has its own unique – and often quirky – attributes that make it well worth a visit.
What unites all of these communities, though, are the ocean beaches. In Oregon, all the land from the water to the vegetation line is deemed public land, there for everyone to enjoy. So, no matter where on the Oregon Coast you visit, you're going to find endless stretches of sandy shore to explore.
No matter where you want to visit, nor your party size, there's sure to be an airbnb on the Oregon Coast perfect for you. Below, you'll find a list of some of the Oregon Coast's best and most unique airbnbs, many of which have fantastic views or private beaches.
Related Read: The 11 Best Oregon VRBOs for Your Next Getaway
1. Luxurious Oceanfront Home
Why you should stay: Unbeatable ocean views and immaculate accommodations amid a wealth of outdoor activities.
Nearest town: Pacific City
Sleeps: 15
Minimum stay: 2 nights
Rates from: $550/night
This Luxurious Oceanfront Home is absolutely pristine inside and out. It's also much more than just a beach house. There are miles of sandy seaside coastline right out the front door, of course, but there are also nearby hiking trails, recreational sand dunes, and lakes that add to the adventure.
Bring your ATVs and jet skis to make the most of this location, or rent some outdoor toys in the fun beach town of Pacific City. Cape Kiwanda State Natural Area is a popular outdoor playground minutes down the road. Yes, its one of the more expensive of the airbnbs on the Oregon Coast, but the views somehow seem to make it all worth it, especially for a special-occasion trip.
Check Availability
Related Read: The 9 Best Beaches in Oregon to Enjoy the Pacific Vibes
2. A-Frame Beach House
Why you should stay: So much to see and do within walking distance of this cozy and unique A-frame.
Nearest town: Rockaway Beach
Sleeps: 6
Minimum stay: 2 nights
Rates from: $125/night
The eclectic collection of restaurants, boutique stores, and antique shops that line Rockaway Beach's main drag are a short walk from this A-Frame Beach House, as is the sandy shoreline. Also worth a visit is the Rockaway Big Tree Trailhead, which starts in town and leads visitors on a short hike to some of the largest red cedar trees in the world.
Nehalem Bay and Tillamook Bay are each a few miles to the north and south, providing plenty of opportunity for water-bound activities like fishing, crabbing, and kayaking. Once you've exhausted yourself with a day of coastal fun, you'll find this adorable A-frame to be the perfect place to rest the night away in preparation for tomorrow's activities. It's also pet-friendly, so feel free to bring the pups for a little beach frolicking.
Check Availability
3. Cape Meares Waterfront Home
Why you should stay: A semi-secluded beachfront getaway near strangely fascinating coastal ruins.
Nearest town: Tillamook
Sleeps: 4
Minimum stay: 2 nights
Rates from: $148/night
This Cape Meares Waterfront Home is a quintessential Oregon beachside retreat, set in a unique location near a historic beach resort and town that were swallowed up by the ocean. This destroyed resort town was called Bayocean, and you can visit the remaining ruins out on the dike that separates Tillamook Bay from the Pacific Ocean.
It's a wonder to see and explore. There are also numerous trails and a long stretch of beach for those who are more interested in the natural beauty of the area. As you can tell from some of the photos on the airbnb listing, it's also a great place for outdoor photography, with plenty of driftwood and crashing waves.
Check Availability
Related Read: 12 Essential Things to Do & See on the Oregon Coast
4. Loft of Riley
Why you should stay: Private beach access and lux finishings just south of Cannon Beach.
Nearest town: Cannon Beach
Sleeps: 10
Minimum stay: 2 nights
Rates from: $495/night
Loft of Riley is an elegantly appointed home and guest house in the sleepy neighborhood of Arch Cape. This beautiful abode is on a private street with no public beach access, so you can really feel like you're in an exclusive spot — which you are!
Guests of the loft will have their own private path to the beach. Though there are other homes in the area, the property's layout fosters a sense of seclusion. The large deck and spacious yard are awesome gathering places, and the seemingly endless beach provides plenty to do. Sure, it's one of the pricier airbnbs on the Oregon Coast, but it does sleep a fairly large group.
Check Availability
5. Salacia Chalet
Why you should stay: Private panoramic ocean views from a cozy roost on a cliff above Gleneden Beach.
Nearest town: Lincoln City
Sleeps: 6
Minimum stay: 2 nights
Rates from: $200/night
You'll certainly hear the ocean's constant roar as its crashing waves pound on the cliff face below the Salacia Chalet. At low tide on calm days, there's plenty of room on the beach to roam, but don't get caught out in the surf when the tide rolls in.
That said, this chalet is a prime spot for surfers as it's near some of the state's most popular surfing beaches and Lincoln City's numerous surf shops. Everyone else can enjoy the waves from a distance. Alternatively, the nearby Siletz Bay is a relatively shallow body of water fantastic for beachcombing and clamming at low tide. Be sure to get a clamming license in advance if you plan on finding your own dinner.
Check Availability
6. The Sea Pearl
Why you should stay: As if the high-end details and modern styling weren't enough, check out that view.
Nearest town: Newport
Sleeps: 10
Minimum stay: 2 nights
Rates from: $495/night
A luxurious coastal paradise, The Sea Pearl will leave you in awe. Its floor-to-ceiling windows and driftwood-inspired interior color scheme bring the shoreline into your living space, though it doesn't take much effort to peer out and see the actual shoreline.
Agate Beach and Nye Beach are two of the central Oregon Coast's best beaches for long walks, and The Sea Pearl sits right where those beaches meet. The house is on a dead-end street with private beach access, and the charming community of Nye Beach is only a minute down the road.
Check Availability
7. Otter Rock Surf Yurt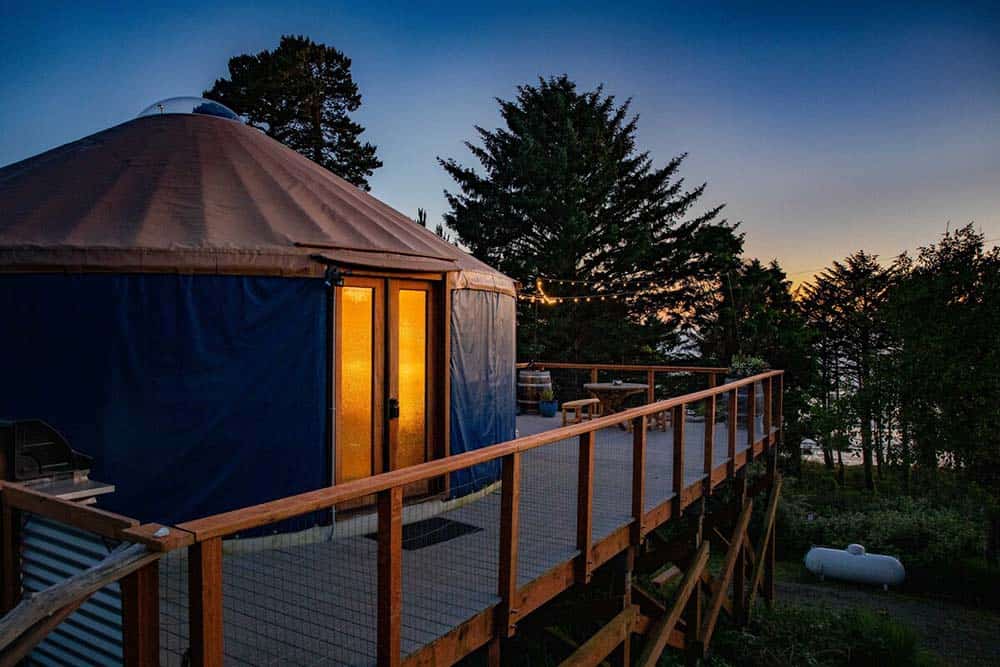 Why you should stay: Glamp it up near Devil's Punchbowl, an awesome beach break for surfers and beachcombers.
Nearest town: Depoe Bay
Sleeps: 4
Minimum stay: 2 nights
Rates from: $149/night
Guests of the Otter Rock Surf Yurt will be within walking distance of the amazing Devil's Punchbowl State Natural Area and the small-town beach town amenities Otter Rock has to offer. A short beach trail leads to the coastline where surfing, swimming, and tidepool hunting are all popular local pastimes. The views are equally great at night if you're into stargazing, but remember that the yurt is B.Y.O.B– bring your own bedding. Most everything else is provided.
The yurt's large wraparound deck provides ample space to stretch out and soak in the sun. Guests will find this to be a great place to simply kick back and relax, and the town of Newport is minutes away for those who are in need of civilization.
Check Availability
8. Neskowin Cottage
Why you should stay: A minimalist and tranquil nearby town make this a peaceful respite for weary wanderers.
Nearest town: Neskowin
Sleeps: 8
Minimum stay: 2 nights
Rates from: $179/night
Located in the heart of an unassuming seaside village, Neskowin Cottage is designed to puts guests at ease. The simple but well-appointed home has everything you need for a relaxing getaway. One of the bedrooms has two sets of bunk beds, but it's still fairly roomy and feels bright and airy.
Neskowin Beach State Recreation Site is home to a remarkable creekside beach unlike any other place on the coast, and it is but a short walk from the cottage. The romantic Proposal Rock rises as an ocean blockade at the creek's delta; it's great for exploring during low tide.
Check Availability
9. Oceanside A-Frame
Why you should stay: Sky-high ocean views overlooking the quaint towns of Oceanside and Cape Meares.
Nearest town: Oceanside
Sleeps: 4
Minimum stay: 2 nights
Rates from: $179/night
Perched on a hillside above the town's few sleepy streets, this Oceanside A-Frame sets the stage for outstanding views and is conveniently close to numerous small-town offerings. Oceanside's few restaurants and coffee shops are but blocks away, and it's a short downhill walk to the beach.
This is the ultimate coastal respite for those seeking oceanic tranquility. Enjoy the sun-soaked summer ocean vistas or the crashing waves brought by winter storms from the deck, or from behind the glass of the ceiling to floor windows.
The larger towns of Netarts and Tillamook are just around the bend, and the nearby Cape Meares State Scenic Viewpoint is a lovely spot for an afternoon walk.
Check Availability
Related Read: The 11 Best Airbnbs in Bend, Oregon
More Incredible Getaways
Get epic travel ideas delivered to your inbox with Weekend Wanderer, our newsletter inspiring more than 10,000 readers every week.
---