New Mexico's capital city is a hiker's paradise tucked at the foot of the Sangre de Cristo mountains.
Sitting at an altitude of 7,199 feet, Santa Fe is the highest elevation capital city in the U.S. And from its high elevation vantage point, you can opt to wander the foothills, summit the peaks, or stroll along the arroyos around town.
From grasslands to piñon-juniper woodlands and conifer and aspen forests, the City Different has a little something to delight every type of hiker. So lace up your boots and check out one (or all) of these 11 great hikes near Santa Fe, New Mexico.
Related Read: 7 Awesome Scenic Drives in New Mexico
1. Randall Davey Audubon Center Loop
View this post on Instagram
Why you should go: A family-friendly stroll great for birders, young and old.
Distance: 0.6 miles
Difficulty: Easy
Elevation gain: 104 feet
Head to the Randall Davey Audubon Center for an easy hike to get to know some of the locals—local birds, that is. Bring your binoculars and stop by the visitor center to get the inside intel on recent sightings. The sanctuary is home to around 190 species of birds. Depending on the time of year you visit, you'll likely spot more than a few on your hike.
This short, easy loop will take you on a tour of the foothills of the Sangre de Cristos. Keep your eyes peeled for your avian neighbors flitting about in the shrublands. Along the way, you can add on some extra mileage on the Bear Canyon Trail if you want a longer outing. If short and sweet is your style, stick to the main loop. And be sure to swing by the gardens for some more natural beauty after you're done hiking.
2. Ancestral Sites Trail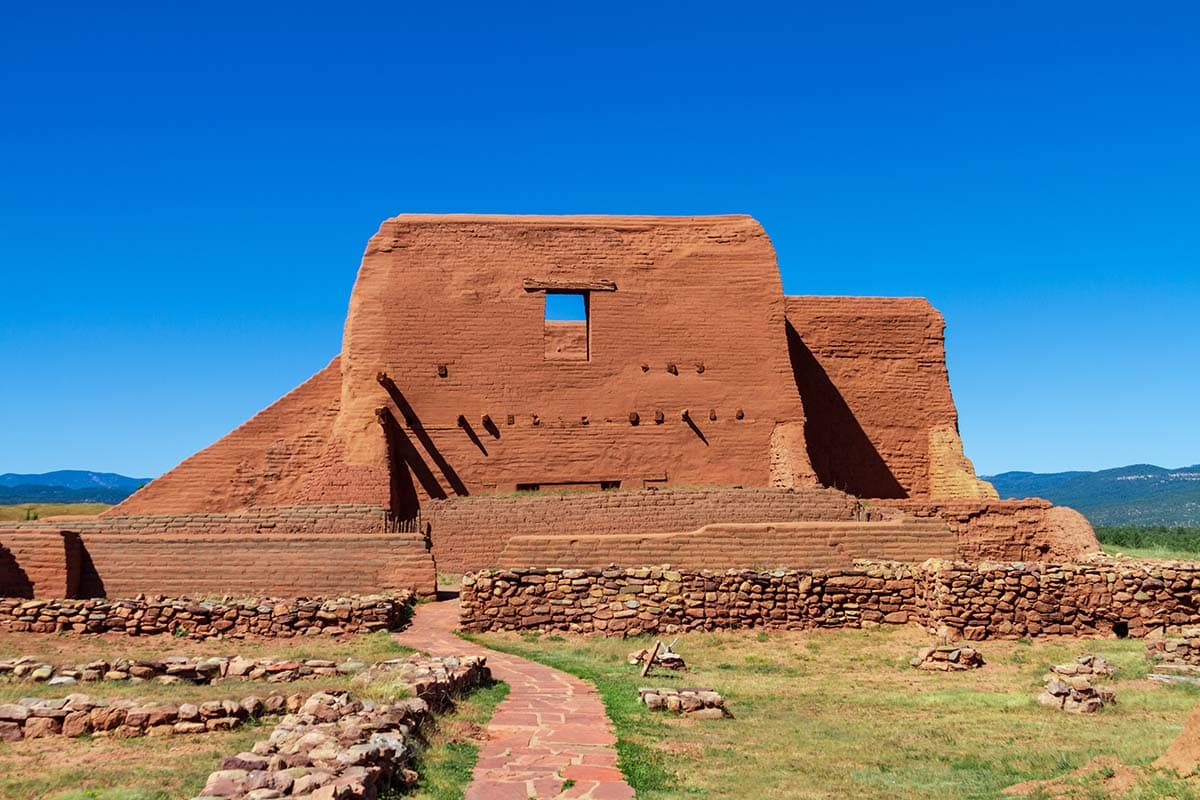 Why you should go: Journey into the past to see the remains of the Pecos Pueblo.
Distance: 1.2 miles
Difficulty: Easy
Elevation gain: 82 feet
Located in Pecos National Historical Park, the Ancestral Sites Trail is a short, easily accessible trail located right by the visitor center. Along this easy path, you'll pass several well-preserved sites of the Pecos Pueblo and a Spanish mission church dating back to 1717. For history buffs, take an hour-long guided tour to really delve into the fascinating history of the area.
Be sure to plan time to pause and take in the sweeping views of the Sangre de Cristo Mountains and Glorieta Mesa. The wide, well-maintained trail makes for an easy-going outing, great if you have adventurous little ones in tow. Bonus: Pack a picnic lunch to enjoy at one of the park's two picnic areas after your hike.
Related Read: 11 Awesomely Unique Places to Stay in New Mexico
3. Arroyo Hondo Open Space Trail
View this post on Instagram
Why you should go: A beautiful trail system incredibly close to downtown.
Distance: 1.8 miles
Difficulty: Easy
Elevation gain: 275 feet
The 86 acres of Arroyo Hondo Open Space are located a mere 5 miles southeast of downtown Santa Fe. This great trail system couldn't be more conveniently located, especially if you want to go for a hike and hit up the shops, galleries, restaurants, and historic sites of downtown. This easy loop gives you a good taste of New Mexico's more arid ecosystems—complete with pinion, juniper, and several different types of cactus.
Along the route, you'll enjoy panoramic views of the Galisteo Hills, Cerrillos Hills, and Ortiz Mountains as well as get glimpses of the Arroyo Hondo, a seasonal stream that flows along the southern side of the trail system. While the stream may be dry later in the summer, if you catch it in the spring or after an afternoon thunderstorm, the Arroyo Hondo adds a touch of lushness to the desert landscape.
4. Tsankawi Ruins Trail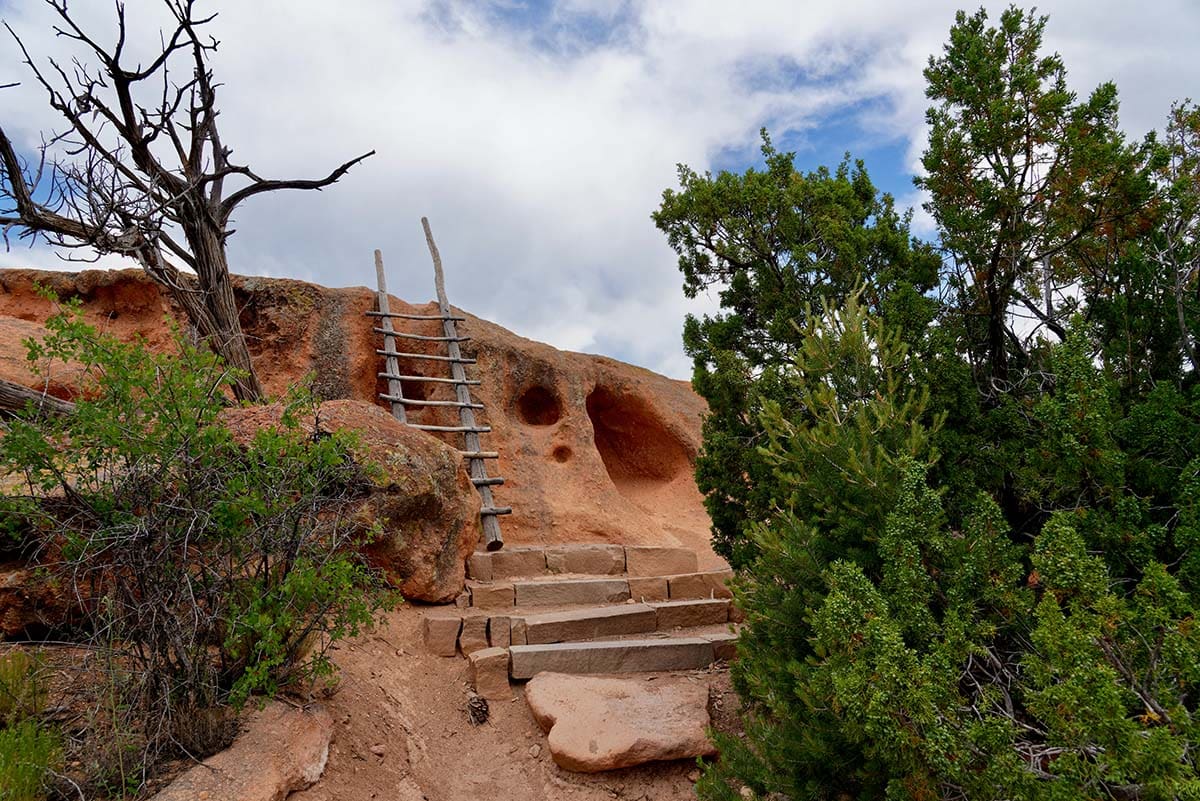 Why you should go: Experience an incredible outdoor museum you can explore at your own pace.
Distance: 1.6 miles
Difficulty: Easy/Moderate
Elevation gain: 236 feet
Although Bandelier National Monument is about an hour's drive from Sante Fe, it's well worth the time in the car to hike the Tsankawi Ruins Trail. A great afternoon or weekend adventure, this trail takes you along the footpaths used by the Ancestral Pueblo people, with opportunities to view cavates (cliff dwellings), petroglyphs, and the Ancestral Pueblo village of Tsankawi.
Although the trail along the mesa is short, it does come with a few challenges, including several wooden ladders, so come prepared to do a little climbing. Also, the trail is very exposed, so always check the forecast and keep an eye open for thunderstorms. The wide, open nature of the path also means you get gorgeous views in all directions with the Jemez Mountains as a backdrop.
Related Read: 8 Secluded New Mexico Cabins for a Relaxing Getaway
5. Dale Ball Trails North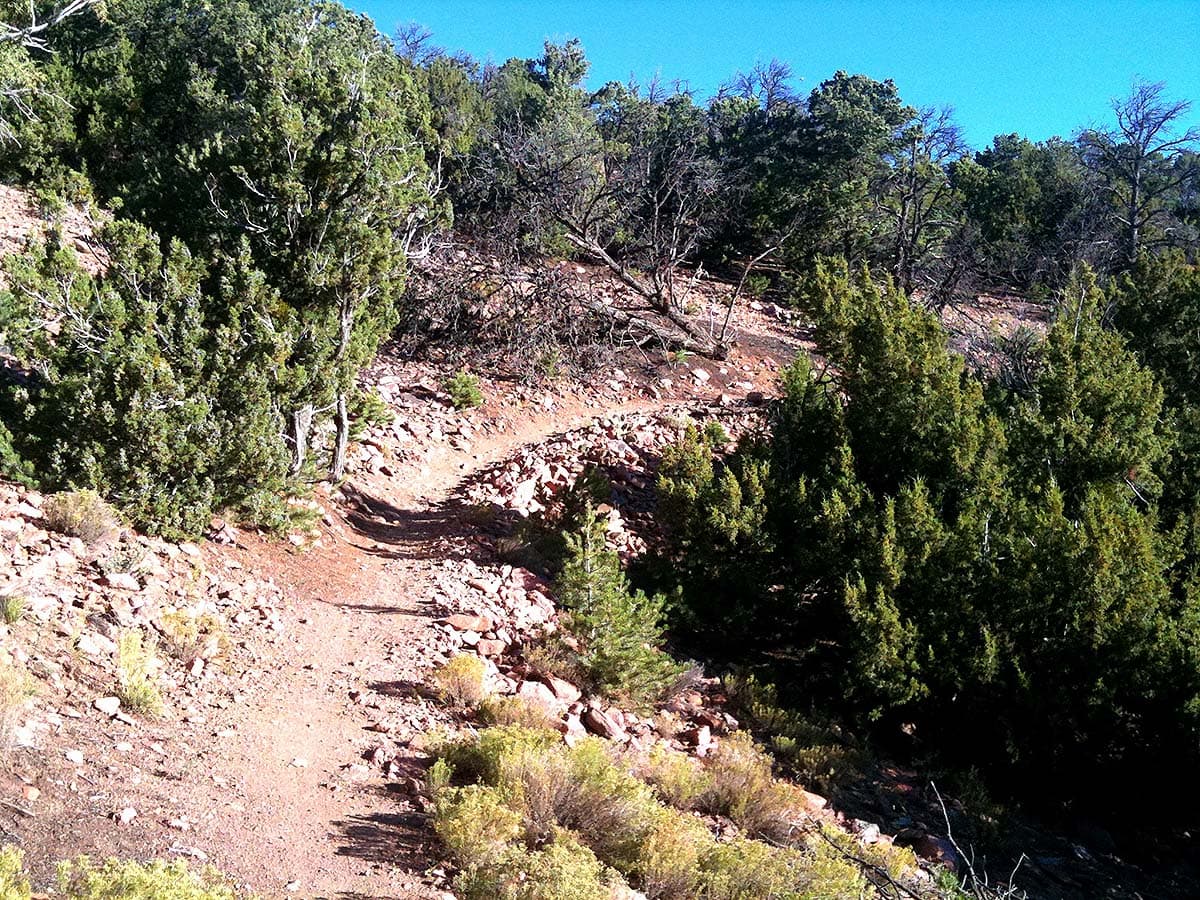 Why you should go: A quick escape in the foothills with plenty of views to reward your efforts.
Distance: 4.4 miles
Difficulty: Easy / Moderate
Elevation gain: 567 feet
A local's favorite for both hiking and mountain biking, the Dale Ball trail system provides 25 miles of trails to explore. And it is one of the closest trailheads to Santa Fe for those looking for a nearby hike to get into the mountains. The dirt trails wind through the foothills of the Sangre de Cristo Mountains, and this 4-mile loop is a great option for beginners and expert hikers seeking a quick escape from the city.
Offering a nice mix of shade and sun, the rolling trail winds through mainly piñon and juniper forests. Keep an eye open for local wildlife, and don't forget to stop to enjoy the views. Should you desire to shorten (or lengthen) your loop, you have several other trail options. All the major trail junctions are well-marked with signs and numbers to help you navigate the area.
6. Diablo Canyon Trail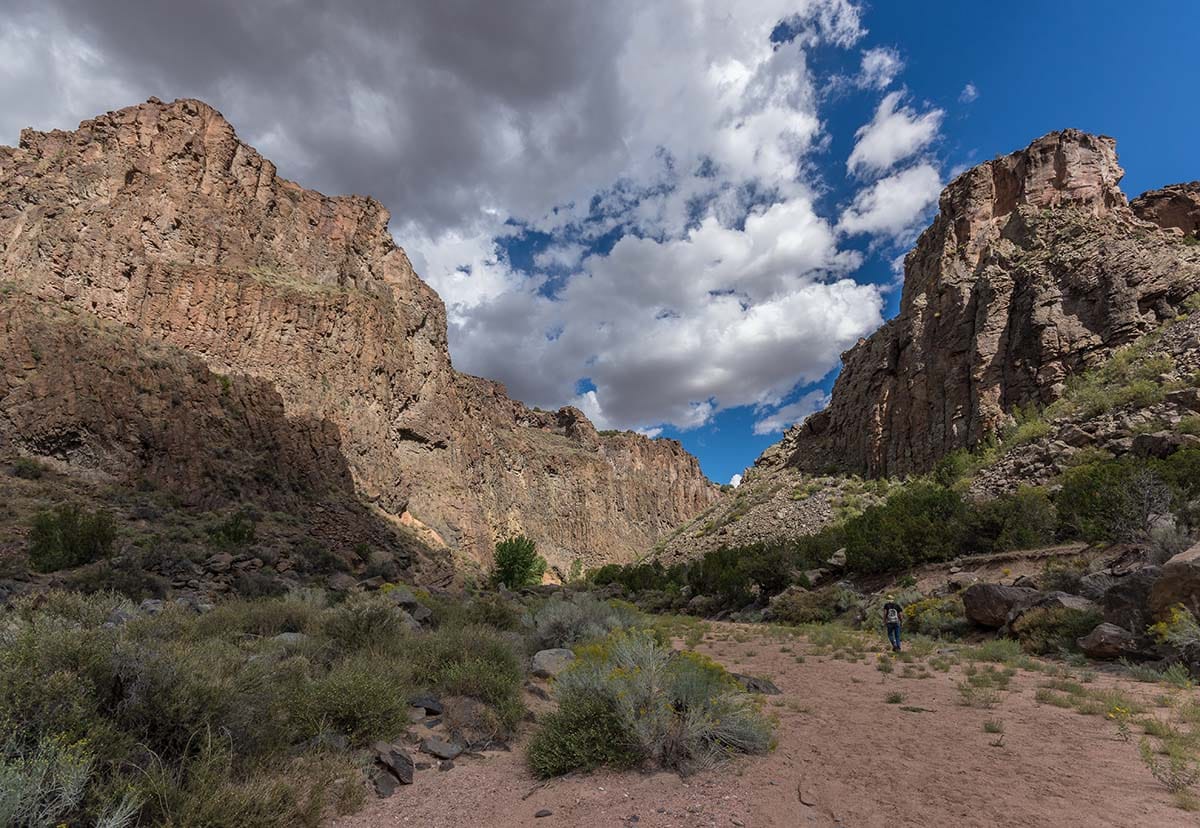 Why you should go: Take a hike in scenery that looks like it's straight from a movie set.
Distance: 5.9 miles
Difficulty: Moderate
Elevation gain: 393 feet
About a 40-minute drive northwest of Santa Fe, you'll find the Diablo Canyon Recreation Area. The dramatic cracked basalt cliffs of Diablo Canyon are popular with climbers, as the vertical walls offer some of the best multi-pitch tradition and sport climbing in the state. For hikers, the Diablo Canyon Trail lets you get a taste of that same stunning scenery — a landscape that might look familiar for its cameo in blockbusters such as The Missing, 3:10 to Yuma, and Cowboys and Aliens.
This roughly 6-mile out-and-back hike takes you through the canyon down to the Rio Grande. Much of the trail is a wide, sandy wash, so come prepared for loose footing. And keep in mind that the way out is a steady (though gradual) descent to the river. Bring plenty of water and save your energy for that hike back up to the trailhead! You'll be rewarded for your efforts with outstanding views of the cliffs and a scenic stop off at the Rio Grande at your halfway point.
Related Read: Sunshine & Solitude: Best Backpacking Routes in Big Bend National Park
7. Picacho Peak Trail
View this post on Instagram
Why you should go: Get a taste of the mountains with stellar views over Santa Fe.
Distance: 3.8 miles
Difficulty: Moderate
Elevation gain: 1,230 feet
If you're looking for some elevation gain and a summit to add to your hiking bucket list, Picacho Peak is one of the more popular peak hikes in the Santa Fe area. And it's conveniently located near downtown so you can bag your summit and be back in time for dinner.
Starting from the well-maintained Dale Ball trails, the climb starts through piñon and juniper forest before transitioning to stands of ponderosa pines. The climb is steady with some rocky footing, but nothing too strenuous or technical. From the summit of 8,249-foot Picacho Peak, you'll enjoy sweeping views back over Santa Fe with the Jemez and Ortiz Mountains in the distance.
8. Atalaya Mountain Trail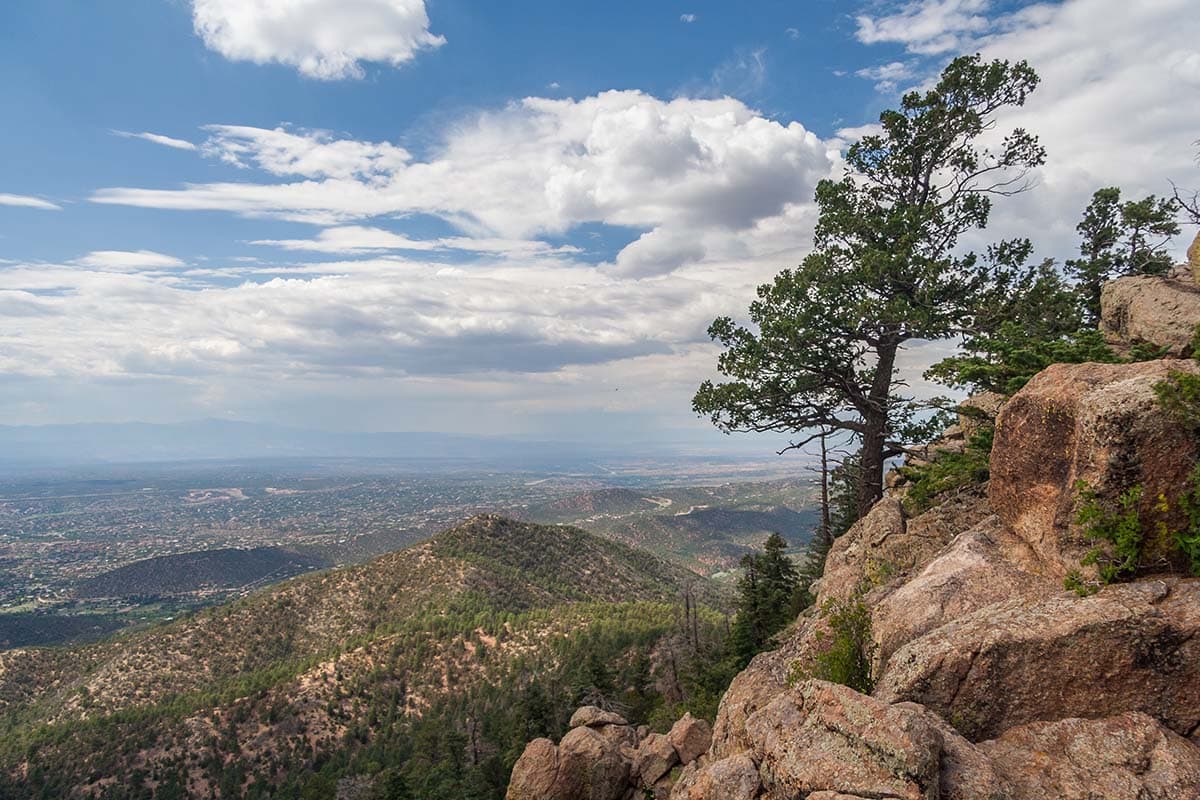 Why you should go: Bag a peak in the morning and be back to town in time for lunch.
Distance: 6.2 miles
Difficulty: Moderate
Elevation gain: 1,797 feet
Another incredibly popular hike near Santa Fe, the Atalaya Mountain Trail offers a summit excursion with stellar views of over Santa Fe as your reward. Located in Santa Fe National Forest, the trail is a steady uphill. Come ready for both the climb and the altitude as you'll be topping out at just over 9,000 feet on the summit of Atalaya.
The trail climbs through piñon and juniper forest before transitioning to ponderosa and fir at the higher altitudes. The trees will provide some shade along the way, though you'll still want plenty of sunscreen and water. The views from the top will be well-worth breaking a sweat. And, of course, you'll get to enjoy a nice downhill cruise to return back to the trailhead.
Related Read: 10 Adventurous Glamping Destinations in New Mexico
9. Nambe Lake Trail
Why you should go: Get a good workout with some rewarding Rocky Mountain scenery.
Distance: 6.7 miles
Difficulty: Hard
Elevation gain: 2,080 feet
Though the climb to Nambe Lake isn't an easy endeavor, the overall mileage on this out-and-back hike is manageable for a half-day outing. Plus, the scenery along the way to this high-altitude lake is well worth the effort. Starting from the Santa Fe Ski Basin parking lot along the Windsor Trail, you'll be treated to shaded sections through aspen and pine forest. You can spot wildflowers in season, and you'll enjoy some nice viewpoints overlooking Santa Fe.
The first two miles are relatively easy-going. At the junction for Nambe Lake, the tough part of the climb begins, following along the drainage of the Rio Nambe, a small creek that flows from the lake. After just over a mile of climbing, you'll reach the shores of Nambe Lake. Spend some time exploring around the small lake. Or sit and take in the peaceful setting. When you're ready, retrace your steps to return to the trailhead.
Related Read: 12 Best Spots to See the Fall Colors in New Mexico
10. Deception Peak & Lake Peak
Why you should go: Revel in the fresh mountain air and high alpine views.
Distance: 6.6 miles
Difficulty: Hard
Elevation gain: 2,601 feet
If you're looking for some elevation gain and to top out above treeline for some remarkable panoramic views, a climb up to Deception Peak and Lake Peak in the Santa Fe National Forest will deliver the goods. From the Winsor Trailhead, take the Winsor Trail to the junction with Raven's Ridge — here the climb gets tough as you'll follow the ridge up to the aptly named Skyline Trail.
The lower portion of the hike winds through conifer forests but be prepared for an exposed, above-treeline push to the two peaks — watch out for afternoon thunderstorms in the summer. The rocky ridgeline that takes you to Deception Peak and then on to Lake Peak offers a fabulous vantage point for 360-degree views. Be sure to look up and take in the scenery when you aren't watching your footing. You'll also have the chance to spot wildlife like marmots and bighorn sheep on the heights, too.
Related Read: 11 Easiest 14ers in Colorado for Newbies to the High Peaks
11. Santa Fe Baldy via Windsor Trail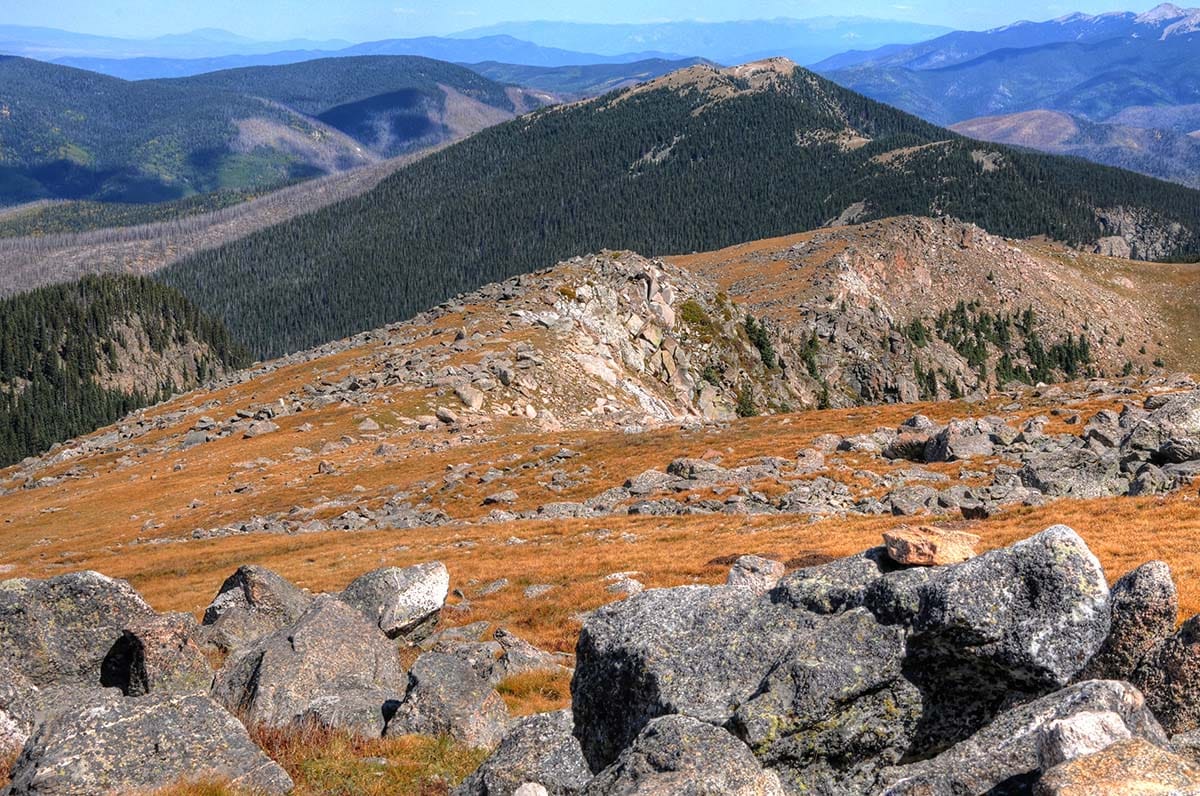 Why you should go: An all-day adventure to escape the crowds.
Distance: 13.5 miles
Difficulty: Hard
Elevation gain: 3,517 feet
If you're looking for a long mileage day that takes you deep into Santa Fe National Forest, head for Santa Fe Baldy via the Windsor Trail. The first part of the trail will be well-traveled as it accesses many of the most popular hikes in the area. But as soon as you get a few miles in, you'll find yourself on increasingly quiet singletrack as you head into the heart of the Sangre de Cristos.
At about 4 miles into the hike, the uphill will start in earnest. The singletrack trail can be rocky, rough, and eroded in places, so watch your footing on the climb. Follow the switchbacks up to Windy Pass and onto the Skyline Trail which will bring you to 12,622-foot Santa Fe Baldy.
From the summit, you'll enjoy fabulous mountain views in all directions as well as a bird's eye view of Katherine Lake to the northeast. Should you desire, you can continue along the rocky ridgeline for added mileage. Or, once you're done enjoying the views, head back the way you came to finish out your hike.
Related read: 10 Places to See Native American Pictographs & Petroglyphs in the West
Explore New Mexico
Get epic travel ideas delivered to your inbox with Weekend Wanderer, our newsletter inspiring thousands of readers every week.
---