The Oregon Coast is 363 miles of spectacular shoreline, with driftwood-strewn stretches of sand, tide pools full of tiny ocean critters, and postcard-perfect photo-ops in front of picturesque lighthouses.
Even better is that all 363 miles of the Oregon coast are open to the public. There are endless opportunities to comb for agates or find ocean glass on the beach, watch for whales and dolphins, surf, catch your own meal, fly a kite, or just go for a stroll in the sand.
Related Read: When is the Best Time of Year to Visit Oregon?
Best Beaches in Oregon – Our Top Picks
With so many miles of shore, it can be hard to narrow down the best beaches in Oregon — after all, there are plenty of options. But if you want a little assistance in making that decision, check out the list of the best beaches in Oregon below, offering a ton of variety for your next PNW getaway.
1. Fort Stevens State Park
Fort Stevens State Park is just south of the Washington State border, offering a beach, freshwater lakes for swimming, wildlife watching, and camping. You've probably seen photos of it as the on-site beached shipwreck is a popular photography subject. The Peter Iredale is one of the few shipwrecks that actually sits on land, and while it's certainly not in tact, more of it remains than you'd expect for surviving over 100 Oregon winters.
The park also offers nine miles of paved biking trails and six miles of hiking trails that wind through forests, dunes, and wetlands. At the military museum and information center, you can view displays focused on everything from the Civil War to World War II or walk through the West Coast's only Civil War era earthen fort. You can even tours the underground through a rare gun battery from WWII in the summer.
Related Read: 14 Fun Things to Do in Lincoln City, Oregon
2. Seaside
The town of Seaside has a three-mile stretch of beach along the northern Oregon coast, providing plenty of room for long strolls, kite flying, sandcastle building, Frisbee flinging, and much more. Time it right by visiting an hour or two before low tide and you'll likely see sand dollars strewn across the beach. Remember that these are living creatures, so if you pick one up and its still moving at all, set it back in the ocean to do your good deed for the day.
Next to the beach is a paved promenade for biking, walking, or even roller blading – you do you. Also on the "prom" is the Seaside Aquarium where you can feed the sea lions who've learned to perform tricks in hopes of getting a fish thrown their way. Seaside is also a great place for ocean fishing if you're hoping to catch your own dinner, but if luck isn't on your side, you can enjoy the best seafood in town at Bell Buoy, popular for its halibut fish 'n chips, Dungeness crab, and homemade clam chowder.
Related Read: The 9 Best Beaches in Oregon to Enjoy the Pacific Vibes
3. Cannon Beach
Just south of Seaside, Cannon Beach is one of the most scenic stretches on the Oregon coast. It's renowned for its golden sands with sea stacks rising out of the Pacific just offshore. Haystack Rock is the most famous and the largest of the many monolithic rocks along the shoreline at 235 feet tall. It not only makes for great photos, but it provides a nesting ground for sea birds like puffins. Plus, there are usually myriad colorful creatures like starfish in the tide pools if you visit at low tide. Come in June and you can watch or compete in the oldest competition of its kind in the Pacific Northwest: the Cannon Beach sandcastle contest. It's been an annual event for more than a half-century.
Just north of the beach is Ecola State Park, where you'll find miles of scenic hiking trails that wind through old-growth rain forest while providing views of the ocean and Tillamook Rock Light, a lighthouse perched on rocks. In the town of Cannon Beach itself, you'll find art galleries, artisan boutiques, restaurants, bars, and cafes.
Related Read: The Ultimate Portland to Seattle Road Trip Itinerary
4. Gearhart Beach
The place to go for peaceful walks and very few people, Gearhart is north of Seaside and is known for its long, nearly flat stretch of coastline. It's also the perfect beach for kite flying with plenty of room to ensure you can avoid tangled strings. Like many of the best beaches in Oregon, it's popular for finding sand dollars and clamming at low tide.
There are two access points. If you access the beach from Highlands Lane, you can drive out onto the sand as far north as Warrenton. From the Pacific Way entrance, you won't be able to take your vehicle onto the beach, but you'll find facilities like picnic areas, basketball courts, and restrooms. If you didn't bring food for a picnic, there are several outstanding eateries nearby, like McMenamins Sand Trap Bar & Grill. It's part of the Gearhart by the Sea Resort.
Related Read: 10 Best & Most Unique Airbnbs on the Oregon Coast
5. Hug Point State Recreation Site
Just seven miles south of Cannon Beach, Hug Point State Recreation Site in Arch Cape offers something extra special (beyond a beautiful beach): a waterfall. Tucked into a cove, it's the perfect place to toss down a blanket and enjoy a picnic surrounded by breathtaking scenery. You can build sandcastles, wade in the water, and walk just slightly north to enjoy Hug Point Falls and see the caves caved by water into the sandstone cliffs.
Hug Point offers something for history buffs, too. Before the highway was built, stagecoach travelers had to hug the shore to find flat enough terrain to traverse. At low tide, just north of the parking area, you can walk the original stagecoach road and see wheel ruts that were carved into the rock. It was no easy journey, with those early pioneers having to carefully "hug" the point – hence its name.
Related Read: 13 Best Hikes Near Salem, Oregon
6. Rockaway Beach
A long stretch of sandy shoreline stretching for over seven miles with numerous access points, Rockaway Beach is a great choice for those who want to avoid the crowds. It offers plenty of space for Frisbee throwing and kite flying, and the few people who do come here are usually searching for shells and the occasional Japanese glass floats that wash up after spending years out at sea. Tide pools along the surrounding rocky areas are ideal for spotting sea anemones, starfish, and hermit crabs.
Rockaway is a great beach to enjoy after dark since bonfires are allowed. Arrive before dusk to set up your fire then sit back, relax, and watch the sun dip below the waters of the Pacific. If you're lucky enough to be there on a clear night, get ready, since it's one of the best beaches in Oregon for amazing stargazing.
Related Read: 10 Epic Pet-Friendly Cabin Rentals in Oregon
7. Nye Beach
Located in the popular town of Newport, Nye Beach offers all the spectacular scenery, sand, and surf activities you could ever want in a day out at the beach. The 12-block-long area lies just off Coast Street, where you'll find beach access points plus multiple restaurants like the Nye Beach Cafe. It's a popular breakfast spot but also serves lunch and cocktails, best enjoyed on one of the outdoor picnic tables.
But Nye Beach isn't just eateries and fun shops. It's also an easy place to hit the beach since there's plenty of parking and the whole are is very walkable. Don't miss visiting the 93-foot-tall lighthouse at Yaquina Head, built in 1872 on a natural area created by lava flows more than 14 million years ago. Not only is it picturesque, but it's surrounded by numerous tide pools.
Related Read: 11 Awe-Inspiring Glamping Spots in Oregon
8. Bandon Beach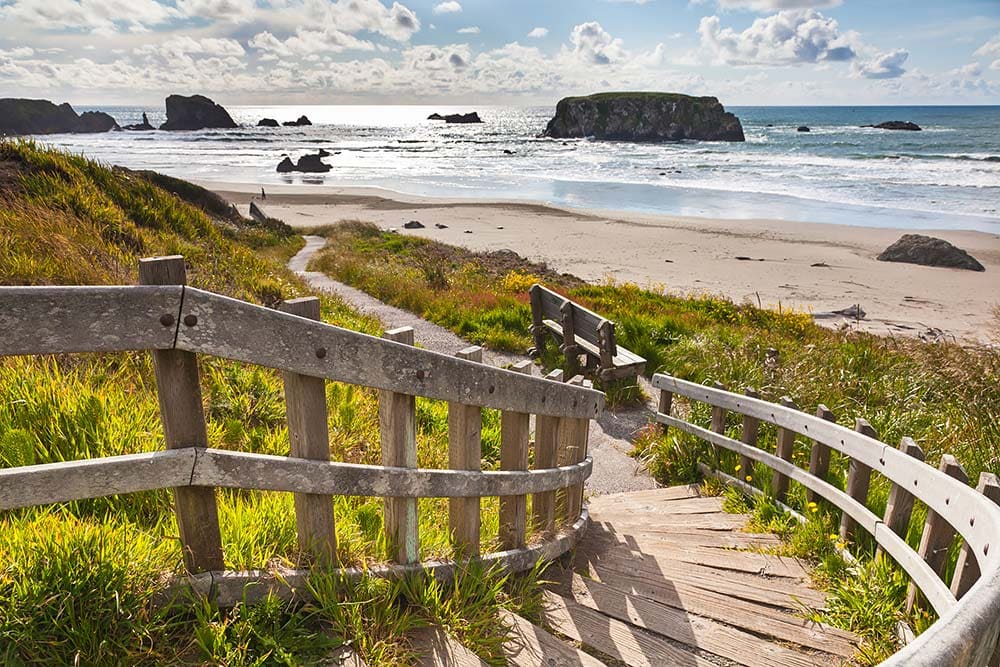 Bandon is one of Oregon's most charming small coastal towns, and its crown jewel is the beach. At Coquille Point, you can take a stroll along the paved trail to the headlands for a breathtaking view of the ocean as well as (hopefully) puffins and other sea birds that live near the sea stacks.
Watch for migrating grey whales and, if you're very lucky, orcas. If you like to beach comb, you'll find good shells in the protected areas close to the mouth of the Coquille River.
Golfers will likely already know about the popular Bandon Dunes Golf Resort, known as one of the best courses in Oregon. But for everyone else, there's nearby hiking, trail biking, cycling, and fishing year-round. Plan to spend at least one afternoon in Old Town Bandon, which offers a 10-square-block historic district with independent shops and galleries, as well as mom and pop restaurants focused on fresh seafood,
9. Meyers Creek Beach
One of the most beautiful and most photographed beaches in the world, Meyers Creek Beach is in the town of Gold Beach near the California border. If you're a photographer, you can capture some incredible shots here, especially in the early morning or late evening hours when the sky lights up with color. The shallow bays around the beach make it popular for windsurfers, traditional surfers, and other adrenaline-seekers who enjoy more extreme water sports.
While it makes for a beautiful walk any time, you can walk out to the rock formations at low tide, some of which have tunnels that are easily passable on foot. Be sure to stick around to watch an impressive sunset for the perfect finale to your day.
Additional Read: The 9 Best Small Towns in Oregon for a PNW Escape
Find More Incredible Stays
Sign up for the Weekend Wanderer to join thousands of readers getting epic travel ideas every week.
---