Known as Oregon's state capital, but otherwise overshadowed in many respects by big brother Portland, Salem is like a diamond in the rough.
The Cherry City has plenty going for it, though, especially in the realm of outdoor exploration. Sure, Portland has Mount Hood, but you can't see the mountain when you're on top of it. As such, Salem-area trails are home to some of the most scenic hikes in the state.
There are numerous parks within the city that are decorated with enchanting trails along the area's biologically diverse riverfront wetlands. Outside of town, escalating foothills rise up to the Cascade and Coast mountain ranges where rainforests, waterfalls, and volcanic rock formations await to be explored.
Here is a list of Salem's best hikes. You'll find this to be a wide-ranging selection of trails that can be found everywhere from the steps of the state capitol buildings to the heights of Mount Jefferson's timberline, and everywhere in between.
The catastrophic 2020 Oregon wildfires have affected many trails in the region. Opal Creek and Abiqua Falls are two such beloved trails that were heavily damaged by the fires and will remain closed for a time while the landscape heals. Be sure to look up the current status of the Cascade-area trails below, or call the local ranger station for up-to-date information, before you attempt to hike them.
As always, don't forget to follow Leave No Trace principles when hiking, like minimizing your impact and properly disposing of waste. Learn more here.
Related Read: The 10 Best Scenic Drives in Oregon
1. Baskett Bluff Loop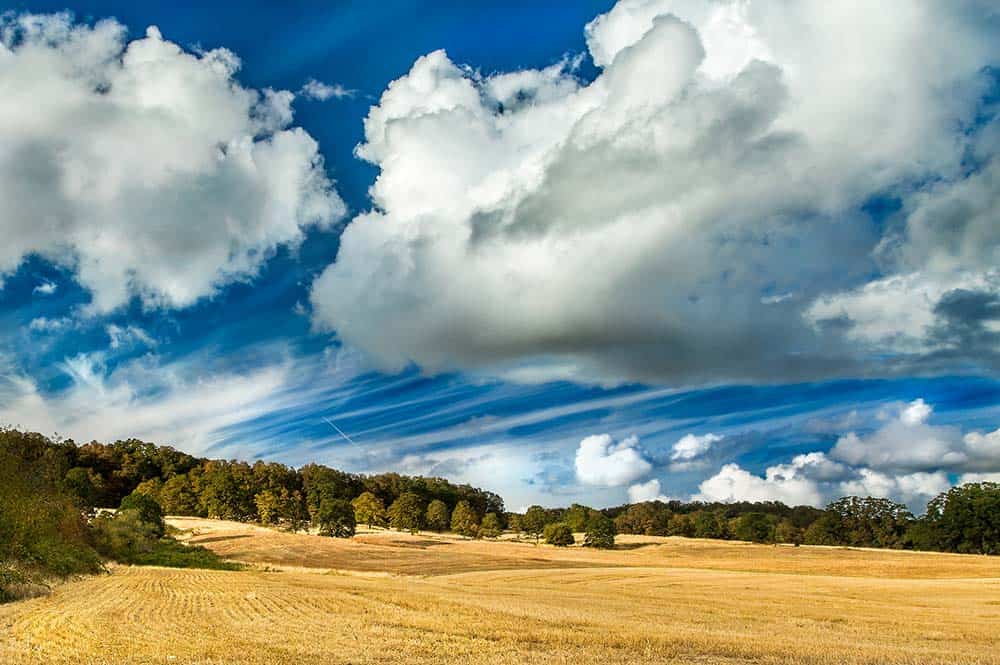 Why you should go: Interpretive signage and wetland vistas are present throughout this delightful walk.
Difficulty: Easy
Distance: 1.5 miles
Elevation gain: 206 feet
The Baskett Slough National Wildlife Refuge is a stopping point for thousands upon thousands of migratory waterfowl in the fall and winter. It's also home to many different year-round birds such as great blue herons, bald eagles, and red-tailed hawks.
On a journey along the Baskett Bluff Loop, visitors will be guided from one interpretive sign to the next, each one showcasing the different aspects of refuge's import and impacts on both local and migratory wildlife.
The entire trek is full of awesome visuals, too, so don't forget to bring your binoculars. You'll have sweeping views of the southern end of the refuge all along the trail. The observation platform and the bluff is a fine place to relax and birdwatch as the sun sets over the coastal mountains to the west.
Related read: 11 Refreshing Swimming Holes in Oregon
2. Blue Heron Loop
View this post on Instagram
Why you should go: Wetland wandering and a web of loop trails to choose from so that you can build your own adventure.
Difficulty: Easy
Distance: 2.7 miles
Elevation gain: 29 feet
The Blue Heron Loop is just one of many fantastic loop trails across Minto-Brown Island Park. This easy path takes hikers along a series of dirt trails around the Oxbow Slough which teems with wildlife.
There is an adjacent paved trail called the Purple Rabbit Loop that follows a nearly identical route. This is a great option for those with strollers or disabilities.
While this particular path is great, there are many more loops that can be connected to create a longer journey. For instance, you can hop onto the Orange Turtle Loop for solitude along the tree-lined bank of the Willamette River or the Red Osprey Loop to traverse an open field.
Not to be left out is the Yellow Duck Loop which encircles a large, unfenced off-leash dog park. This is a fun place to bring your pooch, so long as they can behave. You're sure to see dozens of dogs running about this loop.
3. Bush's Pasture Park Loop
View this post on Instagram
Why you should go: Enjoy a walkabout this innercity park near downtown when you need a quick nature break.
Difficulty: Easy
Distance: 1.4 miles
Elevation gain: 59 feet
Whether you're visiting the state capitol buildings or you're a local who wants a bit of exercise during their lunch break, the Bush's Pasture Park Loop is a beautiful nature retreat near the heart of the city.
Not only is this park close to downtown, but it's also adjacent to Willamette University and the Salem Hospital. This is an undemanding trail through forest and meadows that'll serve as a great way to spend some time with visiting friends and family.
There are also a number of side trips along the route if you wish to spend more time exploring the 90-acre park. The rose garden provides a relaxing atmosphere for conversation and reflection, while the soapbox derby track and baseball field provide year-round sporting action to watch.
Related Read: The 11 Best Airbnbs in Bend, Oregon
4. Riverfront City Park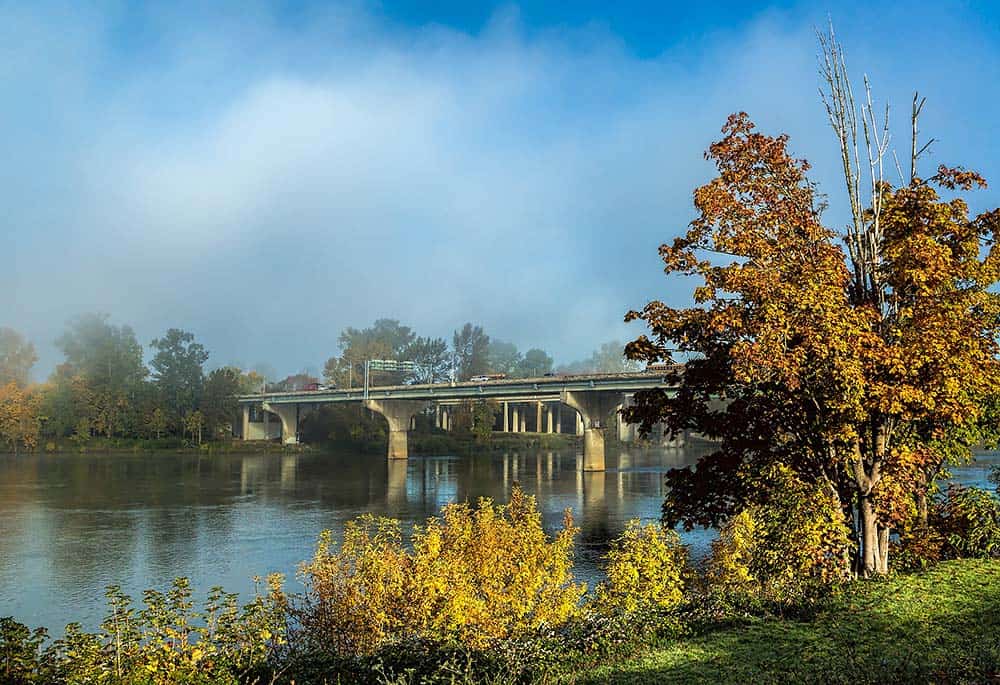 Why you should go: It's a riverside promenade next to downtown with access to Minto-Brown Island Park.
Difficulty: Easy
Distance: 0.8 miles
Elevation gain: 16 feet
Just across the street from the city center's eclectic shops and restaurants, Riverfront City Park is a popular stomping ground for locals and visitors alike. The capitol buildings are a few blocks away, as is the Capital Shopping Mall.
As a park, there are many activities to partake in and sights to see. There is a waterpark splash pad for kids to cool off in during the heat of the summer, an indoor riverfront carousel providing year-round entertainment, a playground, and a gigantic globe.
The loop trail encircles most of the park and passes by where the Willamette Slough branches off from the Willamette River. There is an abundance of wildlife to be seen in the waters below, and a newly built pedestrian bridge provides access to many more miles of trails on Minto-Brown Island.
5. Valley of the Giants Loop
Why you should go: Visit a protected old-growth temperate rainforest of towering firs and hemlocks.
Difficulty: Easy
Distance: 1.4 miles
Elevation gain: 535 feet
There are few places left in Oregon where gargantuan old-growth trees still reign supreme like they do in the Valley of the Giants. These 50 protected acres are a monument to all that remains of the ancient forest of the region.
Though the trail is generally easy, footing can be questionable at times, especially when wet. The path can be quite rooty. Moss clings to every surface that isn't well-trodden dirt. And, due to the striking size of the trees here, your eyes are bound to be pointed upwards during most of the hike. Long sort short — watch your step.
The drive to the trailhead can be challenging as well. Follow this turn-by-turn guide so that you don't lose your way. The majesty of the forest, and the supreme solitude that you'll find, are surely deserving of the journey to find them.
6. Willamette Mission Loop
View this post on Instagram
Why you should go: Riparian wetland beauty and pioneering history collide on this interpretive nature trail.
Difficulty: Easy
Distance: 2.6 to 6.9 miles
Elevation gain: 20 feet
Willamette Mission Park is the site of a Methodist Mission to the native Kalapuya population. The mission was spearheaded by Jason Lee, the first English-speaking settler in the valley. This park pays homage to the settlement with historical monuments and signage, but it also celebrates the wetland diversity of the area.
There are several other notable sights to see along the trail including the nation's oldest black cottonwood tree and the Wheatland ferry crossing which shuttles commuters and travelers, and their vehicles, across the Willamette River in lieu of a bridge.
The entire park is essentially flat and there are a couple of loop paths to choose from. The smaller loop guides visitors to all of the spectacles we have mentioned thus far, and the larger loop extends farther out into the seclusion of the surrounding fields and woodland.
7. Bull of the Woods Lookout
View this post on Instagram
Why you should go: Climb to panoramic views of Oregon's preeminent Cascade peaks.
Difficulty: Moderate
Distance: 6.3 miles
Elevation gain: 1801 feet
The primary reason most hikers venture out onto the Bull of the Woods Lookout Trail is its namesake destination. However, there is much to see on the way to the top.
You'll pass through thickets of alder and willow, cross rejuvenating clear-cuts, and walk along a ridgeline forest, all while being subjected to awesome views of the surrounding mountainscape.
The wilderness lookout at the top of the climb has a wraparound deck that provides uninterrupted views of the Oregon Cascades. From here you'll be graced with the distant profiles of Mount Hood, Mount Jefferson, and The Three Sisters — weather permitting, of course.
8. McDowell Creek Falls Loop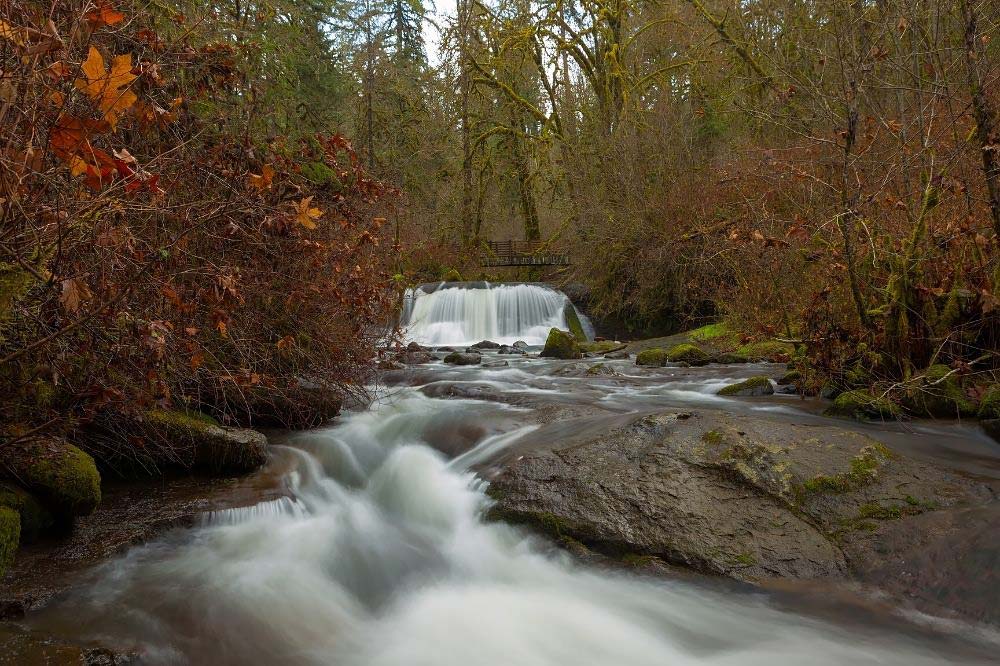 Why you should go: Stellar waterfalls with many wooden observation platforms that provide outstanding viewpoints.
Difficulty: Moderate
Distance: 1.4 miles
Elevation gain: 322 feet
There are several stellar waterfalls to see along the McDowell Creek Falls Loop. Majestic Falls is a roaring straight fall, Royal Terrace Falls is a wispy multi-tiered fall, and Lower McDowell Falls flows into the sparkling Crystal Pool, and Crystal Falls is classified as a punchbowl fall.
This trail is set deep within an ever damp temperate rainforest. Hence, the trail is perpetually slick with mud, moss, and lichen. Much of the walking near or at the waterfalls have been built up with wooden steps and platforms to provide better footing and viewing. Your boots may get muddy, but this hike is worth the dirt.
9. Trail of Ten Falls
Why you should go: Ten awesome and unique waterfalls can be witnessed along this loop. What more reason do you need?
Difficulty: Moderate
Distance: 7.8 miles
Elevation gain: 1062 feet
Silver Falls State Park is one of the most magnificent parks in all of Oregon, if not the Pacific Northwest, and the Trail of Ten Falls is its pièce de résistance. There are shorter loop alternatives along the way so that you can make the trek your own, but you should definitely see it all if you can.
The route is paved for much of its course. There are several rest areas on the path as well, including the always crowded visitor center and South Falls Cafe.
You'll see waterfalls from every angle imaginable during this trek. The trail even leads behind and underneath the North Falls, traveling under the overhanging basalt lip from where it plunges to give you an Instagram-worthy photo opportunity.
10. Table Rock
Why you should go: Scale some sheer basalt cliffs for exceptional Cascade views.
Difficulty: Challenging
Distance: 7.3 miles
Elevation gain: 1596 feet
A popular hike on clear, fair-weather days, Table Rock is best known for its epic views, especially to the north where the snow-capped mountains of Hood, St. Helens, and Adams can be found.
Overall, this is a fairly moderate hike, but there is a bit of rock scrambling near the top, which is why we labeled it as challenging. The boulder fields below the basalt walls of Table Rock can prove to be difficult to maneuver at times when new rockfalls take over the trail. It's cool scenery, though, and you might get to see a pika amid the rubble.
11. Triangle Peak Trail to Boca Cave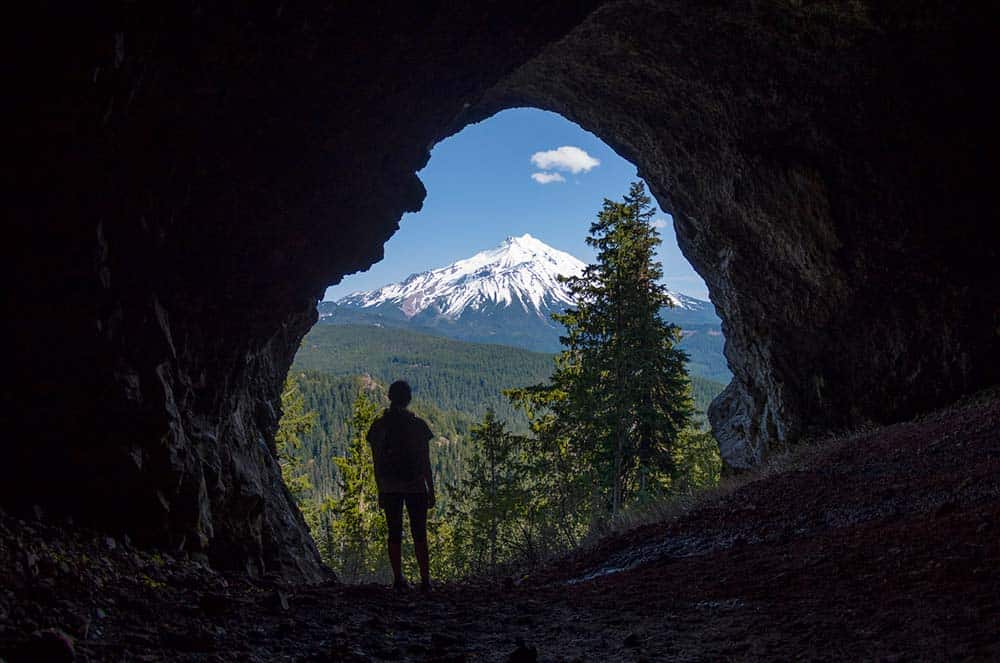 Why you should go: Unbeatable views of Mount Jefferson and a spectacular cave.
Difficulty: Moderate
Distance: 4.9 miles
Elevation gain: 1072 feet
There are a few reasons why the Triangle Peak Trail to Boca Cave is a special place to hike. First, Mount Jefferson is so close you can almost touch it, and, as a result, the views of the mountain are constant and simply unbeatable.
Second, Boca Cave is a wondrous destination. The wide, but shallow cave provides welcome relief from both the summer heat and winter's foul weather. The red soil and textured cave walls beg to be touched, and it is a fun nook to explore.
Third. The entrance to Boca Cave frames Mount Jefferson in such a way as to create an iconic photo opportunity. There are even more reasons to take this hike, but we'll leave those for you to discover.
12. Jefferson Park via Woodpecker Ridge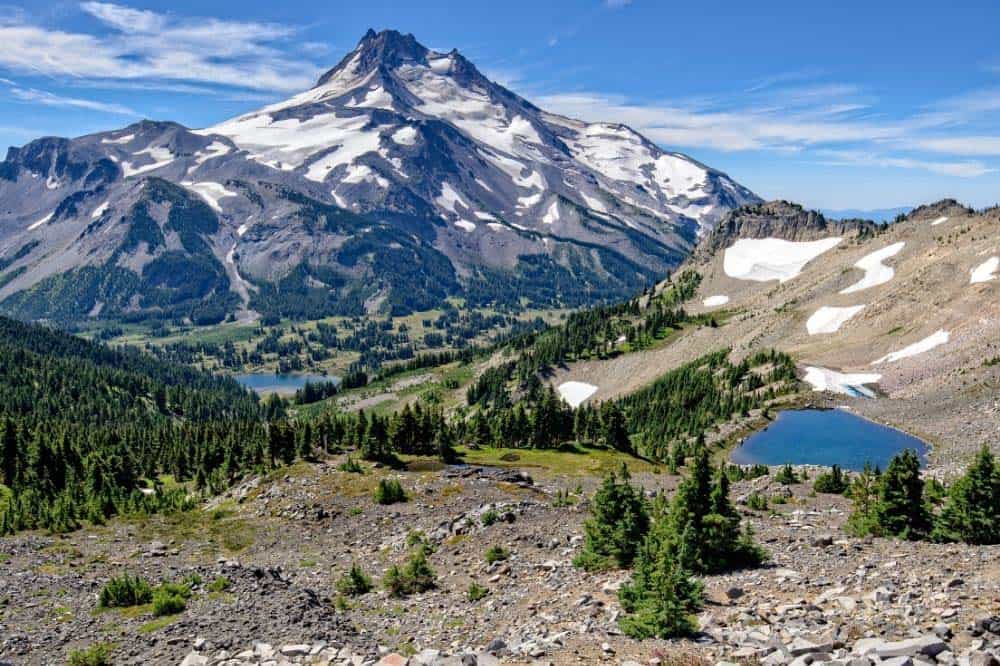 Why you should go: Venture to a protected alpine lake basin beneath the looming peak of Mount Jefferson.
Difficulty: Moderate
Distance: 12.9 miles
Elevation gain: 2329 feet
Jefferson Park is one of the most sought-after backpacking destinations in Oregon. There are several ways to get there, but the easiest and least populated route is via Woodpecker Ridge and the Pacific Crest Trail.
While the hike itself is stunning, this one's about the destination. Jefferson Park is beautiful beyond comprehension. It's a pristine alpine meadow with multiple crystal clear lakes, wildflowers galore, and numerous nooks and crannies to explore.
Obtaining an overnight permit to stay in the basin can be difficult. Day hikes are an option, but once you get there you're going to want to stay.
As an alternative to camping directly within the protected basin, you can hike north or south on the PCT and camp right outside of the boundary line without a reservation. There are almost always wilderness rangers in the area and they will gladly help you find a spot to pitch your tent.
13. Annie's Cabin
Why you should go: Hike through the rainforest of the western Cascade foothills en route to a piece of modern history.
Difficulty: Moderate
Distance: 7 miles
Elevation gain: 1074 feet
Ripe with ferns and fungi, the Douglas fir forest around Annie's Cabin is a treasure trove for those with an eye for foraging. This trail is one of many single-track and double-track routes set within the Molalla River Recreation Area that crisscross over the landscape.
Loggers may be active in the area on the weekdays, but the weekends are quiet. While traversing creeks and gullies you are sure to come across fruiting mushrooms and berry bushes aplenty amid the deadfall.
Annie's Cabin is a single-room structure in a clearing beside the trail. Visitors are allowed to use the cabin, and inside is a panel that describes who Annie and the other occupants of the cabin were.
Explore More
Sign up for the Territory Supply Newsletter and join thousands of readers getting epic travel and Airbnb ideas every week.
Was this article helpful?
---