We research, evaluate and select travel destinations based on a number of factors, including our writers' experience, user reviews and more. We may earn a commission when you book or purchase through our links. See our editorial policy to learn more.
Was this article helpful?
---
Covering more than half of the length of Utah, the drive from Salt Lake City to Zion National Park passes by must-do stops that travelers-in-the-know shouldn't skip.
Zion was the third most visited national park in 2020; after all, the stunning red cliffs are a bucket-list destination for many travelers. But there's so much more to see beyond these steep red formations. Though the 300-mile route is pretty much a straight shot down I-15 South (and easily doable in a day) you'll be driving past canyons, lakes, reservoirs, sand dunes, and so much more that are worth a stop. And they're sure to be less crowded than nearly everywhere you visit in the park
This trip from Salt Lake City to Zion road trip is totally customizable and allows you to choose how you want to explore some of the most unique landscapes on the planet. Hit the highlights that interest you, take a little side trip, get an in on the best places to stay, and explore a side of Utah not everyone sees.
Related Read: 12 Spectacular Day Trips from Salt Lake City, Utah
Salt Lake City to Zion Roadtrip By Section
If you were to drive this route without stopping, it'd take you around 4 hours and 30 minutes each way. But there's so much to do along the way that you could easily stretch it into a week, especially if you want to spend multiple days in Zion and Bryce.
Take a look at the full map here, and don't feel like you have to squeeze it all into one trip. This is a drive you could make multiple times and never repeat the same stop twice (though you may want to repeat some, of course!)
Leg 1: Salt Lake City to Cedar City
Breathe a sigh of relief as you leave the bustling city behind you with the knowledge that the best and most beautiful parts of the state (or the country, for that matter) are just ahead.
This leg of the trip is the longest as you drive away from the city. In a straight shot, the drive from Salt Lake City to Cedar City is about three hours. However, with a few highlights and a couple side trips, this leg can easily turn into a multi-day adventure.
Related Read: 10 Adventurous Campervan Rentals in Salt Lake City, Utah
Leg 1 Highlight: Timpanogos Cave
Less than an hour into the drive and only 10 minutes from the I-15 Alpine exit is the Timpanogos Cave National Monument.
It's an underground world of stalactites and stalagmites, beautifully decorated pools, and hidden pools explored via cave tours hosted by the National Parks Service. Beat the heat and stretch your legs while you learn the science behind the caves and stories from the past.
Leg 1 Highlight: Parowan Gap Petroglyphs
A quick stop off the freeway, the Parowan Gap Petroglyphs are a step back in time both geologically and historically.
They're believed to have been carved by various Native Americans passing through the region, and much is still unknown about their origins and purpose. If you visit, be sure to practice Leave No Trace principles and avoid touching the petroglyphs to help preserve them for future research and future visitors.
Leg 1 Highlight: Fishlake National Forest
Home to the largest mountain lake in the state, Fishlake National Forest is a green oasis in central Utah. Fish Lake and the surrounding lakes and reservoirs offer prime fishing while the area has tons of hikes with high mountain views, camping, ATVing, scenic routes, and more.
This is a great active spot and place to stretch your legs if you're the kind of person who gets antsy while in the car for too long.
Leg 1 Side Trip: Little Sahara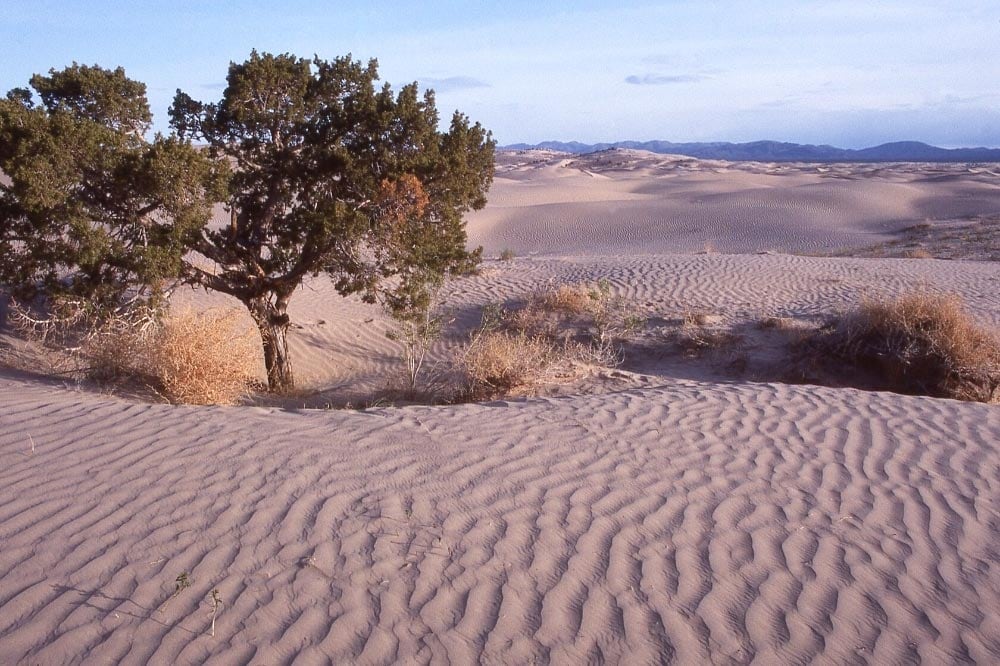 About two hours from Salt Lake City, accessed via a short detour off I-15 is the Little Sahara. It's 60,000 acres of sagebrush flats, juniper-covered hills, and sand dunes for OHV fun, hiking, and camping.
Rent a dune buggy and zip around in the sand or visit the Rockwell Outstanding Natural Area for some quiet hiking and wildlife viewing. You'll also have your choice of hundreds of campgrounds if you decide to stay the night.
Leg 1 Side Trip: Cedar Breaks National Monument
Cedar Breaks National Monument just east of Cedar City is a natural amphitheater with rock formations that look quite similar to those in Bryce Canyon National Park. But unlike Bryce Canyon, which sees an average of 2.5 million visitors per year, Cedar Breaks welcomes less than 600,000 per year, allowing you to see some truly unique terrain without the crowds.
Wander near empty trails, admire wildflowers in summer, or gaze at the night sky. Cedar Breaks' elevation at 10,000 feet and dry air make it one of the best places in the country for stargazing.
Leg 1: Where to Stay
There are plenty of campsites at the sites above, but once you make it to Cedar City, you'll find that the college town has plenty of lodging options, too.
Spend the night at one of the many hotels, or stay in the alpine condos and chalets at nearby Brian Head Resort.
Leg 2: Cedar City to Springdale
Though it's the shortest leg of the journey, this section from Cedar City to Springdale has arguably the most to do. With detours galore and noteworthy stops, this section can easily take up a day or two of your time.
You'll pass by a few small towns once you get off the freeway — Virgin (home of the annual Red Bull Rampage mountain biking competition), Grafton ghost town, and Rockdale – before reaching the entrance to Zion National Park in Springdale.
Related Read: 6 Spookiest Ghost Towns in Utah for Exploring the Old West
Leg 2 Highlight: Kolob Canyons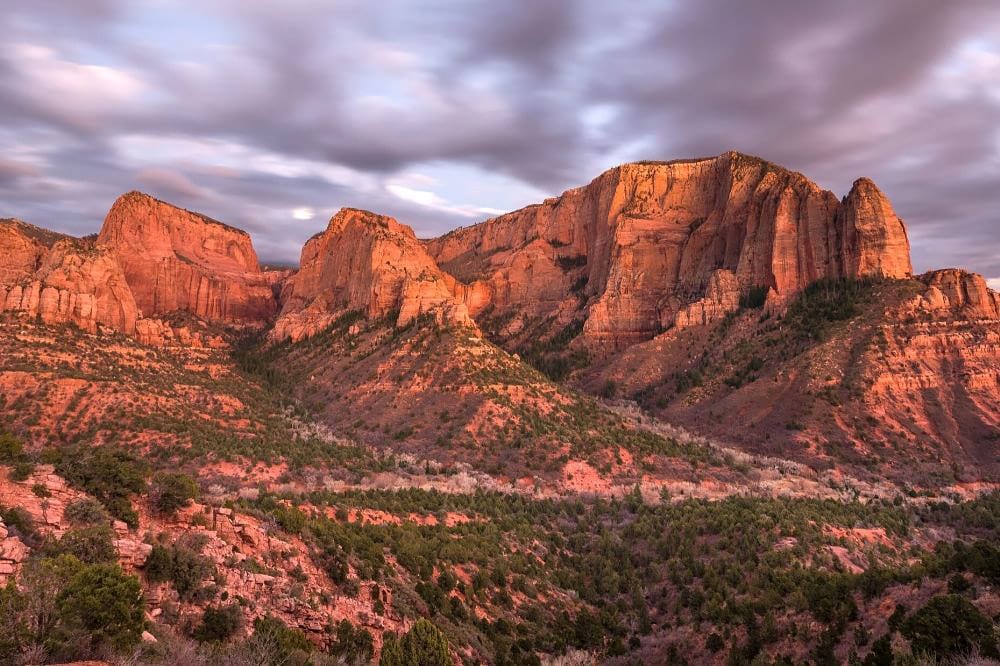 Cut into the western edge of the Colorado Plateau (and right off I-15), you'll find a stunning piece of Zion National Park that somehow flies under the radar: Kolob Canyons.
Once you exit the freeway and pass through the Visitors Center to formally enter the park, you'll follow a five-mile road that twists through towering Navajo sandstone, leading you to hiking trails and viewpoints most visitors to the park miss out on. Remember that the roads can close in the winter.
Related Read: When is the Best Time to Visit Zion National Park?
Leg 2 Highlight: Hurricane
The largest town near Zion's south entrance, Hurricane (pronounced hur-uh-kin, emphasis on the "hur"), sits on the edge of the Colorado Plateau: the home of the nation's highest concentration of national parks. Steep cliffs on the east side of town offer one of the most dramatic viewings of the plateau's boundary. It's a great pit stop to restock up on any essentials you've burned through thus far on your Salt Lake City to Zion road trip.
Be sure to stop by River Rock Roasters in La Verkin as you head out of town to enjoy a coffee overlooking the town on the Plateau's steep cliffs.
Leg 2 Side Trip: St. George
St. George is well worth the extra drive. It's one of the best stops on any Salt Lake City to Zion road trip, but it's also a great overnight destination if you have a weekend to spare. It's only a quick half-hour off the main route to the center of town (where you'll find gems like the Dinosaur Discovery Site) but it's the surrounding area that you'll really want to check out.
Climb or hike near red sandstone in Snow Canyon State Park in the Red Cliffs Reserve and camp for the night on a crystal blue reservoir surrounded by desert sand at Sand Hollow State Park.
Related Read: 11 Fun Family-Friendly Hikes Near St. George, Utah
Leg 2: Where to Stay
There are so many places to stay in this leg of the Salt Lake City to Zion drive. Southern Utah is no stranger to tourists and as a result, you'll find plenty of camping and glamping spots, boutique and unique hotels, plus Airbnbs and vacation rentals to boot. Check out the best airbnbs near St. George or treat yourself at The Crescent Moon Inn just outside of Snow Canyon State Park.
In Springdale, you can stay in town in a hotel like the Desert Pearl Inn or Bumbleberry Inn, or spend the night in one of Zion's campgrounds. Or, opt for a glamping experience at Zion's Tiny Getaway.
Leg 3: Springdale/Zion National Park to Salt Lake City (via Highway 89)

This leg of the road trip starts in Springdale, the western entrance to Zion National Park, and ends back in Salt Lake City. You'll get to drive through the park and have the opportunity to take side trips that take you to some of the most unique landscapes in the world.
It's the most versatile of the road trip sections, so you can head straight back to Salt Lake or explore one (or all) of the extra parks, monuments, and towns.
Leg 3 Highlight: Springdale
Towering red cliffs surround Springdale, the unofficial gateway to Zion. Though the year-round residents number less than 1,000, the town is home to multiple hotels, resorts, trinket and jewelry shops, clothing stores, and restaurants. Fuel up in town with a coffee and some food and head to the shuttles to explore the hikes and sights in the park.
Pro tip: you can buy all your Zion park souvenirs usually in town for less than they'll cost you at the park —assuming you don't mind "unofficial merch", although sales from park store in the visitor center do go to support the National Park Service.
Leg 3 Highlight: Zion National Park
This is why you're making the Salt Lake City to Zion road trip in the first place, right? Once in the park, your options are endless. There's a ton to do in Zion, but if you can only spare a day, check out this guide for making the most of your limited time.
Once you've had your fill of slots and narrows, it's time to hit the road. The 12 mile stretch on Mt Carmel Highway between Springdale and the east entrance of the park takes you past slick rock, against steep cliffs, and along ridgelines to view the valley below. You'll also get to pass through the famous mile-long tunnel that cuts through the red cliffs. Small windows allow you to peek through the tunnel as you pass through.
There several spots worth getting out of the car for on this stretch, including Checkerboard Mesa. The picturesque patterns in the rock that give this mountain its name were carved by temperature changes, freezing and thawing cycles, and ancient sand dunes. There are several pull outs where you can park and take photos.
Related Read: 11 Beautiful Glamping Spots Near Zion National Park
Leg 3 Highlight: Panguitch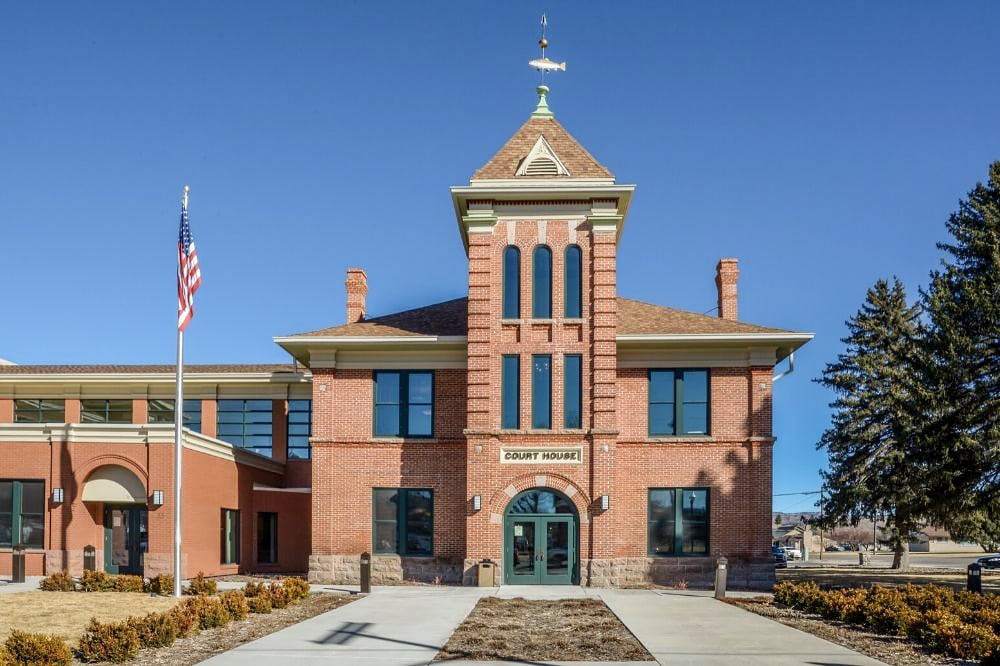 After you pass through the park, you'll head north on Highway 89 to start making your way back to Salt Lake City. On this route, you'll pass right through the town of Panguitch. The town's name translates as "big fish" and was named by the Paiute people who used to live in the area. With four Blue Ribbon fisheries within a half hour of the historic downtown, the name doesn't disappoint.
Aside from fishing, Panguitch also offers western-themed shopping and dining. You'll also find a handful of hotels and camping areas to spend the night before journing down the road to Salt Lake City or beyond.
Leg 3 Side Trip: Kanab
The Kanab area is a bit out of the way, but there is so much to see that you should try to include it on your Zion to Salt Lake City drive if you can. If you decide to head this way, try your best to plan on spending at least an extra day — natural wonders abound in the area. Vermillion Cliffs National Monument and Coral Pink Sand Dunes State Park are just a few of the awesome things to do near Kanab.
In the classic American West town of Kanab itself, you'll find hotels, delicious restaurants, and shopping. If you spend time in town, be sure to check out the Little Hollywood Museum for some old-fashioned western fun.
Leg 3 Side Trip: Bryce Canyon National Park
Pink cliffs, hoodoos, endless views — it's no wonder Bryce Canyon National Park is so popular. And if you've got the time, the entrance to the park is only 20 minutes from Highway 89. Explore Bryce's hiking trails or take a more laid back experience and see the roadside sights along Route 63. There are several lookout points with excellent views that don't require much walking.
There's a ton of things to do in Bryce, so if you need more time to see everything, there are a couple of campgrounds in the park plus plenty of backcountry camping. Or, you can stay in The Lodge at Bryce Canyon, one of the park's most iconic historic structures.
Leg 3 Side Trip: Grand Escalante National Monument
As with Kanab, Grand Escalante National Monument is worth more than a day trip. This vast and remote area is home to breathtakingly beautiful sandstone formations and slot canyons — check out the best hikes in this hiker's paradise.
Take a drive down Hole-in-a-Rock Road to access Spooky and Peek a Boo Slot Canyons, embark on a guided hiking tour to areas most other visitors miss out on, or take a backpacking trip to Coyote Gulch. Due to the monument's size and lack of visitors, you'll likely have the place mostly to yourself.
Leg 3: Where to Stay
While the side trips have their own lodging options, the main route on Highway 89 will also require a night's stop, especially if you're taking all the detours. Depending on how long you take to pass through the park, you can stay on the east side of Zion at East Zion Resort for a glamping experience surrounded by wild desert.
Further up the road, you can find lodging in the town of Panguitch. The vintage signs outside the central motels make look like they're from a bygone era, and mostly are. But inside these family-owned establishments like the Canyon Lodge Motel and the Adobe Sands Motel, modern comforts and amenities await, so you can feel refreshed and ready to finish out your drive to Salt Lake City.
Explore More in Utah
Sign up for Weekend Wanderer, our free email newsletter offering thousands of readers epic travel and Airbnb ideas every week.
Was this article helpful?
---