Hiding in Utah's desert landscape, lies some of the most stunning hot springs. You can now add enjoying a day at one of these outdoor spas to the long list of things to do in Utah.
Natural hot springs are pools of geothermally heated water filled with minerals that are believed to be beneficial for humans. Such natural springs have drawn people in for centuries because of their warmth and wonders.
Why not enjoy a nature-approved spa day in the Beehive State?
Related Read: 9 Soak-Worthy Hot Springs in California
1. Homestead Crater
Located near Midway, Utah, Homestead Crater is true wonder. Holding steady at 96 degrees, Homestead Crater is the only location in the continental US where you can scuba dive in warm waters!
The crater is hidden within a 55-foot tall dome-like limestone rock and offers a unique hot springs experience. You can truly escape the snow in this naturally sheltered hot springs.
The Homestead Resort offers a self-guided tour of the hot springs that dives into the history, geology, and archaeology of the hot springs.
Reservations are required here, and for all you can do here, entry prices are on the lower end of the spectrum. Reservations can be made simply by contacting the Homestead Resort. Rental gear for paddle boarding, scuba diving, and more is also available at the resort.
The Homestead Resort offers many other activity opportunities, with a spectacular golf course nearby to enjoy in the summer and beautiful Ice Castles that are made in the winter.
2. Mystic Hot Springs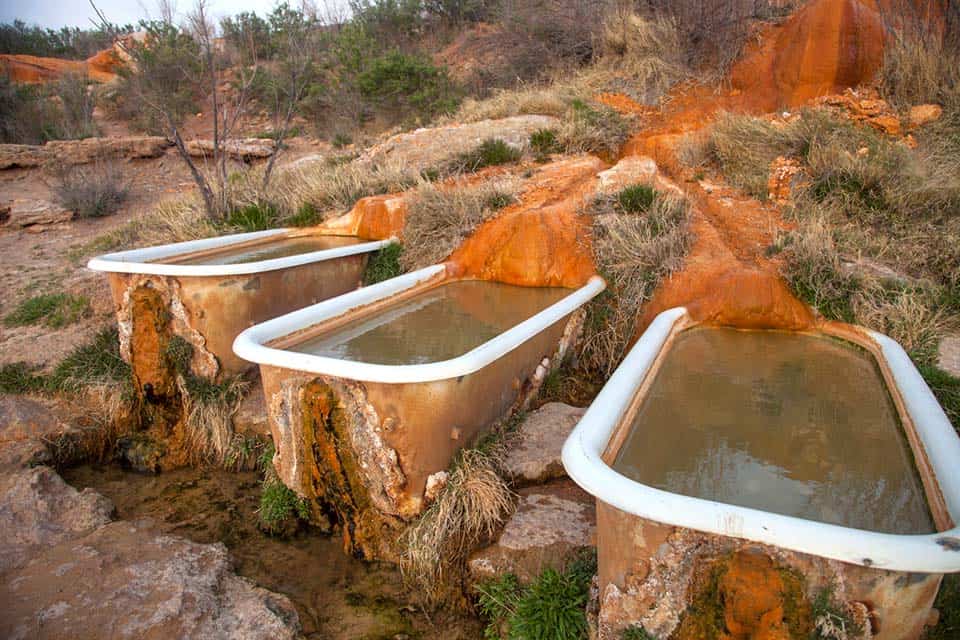 You can see the minerals at work in these gorgeous springs. Over time, minerals have formed the unique rock formations that create walls around the hot springs.
Located in Monroe, Utah, Mystic Hot Springs should absolutely be on your hot springs bucket list! You can rent a cabin, decked out bus, or reserve a campsite to get the most out of this location. You can even see a concert here at Mystic Hot Springs!
A trip to this unique hot spring location should be its own vacation, as there are always things happening around here. Mystic Hot Springs is the perfect getaway.
Created by the Hollywood producer/director Mike Ginsberg, it's no wonder Mystic Hot Springs has a very special charm.
3. Crystal Hot Springs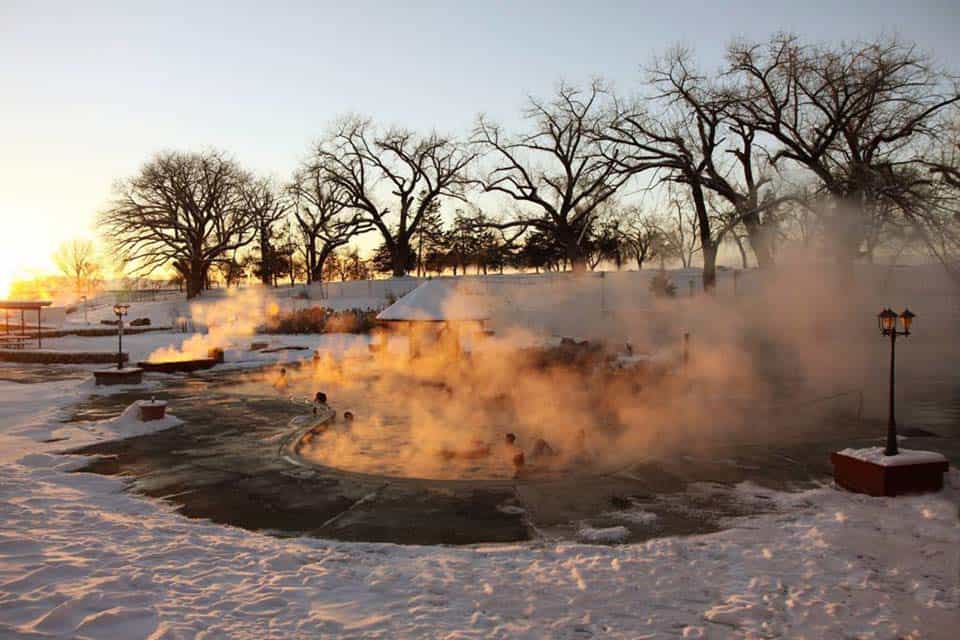 Located in the far north of Utah, Crystal Hot Springs offers some huge pools to soak in. So, even when it's busy, you will always be able to find some solitude. There's even a waterslide!
There are plenty of campsites offered to RV's and tents here, and it is highly recommended to camp here to get the most out of your time at this cozy natural spa.
The pools are open year-round, but the hours do change by season, so be sure to check their website beforehand.
Crystal Hot Springs is the perfect spot for the whole family to enjoy some hot spring magic!
4. Inlet Hot Springs
One of the few hot springs not privately owned, Inlet Hot Springs is a public park and a local hot spot.
Located right on the north shores of Utah Lake — tainted with pollution from sewage dumping years ago — you might not want to swim in the lake, but the hot springs are completely safe to enjoy!
There are three pools here. The water reaches a toasty 109 degrees in the main pool that is right over the bubbling heat source. The middle and last pools are usually cooler since they are just created by the main pool draining into them. The smallest pool is the coolest and muddiest which is why it is largely ignored.
Because this is a public park, law enforcement does often make an appearance. There is a sign posted with rules for the area, and a trash can. To help keep this park free and open, please follow all rules, don't stay past 10PM, and clean up any trash.
5. Baker Springs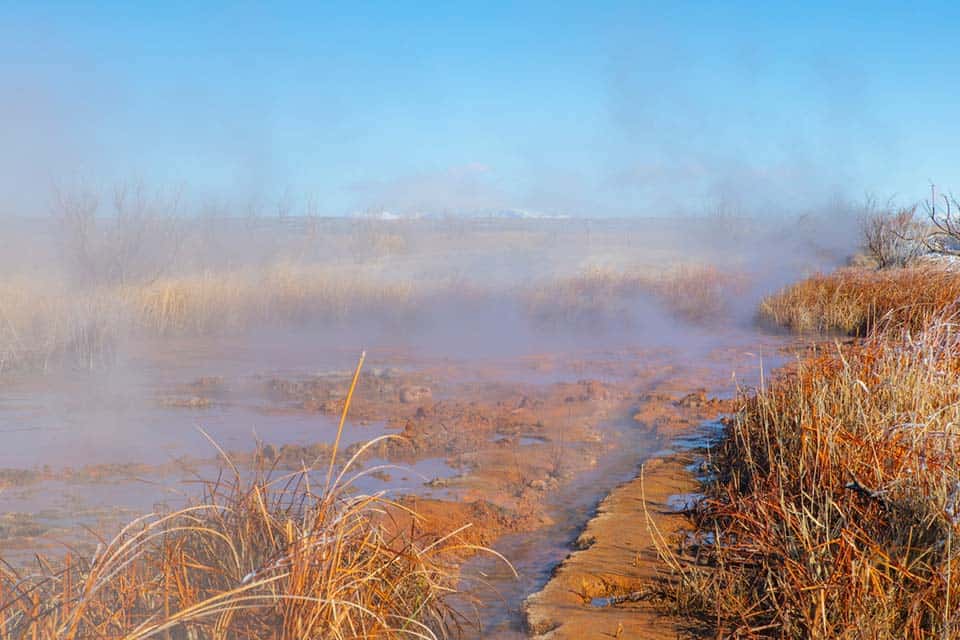 Baker Hot Springs is another public hot spring location, located on Bureau of Land Management land near Delta, Utah. This isolated location makes sure there's never any crowds and provides a wonderful place to camp for free.
There are three pools made of concrete that are filled by two flowing channels: one with hot, mineral-rich water, and the other with cold. Many soakers bring something like an extra towel to dam up the inflows to take control of the temperature.
If exploring the area beyond the pools, be careful around the actual hot springs in the area; they are extremely hot. Dogs are not allowed in the pools but are allowed in the area on leash.
However, due to the high temperature of the small natural springs scattered in the area, it is recommended to leave them at home to keep your furry friends safe. There are snakes in the area, so pay close attention to your surroundings.
Because this hot spring location isn't owned by a private entity, it is imperative to treat this resource as you would any outdoor space. Follow Leave No Trace principles and pack out everything.
6. Fifth Water Hot Springs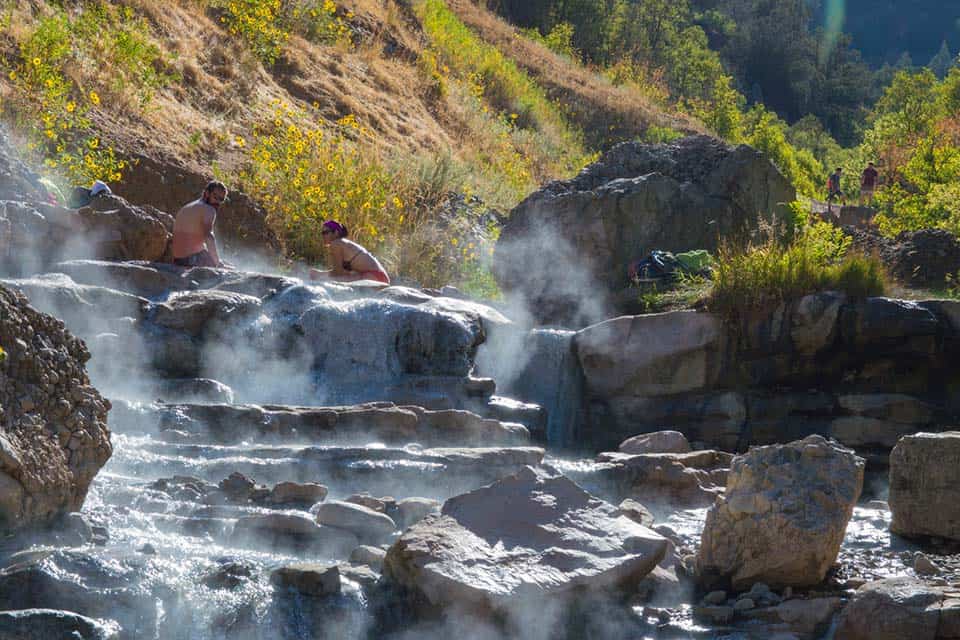 Just East of Provo, Fifth Water Hot Springs requires a short 2.5-mile hike into the Uintah-Wasatch-Cache National Forest. The trail is open year-round, but the normal parking is often closed during the winter months. There is a parking lot further away that will add another 1.5 miles to the hike in.
Since this is a popular location, I highly recommend starting your day early so you can snag a parking spot and enjoy the springs.
There are a lot of pools to enjoy, so even when it is crowded, you can usually still find some solitude. The pools all vary in temperature, so you can find your perfect match. Among all the pools and unique scenery, there is a towering waterfall over the area!
There are snakes in the area, so be cautious, pay attention to your surroundings, and always keep an eye on your pack(s) to avoid finding an unwanted guest in your pack. Dogs are allowed on the trail on leash, but they are not allowed in the pools.
Explore More
Sign up for our free email to join thousands of readers getting epic travel, hiking, camping and gear ideas every week.
---