We research, evaluate and select travel destinations based on a number of factors, including our writers' experience, user reviews and more. We may earn a commission when you book or purchase through our links. See our editorial policy to learn more.
---
Thanks to more than 300 days of sunshine each year and endless outdoor recreation, Arizona is one of the most popular states in the country for outdoor resorts.
Back in the 1800s, Arizona's warm, dry climate made it an ideal destination for those seeking good health and recovery through easy living, particularly from East Coast ailments like tuberculosis. And for hundreds of years before that, indigenous groups enjoyed the region's therapeutic hot springs, creeks, and rivers.
Today, it's still a haven for leisure and lounging, and there have never been more outdoor resorts in Arizona to choose from when planning your next Southwestern getaway.
Here are 15 of the best resorts in Arizona for families, couples, wellness getaways, and more.
Related Read: 7 Tranquil Cabin Rentals in Strawberry, Arizona
The Best Outdoor Resorts in Central Arizona
The Phoenix metro area is home to resorts of all sizes and classes. Here's a look at some of the best for any type of resort vacation.
1. Sanctuary Camelback Mountain Resort and Spa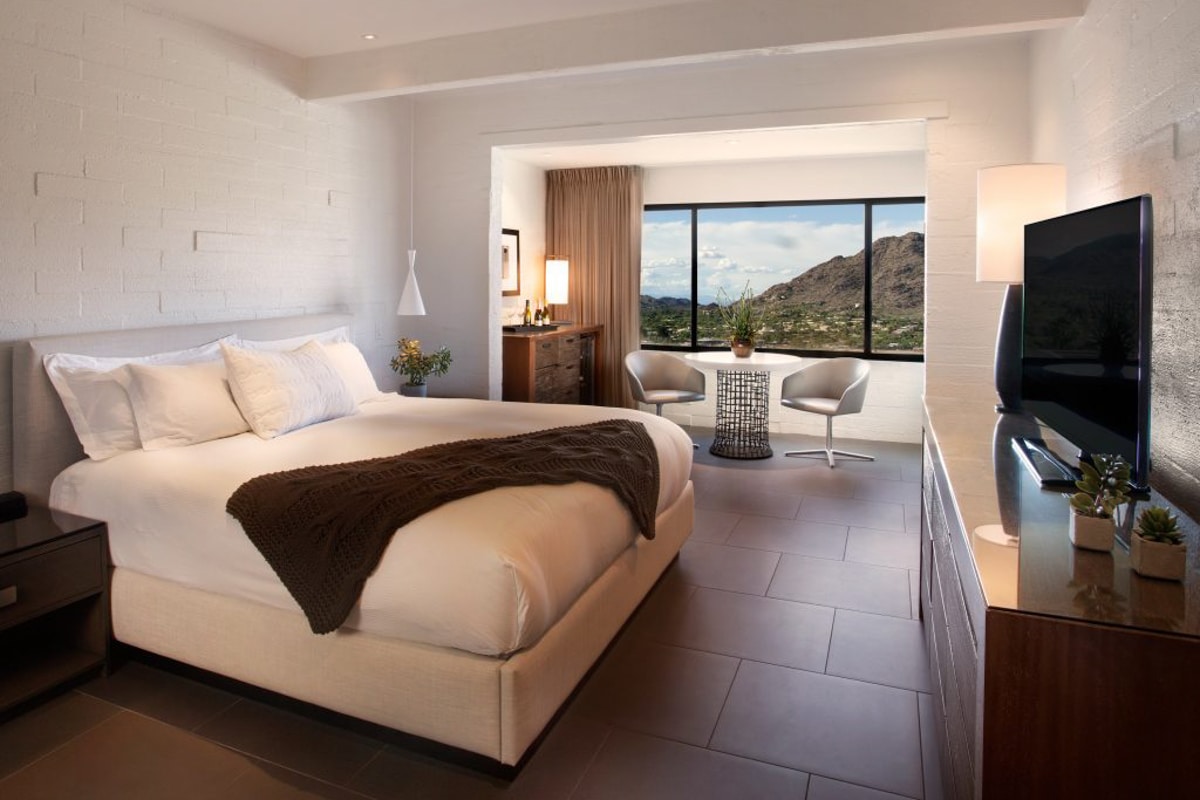 Why you should stay: The best for amazing views, with incredible desert views of Paradise Valley.
Sanctuary's 53 acres north of Camelback Mountain are at once private and sprawling. It feels away from the grind, but you'll still get killer views of the surrounding valley, especially from the resort's mountain casitas or elements restaurant.
Stops at Jade Bar and Sanctuary Spa make this a staycation favorite for in-the-know Phoenicians.
Check Availability
2. Four Seasons Scottsdale at Troon North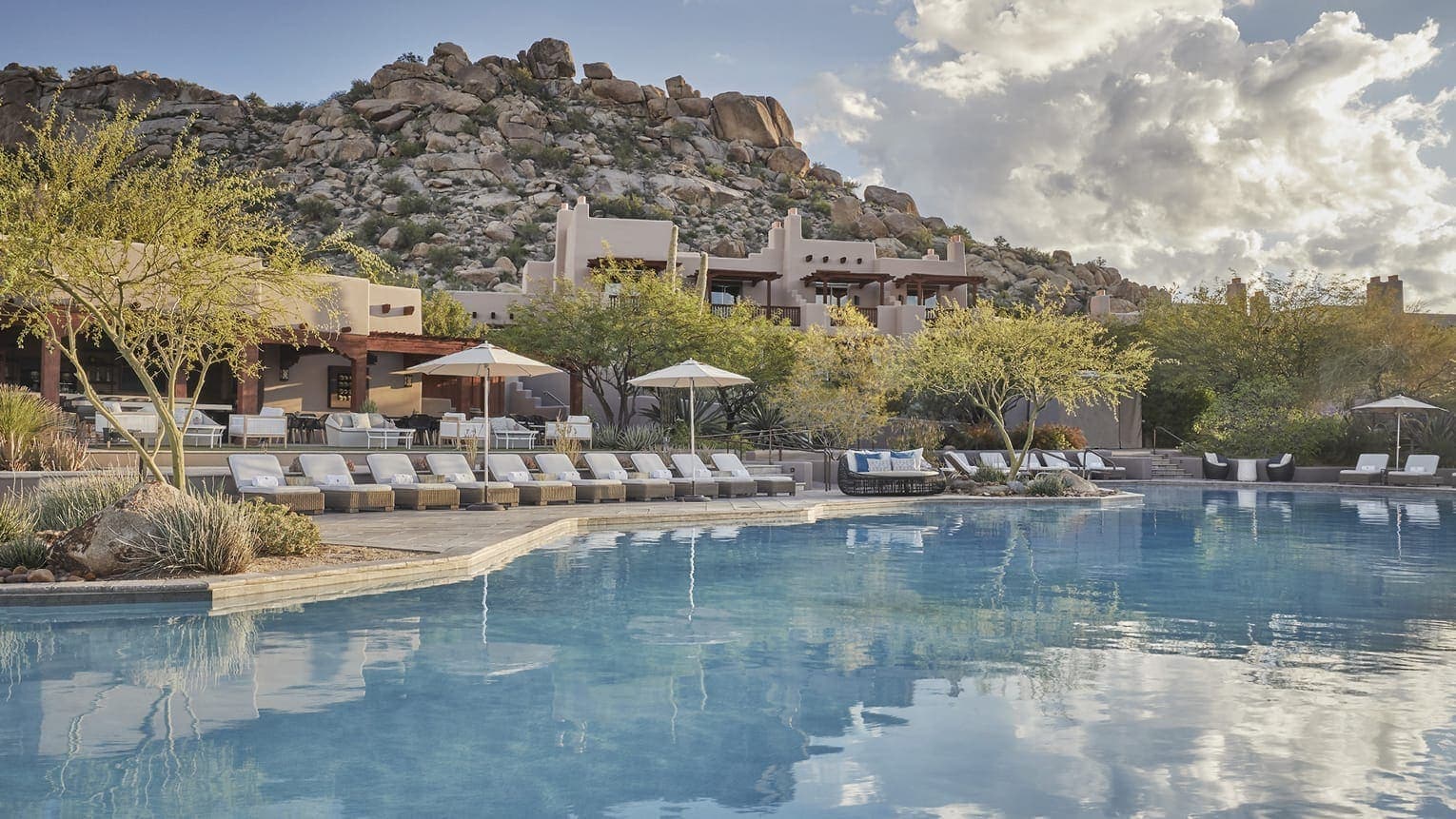 Why you should stay: The best for world-class golf, dining, and lounging in far north Scottsdale.
Location: Scottsdale
Class: Five star
Recent recognition: AAA/CAA Five Diamond Awards 2020
Rates from: $475/night
Four Seasons Scottsdale at Troon North is considered Scottsdale, but base it on the views and you'd think you were much further out in the Sonoran Desert. This is one of the best outdoor resorts in Arizona for golfers as they'll have easy access to two immaculate golf courses at nearby Troon North Golf Club. After a day on the links, the Four Seasons' spa and dining options are the perfect way to end your days.
The resort's adobe-style casitas and suites offer tranquil views of the surrounding desert. Consider renting a private poolside cabana — especially if you're visiting in the summer — if your plans include hanging out at the hotel all weekend.
Check Availability
3. Royal Palms Spa & Resort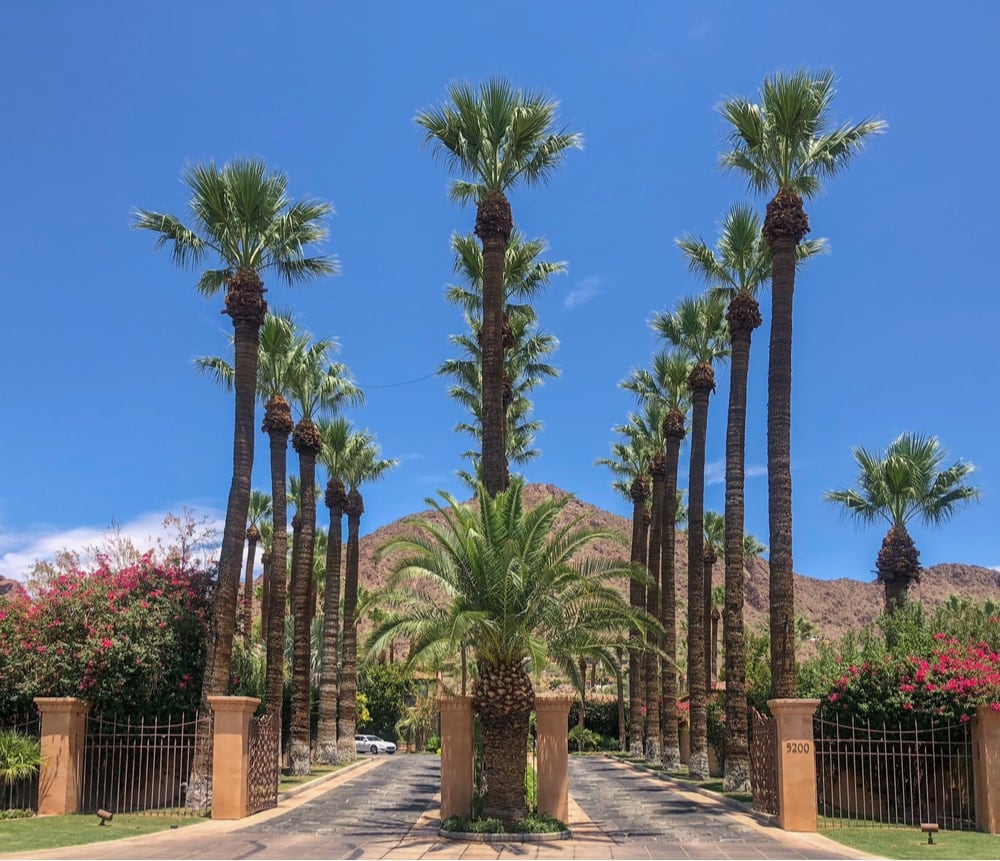 Why you should stay: The best historic stay, with intimate spaces and European influences.
Location: Phoenix
Class: Five star
Recent recognition: AAA/CAA Four Diamond Awards 2020
Rates from: $308/night
What was once the spectacular 1920s winter home of cruise ship executive Delos Cooke is now Royal Palms, a smaller and appealing alternative to Arizona's larger outdoor resorts. There's not a bad view of Camelback Mountain from anywhere on property, and the grounds look like they were transported from a Spanish or Italian countryside.
That's on purposes, of course. The Cookes traveled far and wide, and their winter home was full of art and objects from around the world. Much of that collection is still on the property today, adding to the international flair this luxurious resort exudes.
Check Availability
4. Boulders Resort & Spa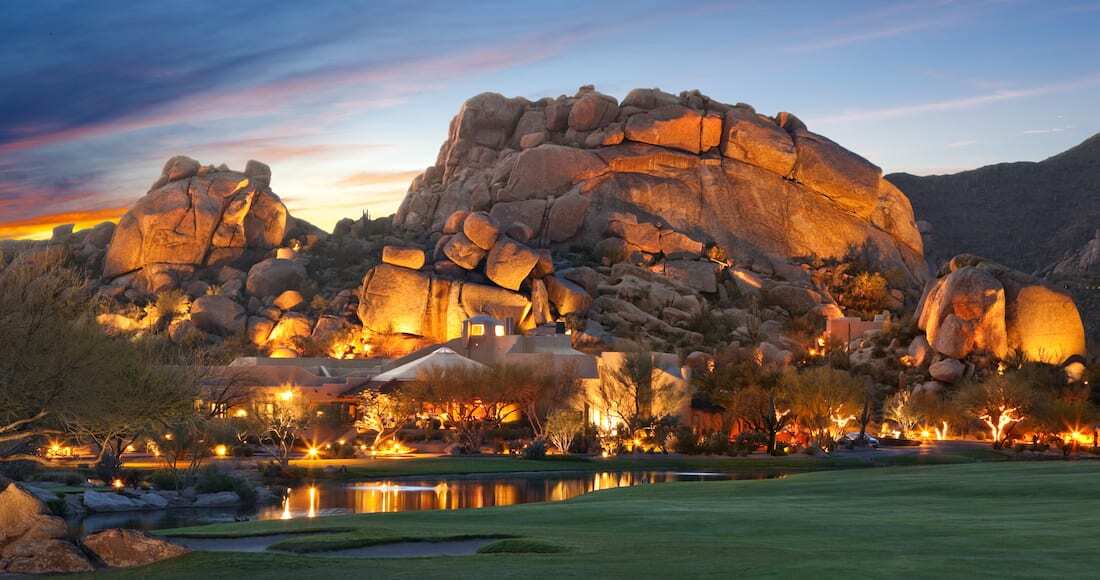 Why you should stay: The best for an immersive desert experience with no shortage of outdoor activities.
Massive granite boulders stand watch over this resort's 1,300 acres, a playground of sorts for those who know how much you can really do in the desert. Rock climbing on the 12-million-year-old boulders is a favorite among guests, but hiking, mountain biking, and nature walks and desert photo tours are all part of the itinerary at Boulders.
There's even a Sonoran Desert class covering survival and ethnobotany in the region, one of the most biologically diverse environments in the world. For more traditional sports, the golf and tennis offerings are stellar, and the spa is an excellent way to recover no matter how you've spent your days.
Check Availability
5. Andaz Scottsdale Resort & Bungalows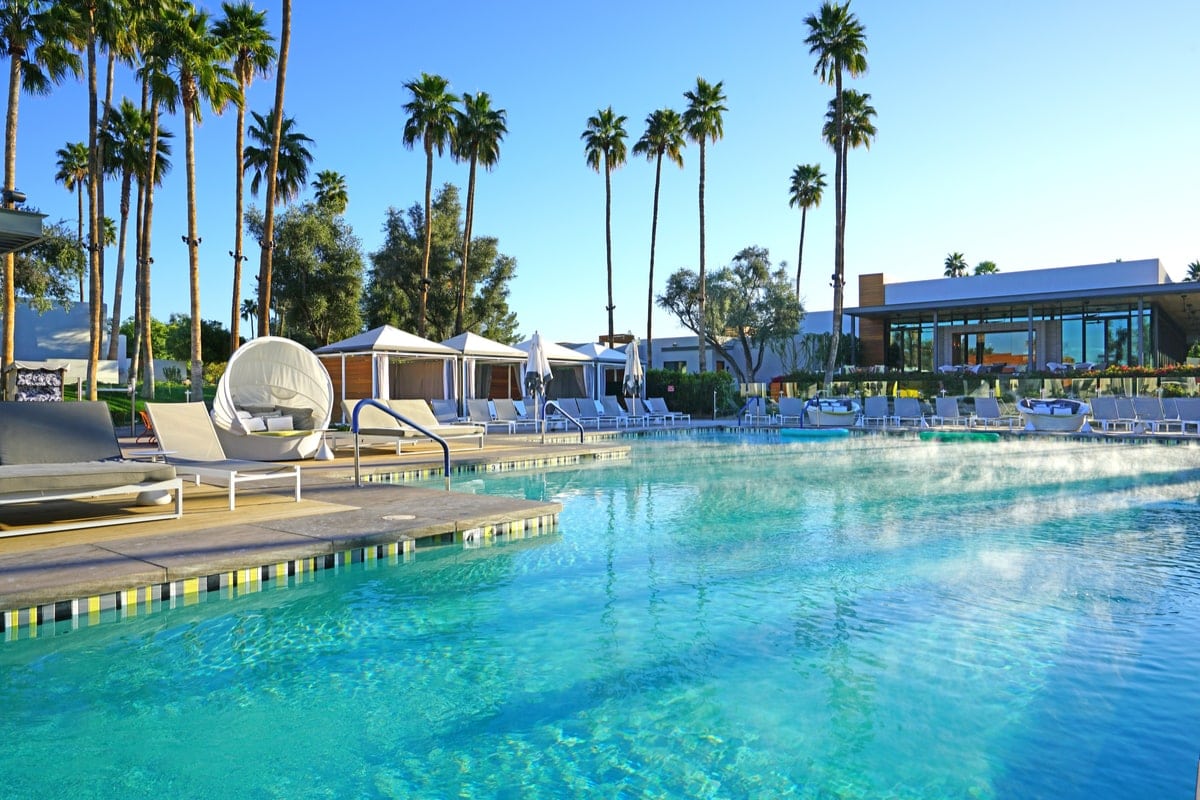 Why you should stay: The best villa resort with roomy private spaces that feel like home.
Andaz Scottsdale's 23 acres may be a fraction of the size of larger Arizona resorts, but there's no cutting corners in this luxury outdoor resort's suites and villas. Their mid-century-styled bungalows and suites range from 355 to more than 1,100 square feet of hybrid outdoor and indoor space, often blending the lines between desert and shelter.
Three sprawling villas – Harper House, Girard House, and Albers House – offer premium living spaces up to 3,500 square feet, and The Retreat at Andaz is an ideal spot for events like weddings and reunions.
Check Availability
6. CIVANA Wellness Resort and Spa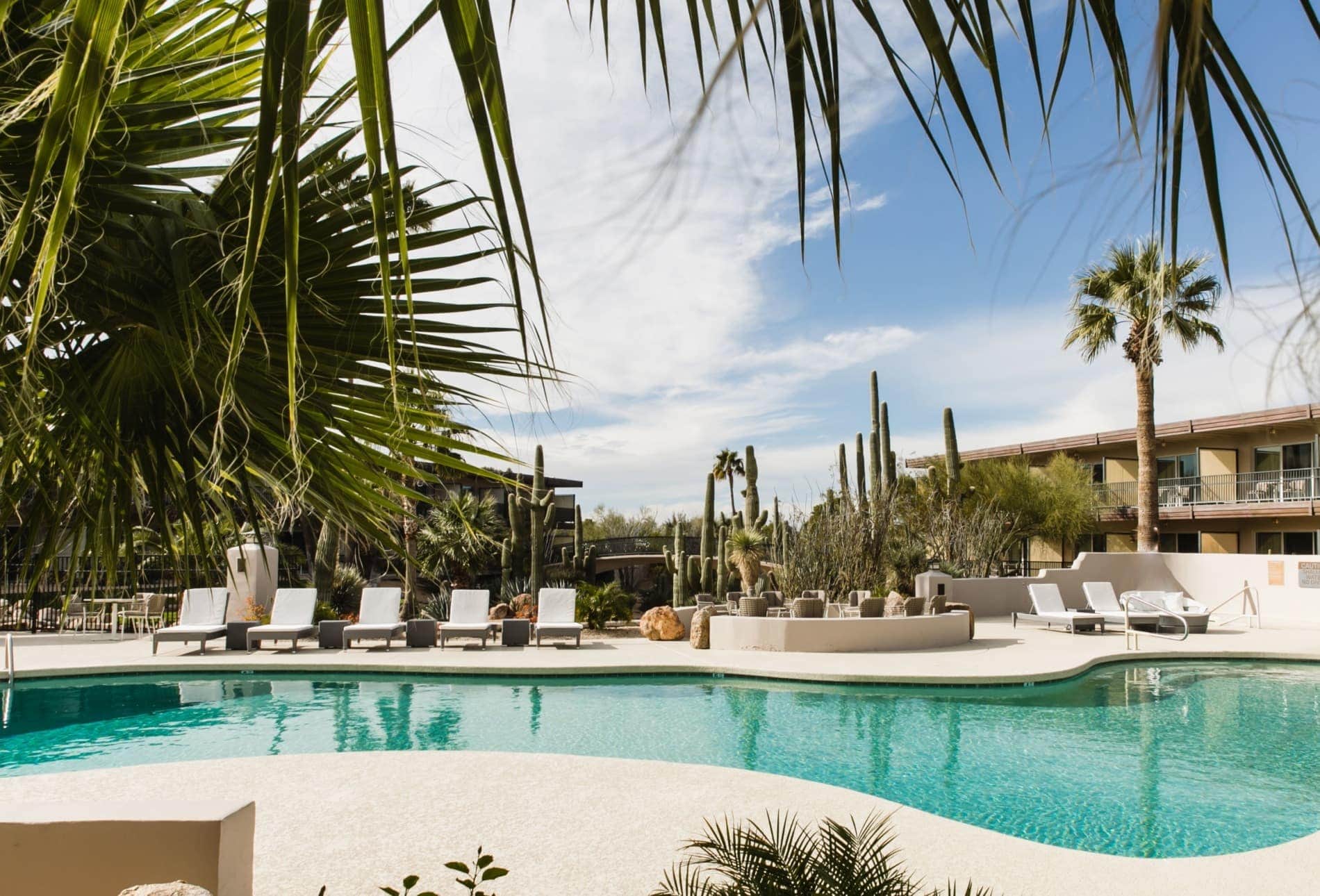 Why you should stay: The best internationally recognized spa and wellness destination.
CIVANA's intimate 20-some acres of desert in the far northeast Valley have racked up impressive accolades over the last few years, recognized as one of the top spa destinations by Reader's Digest, The New York Times, Condé Nast Traveler, and more.
There's no secret why: CIVANA's approach to wellness is based on customizable journeys and plenty of options. The focus here is on movement, with a full calendar of yoga and fitness classes, spa treatments, proper nourishment, and personal discovery.
These aren't just buzz words — CIVANA exudes genuine wellness and replenishment, which'll be clear from the first foot you'll step on the grounds. And because it's one of Arizona's best outdoor resorts, yes, you can do yoga, spa treatments, and more in the open air.
Check Availability
The Best Outdoor Resorts in Sedona, Arizona
7. Enchantment Resort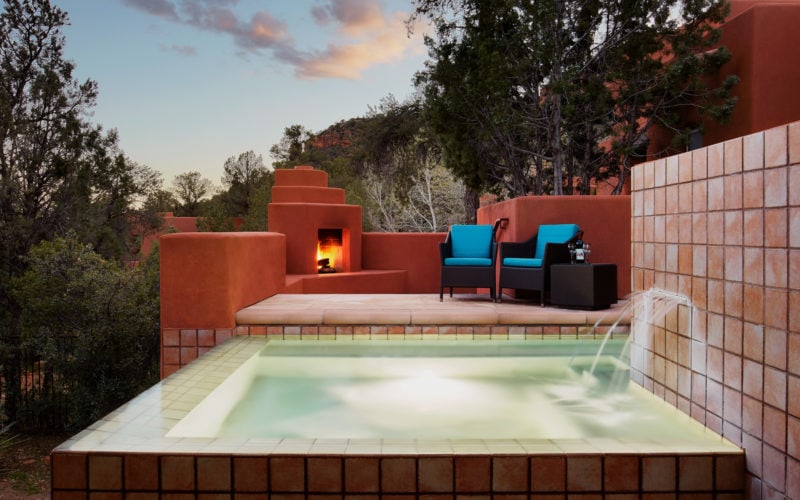 Why you should stay: Ditch the Uptown Sedona crowds for a canyon-hidden resort experience.
Private patios at each of the casita rooms and suites at Enchantment Resort ensure a killer view of Boynton Canyon's stunning red rock environs no matter which room you choose (though the 70-acre resort's pool also offers phenomenal views.) If you want to get up-close and personal with the area, head down to the Trail House, where more than 300 miles of nearby trail await.
Guided hikes and local experts are available to help make the most of your time in Sedona, and if you brought the kids along, hand 'em off at Camp Coyote for a day of exploring red rock country. Many activities are included the resort cost, like morning stretch sessions and lectures on the power of Sedona's supposed vortex.
Check Availability
8. L'Auberge de Sedona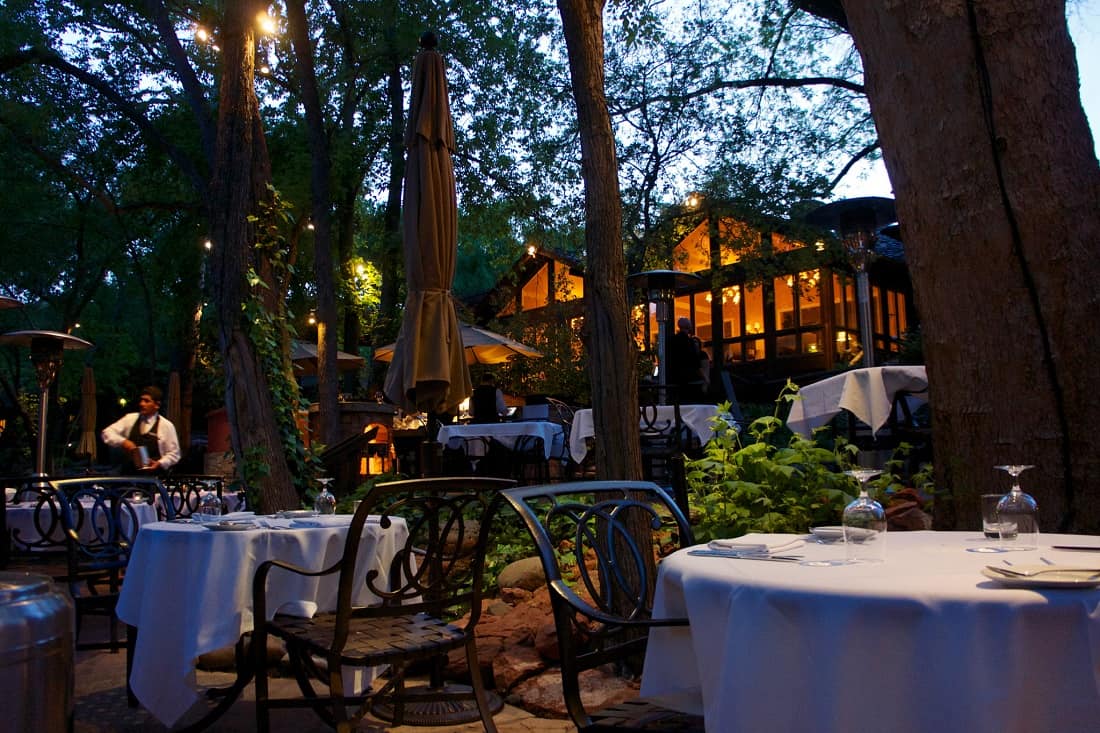 Why you should stay: A luxurious and convenient oasis on the banks of Oak Creek.
While Enchantment Resort is a bit off the beaten path, L'Auberge de Sedona is in the beating heart of Uptown Sedona. But the cottages here are spread in a way that still provides peace and quiet, despite the nearby throngs of tourists.
Each cottage provides a stellar view of the creek, forest, or far-off desert landscape that makes this part of Arizona so iconic. Outdoor showers at each room make it easy to enjoy the creek and clean up quickly for dinner at Cress on Oak Creek, where chef John Gapasin's European-influenced dishes await. Outdoor dining is a given.
Check Availability
9. Amara Resort and Spa
Why you should stay: The best outdoor resort in Arizona for couples exploring Sedona and beyond.
Amara Resort and Spa, also near Uptown Sedona, can thank their couple- and family-friendly resort amenities for making them the go-to getaway for weddings, anniversaries, and babymoons.
The resort is in the perfect location to cater to both weekend adventures and travelers who want to spend their time lounging at the spa and infinity-edge pool. Amara's team of wedding specialists racks up rave reviews for their attention to detail and personalized venue services for groups, too.
"With the pandemic changing our wedding plans multiple times, Lena and her team were incredibly accommodating and we are so glad that we chose Amara. 10/10 would get married here again."
Check Availability
10. Junipine Resort
Why you should stay: The best nature experience and upscale lodging near some of Arizona's best hiking.
Junipine is a small, creekside resort with beautiful suites facing the water or forest deep in the bowels of Oak Creek Canyon. A stay at this semi-remote Arizona outdoor resort puts you within a few miles of West Fork of Oak Creek and Slide Rock, and plenty of swimming holes and trails in between.
The canyon is considerably cooler than Sedona proper, so if you're planning a summer resort trip up north, this is an excellent alternative to staying in town.
Check Availability
Best Resorts in Southern Arizona
11. The Ritz-Carlton, Dove Mountain
Why you should stay: The best for service; the crème de la crème of Tucson resorts.
Dove Mountain, a U.S. News & World Report best hotel of 2021, offers perhaps the most complete outdoor resort experience in Arizona. Three pools, 27 holes of golf, and more than 20 miles of nearby trails make for full days in the desert – and hiking is the perfect way to work up an appetite for dinner at award-winning CORE Kitchen & Wine Bar.
The ground's 850 acres places luxury casitas and suites into the landscape in a way that ensures stunning mountain and canyon views in all directions, and after the recent renovations, there are even more rooms with private fire pits facing the Tortolita Mountains.
Check Availability
Related Read: 9 Awesome Weekend Road Trips from Tucson, Arizona
12. Loews Ventana Canyon Resort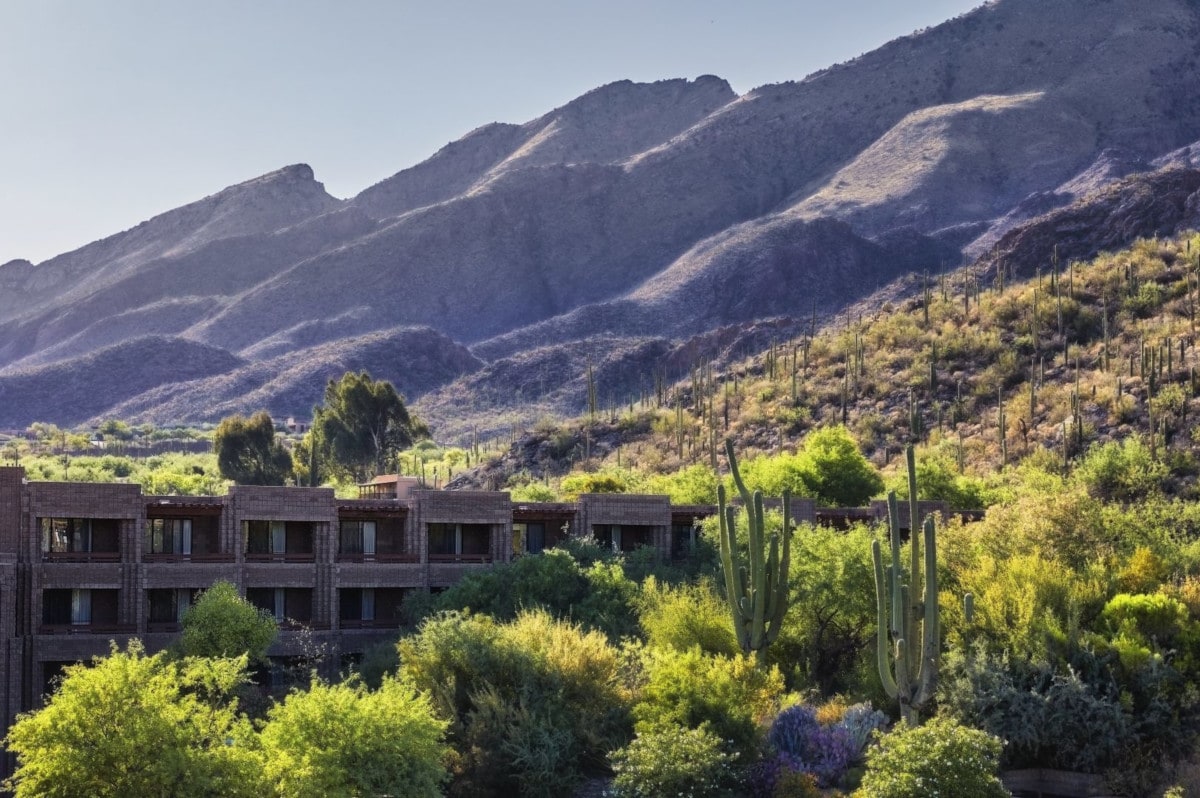 Why you should stay: The best near Tucson for award-winning golf and outdoor activities.
Location: Tucson
Class: Four star
Recent recognition: AAA Four Diamond Rating
Rates from: $159/night
The two championship-caliber golf courses at Loews Ventana Canyon Resort don't sound impressive by name — Mountain Course and Canyon Course — but golfers will quickly realize why the resort was recently given the 2021 Golf Digest Editors' Choice Award.
Both courses offer stunning views of the surrounding Santa Catalina Mountains, and both include signature holes that make this a challenging and memorable day on the links. Dinner at Flying V Bar & Grill and a nightcap at Cascade Lounge is the perfect way to rest and recover for the next day's round.
Not a golfer? No worries. Hit a dive-in movie at the pool, tour Kartchner Caverns, or stroll through the Tucson Botanical Gardens.
Check Availability
13. The Westin La Paloma Resort & Spa
Why you should stay: The best value – a full resort experience without the premium price tag.
Location: Tucson
Class: Four star
Recent recognition: AAA Four Diamond Rating
Rates from: $136/night
With affordable nightly rates and free parking, The Westin La Paloma proves you don't have to spend an arm and a leg for a great stay at an outdoor resort in Arizona.
Even better, the lower cost doesn't mean you'll miss out on the amenities: the pools, spa, dining options, and even the waterslides here rival many of Arizona's more expensive resorts.
Nearby hiking trails and a nature preserve allow you to explore the Catalinas' beautiful foothills without ever having to leave the city.
Check Availability
14. Miraval Arizona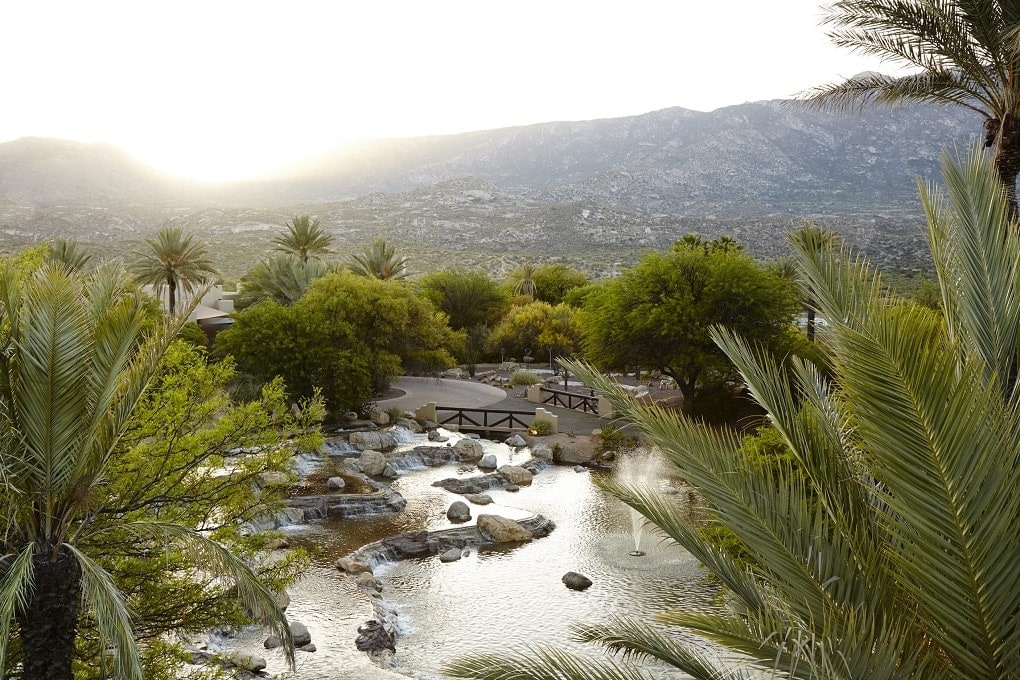 Why you should stay: The best renowned wellness resort with an intriguing calendar of unique activities.
Miraval Arizona elevates the idea of a holistic wellness resort to a new level, with classes and workshops on everything from understanding the Hero's Journey (we see you, Campbell fans) to beekeeping and pilates. The resort also focuses on equine-related activities, perfect if you're keen on a particularly Southwestern-influenced getaway. No matter what's on your calendar, you'll get a sense for Miraval's focus: you and your own happiness and betterment.
The wellness activities at Miraval are so popular, in fact, that they recommend booking your workshops several months in advance to ensure you'll get to everything on your itinerary.
"The activities at Miraval are not just meant to entertain, they are designed as a doorway to self-discovery and reflection. The setting against the desert, among the mesquite trees, saguaros, and prickly pear, makes it all the more special."
Check Availability
15. El Conquistador Tucson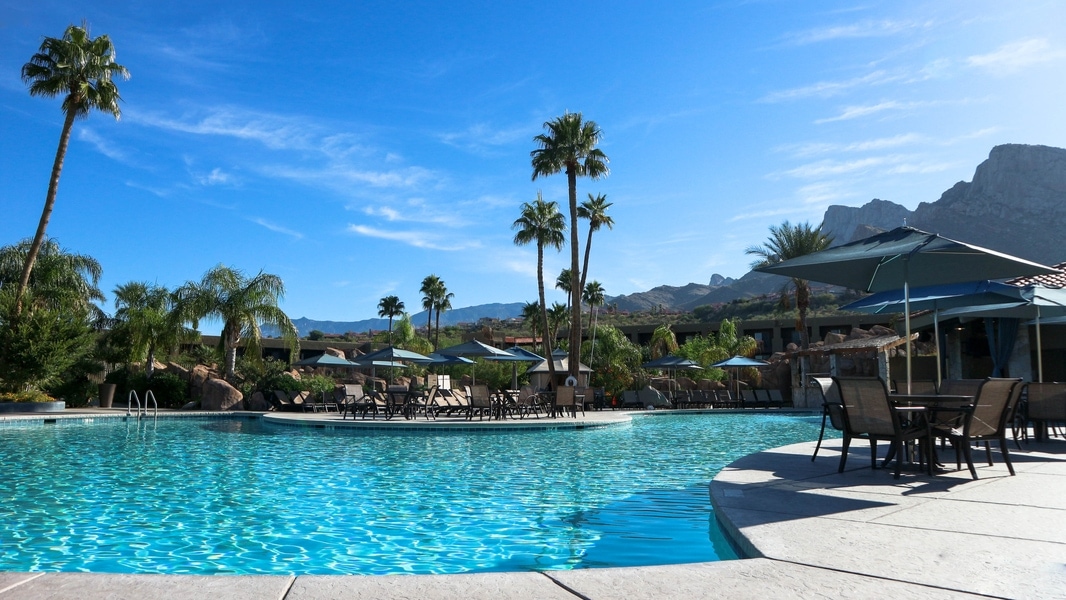 Why you should stay: The best Southwestern vibes and epic desert activities.
Not every resort in Arizona embraces the region's roots, but that's not something you can say aboutEl Conquistador Tucson. Mountain ranges in nearly every direction offer iconic desert views in the distance, and the dining options here pay delicious homage to the various cultures of the Southwest.
Most nights, Native American flutists play traditional indigenous songs, floating their melodies through El Conquistador's serene grounds. You might forget your worries here, but you won't forget where you are.
Check Availability
Find Your Next Arizona Getaway
Sign up for Weekend Wanderer to join thousands of readers getting epic travel and gear ideas every week.
---