We research, evaluate and select travel destinations based on a number of factors, including our writers' experience, user reviews and more. We may earn a commission when you book or purchase through our links. See our editorial policy to learn more.
Was this article helpful?
---
With its funky bohemian vibes, world-class rock climbing, and proximity to major U.S. cities like Los Angeles, San Diego, and Las Vegas, Joshua Tree National Park has become one of the most sought-after SoCal escapes.
Plus, its high desert location makes it a dream for sun-stained winter wanderlust, when nearly every other weekend locale seems covered in a blanket of white snow.
Whether you're heading to Joshua Tree for a show at the famous Pappy & Harriet's, a stay at a dreamy vacation rental, or a hardcore hiking adventure inside the park, there's no denying that winter is one of the best seasons to visit.
Things to Consider
Though Joshua Tree National Park is situated in a desert, its elevation spans between 2,000 and 5,000 feet above sea level. That puts the park firmly in the "high desert" category, and occasional snow does occur in the wintertime.
Wind advisories may be put into place for the area, making a winter visit brisker than you might have hoped for. Check park and road conditions before heading out.
Typical winter weather in Joshua Tree is a high of 60 degrees, with nights hovering right around freezing. Double-check the weather before embarking on your trip and, unless you've got an extra puffy sleeping bag, reconsider tent camping.
The park is massive, spanning nearly 800,000 acres, and has multiple entrance stations which can be hours away from one another on winding desert roads. The West Entrance is near the town of Joshua Tree, while the North Entrance is near the town of Twentynine Palms. Likewise, the South Entrance is closer to Palm Springs and Indio. Plan your lodging accordingly to avoid long, unnecessary drives.
Pets are not allowed on any trails in Joshua Tree National Park, but nearby Sand to Snow National Monument is dog-friendly (provided they are on a leash). Make arrangements for Fido in advance if you plan on hitting the trails in the park.
Related read: When is the Best Time to Visit Joshua Tree National Park?
Wintertime Activities
The good news is that, in a desert park, almost anything goes in the winter. From rock climbing to trail running, to horseback riding along the famed California Riding and Hiking Trail, there's no shortage of things to do and see in Joshua Tree once December hits.
Hiking
With hundreds of miles of trails to choose from, Joshua Tree is a phenomenal escape for city-sore hikers looking to wander around a gorgeous expanse of enormous boulders and spiky yucca plants. Plus, with so many options, there's something for everyone in your crew, whether you'd prefer a wheelchair-friendly sojourn or a long scramble up the side of a mountain.
On the mellower side, the 1.7-mile hike to devilish Skull Rock and the .25-mile trek through the Cholla Cactus Garden never fails to impress. If you'd prefer more of a half-day walkabout, the 4-mile out-and-back to Lost Horse Mine features one of the best-preserved examples of the area's silver and gold mining history, while the 3-mile journey up Ryan Mountain is sure to get your heartbeat racing, either from the elevation gain or the epic vistas at the top.
But if you're seeking a longer hiking adventure, grab a paper map or download a GPS file before heading out (there's little to no cell service inside the park) and set off on the 7.2-mile North View to Maze Loop linkup, which meanders through crumbling towers of monzogranite boulders, occasionally pausing to let you catch a glimpse of some stellar views along the way.
Related read: 6 Epic National Parks Near Las Vegas, Nevada
Backpacking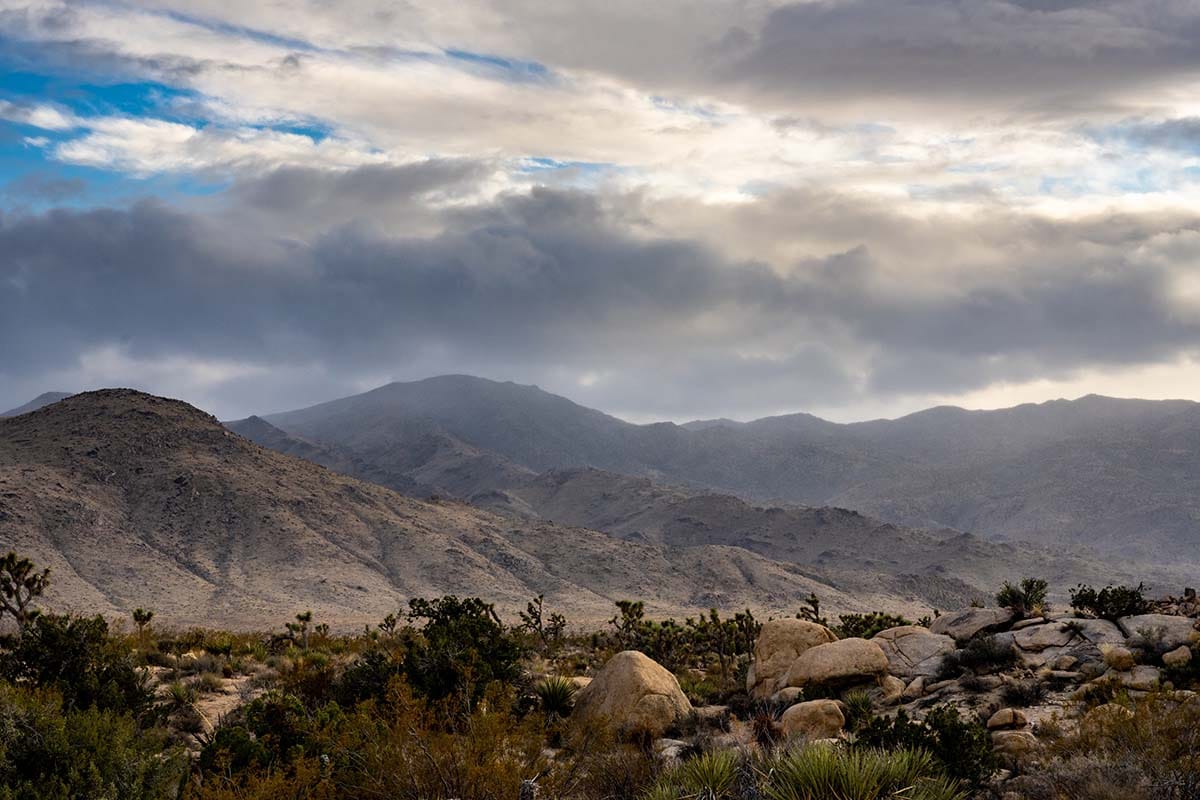 If you don't mind braving the occasional subfreezing night, winter's also a great season to backpack in Joshua Tree, with dry, sunny days and average high temperatures in the 50s and 60s. The park has a bit of an uncommon strategy when it comes to backpacking – registered hikers are allowed to camp pretty much anywhere, so long as they're one mile away from established roads and 500 feet from trails and water sources.
Two of the most stunning overnight options to pitch a tent in this glorious desert expanse are along the Boy Scout Trail, as well as the Black Rock Canyon to Panorama Loop. Just be sure to register in advance, pack plenty of water (4 liters per person, per day) and follow Leave No Trace Principles while you're out there.
Related read: Here's Why Leave No Trace Principles are So Damn Important
Rock Climbing
Way back when it was mostly famous for being the name of a U2 album, Joshua Tree was also home to some of the gnarliest rock climbing in the country, a reputation that continues to this day. The park is home to over 8,000 climbing routes and more than 2,000 boulder problems, and is known for its intense crack climbing and steep slabs.
Mountain Project is a great place to discover popular routes and get an idea of the approach and parking areas for each. If you're new to climbing, fear not, there are a wealth of accredited climbing schools in the area ready and willing to take newbie climbers out for a full-day or half-day of "sending the gnar" in this famous park. Cliffhanger Guides and Mojave Guides are two of our favorites.
Lastly, if you're planning to head out into the desert landscape to venture off on your own, check the area closures first, as the park may mark certain routes off-limits due to nesting raptors or sensitive cultural resources. The park also offers a weekend Climber Coffee at the Hidden Valley Campground for dirtbags of all sorts to mingle and ask their burning questions.
Related read: 9 Best Cabin Rentals Near Los Angeles for a Secluded Getaway
Stargazing
As a celebrated silver-tier International Dark Sky Park – the eastern region is hailed for having some of the blackest skies in SoCal. The park is also one of the closest places to stargaze for visitors coming from cities like LA and San Diego. Light pollution is at a minimum (especially the further you get from Palm Springs), and the Milky Way puts on a spectacular show when the moon is new.
Though not technically in the winter months, it bears mention that Joshua Tree hosts an annual Night Sky Festival in late September each year, where astronomers of all skill levels can mingle and point their telescopes skyward. There are also regular, ranger-hosted night sky programs throughout the year that visitors can attend, just check the park calendar for dates and details.
Related read: 9 of the Most Romantic Getaways in California
Horseback Riding
View this post on Instagram
If saddling up and exploring a bevy of craggy canyons, spiky cacti, and dry washes on horseback is your idea of a good time, then you're in luck. Like many desert parks in the U.S., Joshua Tree offers loads of opportunities for equestrians to hit the trails.
The park features 253 miles of equestrian trails that crisscross its arid, boulder-filled landscape, most of which can be accessed via Black Rock Campground, Covington Road, or Park Boulevard, near the West Entrance. Since stock animals may not use natural or man-made water sources within the park, securing ample drinking water for your horse or pony is one of the few obstacles to overcome.
Several local ranches also offer trail rides through the quirky, Seussian yucca trees for travelers who couldn't fit their horse in their carry-on. Knob Hill Ranch is generally considered the best of the best, but nearby CottonWood Canyon Ranch and Crazy Horse Ranch provide some sincerely stunning rides as well.
Weather and Road Closures
Though Joshua Tree does get the occasional snow flurry during winter months, it tends to melt quickly, making winter a generally sunshine-filled and cool season to visit the park. Average highs hover in the 60s and average lows are right around freezing, so if you've got a good jacket, wool socks, and a sturdy sleeping bag, you can escape some of the springtime superbloom crowds and hit the trails (and campgrounds) comfortably.
Because of the general lack of snow, all roads into and out of Joshua Tree stay open year-round, unless there's a flash flood. Still, it's a good idea to check park road conditions before leaving home so you don't run into unexpected weather problems.
If you plan on having a campfire, know that the park only allows them in designated campfire rings in established campgrounds and that park staff sometimes issues more severe fire restrictions. No backcountry fires are allowed.
Just because this is a desert park does not mean that there's zero fire danger; in 2021, over a million Joshua trees burned in neighboring Mojave National Preserve in a huge wildfire.
Related read: 8 Epic Weekend Road Trips from Los Angeles, California
Year-Round Lodging
If you're looking to lounge with a margarita in hand or kick back and enjoy the night sky from the comfort of a luxurious tent, Joshua Tree has got you covered. In terms of national parks, it's one of the best in the country when it comes to fabulous vacation rentals and refined glamping options.
Ventana Cove
If hot tubbing in your own private courtyard with a view of the impressive desert stars is on your bucket list, look no further than Ventana Cove. This three-bedroom, three-bathroom house offers a spacious, open-plan kitchen and living area, plus colorful, art-filled bedrooms befitting the boho vibes of Joshua Tree.
Outside, guests will find themselves immersed in amenities like swinging hammocks, a gas-powered fire pit, and an al fresco dining table for eight.
The Joshua Tree Starfire House
For couples seeking ultimate relaxation and solitude on their high desert sojourn, there's no better spot than the hilltop Starfire House, hosted by veteran Joshua Tree superhost Ryan Keller, who designs and builds much of the furniture himself.
Take a plunge in the chilly outdoor cowboy tub, turn up the jets in the jacuzzi, or fix up a feast in the full kitchen. No matter what you do here, you're sure to have a phenomenal view.
Related read: 9 Amazing Glamping Spots Near Los Angeles, California
Kimpton Rowan Palm Springs
View this post on Instagram
Located in funky downtown Palm Springs, the Kimpton Rowan brings back hip, happening 1960s flair, with mod architectural details on the outside and bright pops of color on the inside. Sip a Negroni in a chic poolside cabana or dine on modern American fare at 4 Saints after hiking and road-tripping through the park.
Pro tip: splurge on a room with a view of nearby Mount San Jacinto.
AutoCamp Joshua Tree
View this post on Instagram
Ever wanted to spend the night in a luxurious Airstream but don't want to buy one for yourself? AutoCamp prides itself on providing memorable glamping stays in classic, chromed-out Airstream trailers, with amenities to spare.
In addition to the complimentary coffee, tea, WiFi, and spa-inspired Ursa Major bath products, the property also features community fire pits, free mountain bike rentals, and, perhaps most importantly, a pool.
Seven Arches Joshua Tree
Designed by Meagan Yednock and Tim Martin, Seven Arches is an architectural stunner located in the quiet Flamingo Heights neighborhood just north of Joshua Tree National Park.
Not only is this four-bedroom, two-bathroom home easy on the eyes (its namesake seven arches offer floor-to-ceiling views and cozy reading nooks), but it's also loaded with fun high desert amenities, like a cold cowboy tub, a geodesic dome complete with hammocks and a jacuzzi, and plenty of macrame swings for evening lounging.
Related read: 9 Soak-Worthy Hot Springs in California
Explore More in California
Get epic travel ideas delivered to your inbox with Weekend Wanderer, our newsletter inspiring more than 10,000 readers every week.
Was this article helpful?
---