We research, evaluate and select travel destinations based on a number of factors, including our writers' experience, user reviews and more. We may earn a commission when you book or purchase through our links. See our editorial policy to learn more.
Was this article helpful?
---
Next time you're looking for a weekend of romance, head to the Land of Enchantment — these 12 romantic getaways in New Mexico will have you feeling the love.
Whether your ideal escape involves total solitude and starry night skies or an all-inclusive package at a picture-perfect location, these dozen accommodations dish up the romance.
From quiet cottages to hot springs resorts with spas, you can find a perfectly alluring place to spend some time with your special someone.
Related Read: 11 Awesomely Unique Places to Stay in New Mexico
1. Romantic Adobe Cottage
Why you should stay: A cozy cottage with a majestic mountain backdrop.
Location: San Cristobal
Sleeps: 4
Minimum stay: 7 nights
Rates from: $200/night
Tucked in the heart of the San Cristobal Creek Valley just 15 miles north of Taos, this cozy adobe cottage offers a private escape with fantastic views of the Sangre de Cristo Mountains. Inside, you'll find an artful yet homey interior with plenty of southwestern touches.
In the winter, toss some logs on the fire and snuggle up after a day out skiing. In the summer, bring a bottle of your favorite adult beverage to sip in the private hot tub under the stars. The beautifully landscaped property boasts gorgeous flowers and greenery, making it an excellent escape for nature lovers who crave a shady spot with mountain views.
"Cozy little casita, perfect for us (and our dogs)," said guest Allen. "We stayed warm by the fireplace while watching the first snow of the season. The small hot tub was great for the two of us and provided an amazing view of the stars."
Check Availability
Related Read: 8 Secluded New Mexico Cabins for a Relaxing Getaway
2. Desert Harbor Retreat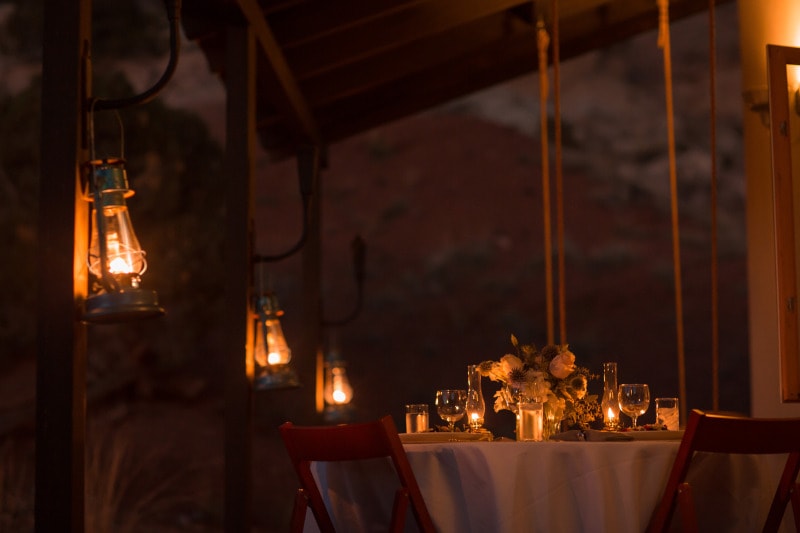 Why you should stay: Nourish your spirit and soul with a romantic trip for two to the desert.
Location: Albuquerque
Sleeps: 2
Minimum stay: 2 nights
Rates from: $225/night
Designed for maximum privacy, the guest cottage at Desert Harbor gives you and your loved one a chance to unplug and escape into the beauty of New Mexico's high desert. Built at the base of a sandstone cliff using eco-friendly materials, the entire retreat is 100% solar-powered.
Your stay includes a long list of luxurious amenities as well as a full breakfast delivered each morning. In addition to lodging, you can book a variety of services including spiritual direction, life coaching, massages, and even elopement packages, should the marital mood strike.
Check Availability
3. Redwood in Historic Upper Canyon
Why you should stay: Enjoy a dash of rustic charm—and plenty of luxury.
Location: Ruidoso
Sleeps: 2
Minimum stay: 1 night
Rates from: $199/night
Everywhere you turn, the Redwood home has delightful romantic touches. From the two covered decks to the private hot tub to the cushy couch by the see-through fireplace, you can find the perfect spot to set the mood for your romantic weekend getaway. The ponderosa forest provides a secluded feel like you've escaped to your own private ranch house for two.
The property is next to the Lincoln National Forest, and you might see the local wildlife taking a stroll through your yard. Should you desire to hit up a cafe or restaurant, you are a short drive from a handful of great local selections. Or treat your date to a home-cooked meal utilizing the cabin's stylish kitchen.
"What a wonderful, cozy, romantic cabin to spend some time with your favorite person," said Airbnb guest Joey of Santa FE.
Check Availability
Related Read: 11 Best Cabin Rentals in Cloudcroft, New Mexico
4. Ojo Caliente Resort
Why you should stay: Soak your cares away in a stunning natural setting.
Location: Ojo Caliente
Sleeps: 2
Minimum stay: 1 night
Rates from: $199/night
One of the country's oldest health spas, Ojo Caliente is tucked between the rugged desert cliffs and cottonwood-lined bosque along the river. The beautiful natural setting is a divine location to stay, dine and soak for a relaxing vacation. The resort also offers hiking, mountain biking, and yoga if getting some exercise is more your speed.
You can choose from several different suites for your stay. Splurge on a Posi or Cliffside Suite for an extra dash of romance as these suites come with access to your own private pool or tub. Then indulge in a signature treatment — or two — at the award-winning spa.
Check Availability
5. Historic Eastside Restored Adobe Home
Why you should stay: Authentic southwestern charm in an unbeatable location.
Location: Santa Fe
Sleeps: 4
Minimum stay: 4 nights
Rates from: $360/night
If fine dining, boutique shopping, historic southwestern architecture, and art galleries galore sound like your special someone's idea of a good time, this restored adobe home is in the perfect location — and has plenty of romance of its own.
Located a 15-minute walk from the Sante Fe Plaza and a mere quarter mile from Canyon Road's bountiful art galleries, you can easily fill your stay with time out on the town. Just be sure to catch some downtime at this stunningly restored home. From the hand-crafted details and authentic southwestern decor to the beautiful courtyard, you'll find plenty of enchanting touches that make this casita extra enchanting.
"This property is exactly what you think of when in Sante Fe!" said guest Barbara. "It's beautiful and oozing with character and charm."
Check Availability
Related Read: 10 Adventurous Glamping Destinations in New Mexico
6. The Inn of the Five Graces
Why you should stay: Step into a new level of luxury and elegance at a one-of-a-kind suite.
Location: Sante Fe
Sleeps: 2
Minimum stay: 1 night
Rates from: $750/night
From the moment you step inside the Inn of the Five Graces, you'll feel you've been transported back in time. Each room is unique with handcrafted artisan touches and historic treasures from the historic Silk Road that once linked Europe and Asia. Book a stay at one of the suites (or the two spectacular villas) and escape into your own elegant romantic retreat.
From the colorful tiling to the lush furniture and beautiful stonework, each room feels like a work of art. You can choose to relax in the secluded stone courtyard over breakfast or a glass of wine, experience a rejuvenating treatment at the spa, head out on the town, or simply cozy up around your fireplace for a romantic evening with your special someone.
Check Availability
Related Read: 11 Magnificent Hikes Near Santa Fe, New Mexico
7. The Cozy Corrales Casita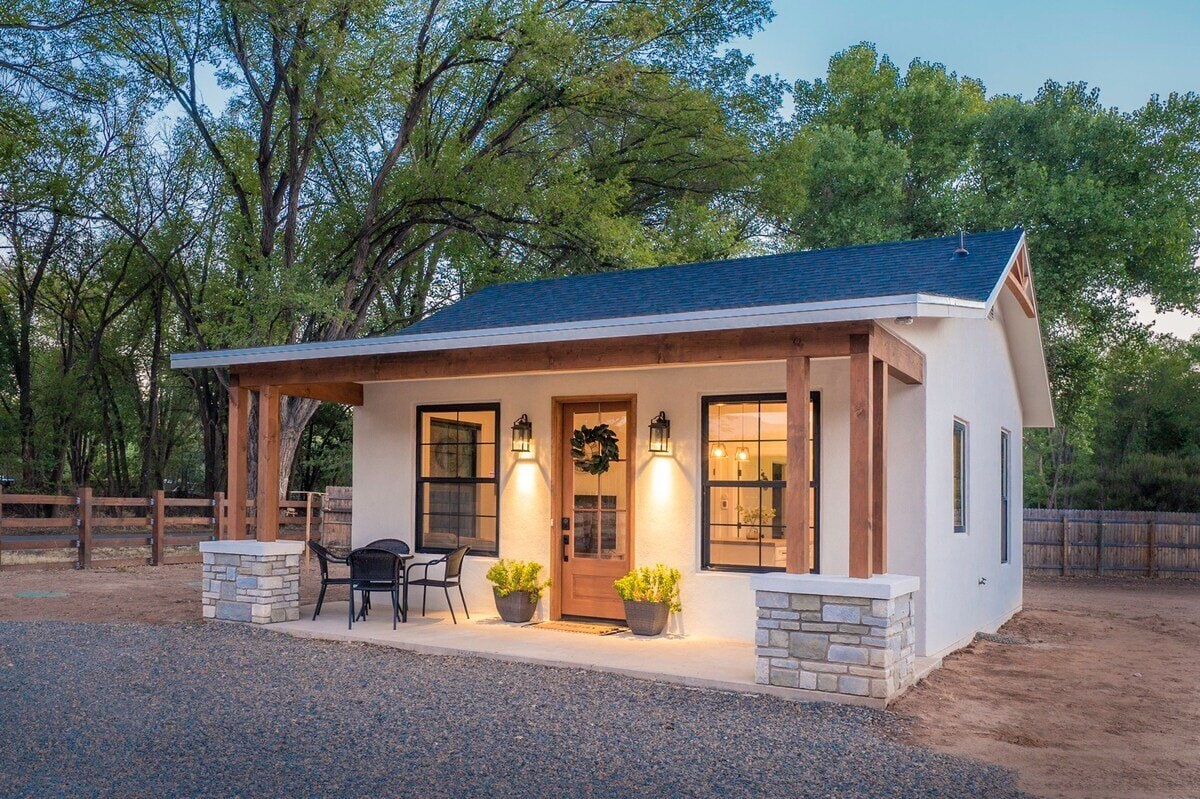 Why you should stay: Live out your farmhouse fantasy in this terrific tiny home.
Location: Corrales
Sleeps: 2
Minimum stay: 2 nights
Rates from: $144/night
If rural bliss in a secluded spot is what you're after, the cozy Corrales Casita is the perfect tiny modern farmhouse. Inside, the casita is bright and cozy with all the right essentials for a back-to-basics romantic getaway. After all, you want to focus on the most important thing—spending time with each other.
And should you want to get out, the casita is located along the popular corrales acequia (waterway), you can easily walk or bike into town to check out the farmer's market, bistros, breweries, wineries, and shops. Complimentary beach-cruiser bikes are available on request.
"What a beautiful and romantic little getaway! The location was great, so close to a bunch of wineries and not far from anything else."
Check Availability
Related Read: 7 Awesome Scenic Drives in New Mexico
8. Riverbend Hot Springs
Why you should stay: Recharge and reconnect at this oasis in the desert.
Location: Truth or Consequences
Sleeps: 2
Minimum stay: 1 night
Rates from: $152/night
Located on the banks of the Rio Grande, the location of the Riverbend Hot Springs is hard to beat. Whether you're looking for a quiet and relaxing retreat for a special night or to book an extended weekend away, the hot springs offer several unique room options, including courtyard suites and cozy casitas.
Choose from common pools, private pools, and special packages to make your hot springs experience even more enjoyable. With these options, you can tailor your vacation to deliver the ultimate couple's relaxation so you can both leave rejuvenated.
Check Availability
Related Read: 12 Best Spots to See the Fall Colors in New Mexico
9. North Hills Home
Why you should stay: A romantic stay that is chic, stylish, and downright heavenly.
Location: Santa Fe
Sleeps: 4
Minimum stay: 2 nights
Rates from: $312 /night
If you're looking for a charming Santa Fe getaway, this beautifully finished home will not be found wanting. Minutes from hiking trails, the Santa Fe Plaza, and a host of great dining, art galleries, and shopping, you can fully immerse yourself in the southwestern culture during your stay.
The house is also right across the street from Ten Thousand Waves Spa. Book a couple's massage or other spa treatment for some romantic relaxation. Or you plan a night in to enjoy the epic fireplace ambiance of the home's spacious great room.
Check Availability
Related Read: 9 Awesome Weekend Road Trips from Tucson, Arizona
10. Hotel St. Francis
Why you should stay: Just because this hotel is named for a saint doesn't mean you can't have a sinfully good time.
Location: Santa Fe
Sleeps: 2
Minimum stay: 1 night
Rates from: $229/night
Get into the spirit of old Sante Fe at the historic Hotel St. Francis. The décor features handcrafted wood furniture and styling features that give a nod to the days of Santa Fe's early Franciscan missionaries. With a claim to fame of being the oldest hotel in Sante Fe, the building is enchanting — perfect for hopeless romantics who love a good dose of history.
Book the romance package to add sparkling wine, chocolates, and late checkout for a little extra something special. Plus, from your well-appointed room, you can easily walk to the historic Santa Fe Plaza. This cultural hub is renowned for the best dining, shops, and galleries that the state has to offer.
Check Availability
11. Gorgeous Santa Fe Casita
Why you should stay: A modern, bright, and beautiful home within minutes of downtown Santa Fe.
Location: Santa Fe
Sleeps: 2
Minimum stay: 1 night
Rates from: $236/night
There's a lot to love about this recently remodeled casita. From the secluded hot tub in the backyard to the sunny living room, this home offers that just-right mix of privacy and prime location. You'll especially enjoy a soak in the backyard hot tub after a day out exploring.
And speaking of exploring, you are a short drive from downtown Santa Fe, which boasts enough activities to fill a year-long stay. Pick your favorite type of romantic outing. From fine dining to fancy shopping to historic site-seeing, Santa Fe has it all.
"I had a lovely stay at this casita," said Airbnb guest Karen. "It was close to everything I wanted to see, but removed from the tourist crowds."
Check Availability
Related Read: The 9 Best Weekend Road Trips from El Paso, Texas
12. El Monte Sagrado
Why you should stay: Add a serious dose of luxury to your romantic weekend away.
Location: Taos
Sleeps: 2
Minimum stay: 1 night
Rates from: $254/night
Take a stroll through the beautiful grounds of El Monte Sagrado, and it won't take you long to see why this serene setting offers the perfect romantic mountain escape.
From the waterfalls and pools to the towering cottonwood trees and mountain views, this fabulous hotel is only a few blocks away from Taos's historic plaza. You can choose from a wide variety of suites and add-on packages at the spa and wellness center as you'd like.
From the hotel, you are 20 miles away from skiing at Taos Ski Valley (and hiking in the summer). Though you may find that an evening at the award-winning De La Tierra Restaurant at the hotel is more than romantic enough. For an extra-special meal, book the private wine room to enjoy a custom menu complete with chef-recommended wine pairings.
Check Availability
Explore New Mexico
Get epic travel ideas delivered to your inbox with Weekend Wanderer, our newsletter inspiring thousands of readers every week.
Was this article helpful?
---