We research, evaluate and select travel destinations based on a number of factors, including our writers' experience, user reviews and more. We may earn a commission when you book or purchase through our links. See our editorial policy to learn more.
---
Venture to where the Midwest meets the south with a stay in an exciting Missouri tiny home.
There's much more to Missouri than St. Louis and the Gateway Arch, although there's no denying these are some pretty top-notch attractions. But in the south, the atmospheric waters and scenic beauty of Lake of the Ozarks wows millions of visitors each year.
Along Historic Route 66, explorers can see the iconic Chain of Rocks and one of the country's few remaining drive-in theaters. And no trip to Missouri is complete without chowing down on creamy frozen custard and smoky barbecue.
But if that's not enough, one way to spice up your visit to Missouri is with a tiny home experience. Measuring no larger than 600 square feet, tiny homes offer big personalities squeezed into small spaces. Not to mention, they typically boast incredible amenities you can't experience at home.
These epic tiny house rentals in Missouri are the definition of less house, more home.
1. Branson Tiny Home
Why you should stay: A cutesy tiny home in the woods not far from the shops and restaurants of Branson Landing.
Location: Branson
Sleeps: 2
Minimum stay: 2nights
Rates start from: $75/night
This Branson tiny home is a dollhouse come to life. Elegant details like a glittering chandelier and rounded, pink front door make this tiny home extra special, as does the bright and airy interior filled with pops of color. And although small, the layout is surprisingly spacious. It boasts a well-equipped kitchen complete with a Keurig machine, laundry facilities, and a separate living area thanks to the lofted bedroom.
All around the home, peaceful woods ensure peace and quiet during your stay. The yard also features a swinging hammock and Adirondack chairs that circle a fire pit.
Check Availability
Related Read: 10 Awesome Weekend Road Trips from St. Louis, Missouri
2. Miette Suite at Baetje Farms
Why you should stay: A modern, mini farmhouse on a sprawling goat farm.
Location: Bloomsdale
Sleeps: 2
Minimum stay: 1 night
Rates start from: $175/night
Nestled in the idyllic Forche du Clos Valley lies the Miette Suite at Baetje Farms. Baetje Farms is an artisanal goat and dairy farm where visitors can sample locally made ice cream and goat cheese. The tiny home's interior can only be described as farmhouse chic, embodying the spirit of the Missouri countryside without sacrificing a high-end experience.
Floor-to-ceiling windows beautifully illuminate the home's luxe finishes, including white shiplap walls and marble tiling. Out front, an idyllic little porch beckons. This charming tiny home isn't far from the rolling hills of Missouri's wine country, where you can sip local wines and admire the scenery.
Check Availability
Related read: 9 Must-Hike Trails in Kansas City, Missouri
3. Getaway Ozark Highlands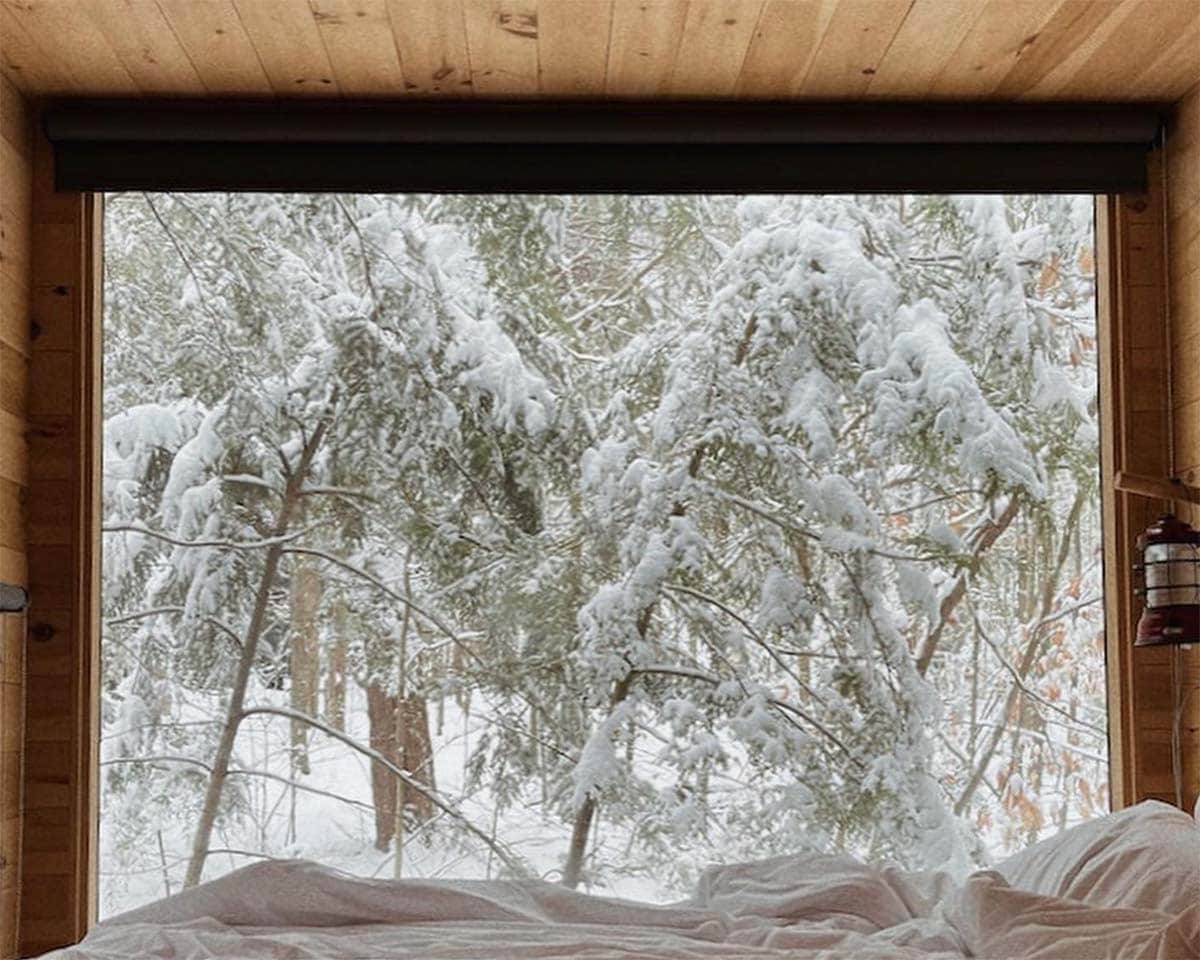 Why you should stay: A glamping resort with modern and airy tiny homes about an hour from Lake of the Ozarks.
Location: Osceola
Sleeps: 3-4
Minimum stay: 1 night
Rates start from: $79/night
The Getaway Ozark Highlands is part of an exciting glamping chain that hosts fantastic locations near some of the U.S' top outdoor attractions. This elevated glampground takes all the best of camping and combines it with the comfort of a sturdy shelter and a plush bed. To accommodate different groups, there are one and two bed cabins available for booking.
Each cabin is outfitted with cooking basics, a table, and an expansive window that allows sunshine to stream inside. In keeping with camping tradition, the resort's tiny homes feature their own private fire pits and picnic tables. Getaway is a dog-friendly resort and welcomes pups with a treat.
Check Availability
Related read: 9 Surprisingly Free Things to Do in Kansas City, Missouri
4. The Place in the Woods
Why you should stay: A spacious tiny cabin on remote land about an hour and a half south of St. Louis.
Location: Perryville
Sleeps: 6
Minimum stay: 1 night
Rates start from: $117/night
Escape to The Place in the Woods, a solar-powered glamping cabin immersed on a sprawling 35 acres. You won't find WiFi, endless electricity, or strong cell service here, but rather an opportunity to disconnect and enjoy the presence of your companions. But with comfort in mind, the cabin does have an ensuite dry toilet with hot showers, and a water filtration system in the kitchen for clean drinking water during your stay.
Guest Terry shares, "We enjoyed the ability to stay off the grid while being a short trip to town (Mary Jane's Burgers and Brews, Sugar Chic, Splash Pad, Park-Et, and Rozier's) and are already trying to find another time to visit. The memories we made are priceless."
Check Availability
Related Read: 9 Fabulously Unique Places to Stay in Illinois
5. Midwest Shipping Container
Why you should stay: A transformed shipping container with elegant decor on a 45-acre farm in southwest Missouri.
Location: Pleasant Hope
Sleeps: 8
Minimum stay: 1 night
Rates start from: $99/night
The Midwest shipping container is a modern vacation rental that oozes bohemian aesthetic. Bright white surfaces are beautifully paired with natural wood and a mix of textiles. And although once an old shipping container, it now features modern conveniences like A/C and heat, a mini-fridge, and a coffee maker. Out front, a lovely front deck with chairs provides the perfect place to unwind after a long day.
This updated shipping container is part of a Co-Op that raises chickens, cows, pigs, and more. Guests are free to take in the sights and sounds of the working farm, shop at the farm store, and use the community pavilion. If seeking even more to do, the attractions of nearby Springfield and Stockton State Park are about a 40-minute drive away.
Check Availability
Follow 'em: @StewartFarmsCoop
6. Tiny Paradise on the Quarry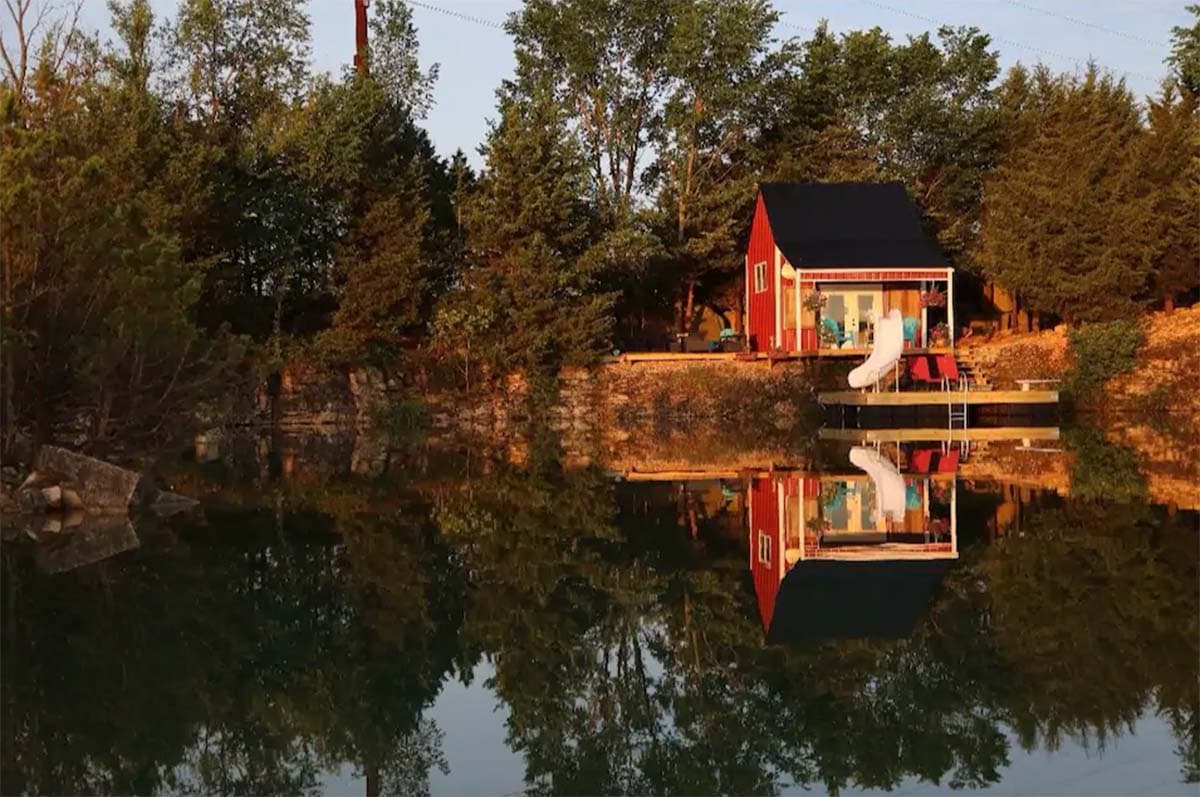 Why you should stay: A tiny home on the shores of a small, private lake halfway between St. Louis and Springfield.
Location: Rolla
Sleeps: 4
Minimum stay: 1 night
Rates start from: $149/night
Having caught the attention of many top media outlets like HGTV, Tiny Paradise on the Quarry is an exciting tiny house rental in Missouri. This mini red barn rocks fun rustic elements, like a tin sliding farm door and lake-themed art. However, it doesn't sleep on upscale amenities either and has a full kitchen and a great outdoor area.
The home's spacious wooden deck extends from the yard over the water and boasts a water slide, diving board, and sun loungers. The hosts even provide paddle boats and kayaks so you can get active. In the evening, turn on the gas grill and get a fire going for even more family fun.
Check Availability
Related Read: 9 Fun & Free Things to Do in Saint Louis, Missouri
7. 1-of-a-Kind Tiny House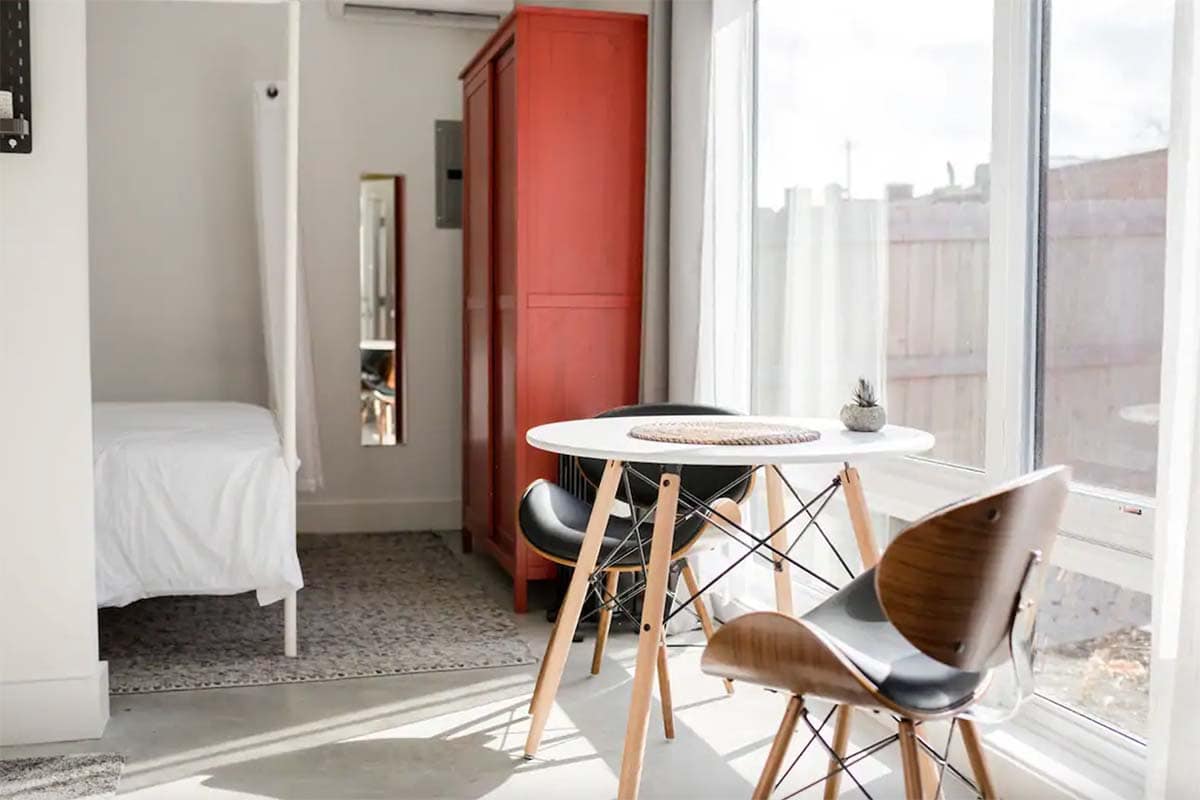 Why you should stay: A contemporary studio cabin in a vibrant neighborhood of St. Louis with a private parking spot.
Location: St. Louis
Sleeps: 3
Minimum stay: 3 nights
Rates start from: $59/night
Designed for travelers by travelers, this 1-of-a-Kind Tiny House is a modern getaway that focuses on the details. On both sides of the queen canopy bed is a nightstand, table lamp, and outlet so everyone can relax comfortably. Not to mention, the hosts have outfitted the space with complimentary toiletries, coffees, and teas. And as you lounge, a Bluetooth speaker stands ready to play your favorite jams.
You'll find this guesthouse in the backyard of the host's home, but blackout curtains and frosted glass promise utmost privacy. This tiny house is in the Botanical Heights neighborhood of the city, within walking distance of the Missouri Botanical Gardens and popular coffee shops and restaurants. The main downtown area is a short 10-minute drive away.
Check Availability
Related Read: 11 Best & Most Unique Airbnbs in Missouri
8. Cabin in the Woods
Why you should stay: A cozy glamping cabin on a quiet 40-acre plot along the Elk River.
Location: Noel
Sleeps: 2
Minimum stay: 2 nights
Rates start from: $100/night
Although tiny, everything about this Cabin in the Woods screams cozy. From the white shiplap walls, wooden ceilings, and pops of black and white gingham, you're sure to feel right at home. On the ground floor, you'll find a love seat sofa and a kitchenette with basics like a microwave, mini-fridge, and the oh-so-important coffee maker.
As a glamping cabin, guests must bring their own bedding, but the hosts provide complimentary firewood for your nightly s'mores. There's also a composting toilet inside the house for your comfort and an outdoor shower with hot water. This property isn't far from the dramatic caverns of the Bluff Dwellers Cave.
Check Availability
Related Read: 6 Unique Places to Go Glamping in Missouri
9. Tranquil & Relaxing Tiny House
Why you should stay: A pet-friendly tiny house in southeast Missouri, a short drive from the Bonne Terre Mines.
Location: French Village
Sleeps: 2
Minimum stay: 1 night
Rates start from: $135/night
Go off the grid at this tiny house that's surrounded by rolling hills and swaying trees. The property isn't far from popular destinations like St. Joe State Park known for ATVing and swimming, and the hiking trails of St. Francois State Park.
There's no WiFi at the tiny home, but plenty of board games, DVDs, and outdoor fun to fill your time. Plus, this tiny home offers many outdoor spaces to kick back and relax, including a covered upper deck accessible from large sliding glass doors. The 10-acre yard also features a fire pit, a hammock and a grassy area where pups can run free.
Check Availability
Related Read: 14 Exciting Shipping Container Homes Around the U.S.
10. Tiny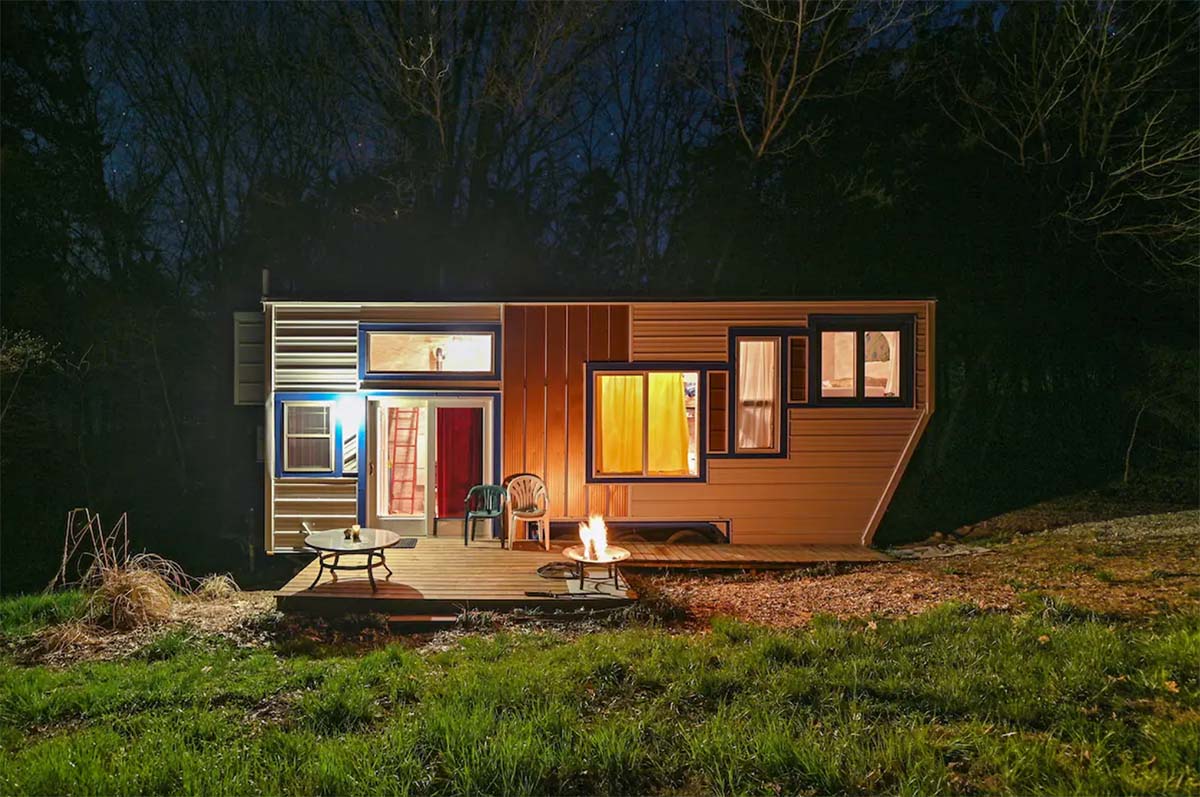 Why you should stay: A funky fresh tiny home with a creative vibe an hour north of Lake of the Ozarks.
Location: Holts Summit
Sleeps: 4
Minimum stay: 2 nights
Rates start from: $110/night
Tiny is a fun-loving space for those seeking a workcation or a getaway from the daily grind. The first thing to catch your eye is undoubtedly the wall of mismatched windows that look pretty cool and create a sunny interior. The tiny home features a lofted bedroom and a small lounge space where you can curl up with a good book. On the ground floor, cozy touches like eclectic decor, a little wood stove, and pops of color invite you in.
As you chill on the deck or sway in the hammock, the sounds of a babbling creek set the scene. A short walk from the tiny home is a pool and a pond shared with the other units, where you can take a dip when the weather is warm.
Check Availability
Where to Go Next
Get epic travel ideas delivered to your inbox with Weekend Wanderer, our newsletter inspiring thousands of readers every week.
---