We research, evaluate and select travel destinations based on a number of factors, including our writers' experience, user reviews and more. We may earn a commission when you book or purchase through our links. See our editorial policy to learn more.
---
Northern Minnesota is the land of fresh-scented pines, classic cabins, and time well spent on the lake.
Minnesotans venture north for quality time outdoors, no matter the season. So be it to spend sunny summer days on the lake or to indulge in snowy winter sports, it's common knowledge that a trip to the north means an opportunity to enjoy much needed time away.
And since northern Minnesota boasts fantastic destinations like the rugged shores of Lake Superior, Voyageurs National Park, and the vast Boundary Waters Canoe Area Wilderness, it's all too easy to find exciting ways to relax and explore.
Before you head up north, here are some of the best cabins in northern Minnesota that provide a cozy place to lay your head at night.
Related Read: 10 of the Most Unique Places to Stay in Minnesota
1. Wild Pines Cabin
Why you should stay: A dreamy A-frame cabin with pretty sunset views along Minnesota's beautiful North Shore.
Location: Beaver Bay
Sleeps: 6
Minimum stay: 2 nights
Rates from: $252/night
Wild Pines Cabin is a cozy three-bedroom perched atop a hill where Lake Superior meets the forest. Inside, the sloped A-frame roof and brick accent wall with a fireplace adds a touch of whimsy to your stay. The home is also filled with simple but far from boring decor that features mid-century modern furniture paired with outdoorsy decorations.
This secluded cabin is ideally situated near northern Minnesota's popular travel spots like Gooseberry Falls State Park and the historic Split Lighthouse. Plus, it sits on a 40-acre property where guests are free to roam and play. And in the evenings, sitting around the home's campfire is the place to star gaze, and if you're lucky, spot the Northern Lights.
Check Availability
Follow 'em: @WildPinesCabin
2. Grassy Island Retreat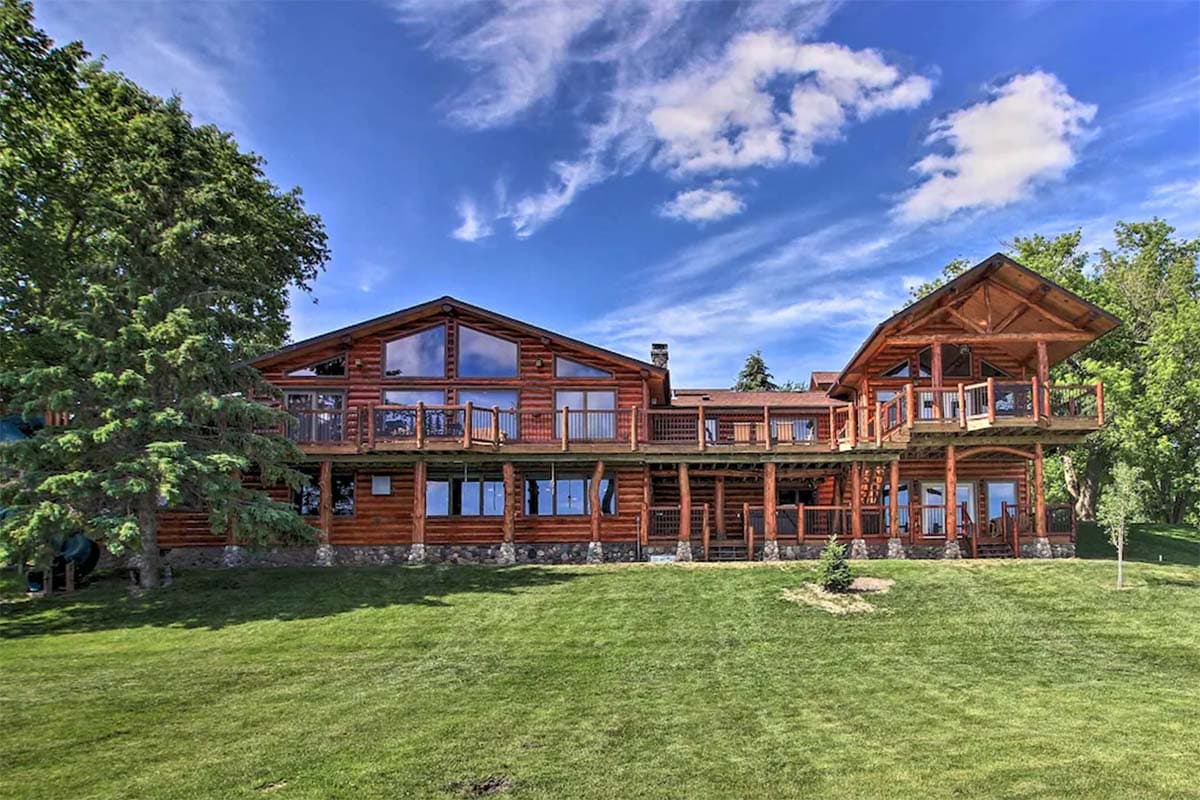 Why you should stay: A family-friendly lodge with a sauna on Blackduck Lake 30 minutes from Bemidji.
Location: Hines
Sleeps: 22
Minimum stay: 3 nights
Rates from: $615/night
Escape to the Grassy Island Retreat, a seven-bedroom log cabin that the whole family will love. The living room's chalet-style windows illuminate the elegant leather furnishings and gleaming wooden surfaces of the interior, creating a cozy ambiance. Upstairs, the loft has been transformed into a treehouse-themed kids play area that'll keep them occupied for hours thanks to the many toys and crawl tunnels.
This fantastic cabin even features a wood-burning cookstove, a game room, multiple fireplaces, and a seating area with a piano. Make your way to the yard via the covered slide from the upstairs balcony, where a private dock leads out onto the lake. The property also features a trampoline, kayaks, and a basketball hoop.
Check Availability
Related Read: 11 Charming Cabin Rentals in Alexandria, Minnesota
3. Lake Burntside Log Cabin
Why you should stay: A charming log cabin nestled in the Superior National Forest near the Boundary Waters Canoe Area Wilderness.
Location: Ely
Sleeps: 10
Minimum stay: 2 nights
Rates from: $185/night
Tucked far in the north, the Lake Burntside Log Cabin provides lakeside respite for anyone itching to run away to the woods. This quaint two-bedroom will remind you of a Lincoln Log toy cabin brought to life with adult-approved amenities like a cedar barrel sauna overlooking the lake.
The home's stone fireplace and expansive wall of windows provide an inviting place to relax with loved ones while enjoying the view of the pretty lake. From the back door, a set of stairs lead down to the lake and firepit.
Fall and winter are particularly beautiful times to visit when the leaves of the national forest shift colors and snow begins to fall, opening up the nearby snowmobile and snowshoeing trails. Lake Burntside isn't far from downtown Ely where small-town shops and restaurants offer more to do.
Check Availability
Related Read: 7 Cozy Cabins for Rent Near Minneapolis, Minnesota
4. Clubhouse Lake Home
Why you should stay: A fabulously appointed cabin boasting 200-feet of private, sandy lakeshore about 40 minutes north of Grand Rapids.
Location: Marcell
Sleeps: 14
Minimum stay: 3 nights
Rates from: $399/night
Aptly named, the Clubhouse Lake Home is a premier cabin escape brimming with plenty to do both inside and out.
Once the home of a professional contractor, the interior boasts fun custom touches like shingled ceiling overhangs and massive, exposed log beams. Not to mention the home's extra spaces like the spacious movie theater room, jacuzzi tub, full bar, and game room complete with ping pong and foosball.
This cabin also boasts three decks connecting the cabin-glam interior with the surrounding pristine wilderness. Included with your booking is the freedom to use the provided paddleboards, canoe, and kayaks, where you can explore the lake and various others in the region. The hosts even have a pontoon available for rent if so desired.
Check Availability
Related Read: 7 of the Best Minnesota Glamping Destinations
5. Ivy Lane
Why you should stay: A four-bedroom lake house with a grassy yard and sandy-bottom lakeshore amongst the scenic Whitefish Chain of Lakes.
Location: Crosslake
Sleeps: 16
Minimum stay: 2 nights
Rates from: $550/night
Ivy Lane Lake House is a clean and well-appointed lake house that welcomes large groups to northern Minnesota. The home is outfitted with a cozy bunk room that comfortably accommodates the kiddos or an entire family for multi-family excursions.
There are numerous lounge spaces throughout the house, as well as laundry facilities and a mudroom for your lake gear. In the summer, soak up some sunshine on the brick patio where a dining table, sun loungers, a grill, and a fire pit provide the means for a lively cookout.
Guest Justin shares, "We had an excellent stay at this property. If you're a boater it's located on a calm bay very close to the sandbar and not too far from Moonlight, Zorbas and the Wharf."
Check Availability
Follow 'em: @IvyLaneLakehouse
6. Pine Lake Lodge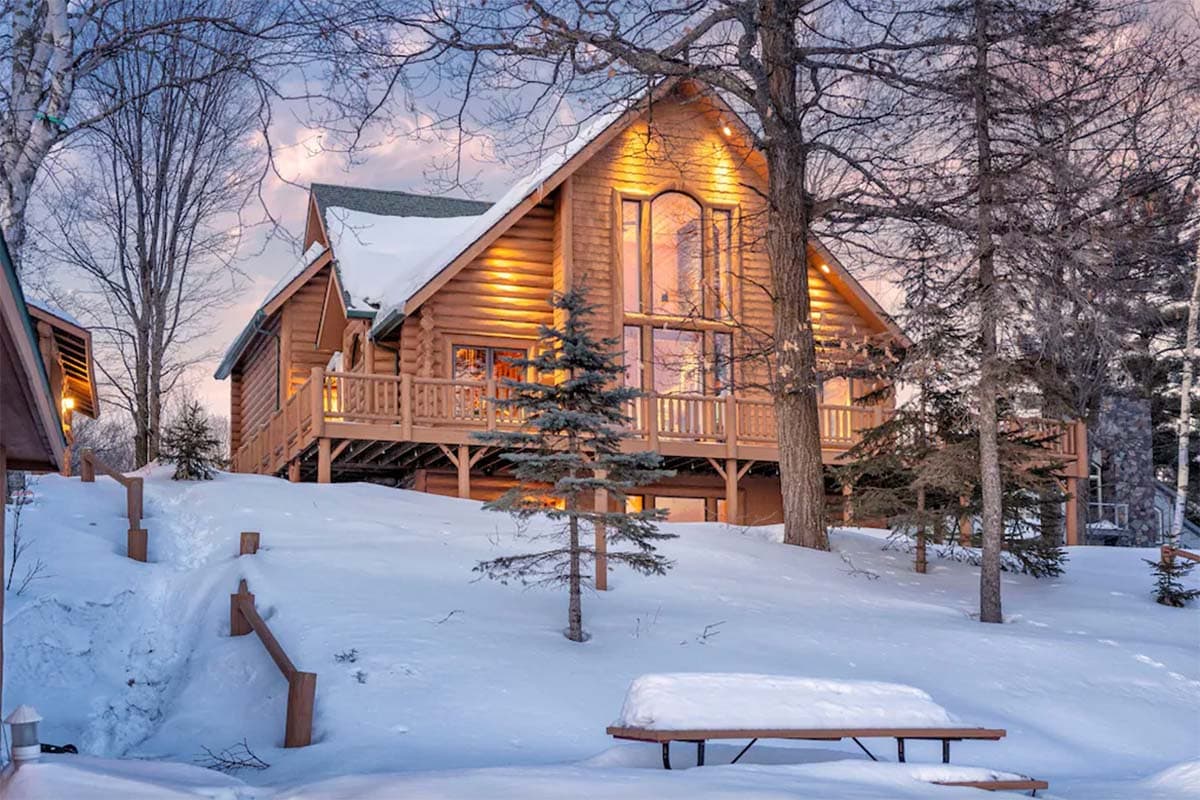 Why you should stay: A luxurious and spacious log cabin on Pike Lake just minutes from Duluth's top attractions.
Location: Duluth
Sleeps: 16
Minimum stay: 3-4 nights
Rates from: $599/night
Treat you and your family to your own private lake resort at the Pine Lake Lodge, an incredible northern Minnesota cabin with a gorgeous interior and a long list of unique amenities. From the spa-level features like the hot tub, Finnish sauna, and steam shower to the downstairs living room equipped with a wet bar and table games, you're in for a weekend of endless fun.
But that's just the tip of the iceberg. Outside, the property has a basketball half-court, a separate beach house, and a prime stretch of lakeshore on one of the most popular lakes in the area. Additionally, Duluth, northern Minnesota's largest city, is right at your fingertips. As a city known for its proximity to Lake Superior and exciting downtown district, there's something for everyone.
Check Availability
Related Read: 11 Best Cabin Rentals Near Duluth, Minnesota
7. Sunset Haus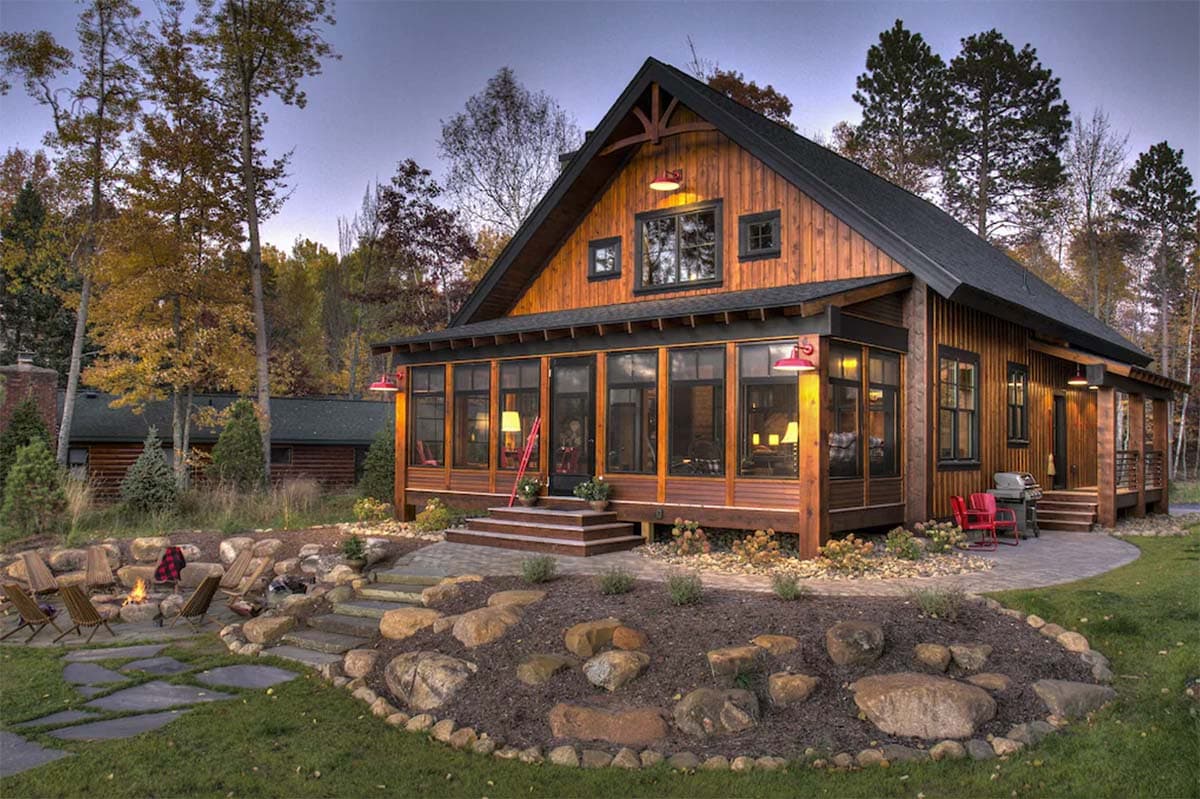 Why you should stay: A modern and well-appointed cabin that offers fantastic lake fun no matter the season.
Location: Cross Lake
Sleeps: 16
Minimum stay: 3 nights
Rates from: $375/night
Retreat to the Sunset Haus for a wilderness lodge experience on the shores of crystal clear O'Brien Lake. This vacation rental looks like a classic cabin on the surface but features upscale and new amenities for utmost comfort. Thoughtful touches like complimentary firewood, a Sonos Music system, and a fully-stocked kitchen make your stay a comfortable one.
Ideally positioned to look over the water, the home's four-season porch offers front-seat views of the lake and the colorful sunsets that regularly put on a show. Other incredible outdoor amenities include a stone fire circle, a Bennington pontoon boat for guest use, and a beautifully landscaped grassy yard perfect for pets.
Check Availability
Related Read: 7 of the Most Romantic Getaways in Minnesota
8. Luxury Modern Cabin
Why you should stay: A lakeside cabin with a spacious deck, a private swimming dock, and a hot tub.
Location: Deer Lake
Sleeps: 10
Minimum stay: 3 nights
Rates from: $249/night
Take in the turquoise waters and serenity of Deer Lake with a stay at this luxury modern cabin. Scandinavian-inspired sensibility can be felt through the home's white-washed walls and stylish decor. The interior also boasts upscale finishes like Quartz countertops, a music system throughout the house, and brand new mattresses, allowing guests to enjoy tip-top hospitality during their stay.
The interior also features towering ceilings and an open ground plan, including a loft, making this spacious four-bedroom cabin an excellent choice for large groups. Guest Brian shares, "It was the perfect cabin for a nice weekend getaway. Great area for snowmobiling and fishing. The cabin was very nice and clean when we arrived."
Check Availability
Related Read: 8 Best Tiny House Rentals in Minnesota
Explore the Midwest
Get epic travel ideas delivered to your inbox with Weekend Wanderer, our newsletter inspiring more than 10,000 readers every week.
---