Building out your own van is an exciting project, but it can be daunting. Luckily for #vanlifers everywhere, DIY conversion kits can help plan out your ideal van setup.
Do you want a super luxurious build with heat, electricity, running water, fridge, shower, and USB ports? Or are you happy with a simple build, a cooler, and a little Goal Zero battery to charge your toys?
Depending on what you're looking for, you're going to have to spend some time deciding some important design concepts: how much of a solar system do you need, how will you run wire, where will you install windows? No matter what you'd like to build, there are also plenty of vanlife hacks to make things easier.
Today, more and more companies are designing easy-to-use DIY conversion kits to help build your ultimate campervan. Here's a look at 11 popular conversion kits on the market today.
Related Read: Living in a Van Full-Time: 6 Questions to Ask First
DIY Solar Kits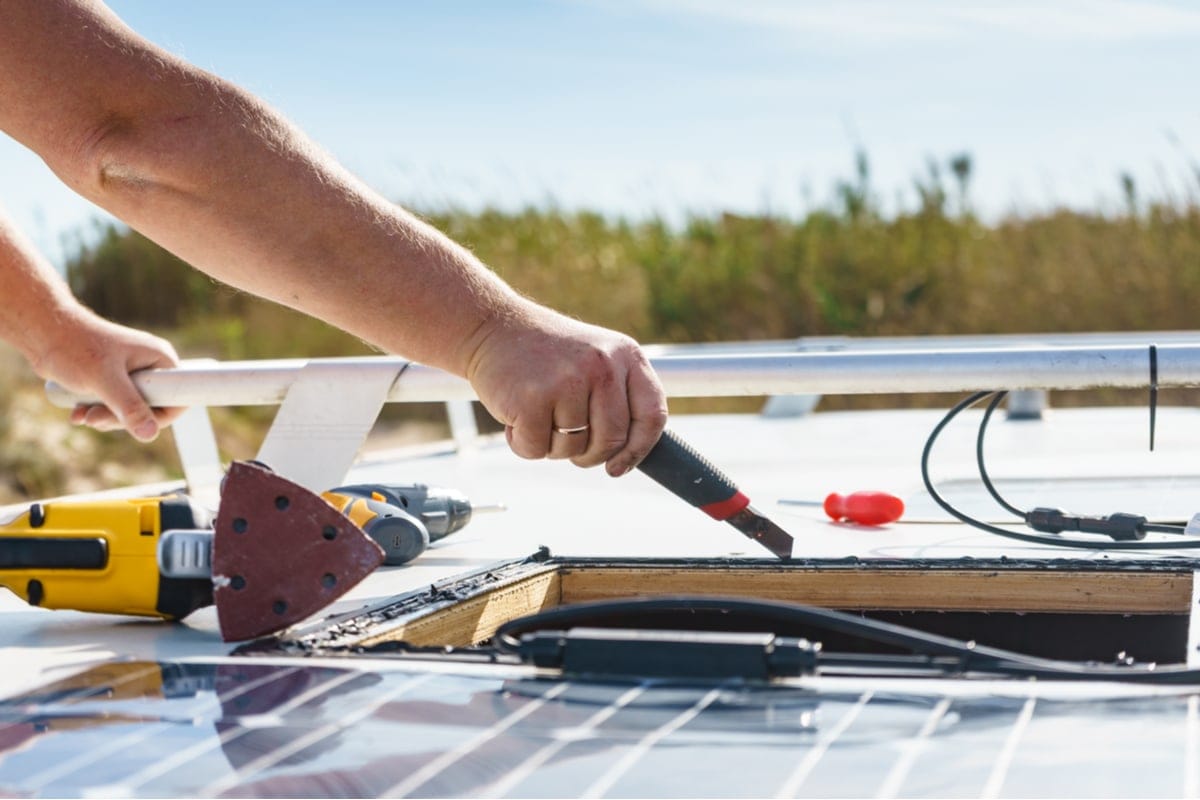 When it comes to solar power, there's nothing better for a van build.
I've lived in a van full-time and never need to run a generator. Things you need for a solar setup are panels, cables, wire, solar controller, batteries, probably an inverter, and any wire you might need for setting it up to charge from the alternator or shore power.
Even though these companies sell "solar kits," it's up to you to do the math and make sure you're generating enough solar energy to accommodate your van's needs.
1. Outside Supply
Outside Supply has a bunch of solar kit options depending on your needs. If you need a little help and guidance, they even recommend calling them to figure out what will best suit your needs and get a quote.
2. AM Solar
AM Solar has been around a long time but has become more established over the last few years, with kits that run the gamut from basic to advanced.
They sell all the fixings, including inverters, alternator charging kits, USB ports, and even fuses. They take out almost all of the leg work of designing a good solar setup for a van. They even have videos to help get you started.
Related read: 13 Best Adventure Cars & Vehicles for Outdoor Enthusiasts
DIY Interior Kits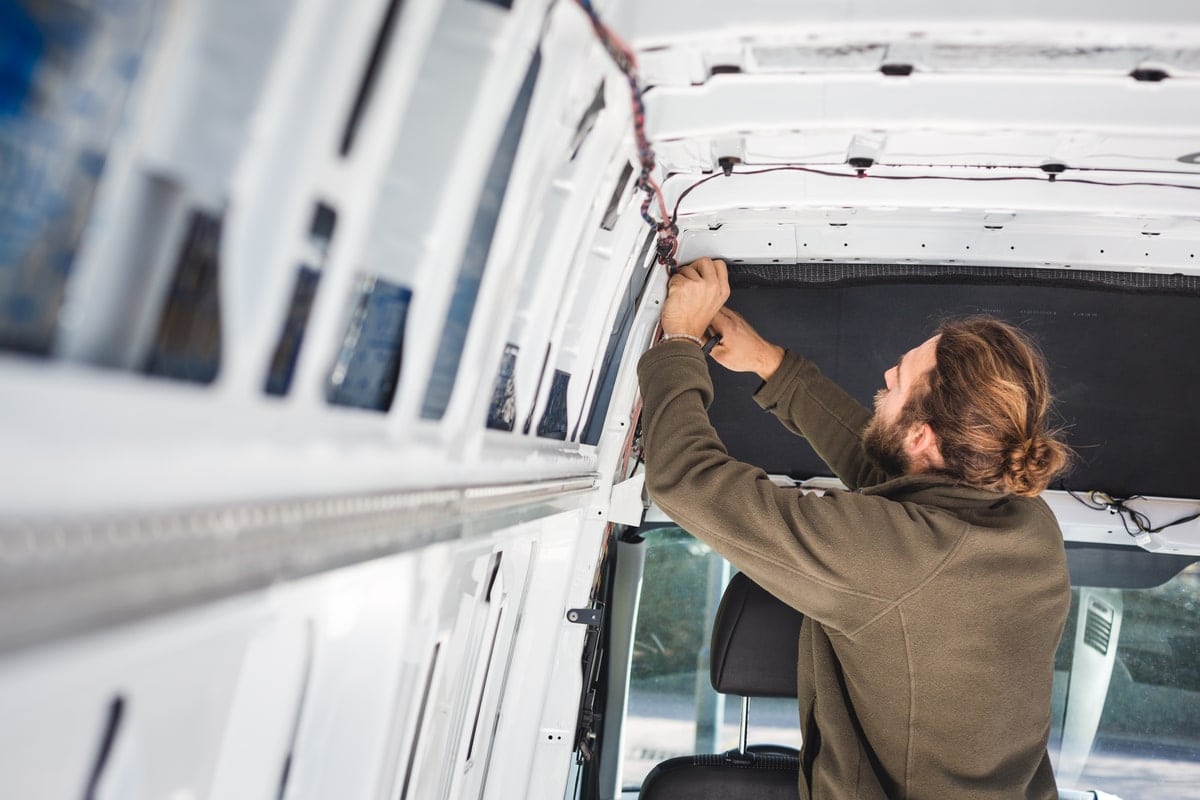 3. Adventure Wagon
If you're looking for a one-stop shop for all your interior van conversion needs, Adventure Wagon just about has it all. With kits for Ford Transit vans and Mercedes Sprinter vans, these kits give you upholstered panels, a fan (or two), and even Thinsulate insulation and sound deadening.
However, the panels and fittings are not cut to match your specific electrical needs, so you probably have to make a few adjustments as you go along. Additionally, if you are hoping to have any water or stove in the van, you'll have to figure out how that plumbing can be run to accommodate their kits.
Starting at $13,000, these kits are not inexpensive, but they are a great way to make your life easier in the van build process. If you plan to have a kitchen, heater, or plumbing, make sure that it's worth the money since you may need to make modifications to their pre-fab parts.
Related read: The 8 Best Campervan Rentals in Vancouver, British Columbia
4. Adventure Vehicle Concepts
AVC is based out of Colorado and has a history of epic custom builds, so you know they know vans. However, AVC no longer does custom builds and instead is working to develop more advanced DIY kits to accommodate their customers' needs.
AVC's website currently has wall kits for all sized medium and high roof Ford Transit vans and build panels to anticipate insulation behind them. They also sell upholstery kits to wrap your panels in the same fabric the company uses.
These DIY kits have a pretty good cost-to-product ratio at only a couple thousand dollars for the wall kit and $600 for the fabric. It still offers you all the flexibility you need to build out your own custom van. In 2022, they will be offering insulated floor systems, fabric and foam kits, and roof racks.
Keep an eye on their website in 2022 for new designs and options, including wheel well utility cabinets, manual bed systems, overhead cabinets, and a kitchen kit. They are also updating their YouTube channel to help you along the process of building out your van.
Related Read: The 16 Best Podcasts for Road Trips
5. ZENVANZ
Living full-time van life since 2012, the folks at ZENVANZ know what makes a good build. They also understand that your needs for the van may change over time. That's why ZENVANZ has developed a system that is easily modified and adaptable.
They use top-quality products in all of their builds and kits so that you can be sure you are getting the best product out there. They also pride themselves on customer experiences — stuck with an issue you can resolve? Call them up, and they will help walk you through the problem at hand.
The ZENVANZ DIY kit comes with everything you need to get started fitting the interior of your van. Keep in mind you'll still need to plan and run all your own wiring and plumbing, but the modular and removable design of the kit ensures that this is an easy task even after you've installed it.
The kit comes with a kitchen galley with optional lighting, sink and tabletop, seven upper cabinets, an easily removable three-panel bed system, and a fold-out gear drying rack. Other kits and fits sold by the company to complete the look include bamboo ceiling, door and wall panels, and custom cabinetry.
Though the price is high for these kits (starting at $18,000), the quality is superb. In fact, ZENVANZ is so proud of their work that they even have a 1-year manufacturing defect warranty!
Of course, ZENVANZ also does custom builds and will happily arrange a complete full build for you.
Related Read: 11 Best Pop-Up Campers for Easy Mobile Camping
6. Wayfarer Vans
With kits for Ford Transits, Ram Promasters, and the Ram Promaster City Cargo, Wayfarer Vans offers kits that go the extra mile.
These kits include insulated flooring, wall and ceiling panels, upper cabinets, kitchen galley including fresh and grey water tanks, a sink and hand pump, a bed platform with cushions, and a boot box.
These kits are a bit cheaper than some other options on the list, starting at $11,00. You can add additional products to your kit, including fans, storage boxes, powered coolers, heaters, tables, and accessory lights.
Related Read: 20 Best Small Campers & Travel Trailers Under 20 Feet
7. VanLab
If you're looking for a kit that takes care of all the interior structures, VanLab has come up with a nice solution. Self-described as a high-quality, IKEA style, this DIY kit shows up at your door in flat packages so you can store it compactly until you're ready for the interior kit.
It doesn't come with walls, ceilings, or any of the electrical components. However, you can order a kit that is cut for electrical, making it easy to accommodate your build. Though it doesn't have walls and ceilings, you get all the pieces that make van living comfortable, including a bed, bench seating, table, kitchen galley, and flooring.
DIY Modular Components and Accessories
8. QUQUQ
Now let's keep things simple! In a departure from the large van builds, with walls and insulation, QUQUQ has developed kits that fit in your everyday van or jeep.
A small compact package, the QUQUQ Boxes move from vehicle to vehicle and come in all sizes and styles depending on your size van.
The kit includes a foldable bed and mattress, and a kitchen, including a 2-burner stove. These kits are designed and built in Europe, so you'll need to find a product through their U.S. dealer, RRE Global.
Related Read: 8 Amazing DIY Teardrop Trailer Kits & Campers
9. RRE Global
Speaking of, RRE Global is working with top European partners to bring quality kits and components to U.S. buyers. If you've ever been frustrated by the availability of European products, RRE is the importer to contact.
With companies such as Ello Camping, Lumicoin Outdoor, Go-Outside, Outbound, KCT, and BlidimaX, they can supply you with many unique components not available anywhere else in the states.
10. TrailKitchens
If you're looking for simple and easy components to put in a van, TrailKitchens has a few options. They offer standalone kitchen pods, tail-end kitchens, a water and fridge slide-in unit, and a portable sink/stove unit.
The units come with optional hot water, and some even come with an optional shower tap. Deluxe! If you're looking for more, they also offer a wheel well cabinet set with an integrated bed platform. The kit can include hot/cold water and even a 12V auxiliary battery system.
Related Read: 10 Best Hard-Shell Rooftop Tents for Overlanding
11. TouRig
Known for extreme utility vehicles and vans, TouRig is also a great resource for all those accessories and components that make your van feel like home.
TouRig has the quality accessory products you've been searching for, including window covers, vents, screens, storage containers, a portable shower, and even a magnetic spice rack.
Explore the Open Road
Get epic travel ideas delivered to your inbox with Weekend Wanderer, our newsletter inspiring more than 10,000 readers every week.
Was this article helpful?
---