Pop-up campers provide the ideal combination of size, comfort, and convenience perfect for adventures.
Sometimes, picking the right travel vehicle can be a bit of a Goldilocks situation. Had Goldilocks been a backcountry road warrior, she would have been in a similar situation as many outdoor enthusiasts: if a campervan is much too small, but an RV is much too big, then a pop-up camper would be just right for her adventures.
When mulling over how much comfort matters, you'll also have to consider upfront purchase cost, fuel efficiency, towing weight, complexity, off-road ability, and storability in the off-season.
A pop-up camper is the perfect in-between when you want the comfort of an RV but convenience of a campervan. Towable pop-up campers are much more compact than large RVs, making them easier to tow, but  they're roomier than a van. Truck bed pop-up campers are even more efficiently packaged.
Below, you'll find a rundown of the best pop-up campers, written by an overlanding expert. For an even more compact campsite sleeping solution, take a look at this list of the best rooftop tents.
The Best Pop-Up Campers
When shopping for a pop-up camper, there are some technical specifications to consider.
First, consider the weight and size of the trailer, especially if you plan on towing with a small vehicle. Be sure that your car or truck can safely tow the weight of the trailer or camper that you want to purchase, and that you have the proper hitch or towing arrangement on your vehicle.
Second, think about how much comfort matters while camping, as the interior space and sleeping capacity will dictate that. Get a camper big enough for everyone you plan to adventure with, including your pets – and consider your height to make sure you're able to lay down to sleep. It may help to make a list of what amenities you need and which you can do without.
Each listing below has essential technical specifications to help guide you in making the best decision.
The Best Pop-Up Campers:
1. Best Two-Person Pop-Up Camper: OPUS OP Lite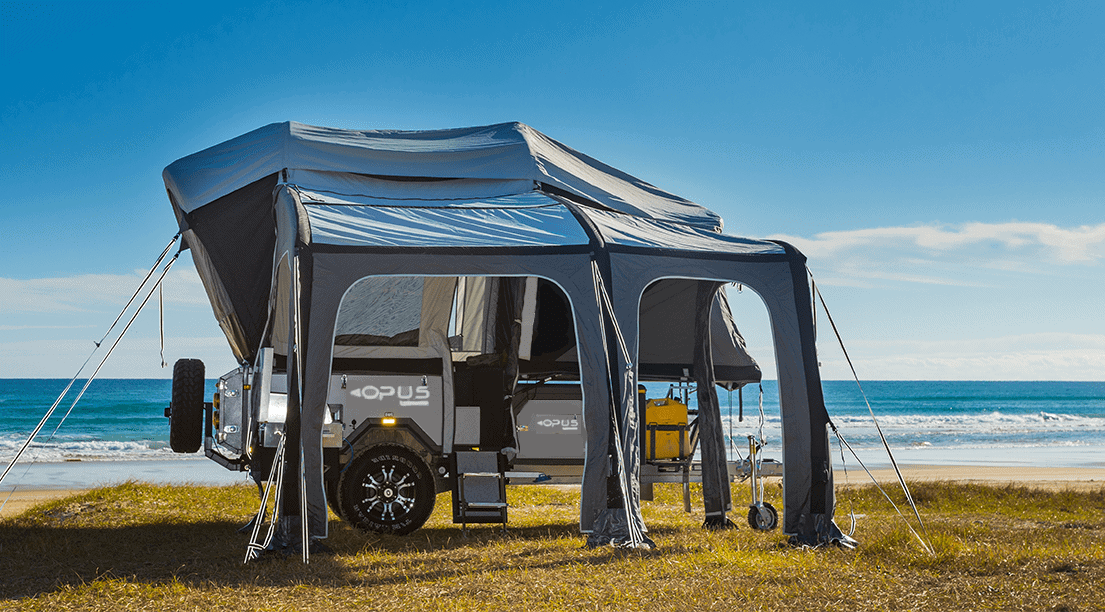 What we dig: Luxurious off-grid comfort can be yours at the push of a button.
Weight: 2,387 pounds
Person capacity: 2 adults
Dimensions closed: 206" x 66" x 53"
Dimensions opened: 206" x 66" x 120″
Compact, rugged, and well-equipped are but a few of the terms required to properly summarize the awesomeness of the OPUS OP Lite pop-up camper trailer. It's been purpose-built to travel anywhere your towing vehicle can go, both on and off-road, and it has all the equipment you need for off-grid living.
This trailer's main selling point is its AIR Tent Technology. Just push a button to start the air compressor, which will erect the tent in less than 90 seconds. Once inflated, you'll have a living space with an eight-foot ceiling, extra-large windows, and plenty of room to stretch out.
Despite the blow-up nature of the tent, durability isn't a concern. OPUS tested their tent against harsh winds from a helicopter, the water force of a fire truck's hose, and punctures from kitchen knives, and they've even rolled over it with a truck to see if it would pop. The tent emerged unscathed from everything they threw at it.
The living space is equipped with a queen-size bed, a leatherette seating and dining area, and abundant storage options. Large exterior storage compartments provide ample space for your outdoor gear. On the exterior are a pull-out kitchen, a water tank, a propane tank holder, and sliding storage drawers.
Built to go off-road, the burly all-terrain tires will grip any surface. Both wheels have independent suspension, a front rock guard protects the trailer from trail debris, and the hitch rotates 360 degrees for extreme maneuverability – all of which are attached to a strong, galvanized steel frame.
The OPUS Op Lite has everything a couple could need to live out in the middle of nowhere for days on end. There is a trailer load of accessories that can be added to the trailer to even further improve its off-road capability and campsite comfort.
2. Best Pop-Up Camper for Families: Coachman Clipper Classic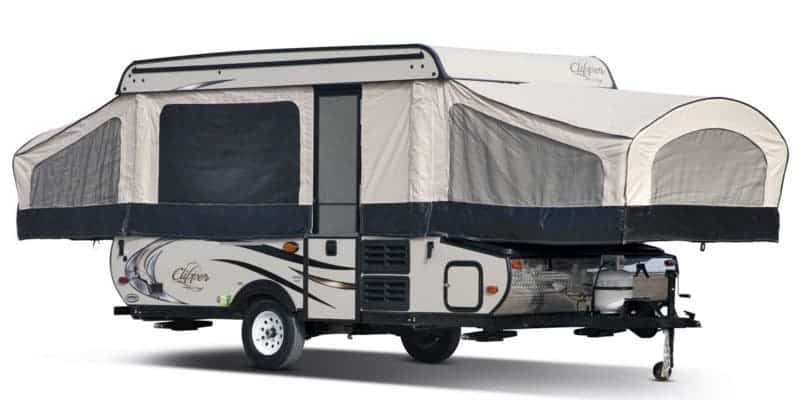 What we dig: Over a dozen floor plans and countless options enable you to make it your own.
Weight: 2,840 pounds
Person capacity: 4 adults, 3 children
Dimensions closed: 228" x 85" x 55"
Dimensions opened: 281" x 85" x 144"
There are many different ways you can configure the Coachman Clipper, which makes it the best choice for families. The largest size can comfortably sleep seven people, but you can tailor it to fit your own specific family needs.
The largest floor plan is quite big and heavy. You'll need a vehicle that can safely tow a few thousand pounds, but you'll likely have one if you have a large family to cart around. Smaller versions are available for those with smaller family sizes (and vehicles.)
The big Clipper Classic comes with a king-size bed, a queen-size bed, a gaucho bed, and dinette seating that can also be used for sleeping children. It's a full-on RV that just so happens to collapse down to an aerodynamic, low-profile towing size.
And much like a full-size RV, the Clipper Classic features a cassette toilet, shower, dual-burner stovetop, sink, refrigerator, an air conditioner, and a furnace. The dinette has seating for four with a table, and the gaucho sofa bed be used as a sofa during the day.
There are too many standard features on the Clipper Classic to list them all, but some of the best are the thick heated mattresses, the LED interior lighting, and a Jensen Bluetooth stereo. Optional extras include solar panels, a bike rack, and a storage security system.
The Coachman Clipper Classic is a true home on wheels. An off-road package is also available if you want to take your family deep into the backcountry past where the pavement ends.
3. Best Value Pop-Up Camper: SylvanSport GO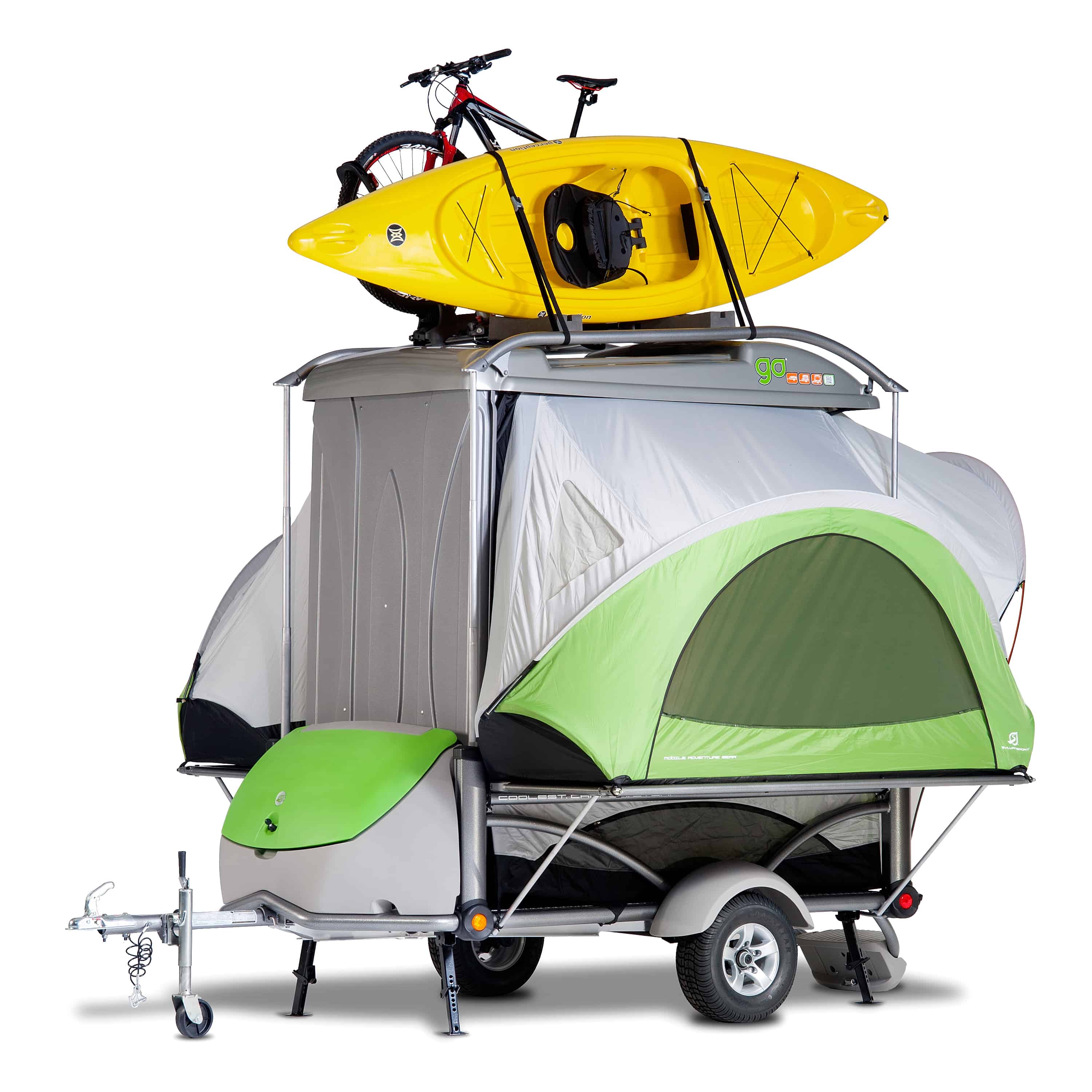 What we dig: Extreme capability and versatility at an affordable price point.
Weight: 840 pounds
Person capacity: 4 adults
Dimensions closed: 143" x 75" x 53"
Dimensions opened: 154" x 124" x 108"
There are three different modes available with the SylvanSport GO: travel mode, camping mode, and transport mode. It's a practical trailer that'll serve you well with its versatility.
The most interesting mode is perhaps the camping mode, as you can arrange the tent in a few different ways depending on how many you need to sleep. When fully laid out, the king-size-plus bed can sleep four people. But you can also fold away portions of the mattress to better sleep one, two, or three people. there's very little floor space left when all the beds are laid out, and both the storage options and dining table are inaccessible.
But with only the side sleeping bunks in position, the usable space is certainly adequate for two people. And even the convenient table can fold away to make room for a pair of mountain bikes or four-legged travel buddies.
In travel mode, this tiny trailer can be towed by any vehicle with a hitch. It also features tubular crossbars to easily mount your kayaks or mountain bikes.
Transport mode is a unique twist uncommon on other trailers. In this mode, the two metal sleeping platforms connect to form a utility trailer. This can be used to haul anything from your quad and dirt bikes to large home appliances. (The website has photos that do a great job of showing all the modes.)
This amazing utility makes the SylvanSport Go a tempting buy, as does it's low price. It'll be a great travel camper for a small family but can also function as an everyday utility trailer. What's not to love?
4. Best Off-Road Pop-Up Camper: Black Series Dominator

What we dig: Durable, rugged, and able to haul all your outdoor gear.
Weight: 2,740 pounds
Person capacity: 4 adults
Dimensions closed: 209" x 74" x 64"
Dimensions opened: 209" x 74" x 128"
There ain't no mountain high enough, ain't no valley low enough, ain't no river wide enough to stop you and your Black Series Dominator. It's the ultimate off-road, off-grid pop-up camper trailer for couples and small families.
That Motown classic wasn't written with the Dominator in mind, but it fits the bill. It has a robust quad-shock suspension system to help evenly distribute impact,  Cooper all-terrain tires (including dual spare wheel mounts,) recovery shackles, and an indestructible welded steel frame.
This beast may have a rough and tumble exterior, but it's soft on the inside, with both a queen-size bed and a seating area that doubles as a second bed. There are gas struts to help raise the camper when it's time to make camp.
The entry way is tall enough to stand and stretch, and all of the canvas walls have windows with awnings, privacy flaps, and mosquito netting. On the exterior, there's ample storage room and plenty of amenities. Thanks to a roof rack, you have the option of tying down any gear you'll need for the trip. There are also several exterior storage compartments and 120-watt solar panels to top off the 100-amp batteries whenever you catch a few rays of sunlight.
One of this trailer's best features is the large, fold-out kitchen. It has a three-burner stovetop, dishwashing sink, drying rack, and utensil storage drawers. All of this slides out at a comfortable height and fits under the extendable entryway awning, allowing you to do nearly gourmet cooking outdoors.
5. Best Pop-Up Truck Camper: BunduTec WILD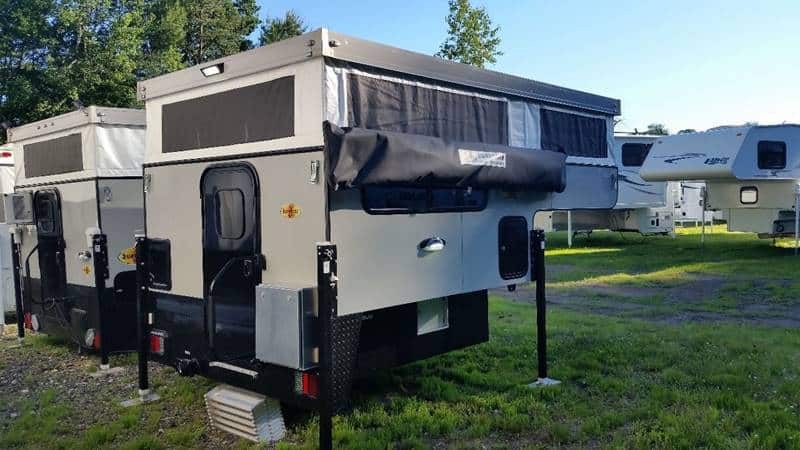 What we dig: It's well made with high-quality materials and ample storage space.
Weight: 1,630 pounds
Person capacity: 2 adults, 1 child
Dimensions closed: 151" x 84" x 63" (84" floor)
Dimensions opened: 151" x 84" x 85" (84" floor)
Truck bed pop-up campers are a popular alternative to the tow-behind variants, and the BunduTec WILD is a top-tier choice in this category. It was made for half-ton pickup trucks, but any truck with an adequate bed length and gross vehicle weight rating can haul it.
The standard edition comes with many features not seen on similar pop-up truck campers, and the extra accessories add luxury and capability that far exceeds what's offered by most of the competition.
Framed in wood and lined with lightweight aluminum, the WILD is strong and lightweight. Truck bed pop-up campers rarely offer more than a seating area and mattress, but the WILD comes standard a toilet, shower, sink, furnace, water heater, refrigerator, and a two-burner stove, in addition to the seating area and mattress.
Also included standard are multiple USB and 12-volt outlets, LED lighting, a roof fan vent, and an electric roof lift. Optional accessories include electric corner jacks, a glass sink countertop, improved overhead cabinets, and a skylight, among many other options.
For a solo traveler or a couple with a small child, this pop-up camper has everything you could want in a truck-bed pop-up camper.
The Best of the Rest
The following pop-up campers are also fantastic options worth considering. Though they didn't get a "best of" label, we still think they bring something unique to the table.
6. Camp365
Weight: 1,495 pounds
Person capacity: 6 adults
Dimensions closed: 186" x 48" x 80"
Dimensions opened: 186" x 140" x 120"
The Camp365 is more than a simple pop-up camper – it's a full-on foldable cabin. Not only does it unfold to a spacious 700-cubic-foot cabin (a huge living space for a camper,) but it also has a smaller road profile than just about any other option on the market.
When folded down for travel and storage, the Camp365 is four feet wide and less than seven feet tall. It has an incredibly aerodynamic shape that'll tow easily behind any vehicle and easily stores in a garage when not in use.
Unfolding and setting up the cabin takes less than 10 minutes. The open interior sleeps up to six people, and the beds can be folded away when you'd rather have an open space for an indoor gathering. It's an incredibly versatile and impressive mobile home.
7. Forest River Flagstaff Hard-Side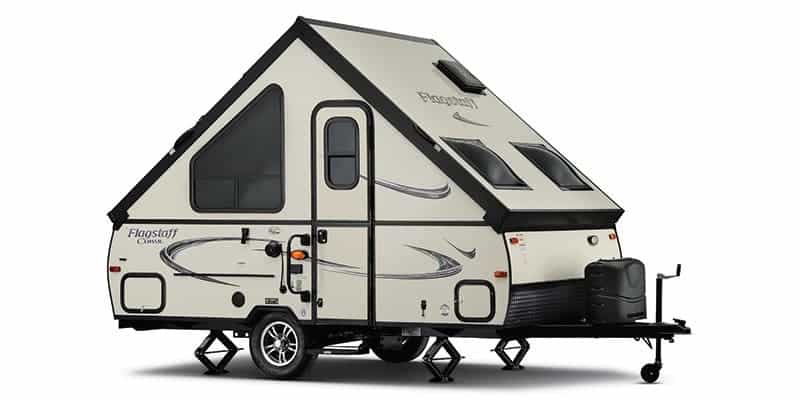 Weight: 2,648 pounds
Person capacity: 3 adults
Dimensions closed: 250" x 84" x 68"
Dimensions opened: 250" x 84" x 168"
Unlike most other pop-up campers, the Forest River Flagstaff Hard-Side has solid fiberglass walls for a completely enclosed living space, much like a full-sized RV. This provides the advantage of improved sound dampening and weather resistance.
This loaded pop-up, or rather, fold-up camper, comes standard with a Wi-Fi extender and a seven-way pigtail plug. It also features USB ports, indoor and outdoor speakers, a digital media receiver, courtesy lights, and more electronic hookups, including a mount prepped for solar panels.
This camper includes a three-burner stovetop, oven, microwave, fridge, and sink, plus a queen-size bed and pull-out sofa. It's a bit more cumbersome to tow, but buyers who prioritize convenience and amenities may find that a totally reasonable trade off.
8. Four Wheel Campers Raven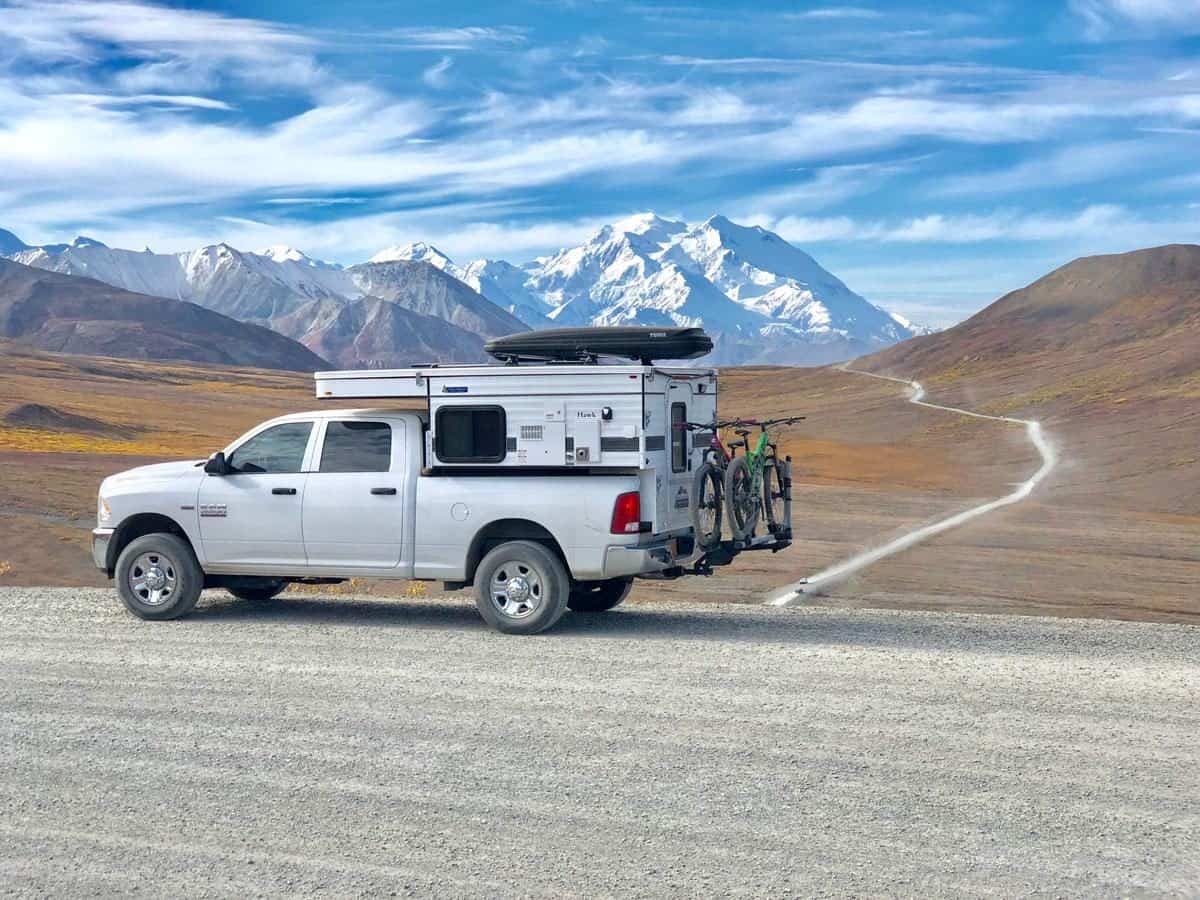 Weight: 1,040 pounds
Person capacity: 2 adults, 1 child
Dimensions closed: 118" x 80" x 60" (70" floor)
Dimensions opened: 118" x 80" x 78" (70" floor)
With three different floor plans to choose from, more than a dozen fabric options, and numerous optional extras, the Four Wheel Campers Raven is unlike any other truck bed camper in the forest.
This model is designed for full-size trucks with beds between 5'5″ and 5'8″. You can customize it any which way you want: with a rollover couch, a two-burner stove, fridge, sink, and a queen-size, over-the-cab bed. You can even add in a furnace to keep the space nice and toasty.
Buyers like the size and versatility of this truck camper since it really allows you to create your own dream camping setup. It's a great size and choice for adventurous couples but can also fit a child or adventuring dog (or cat!) It's fairly lightweight, too.
9. Northstar 600SS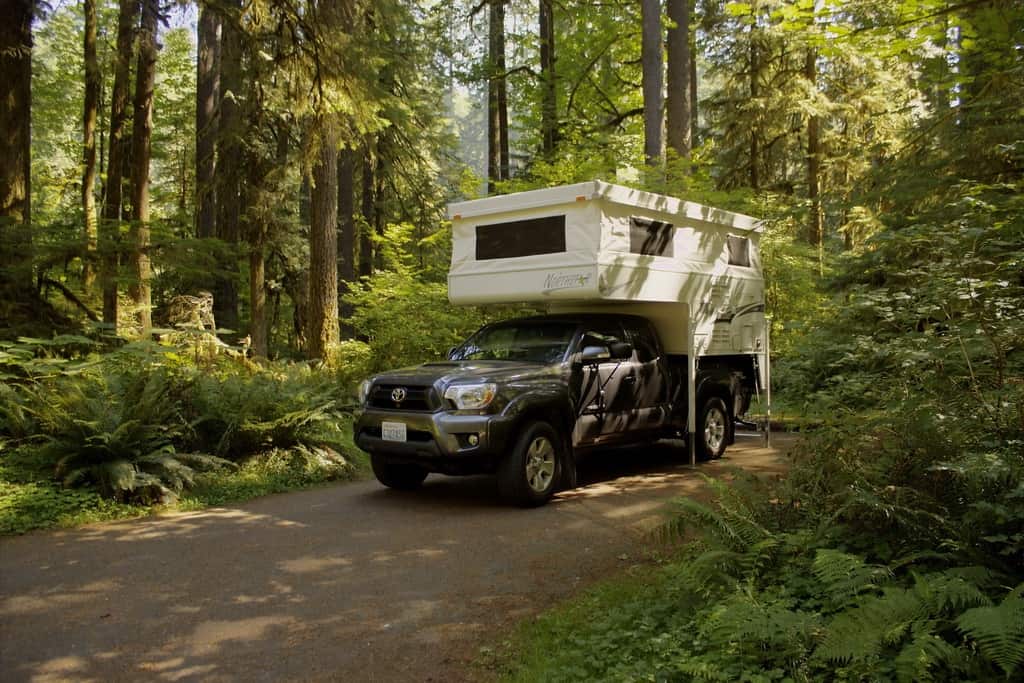 Weight: 1,258 pounds
Person capacity: 2 adults
Dimensions closed: 146" x 77" x 58" (75" floor)
Dimensions opened: 146" x 77" x 83" (75" floor)
The Northstar 600SS is loaded with interior and exterior storage options. It has a queen size mattress to sleep two with room to spare, plus accessible storage on both sides so each occupant has their own space for gear. It's exceptionally spacious for its size – a couple could live out of this camper for months.
This pop-up camper works for short- and long-cab versions of midsize trucks like the Toyota Tacoma, Chevrolet Colorado, and Nissan Frontier. Though it only sleeps two people,
Standard equipment includes a refrigerator, a furnace, a two-burner stove, four corner jacks, and an electric roof lift. There are dozens of optional accessories to improve the space including additional cabinetry, a roof air conditioner, and an exterior port shower.
10. Somerset Utah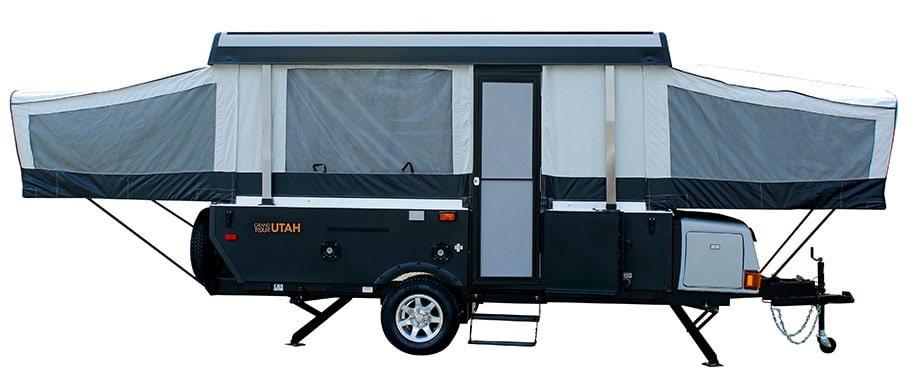 Weight: 2,760 pounds
Person capacity: 5 adults, 2 children
Dimensions closed: 225" x 89" x 105"
Dimensions opened: 283" x 128" x 58"
A fun and functional family-sized pop-up camper, the Somerset Utah is a top choice for big groups. It has a wide-open communal floor plan and plenty of sleeping space between the two king-size beds. There's also another slide-out bed, a dinette, a stove, and a sink. You can also opt to add on a cassette toilet or shower.
This camper packs down to a rather small size. It's sleek and aerodynamic when out on the road and has a sizable front storage area where you can keep firewood, propane tanks, or outdoor gear. You can even opt for a large front storage deck to store your quad or dirt bikes.
11. Taxa Outdoors Cricket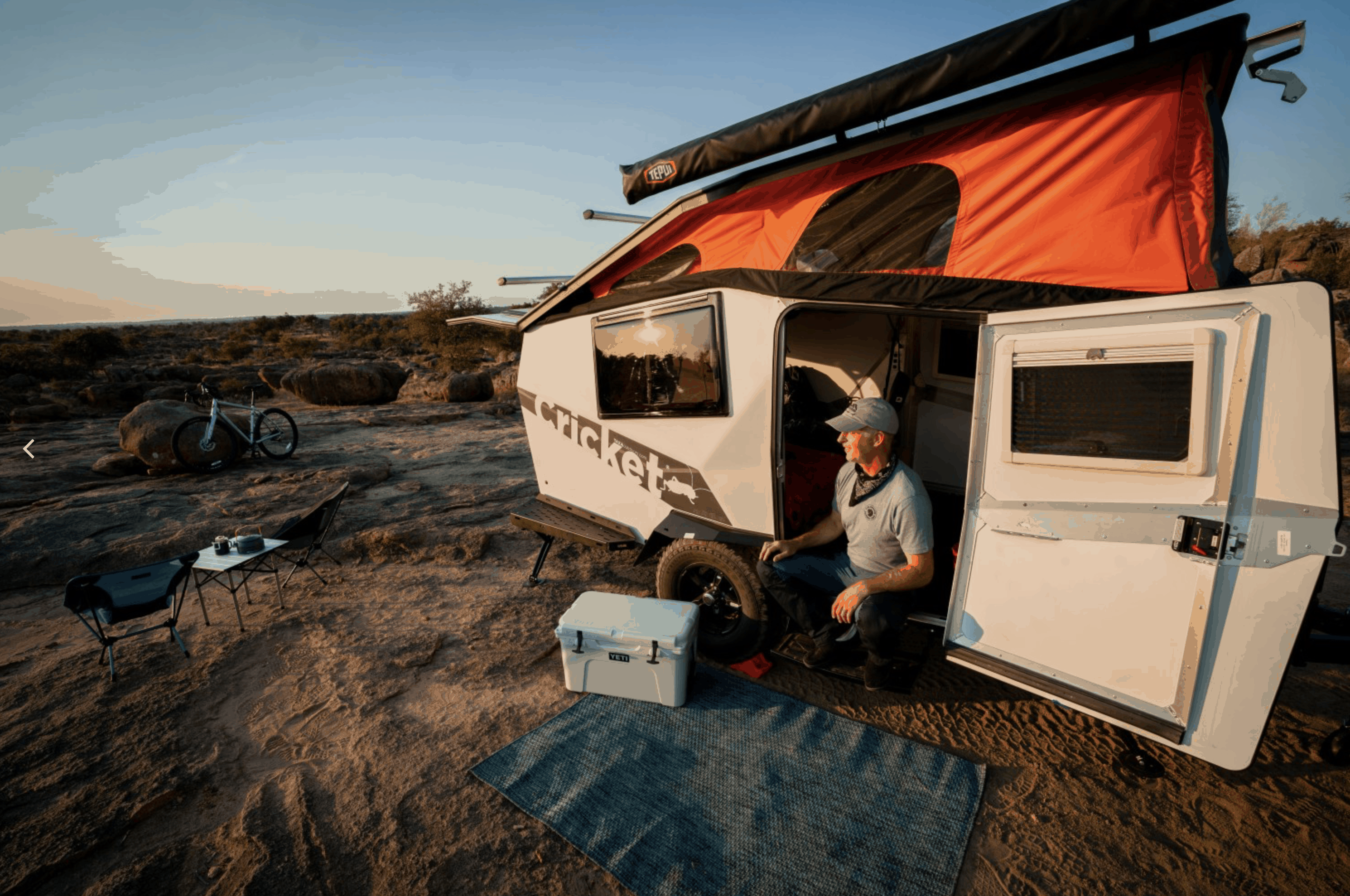 Weight: 1,753 pounds
Person capacity: 2 adults, 2 children
Dimensions closed: 180" x 79" x 83"
Dimensions opened: 180" x 79" x 110"
Designed specifically for outdoor enthusiasts, the Taxa Outdoors Cricket has everything you need to make the best of your next outdoor adventure, without extra features you won't need. Style-wise, it's like a modernized version of the campervans of decades past.
The lightweight and durable frame can handle rough roads when required, but its relatively small dimensions allow nearly any vehicle to tow it. Taxa says their design was inspired by NASA, and it certainly looks that way. Integrated electrical wiring and plumbing give you the foundation you need to equip the Cricket however you'd like.
The engineers at Taxa crammed a lot of luxury and convenience into this tiny package. Options include AC, additional sleeping space, and various kitchen amenities. As for your gear, there are optional Thule roof racks and mounting bars for you to secure all of your outdoor equipment.
More Gear to Help You Hit the Road:
Sign up for our free email to join thousands of readers getting epic travel, hiking, and camping ideas every month.
---