Before you head out and spend anywhere from $5,000 to $120,000 on a van, there are few things you should know about living in a van full-time.
I've been living in a van for a couple of years now and have picked up a few tips and tricks along the way.
The key thing I have found is that there is no single identity best suited to living in a van full-time. However, it does take certain personality traits to stick with it long-term.
Related Read: 11 DIY Van Conversion Kits to Build the Ultimate Campervan
Living in a Van Full-Time: What to Know
With the ever-increasing trend in folks buying vans, dreaming of the open road, it's time for a quick study on what it's really like to live in a van — and how to do it successfully.
While this is just the start of a series about van living, it will hopefully provide you with a good look into the how's and why's involved in joining the #vanlife movement.
By answering a few key questions honestly, you can likely determine if long-term van living is right for you, and if so, what your goal with van life is.
1. Why do you want to join the #vanlife movement?
Is it because you love to travel and can work from anywhere? Does your job require you to travel extensively? Is it that the beautiful Instagram photos that look so romantic and dreamy?
If it's the last option, my advice would probably be to back out now. If there is one thing living in a van isn't, it's romantic. Beautiful? Can be. But the romance component wears off the first time you have to change your compost toilet.
Now, if you're into the idea of #vanlife because of the adventure and freedom to travel, you're on to something. Vanlife is an adventure—whether you're alone or with a partner (or even have kids), you will find all kinds of adventures along the way.
Some of them, like when the van breaks down in 105-degree heat, might feel like misfortunes, but the majority, are exciting and valuable learning experiences.
My reasons for switching to the van were varied. I had a camper van, intended only for my weekend warrior lifestyle. However, I found that as my job allowed me to be more flexible in my work schedule and location, I was spending more and more time in the van and on the road.
I had rented a place in Boulder, Colorado, but found that I was spending less time in the overcrowded townhouse, preferring to skip off to the mountains any chance I could. Before long, I decided to let go of the lease and just stay in the van. It helped that my partner was also living in a van and made it feel possible.
Related read: 15 Best Overlanding Vehicles for Off-Pavement Adventure
2. What type of van living are you looking for?
There are all types of "van life" living. Depending on your job and how you like to spend your time will likely dictate how easy or difficult living full time in a van is for you. For instance, if you have a job in a city that requires you to show face daily, living in the van can pose some challenges.
Finding a quiet place to sleep in a town can be a little more difficult than it seems. It's not just about finding a quiet street, but you need to consider how the folks in houses around you feel about van dwellers. Will they find your van creepy and call the cops?
Trust me, that is not how you want to be woken up at midnight. It helps tremendously if you have friends or family whose homes you can park at or near. Or perhaps your work will let you stay in their lot overnight. If I could offer one piece of advice for van living in a city, it's to do your best to keep a low profile and respect the area you're sleeping in.
If you can work remotely (or, even better, don't have to work at all), you have many more options. When you're on the road, rest areas, scenic viewpoints, and truck stops are all easy and legitimate places to spend a night.
When you get to your new destination, campgrounds (some free ones are out there), forest service roads, and BLM dispersed camping are all excellent options. However, these choices are somewhat limited by whether or not you need service to work.
It stinks driving out along a forest service road to the most epic campsite, only to find you don't have any service for work in the morning.
Related read: 20 Best Small Campers & Travel Trailers Under 20 Feet
3. What kind of van do you need?
If you are looking for full-time van living, you'll want to consider vans with a few key essentials. Some of this might seem odd or excessive, but trust me, after you've been living in a van for more than six months, you'll be glad you have them (especially if we ever end up in another pandemic lockdown).
First, make sure you get a van that you can stand up in. It seems silly, but the much more reasonable cost of those low-roof vans is incredibly enticing. Trust me, months in, you'll be glad you're not squatting to put on pants or cook your dinner.
Second, a toilet is a must, especially if you're doing the city-style van life. You can't be getting in and out of your van in the middle of the night to pee in someone's front yard. A toilet will make your life so much easier.
A shower seems like a "nice-to-have," but for me has been a game-changer for a couple of reasons. First, I live a fairly active lifestyle, and a quick shower after a long hike or mountain bike ride is epic.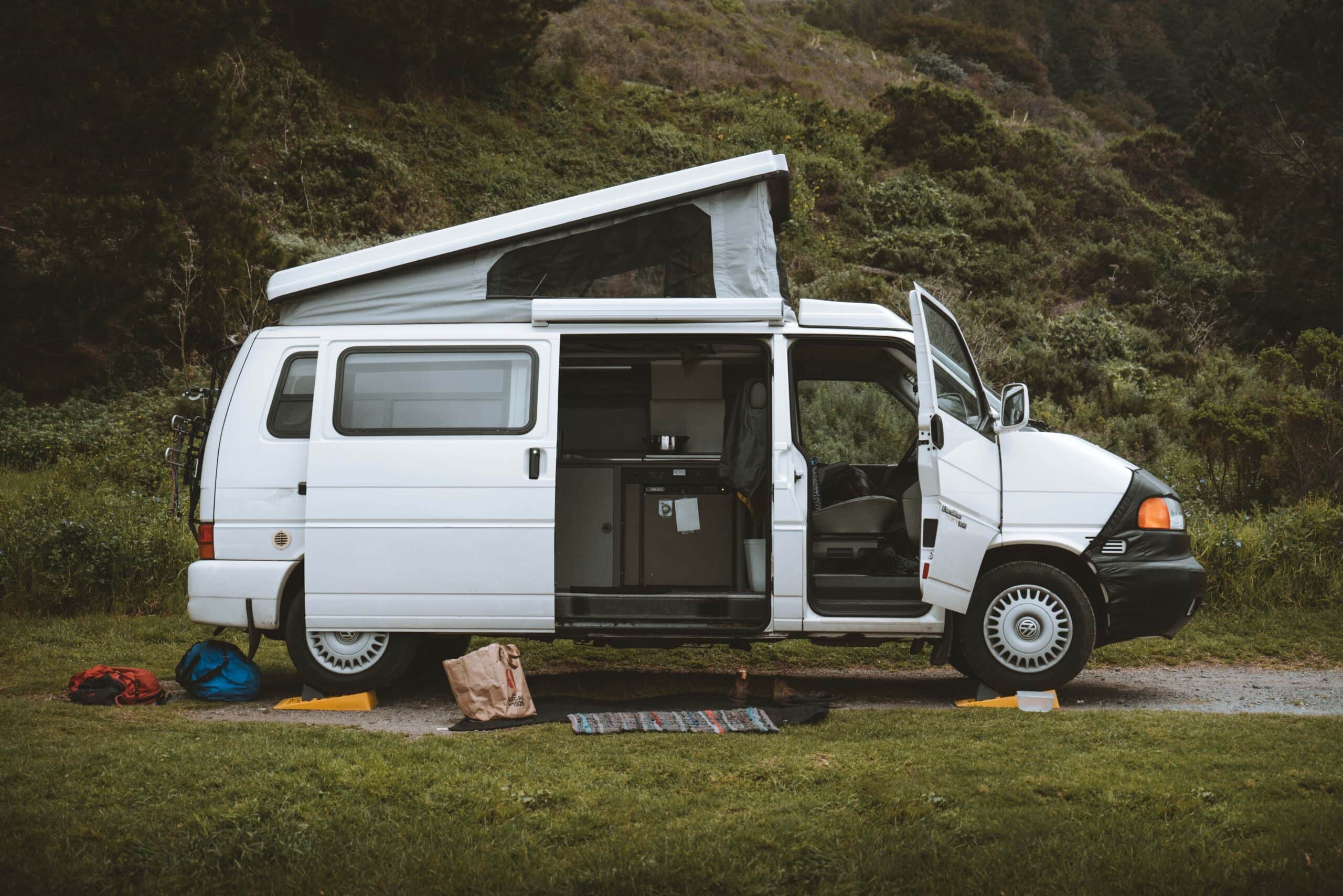 If you don't have to drive to a recreation center to clean up, you have more freedom with where you can venture and sleep. Second, a shower in the van was why van life was manageable throughout the entire pandemic. When rec centers closed and visiting friends or family was out of the question, being self-sufficient was so necessary.
Lastly, make sure to get a van with a fridge. Again there are many options here; just do your research—but the main thing is a fridge is much more realistic for long-term van life than a cooler. I have done both, and a cooler is manageable—you can find ice at almost any gas station or grocery store.
However, you will be looking for ice every 2-3 days, depending on how warm the weather is. The other component to a cooler is that the ice takes up a lot of space that would otherwise go to food, and the melting ice will get everything wet—issues you won't have with a small fridge.
Related read: 13 Best Adventure Cars & Vehicles for Outdoor Enthusiasts
4. How willing are you to be a little dirty all the time?
This question is an important one. Even if you have rec centers available or have a shower in the van, you likely will find that both are a bit much to deal with sometimes. Having a shower in the van is great, but if you're out of reach of town for a while, you'll want to consider your water usage. Remember, you only have as much water as fits in your tank.
You'll likely find that you shower a bit less than you're used to, and you have to be okay with that. Sponge baths and wet wipes will be your new best friends, but they're a poor substitute for a real shower.
Rivers and lakes are, of course, an option, but come winter and spring, they're a bit cold for comfort. Please, please do not wash up in public restrooms…it gives us all a bad name.
Related read: 8 Amazing DIY Teardrop Trailer Kits & Campers
5. Will you be doing this for a few months? A year? Multiple years?
Are you just testing out van life? Is this a long-term plan or just for the next year or so? Your plan for van living will help you determine if you can stick it out. There are hurdles to get over with each.
If it's just for a few months, you'll probably find that #vanlife is as amazing and romantic as it is in the pictures, and leave it at that. But if you plan on anything longer, you'll need to be prepared for when that romance fades out. There is always that hump a few months in where everything gets a little worse before it gets better.
If you're planning on a few years, you'll inevitably need to deal with some issues. Camper vans break—not just the van itself (which will happen), but components in the van as well. Water leaks, busted pilot lights, a fridge that won't stay cool, the list goes on.
Related Read: 11 Best Pop-Up Campers for Easy Mobile Camping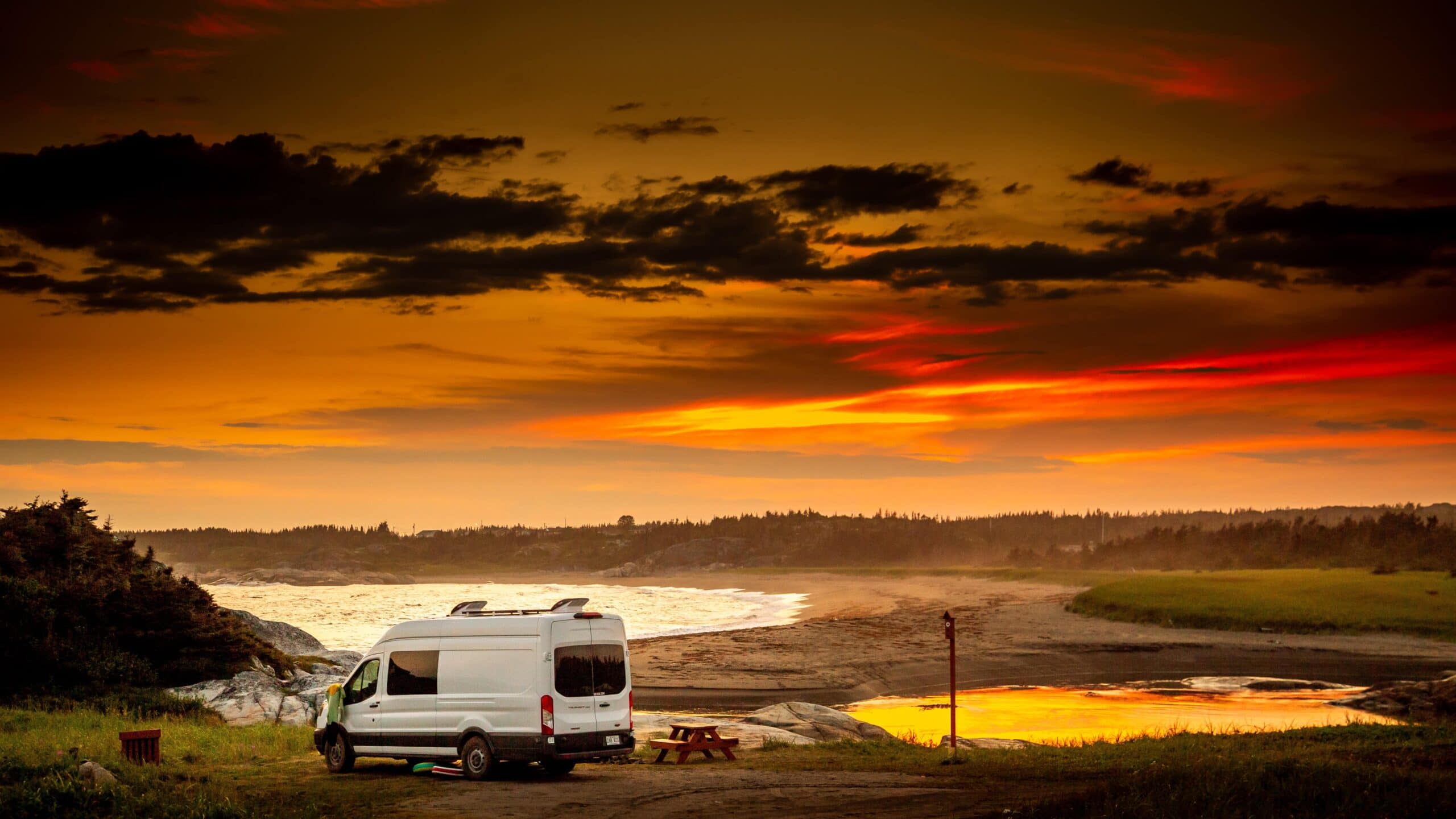 You have to get handy and learn how to fix problems on the fly. There aren't many auto shops that will be able to help you fix any internal components. Though you (likely) won't be paying rent or a mortgage anymore, you'll still find you have plenty of upkeep costs.
And then there is the dread—eternal as it is. This tin can is now your home. If you happen to have an accident, it's your home that is destroyed, not just your car. You may suddenly find yourself both carless and homeless.
Related read: 10 Best Hard-Shell Rooftop Tents for Overlanding
6. Is it worth it?
Let's be clear. Real full-time van life is not like you see in Instagram pictures.
Yes, you will have beautiful moments and glorious sunsets, but much of van life is a lot like a normal life, just smaller and with more driving. However, it offers the freedom of living in the places you want to be, when you want to be there, without having to move your stuff from house to house or pay rent.
Van life is fun, exciting, scary, and fulfilling in ways you didn't know were possible. Will I do this forever? Probably not, but for right now, it's been epic.
I can beat the ski traffic on powder days, live at 12,000 feet, or even sleep at a paragliding launch where I plan to fly the next morning. Certain aspects of life are much harder now, but the other glorious moments far outweigh them.
Explore the Open Road
Get epic travel ideas delivered to your inbox with Weekend Wanderer, our newsletter inspiring more than 10,000 readers every week.
---