Olympic National Park showcases the diverse beauty of Washington's Olympic Peninsula. From glacial mountain peaks to lush rainforests and sandy beaches, it's the epitome of the coastal Pacific Northwest.
Parts of Olympic National Park see over 200 inches of rainfall in a year. In conjunction with mild temperatures and nutrient-rich soil, the wet weather of the Pacific Northwest sustains dense rainforests teeming with life. On every trail you walk, there's a chance to see something new.
Those richly diverse rainforests reside within the valleys between the Olympic Mountains, the towering monoliths of raised oceanic crust which reign over the Puget Sound and Pacific shoreline. This natural wonderland is breathtaking to behold. The majesty of the mountains is captivating, and the chance to spot wild elk, mountain goats, and banana slugs make for an exhilarating experience everyone can enjoy.
Some areas of Olympic National Park are only accessible by daring backpackers and mountain climbers, but much of it, including many of the park's most scenic and enchanting areas, are accessible to the entire family.
Not everyone is able, or wanting, to travel deep into the backcountry. That's why we've put together a list of easily accessible day hikes and beginner backpacking trips the whole family can experience.
Below you'll find many of the best hikes in Olympic National Park. They're all accessible from well-traveled roads, campgrounds, or resorts, and a number of them are wheelchair friendly.
Make navigating easier when you get to the park and pick up a copy of the Olympic National Park trails map before you go.
Related Read: A Winter Guide to Visiting Olympic National Park
1. Hurricane Hill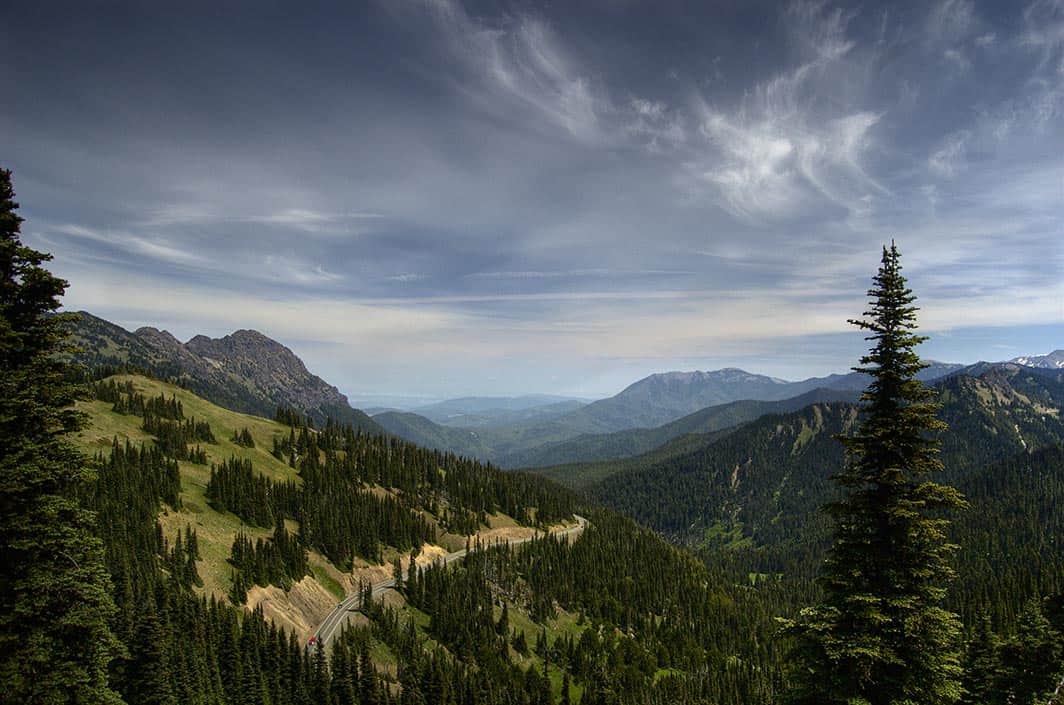 Why you should go: An interpretive walk from the visitor center with outstanding panoramic views.
Distance: 3.2 Miles
Elevation Gain: 650 Feet
Difficulty: Moderate
Considered one of the premier hikes in Olympic National Park, Hurricane Hill starts as a paved trail leaving from the popular Hurricane Ridge Visitor Center and transitions into a vista-filled excursion that's rife with wildflowers during the right time of year.
The wide pathway accommodates the large crowds of weekend tourists that walk in from the nearby parking area. Some people may turn back once the switchbacks come into view, but don't fret! These switchbacks are comfortably graded and well-rounded.
Continue further as the trail winds through pine forests up to the top of Hurricane Hill for a panoramic view that many visitors claim to be the best in all of Olympic National Park. Along the route, interpretive signs point out nearby peaks and towns.
This loop trail serves as a breathtaking day hike for those who don't want to travel too far from their car, but it also acts as a gateway to several longer hikes within the beautiful Elwha River Valley. If you would like to tackle a longer route, consider turning left at the first switchback for a more challenging 14-mile loop that drops down into the valley.
Winter visitors can slap on a pair of snowshoes for an easy-to-navigate snow hike, but be mindful of weather conditions — Hurricane Hill was named for a reason.
Additional Info: Hurricane Hill
2. Marymere Falls Trail
Why you should go: Over the river and through the woods to a wonderful, moss-fringed waterfall we go!
Distance: 1.7 Miles
Elevation Gain: 298 Feet
Difficulty: Easy
Tucked away from the shores of Lake Crescent, buried in the damp woodlands behind Storm King Ranger Station, pours a magnificent, plunging waterfall at the end of a fairytale riverside walk.
The Marymere Falls Trail is a comfortable romp under a sun-dappled canopy of conifers and maples that's great for everyone in the family. Cute wooden bridges cross over streaming waters, and a set of stairs makes for an easy final climb to the viewing platforms for the waterfall.
Many visitors to the falls opt to include the 0.5-mile Moments in Time Trail through an old growth forest that lies between Marymere Falls and nearby Lake Crescent Lodge. This path skirts near the shoreline of the lake and provides a great opportunity to grab a refreshing beverage or snack from the lodge.
Additional Info: Marymere Falls
3. Hoh Rainforest Hall of Mosses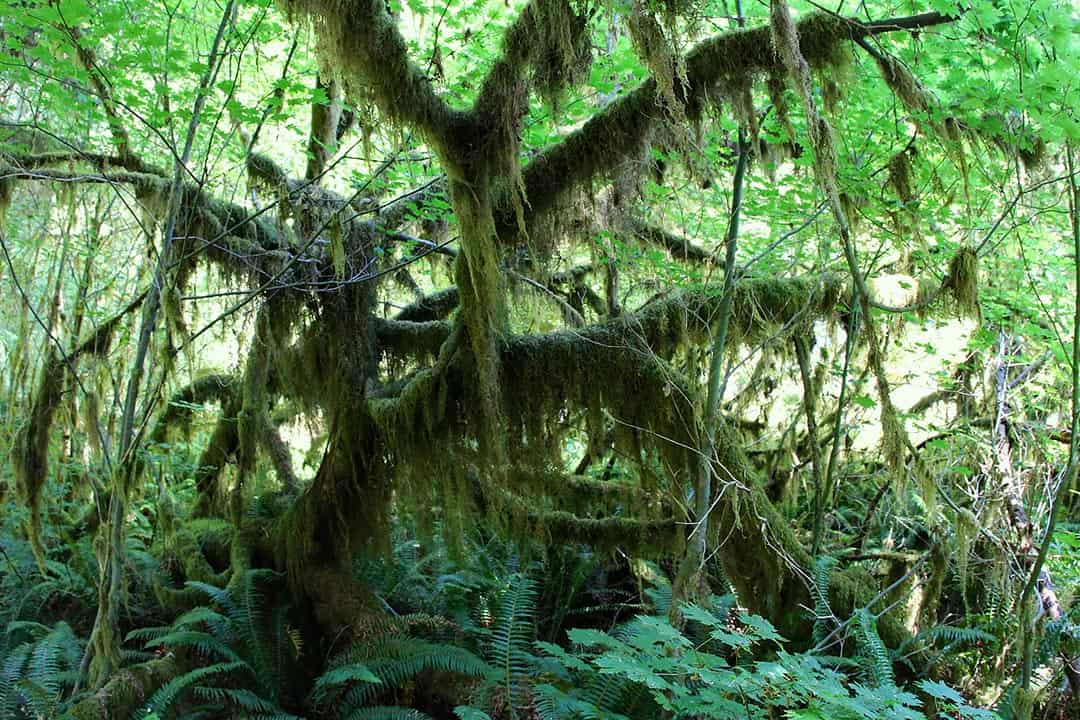 Why you should go: Take a meandering tour of an iconic Pacific Northwest temperate rainforest.
Distance: 0.8 Miles
Elevation Gain: 100 Feet
Difficulty: Easy
This short loop hike through the Hoh Rainforest showcases everything that makes the wet weather of the Pacific Northwest worth the perpetual rainfall. Few places on Earth can claim to be as green as the Hoh Rainforest.
Tall, moss-strewn trees drape curtains of lichen over the length of this verdant trail through the lush rainforest. Fungi creep in the nooks and crannies of rotting logs and under every fern leaf. Vibrant plants of all sorts stretch out their leaves for the passing beams of sunlight. It's best to take this walk slowly so that you can focus your eyes on moving shadows in the forest, where movement could mean a well-hidden Roosevelt Elk hiding in the underbrush.
Educational signage provides insight into the plant and animal life of the area. Both wheelchair and stroller friendly, this trail is an excellent option for hikers of any age.
Additional Info: Hall of Mosses
4. Sol Duc Falls Nature Trail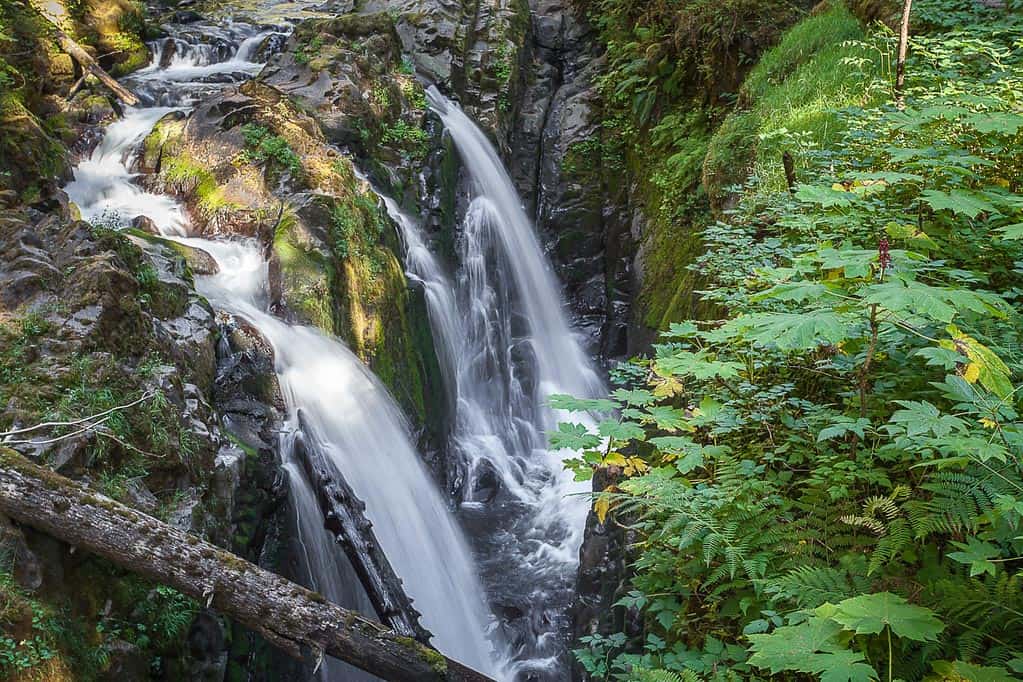 Why you should go: Three-pronged Sol Duc Falls is memorable, especially when paired with a visit to the nearby hot springs and resort.
Distance: 1.6 Miles
Elevation Gain: 255 Feet
Difficulty: Easy
Beginning just up the road from the Sol Duc Hot Springs Resort, the Sol Duc Falls Nature Trail is a wide and well-maintained path through old growth forest toward a roaring waterfall.
The simple trail is adorned with whimsical foliage set amidst a backdrop with every shade of green imaginable. Multiple spring-fed and snowmelt streams cross the pathway. As your hike progresses, the deep, penetrating rumble of Sol Duc Falls grows ever more substantial with every step.
Sol Duc Falls spills over moss-covered rocks under a wooden bridge. Here, multiple viewpoints and a historic building allow room for visitors to spread out and explore the area. The raging waterfalls are impressive from above or below, and there are plenty of places to sit and watch the falls without becoming soaked from its spray.
Depending on the time of year there can be as many as four spouts from which the water pours into the rocky canyon. The rocky areas around the falls will be slick with moisture and algae, so be cautious if you move in for a closer look.
Additional Info: Sol Duc Falls
5. Hoh River Trail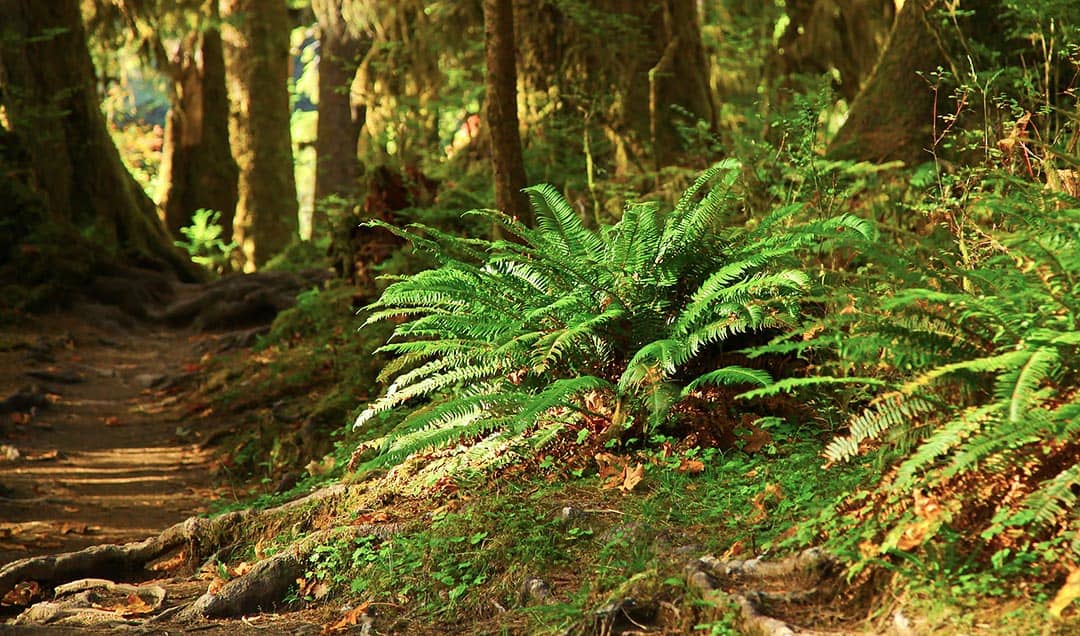 Why you should go: An excellent backpacking trail and the chance to find the quietest place on Earth.
Distance: 32.8 Miles
Elevation Gain: 5114 Feet
Difficulty: Moderate
The Hoh River Trail may at first seem intimidating for a family hike, but day hikers and backpackers can enjoy this classic trail at any length. A popular option for new backpackers, the Hoh River Trail to Five Mile Island route cuts the length down to a 10-mile round trip with plenty of great places to rest along the way and a shelter for those who find themselves caught in bad weather.
The entire length of the Hoh River Trail to Mount Olympus' Blue Glacier can be quite a trek, but it's well worth it for those who want a taste of more serious adventure. The trail is well-marked and relatively easy for most of its length, but ascends rapidly as you close in on Glacier Meadow.
What's wonderful about this trail is you can choose to go as far as you'd like and still have a fulfilling adventure. Day hikers will have fun exploring the river and searching for the supposed "quietest place on Earth" just a few miles from the trailhead.
Backpackers will find many camping locations well-suited to their needs even if they are unable to go as far as their intended destination. Inexperienced backpackers, or those hiking with young children, will appreciate the flat terrain in the first miles of the trail, the convenient camping options, and plentiful river access.
Additional Info: Hoh River Trail to Blue Glacier
6. Ruby Beach
Why you should go: Driftwood, tide pools, and awesome rock formations on the edge of the Hoh Rainforest.
Distance: 1.4 Miles
Elevation Gain: 68 Feet
Difficulty: Easy
There's no better garnish to the exquisite meal that is Olympic National Park than a trip to Ruby Beach. Complement your high mountain adventures and deep rainforest excursions with a refreshing trip to the salty air of the ocean.
Ruby Beach is famous for its red sands and the large sea stacks that reside in the crashing waves just off the shore.
Though there's a suggested loop hike to follow, visitors often wander and explore this beautiful seaside destination wherever their eyes take them. The towering sea stacks are a sight to behold, and the multitude of sea-smoothed rocks in the sand are as colorful as they are plentiful.
Ruby Beach is a great place to bring the kids. The beach itself will be fun for children to explore, and the outflowing creek and sandbar can be a great place to play in swim trunks on a sunny afternoon. Driftwood aplenty waits to be gathered and climbed over, and a vast array of sea life from mussels to sea stars can be discovered at low tide.
Photo opportunities abound at all hours of the day from sunrise to sunset, and high tide to low. Enjoy Ruby Beach for all it's worth, then head up to the nearby town of Forks for a filling dinner to end your day.
Additional Info: Ruby Beach
7. Staircase Rapids Loop
Why you should go: Terraced rapids and a newly-constructed suspension bridge.
Distance: 2.1 Miles
Elevation Gain: 213 Feet
Difficulty: Easy
Hikers of all skill levels will enjoy this flat walk along the Skokomish River through an old growth cedar forest. Half of this trail is paved, but not all of it, so wheelchair users and parents with strollers will have to be content with an out-and-back journey to the suspension bridge that crosses the river.
This is a wonderful little journey along the river that can be made longer for those who wish to travel further up the North Fork Skokomish Trail toward Flapjack Lakes. The trail is riddled with little detours into the forest and toward swimming holes at the river. Big Cedar Tree Spur is a popular offshoot with a short hike to a massive tree and a fantastic photo opportunity.
Staircase Rapids is the highlight of the hike and can be seen from multiple perspectives, including the overarching vantage point from the river-crossing suspension bridge. The loop hike is worth the drive alone, and is an absolute must for families staying at Staircase Campground where the trail originates.
Additional Info: Skokomish River, Staircase Rapids Loop Trail
8. Ozette Triangle Loop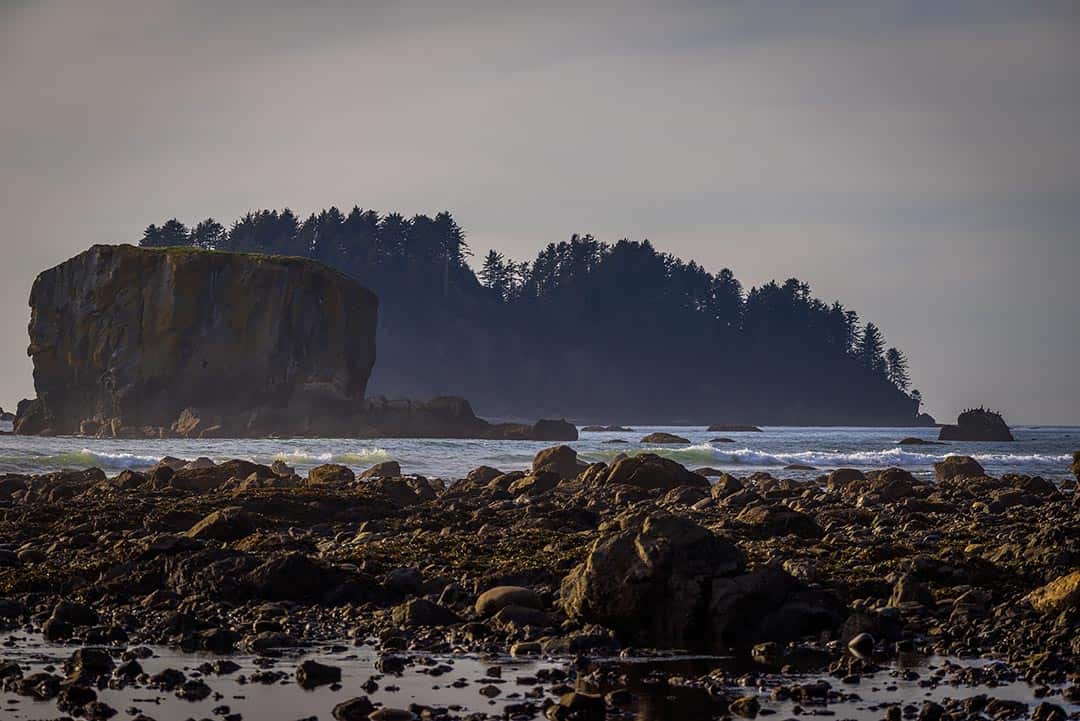 Why you should go: Island views and hidden petroglyphs within a coastal forest.
Distance: 9.5 miles
Elevation Gain: 50 feet
Difficulty: moderate
This entire loop can be enjoyed as a long day hike, an overnight backpacking trip, or broken down into smaller individual hikes. Any way you take it, the Ozette Triangle Loop is a seaside adventure full of natural and artificial wonders.
Cape Alava Trail and North Sand Point Trail both originate from Ozette Campground, which serves as an excellent staging area for however you wish to attempt this hike. The two trails form the "Triangle Loop" when walked in conjunction with the three miles of beach that separate their endpoints.
The two coastal forest trails are unique treks through shorepine, western red cedar, hemlock, and beachgrass, supplemented by various fungi, wildflowers, and edible berries depending on the time of year.
There are areas along this trek near Cape Alava and Wedding Rocks that hold petroglyphs and other artifacts that date back over 2,000 years. Ozette Ranger Station will provide diagrams and information for anyone looking for more information on human history in the area.
Additional Info: Ozette Triangle Loop
More Washington Adventures
Looking for more fun activities in the Evergreen State? Grab your swimsuit and head for one of the state's seven natural hot springs, or tackle one of 15 awesome waterfall hikes along the Columbia River Gorge.
Sign up for our free email to join thousands of readers getting epic travel, hiking, camping and gear ideas every week.
---