We research, evaluate and select travel destinations based on a number of factors, including our writers' experience, user reviews and more. We may earn a commission when you book or purchase through our links. See our editorial policy to learn more.
---
Phoenix's central location in Arizona makes it the perfect hub for weekend road trips across the Southwest. Here's a look at our favorite routes.
For Phoenicians, escaping the city is an annual rite of passage. In the spring we trade the rising heat for cooler temps up north. Over summer we cool off by swimming at Oak Creek or paddling around Woods Canyon Lake.
And when we forget what the seasons actually look like during fall and winter, we head to other parts of the state in pursuit of amber leaves and snow flurries.
Fortunately there are no shortage of options for weekend road trips in Phoenix, from exploring abandoned mining towns down south to enjoying high-elevation weather in Northern Arizona.
Related read: 17 Refreshing Arizona Swimming Holes for Summer Fun
Road Trip Planning
For each itinerary, we've explored some of the best things to do, where to stay and how to get there. To learn more about what you can see on each route, we've included links to extra resources. Each trip offers all kinds of options and side trips to fit your days and nights accordingly.
Before you hit the road, consider the seasonality of each trip and how you want to stay in each place. Some of the things we've covered include:
Airbnbs and hotels. Most of these routes includes nearby towns and cities with Airbnbs and hotels. You may need to start planning months ahead of time if you're looking to reserve somewhere popular like Joshua Tree or Zion. If you're here from out of town, here are some of the best Phoenix Airbnbs or pet-friendly cabins in Arizona.
You can also find some of the most unique places to stay in Arizona if you're open to any type of lodging.
Campgrounds. We've included some popular camping options for each trip, from basic, primitive campgrounds to RV parks and family-friendly KOA campgrounds. You can also research some of the best camping in Arizona ahead of time.
For a classic road trip experience, check out the slick van rentals over at Escape Campervans. They sleep 2 to 5 travelers and free you up to stay wherever you'd like: campgrounds, hotels or dispersed camping areas along the way. You can pick one up at their Phoenix Depot, located near Sky Harbor and open 7 days a week. You can also research more of the best Phoenix campervan rental companies for other options.
No matter how you explore Arizona and beyond, the important part is to remember the journey is the destination, even if that sounds like a fortune cookie cliché. Still true.
Related read: How to Start a Successful Travel Blog This Year
1. Grand Canyon
This one's a no-brainer, sure, but there are ways to avoid the more touristy version of Grand Canyon's South Rim.
For killer sunrise views, check out Moran Point — it's accessible by car, offers great views to the east, and has smaller crowds than Mather Point. For sunsets, our resident Grand Canyon expert and former tour guide Jake Case says Lipan Point is the place to be.
"I've done tons of sunsets, and for me a big part of it is being able to avoid the sunset crowds," he says. "Like Moran, Lipan Point is accessible by car year-round, has good views to the west, usually isn't crowded and has a lot of room to safely explore beyond the railings of the viewpoint."
Related Read: 14 Vanlife Hacks: How to Make Van Living Easier
Day Hikes
Easy hikes in the park include taking the Bright Angel Trail to Mile-and-a-Half Resthouse for a three-mile round trip, or hiking South Kaibab to Ooh-Aah Point for a 1.8-mile trip. More experienced hikers can take Bright Angel to Three-Mile Resthouse, or South Kaibab to Cedar Ridge.
For more challenging day hikes, take Bright Angel to Indian Garden for a 9-mile trip, or South Kaibab to Skeleton Point for a 6-mile hike. It goes without saying, but remember to plan your hike ahead, bring plenty of water, and keep in mind the hike out is tougher than the way in, and can often take twice as long as the hike in.
Related read: 15 Native American Ruins in Arizona that Offer a Historic Glimpse into the Past
Scenic Drives
If you're visiting for the day, take Desert View Drive out to The Watchtower, and be sure to go upstairs for a 360° view from 70 feet up. Hit the main viewpoints on the way back to get a variety of looks at the Canyon.
For a multi-day trip, check out viewpoints on Hermit Road — it's closed to private vehicles March 1st to November 20th, but you can take a shuttle or walk stretches of the Rim Trail between viewpoints.
Explore the historic buildings in Grand Canyon Village, including El Tovar Hotel and Lookout Studio, and visit the Yavapai Geology Museum, which offers guided park ranger talks on the geology of the area.
North Rim
According to the Park Service, only 10% of Grand Canyon visitors make it to the North Rim. It's a 4.5-hour drive from the South Rim, but it can be worth the extra effort for a quieter experience.
The season here is May 15th through October 15th, and the roads are closed to all vehicles from December 1st to May 15th. You'll find fewer visitor services, but fewer tourists as well.
If you go: Plan Your Grand Canyon Visit; The Grand Canyon: how to get the most from a short trip
Where to Stay
The Route
2. Sedona to Flagstaff
If for some hypothetical reason I was exiled from Arizona and had only one more day to spend in-state, I would squeeze in a drive from Sedona to Flagstaff. Then I would hide in the forest.
This picturesque stretch of State Route 89A winds through Oak Creek Canyon and delivers one of the most scenic drives in the Southwest. Before you get there, though, you'll hit beautiful red-rock country in the Village of Oak Creek and Sedona — in all its hiking glory.
In Oak Creek Canyon, take some time to explore Slide Rock, Indian Gardens Cafe & Market, day use areas, a trout farm, scenic viewpoints and more. Pull-offs along the highway make it easy to stop and explore at your leisure, and although the main spots get busy — West Fork, for example — you can also find quiet pockets and trails that aren't as popular.
In Flagstaff, check out some of the best hiking options before heading downtown for grub and drinks. Breweries, coffee shops and other small businesses give the town a distinct local vibe that offers a refreshing contrast to the Valley's impersonal sprawl.
Related read: 7 Spectacular Places to See Arizona's Fall Colors
Where to Stay
Sedona
Lodging: the basic hotels in Sedona don't compare to the places you can stay in Oak Creek Canyon to the north, including the Forest Houses Resort. It's minutes from the main drag but offers woodsy scenery and solitude at affordable rates. That said, some of the best resorts in Arizona are in the Sedona area.
Camping: Pine Flat is our favorite campground in Oak Creek, but Cave Springs and Manzanita offer similar creek-side digs. Campsites at each of these can be reserved online, and some are available on a first-come, first-serve basis. For large groups closer to Sedona, check out Chavez Crossing.
Flagstaff
Lodging: Consider Little America for a midcentury throwback, or the Drury Inn to get closer to downtown without spending too much. Here's a list of our other favorite Flagstaff hotels. Even better, rent an A-frame cabin out on 1.5 acres of Coconino National Forest, or check out our favorite Flagstaff cabin rentals.
Camping: There are plenty of camping options, including paid campgrounds and free dispersed camping, but these almost all require a short drive into town. A KOA on the east side of town isn't exactly roughing it, but it's great for camping with kids.
Related read: 15 Unforgettable Romantic Getaways in Arizona
The Route
3. Petrified Forest, Canyon de Chelly and Monument Valley
This desert journey takes you through three icons of the Southwest, starting with Petrified Forest National Park, a low-key park with less than 700,000 visitors each year. It's a great spot for stargazing, wildflower-hunting in the spring, and exploring the petrified wood and other geological features that make this place special.
Next, you'll hit the Navajo Nation's Canyon de Chelly National Monument and its famous canyon walls, scenic overlooks, and historic ruins. It's the oldest continually inhabited area of the Colorado Plateau and home to the White House Ruin, Antelope House Ruin and more. Take scenic drives on the north or south rim or the White House Trail to fully appreciate the park.
A few-hour drive through Navajo land takes you north to Monument Valley and its universally recognizable sandstone buttes. Take the Valley Drive for a loop around the area, then ditch the car for a hike to enjoy the serene landscape.
If you go: Canyon de Chelly and Monument Valley: An Arizona Road Trip; 15 Things To Know Before Visiting Monument Valley Park
Where to Stay
Petrified Forest
Lodging: In nearby Holbrook, you'll find hotel options not far from the park and a handful of well-reviewed Airbnbs around town.
Camping: The park doesn't have campgrounds, but does allow backpacking. The Holbrook KOA is the only established campground in the area.
Canyon de Chelly
Lodging: Choose from a handful of basic hotels in Chinle to the west, but if you can swing it, we recommend camping in this stretch of your trip.
Camping: there are two campgrounds in the park. First is Cottonwood Campground, a large area ran by the Navajo Parks and Recreation Department. There's also the privately owned Spider Rock Campground, which has a few more amenities and lies about 12 miles southeast of the park's entrance.
Monument Valley
Lodging: The View Hotel lives up to its name on the Arizona side, and you'll find Goulding's and its quirky history in Utah. Both have plenty to explore on site and the option of renting cabins if you need more space.
Camping: The View and Goulding's both have campgrounds, and Monument Valley Tipi Village serves up tipi camping, a hogan-style cabin and spacious tent sites. Consider the newly built Monument Valley KOA for more refined camping, or experience an authentic stay in the area with the Rose Hogan on Airbnb.
The Route
4. Las Vegas
Set aside the obvious reasons for a Vegas road trip and consider this a more outdoorsy trip. The stretch from Phoenix to the border isn't thrilling, but things pick up at the Hoover Dam, where you'll find scenic lookouts, tours and more.
On the west side of Lake Mead you can explore the shoreline at Boulder Beach. From there, take the 167 north for about an hour and you'll hit Valley of Fire State Park, a 40,000-acre sandstone playground of sorts. There's a Joshua Tree-like following here thanks to winding roads and brilliant red rock landscapes.
Vegas is flanked by Red Rock Canyon National Conservation Area to the west and Sloan Canyon National Conservation Area to the southeast. Further northwest of town you'll find the Spring Mountains and Mt. Charleston, an ideal place to ditch the Strip in any season.
If you go: Get off the Strip: 7 Outdoor Activities in Las Vegas; 9 incredible outdoor adventures near Las Vegas you've probably never considered
Where to Stay
The Route
5. Zion and Bryce Canyon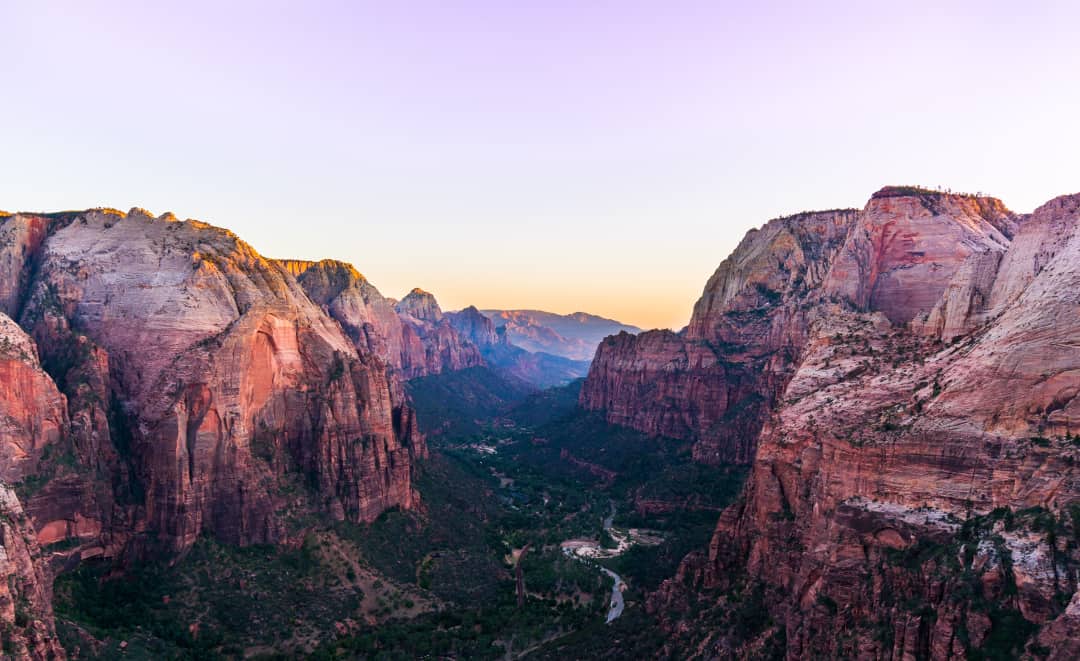 A bucket list-level Utah road trip would include all 5 of the state's national parks, but if you're looking for a doable weekend getaway, you can knock out Zion and Bryce Canyon in one fell swoop. In Zion you'll find popular spots like Angels Landing, but there are under-the-radar hiking options with less foot traffic.
Take a shuttle to see some of the more scenic areas like Court of the Patriarchs, or drive the Zion-Mt. Carmel Highway for slow, gorgeous views (check for closures before you go).
Bryce Canyon may get fewer visitors — 2.6 million in 2018, compared to Zion's 4.3 million — but don't sleep on Utah's smallest national park. Areas like Bryce Canyon Amphitheater and the park's main viewpoints are worth the drive, and if you have time to wander, there are plenty of mild and challenging hikes in the park.
If you go: What You Need to Know for a Successful Zion National Park Visit; Plan Your Visit to Bryce Canyon
Where to Stay
Zion
Lodging: The only in-park Lodging, Zion Lodge, offers cabins, suites, and basic hotel rooms right in the heart of the park. Just south of Zion you'll find hotels in Springdale. Options to the east of the park are limited.
Camping: Zion has three campgrounds, two of which — South and Watchman — are conveniently located by the south entrance. Lava Point is a small, primitive campground off Kolob Terrace Road about 80 minutes north of the south entrance. If glamping's your thing, check out Under Canvas Zion.
Bryce Canyon
Lodging: The Lodge at Bryce Canyon is your lone in-park option, but there are plenty of well-reviewed hotels in the area. Considering the park's remote location, there's a solid Airbnb selection, including this house on one acre that's perfect for large groups.
Camping: The park's two campgrounds — North and Sunset — both offer easy access to some of the best things to do and see in Bryce Canyon. Options outside of the park include Bryce Canyon Pines for something close and clean.
The Route
6. Route 66 Road Trip
The original Route 66 created in the 1920s ran from Chicago to Santa Monica. Call us biased, but the Arizona stretch is where it's at. We have the longest unbroken stretch of 66 still in use, as well as the steepest grade, the highest point, and the longest curve according to Roger Naylor's Arizona Kicks on Route 66.
Unlike most of our itineraries, this is a "choose your own adventure" trip based on how much of Route 66 you'd like to see. Want to see the long-abandoned Two Guns and haunted Apache Death Cave? Start in Winslow.
Head to Flagstaff or Williams for a more streamlined drive through the western half of 66, stopping in spots like Ash Fork, Seligman, Peach Springs, Truxton and Kingman for kitschy Route 66 sights.
If you go: Route 66 in Arizona: All the Highlights; 66 Things To See & Do on Route 66
Where to Stay
Lodging: La Posada Hotel is the place to stay in Winslow — past guests include Albert Einstein, Franklin Roosevelt, and John Wayne. If you're overnighting in Williams, go with an Airbnb or the Canyon Motel & RV Park. For quirky Route 66 digs, check out Supai Hotel in Seligman, Grand Canyon Caverns Inn in Peach Springs, or El Trovatore in Kingman.
Camping: old-school hotels are part of Route 66's appeal, but if you're set on camping, you'll find free camping at McHood Park Campground outside of Winslow. There's plenty to explore in Flagstaff (see above), and a handful of campgrounds near Williams, including Kaibab Lake Campground. There's a KOA in Seligman, a campground at Grand Canyon Caverns and a few RV parks in Kingman.
The Route
7. Prescott and Jerome
Prescott is about 90 minutes from our place in the West Valley, so it's an easy day option when we need to get out of Phoenix fast and without much planning. It's usually a relaxing day spent at Goldwater Lake, eating downtown at Bill's Pizza, playing in the courthouse plaza grass, and visiting the Sharlot Hall Museum.
To make a longer road trip of it, take 89A from Prescott to Jerome (or vice versa for downhill views), a winding 35-mile stretch that passes by Mingus Mountain, its historic lookout tower, and a number of picnic areas and campgrounds.
In Jerome you'll find the artsy-ghost town scene that keeps the town alive and well. Wine fans can follow the Verde Valley Wine Trail down to Cottonwood, then take the 260 to the I-17 to complete the loop.
If you go: 19 Must-Do's in Prescott, Arizona; A Wicked Good Ghost Town: 9 Things to Do in Jerome
Where to Stay
Prescott
Jerome
The Route
8. Mogollon Rim
Payson is a solid jumping-off point for exploring the Mogollon Rim, an impressive 200-mile escarpment that runs more than half the east-west length of Arizona. Travel northwest from Payson to explore Pine, Strawberry and areas like Tonto Natural Bridge or Blue Ridge Reservoir.
Head east from Payson to check out the Rim Lakes, a series of small, dammed lakes that are great for hiking, camping and enjoying scenic views from the Rim. Take the 260 past the lakes to hit Heber-Overgaard, a White Mountains community with "more trails than roads, more trees than buildings, and more wildlife than people."
Further east you'll find Show Low and Pinetop-Lakeside, but you don't necessarily need to go that far east to fill your road trip. There are excellent hiking and exploring options within a few hours of Phoenix, including hiking the Mogollon Rim Vista Loop, wading through Horton Creek, or fossil-hunting at the Paleo Site off the 260.
The Mogollon Rim offers a low-key road trip, but that's its appeal: a quick and easy break from the desert when you need it.
If you go: 14 Best Things to do in Payson, Arizona; 10 best things to do in the White Mountains of eastern Arizona
Where to Stay
The Route
9. Joshua Tree
Joshua Tree is a trendy desert mecca, but even before the age of Instagram, people like Minerva Hamilton Hoyt recognized its beauty. Her campaigns to preserve the area date back to the 1920s, and she's one of the main reasons the park exists today.
There's not much to see or do between Phoenix and Joshua Tree, so the epic part of this roadtrip starts when you enter the park. A few main roads — Pinto Basin and Park Blvd. — run the length of the park, but less-traveled backcountry roads are a great way to explore the outer reaches of Joshua Tree.
Backpacking, rock climbing, hiking and camping are all popular activities, and you'll find a number of free park ranger programs and talks on desert geology, wildlife, vegetation and more. When you're done in the park, explore the small, eccentric desert towns to the north, including Pioneertown, founded as a movie set in the 1940s and home to the Pioneertown Motel.
If you go: 8 Things You Can't Miss on Your First Visit to Joshua Tree; A Guide to California's Joshua Tree National Park
Where to Stay
The Route
10. Mount Lemmon
Mount Lemmon is the Santa Catalina Mountains' tallest peak at 9,157 feet, and the winding drive up from Tucson is one of the most scenic routes in Arizona. The Sky Island Scenic Byway climbs more than 6,000 feet from desert to forest in less than 30 miles, but you'll feel a world away from the bustling city below.
There are plenty of spots to stop, take in the views and hike around — check Babad Do'ag Vista or Aspen Vista for starters. Once you're at the top, enjoy Summerhaven, a great place for snow play in the winter and cool temps in the summer. Mt. Lemmon Ski Valley is the southernmost ski area in the US and offers off-season attractions like a sky ride to the summit.
Quaint shopping, outdoor activities and room to explore can easily occupy your weekend on Mt. Lemmon, but with Tucson just over an hour away, there's sufficient nightlife and entertainment close by.
If you go: A Road Trip to Mt. Lemmon; Your guide to a lovely, cool day on the mountain
Where to Stay
Lodging: We dig staying at Hotel Congress in town, but it can be loud and crowded. For something more tranquil, check out Lodge on the Desert. The Airbnb scene here is also stellar — we featured Adobe Libre on our list of unique Arizona Airbnbs. For a mountain getaway, scope out a cabin near Mt. Lemmon like this.
Camping: If you have the time, camping at Pichaco Peak State Park is a great way to start your trip off right. For camping closer to Tucson, check out Catalina State Park, Rose Canyon Campground, or General Hitchcock Campground. An in-town KOA offers family-focused camping with pools, playground, gym, mini golf and more.
The Route
11. Mining Town Tour
This southeast Arizona trip gains steam in Benson, where you can make a detour to Kartchner Caverns to the south or hit Singing Wind Bookshop, the "headquarters for books about the Southwest."
Next, you'll roll through Cochise, named for the 19th century Chiricahua Apache leader, and its scattering of buildings and cemeteries. The hotel, general store and church offer a fascinating look at life in the late 1800s and Old West towns in general.
From there, take the Ghost Town Trail through Pearce, Courtland and Gleeson. In Tombstone you'll find the usual tourist haunts (O.K. Corral, Birdcage Theater) and plenty of history about the town's infamous characters, like Virgil Earp, Johnny Ringo and the rest of the Tombstone cast. Make a side trip down to Bisbee to see how the artsy community has reignited over the years.
Related read: Is Tombstone a True Story? Here's What's Accurate (and Not)
Where to Stay
Related read: 29 Most Iconic Quotes from Tombstone
The Route
Explore More
Sign up for Weekend Wanderer to join 10,000+ readers getting epic travel ideas every week.
---