Known as the Land of Enchantment, New Mexico truly lives up to its name with stunning scenery ranging from soaring mountains to dunes that glow under the setting sun.
The skies are nearly always a brilliant blue, and every October in Albuquerque, they're filled with colorful hot-air balloons for the International Balloon Fiesta.
Adventure is waiting in nearly every corner of the state, from hiking, mountain biking, and fishing to skiing and snowboarding — and history buffs will love the opportunities to learn about Native American culture. Charming towns like Santa Fe and Taos are renowned for their mouthwatering and creative gastronomic scenes, as well as their many art galleries, museums, and artisan markets.
Many of the best Airbnbs in New Mexico mirror the creative and artistic feeling of the state, making it home to some of the most unique Airbnbs in the country. They're also some of the most affordable, with stylish homes available for well under $100 across the state. Whether you're looking for an authentic adobe, a retro trailer, or even an off-grid Earthship with endless luxuries, there's something for just about everyone on this list.
Related Read: 12 Chill Vacation Rentals in Albuquerque, New Mexico
1. The Steel Pueblo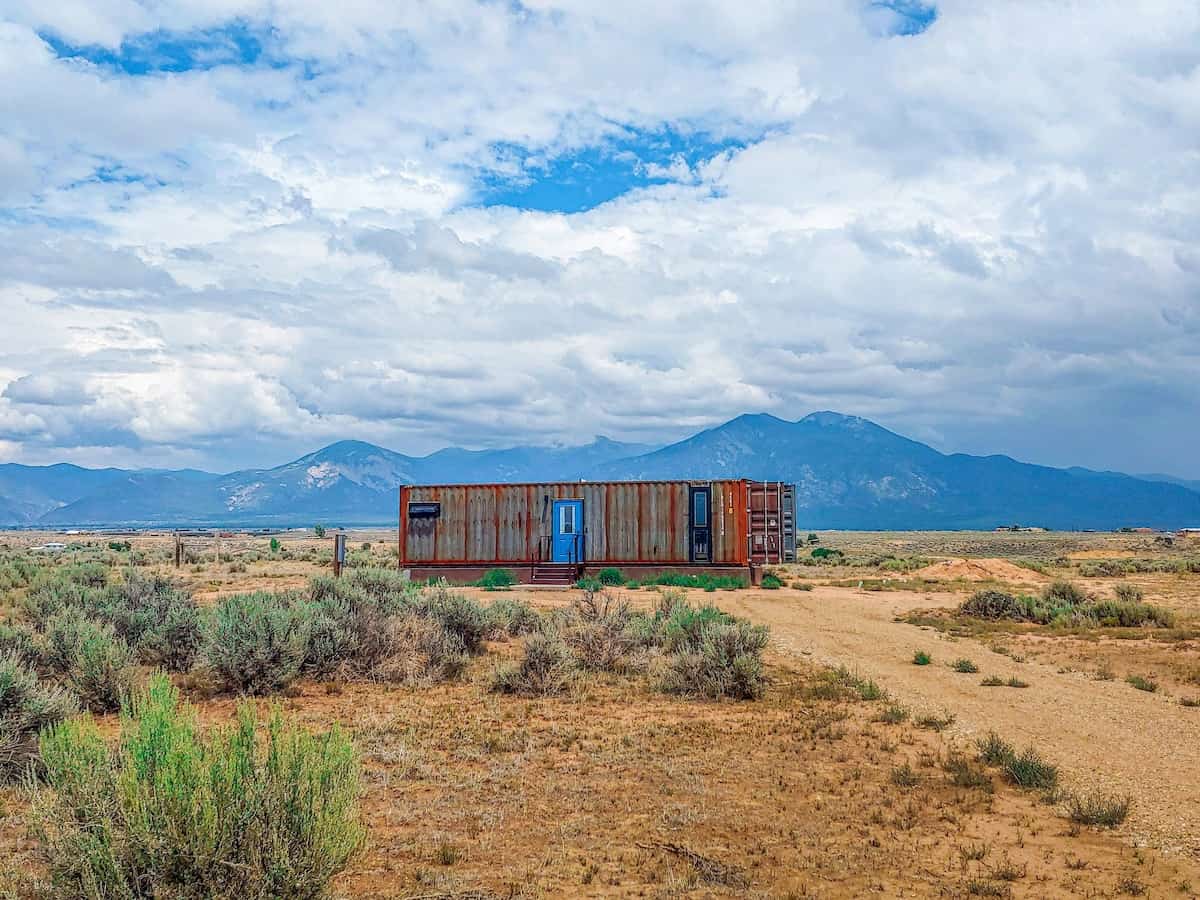 Why you should stay: A unique shipping container retreat surrounded by mountains
Nearest town: Taos
Sleeps: 3
Minimum stay: 1 night
Rates from: $55/night
Enjoy the beauty of Taos and a unique stay in a shipping container transformed into a fabulous retreat, complete with floor-to-ceiling windows that showcase the city after dark.
The Steel Pueblo provides a stylish space away from the crowds but close to everything, complete with outstanding Wi-Fi and cell service. And you can't find a bad view, no matter which way you look.
Previous guests like Rachael rave about the host, nothing that "he went above and beyond," while exclaiming the "Steel Pueblo has stunning views and the interior design truly made you feel like you're living in luxury!"
Check Availability
Related Read: 7 Awesome Scenic Drives in New Mexico
2. Chautauqua Forest House
Why you should stay: Nestled in the forest close to hiking trails, skiing, and Cloudcroft village.
Nearest town: Cloudcroft
Sleeps: 7
Minimum stay: 2 nights
Rates from: $109/night
You'll be immersed in nature with a stay at the Chautauqua Forest House, but you're just a short walk from the picturesque village of Cloudcroft, filled with cafes, bars, and shops in Old West-style storefronts. This Airbnb sits in the Lincoln National Forest, with five trailheads less than a mile away. Winter sports enthusiasts will appreciate that Ski Cloudcroft is just five minutes away, too.
Enjoy relaxing on the deck overlooking aspen trees; it feels almost more like a treehouse than a comfortable home. The unique layout includes hand-built stairs and a living room with floor-to-ceiling windows that bring the forest views in. There's a full kitchen for making your own meals, a 55-inch 4K LGTV and fast Wi-Fi for streaming, too.
Check Availability
Related Read: The 10 Best Glamping Rentals in New Mexico
3. Yurt Overlooking the Chama River
Why you should stay: Seclusion and awe-inspiring views in Georgia O'Keeffe country.
Nearest town: Santa Fe
Sleeps: 6
Minimum stay: 1 night
Rates from: $91/night
Located just under an hour north of Santa Fe, this yurt offers a secluded, rustic hillside experience. You'll be staying just below Cerrito Blanco, overlooking the Rio Chama. It's a fabulous spot for photography and painting – just look at the works of Georgia O'Keeffe if you're not convinced.
The Airbnb has a deck for gazing out at the stunning scenery and watching the late summer monsoons blow in across the valley. Of course, fantastic hikes and other outdoor adventures are nearby.
In the Annex, about 50 steps from the yurt, is a private bathroom and fully equipped kitchen. You'll also have a covered outdoor patio ideal for alfresco dining. Stay warm during the chillier months with a wood-burning stove (wood and kindling provided), and year-round you'll appreciate the comfortable beds for a peaceful night's sleep.
Check Availability
Related Read: The 9 Best Weekend Road Trips from El Paso
4. Casita Encantador
Why you should stay: A magical Santa Fe setting and artisan design.
Nearest town: Santa Fe
Sleeps: 2
Minimum stay: 2 nights
Rates from: $98/night
Nestled in a hillside in the Santa Fe Historical East Side district, with some of the city's grandest homes, richest history and artistic offerings nearby, Casita Encantador offers a relaxing stay with lots of special touches.
An adobe casita, it was built directly above the Santa Fe River by the owners with the help of "a few fabulous local artisans." The result is a beautiful small home in a magical setting with a view of Sun and Moon Mountain. Your hosts provide freshly brewed coffee, or you can heat up the electric kettle to sip an assortment of complementary organic teas. There's a wood-burning stove to cozy up to in the evenings, too.
Check Availability
Related Read: 9 Best Hot Springs in New Mexico for Soaking Your Worries Away
5. Secluded Boho Adobe
Why you should stay: A Taos retreat with authentic southwestern vibes close to town and hiking trails.
Nearest town: Taos
Sleeps: 3
Minimum stay: 2 nights
Rates from: $119/night
This charming period adobe tucked in the Sangre de Cristo foothills offers a relaxed, romantic stay and boasts an interesting history as a former dance studio of a renowned Spanish director, flamenco choreographer, and dancer. It's in a park-like landscape with shady trees and hiking trails are just five minutes away. The home blends perfectly with the Taos vibe, capturing the essence of Northern New Mexico.
The studio's interior features appealing southwestern décor and pops of color contrasted with earth tones for a cozy feel. After a day of exploring, pick up fresh local ingredients in town to make your own meals in the full kitchen, relax in the swaying hammock with a good book, or soak in the large free-standing tub.
Check Availability
Related Read: 8 Secluded New Mexico Cabins for a Relaxing Getaway
6. Studio Earthship
Why you should stay: An architecturally unique off-grid space near Taos with luxurious amenities.
Closest town: Taos
Sleeps: 4
Minimum stay: 1 night
Rates from: $125/night
The Earthship provides a very unique, eco-friendly, and off-the-grid experience, but with luxurious modern amenities. It sits on a high desert mesa just outside of Taos, generating its own electricity, using no fuel and catching its own rainwater while staying at 72 degrees year-round.
While this fabulous abode may be off-grid, it comes with Wi-Fi, a flat-screen T.V. with Netflix and a Blu-ray player, a deep soaking tub and a high efficiency washing machine. Away from light pollution, the stargazing is unbeatable, too. The story behind Earthships and their principles and design is extremely fascinating, so if you have some time to kill, read up on them at EarthshipGlobal.com.
Check Availability
Related Read: 12 Earthship Rentals for a Unique & Sustainable Getaway
7. Charming Casita
Why you should stay: A classic New Mexico casita with incredible stargazing from the outdoor hot tub.
Nearest town: San Miguel
Sleeps: 2
Minimum stay: 1 night
Rates from: $75/night
Enjoy a tranquil stay in this enchanting one-bedroom casita with exposed rock walls. You'll know you're in New Mexico thanks to a quintessential New Mexican design and decor, complete with a vine-covered patio that's shared with a 90-year-old adobe home. It comes with all the essentials like a kitchenette with a Keurig coffeemaker and Wi-Fi. It's also pet-friendly for a $20 nightly fee.
What makes this casita one of the best Airbnbs in New Mexico is its warm, cozy feel – oh, and just outside your door is a hot tub. You'll be able to relax under the star-filled night's sky and as the property is away from other homes, light pollution in minimal, making it ideal for stargazers.
Check Availability
8. Lux Mini-Farm Stay
Why you should stay: Hang out with farm animals and enjoy delicious organic dishes on-site
Nearest town: Los Lunas
Sleeps: 2
Minimum stay: 1 night
Rates from: $69/night
Enjoy a luxurious "mini-farm" stay just 30 minutes from Albuquerque. It includes an on-site European-style coffee shop and restaurant serving fresh and organic dishes , including grass-fed beef from the farm. You can even cuddle up with farm animals, including a friendly donkey.
You'll have a kitchenette, an extra-comfortable bed, and a serene patio with a BBQ grill for cooking out, too. And "lux" really is the right word for this — if you browse through the photos, you'll see it's downright lovely.
Guest Anastasia sums the experience here up well, "…a dream…with adorable modern farmhouse décor, and just a fantastic vibe…we spent the whole day lounging and working at the market/coffee shop on the farm, enjoying the views, animals, and delicious food. One of my favorite Airbnb experiences ever!"
Check Availability
9. Adobe Casita Near the Plaza
Why you should stay: Historic charms and modern comforts just a short walk from historic Mesilla Plaza.
Nearest town: Taos
Sleeps: 3
Minimum stay: 1 night
Rates from: $89/night
Taos is famous for its traditional adobe architecture, and this adobe casita offers an authentic stay less than a five-minute walk from historic Mesilla Plaza. It's one of the best when it comes to location, within walking distance of unique shops, galleries, and restaurants. The Saturday Taos Farmers Market is steps away too, featuring foods from local growers like jams, chutney, and grass-fed beef, plus live music and mini-shows from local artists.
The casita oozes historic charms, with Mexican-tiled accents, as well as modern comforts like a large cable HDTV, Wi-Fi, skylights, and a fully equipped kitchen. The peaceful, tree-shaded patio garden is the perfect place to relax.
Check Availability
10. The Phoenix
Why you should stay: A stunning work of art with a jungle greenhouse in the world's only off-grid subdivision.
Nearest town: Taos
Sleeps: 4
Minimum stay: 2 nights
Rates from: $245/night
Earthships are so cool that a second one has to be included on this list of the best Airbnbs in New Mexico. Located in the El Prado community just outside Taos, The Phoenix is a true work of art, an official Earthship that has a jungle greenhouse to create its own microclimate. And yes, that jungle is complete with grape vines, a fish pond, banana trees, turtles, and birds. Totally off-grid, it's been ranked among Lonely Planet's Top 10 Eco-Stays.
This unique two-bedroom retreat comes with free Wi-Fi, a T.V. with Netflix, a fireplace, and water fountain, all solar powered. It features huge windows for enjoying views of the Sangre de Cristo Mountains, sunsets, and stargazing, set on 630 acres in the world's only off-grid subdivision.
Check Availability
Related Read: 10 Relaxing Cabin Rentals Near Taos, New Mexico
11. Mid-Century Boho Trailer
Why you should stay:A retro-style stay in a 1954 trailer with 360-degree mountain views.
Nearest town: Taos
Sleeps: 2
Minimum stay: 1 night
Rates from: $75/night
The Mid-Century Boho Trailer offers a retro stay in a 1954 Silver Dome travel trailer. While it enjoys a secluded location with 360-degree mountain views, it's well-situated for access to scenic trails and downtown Taos. Bring your dog (for a $10 dog fee) to play in the fully fenced yard, and look forward to dazzling sunrises, bright sunsets, and starry skies away from city lights.
The trailer retains original features but includes updating plumbing and electrical systems, with amenities like a refrigerator, microwave, stove, and turquoise bathroom with a shower and tub. You won't feel cramped either, with plenty of windows for views and natural light.
Check Availability
Plan Your New Mexico Getaway
Explore More of the West
Sign up for our free email to join thousands of readers getting epic travel and Airbnb ideas every week!
---