There's nothing wrong with Tucson — but sometimes you just have the urge to hit the road and explore new places.
It's no secret that Tucson locals love Old Pueblo, but man does that summer heat get old after a while. Fortunately, there are numerous road-trip worthy places within a few hours of Tucson that'll get you into some cooler weather. Of course, the desert southwest is ripe with alluring arid landscapes, so don't sleep on the winter-time options either.
No matter what time of year you're looking to get out of town, you've got plenty of options for your next road trip out of Tucson.
1. White Mountains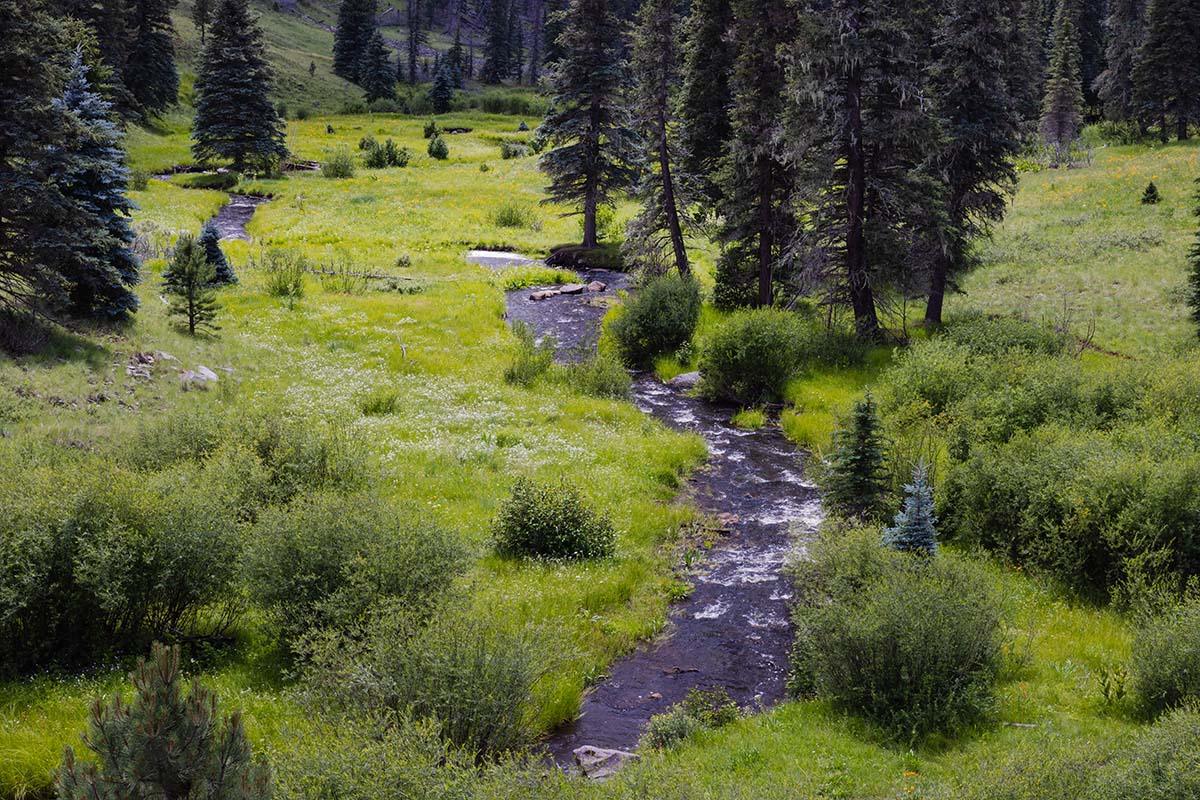 If Mount Lemmon isn't quite cutting it as your escape from the heat, take a drive north to the White Mountains. This high-elevation paradise in East-Central Arizona is a great place for a long weekend in the outdoors. Once you secure a campsite (Big Lake is best for first-timers) or cabin (Greer is second-to-none), get ready to break out the hiking boots, mountain bikes, and fishing poles as you explore the trails and lakes of the Apache-Sitgreaves National Forest.
The journey is just as great as the destination too, as the drive from Tucson to the White Mountains via State Route 77 offers gorgeous scenery along the way. The stretch between Globe and Show Low — known as the Salt River Canyon Scenic Drive — is especially dramatic, and a stop at Apache Falls is a must-do. For the drive home, you might also consider taking the long way via the wicked and winding Coronado Trail (State Route 191), but allow for an extra 1 hour and 40 minutes of drive time.
Distance: 140 miles
Drive time without stops: 2 hours, 30 minutes
Related Read: 12 Best Cabin Rentals in Pinetop-Lakeside, Arizona
2. Sedona
Sedona's mild high-desert climate and million-dollar red rock views make it a world-class destination. If you live in Arizona and for some reason haven't been, now's the time to go. And while there's certainly plenty of outdoor recreation to go around, there's also options for those looking to take it easy, with more than it's fair share of resorts and spas, tourist shops, and fine dining establishments — plus the opportunity to dive into the world of metaphysical healing.
If you're looking to hit the trail, hiking in Sedona runs the gamut from easy strolls with red rock views to challenging summit ascents to creek hikes with plenty of water to splash in. Of course, you'll find hundreds of miles of mountain biking trails as well. And if you want to enjoy Sedona's backcountry without breaking a sweat, a jeep tour is the way to go. Pink Jeep Tours is the most iconic company in the area, but there plenty of other awesome guides to choose from as well.
Distance: 229 miles
Drive time without stops: 3 hours, 20 minutes
Related Read: 9 Easy Hikes in Sedona That'll Take Your Breath Away
3. Flagstaff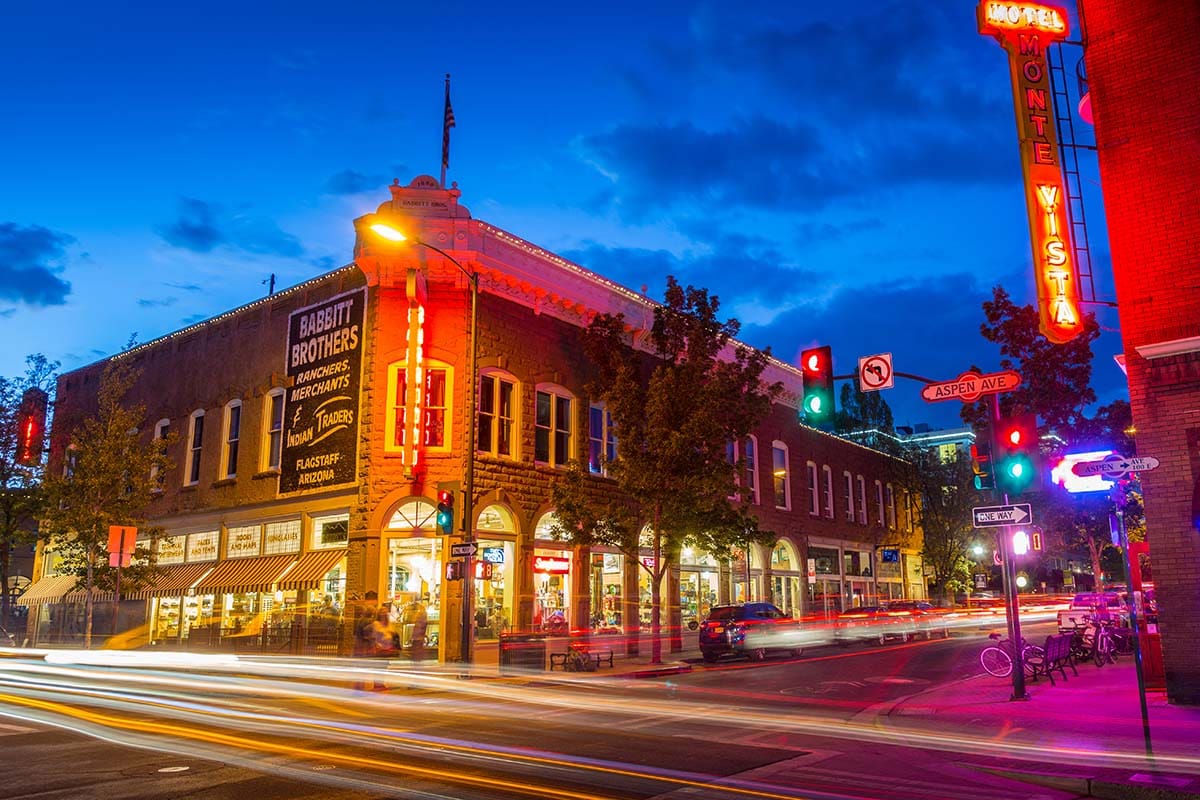 Another sweet summertime getaway, Flagstaff is home to a vibrant college town atmosphere and some top-notch outdoor recreation. Historic downtown Flag is a fun place to hang out, offering an eclectic mix of historic buildings hosting locally owned restaurants, bar, and shops.
A trip to the Museum of Northern Arizona is a great way to learn about the region's rich natural and cultural history, while Lowell Observatory — the site of the discovery of dwarf-planet Pluto — offers a look into the ether. The surrounding Coconino National Forest is home to hundreds of miles of hiking and biking trails, or just take a scenic drive up Snow Bowl Road and a catch a glimpse of life on Arizona's highest mountain range, the San Francisco Peaks.
Distance: 257 miles
Drive time without stops: 3 hours, 40 minutes
Related Read: 10 Best Flagstaff Cabin Rentals to Escape to This Year
4. Grand Canyon South Rim
If you've never been to the Grand Canyon, put this at the top of your bucket list. There's nothing quite like standing at the South Rim and looking out across this 10-mile-wide wonder. If you're just looking to sight-see, the South Rim over a dozen panoramic viewpoints accessible by car or shuttle bus. My personal favorite vistas are along the 23-mile Desert View Drive — the Desert View Watchtower is a must-see landmark — and if I had pick just one spot to watch the sunset, I'd go with Lipan Point.
If you want a little more adventure, the South Rim offers numerous trails — from easy strolls or bicycle rides on the Rim Trail to more challenging hikes into the canyon via the Bright Angel Trail or South Kaibab Trail. For the history buffs out there, be sure to take stroll through the historic buildings at Grand Canyon Village, including designs by famed architect Mary Colter: Hopi House, Lookout Studio, and Bright Angel Lodge.
Distance: 342 miles
Drive time without stops: 5 hours
Related Read: 11 Magical Glamping Sites Near the Grand Canyon South Rim
5. Lake Havasu
Ready for some fun at the lake? Head out to Arizona's West Coast: Lake Havasu. This year-round destination is perfect if you're looking to get out on the water or just chill on the beach. For Havasu first-timers, a visit to the London Bridge is a must. Yes, it's really the London Bridge — which was originally built across the River Thames in 1831, and was sold and moved to Lake Havasu City in 1962.
On to the activities, Havasu's got plenty. You can hit the lake on a motorboat, jet ski, kayak, standup paddleboard, or under your own locomotion. If you don't have your own boat, Nautical Motorsports offers convenient pontoon, ski boat, and jet ski rentals while Southwest Outfitters is the go-to for kayak and SUP rentals.
There are numerous places to get in the water, with London Bridge Beach and Windsor Beach at Lake Havasu State Park being the most popular.
Distance: 306 miles
Drive time without stops: 4 hours, 40 minutes
Related Read: 8 Best Lake Havasu Camping Spots for Water-Filled Adventure
6. Joshua Tree National Park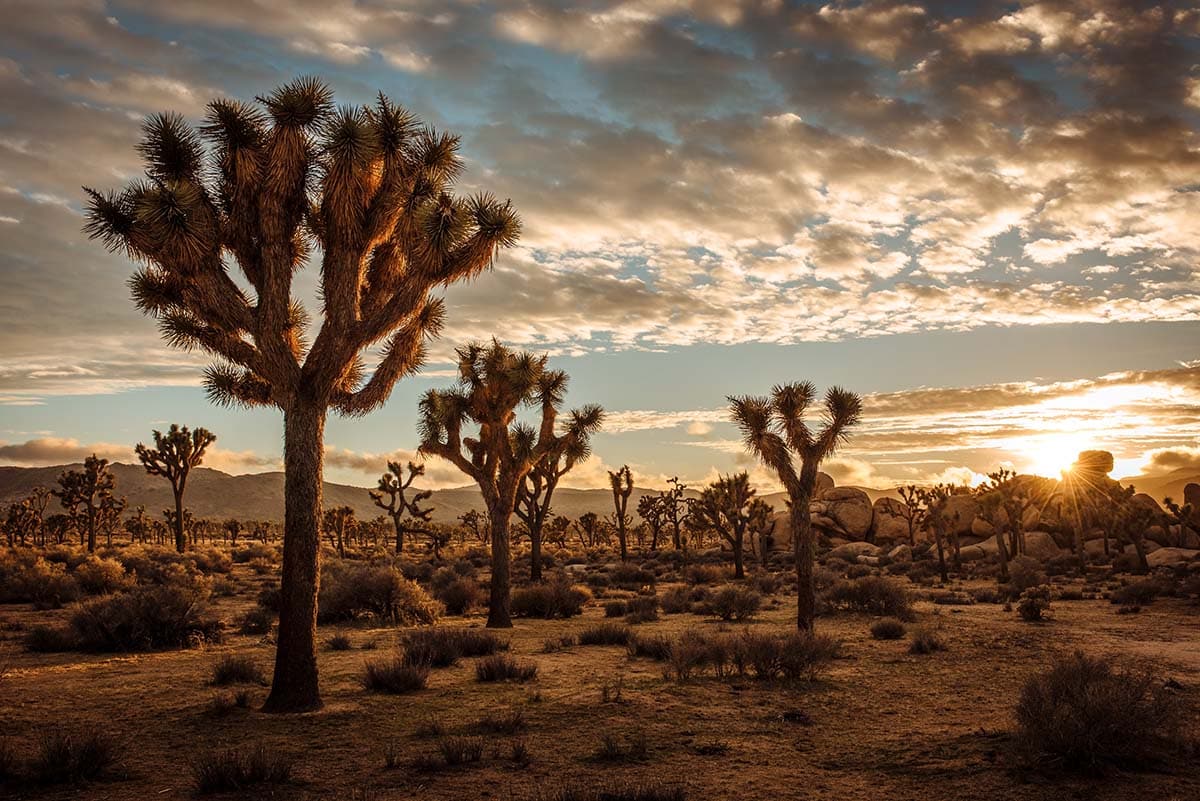 Ahhhhhh, Joshua Tree. There's no place quite like it. Of course, if you're coming from Tucson, you're already familiar with the desert. But Joshua Tree National Park has its own unique charm — and Sonoran Desert dwellers will enjoy the parallels as the mighty Joshua Trees tower over the landscape just like their Saguaro Cactus brethren.
So do you do when you get to Joshua Tree? We're talking hiking, camping, and rock climbing. And if you don't like the camping aspect of that list, Joshua Tree also happens to be a mecca for vintage-styled Airbnbs and glamping spots. Wondering the best time of year to visit Joshua Tree? We've got you covered here.
Distance: 403 miles
Drive time without stops: 6 hours
Related Read: 6 Phenomenal Backpacking Trails in Joshua Tree National Park
7. White Sands National Park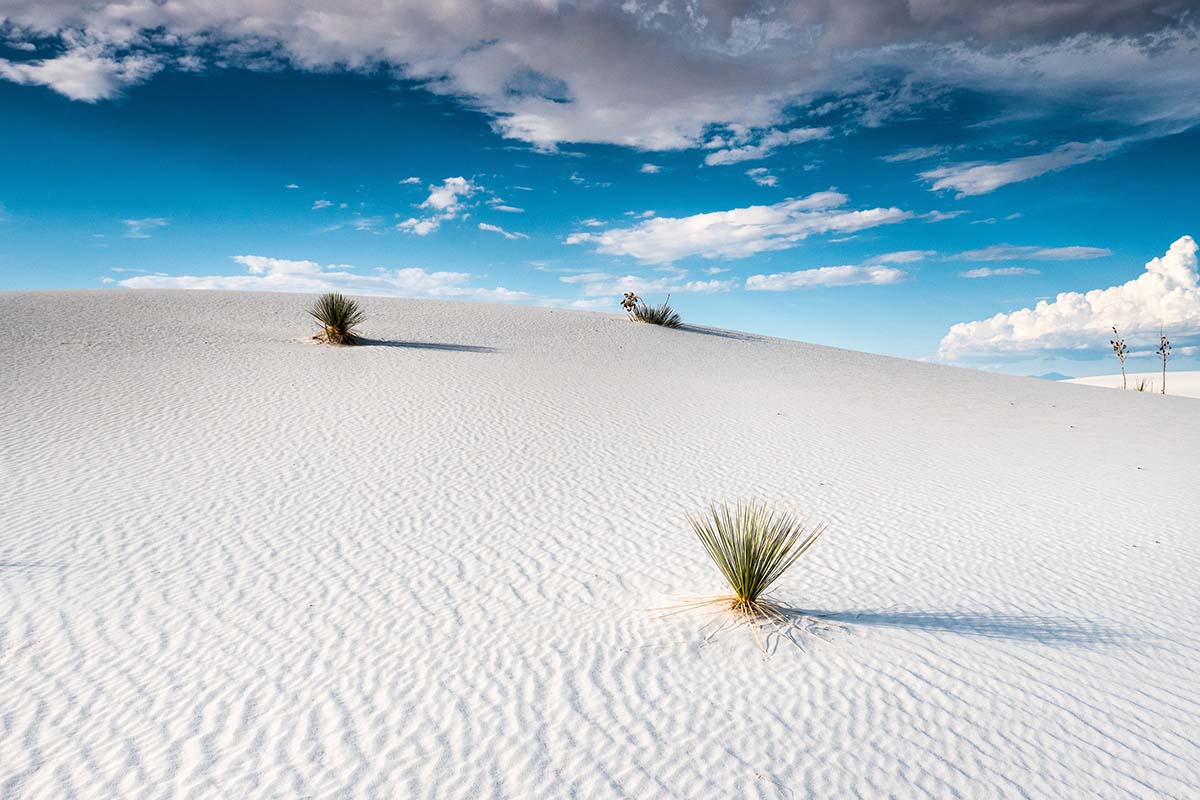 Take a voyage east into the Land of Enchantment where the mesmerizing dunes of White Sands National Park await you. These iconic white gypsum dunes span about 275 squares miles in south-central New Mexico. The area — and most of the drive out there for that matter — is pretty desolate, so if you're looking for a road trip that takes you somewhere without many other people, White Sands is the place.
While at the dunes, you can walk among the towering sand hills, and photography is a common pastime. Otherwise there isn't all that much "to do" — although you definitely gotta try sand sledding — so come ready for contemplation and introspection.
Along the way to or from White Sands, consider a stop at Organ Mountains-Desert Peaks National Monument to the east of Las Cruces. The jagged Organ Mountains rise dramatically from the surrounding desert, making for epic photos — and awesome hiking if you're willing to hit the trail.
Distance: 333 miles
Drive time without stops: 5 hours
Related Read: 11 Best Cabin Rentals in Cloudcroft, New Mexico
8. Petrified Forest National Park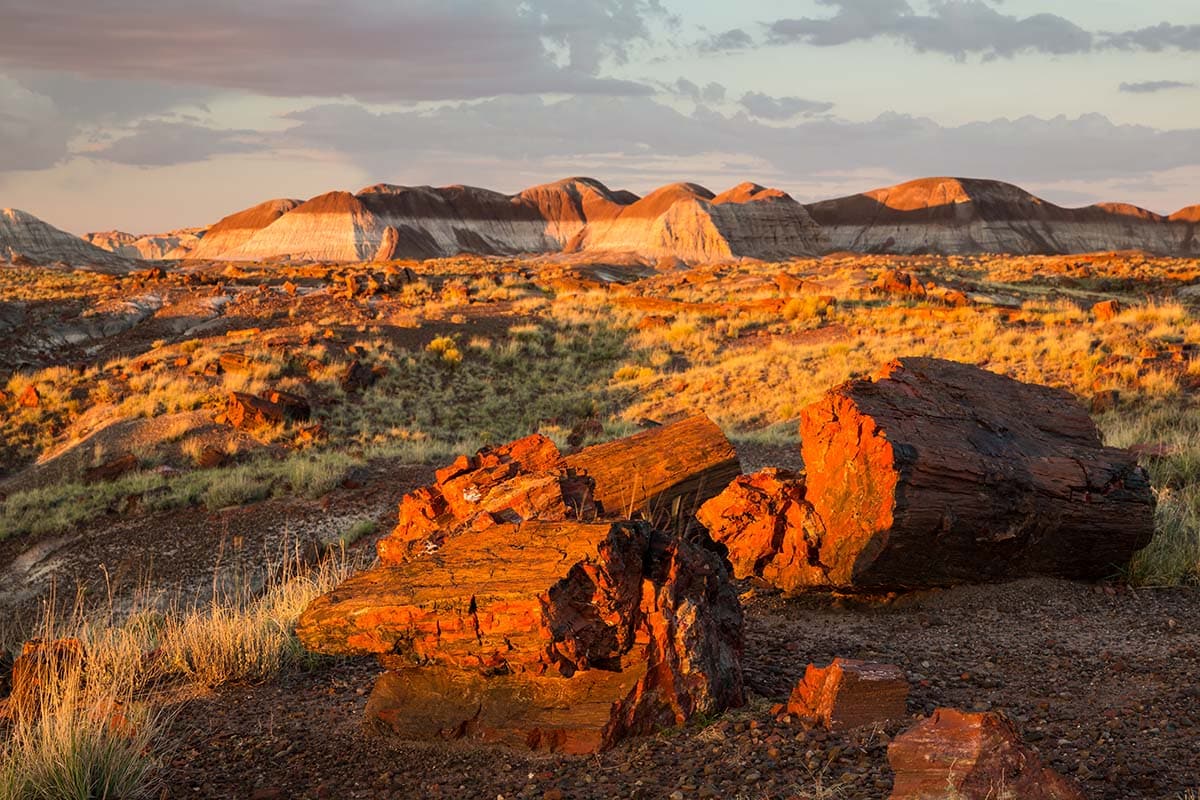 You probably wouldn't expect a place with "forest" in the name to be a stark desert landscape, but in Arizona we can turn anything into a desert. Northern Arizona's Petrified Forest National Park hosts the remains — petrified wood, of course — of a wet sub-tropical forest that stood here 225 million years ago. Spying the petrified logs strewn about the high desert is an experience you need to do at least once in your lifetime.
The park itself also offers incredible vistas, with the technicolor badlands of the Chinle Formation providing a Martian-like backdrop for the viewpoints, hiking trails, and 28 miles of scenic highway.
Distance: 250 miles
Drive time without stops: 4 hours, 40 minutes
Related Read: These Scenic Train Rides in Arizona Will Blow Your Mind
9. San Diego
If the ocean is calling your name, the Pacific is just an easy 6-hour drive away. If you're a San Diego first-timer, you'll find out that SD is the definition of chill. Undoubtedly, you'll want to make your first stop the beach — and you've got plenty to choose from.
Mission Beach is a top-choice, and is a great place to get out into the surf. Plus, you gotta take a stroll on the boardwalk and check out the nostalgic Belmont Park, which is home to a rickety ol' wooden roller coaster named the Giant Dipper and a smattering of fair-style food stands.
Ocean Beach, lovingly known by locals as "OB," is a requisite if you're a fan of bohemian neighborhoods with a lot of counter-culture personality. For a more picturesque beach experience, take a little drive up to La Jolla Cove to see the sea cliffs — and sea lions too!
Aside from the beachfront activities, there's tons more to do around San Diego, from top-tier wildlife experiences like Sea World and the San Diego Zoo to glimpses of the regions rich history at Cabrillo National Monument and Old Town San Diego.
Distance: 407 miles
Drive time without stops: 6 hours
Related Read: 6 Serene Cabin Rentals in San Diego to Get Away From It All
Explore Arizona
Get epic travel ideas delivered to your inbox with Weekend Wanderer, our newsletter inspiring more than 10,000 readers every week.
Was this article helpful?
---