We research, evaluate and select travel destinations based on a number of factors, including our writers' experience, user reviews and more. We may earn a commission when you book or purchase through our links. See our editorial policy to learn more.
---
Tulum offers a famously spectacular coastline along the brilliant blue of the Caribbean Sea, just 90 minutes south of Cancun.
With powdery, sugar-like sand and a jungle backdrop, it makes for an unforgettable vacation destination. Not only does Tulum boast lots of striking beauty, but it's the only ancient Mayan city in Mexico overlooking the Caribbean and one of only a handful of walled cities the Mayans built, providing lots for history and archaeology buffs to explore.
Whether you want to visit the ancient ruins, take part in outdoor adventures like swimming in the cenotes (sinkholes) or just relax on soft sandy beach, you'll find some fabulous airbnbs in Tulum.
1. Casa Madera
Why you should stay: Sleep in a work of art inside this spa-like retreat.
Sleeps: 5
Minimum stay: 15 nights
Rates from: $147/night
It would be hard to find a more tranquil spot than this spa-designed apartment built using local materials. Relax and recharge in the Zen-like atmosphere with whirlpools, rainfall showers, and a gorgeous terrace surrounded by trees. You'll have access to a jungle garden with a water fountain and bench perfect for meditation or quiet contemplation, and the beds are ultra-comfy with high-quality mattresses and linens.
The bathrooms are truly spa-like. Not only do they come with whirlpools and rainfall showers, but also soft fluffy towels, aromatic scents, organic bath products, marble sinks, plants, and gorgeous decor. Take relaxation up a notch by requesting a private in-house massage or a chef who can prepare an unforgettable candlelit dinner.
Check Availability
2. Eco Tree House
Why you should stay: Unique eco-friendly experience in the trees just a short hike from beautiful cenotes.
Sleeps: 2
Minimum stay: 1 night
Rates from: $90/night
A stay in this unique eco-treehouse will put you right at the edge of the jungle, away from the city lights for incredible stargazing while being close to wildlife and swimming in the enchanting cenotes. Tulum's unspoiled white sandy beaches are only about a 15-minute drive away, so you get the best of the beach and forest.
An off-grid glamping experience, there's no Wi-Fi, so you'll be able to disconnect and just enjoy nature. But you'll have plenty of creature comforts. It includes solar-powered electricity, a private bathroom, and a comfortable bed with mosquito netting. There's an outdoor shower, and making it even more unique, a delicious breakfast arrives in a basket via a pulley system. Enjoy it on the balcony overlooking the jungle or from the comfort of the hanging nest chair. There's no A/C, but the fan should do a pretty good job of keeping you cool.
Check Availability
3. Jungle Cabin at Acacia
Why you should stay: Stay at a bohemian jungle resort and bike downtown in a jiffy.
Sleeps: 2
Minimum stay: 1 night
Rates from: $73/night
You don't have to sacrifice modern amenities with a stay at this jungle cabin. It'll be your own private oasis in the heart of Tulum, just a mile from downtown. On the included bikes, you can get there in just a five minutes.
The cabin itself was built using natural, local materials and includes handmade furniture along with modern basics like a refrigerator and a coffeemaker with plenty of coffee included. As you lay in bed, you'll be able to enjoy the views through sliding glass doors, with windows above that provide glimpses of the lush treetops and often brilliant blue skies. The cabin is part of a larger resort called Acacia, and there are five different bungalows available for rent, so it's one of the best airbnbs in Tulum if you're traveling with friends but still want your own space.
Follow 'em: @acacia_tulum
Check Availability
Related Read: The 10 Best Glamping Rentals in New Mexico
4. Piece of Art Studio
Why you should stay: An absolutely beautiful rental complete with a private plunge pool.
Sleeps: 3
Minimum stay: 2 nights
Rates from: $145/night
The Piece of Art studio is aptly named, providing a tranquil, beautifully designed sanctuary away from the tourist crowds and the hustle and bustle downtown (though that's just a few minutes away.) You'll find lots of special extras like a rainfall shower, plenty of candles, incense, and fabulous bath products, along with fast Wi-Fi, something that can be difficult to find in Tulum. There's also a private plunge pool.
"My husband and I had an amazing three-day stay at Alexander's beautiful property! Everything was absolutely perfect and the focus on the extra details were on point…The outdoor space was nice and relaxing especially after a long day of venturing out. The washer and dryer was a definite plus to this property!…Alexander was the perfect host! He was easy to communicate with, had fantastic recommendations and accommodated to all of our needs. This property is truly an oasis away from home and we highly recommend it!.."
Check Availability
5. Villa NIMI
Why you should stay: No, it's not the cover of an architecture magazine – but it is your dream jungle getaway.
Sleeps: 10
Minimum stay: 2 nights
Rates from: $430/night
The spectacular Villa Nimi is an ideal space for a large family or group of friends traveling together, providing plenty of room to stretch out and a wide range of luxurious amenities. It has the feel of staying in the jungle, yet it's just a short drive to town. There are also a few supermarkets and eateries within walking distance, like the popular Gypsy cafe, known for its delicious and healthy gourmet fare. There are plenty of jaw-dropping airbnbs in Tulum, but this one is especially stunning, and can be surprisingly affordable if you max out the capacity.
Your dedicated host can arrange for transportation to and from the airport, and even throughout your stay, making it easy to explore the best Tulum has to offer.
Check Availability
6. The Holistika Penthouse
Why you should stay: Eco-friendly stay with unparalleled nature views from the stunning rooftop.
Sleeps: 7
Minimum stay: 4 nights
Rates from: $223/night
Located in Holistika, one of Tulum's newer neighborhoods designed to be a hub for health and wellness, this rooftop penthouse will put you right into the heart of it. It was built using eco-friendly materials and practices, and the whole concept of the development is around nature, peace, and building a relaxing community tucked into the jungle. Most of the homes here overlook the nearby Holistika Park.
Look forward to relaxing swims in the oversized rooftop pool, from which you'll have colorful sunset views just above the treetops. The enviable roof is the perfect spot for al fresco dining and sunset cocktails, followed by incredible stargazing as you listen to the sounds of the jungle.
Check Availability
7. Sanah Villa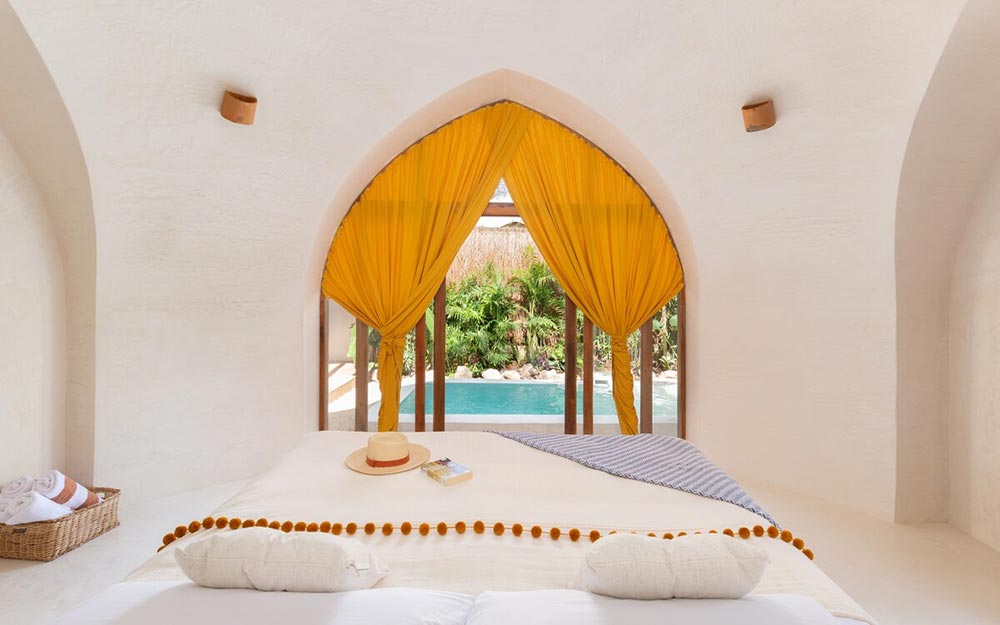 Why you should stay: The ultimate wellness jungle retreat with incredible hospitality.
Sleeps: 2
Minimum stay: 1 night
Rates from: $103/night
You'll have your own private pool with a stay at Sanah Villa, surrounded by the beauty and wildlife of the jungle but only five minutes from town and 15 from the beach. It's a magical oasis for peace and tranquility that can be enhanced even more by requesting an in-villa massage or reserving time in the Solarium, a unique steam bath heated by sun on the volcanic stones.
"This place is a magical oasis, I absolutely loved coming home to our villa. Walking in and smelling the campfire and herbs burning. This place was so peaceful and I could not recommend it enough."
Check Availability
8. Casa de las Palmas
Why you should stay: A beachfront airbnb that feels like a secret resort for the one percent.
Sleeps: 8
Minimum stay: 4 nights
Rates from: $1,349/night
For luxury and lots of space right on the beach,  Casa de las Palmas is probably the best bet of all the airbnbs in Tulum. The living area opens right up to the endless turquoise Caribbean Sea and soft white sand, with a beautiful pathway that will bring you to your own personal spot for a day at the beach. You'll have private palapas for shade, day beds and loungers, along with complimentary use of sea kayaks, standup paddleboards, and boogie boards.
The home itself comes with everything you need and then some, including a fully equipped kitchen, a gorgeous pool, and a helpful caretaker. If you want to dine out or go shopping, you'll have lots of options within walking distance. It'd make an absolutely stunning honeymoon destination.
Follow 'em: @mahayanatulum
Check Availability
9. Beautifully Decorated New Home
Why you should stay: Luxurious jungle stay for total serenity near wildlife, Mayan ruins, and cenotes.
Sleeps: 10
Minimum stay: 4 nights
Rates from: $500/night
Located in the exclusive community of La Privada inside Aldea Zama, known for promoting sustainable lifestyles and total serenity, this beautiful home comes with lots of amenities and is sure to provide an escape that will soothe the soul. The neighborhood includes many jungle walking and biking trails, where you might come upon a Mayan ruin or a freshwater cenote.
Enjoy swimming in the enticing pool under the watchful eye of toucans in the trees and taking in spectacular views from the rooftop, day and night.
"Literally a dream home! Pictures do no justice here, the rooms, the decorations, the appliances, the pool and rooftop terrace really made our stay magical!"
Check Availability
Plan Your Tulum Trip
Once you've selected from the best airbnbs in Tulum, it's time to choose the best places to see.
Marvel at the Tulum ruins, one of the most popular Mayan archaeological sites on the Riviera Maya, with multiple temples and castles.
Visit the Sian Ka'an Biosphere Reserve, covering more than a million acres with cenotes, reefs and wetlands, along with abundant wildlife like monkeys, ocelots, jaguars, and pumas.
Swim or snorkel in one of the many stunning cenotes in Tulum and the surrounding area, natural sinkholes that give way to aquamarine groundwater beneath. El Gran Cenote has some remarkable geological features like stalagmite and stalactites too.
Dive or snorkel the world's second largest barrier reef, stretching from the Yucatan Peninsula to Belize.
Spend the day at Playa Paraiso (Paradise Beach), the most stunning of Tulum's many spectacular beaches.
Shop the eclectic boutiques with everything from local handmade jewelry to hippie-inspired wear, including bikinis made using organic materials at Alfonsina y el mar.
More Incredible Getaways
Sign up for the Territory Supply Newsletter and join thousands of readers getting epic travel and Airbnb ideas every week.
---