We research, evaluate and select travel destinations based on a number of factors, including our writers' experience, user reviews and more. We may earn a commission when you book or purchase through our links. See our editorial policy to learn more.
---
When I arrived at the DuPont Yurts in Hendersonville, North Carolina, I was immediately taken back to my days as a camp counselor in these very same woods.
The thick canopy of trees and the damp, earthy smell of dirt and leaves take me back to my formative years spent in Brevard. This is where I first went mountain biking on the trails in Dupont State Park, slept under the stars at the top of Black Balsam in Pisgah National Forest, and had my first cold water plunge at Sliding Rock. These experiences in the North Carolina mountains paved the way to a career of helping others find the same joy in the mountains as I have.
While I spent my camp days sleeping in an open-air cabin, I was excited to return and try a slightly more elevated camping experience. Traditionally, yurts were portable, structured tents, with a canvas cover designed to withstand wind and weather on the Mongolian mountains. These days, many yurts in the U.S. are constructed to be permanent structures ranging from rustic basecamps to beautifully decorated cabins. As I ventured into each of the Dupont Yurts, I was surprised at the beautiful touches that were put into them and the amenities that would make our stay very comfortable (hello, air-conditioning and walk-in shower!) while also keeping the rustic, camping feel. I fell asleep to the sounds of the crickets, frogs, and whippoorwill through the yurt walls.
We've done the legwork for you to have your own yurt stay in these magical forests. Book your trip, drop your bags, and breathe in deeply as you take in the beautiful smells and sounds of the Tar Heel State. Here's the best yurts in North Carolina to get you started.
Dupont Yurts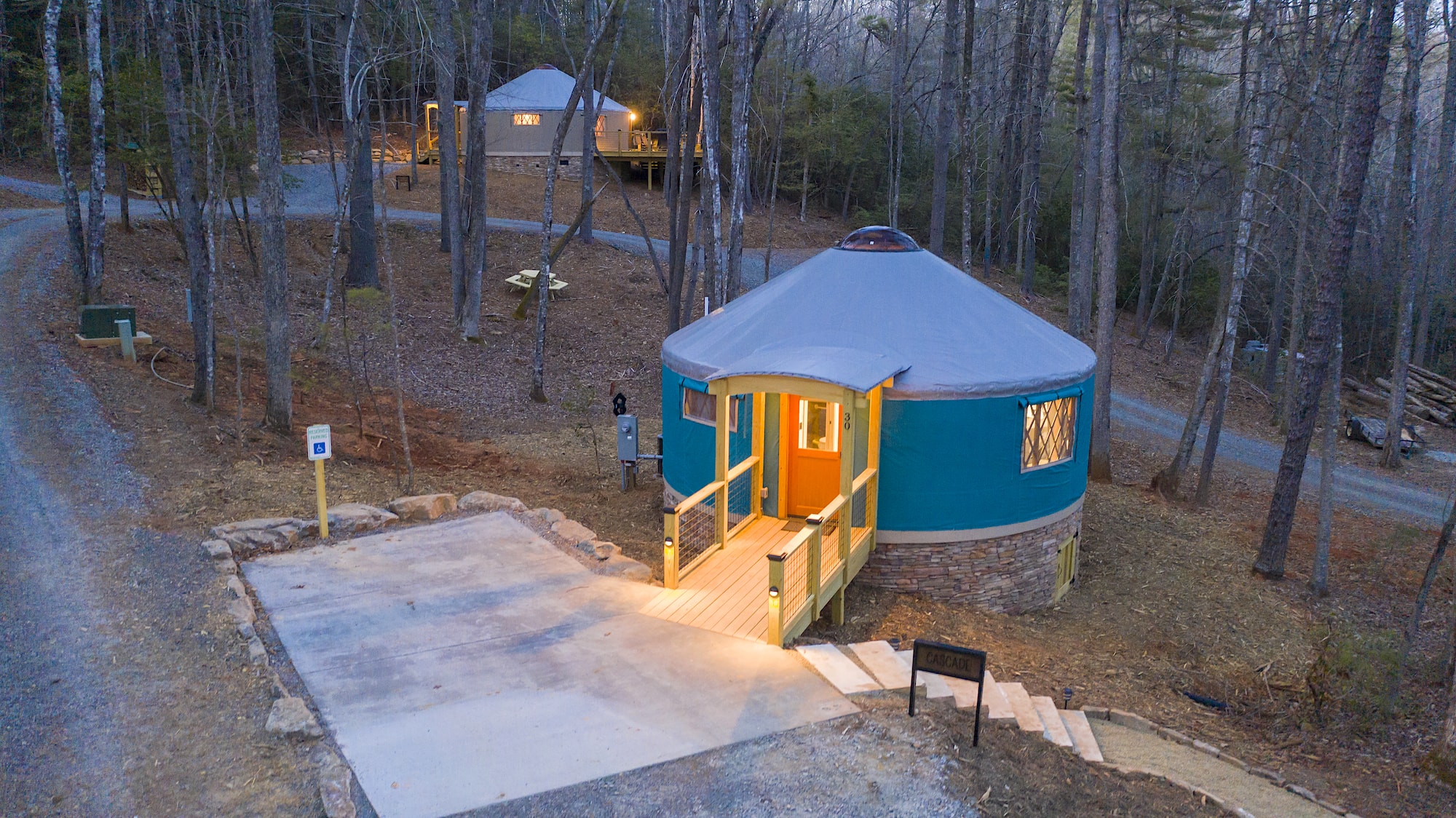 Family-owned and operated Dupont Yurts is a perfect basecamp for your stay in Transylvania County. With four different yurts to choose from, you will glamp in comfort while having easy access to hiking and mountain biking at Dupont State Recreational Park, which is just 5 minutes down the road. Each yurt is equipped with a private bathroom and a walk-in shower, a fully-stocked kitchen or kitchenette, central heat and air conditioning,  and a deck.
They also have one fully ADA-accessible yurt. After you get back from your adventures, stop by their Dupont Kanteen for ice cream, drinks, and snacks. Even more, they are expanding to offer a bathhouse and 40 additional reservable spaces! These new campsites will range from tent pads, RV hookups, and van sites, all of which will have power and water!
Location: Hendersonville, NC
Sleeps: 4-6
Minimum stay: 2 Nights
Rates: from $177/night
Glamping Yurt at Serenity Ridge
The Glamping Yurt at Serenity Ridge gives you a perfect balance of a mountain setting and next-level yurt amenities, like a large soaking tub and a spa-like shower. The yurt features a full kitchen, king-size bed, and living space. Serenity Ridge also offers other cabins for rent as well as an event venue, which makes this an excellent choice for family reunions, weddings, or other group vacations.
During your stay you'll have access to the public fire pavilion, walking trails and even a vacation library! When you aren't enjoying the amenities on the property, you're only nine minutes away from Lake Lure, best known for providing some of the iconic scenes in the movie Dirty Dancing.
Location: Mill Creek, NC
Sleeps: 2
Minimum stay: 1 Night
Rates: from $137/night
Lakeside Retreats at Walnut Hill
If you are looking for a peaceful place to retreat for a couple of days, look no further than the Lakeside Yurts. Located just 20 minutes outside of downtown Raleigh, stay in one of six yurts (or a tiny home) and truly unplug. The campsites sit on over 300 acres of private land and are located next to a 400-acre preserve so you can experience peace and quiet.
At the campground, fish, swim, or float on a private lake; hike or bike around the property on designated trails; or enjoy some time in the sauna. It is a rustic stay but still has amenities such as toilets, an outdoor shower, an ice maker, and electricity within the yurts for a mini-fridge, microwave, and coffee maker. What's better than enjoying your morning brew looking out over a peaceful, private lake?
Location: Raleigh, NC
Sleeps: 4-6
Minimum stay: 2 Night
Rates from: $115/night
The Little Green Yurt of Cedar Mountain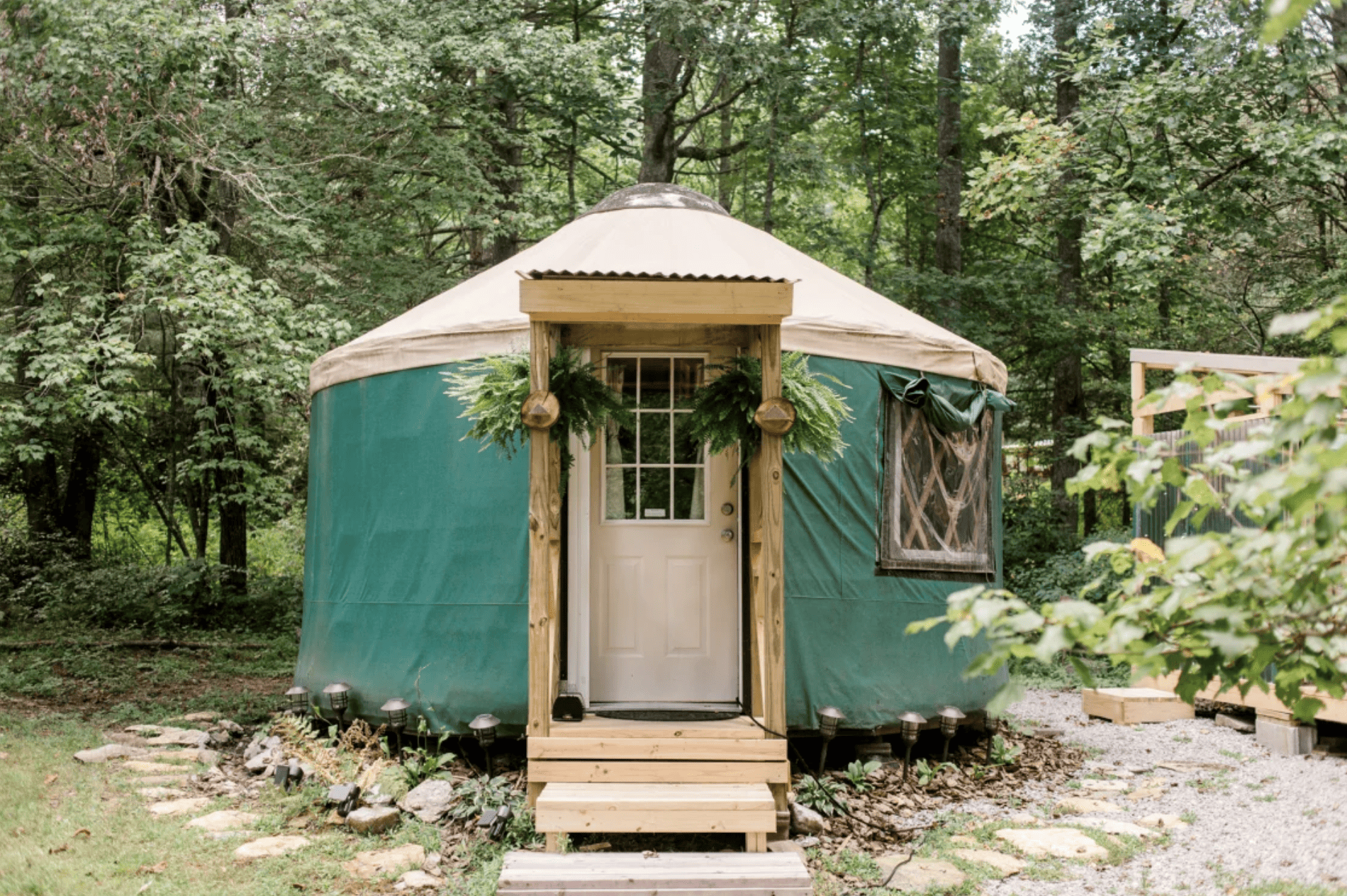 The Little Green Yurt is the perfect basecamp for all of your adventures around the Brevard area, as it gives you quick access to town, Pisgah, and DuPont State Park. The yurt is small, yet it can comfortably sleep four with a lofted bed, in addition to the bed on the ground floor. Enjoy your evenings out around the campfire and spend your time distraction-free, as there is no wifi and limited cell service. The yurt comes stocked with basic supplies for cooking, coffee, and fresh, potable spring water.
Location: Brevard, NC
Sleeps: 4
Minimum stay: 1 Night
Rates: from $80/night
Outercamp at Hoot Owl Ridge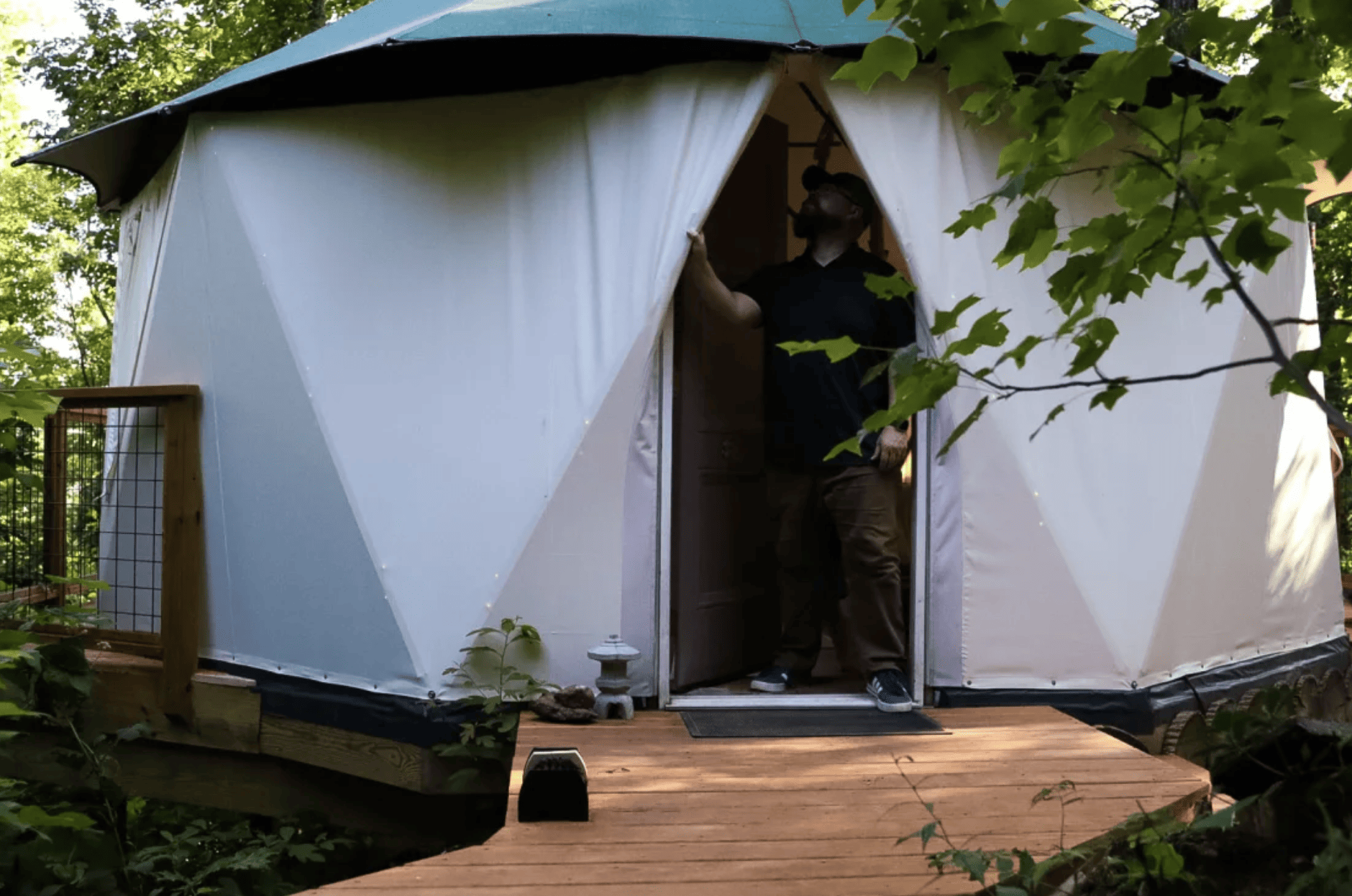 Retreat to Outercamp Hoot Owl Ridge and get in touch with the mystical side of the Blue Ridge Mountains. Inspired by a young gnome, Hoot Owl Ridge has lodging available in The Gnome's Yome, The Wild Fairies Do Yoga Group Glamping yurt, and in April's Treetop Dome (Yes, those are the actual names!) Each of the spaces is centered around gratefulness in the forest and offers spaces to reflect and unplug.
During your stay, you will have access to private hiking trails, a waterfall, and beautiful wrap-around decks at each yurt to take in the sounds of the forest. The yurts are situated on 60 acres of private property, so you probably won't even hear your neighbors! Just a short drive away is Linville Gorge, a stunning wilderness area that is often called the "Grand Canyon of the East", as it's the steepest gorge in the eastern United States.
Location:  Spruce Pine, NC
Sleeps: 2-4
Minimum stay: 1 Night
Rates: from $129/night
Eagle Creek Yurt
On the southern side of the Great Smoky Mountains, you can find this cozy yurt that feels like a home away from home. The Eagle Creek Yurt is a 2 bed, 2 bath mega-yurt that features a full kitchen, living area, washer and dryer, and full bath. The best part of this stay is sure to be having your coffee on the wrap-around deck that gives you beautiful views of the surrounding mountains. Spend the entire trip at the yurt or venture out to local rivers to fly fish, raft at the Nantahala Outdoor Center, or take a drive to Pigeon Forge, Tennessee, and visit Dolly Parton's iconic theme park, Dollywood.
Location:  Bryson City, NC
Sleeps: 4
Minimum stay: 1 Night
Rates: from $80/night
The Heart Center Yurts
If taking a personal, meditative retreat is on your mind, The Heart Center may be your next trip. Designed to be a "holistic sanctuary" this peaceful camping experience is disconnected from life's daily distractions, yet is close enough to local attractions such as the Appalachian Trail. While staying in one of their authentic Mongolian yurts, spend the day relaxing in a hammock, walking the labyrinth, or making an appointment for guided meditation or Reiki energy work.
Location: Robbinsville, NC
Sleeps: 2-4
Minimum stay: 2 Nights
Rates: From $79/night
Mountain Cove Farm & Getaways Yurt
If you prefer rolling farmland to dense mountains and forests, we have found the perfect yurt getaway for you. The Mountain Cove Farm Yurt truly is charming and is nestled in the hills on a private 100-acre working farm, just 30 minutes from Asheville. The country charm is present with a cozy interior including a clawfoot tub and wood-burning stove with all of the creature comforts included. Take a walk around the property or spend the afternoon fishing in the nearby pond. Don't be surprised if you befriend their horses and dogs or leave with a cooler stocked full of their grass-fed, grain-free beef!
Location: Marshall, NC
Sleeps: 4
Minimum stay: 2 Nights
Rates: from $120/night
Explore More in the South
Get epic travel ideas delivered to your inbox with Weekend Wanderer, our newsletter inspiring thousands of readers every week.
---