Tucson is an outdoor lover's paradise. Waterfalls, mountains, saguaro cactus, pine trees, and the desert all come together for the perfect adventure spot.
Because there is a lot Tucson has to offer, it's difficult to find the best place to settle in for the night. Thankfully, we've hiked around and told stories around the campfire in this area more than once.
There's no need to look any further for the best camping near Tucson because we've got the best spots right here!
Related Read: 9 of the Best Places to Camp Near Sedona, Arizona
Saguaro National Park
Why You Should Camp Here: Find yourself lost in a forest of juniper trees and desert brush, while you look at saguaros below.
Reservations Accepted: Yes
Best Seasons: Fall, Winter, Early Spring
Campsite Type: Tent Camping Only
If peace and quiet is your thing, you'll love it here at Saguaro National Park.
Backcountry camping here isn't for the weak-hearted, but you'll find solace as you scale up the mountainsides in the Saguaro Wilderness. There are 21 dispersed camping sites inside 6 campgrounds throughout the park. You'll have to walk several miles (4-10 miles depending on the trail) to get to them, so be sure you're prepared with enough food and water to make the trek.
To beat the heat, visit Manning Campground. 7.5 miles from the Turkey Creek Trailhead, you'll find the summer family camp of Tucson's former mayor, Levi Manning. This particular campground has 6 dispersed sites and a Ranger's station that is manned from April to September. This area usually never gets hotter than 85 degrees due to its elevation above 8,000 feet. Potable water is almost always available here, too!
For the most isolated campground, check out Spud Rock. Just above 7,000 feet, you'll find 3 dispersed campgrounds and roughly 5.3 miles from the nearest trailhead. For the perfect set up, pitch your tent under aspens and pines facing eastward for the best view.
Backcountry camping in the Saguaro Wilderness requires a backcountry permit. You can reserve these 2 months ahead of time or pick them up on your way up the trail. Permits cannot be picked up or purchased after 12 PM and are $8 per campsite per night.
Download a printable permit here and mail it off to receive your camping permit in the mail or have it waiting for you at the Visitor Center!
Tucson Mountain Park
Why You Should Camp Here: If camping close to Saguaro National Park with your big rig full of pups is the plan, then is the perfect place to camp.
Reservations Accepted: No
Best Seasons: Fall, Winter, Early Spring
Campsite Type: Tents, cars, and RVs welcome
RV Hookups: Yes
Gilbert Ray Campground inside Tucson Mountain Park is the place to stay if you're wanting to stay close to Saguaro National Park and bring your furry pals. With 5 tent-only campsites and 130 RV & tent sites, you can sleep amongst the Saguaros any way you'd like to! Every RV site has a 30-amp hookup and has access to a dump station, too.
Like most campgrounds, this recreational area offers bathrooms, picnic tables, and water access. Pets are welcome inside the campground and on many of Tucson Mountain Park's trails as long as they're on a leash. All campsites are first-come, first-serve so be sure to get there early to snag a campsite during the busy seasons.
For views of the Arizona desert like you've always seen in movies, settle in for a night at Tucson Mountain Park to take in the sunset with a few luxuries.
Mount Lemmon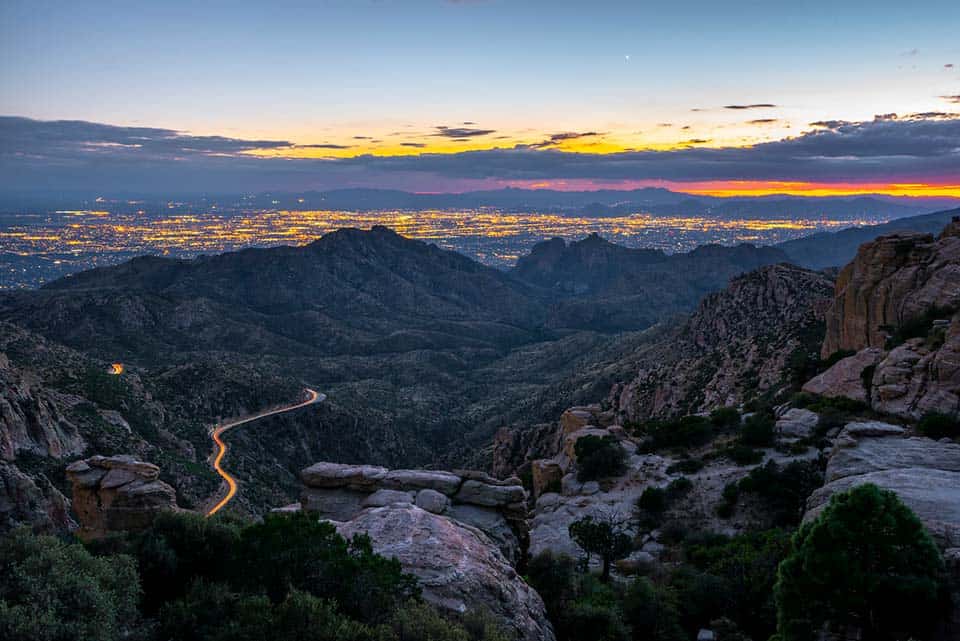 Why You Should Camp Here: For the best of both worlds, find yourself between desert and mountain top on Mount Lemmon.
Reservations Accepted: Yes
Best Seasons: Fall, Winter, Early Spring
Campsite Type: Tents, cars, and RVs welcome
RV Hookups: Yes
Mount Lemmon explained by a Tucson-native:
"Mount Lemmon always served as an escape from the heat & a way to experience all four seasons. A place to watch the landscapes cacti & ocotillo transform into Bigtooth Maples & towering Douglas Firs. Camping near the top gives you an incredibly humbling experience where you can look out on the sprawling city below & watch the harsh sun fade into an explosion of color, to quickly move into a display of twinkling lights below & the most god-damn fantastic star-speckled sky above."
— Allison B., @itsallisonbrooks
One of our all-time favorite camp spots is Mount Lemmon. Shimmy your way up the mountain road to one of the 5 paid campgrounds or squeeze into a free designated campsite. When you visit Mount Lemmon, you have endless options for camping and hiking.
Our favorite campground is Rose Canyon as it offers more for the same campsite price. At $22 a night, you get a large campsite, bear food box, a fire pit, and bathrooms. The best thing about this campground, even though it's the largest one on the mountain, is that you never feel too close to other campers. You'll be nearby to most of Mount Lemmon's coolest trails including Sunset Trail.
When you're done hiking and witnessing the drastic change in the landscape as you ascend up the side of the mountain, you should head up to the Cookie Cabin at the very tip-top of the mountain. Here you can find pizza and cookies fresh out of the oven. They also make a mean cup of hot cocoa.
If you need supplies, you can always hit up the Mount Lemmon General Store to grab a few extra essentials or food items before finding yourself near the campfire.
Catalina State Park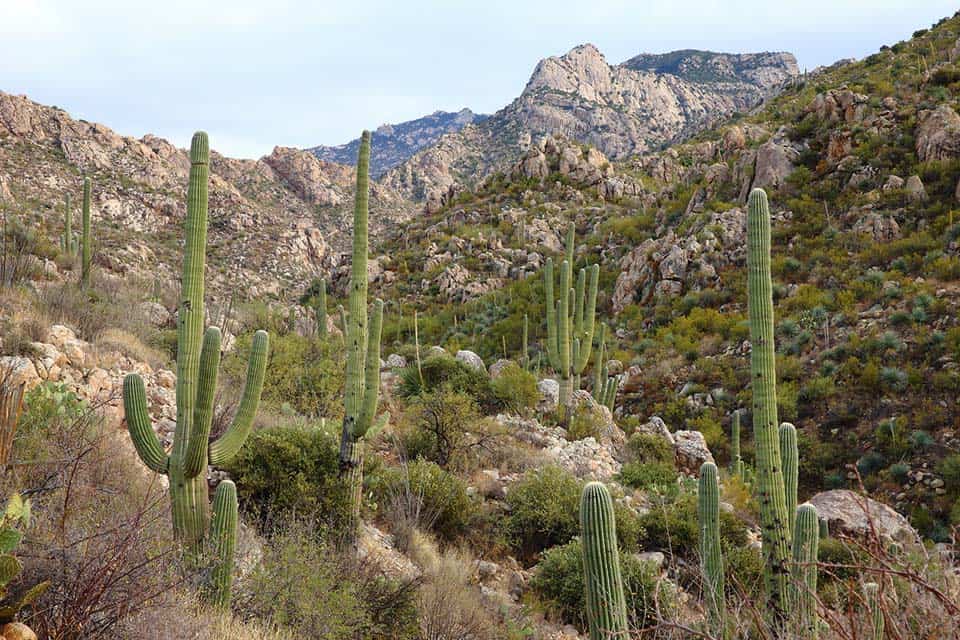 Why You Should Camp Here: Catalina State Park is home to all the desert wildlife you could ever dream about.
Reservations Accepted: Yes
Best Seasons: Fall, Winter, Early Spring
Campsite Type: Tents, cars, and RVs welcome
RV Hookups: Yes
Catalina State Park is widely known for its abundance of wildlife. If you're lucky enough to find yourself lost here at night, you may even spot a ring-tailed cat, Arizona's state animal.
"This is just minutes from our house, but we still love to camp here. There are a plethora of desert trails available to explore and there are often events on the weekend such as a desert animal petting zoo, live music, geocaching classes, etc.," — Vantastic via Campenidum
When you arrive, you'll find people with binoculars around their neck searching for birds in the sky and other wildlife in the cactus and brush. Inside the Catalina State Park campground, you'll find 120 electric and water hookup sites for RVs, with no length restriction on your rig. Tent campers are welcome to stay within these sites as well.
As with many state parks, Catalina allows pets, but there are some areas where pets are not allowed to wander. Near the Wilderness area and Desert Bighorn Sheep Management area inside Sutherland Trail and Romero Canyon trail, pets are not allowed.
These trails are two of the longest trails in the park and make for great adventuring, but remember to ask a park employee before heading off with your mountain bike or pets! Check out the link to find the best trails for your adventuring here.
The best thing about camping in Catalina State Park is the ability to see wildlife you may have never seen before. With an Audubon Important Birding Area and Wilderness Area, this park believes in the importance of conserving its inhabitants. You may get a glimpse of the elusive ring-tailed cat or find a nosey coatimundi just passing through. The best time to be out and about looking for wildlife here is at night, so keep your eyes peeled in the dark.
Picacho Peak State Park
Why You Should Camp Here: Facing the giant wall of Picacho Peak, wake up to wildflowers in the Spring or settle underneath the full-moon in the Winter.
Reservations Accepted: Yes
Best Seasons: Fall, Winter, Early Spring
Campsite Type: Tents, cars, and RVs welcome
RV Hookups: Yes
Welcome to Picacho Peak State Park! This is a great place to stop if you've been driving South through Arizona for a while as it's just about halfway between Phoenix and Tucson.
"This is well worth the stop if you are traveling I-10. This is a beautiful state park with lovely trails, wildflowers, wildlife, and beautiful vistas." — Bill K., on TripAdvisor
With 85 campsites made for RVers and tent campers alike, you may find that the campground is full in the Spring. This state park is known for its wildflowers and cactus blooms. Once the blooms come to life, people flock to the meadows to see it, so be sure to reserve your campsite early during the busy season.
At your campsite, WiFi is available for an extra fee for those who work and travel on the road. There are no sewer or water hookups, so it's best to bring in your own water in case of shortages as there aren't many amenities around the area.
While you visit Picacho Peak, you'll definitely want to hike up to the Peak itself to get the best views around the area. Picacho Peak State Park is known for its wildlife watching, too, so if you stick around long enough you may be lucky enough to see a badger, desert mule deer, or several desert-dwelling birds. At the contact station, you can ask for a list of birds if you're an avid bird watcher.
Outdoorists Who Camp Near Tuscon Say…
You can't go wrong if you're outdoors. No matter where you choose to stay near Tucson, you won't be disappointed with the views or wildlife. You'll have access to some of the most beautiful desert landscapes while making friends with a saguaro cactus or two along the way.
From the mountains to desert landscapes, you'll find a place for everyone in Tucson without a doubt.
Explore More of Arizona
Sign up for our free email to join thousands of readers getting epic travel, hiking, camping and gear ideas every week.
Was this article helpful?
---