Territory Supply is reader-supported and may earn a commission when you book or purchase using our links. See our editorial process to learn more. Editor's note: traveling is tricky these days, but we're here to inspire future adventures, whenever you're ready for them. If you are traveling, be sure to check local COVID-19 guidelines before making plans.
---
Escape to Utah's first national park, where vibrant red, orange, and pink sandstone cliffs and canyons meet bright blue skies and lush desert vegetation.
Zion National Park is a massive nature reserve in southwest Utah covering nearly 230 square miles of land. Choosing where to stay near Zion, which is near the Arizona border, is a huge task. Most visitors opt to stay in nearby Springdale or other smaller locales around the park. You can also stay on the east side of the park near towns like Mount Carmel Junction.
In Springdale, you'll find convenient free shuttles to Zion that bring visitors to the south entrance in order to avoid the crowded and often full parking lots during peak hours. Shuttles frequently depart throughout the day, about every seven minutes, so you never need to worry about missing one.
The shuttles are fully accessible and will drop you off at the walk-in entrance and fee station. From here, you can jump back on a shuttle for a hop-on, hop-off type tour of the park's main attractions, hiking trails, lookout points, and picnicking spots.
Here's a look at 11 of the best Airbnb rentals near Zion National Park for your upcoming trip!
1. Off-grid A-frame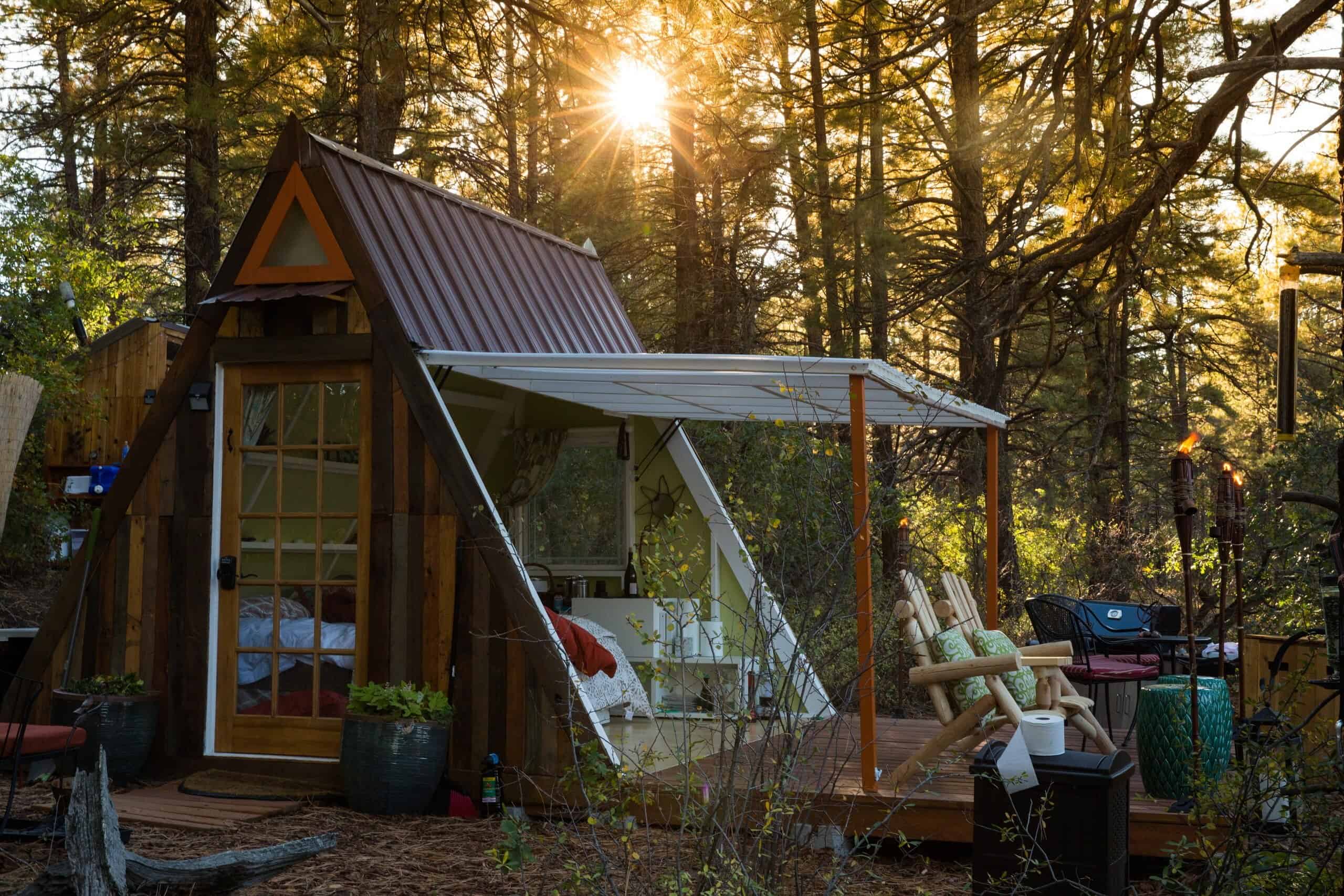 Why you should stay: Stay fully immersed in nature in a unique convertible A-frame that sits just 140 feet from the East Rim Trail and Zion National Park border.
Sleeps: 2
Minimum stay: 2 nights
Pets allowed: yes
Experience life in an off-the-grid A-frame that takes you out of your busy daily life and transports you into the peace of nature. Suitable for pairs or solo travelers, this Zion Airbnb rental is lovingly designed it to be 100% one of a kind.
The sidewall of this cabin can be fully opened to the deck, allowing outside views to pour in and creating a unique opportunity to stargaze from bed. There's also a well-constructed outdoor toilet, BBQ bar, fire pit, hammocks and Adirondack seating, and more on the property.
You may be sleeping in the middle of nowhere, but you'll have the convenience of running water and electricity from the onsite solar panels. The hosts have thought of everything!
Check Availability
2. Nama-Stay Suite
Why you should stay: Sleep nestled next to canyon views in a zen-inspired space for two.
Sleeps: 2
Minimum stay: 2 nights
Pets allowed: no
Nama-Stay Suite 1 is a brand new guesthouse located in Springdale, just a five-minute drive from the south Zion National Park entrance. There are three suites at Nama-Stay, each with its own private space and outdoor patio.
In this suite, guests sleep comfortably in a studio layout with a king-size bed. You'll also find a small seating area that has a sofa and coffee table, as well as a kitchenette with a refrigerator, coffee maker, and microwave.
Check Availability
3. The Boundary Cabin 5
Why you should stay: A rugged yet luxurious wooden cabin located just one mile from Zion.
Sleeps: 2
Minimum stay: 1 night
Pets allowed: yes
The Boundary Cabin 5 artfully walks the line between a rugged outdoor cabin and luxury tiny home that just happens to be entirely secluded, away from the busy city — and on 6,000+ acres of ranch land.
Although the space is only 400 square feet, you wouldn't know it. Furnished with a queen bed, lofted sleeping space, full bathroom, and a heating and cooling system for your comfort, this Airbnb rental lets you hang out in the wilderness in style.
Check Availability
4. Home in Zion Ponderosa Resort
Why you should stay: Spacious desert home with a hot tub in Zion Ponderosa Resort.
Sleeps: 10
Minimum stay: 3 nights
Pets allowed: no
If you're on the hunt for a luxury Airbnb near Zion, look no further then this ten-guest home in Zion Ponderosa Resort. Stationed high in the desert at an elevation of 6,500 feet and along the park's eastern boundary, you're completely surrounded by 1.5 acres of outdoor privacy.
The relaxing hot tub out back will surely catch your eye, as well as the beautiful tall windows that take over the main living room wall. Besides the high-end amenities found in this cozy house, as a guest, you'll also have full access to the resort's facilities, including the extensive pool complex.
Check Availability
5. Concho Villa
Why you should stay: An upstairs studio western-chic apartment boasting a balcony with sweeping Zion Canyon views.
Sleeps: 2
Minimum stay: 2 nights
Pets allowed: no
Concho Villa is a fun-loving retro cowboy home with no shortage of character. Colorful and unique murals greet you on the home's facade, and inside you'll fall in love with the outdoor balcony that offers excellent views of Zion Canyon.
This Zion Airbnb is located in downtown Springdale, just minutes away from the area's best local restaurants and only one mile from the park's entrance. The free shuttle to Zion picks up right at the villa's doorstep, taking the hassle out of visiting this epic Utah attraction.
Check Availability
6. Starry Ridge
Why you should stay: A sprawling high-end cabin with five bedrooms and an eight-person hot tub.
Sleeps: 15
Minimum stay: 4 nights
Pets allowed: no
Starry Ridge offers parties of up to 15 guests an outdoor getaway to a gleaming log home. The rustic charm continues inside with all-wood furnishings and warm southwestern tones throughout the house.
There are five bedrooms, five baths, and nine total beds for your party's utmost comfort, not to mention the big hot tub and outdoor balcony for fun evenings of relaxation after a day exploring nature. Starry Ridge is one of the best Airbnb rentals near Zion for large groups.
Check Availability
7. Luxurious Zion Home
Why you should stay: Beautiful spacious home on 1.5 acres of peaceful, wooded property secured in a gated community.
Sleeps: 10
Minimum stay: 3 nights
Pets allowed: no
There's no shortage of space in this 3,600-square-foot luxurious Zion home for ten. Located in the Zion Ridge gated community, guests enjoy privacy and security at this Zion Airbnb. The home has four bedrooms, 4.5 bathrooms, and five beds perfect for any family or group who hates fighting over amenities.
The home's open and roomy living spaces and entertainment room upstairs provides ample space for quality family bonding.
And outside, the double-decker outdoor deck, multiple patios, and cozy outdoor fire pit promise for lovely evenings of stargazing. You truly can't go wrong with this impressive vacation rental for your family's Utah vacation.
Check Availability
8. Rockville Mountain Home
Why you should stay: A comfortable and sunny home in a desert oasis just minutes from the convenience of Springdale.
Sleeps: 6
Minimum stay: long term
Pets allowed: no
Avoid the tangled crowds in Springdale and stay instead in the quiet seclusion of this Rockville mountain home. Rockville, just southwest of Springdale, is a desert oasis where you can breathe in the fresh air, take in the wide open space, and enjoy fantastic mountain views from this sunny home's patio.
This property comfortably accommodates a party of up to six in its spacious three-bedrooms. The hosts have thoughtfully provided a fully equipped kitchen, comfy living room, and enough parking for several cars if needed.
Check Availability
9. Nama-Stay Vacation Home
Why you should stay: A rustic fine-wood home within walking distance to Zion National Park and local shops and restaurants.
Sleeps: 8
Minimum stay: 3 nights
Pets allowed: no
The Nama-Stay vacation home is the place to stay for ultimate peace and tranquility. As you step on the premises, all of your troubles and worries melt away in this outdoor sanctuary surrounded by mesmerizing nature.
The house accommodates up to eight guests via its three bedrooms and six beds, and the interior design is warm and inviting. The property is also in a prime location near downtown Springdale and the south park entrance, for utmost convenience during your Zion trip.
Check Availability
10. New Boundary Cabin
Why you should stay: Charming brand new cabin on the national park boundary within walking distance of park trails.
Sleeps: 9
Minimum stay: 2 nights
Pets allowed: no
Skip the hassle of finding parking in the crowded lots or waiting for the shuttle and stay instead at this new boundary cabin within walking distance of some of Zion's main attractions.
From this Airbnb, you can easily reach the East Rim Trail, Observation Point, and other connecting trails within five minutes.
This cabin is another vacation rental in the Zion Ponderosa Ranch Resort, providing access to their excellent amenities such as the two-tiered swimming pool, horseback riding, ATVing, guided tours, and more.
In the home, you'll enjoy the full kitchen, expansive wrap-around deck, fire pit, outdoor BBQ grill, and seven beds for your family vacation.
Check Availability
11. The Loft @ Zion NP
Why you should stay: Zion National Park is right at your doorstep in this bohemian style lofted apartment.
Sleeps: 4
Minimum stay: 3 nights
Pets allowed: no
The Loft @ Zion has an artistic vibe, and the hosts claim it's "one of the closest Airbnbs to Zion National Park." You're so close to the park that you can bet the views from the balcony are some of the best in the area. Plus, the shuttle picks up right next door.
Not only that, but this two-bedroom apartment is located above a popular local joint, Cafe Soleil, where you can sip fresh coffee, order healthy dishes, and start your day with a fabulous breakfast. The hosts even provide a free breakfast voucher so you can enjoy a meal on them.
Check Availability
Plan Your Trip to Zion National Park
Booking one of the best Airbnb rentals near Zion is only half the battle. With your accommodations taken care of, let's dive into the details. Here are our favorite things to do near Zion National Park.
Explore Utah!
Sign up for our free email to join thousands of readers getting epic travel, hiking, camping and gear ideas every week.
---