We research, evaluate and select travel destinations based on a number of factors, including our writers' experience, user reviews and more. We may earn a commission when you book or purchase through our links. See our editorial policy to learn more.
Was this article helpful?
---
Horse-drawn carriages and handcrafted goods are at the heart and soul of Ohio's Amish Country.
Nestled in northeast Ohio's Holmes, Wayne, and Tuscarawas counties, Amish Country is characterized by rolling hills and a simpler way of life. Its numerous historic attractions allow visitors to learn about Amish culture while indulging in a relaxing getaway.
Some must-see spots here in this part of the state include the mom-and-pop shops of downtown Millersburg, the Holmes County Flea Market, and simply soaking up the fresh country air. And no trip to Amish Country is complete without stopping in at local bakeries and restaurants like Der Dutchman and Miller's Bakery to sample fresh homemade goodies.
Undoubtedly, the best way to experience it all is with a stay in one of the region's coziest cabins. From quaint log homes to modern cottages, this list shares the best cabin rentals in Ohio's Amish Country.
Related Read: 6 Cozy Treehouse Rentals in Ohio
1. Mt. Pleasant Lodge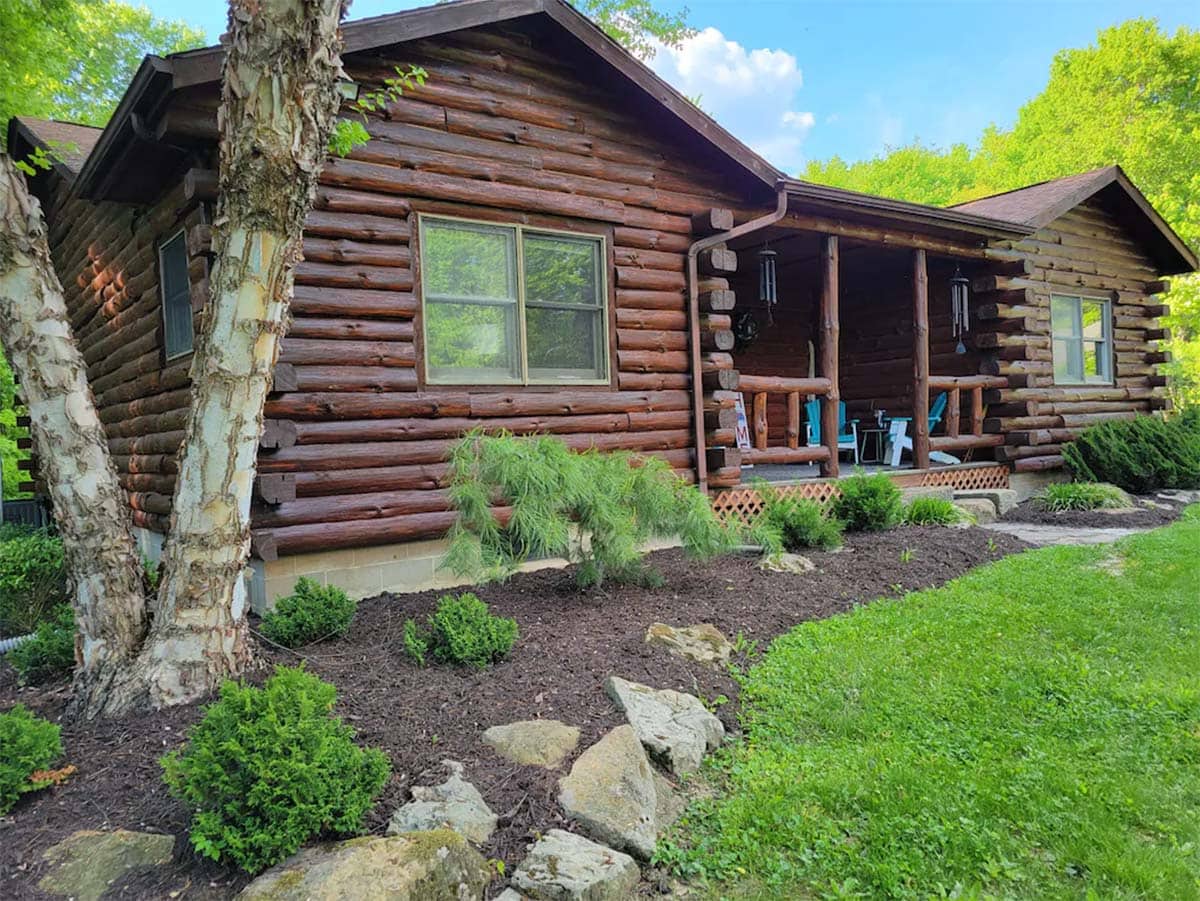 Why you should stay: A pet-friendly log cabin on 15 acres with a private disc golf course and hot tub.
Location: Dover
Sleeps: 14
Minimum stay: 2 nights
Rates from: $375/night
The Mt. Pleasant Lodge is a secluded cabin that welcomes guests and their furry friends. The interior is decked out with four bedrooms, an open floor plan, and a gas fireplace. Throw on a movie or partake in family game night downstairs in the finished basement where an electric stove and arcade games make for a fun evening.
The back deck is accessible from the living room and is furnished with an outdoor dining table, grill, and string lights that twinkle as you take in the fresh air. There's also a campfire circle and a lovely front porch. The lodge is located not far from historical attractions like the Schoenbrunn Village, Zoar Village, and Breitenbach Wine Cellars.
Check Availability
Follow 'em: @MtPleasantLodgeDover
2. The Cabin at Scenic Hills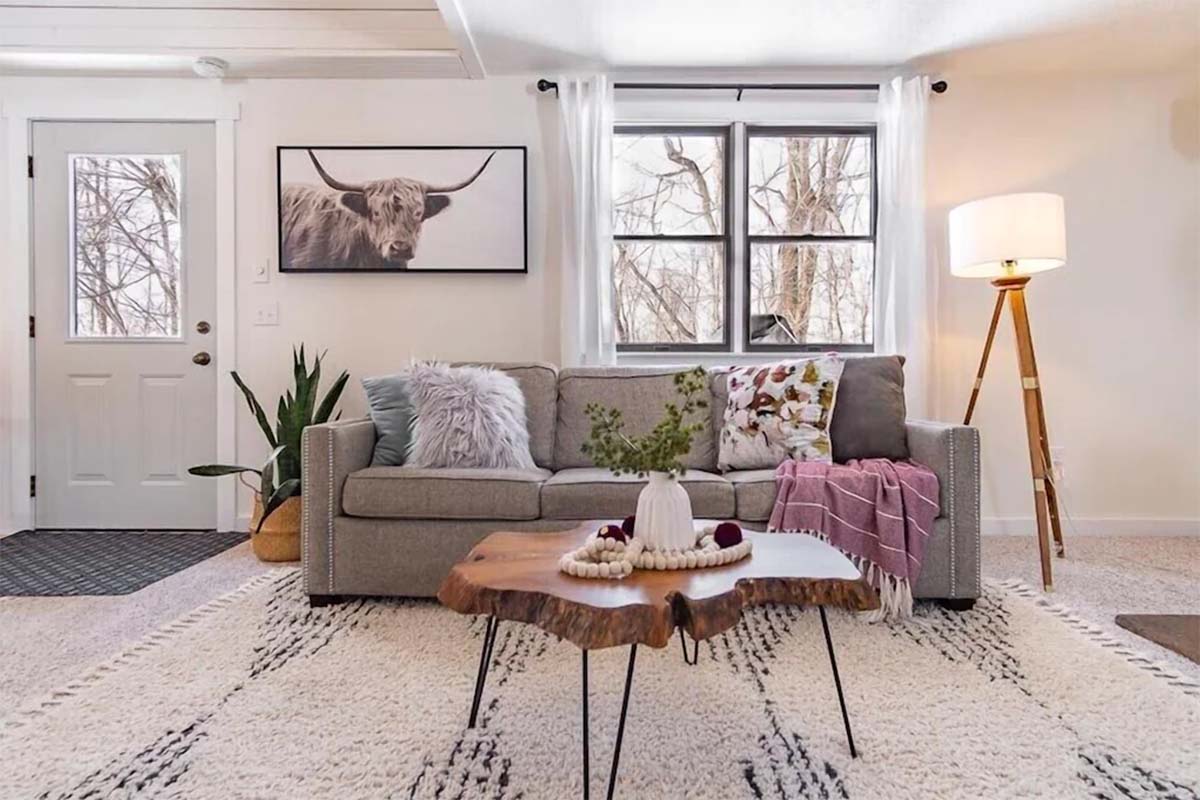 Why you should stay: A beautifully decorated two-bedroom cottage in the heart of the Amish countryside.
Location: Berlin
Sleeps: 6
Minimum stay: 2 nights
Rates from: $160/night
The Cabin at Scenic Hills is a modern cabin getaway that oozes cottage core aesthetic. Filled with eye-catching details like white shiplap walls and nature-inspired decor, you'll immediately feel right at home in rural northeast Ohio.
There are two bedrooms available for guests, one of which is lofted, as well as a pull-out sofa sleeper to accommodate additional guests. Surrounding the cabin is a grassy yard that shifts to woods for a bit of privacy. The property also features a deck, a fire pit, and an area where chickens, goats, and the host's cow roam.
Guest Amy shares, "This property is beautiful, sparkling clean, quiet and private. It feels remote while being very close to town and attractions. Everything you need is at hand inside the cabin."
Check Availability
Follow 'em: @TheCabinAtScenicHills
3. Scotch Pine at Trailside Lodging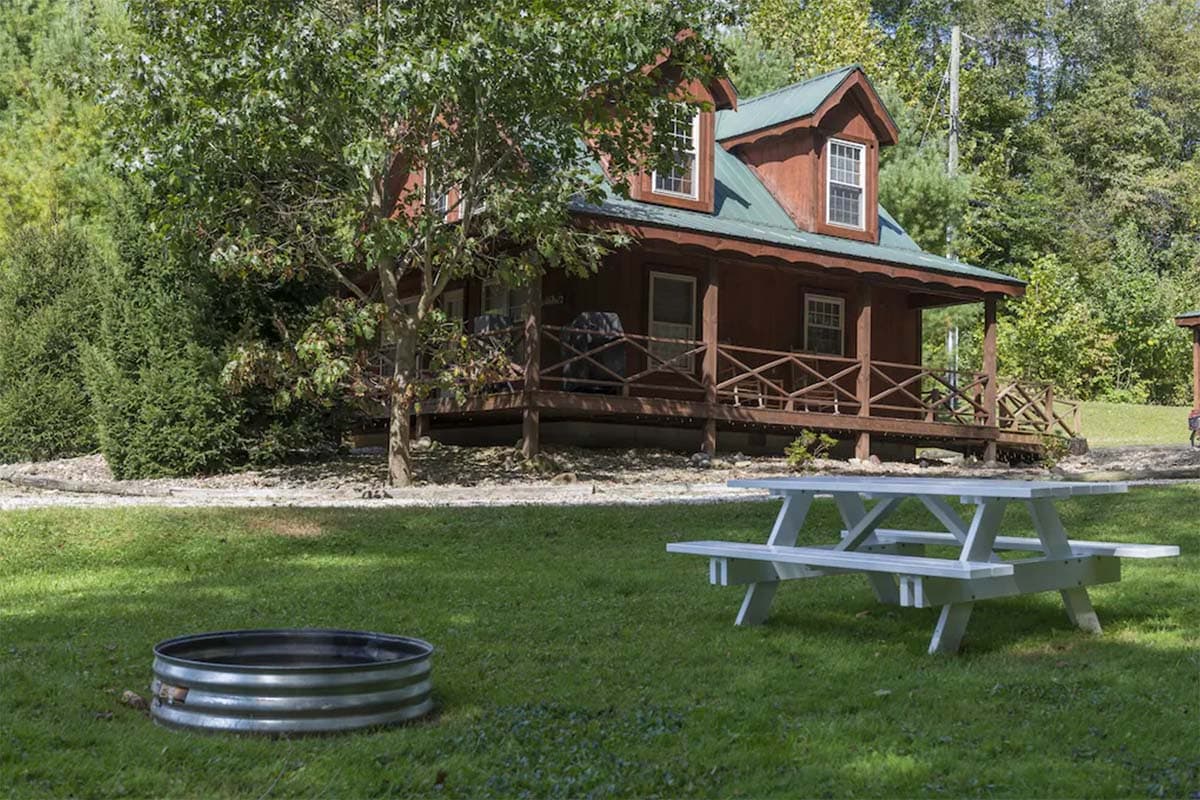 Why you should stay: An inviting little cabin near the Holmes County Trail that's a part of a cabin rental resort in downtown Millersburg.
Location: Millersburg
Sleeps: 6
Minimum stay: 1 night
Rates from: $208/night
The Scotch Pine at Trailside Lodging is one of five cabin rentals nestled on an expansive Amish country resort. It boasts unique accents like knotty pine walls, an iron spiral staircase, and vaulted ceilings. This two-bedroom cabin also features a front porch perfect for watching the sunset over the surrounding treetops. The hosts go above and beyond to provide friendly hospitality and the cabin has complimentary coffee and teas, plus Netflix access for family movie nights.
The yard is equipped with a fire ring, picnic table, and gas grill when the weather is warm enough for a cookout. You'll find Trailside Lodging conveniently located to the best restaurants in Millersburg, as well as a short drive from Amish country's other beautiful towns like Charm, Mt. Hope, and Berlin.
Check Availability
Related Read: 9 Secluded Cabins in Ohio for Private Getaways
4. The Overlook @ Brandywine Grove
Why you should stay: A modern cabin with a barndominium-style exterior and country decor interior surrounded by idyllic scenery.
Location: Sugarcreek
Sleeps: 7
Minimum stay: 2 nights
Rates from: $349/night
Nestled just outside of Sugarcreek, a small town dubbed the Little Switzerland of Ohio thanks to its Swiss heritage, The Overlook @ Brandywine Grove offers a charming cabin getaway. Wood ceilings, sliding farmhouse doors, and stone accent walls throughout the home create an attractive rustic charm to the interior.
This brand new cabin also features two bedrooms and an open ground floor where you can whip up a meal in the kitchen while enjoying the warmth of the living room fireplace. Other noteworthy amenities include the luxurious soaking tub in the master bathroom and the top floor balcony. Outside, enjoy a relaxing soak in the bubbling hot tub on the back porch. During your stay, be sure to make time for the World's Largest Cuckoo Clock found in downtown Sugarcreek.
Check Availability
Follow 'em: @BrandywineGrove
5. The Oasis Retreat Cabin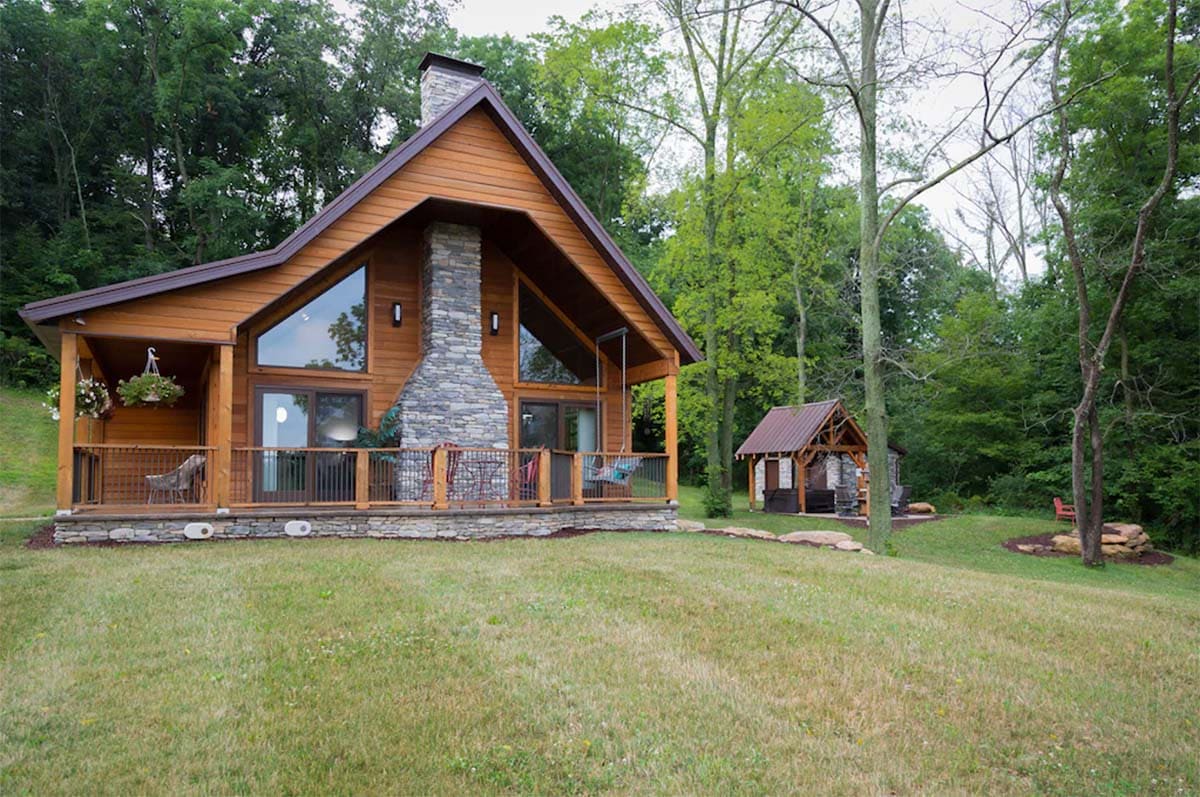 Why you should stay: A homey Amish country cabin rental with a sprawling yard and excellent outdoor amenities.
Location: Berlin
Sleeps: 6
Minimum stay: 2 nights
Rates from: $259/night
The Oasis Retreat Cabin is a three-bedroom located a short drive from the small community of Berlin. When you first walk in, the living room's floor-to-ceiling windows that frame the stone fireplace are the first to catch your eye. Additionally, the home's well-stocked kitchen and spacious island seating provide a lovely place where the family can cook together.
Out in the backyard, a pretty wooden gazebo sits on the paved patio where you can take your pick between lounging in the sun or the shade. Not to mention, the porch has a fire pit, hot tub, and a grill, ticking all the boxes for time well spent outside. If that wasn't enough, follow the marked paths to the property's idyllic pond, where a second pavilion, fire pit, and seating area await, ready to host.
Check Availability
Related Read: 13 Gorgeous Log Cabins with Private Hot Tubs Across the U.S.
6. Hummingbird Haven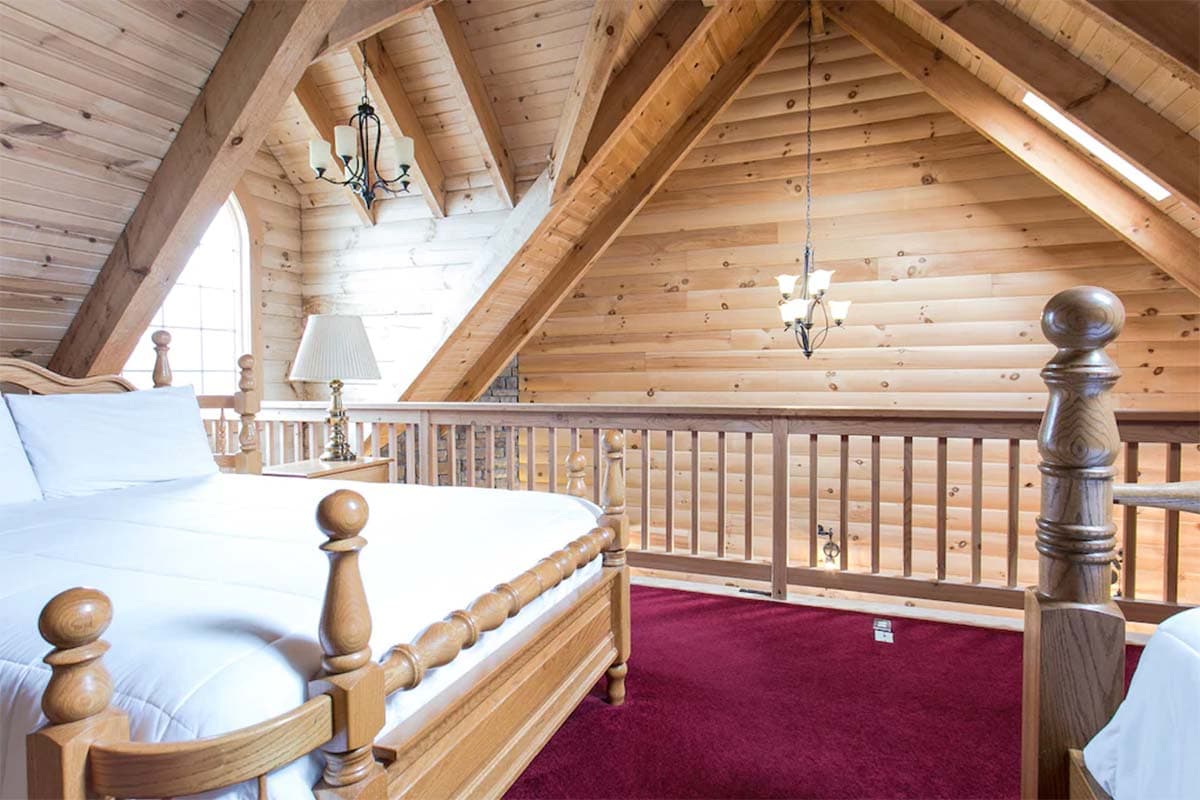 Why you should stay: A dreamy log cabin in a residential community not far from Amish Country's best shops and things to do.
Location: Berlin
Sleeps: 8
Minimum stay: 2 nights
Rates from: $228/night
At the Hummingbird Haven, guests enjoy spacious bedrooms and log cabin charm in the heart of Berlin, Ohio. This three-bedroom features a private bedroom, a lofted sleeping space with two beds, and a private basement bedroom with a jacuzzi tub. Additionally, the basement acts as a second living room and is furnished with an arcade game machine and plush sofa where you can curl up with loved ones.
Upstairs, relax in the cozy living room with a fireplace or whip up a meal in the small yet well-appointed kitchen. Hummingbird Haven is conveniently close to the main streets of Berlin, where your group can shop, dine, and visit local spots like the Amish Country Theater and Schrock's Heritage Village.
Check Availability
Related Read: 7 Hocking Hills Cabins with Hot Tubs for a Revitalizing Getaway
7. Dreamcatcher Cabin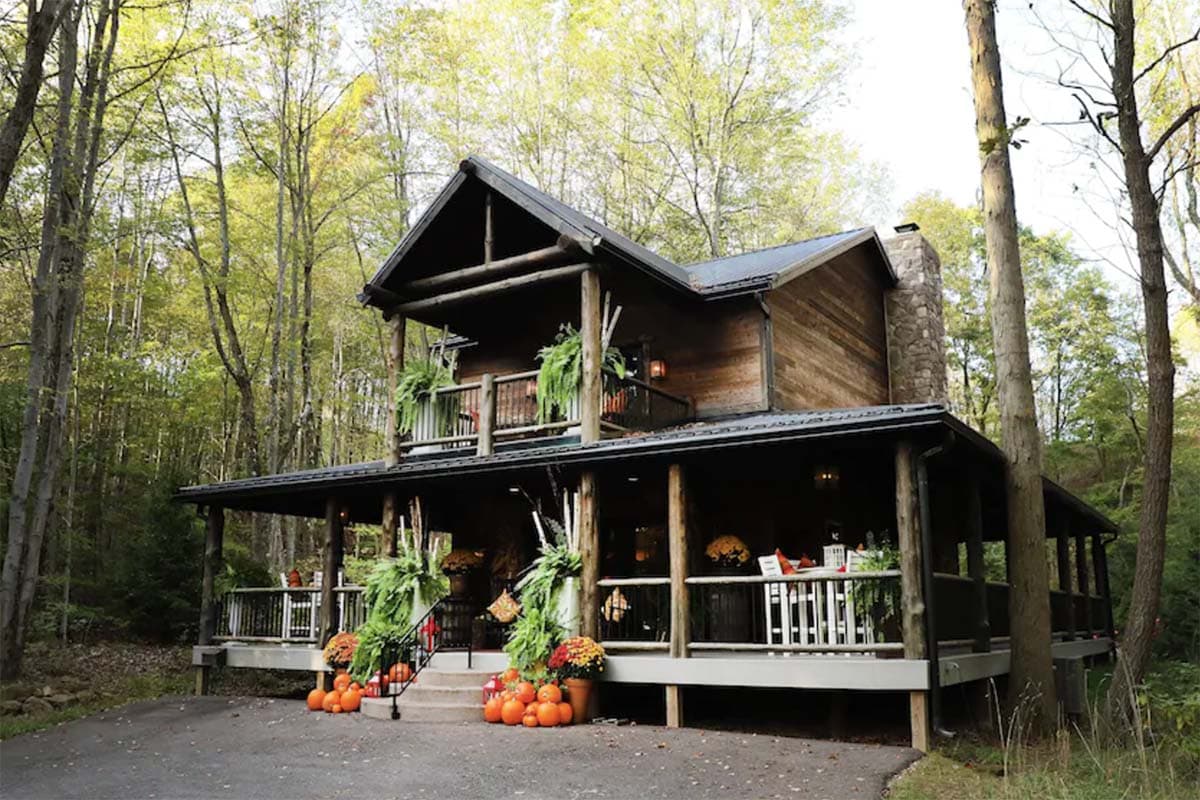 Why you should stay: A quaint wooden cabin part of the Columbia Woodlands resort where over 400 acres of peaceful woods welcome you to Tuscarawas County.
Location: Columbia
Sleeps: 6
Minimum stay: 2 nights
Rates from: $567/night
The Dreamcatcher Cabin is one of a few lovely vacation rentals at Columbia Woodlands. This particular cabin has two bedrooms and features an idyllic front porch complete with rocking chairs. Eclectic decor like antler chandeliers and a pleasant mix of textiles throughout the living spaces foster a warm atmosphere.
Other noteworthy amenities include the upstairs balcony, a wood-burning fireplace, and a Keurig coffee machine. Hospitality is the name of the game at Columbia Woodlands, and guests are treated to complimentary firewood, coffee, tea, and more. Throughout the massive property, you'll find fishing ponds, miles of hiking trails, places to take your canoe, and plenty more to stay happily entertained during your stay.
Check Availability
Follow 'em: @ColumbiaWoodlandsOfficial
8. Yellowbrick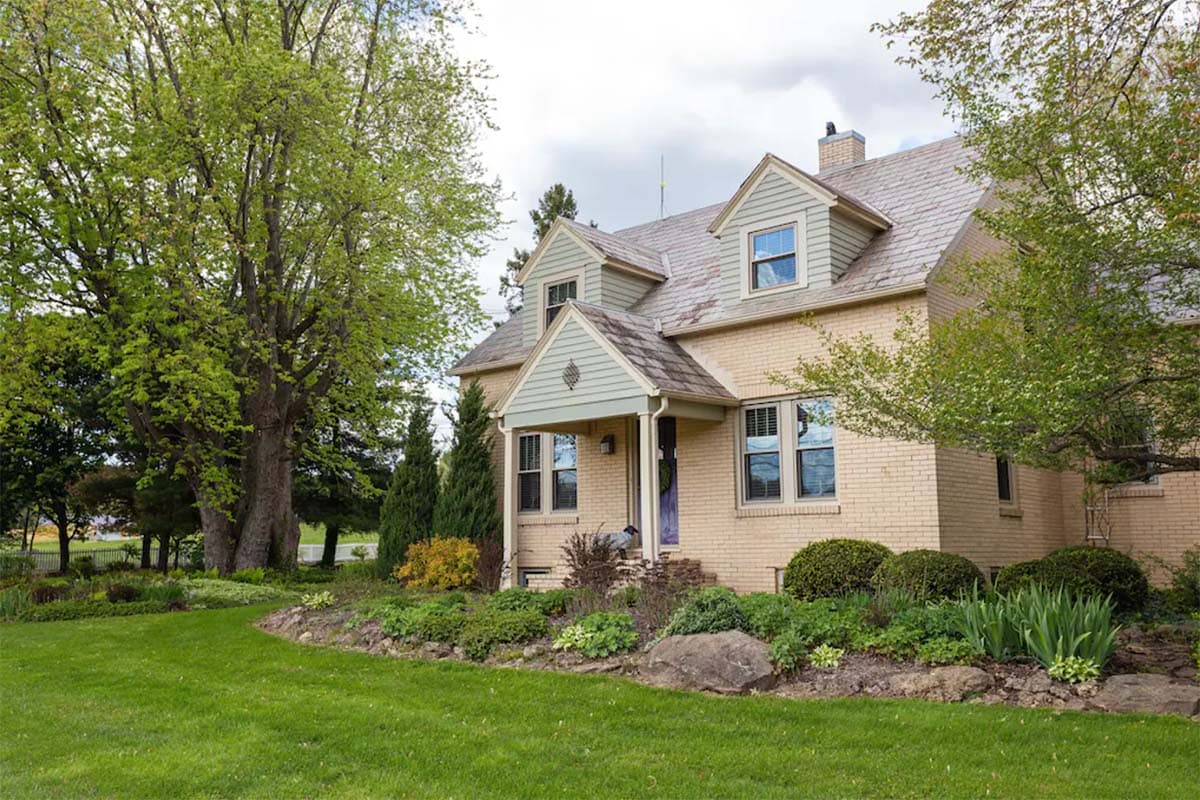 Why you should stay: A beautiful brick five-bedroom home featuring an expansive wooden deck and a hot tub.
Location: Dover
Sleeps: 10
Minimum stay: 2 nights
Rates from: $450/night
Aptly named, Yellowbrick is a charming cottage with a beautiful exterior made up of cream-colored bricks and pale sage accents. A lush garden surrounds the home and the quaint swinging bench on the front porch sets the scene for your stay. Inside, recent and modern updates marry perfectly with the home's antique furnishings and hardwood floors. A bright sunroom, an electric fireplace, and a recently updated kitchen provide ample space to lounge and relax.
The home sits on a six-acre yard that's surrounded by the scenic grounds of the Norma Johnson Wilderness Center. At this nature preserve, the hiking trails are free and open to all and offer the opportunity to catch sight of local wildlife, birds, and plants. Downtown Dover, one of the largest cities in Ohio's Amish Country, is a short drive away.
Check Availability
Related Read: 8 Magnificent Red River Gorge Cabins with Hot Tubs
More Amazing Stays
Get epic travel ideas delivered to your inbox with Weekend Wanderer, our newsletter inspiring more than 10,000 readers every week.
Was this article helpful?
---