We research, evaluate and select travel destinations based on a number of factors, including our writers' experience, user reviews and more. We may earn a commission when you book or purchase through our links. See our editorial policy to learn more.
---
Get some solid sleep after all that Adirondack adventuring you're about to do.
The village of Old Forge might be small, but it's big on outdoor adventures within the western Adirondacks. Hailed as the 'Adirondack Base Camp' it's a top choice for those looking to explore the region's hiking trails, lakes, kayaking spots, and so much more. Whether you're looking to go boating on the famous Fulton chain of lakes, leaf-peep from summit fire towers, zip along the snowmobile trails, or chase springtime's flowing waterfalls, Old Forge is a destination enjoyed all year round.
Having a comfortable place to stay after embracing the beautiful Adirondack nature each day is key. With a plethora of delicious eateries, fun bars, a waterpark, and even a historic movie theater, Old Forge is a popular spot to base yourself with easy access to all the outdoor fun the region has to offer.
These are the 9 best places to stay in Old Forge, New York.
Related Read: Gather Greene: A Nature Retreat in the Heart of the Hudson Valley
1. Pawnee Pines
Why you should stay: Quick access to the famous snowmobile haven, Trail 4.
Location: Old Forge, NY
Sleeps: 10
Minimum stay: 3 nights
Rates from: $399/night
The year-round, luxurious Pawnee Pines is a 4 bedroom gem with easy access to all of the area's best attractions. The rustic pine design will have you feeling that quintessential Adirondack charm. A large, log-style dining table is ideal for big family meals and the fireplace makes the common areas extra cozy, while still feeling spacious with an open-air loft ceiling concept. The outdoor space is just as enticing for making memories in a relaxing environment. Hang out on the deck with a picnic table and grill for meals, happy hour, sunsets, and birdwatching.
Venture to the semi-private beach for lake access by day during the summer season, and make s'mores by the fire pit at night. Winter beckons snowmobilers with access to Trail 4 in the large network of trails the area offers in close proximity. Warm up with some hot chocolate and the provided board games at the end of the day. Hikers and snowshoers will enjoy summiting nearby Bald Mountain, or hit the slopes at McCauley, the local ski mountain.
Check Availability
Related Read: The Top 10 Best Hikes in Upstate New York
2. The Forge Motel
Why you should stay: Central Location, walkable to downtown.
Location: Old Forge, NY
Sleeps: 2-4
Minimum stay: 1 night
Rates from: $80/night
The 1950's era Forge Motel is a renovated old school motel-style lodging with a top notch location to town. Located across the street from "The Pond" (southern start of the Fulton Chain of Lakes), most rooms overlook the water. So, if you want to just pull up an Adirondack chair on the lawn, the view won't disappoint…nor will the people watching. The marina across the street rents boats as well, so if you'd like to bop around the lakes, Rivett's Marine Recreations & Service is an easy choice.
Wake up to a complimentary breakfast in the lobby area and take a dip in the heated indoor pool or test the waters in the lake. Stretch your legs on area hiking trails such as the 2.5-mile loop around Moss Lake, Sis and Bubb Lakes, or summit Rocky Mountain in one-mile round trip, for sweeping views of Fourth Lake, Inlet, and the surrounding region. Whatever you choose to do, you'll be well-rested at The Forge Motel, a place people return to for repeat stays, year after year.
Check Availability
Related Read: Take A Dip In Upstate New York's Best Swimming Holes
3. Camp Cedar Spring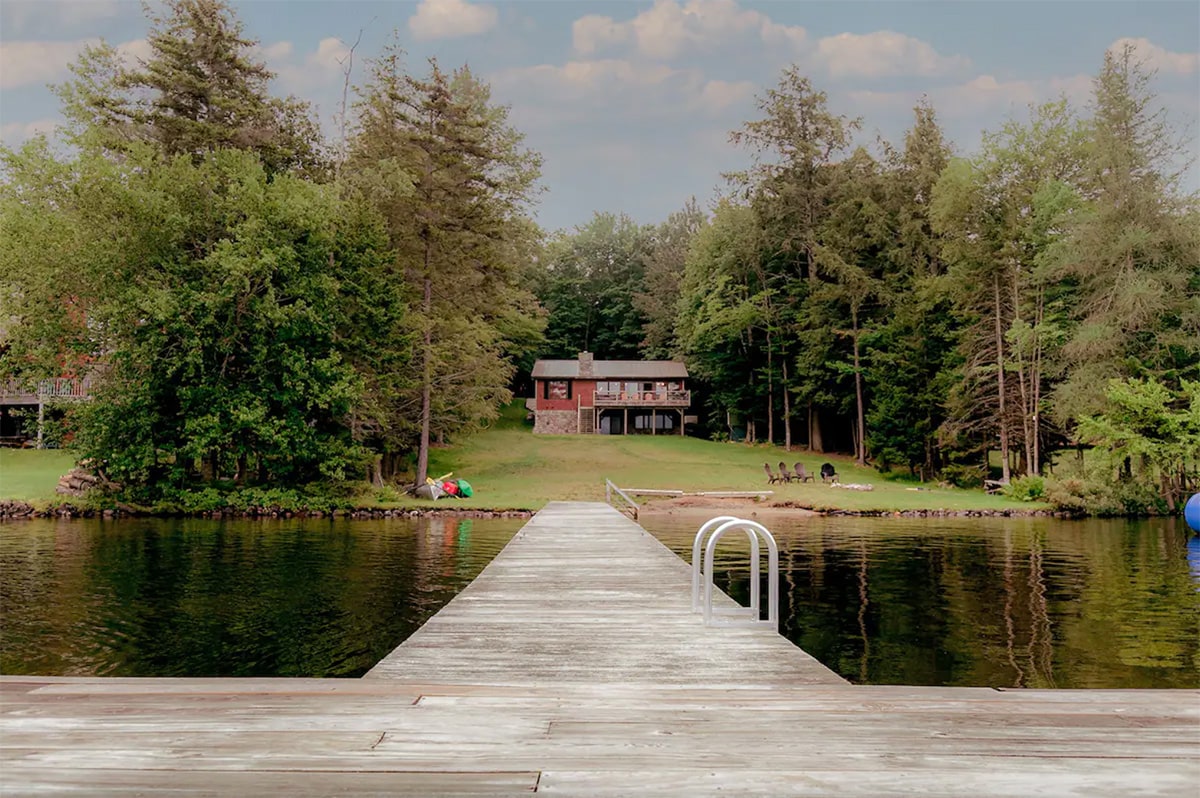 Why you should stay: Luxury on the lakefront.
Location: Fourth Lake, NY
Sleeps: 12
Minimum stay: 3 nights
Rates from: $375/night
You had us at "lakefront," Camp Cedar Spring. The "luxury" aspect is the cherry on top. This 4 bedroom renovated home sits smack dab on the edge of coveted Fourth Lake, a hotspot for activities and all-around scenery. Situated between Old Forge and the village of Inlet, you couldn't ask for a better location.
A gourmet kitchen and game room with a vintage pool table are just some of the highlights that await on the interior, and outside, you'll find a fire pit, private beach, and dock for your boat or jet ski. Take the kayaks out, go for a refreshing swim, or chill on the massive deck in a classic Adirondack chair and enjoy your drink of choice.
Tired of cooking? Stop into Inlet for a freshly made doughnut or eclair at Mary's White Pine Bakery, or a delicious dinner at The Woods Inn, which you can arrive by car or boat to, with their onsite dock.
Check Availability
Related Read: The 8 Best Camping Spots in the Adirondacks
4. Ledgerock Villa
Why you should stay: Secluded feel, yet walkable to downtown.
Location: Old Forge, NY
Sleeps: 6
Minimum stay: varies
Rates from: $598/night
The Ledgerock Villa is the definition of Upscale, located right on the waterfront and offering guests a luxurious stay. Composed of two different units, the yard and atrium are the only shared spaces, with plenty of room for everyone to enjoy the dock, kayaks, and gorgeous seating area. This property is available to rent year-round; winter is a snowmobiler's delight with access to the trails right across the street.
Walk into town for meals or shopping, head out on a hike or ski, or take a kayak or boat out for some fun on the lake. Stop into the View Arts Center and check out the current exhibits, or head to the old Strand Theater, a landmark of the area dating back to the 1920s. Families will enjoy easy access to Enchanted Forest Water Safari, one of the main attractions of Old Forge.
Check Availability
Related Read: 10 Beautiful Mountain Resorts in the Adirondacks
5. Great Pines Resort
Why you should stay: Bring Fido along with you.
Location: Fourth Lake, Old Forge, NY
Sleeps: 2-6
Minimum stay: varies
Rates from: $192/night
Perched on the shore of Fourth Lake, Great Pines resort has a wide variety of rooms to choose from, as well as an on-site bar and restaurant. With accommodations ranging from main lodge rooms to family cabins and even pet-friendly options, there are options tailored to fit your needs. Handmade cedar log furniture and balcony or porch seating helps to absorb all that Adirondack goodness.
The property is open for bookings year round and provides breakfast snacks and coffee for on-the-run guests as well as use of the onsite kayaks, stand-up paddle boards, and canoes. Whether you venture out to explore the lake, or sit on the beach with a book, summertime at Great Pines is a great time. BYOF (bring-your-own-firewood) to the two fire pits and roast some marshmallows as the sun goes down.
The shoulder seasons are paired down a bit, with the restaurant closing but with dining options in town and discounted prices, the cozy resort still delivers for snowmobilers and skiers looking to stay. Grab drinks and pub food at Daiker's, on Fourth Lake just off Route 28, get pizza at The Back Door, and don't miss The Waiting Room, a stylish and friendly espresso and cocktail bar in the heart of Old Forge. You'll swoon over the breakfast items, and yes, the tasty cocktails too.
Check Availability
6. Cozy Old Forge Home With Hot Tub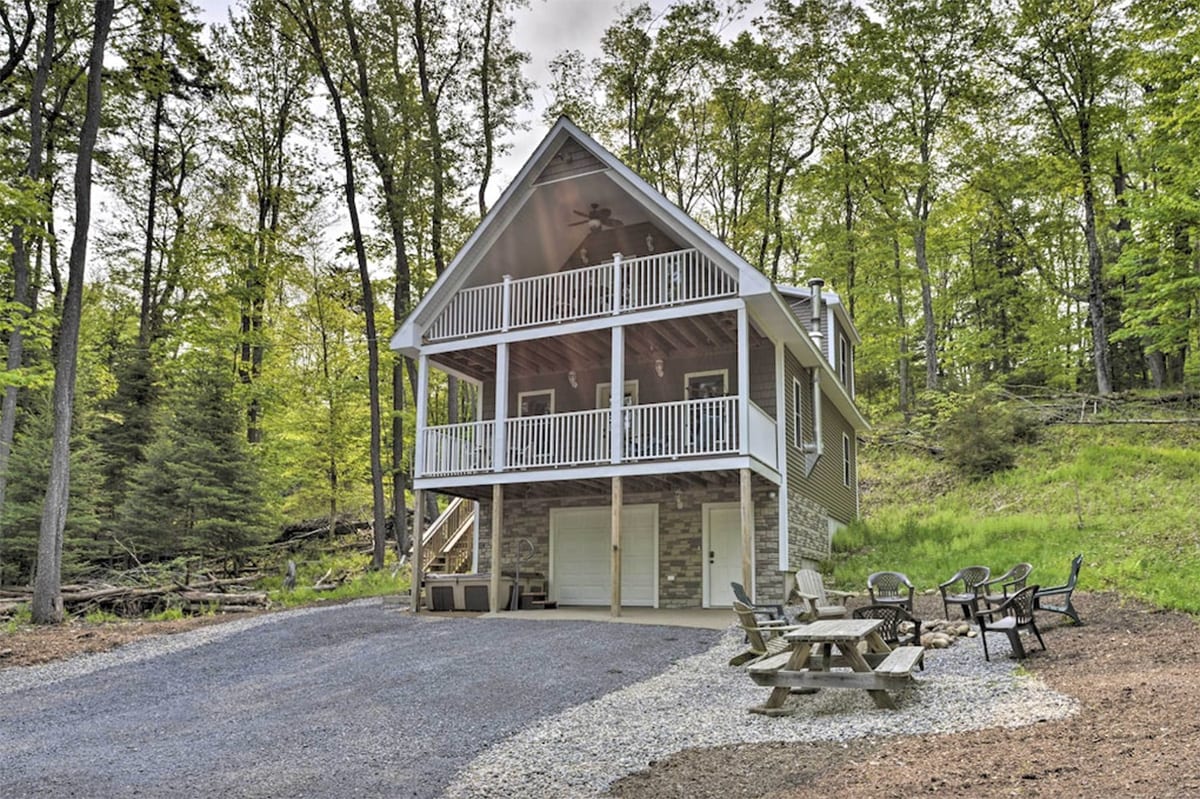 Why you should stay: It doesn't get much cozier than a hot tub and a fire pit.
Location: Old Forge, NY
Sleeps: 8
Minimum stay: 2 nights
Rates from: $312/night
Situated just a couple of miles from Old Forge, this cozy, two story home resides in a quiet neighborhood that will allow you to venture out to town and nearby attractions with ease. Rest and rejuvenation is at the center of this stay with an outdoor hot tub and fire pit. Two front porches are an ideal spot to get some fresh air with your morning coffee or a good book.
Play pool in the lofted game room on a rainy day and when the sun starts shining, indulge in the Adirondack lifestyle, with a paddle on the Moose River using the onsite 4-person canoe, or any of the other myriad of outdoor activities at your fingertips. Hike one mile up to the Rondaxe Fire Tower for sprawling views of the surrounding area. This rental is closed during the winter season, but spring through fall are some of the best times to enjoy Old Forge.
Check Availability
Related Read: 9 Incredible Cabins with Hot Tubs in Upstate New York
7. Water's Edge Inn
Why you should stay: You can't get any closer to Enchanted Forest Water Safari than this resort.
Location: Old Forge, NY
Sleeps: 1-6
Minimum stay: 1 night
Rates from: $205/night
Water park enthusiasts will be positively delighted to stay at the Water's Edge Inn, where all you have to do is cross the street to reach waterslide paradise. Owned by the park, there are special 'stay and play' packages available to maximize your budget for both lodging and waterpark fun.
A variety of room sizes cater to different groups, from double rooms to two bedroom suites. Take advantage of the complimentary breakfast and enjoy the views overlooking First Lake from either your private balcony or the common great room, where a fireplace keeps things cozy in the cooler months.
Walkable to downtown attractions, restaurants, bars, and shops are an obvious perk, as are the amenities such as pool, gym, and game room. If your main reason for visiting Old Forge is the waterpark, The Water's Edge Inn is a no brainer.
Check Availability
 8. Camp Chiffy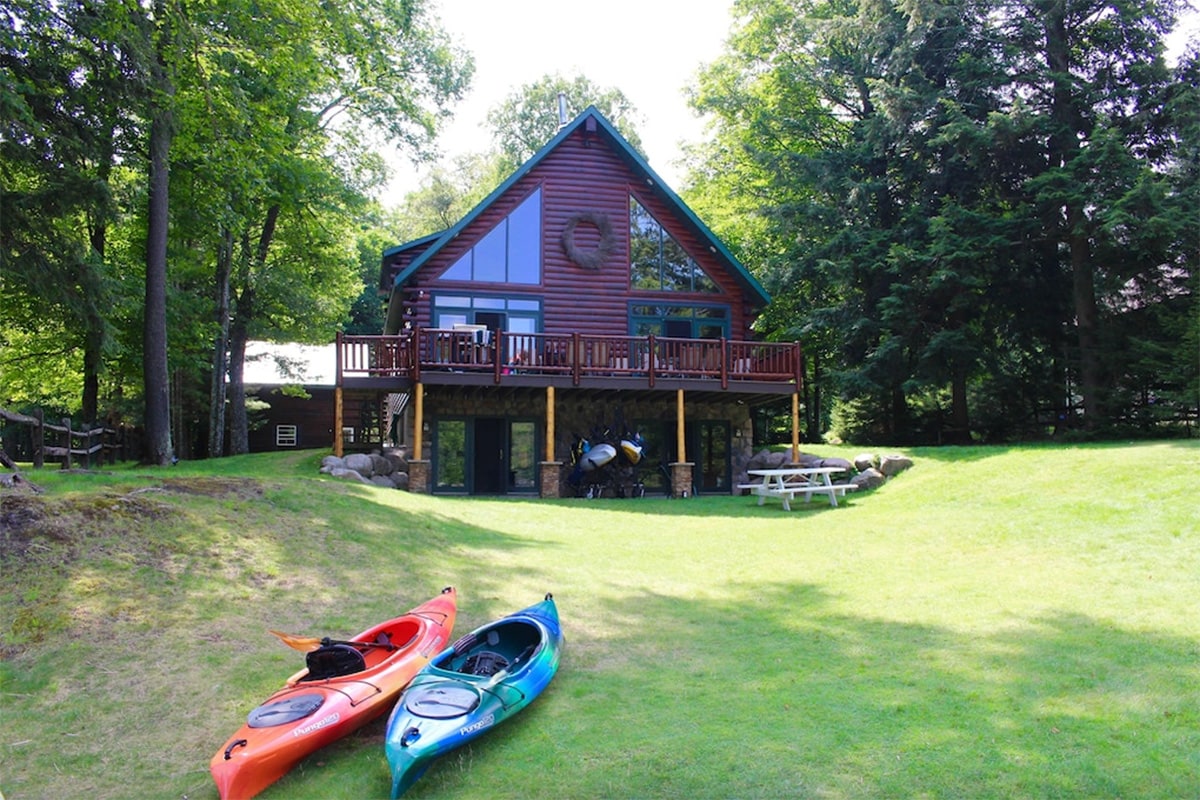 Why you should stay: Gorgeous views inside and out.
Location: Old Forge, NY
Sleeps: 12
Minimum stay: 7 nights
Rates from: $800/night
Camp Chiffy is a large, 5 bedroom log home on First Lake, located just north of Old Forge. Soak in those Adirondack views from the sprawling deck and beautifully manicured lawn. The vaulted ceiling design maximizes the scenic vista from inside, too. Classic Adirondack furnishings add to the ambiance throughout. The lower level leads out to the lawn; grab a drink from the indoor bar and head out to sit on the dock, paddle with the kayaks, or read a book in the shade from one of the Adirondack chairs.
When night falls, a gorgeous fire pit area is the perfect place to unwind with friends and family. Venture off property for some hiking or other outdoor activities and sip some brews post-adventure at the local Fulton Chain Craft Brewery in Old Forge. Hungry and don't feel like cooking? Venture up to the village of Inlet and have a fiesta at the new Archie's taco joint.
Check Availability
Related Read: 6 Amazing Waterfalls in The Adirondacks You Don't Want to Miss
9. Old Forge Camping Resort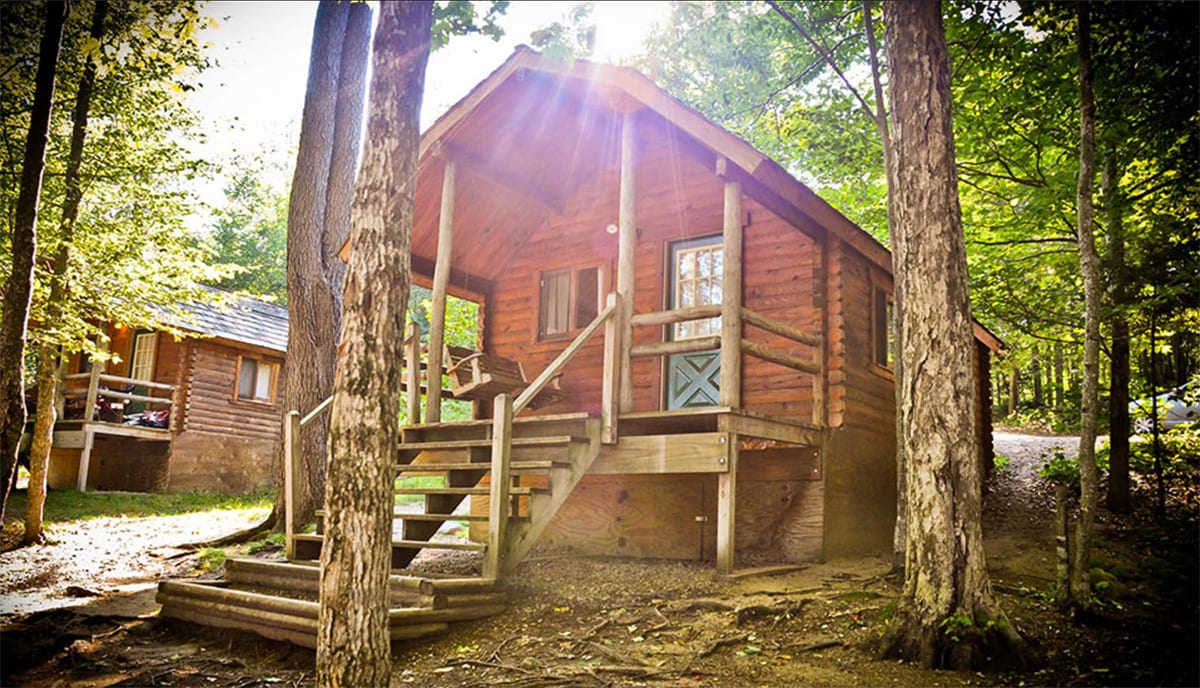 Why you should stay: Affordable with several lodging options.
Location: Old Forge, NY
Sleeps: small or large groups
Minimum stay: 2 nights for holidays or special events
Rates from: $35/night
For a lodging experience that gets you even more in touch with nature, Old Forge Camping Resort is a great choice. From tent and RV sites to cottages and cabins, this campsite is ideal for groups in search of an affordable stay with proximity to downtown Old Forge.
Located just outside of town on the northern end on Lake Serene, it's easy to access the water park, trailheads, restaurants and shops. Rent a boat, swim in the private resort lake, play volleyball, or stretch your legs on the nature trails.
For winter lovers, the resort offers direct snowmobile trail access as well as snowshoeing on the loop trail. The 'stay and play' package is available here as well for Water Safari.
Check Availability
More Incredible Getaways
Get epic travel ideas delivered to your inbox with Weekend Wanderer, our newsletter inspiring thousands of readers every week.
---