We research, evaluate and select travel destinations based on a number of factors, including our writers' experience, user reviews and more. We may earn a commission when you book or purchase through our links. See our editorial policy to learn more.
---
Slumbering in a treehouse is a surefire way to make your childhood dreams come true.
As anyone whose gone camping knows, being supremely comfortable while surrounded by nature encourages a special kind of relaxation that feels both organic and decadent. And no type of stay captures that blend better than a treehouse. Fortunately, the diverse and gorgeous landscape of New York happens to host an abundance of these gems. From cozy digs to rustic and remote rentals, sleeping perched in the branches of Mother Nature's artwork has never looked so good.
These unique New York treehouse rentals allow your whole stay to be an immersive outdoor adventure bound to satisfy your inner 10-year-old. Roll out of bed and set foot in the Adirondack or Catskill mountain ranges with incredibly easy access to the state's best natural attractions.
You can sip coffee from the deck of your arbor perch as you plan your day exploring New York's fresh air. And after a full day, plan to crack open a local brew or pour a glass of vino from a nearby vineyard in celebration of a successful day in the great outdoors.
For a blend of lodging, nature, and maybe even some mountain magic, look no further than these eight amazing treehouse rentals in New York – proof that sleeping in nature doesn't mean you have to skimp on comfort.
Related Read: 11 of the Coolest New York Yurt Rentals
1. Ultra Luxury Remsen Treehouse
Why you should stay: A cable bridge and waterfall will have you feeling like a kid again. A fancy kid.
Location: Remsen
Sleeps: 4
Minimum stay: 1 night
Rates from: $495/night
This ultra luxury treehouse in Remsen, New York defines "attention to detail" in the rental realm. Your adventure begins before you even enter the structure: you'll need to cross the 80-foot-long suspension bridge to even land in the immaculately designed space.
Touches like Edison lighting and stairs crafted from the property's trees are a solid cocktail of modern and rustic. The primary bedroom makes your dreams of a king size bed in the trees a reality. Giant glass windows serve as a portal to nature, even when you're cozied up inside, and if that wasn't enough, you've got two stories of treehouse to explore.
Chill on the porch while the waterfall provides a relaxing soundtrack or take advantage of the lake access just a hop and a skip down the road. The treehouse's location at the southern edge of the Adirondack Park will have you choosing between hiking, boating, and fishing in the summer months, and snowshoeing, skiing, or hitting the nearby snowmobile trails in the winter season. Just be warned that chilling in the lap of treehouse luxury will make it very hard to leave.
Check Availability
Related Read: 12 of the Best Airbnbs in the Adirondacks
2. Willow Treehouse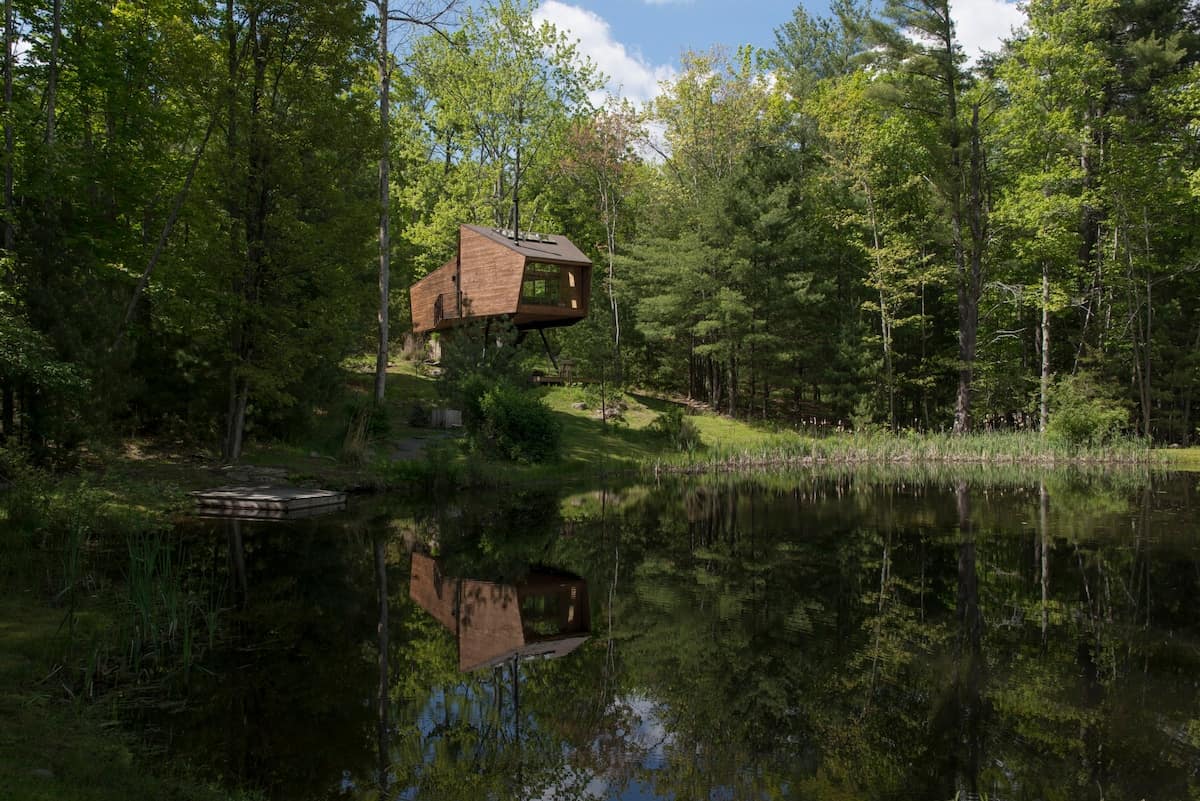 Why you should stay: A unique design perched next to a pond: there's a reason it's so popular.
Location: Willow
Sleeps: 2
Minimum stay: 2 nights
Rates from: $382/night
The Willow Treehouse has all the ingredients for a popular rental. And it is – in fact, it's the most popular treehouse rental in New York state. On 34 acres, this cozy space packs a punch with views from almost anywhere you park yourself inside.
It's so inspiring that you might even turn into an artist during your stay. Enter the structure via ladder for that feeling-like-a-kid-again vibe, where you'll be treated to an immersive nature experience within the living, kitchen, and bedroom loft area. Outside, choose between a dip in the swimmable pond or a leisurely soak in the property's wood-fired hot tub. You can't go wrong here.
Sit back and relax on the deck overlooking the pond, though if you're looking to explore a cute (and famous!) town, Woodstock is a mere 15 minutes away. Browse small, locally owned shops, stop by the R & R Taproom, pick up provisions at Woodstock Meats, and hole up in this amazing treehouse to cook some dinner. Because when you rent the most popular New York treehouse available, you want to spend every minute you can enjoying it.
Check Availability
Related Read: 10 Romantic Getaways in the Adirondacks for a Two-Person Stay
3. The Magical Treehouse
Why you should stay: Unwind in this remote and rustic magical treehouse near tons of hiking and rec.
Location: Franklin County
Sleeps: 2
Minimum stay: 2 nights
Rates from: $250/night
In the northern portion of the Adirondack Park, The Magical Treehouse is the perfect place to get away from it all. The structure's circular design will make you feel like you're being hugged by nature, completely surrounded by gorgeous scenery.
Choose a book from the treehouse's literary selection built into the walls and throw your feet up with good read. A separate cookhouse with everything you need is just steps away, so you can put on your chef's hat and serve up some delicious camp fare. When it's time for your inner child to come out, play on the treehouse swing, tell fireside camp tales, and maybe even spot the resident bald eagle known to hang out on the property.
Saranac Lake is less than a half hour away with plenty of outdoor exploits and restaurants. But why leave when adventure abounds right outside the treehouse door? You can lace up your hiking boots and explore the five miles of trails straight from the property.
Try your hand at fishing in the Osgood River, or hop on horseback to gallop along the area riding trails. Kayaking and mountain biking are also options – in fact, pretty much any outdoor activity is. Oh, and don't forget s'mores makings, of course. When the sun tucks in for the night, enjoy the fact that you're in a fantastic spot for stargazing thanks to epic night sky views.
Check Availability
Related Read: 11 Beautiful Cabin Rentals in the Adirondacks
4. Ash Hill Treehouse
Why you should stay: Fall deeper in love to the sounds of nature.
Location: Port Leyden, New York
Sleeps: 2
Minimum stay: 1 night
Rates from: $275/night
You'll fall head over heels for the new Ash Hill Treehouse, perched between a gorgeous pair of trees on 15 acres of scenic property. Start your romantic journey on the 100-foot-long storybook bridge, lined with string lights straight out of a fairytale.
Your cozy one-bedroom abode awaits to wow you with panoramic forest views. You can even bring Fido along, making it one of the few New York treehouse rentals that accommodates furry friends.
In the summer, the nearby woods and picturesque Moose River beg to be explored, with a plethora of hiking trails available within arm's reach. The winter months promise fantastic snowmobiling, snowshoeing, and cross-country skiing all within close proximity to the home.
The lively town of Old Forge is just a quick drive away where you'll find plenty of shops and restaurants – try breakfast or lunch from Dough-A-Deer bakery or turn up the romance with a stellar dinner at Mister's Bistro. You can get on the water on the Fulton Chain of Lakes or stretch your legs on hiking trails like Rocky or Woodhull Mountain. Or, perhaps you might just choose to stay put in your tranquil treehouse perch and enjoy being away from it all.
Check Availability
Related read: 10 Glamping Spots Near NYC for a Wooded Escape
5. Goodhall's Treehouse Cabin by the River
Why you should stay: Go for the nature sanctuary, stay for the reading nook.
Location: Taberg, New York
Sleeps: 2
Minimum stay: 1 night
Rates from: $139/night
Be one with nature (or at least very close) with a stay at Goodhall's Treehouse Cabin by the river. This two-story rustic treehouse will leave you swooning as soon as you set foot on the second-story open-air balcony overlooking the rich pine forest.
The home is surrounded by trees and as a bonus, it's pet-friendly. Rustic meets modern in this quaint structure complete with electricity, heat, and a sawdust toilet (though a shared full bathroom with a shower is just steps from the cabin.) A kitchenette, sleeping loft, and reading nook round out the cozy feel of this treehouse/cabin hybrid.
But back to the second-floor balcony: this is the pièce de résistance for nature lovers. Sip a coffee and discuss the day's adventures, wave to passing deer, dive into a good book, or cheers to happy hour from your elevated outdoor roost.
Nearby activities include dozens of hiking trails, chilling at the fire pits, fishing, kayaking, and tubing on the Moose River, or just wandering the property's gardens. Winter activities are just as exciting, too: snowshoeing, downhill and cross-country skiing, and snowmobiling are all within reach. Pinch yourself – you're finally relaxed.
Check Availability
Related read: 10 Beautiful Mountain Resorts in the Adirondacks
6. Frog's Leap Treehouse
Why you should stay: Lake and ponds galore.
Location: Hemlock, New York
Sleeps: 3
Minimum stay: 2 nights
Rates from: $250/night
Pop into the trees within the Finger Lakes region of New York with a stay at the Frog's Leap Treehouse. This two-story solar-powered treasure is off-grid, allowing you to unplug and unwind. The indoor living space and outdoor deck are the perfect spots to take in the beautiful surroundings.
Best of all, you'll sleep like a baby in the cozy upstairs loft. In the midst of 100 acre woods, you'll enjoy a fully immersive nature experience with a big bonus: water, water, water, and more water. Two sizable ponds and the nearby Honeoye Lake offer a plethora of opportunities for water-based activities. Canoes and kayaks are provided so you can paddle your way to relaxed bliss.
Forget your fishing poles? No problem; there's a couple available with bait to boot (large-mouth bass are most common.) There's a good chance you'll see some of the local residents as well; deer, fox, frogs, turtles, and blue heron are known to say hi every once in a while. If you don't feel like driving, no problem: you can stretch your legs on hiking paths without even leaving the expansive property.
And don't forget that you're in the Finger Lakes wine region. Head to the nearby O-Neh-Da or Eagle Crest Vineyards for a sampling of the area's varieties. Remember to grab a bottle to enjoy back at your wooded digs.
Check Availability
Related Read: 11 Unique Places to Stay in New York State
7. Cozy Catskills Treehouse
Why you should stay: Hit the various hiking trails before cooling off in the private swimming hole.
Location: Palenville
Sleeps: 3
Minimum stay: 2 nights
Rates from: $150/night
Known for the family-run restaurant that previously fed the region, the idyllic Fernwood property now hosts the Cozy Catskills Treehouse. This one-bedroom abode in the trees is an ideal place to unwind within nature. You'll melt stress away with impressive views and the sounds of a waterfall – nature is literally at your doorstep with this rental.
With access to a multitude of nearby hiking trails, the treehouse is strategically placed to explore the Catskills on foot. Head to the famed Kaaterskill Falls, a well-known cascade located in close proximity to the treehouse. Or head out on the Devil's Path Trail, a more challenging trek within the nearby Indian Head Wilderness. At the end of an adventurous summer day outdoors, you can cool off in the property's private swimming hole.
Wintertime means skiing at Hunter Mountain and snowshoeing the mountain trails, followed by a cup of hot chocolate in the cozy treehouse to round out your day. If you're looking to get a taste of small town Upstate New York, the nearby hamlets of Tannersville, Woodstock, and many others are oozing with quaint vibes.
Check Availability
Related read: 7 Incredible Glamping Spots in The Catskills
Explore New York & Beyond
Sign up for Weekend Wanderer to join thousands of readers getting epic travel and gear ideas every week.
---