We research, evaluate and select travel destinations based on a number of factors, including our writers' experience, user reviews and more. We may earn a commission when you book or purchase through our links. See our editorial policy to learn more.
---
If you're looking for the perfect weekend getaway, you can't beat New Hampshire's lake, ocean, or mountain views.
It's true, you can surf in the ocean, flyfish in a lake, and climb to the top of the northeast all in a day (although that isn't recommended) in New Hampshire.
The Granite State is home to a sliver of coastline, nearly 1,000 lakes, and close to 1,800 named mountains. You'll never be left wanting when it comes to any type of adventure regardless of the time of year you visit.
So whether you're looking for a luxurious barn-turned-castle in the White Mountains, a lakefront retreat, or a place for the whole family, there's something for everyone on the list below.
Related: 8 Beautiful New Hampshire Scenic Drives Worth Exploring
1. Modern Castle on Squam Lake
Why you should stay: a private hot tub built into the wrap-around deck.
Location: Moultonborough
Sleeps: 10 guests
Minimum Stay: 2 nights
Rates from: $1,999/night
Set in a tranquil and secluded part of Squam Lake, this luxurious home takes the cake for extravagance. Its one-of-a-kind architecture has been featured in Boston Magazine and earned the Merit Award for Excellence in Architectural Design.
But I don't have to tell you that in order to see its high-class demeanor. During your stay, grab a glass of your best champagne and watch the sunset over the lake on your private dock (which is full of the gear you'll need for any water activity).
Check Availability
Related Read: 10 Best Spots to See Fall Colors in New Hampshire
2. Charming Cabin in the Woods
Why you should stay: private yet close to town.
Location: Gilford
Sleeps: 8 guests
Minimum Stay: 3 nights
Rates from: $388/night
Exposed beams, stone fireplace, and faux fur blankets create a cozy atmosphere for this secluded cottage. The cottage is only a hop, skip, and a jump from town (and a private beach!) making it easy to access the shops and restaurants.
Stroll along Union Ave in downtown and grab some grub at Cactus Jack's. It's great for the whole family, which is especially good since this rental can hold two families of four! Save room for dessert and grab all the makings for s'mores to have around your fire pit!
Check Availability
Related Read: 9 Must-Do Hikes in New Hampshire
3. Lakeside Chalet
Why you should stay: there's a large wood-burning fireplace that hangs from the high ceiling to keep you warm on cold winter days or summer nights.
Location: Barnstead
Sleeps: 8 guests
Minimum Stay: 4 nights
Rates from: $572/night
This adorable rental looks as if it's been plucked from the Swiss countryside and plopped into a New Hampshire lake community. Although this chalet-style cottage has everything you might need to rest your weary head, its central location makes it a true gem.
It's just a few miles from Mt Kearsarge State Forest Park and only 10 miles from the southern shores of Lake Winnipesaukee. But if the city is more your thing, the capital of Concord is just to the southwest. For some of the best food, order from Revival Kitchen: a true farm-to-table experience.
Check Availability
Related Read: The 11 Best Cabin Rentals in New Hampshire
4. Peaceful Lakefront Home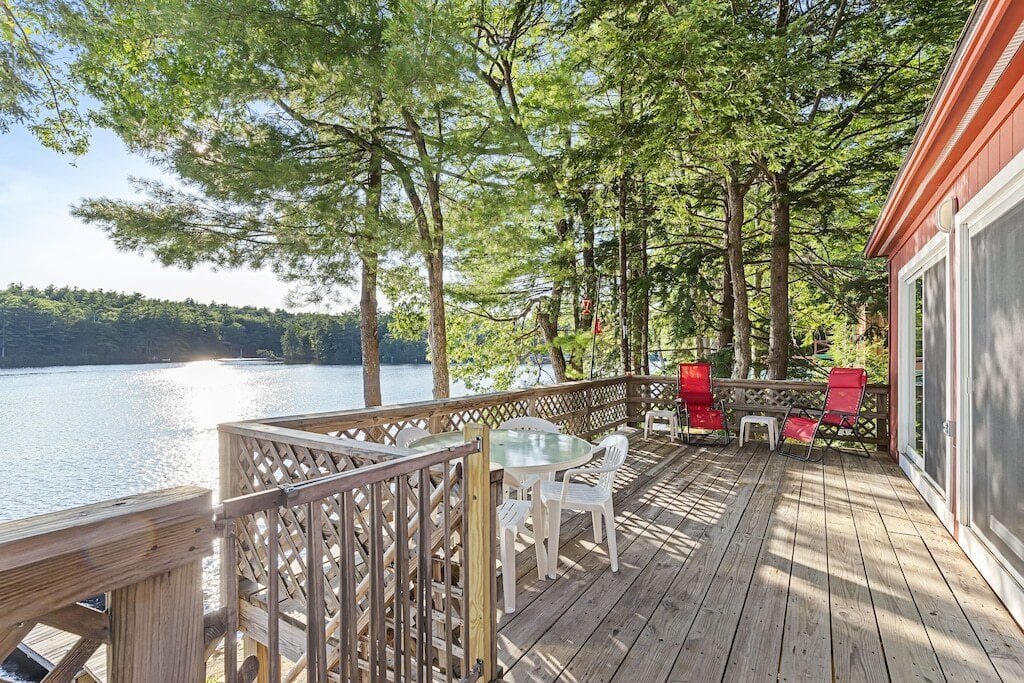 Why you should stay: your very own private beach.
Location: Northwood
Sleeps: 6 guests
Minimum Stay: 1 night
Rates from: $369/night
There is no public boat launch on Mendums Pond where this quaint house sits. This means your private beach is truly private as no one paddling by will be anyone except those who own surrounding property.
"This lake is not overpopulated or busy, so be ready for a nice relaxing vacation."
Try your fishing skills while paddling on the provided kayaks or simply chill on the deck as the sun sets.
Check Availability
Related Read: 11 Relaxing Swimming Holes in New Hampshire
5. The Black Barn
Why you should stay: in-house telescope to view the resident loons.
Location: Newbury
Sleeps: 10 guests
Minimum Stay: 3 nights
Rates from: $450/night
This secluded spot combines modernity with rustic lake living. Located on the highly sought-after Bowles Road, the Black Barn boasts privacy with the dozens of pine trees surrounding the property.
Feel like a tree climber when you walk up the outdoor, spiral staircase to your second story deck. The views are unparalleled. It'll be hard to pick up your jaw from the floor if you stay here.
Check Availability
Read More: 20 Honest Pros & Cons of Living in New Hampshire
6. 5 Starr Cottage
Why you should stay: paddle out to a private island to pick up blueberries before breakfast.
Location: Enfield
Sleeps: 6 guests
Minimum Stay: 2 nights
Rates from: $800/night
Kitchen that looks as if it's out of Country Home magazine? Check. Antler chandelier? Check, check. Glass wood stove? Yup, that too!
This luxurious contemporary rental has it all! Although this home is located in the middle of an outdoor lover's paradise, the coziness and grandiosity will make you never want to leave. If you do get a little bit dirty while adventuring, don't worry: there's an outdoor shower for your use.
Check Availability
7. Four Seasons Lodge
Why you should stay: a spiral staircase leads you to a romantic master loft.
Location: Bethlehem
Sleeps: 7 guests
Minimum Stay: 2 nights
Rates from: $182/night
Is this a hunting lodge deep in the forests of Montana? Because this cool rental has all the quaint and quirky markings of one. With a carriage wheel as a chandelier and antlers scattered throughout the home (including one made from a bowl!), you'll wonder why you didn't bring your shotgun.
Although, FYI, hunting is not allowed on the property. But it's a great basecamp for skiing in the winter and hiking in the summer.
Check Availability
Related Read: 10 Most Unique Places to Stay in New Hampshire
8. Well Sweep
Why you should stay: there's an observatory. AN OBSERVATORY.
Location: Newbury
Sleeps: 24 guests
Minimum Stay: 3 nights
Rates from: $482/night
It might be a 108-year-old renovated barn, but this beautifully restored historic rental is anything but rustic. The converted barn was part of the original estate of John Milton Hay who was a private secretary to Abraham Lincoln (among other highly-acclaimed offices).
But don't worry, you won't have to remember everything you learned in 7th grade history class to enjoy this incredible place. But reaching back to your basic math skills, it's easy to calculate that this is a STEAL of a place for $20/night per person. What are you waiting for!?
Check Availability
9. Renovated Ocean-View Getaway
Why you should stay: keep the kids entertained with a Foosball table in their bunk room.
Location: Rye
Sleeps: 8 guests
Minimum Stay: 2 nights
Rates from: $406/night
New Hampshire only has 18 miles of coastline, which means this cute getaway with an ocean view is very rare! The home is full of light, calm colors that wrap around you making you feel instantly at ease.
The sea breeze hits you through the large windows around the home while you're making dinner, drinking coffee at the dining table, or resting your head after a day at the beach. The wicker outdoor furniture fits nicely into this serene rental and makes you feel as if you're only steps from the beach.
In fact, you are only a half-mile from Wallis Sands State Beach.
Check Availability
10. Secluded Log Cabin
Why you should stay: unprecedented views of Mount Washington and Mount Chocorua.
Location: Ossipee
Sleeps: 10 guests
Minimum Stay: 3 nights
Rates from: $625/night
Featuring 400' of lakefront living, this private and serene log cabin is your basecamp for romping around the White Mountains. The 25' ceilings in the great room are ideal for your taller friends and family (perhaps taking a break from their job at the circus).
The fireplace is exactly what you'll need when your wife complains for a fourth time that her feet are cold. Even grandpa will be happy when he sees the poker table; just remember to bring the dram of whiskey and cigars to round out the evening.
But nothing will beat the private beach. Kids can play in the sand while you swing in the hammock and rest your eyes.
Check Availability
11. The Doll House
Why you should stay: the idyllic porch swing and surrounding gardens.
Location: Plymouth
Sleeps: 4 guests
Minimum Stay: 2 nights
Rates from: $155/night
Don't worry, this historic tiny home isn't overflowing with creepy dolls who's eyes seem to follow you wherever you go. Instead, you'll be whisked away to a dreamlike home complete with all the treats and trinkets.
And if you want to pick up your own trinkets, head to downtown Plymouth which is only a few blocks away. If funky stuff is what you're after, check out Boomerang. Or if you're wanting a perfect outfit to stroll around town in, Off The Hanger is a local favorite.
Check Availability
12. Lakes Region Cottage
Why you should stay: one of the largest lake docks I've ever seen.
Location: Center Harbor
Sleeps: 6 guests
Minimum Stay: 3 nights
Rates from: $347/night
This waterfront cottage gets flooded with natural light despite being tucked into the surrounding forest. If water activities are on your bucket list for a vacation, look no further than New Hampshire's Lakes Region. Families love this spot for its fabulous outdoor space and ample room to spread out inside.
The live-edge breakfast bar adds a nice touch to the already beautiful décor. And the newly-renovated cedar deck has more than enough room for kids playing and adults relaxing!
Check Availability
Explore New England
Sign up for Weekend Wanderer to join thousands of readers getting epic travel ideas every week!
---