We research, evaluate and select travel destinations based on a number of factors, including our writers' experience, user reviews and more. We may earn a commission when you book or purchase through our links. See our editorial policy to learn more.
---
With a state motto of "Live Free or Die," you can bet that there's some unique places to stay at in New Hampshire.
But I really hope you don't get harmed in any way when visiting the Granite State. It would be a real shame since there are a multitude of things to do and you should get a chance to do them all.
Want to have some death-defying adventures? Head up Mount Washington via Tuckerman's Ravine. Want to freely eat anything your heart desires? Roam around Portsmouth for some of the best food in the state. Or perhaps you've been aching to hit up every covered bridge in the state?
Whatever it is you want to do, make sure you're staying somewhere really unique to come home to every night. New Hampshire has boutique hotels, treehouses, houseboats, and even a haunted house to use as your basecamp for all your adventures.
So live free but don't die in one of the recommendations below.
Related Read: 7 Weekend Trips From NYC With or Without a Car
1. The Harborside
Why you should stay: it's a houseboat, need I say more?
Nearest town: Laconia
Sleeps: 4 guests
Minimum Stay: 1 night
Rates from: $450/night
Why settle for a lakeside or seaside rental when you can literally be ON the water? And with The Harborside, there's no need to settle! This houseboat is located on New Hampshire's largest lake, Lake Winnipesaukee, where there is no shortage of water activities.
You can head down to Weirs Beach (it's a two-minute walk) to swim or rent some SUPs or kayaks at the marina. If dry land is more your style, take a stroll along Weir Boulevard to try your hand at some arcade games. You could also stay at the marina and enjoy the pool, hot tub, or volleyball court. Better yet, relax and unwind at the 27-foot sailboat-turned-bar counter at the marina's Anona Bar.
Check Availability
Related Read: 10 Terrific Tiny House Rentals in Massachusetts
2. The Glen House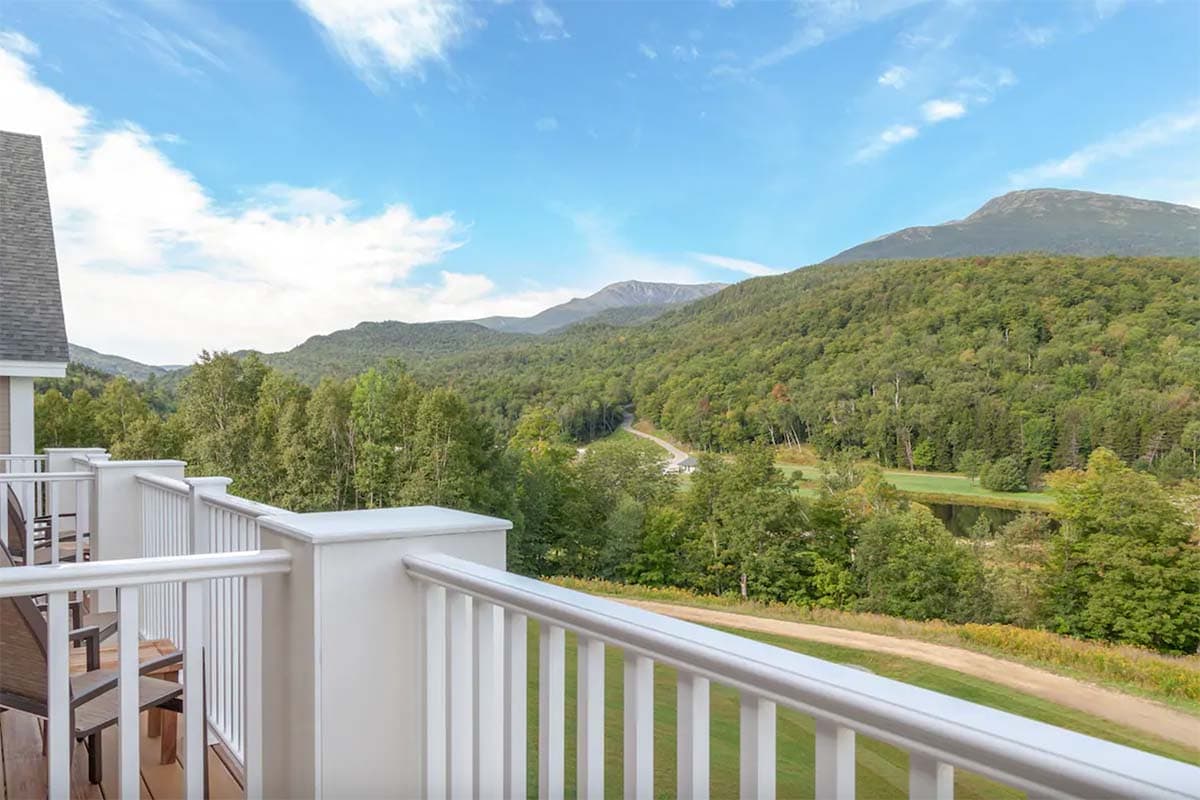 Why you should stay: super eco-friendly and dark-sky compliant for all the tree-huggers out there.
Nearest town: Gorham
Sleeps: 4 guests
Minimum Stay: 1 night
Rates from: $142/night
If you choose the "Root for the Earth" package at The Glen House, you'll do even more for Mother Nature, too. When you book, the hotel will even donate to White Mountain National Forest to plant 20 trees within its border. Nothing fills your cup more than vacationing while also doing something good. And the goodness doesn't end there.
The Glen House also reduces the amount of fossil fuels it uses by using geothermal loops to heat and cool the premises. Neat, eh? Even if you don't care about the environment (although you most definitely should), this boutique hotel is worth it simply for the views and ambiance.
Check Availability
Related Read: 10 Luxurious Glamping Spots in New Hampshire
3. Two-Story Treehouse
Why you should stay: Peter Pan and the lost boys will be jealous of your accommodations.
Nearest town: Newbury
Sleeps: 4 guests
Minimum Stay: 1 night
Rates from: $351/night
Grab your Jane and let out your inner Tarzan while you're staying at this incredible two-story treehouse. That's right, two stories! Unlike many other treehouses, this one has more room to sprawl out even if you're joined by three other people. The dining area has a custom table that fits four plus two lounging chairs.
Staying here in the winter (yup, it's a four-season home!) is cozy with the wood stove and warm blankets. But you can also stay cool in the summer with the ceiling fans in the bedrooms and the breeze along wrap around porch.
Check Availability
Related Read: The Top 10 Best Campgrounds in New Hampshire
4. Blake Brook Cabins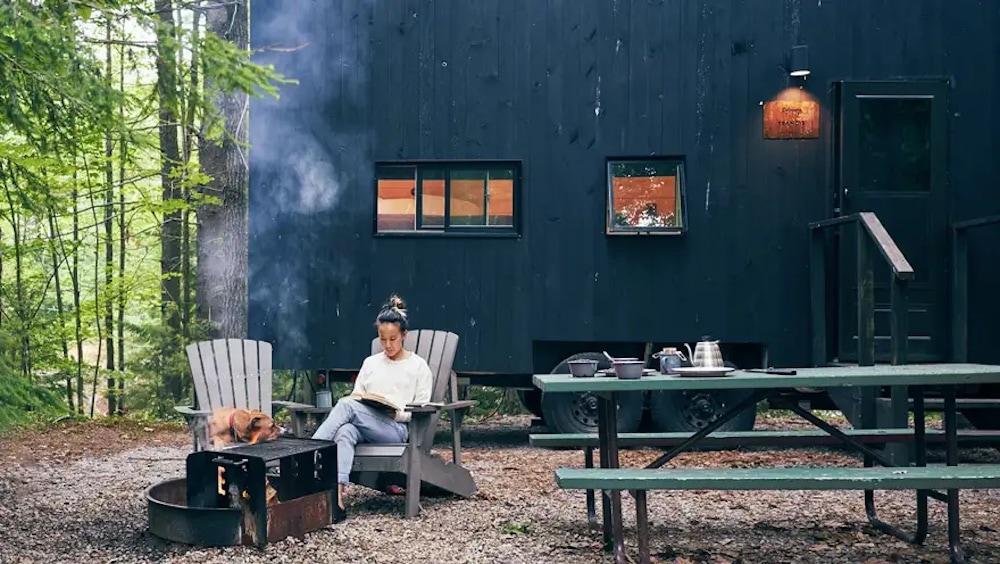 Why you should stay: just a quick drive from Boston.
Nearest town: Epsom
Sleeps: 4 guests
Minimum Stay: 1 night
Rates from: $199/night
Take your pick between 1- or 2-bedroom rentals at Black Brook Cabins to escape the hustle and bustle of the city. There has never been a better spot to sit back and unwind. There are over 40 cabins on the property to choose from with still plenty of space between you and your neighbors. Each cabin has everything you need for the perfect home away from home (including hot water in the units).
Grab your morning cup of joe and lounge in front of the massive windows to immerse yourselves in nature. Then take a walk on the multiple trails close to the cabins (there are three major ones within 10 minutes).
Or you can head into town to grab a beer at Blasty Bough Brewing Company. End your day back at the cabin around your private fire pit. Don't forget to bring all the s'more makings.
Check Availability
Related Read: The 11 Best Cabin Rentals in New Hampshire
5. Lighthouse Inn the Woods
Why you should stay: you get a complimentary bottle of wine.
Nearest town: Croydon
Sleeps: 8 guests
Minimum Stay: 2 nights
Rates from: $189/night
It's hard to nail down the most unique thing about staying at the Lighthouse Inn the Woods. It might be the three-story spiral staircase or the glass French doors. Or it might be the 360-degree view from the cupola or the ability to go hang with the farm animals. But maybe it's the 14 acres with a private waterfall. You decide because I certainly can't!
As an extra unique trait, you can request Farm-to-Table homemade meals while you stay there (additional fee). This means you can truly vacate and have everything done for you. Who would've thought that you could actually relax on a vacation?
Check Availability
Related Read: The Top 10 Winter Hikes in New Hampshire
6. The Centennial Hotel
Why you should stay: small hotel surrounded by a big city.
Nearest town: Concord
Sleeps: 2-4 guests
Minimum Stay: 1 night
Rates from: $159/night
What makes the Centennial Hotel so unique is its cozy charm in New Hampshire's bustling capital city. You won't notice that the governor is signing laws just blocks from the hotel's doors. Instead, you'll be reveling in the Victorian atmosphere while lounging in your room. If you're lucky enough to snag a third-floor suite, you'll have unparalleled views from the turrets in your room.
Definitely get out of the hotel, though, and roam the streets of Concord. There are over 200 shops and restaurants on the main drag to fit anyone's tastes.
Check Availability
Related Read: 11 Cozy Pet-Friendly Cabin Rentals in New Hampshire
7. The Cedar House
Why you should stay: because it's away from everything.
Nearest town: Lancaster
Sleeps: 4 guests
Minimum Stay: 2 nights
Rates from: $113/night
Seclusion is defined a little differently here in the Great North Woods of New Hampshire. Your neighbors aren't the uptight city folk — instead, they usually have some sort of antlers. In case it's not obvious, I'm talking about moose…moose are usually your neighbors. And luckily for you, staying at the Cedar House, you might meet a few of those neighbors — just remember to at them look from afar.
The all-wood interior of the space and ample windows allow natural light to enhance the wood's grain. Depending on the time of day, the wood might look more yellow or orange or red. If you stay here during peak fall foliage, you'll see those same colors outside amongst the hardwoods.
Check Availability
Related Read: 12 Best Hikes in the White Mountains For an Epic Adventure
8. Villa Hygge Hotel
Why you should stay: it might be Scandinavian but there's no IKEA furniture here.
Nearest town: North Conway
Sleeps: 2 guests
Minimum Stay: 1 night
Rates from: $349/night
Wait, what country is this? Is it Sweden? Nah, just the Scandinavian-inspired Villa Hygge Hotel. Feel like a Viking in each suite adorned with faux fur throws and blankets. Instead of heading into battle or pillaging the surrounding towns, grab a complimentary bicycle or pair of microspikes for a different outdoor adventure.
Immerse yourself as a true Scandinavian by allowing your well-being to take a front seat. Take your pick from a Nordic facial glow, a private Finnish sauna experience, or the Himalayan Salt Lounge. Regardless of your choice, your brain will be so relaxed that you might just think you've headed to northern Europe!
Check Availability
Related Read: 10 Supremely Secluded Cabin Rentals in Vermont
9. Mill Falls at the Lake Resort
Why you should stay: there's a 40-foot waterfall that goes under the hotel.
Nearest town: Meredith
Sleeps: 2-6 guests
Minimum Stay: 1 night
Rates from: $229/night
Choose from several room options at Mill Falls at the Lake. If you want something simple and cozy, stay at the Inn or you can feel like you're on a riverboat by staying at Bay Point. But if you've got a larger group with you, the Overlook Suite would suit you quite nicely.
However, if I were to make a choice, I'd go with the Hearthstone Suite. The suite is large enough for four people and comes with a gas fireplace, wet bar, and a private plunge pool!
Check Availability
10. Adventure Suites
Why you should stay: wild-lookin' suites, each with a hot tub.
Nearest town: North Conway
Sleeps: 2-18 guests
Minimum Stay: 1 night
Rates from: $159/night
I don't even know where to start with the accommodations at Adventure Suites. To say that it's trippy and unique is likely the understatement of the century. There are 19 suites all together that accommodate various amounts of guests, and each have an extremely special theme. By special I mean that one is literally a haunted castle and simulates terrifying things throughout your stay — this one is not for the weak-minded.
Other "rooms" — and I use that term loosely since they're more like whole houses — include themes around the ocean (there's a clam shell bed), a jungle safari, and dragon's lair complete with a hanging bed. And then there's another one that is basically a movie theater and another one is a dance club. Seriously, this place is more like an amusement park than a hotel.
Check Availability
Explore More in New England
Sign up for Weekend Wanderer to join 10,000+ readers getting epic travel ideas every week.
---