We research, evaluate and select travel destinations based on a number of factors, including our writers' experience, user reviews and more. We may earn a commission when you book or purchase through our links. See our editorial policy to learn more.
---
If you're looking for a new twist on your New England getaway, look no further than one of these unique Airbnbs in New Hampshire.
The Granite State is well known for being home to the White Mountains, where visitors can enjoy outstanding hiking in the summer and great skiing — both alpine and cross-country — in the winter. Known locally as the Switzerland of America, you can be sure that a visit to this beautiful state will not disappoint.
Whether you are seeking a peaceful outing on the water, a rewarding hike to a summit, or a relaxing day strolling around a quaint New England town, New Hampshire offers a little bit of everything all within relatively short driving distance.
You can head out to the shores of the Atlantic Ocean, go kayaking or canoeing in the Lakes Region, or simply enjoy some of the renowned New England fall foliage in the White Mountains. Book your perfect overnight stay at one of the best Airbnbs in New Hampshire listed below, then get ready for a fantastic trip — bring your camera.
Related Read: 12 Best VRBOs in New Hampshire for an Unforgettable Experience
1. Luxurious Treehouse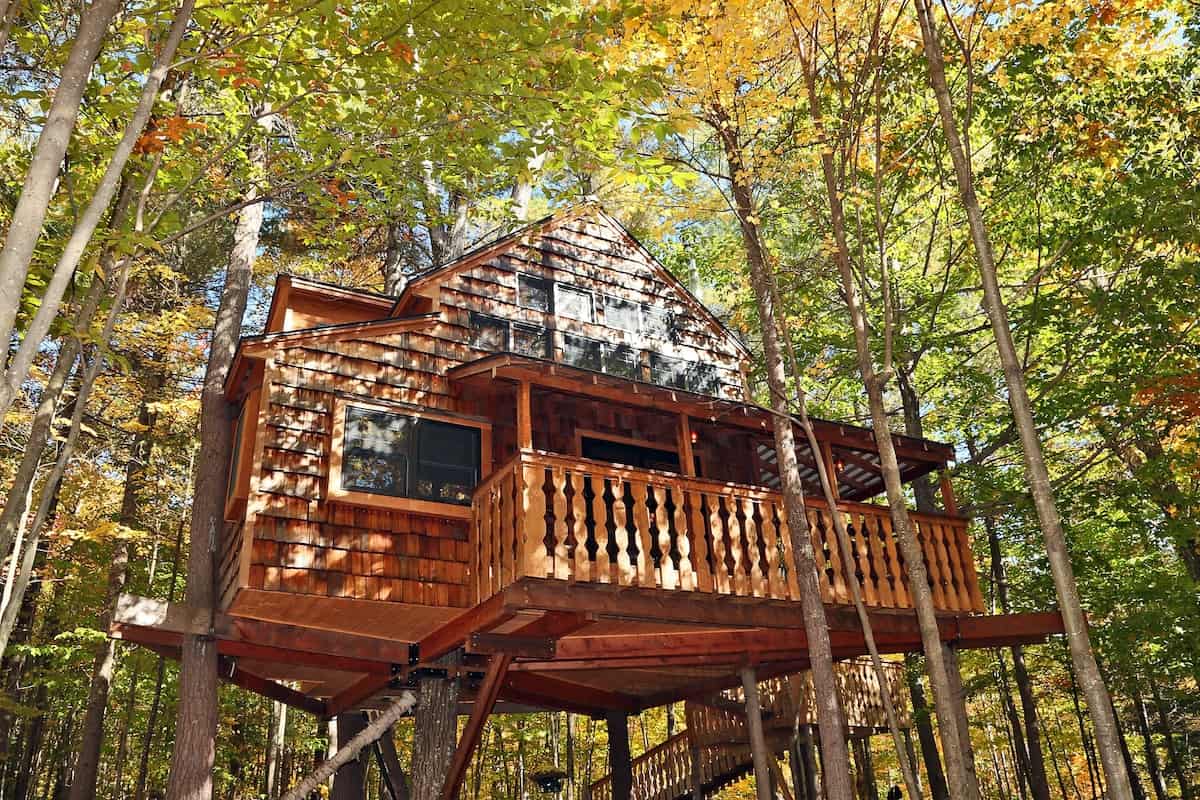 Why you should stay: A charming two-story treehouse in a prime location.
Location: Newbury
Sleeps: 4
Minimum stay: 2 nights
Rates from: $456/night
If you think luxury living and treehouses can't go together, think again. This exquisitely detailed rental has all the unique, rustic charm you would expect from a treehouse along, with modern amenities to create what feels like a five-star getaway. It's also a four-season getaway, since you can stay in the dead of winter thanks to the radiant floor heating and propane fireplace.
Along with the beautiful finish on the inside of this one-of-a-kind treehouse, you'll also enjoy the raised, wrap-around deck and lower patio space, complete with bench seating and a fire pit. The wooded property has just enough solitude to make this treehouse feel like a real escape.
And though you'll feel worlds away, you're only minutes from some of the finest outdoor recreation the area has to offer. The property is located just west of Lake Sunapee, and a short drive from hiking, biking, picnicking, swimming, or boating at Mt. Sunapee State Park. In the winter months, you can head over to Mount Sunapee Mountain Resort for downhill skiing.
Check Availability
Related Read: 6 Backpacking Trips in the White Mountains That are Unforgettable
2. Luxury Solar House
Why you should stay: A luxurious home with panoramic White Mountain views.
Location: Jackson
Sleeps: 6
Minimum stay: 2 nights
Rates from: $330/night
This eco-friendly mountain retreat located in the heart of the White Mountains offers the perfect combination of indoor and outdoor space. No matter what season you visit or what window or deck you look out, you'll be treated to stunning views of the White Mountains rolling away to the horizon.
The inside of this solar house is finished with rustic modern flair. Guests will enjoy the use of a sleek chef's kitchen with a professional gas range. And in the evening, you can choose to relax by the fireplace in the living area or head upstairs for a game of billiards in the loft (which is complete with a wet bar, naturally.)
And while the inside of this house is stunning, the outdoor spaces are equally jaw-dropping. Head out on the wrap-around porch on the top level or pop down to the lower deck for some lounge time. In the spring, summer, and fall, you're near some of the best hiking trails in the White Mountains.
And in the winter, grab your skis and hit the slopes at nearby Black Mountain or Attitash Mountain Resort; the latter has some screaming beginner ski deals all winter long.
Check Availability
Related Read: 10 Luxurious Glamping Spots in New Hampshire
3. The Word Barn
Why you should stay: A peaceful, countryside retreat near an artistic gathering space.
Location: Exeter
Sleeps: 2
Minimum stay: 1 night
Rates from: $125/night
This cozy studio apartment has all the rustic appeal you would expect from a rural farmhouse, like hardwood floors, exposed barn beams, and vaulted ceilings. This renovated studio space with a private entrance is part of the original Raynes Farm Barn and is located adjacent to the Word Barn community space.
The Word Barn is one of Exeter's premier spaces for literary gatherings, live music, and other events. If you time your visit to one of these "ongoing but irregular" events, you'll get two complimentary tickets as part of your stay.
And if that wasn't enough, you're just five minutes from historic downtown Exeter. You also can explore the entire Word Barn's property, which includes extensive lawns, a small orchard, and a nature trail. Pets are welcome, and just across the street, there are more than 100 acres of conservation land with accessible fields and dog-friendly trails great for hiking.
Check Availability
Related Read:  11 Relaxing Swimming Holes in New Hampshire
4. Relaxing Overwater Cottage
Why you should stay: A lakeside cottage with outstanding waterfront access.
Location: Newbury
Sleeps: 6
Minimum stay: 2 nights
Rates from: $200/night
Short of living on a houseboat, this lakefront cottage is about as close to an on-the-water living experience as you're going to get. The kitchen and dining area have large windows with a view of the water, and you can easily step out the backdoor to take in the astonishing lake view from the dock.
The cottage has several large skylights, a fully stocked kitchen, and a private dock area complete with patio furniture. With your rental, you get access to a kayak and stand-up paddleboard so you can easily launch from the back dock for a day of on-the-water adventures.
And if you aren't into watersports, you can explore the many nearby hiking trails or head over to Mount Sunapee to go zip-lining. In the winter, bring your skis and hit the slopes before heading back to cozy up for a relaxing evening at the cottage.
Check Availability
Related Read: 9 Best Resorts in Vermont for Families & Couples
5. Ling Treehouse
Why you should stay: A romantic, nearly all-glass treehouse tucked away in the mountains.
Location: Newbury
Sleeps: 4
Minimum stay: 2 nights
Rates from: $344/night
Sometimes you need a place to get away from the grind, and this off-the-grid treehouse is probably the peaceful retreat from reality you need. Located deep in the woods, the handcrafted treehouse features a minimalist design with limited amenities and plenty of privacy. You may just find the simplicity refreshing. There's no Wi-Fi, but depending on your carrier, you may have cell service.
Come prepared for camp cooking as the treehouse doesn't have a kitchen – but it does have a fire pit with a grate and a small propane burner. There's an outdoor (but unheated) shower for spring through fall use, and an outhouse.
Even with these stripped-down amenities, you'll still find plenty of charm in this treehouse. Its wall of windows and raised wooden deck gives the place a magical feel. Plus, with hundreds of acres at your disposal for hiking, cross-country skiing, swimming, or forest bathing, you're sure to leave feeling refreshed.
Check Availability
Related Read: The 11 Best Cabin Rentals in New Hampshire
6. Lake Sunapee Waterfront
Why you should stay: A modern home on the lake – but only 10 minutes from great skiing.
Location: Newbury
Sleeps: 8
Minimum stay: 5 nights
Rates from: $338/night
This recently updated home with a stoked kitchen and modern appliances is on the beautiful waters of Lake Sunapee. In the winter, after a day out skiing at Mount Sunapee, you can relax with your group in the living room — maybe watching a movie on the massive 65-inch TV. Kids can break out the Xbox or pick their favorite board game for an evening of family fun.
If you're are visiting in summer, you'll love the patio, 75-foot dock, and a sandy-bottomed swimming area. The rental includes the use of two kayaks and a stand-up paddleboard for exploring the lake, as well as two water floats in case you just want to tie up to the dock and relax in the sun.
Whether you plan to bring your boat, go sailing, paddle, or simply sit and soak up the scenery with your toes in the sand, this waterfront property has all the makings of a great summer getaway. The five-night minimum stay might seem like a lot at first, but once you're standing on the shore of the lake, you may find five nights being nowhere near long enough.
Check Availability
Related Read: 8 Best Beach Camping Spots in New England for an Oceanfront Getaway
7. Dunbarton Waterfront Cottage
Why you should stay: A quiet cottage on the water with plenty of solitude.
Location: Dunbarton
Sleeps: 6
Minimum stay: 2 nights
Rates from: $221/night
If you are looking for the best of all worlds, this vacation spot has you covered. The cozy cottage is located on a secluded lakefront with easy access to outdoor amenities like hiking, boating, swimming, fishing, and kayaking in the spring, summer, and fall. Come winter, snowmobiling and ice fishing are right around the corner. And a short drive will get you to a golf course, ski resort, and nearby dining and brewery options.
The rental includes the use of several yard games, a paddleboat, two adult kayaks, and a youth kayak. If you have your own boat, you can use the public boat launch on the lake. And the small private dock is perfect for fishing or just soaking in the view. If you're lucky enough to visit in the fall, expect the changing colors to be breathtaking.
You can take a short walk from the house to either the private community beach or the nearby town forest, which has over seven miles of trails to explore. And your legs are feeling too tired to keep hiking, head back to the cottage to cook up a meal at the fully stocked kitchen and enjoy putting your feet up by the fireplace.
Check Availability
Related Read: 11 Best Places to Snowshoe in New Hampshire
8. Saco River A-Frame
Why you should stay: A cozy space with your own private riverside beach.
Location: Bartlett
Sleeps: 6
Minimum stay: 2 nights
Rates from: $182/night
This A-frame is the ideal mix of rustic and modern with all the amenities for the perfect vacation getaway. The main floor has a spacious open floor plan with a comfortable living space complete with a fireplace and updated kitchen. The large wall of windows looks out on the front deck's outdoor seating area, propane fire pit table, and wooded views.
But the real draw might be the backyard, with a dire pit and additional seating area next to the Saco River. Fire up the grill and break out the cornhole for a lazy summer evening by the river, or bring a tube or a fishing rod to play in the water. Any time of day, relaxing in the hammock or lounge chairs with a good book is a perfectly good way to spend your time, too.
Though this A-frame may feel miles away from civilization, you're only a short drive from downtown Bartlett. You can pop into town to enjoy the local dining scene or head out for a hike to Arethusa Falls or Ripley Falls. And in the winter, Attitash Mountain Resort and Cranmore Mountain Resort are right up the road.
Check Availability
Related Read: 50 Gorgeous A-Frame Cabin Rentals Across the U.S.
9. Off-Grid Cabin with Sauna
Why you should stay: A rural glamping retreat on 24 acres with a private sauna.
Location: Sanborton
Sleeps: 3
Minimum stay: 1 night
Rates from: $145/night
Book this off-grid cabin if you want an escape with equal parts solitude and scenery and just enough amenities that you don't really feel like you're roughing it — you have a sauna after all. The G-frame cabin sits on 24 acres of a quiet and rural estate. You can take a hike to explore the whole property year-round – just bring your snowshoes or cross-country skis if you come in the winter.
The cabin is equipped with some simple amenities that give it a cozy feel including a wood-burning stove and a lofted bed. You won't have a full kitchen, so come prepared for cooking on a single-burner electric hot plate. And remember that there's no fridge, so you'll need to bring your own cooler. There's an outdoor, summer-only shower and a composting toilet.
But before you think this might be a bit too rustic to be called a retreat, just remember that you do get your very own personal sauna along with the cabin. Be sure to bring some firewood so you can fire it up!
Check Availability
Related Read: 10 Most Unique Places to Stay in New Hampshire
Find Your Next Adventure
Get epic travel ideas delivered to your inbox with Weekend Wanderer, our newsletter inspiring more than 10,000 readers every week.
---