We research, evaluate and select travel destinations based on a number of factors, including our writers' experience, user reviews and more. We may earn a commission when you book or purchase through our links. See our editorial policy to learn more.
---
With almost 3,500 miles of coastline and over 3,000 off-shore islands, it's not hard to work out why Maine's nickname is Vacationland.
Maine is overflowing with outdoor wonders, including 75,000 moose — second only to Alaska in number. Maine has rocky cliffs, serene beaches, big summits, and a surplus of sea life. But it's not just the outdoor marvels that bring out-of-towners, either: it's the dozens of lighthouses and haunted inns, the booming breweries popping up throughout the state, and the incredibly friendly locals that keep people coming back.
So whether you're looking for a luxurious seaside rental, a romantic retreat, or a place for the whole family, one of these VRBOs in Maine should be the perfect spot for your trip to Vacationland.
Related: 10 Super & Secluded Maine Cabin Rentals
1. Luxurious Lakefront Home
Why you should stay: A "Kids Zone" allows parents to get a break and sip their wine in peace.
Location: Bridgton
Sleeps: 11
Minimum stay: 4 nights
Rates from: $500/night
If you're a fan of Chip and Joanna Gaines ("Fixer Upper," anyone?) then this is the house for you. Located on Long Lake — one of the most popular lakes in Maine — this waterfront property is full of poignant touches and heartfelt ambiance. Exposed beams and clean, country decor are constant themes throughout the home that make any family feel right at home.
And with a price tag of $45 per night per person, this is one of the more affordable VRBOs in Maine for a large group with a small budget. By the way, the "kids zone" is a large finished basement with a TV and movies, games and puzzles, and beds for five kids who want to stay up late watching TV.
Check Availability
Related read: 11 Stunning Airbnbs in Portland, Maine
2. Jaquish Lane Compound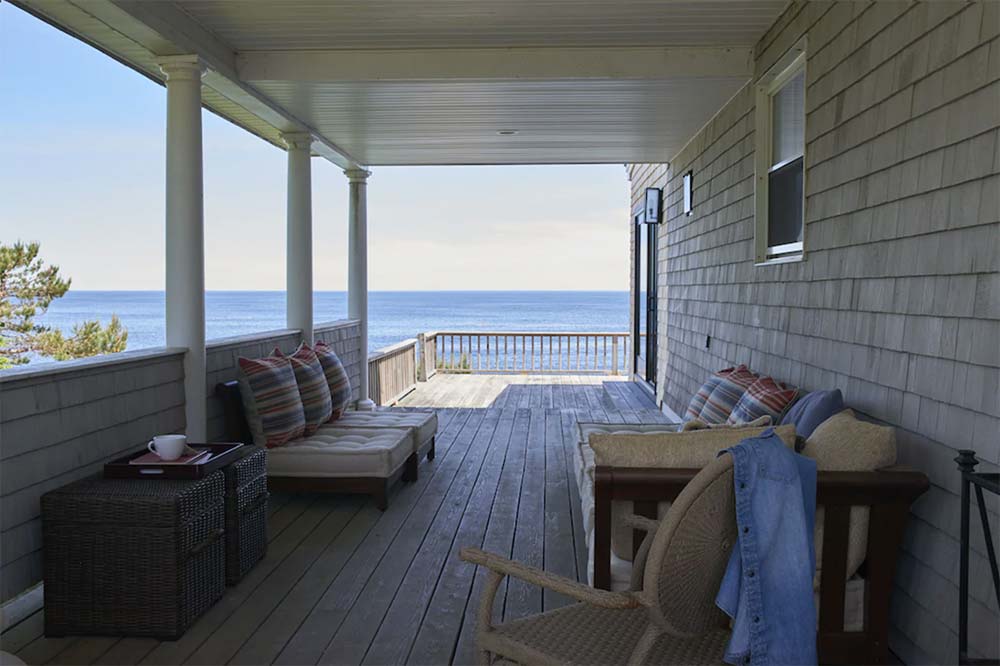 Why you should stay: The property manager is a lobsterman and can drop off fresh fish at your leisure.
Location: Bailey Island
Sleeps: 12
Minimum stay: 7 nights
Rates from: $700/night
No, you're not about to enter the compound of some weird cult, though this property can fit a large group of people. There are two separate homes here, though it's one rental: Jaquish House and #14, both of which have sweeping, unobstructed views of the ocean. The former has enough space for a large family (or those with large and luxurious personalities.) The latter is a romantic, secluded space perfect for those who want a bit more privacy.
If you have more than a dozen guests looking to stay in a VRBO in Maine together, there are two other homes on the property you can rent to accommodate 10 more guests – ask the owner for details on booking all of them.
Check Availability
3. Cozy Designer Cottage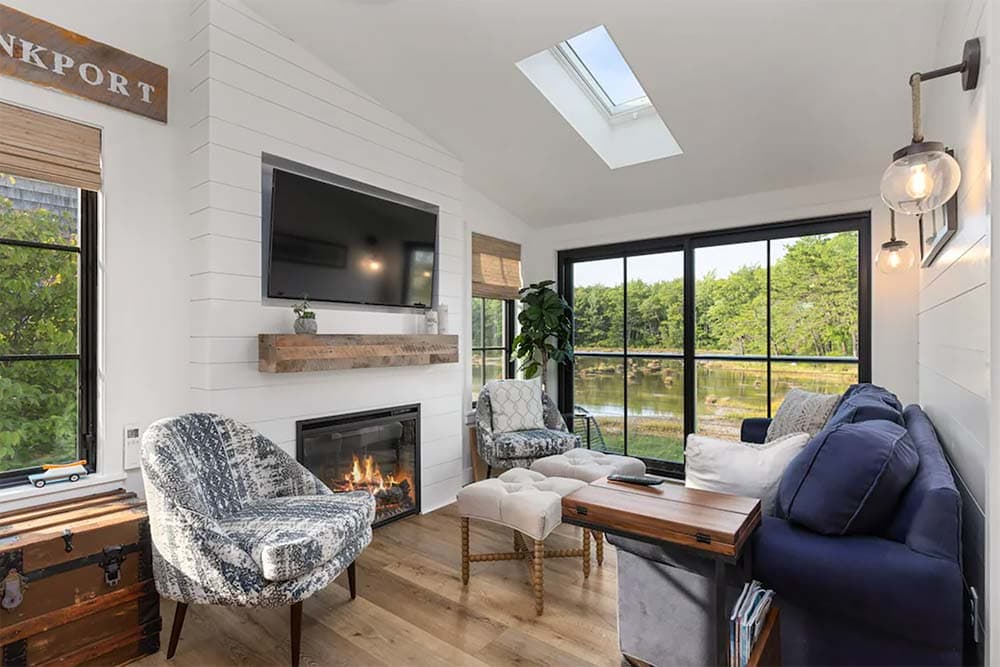 Why you should stay: Clean, beachy getaway in coastal Maine.
Location: Kennebunkport
Sleeps: 4
Minimum stay: 2 nights
Rates from: $350/night
No need to bring any beach gear when you rent this quintessential beach rental. It comes fully equipped with bikes, beach chairs/towels, a beach buggy, and even a kayak. The views from the floor-to-ceiling windows look out onto the salt marsh where it's not uncommon to see egrets and great blue herons.
Cap off a day in the sun and sand with a sunset by the fire pit listening to the waves crash against the rocky cliffs. You're also only about 40 minutes south of Portland, which is more than worth a day trip or two.
Check Availability
Additional Read: 10 Scenic Oceanfront Campgrounds in Maine
4. The Coastal Cottage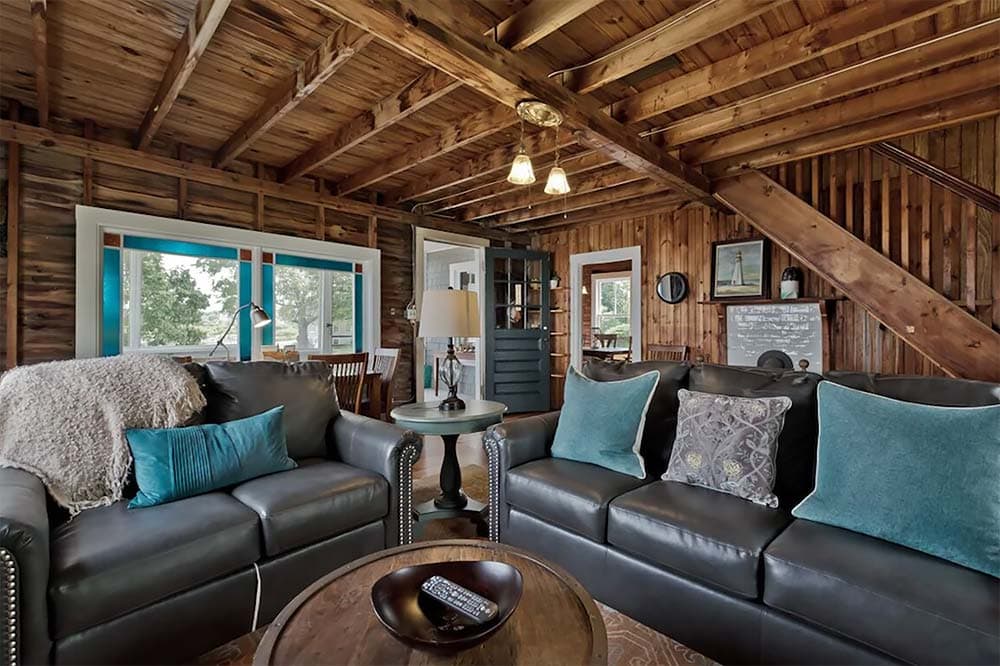 Why you should stay: Access to a private neighborhood beach.
Location: Cape Elizabeth
Sleeps: 8
Minimum stay: 6 nights
Rates from: $510/night
This beautiful seaside home is the perfect basecamp for those exploring southern Maine. The stain-glassed windows look out onto the seashore, though two outdoor Adirondack chairs provide unobstructed outdoor views. Settle in and breathe the ocean air while the sun rises or snuggle on the large leather couches as the sun sets, but make sure to hit the neighborhood beach in the time in-between the two.
The entire house is decked out in floor-to-ceiling rustic wood panels that give it a mountain home feel – but the color scheme and nostalgia are seacoast through and through. This is also a dog-friendly Maine VRBO, but the fee is slightly steep at $50 per dog per night.
"What a lovely cottage nestled in a cove on Maine's coast. You can feel the history of the cottage while you are there."
Check Availability
5. Seal Harbor Historic Apartment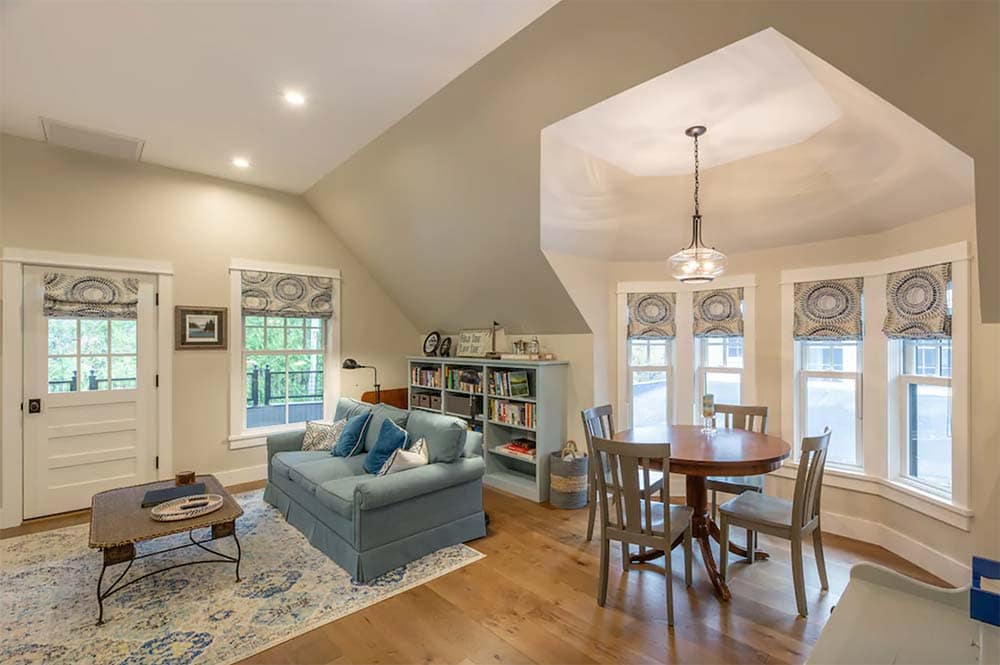 Why you should stay: Convenient digs just steps minutes from Acadia National Park.
Location: Seal Harbor
Sleeps: 5 guests
Minimum stay: 3 + nights
Rates from: $125/night
Located in the quaint village of Seal Harbor, this idyllic rental is the perfect place to rest your weary feet. The second-floor apartment has everything you need before a day of adventuring, including coffee.
Of course, Hiking in Acadia National Park is a must-do for anyone visiting the area. Stop by the Naturalist's Notebook to get all the wildlife viewing information you'll need for the day. And being located on the main drag, there's a plethora of dining options if you don't feel like making anything yourself. One of the most popular is the Lighthouse Inn and Restaurant – the Seafood Newburg en Croute is especially popular.
Check Availability
6. Oceanfront Luxury in Kennebunkport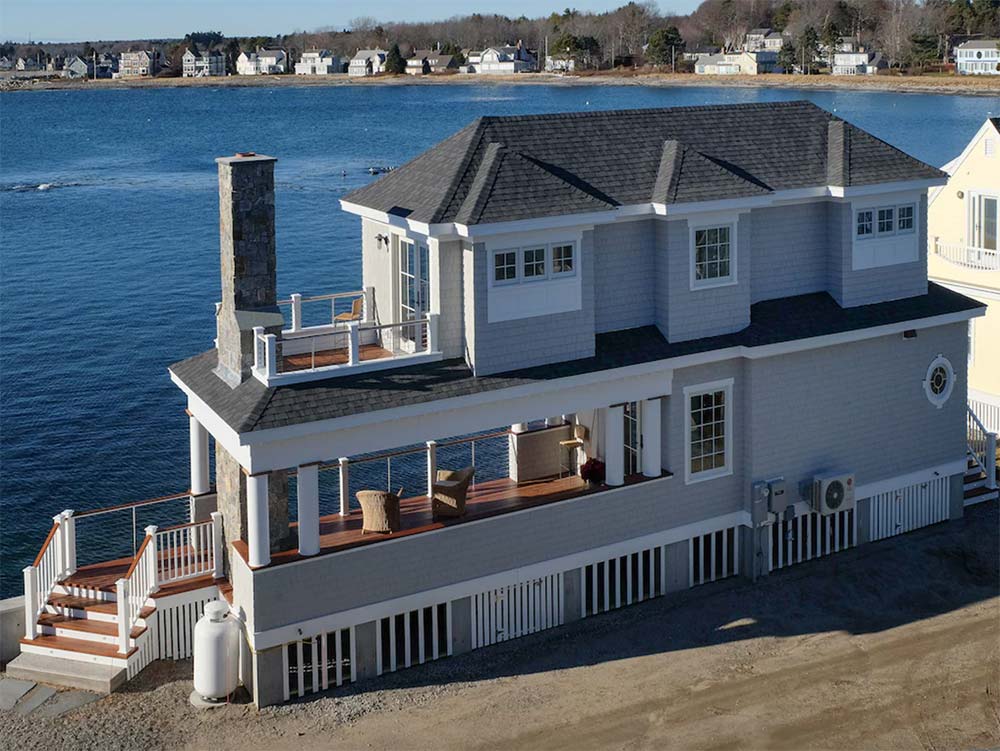 Why you should stay: Lux waterfront home that graced the cover of Maine Home & Design Magazine.
Location: Kennebunkport
Sleeps: 4
Minimum stay: 1 night
Rates from: $750/night
You don't have to be a Kardashian to stay at this luxurious seaside abode, but you'll definitely feel like one by the time you leave. From the minute you drive up to this incredible rental, you'll see that the property oozes comfort and extravagance (a winning combination!) The second floor covers a large portion of the first floor porch, creating a private-feeling outdoor deck complete with an outdoor fireplace.
On the off chance you want to leave, you can head to nearby Mother's Beach, a local's favorite. It's certainly not one of the cheaper VRBOs in Maine, but it could be the perfect spot for an epic family trip after a year or more stuck at home.
Check Availability
Read More: 12 Charming Yurt Rentals in Maine
7. Lakefront on Beech Hill Pond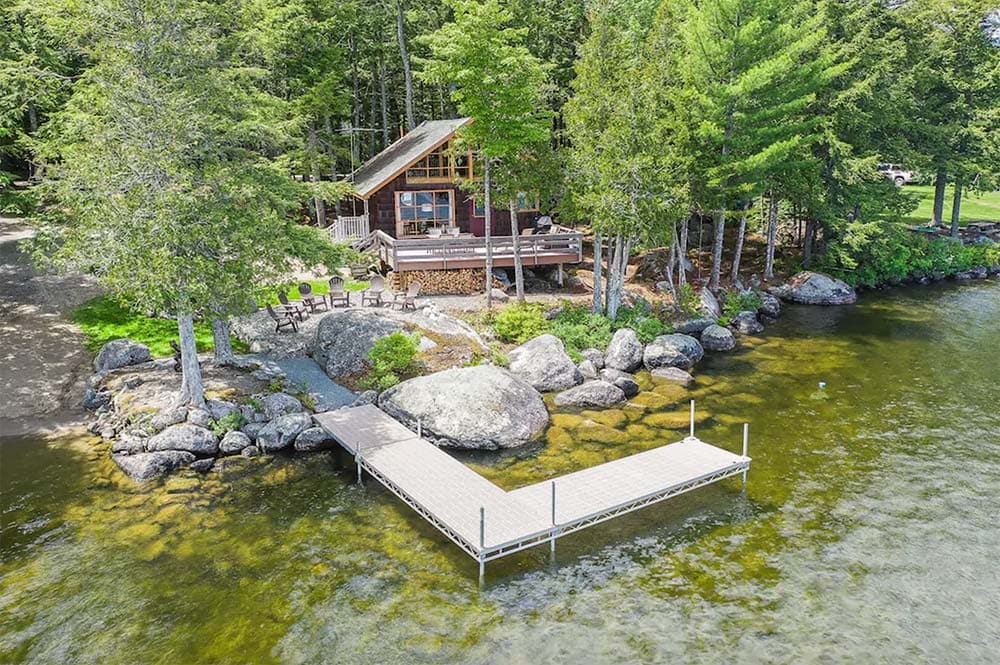 Why you should stay: Lakefront rental with a dock, kayaks, and the option to rent a private boat for the week.
Location: Otis
Sleeps: 6
Minimum stay: 2 nights
Rates from: $229/night
Most people think Maine is all about ocean views, but the state's lakes offer a just-as-compelling option if you're more into forested views. And if you staying in this rustic lakefront home, you may just start preferring lakes to oceans.
The home has windows galore to bring the outside in. Though with exposed beams and log furniture, you may already feel like the inside is natural enough already. Kayaks, a canoe, and a paddleboard are included with the rental but the host also offers motorized boat rentals. Just let him know if you're interested in renting one when you make your rental.
Check Availability
8. The Dock House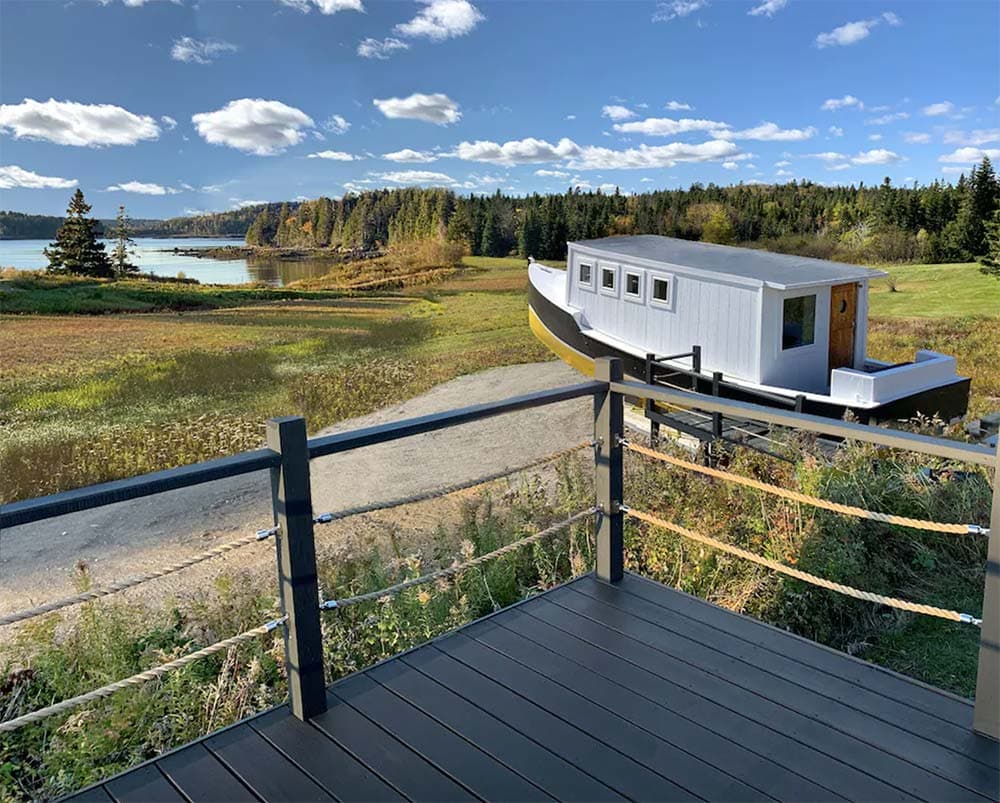 Why you should stay: Duh – there's a lobster boat library.
Location: East Machias
Sleeps: 4
Minimum stay: 5 nights
Rates from: $190/night
It's worth noting twice that this unique rental has both a library and lounge right on the property – oh, and it's housed in an old lobster fishing boat. That's about as Maine as Maine gets.
The uniqueness of this property doesn't end there, though. With pieces from world-renowned artisans and mid-century decor, it's a unique space worth a trip even if you barely explore the nearby town. But if you do make it out, be sure to grab some fresh lobster at Cutler Harbor to cook up back at the Dock House before watching the sun set in your backyard.
Check Availability
Related Read: The 10 Best Pet-Friendly Cabin Rentals in Maine
9. Authentic Maine Log Cabin
Why you should stay: 50 acres and a nearly endless list of convenient outdoor activities.
Location: Greenville
Sleeps: 6
Minimum stay: 2 nights
Rates from: $129/night
This waterfront property is the ideal VRBO in Maine if you're undecided about exactly what you want to do on vacation as just about every outdoor activity is nearby. Hiking? There are numerous trails out your back door. Kayaking and canoeing? Yup, you betcha: the property backs up onto Sawyer Pond.
But what about winter? If you think there won't be anything to do, you're wrong. You can learn to ice fish for brook trout, downhill ski at nearby Big Squaw Mountain, or cross-country ski on groomed area trails. The interior truly looks like a classic log cabin, complete with a log spiral staircase and plenty of flannel blankets and pillows.
Check Availability
10. The Breezeway
Why you should stay: Be eco-friendly without giving up crucial amenities
Location: Machias
Sleeps: 4
Minimum stay: 3 nights
Rates from: $166/night
Ever wonder what it's like to be truly off-the-grid? This newly built, solar-powered, off-grid home on Cathance Lake is your chance to try it out. Of course, being off-grid doesn't mean you have to go without running water and cook over a backcountry fire — although there is a fire pit on the property.
It just means you'll have to spend your time socializing on screened, wraparound porch, or taking a canoe out on the lake. Don't expect Wi-Fi or very good cell coverage, but there is a backup generator in case you have a few days without much sun.
Check Availability
11. Fisherman's Cabin
Why you should stay: An affordable escape on the water with a private dock.
Location: Moosehead Lake
Sleeps: 2
Minimum stay: 2 nights
Rates from: $185/night
Don't be deterred by the large black bear hide hung on the walls of this log cabin. It's all part of the rustic charm. With floor-to-ceiling wood slabs (including on the kitchen cabinets), you'll feel like you're in the woods even when you're inside.
Of course, you'll want to spend most of your time outside. It doesn't matter if you like sunrises or sunsets as both are glorious here with its south-facing porch. There's no Wi-Fi, but you do get a front porch so close to the water that you could hear a fish jump — and probably catch a few, too.
Check Availability
12. Basin Cove Cottage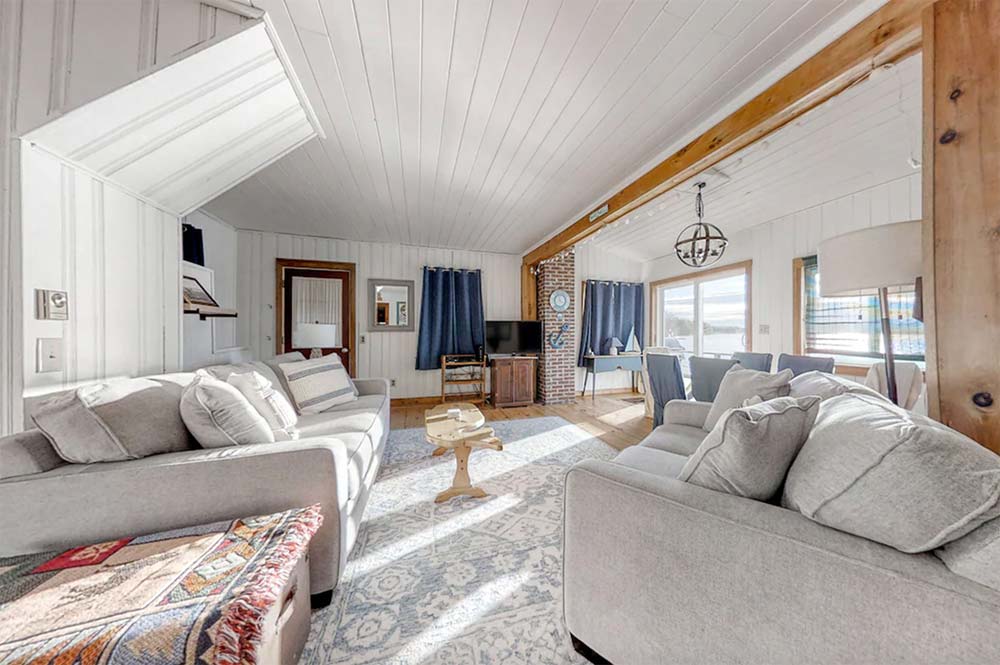 Why you should stay: Spot wildlife in Casco Bay from your porch.
Location: Harpswell
Sleeps: 6
Minimum stay: 2 nights
Rates from: $115/night
Wildlife abounds around this waterfront rental. Bald eagles, seals, egrets, seagulls, osprey, and more are frequent visitors to the cove, and the lounge chairs on the porch are the perfect place to watch the show as the sun curves across the sky. Sunsets are breathtaking here and luckily, every room has a view of the ocean. Inside, expect a mix of modern coastal and shabby chic interiors, along with a galley (that's kitchen, to you landlubbers) decked out in deep navy and nautical colors.
If water makes you queasy, there are a few hiking trails behind the property that meander through the Harpswell Land Trust. Whatever your outdoor activity du jour is, this property fits the bill for any of them.
Check Availability
Explore More in Maine
Sign up for Weekend Wanderer to join thousands of readers getting epic travel and gear ideas every week.
---