We research, evaluate and select travel destinations based on a number of factors, including our writers' experience, user reviews and more. We may earn a commission when you book or purchase through our links. See our editorial policy to learn more.
---
Incomparable views, stunning geology, historical artifacts, and unique arches are just a few things that will greet you on the trails of Canyonlands National Park.
A hike through Utah's Canyonlands National Park offers excellent views and a chance to see desert wildlife like bighorn sheep, golden eagles, and the colorful western collared lizard. But what it's most known for is its stunning rock formations and arches, showing the power (and beauty) of Earth's erosive forces.
Keep in mind, water may not always be available on a hike and any you do find should always be treated or filtered before drinking. If you are traveling during peak summer months, hikes will be more enjoyable if you start early in the morning or after 4:00 pm due to the harsh, midday sun.
These 9 must-do hikes are perfect for visitors of all experience levels. If you're looking for a more adventurous outing, there are several backpacking routes you can take for overnight journeys.
1. Horseshoe Canyon
View this post on Instagram
Why you should go: it's one of the least-visited areas in the park.
Difficulty: moderate
Length: 7.0 miles
Elevation gain: 1500 feet
Avoid all of the crowds by taking the trail along Horseshoe Canyon. It's not apparent why this area of the park gets so little traction, but their loss is your gain.
This part of the park is in the Horseshoe Canyon Wilderness Study Area and is reached by driving along a dirt road for over 30 miles. Most two-wheel drive vehicles can make it as long as there hasn't been rain.
The trail starts out as a steep descent and then is fairly flat over the next three miles to the end. It is notoriously hot in the summertime so please be prepared for dry, scorching heat. Bring plenty of water and electrolytes to keep hydrated.
Along the trail, you'll get glimpses of rock art from ancient Indigenous communities. The Great Gallery marks the end of the trail in which you'll see well-preserved, life-sized drawings of people.
2. False Kiva Trail
Why you should go: to get a glimpse into Ancestral Puebloan culture.
Difficulty: moderate to strenuous depending on your ability
Length: 2.0 miles
Elevation gain: 1100 feet (descent occurs first with a short scramble up just before the kiva)
This is one of those special places that you won't find on any maps. It's not completely unknown, but the False Kiva Trail just off Island in the Sky is a lesser traveled path.
The first thing you need to do is stop in at the Island in the Sky Visitor Center and ask a ranger about the path. There is no sign at the small pull-off where a few cars can park, so it's best to get the details from a park ranger. Once they give you the info, you can head on your way.
The trail itself is behind some juniper logs off the side of the road – again, there are no trail markings indicating you are on the trail. The path, however, is obvious once you step over the juniper logs.
Cairns eventually help guide you through the rocky parts and out to the edge of the rim. Here, there is a gorgeous view of the canyon below. This is also where the trail gets immensely more difficult with lots of rock scrambling.
Take your time and follow the cliff's path until you double back to head up to the false kiva. Please adhere to all ropes and closed-off areas as this place was damaged by previous hikers.
Related read: White Rim Road: An Overland Adventure in Canyonlands, Utah
3. Aztec Butte Trail
Why you should go: brush up on some history and take in some views while you're at it.
Difficulty: moderate due to some rock scrambling
Length: 1.5 miles
Elevation gain: 250 feet
As one of the most well-preserved granaries, the hike along Aztec Butte Trail takes you back in time. Despite its name, the structure itself is not part of the Aztec civilization.
It was most likely used by Ancestral Puebloans for the same reason Aztecs built granaries – to store food and medicine.
The trail is relatively flat and takes you out and around the Aztec Butte. Basically, it's a really big rock with a flat top and steep sides. Along the way, you'll be able to see several ancient granaries.
One of which is sculpted into the rock underneath an overhang. Please do not attempt to go into the structures so they stay preserved for other hikers.
4. Grand View Point Trail
View this post on Instagram
Why you should go: like its name says, the view is simply grand!
Difficulty: easy
Length: 1.8 miles
Elevation gain: 150 feet
This is one of those hikes that practically anyone can do no matter their ability. The Grand View Point Trail traverses along the top of the canyon allowing hikers multiple panoramic views throughout the entirety of the hike.
Due to its easy access and straightforward trail, it's a popular hike, so you won't be alone. Most people who stop here only go to the overlook (about 100 feet from the parking lot), but keep going. The better overlook is at the end of the trail and is much less crowded.
Related read: 6 Epic Glamping Destinations Near Moab, Utah
5. Murphy Point Trail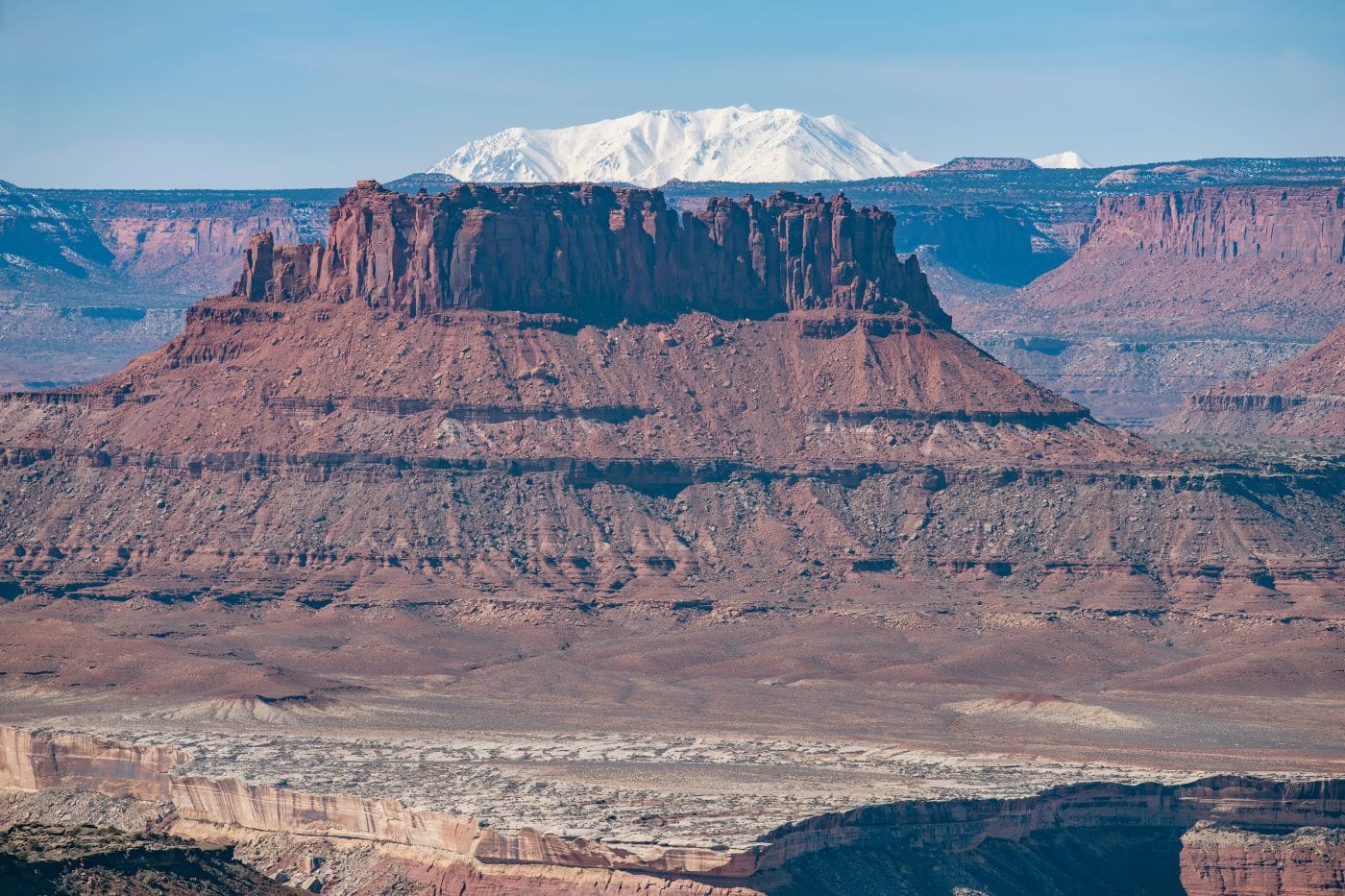 Why you should go: it puts on quite the show at sunset.
Length: 3.4 miles
Difficulty: easy
Elevation gain: 150 feet
Grab a headlamp and some layers and trek out to Murphy Point for sunset. Located in the popular Island in the Sky district, this trail is moderate in length but big on views. Due to its distance (most people tend to do one mile or less), fewer people are found on this hike.
But don't worry, the hike isn't difficult. In fact, the entire trail only ascends 150 feet (on the way back) and has outstanding views at the end. Stay after the sun dips below the horizon to get the full effect.
6. Mesa Arch Trail
Why you should go: it's the go-to view at sunrise.
Difficulty: easy
Length: 0.7 miles
Elevation gain: 90 feet
If you only have time for one quick hike during your visit, make sure it's the Mesa Arch Trail. This is a very popular trail thanks to its easy access from the main road and stunning view. It's just over a third of a mile from the parking lot and can be done by most people (although there is no accessible trail).
The views are breathtaking and framed perfectly through the Mesa Arch. For those wanting to get an even better view, go at sunrise when the colors of the canyon really pop. Again, you likely won't be alone but it's well worth the crowds.
Related read: 21 Outdoorsy Things To Do Near Moab
7. Syncline Loop
Why you should go: to push your adventuring spirit.
Difficulty: strenuous
Length: 8.6 miles
Elevation gain: 1600 feet
Aside from the confusing trails in The Maze, the Syncline Loop is arguably the hardest hike in the Park. It is, by far, the hardest one within the Island in the Sky district and should not be attempted by novice hikers. Scrambling up and over boulders, a high overall ascent, and managing steep switchbacks all greet you on this trail.
It starts off at the Upheaval Dome trailhead and runs up and over the ridge of the aforementioned Dome. There are no views of the Dome from this trail. If that is what you're after, take the Upheaval Dome Overlook Trail. The point of doing this trail is mostly for the thrill of doing something that not many other visitors in the park do.
Go clockwise to avoid a very steep ascent out of the canyon through loose sand. Go as early as you can to avoid the midday sun and hot sand underneath your feet.
8. Druid Arch Trail
Why you should go: behold magnificent towering cliffs.
Difficulty: strenuous
Length: 10.4 miles
Elevation gain: 1600 feet
The road to get to the Elephant Hill trailhead is rough and can only be done by four-wheel-drive vehicles. Do not attempt these roads after or during a rainstorm. The Druid Arch trail, like many others on this list, is comprised of mostly deep sand.
This makes for slow-going hikes and hot feet if you don't have a thick sole on your boots. The trail stays flat along the canyon bottom for most of the hike but ascends quickly and brutally at the 4.5-mile mark. But the scramble to the top is well worth the incredible view of the arch.
Related read: 15 Best Hikes Near Moab for an Epic Desert Adventure
9. Castle and Fortress Arch
View this post on Instagram
Why you should go: why settle for one arch when you can see two?
Difficulty: strenuous
Length: 16.0 miles
Elevation gain: 450 feet
The trail to Castle and Fortress Arches might not have a lot of elevation gain, but the distance makes this a strenuous hike. It's especially difficult in the summertime when the sun can be very dangerous.
Located within the Needles District, the hike runs through sagebrush bushes and over red sandstone trails. It can feel like you're walking in lava, so make sure you are wearing good footwear and bring plenty of water with you.
You'll see a spur trail to your right as you reach the end of the trail. The arch down the first spur trail is Castle Arch which spans about 165 feet and is razor thin. It is slowly eroding from the desert conditions (high winds). Technically it's a double arch but you'd have to zoom in on your camera to see any notable difference between the two.
Who knows how much longer this arch will be around, so go see it while you can! Get back to the main trail and head south for a second spur trail on the right that brings you to Fortress Arch. This one isn't as spectacular as Castle Arch so feel free to skip it before heading back the way you came.
Explore More in Utah!
Get epic travel ideas delivered to your inbox with Weekend Wanderer, our newsletter inspiring thousands of readers every week.
---