Lake Michigan is aptly nicknamed 'America's Third Coast' and is a relaxing coastal getaway lined with charming beach towns begging to be explored.
As one of the world's largest lakes, Lake Michigan is so vast and wide that you can almost be fooled into thinking it's the ocean. And with more than 1,600 miles of coastline that spans four states, water-based activities like boating, fishing and swimming are all the rage on Lake Michigan.
While you've undoubtedly heard of Chicago and Milwaukee, Lake Michigan's largest cities, sometimes getting out of the concrete jungle is much needed to disconnect. Thankfully, there are many charming beach towns that offer quaint escapes you can't experience anywhere else. And it's in these vibrant small towns where you can soak up the beauty of the Great Lake while escaping big city crowds and supporting local establishments.
From Michigan to Wisconsin and everywhere in between, here are some of the best small towns on Lake Michigan.
1. Saugatuck, Michigan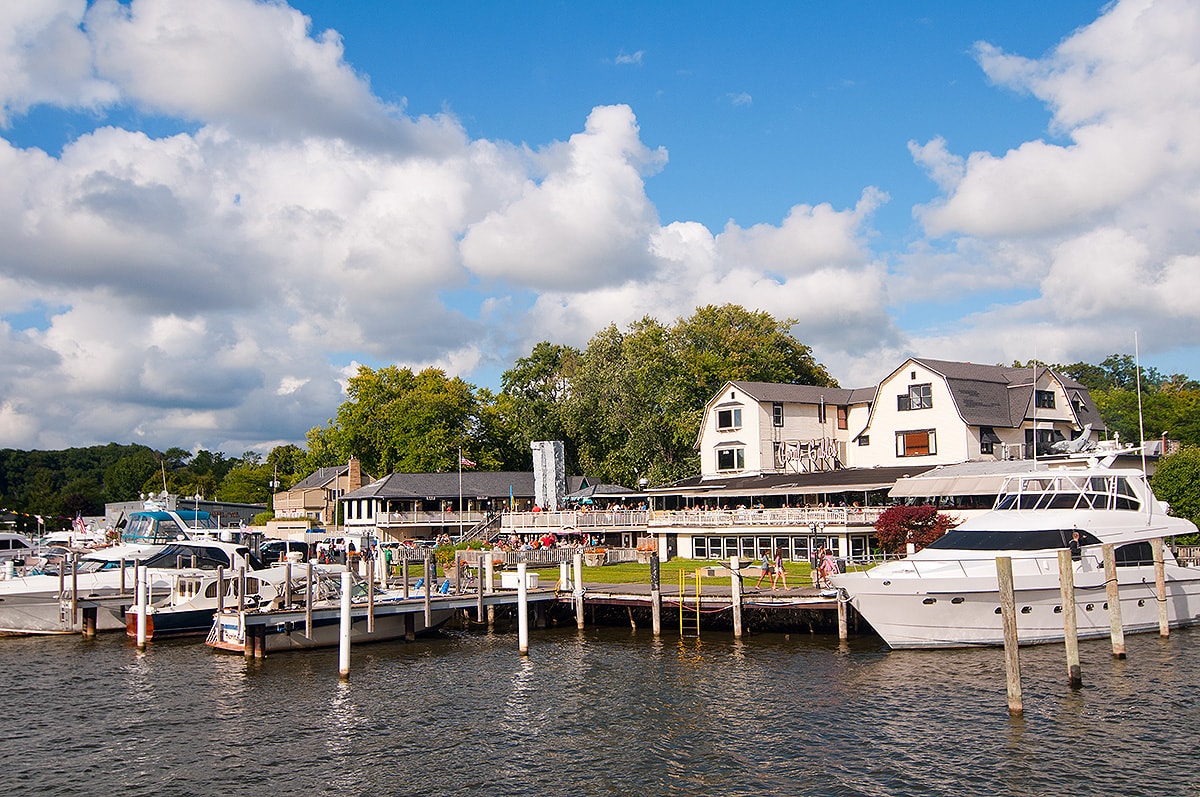 Nestled along Lake Michigan's southern shores is the artsy and welcoming small town of Saugatuck. This LGBTQ+-friendly coastal destination attracts sunshine seekers every summer itching to experience the beauty of Saugatuck Dunes State Park and the gentle waves of Oval Beach.
Outside of sandy pursuits, this charming little getaway boasts a thriving art gallery scene and sprawling vineyards. Stopping by Fenn Valley Vineyards  to sample Michigan-made wine is a must for connoisseurs. Climbing Mount Baldhead for unobstructed views of the lake is another iconic thing to do in Saugatuck.
Related Read: 8 Cozy Cabins Near Chicago Offering an Escape to Nature
2. Port Washington, Wisconsin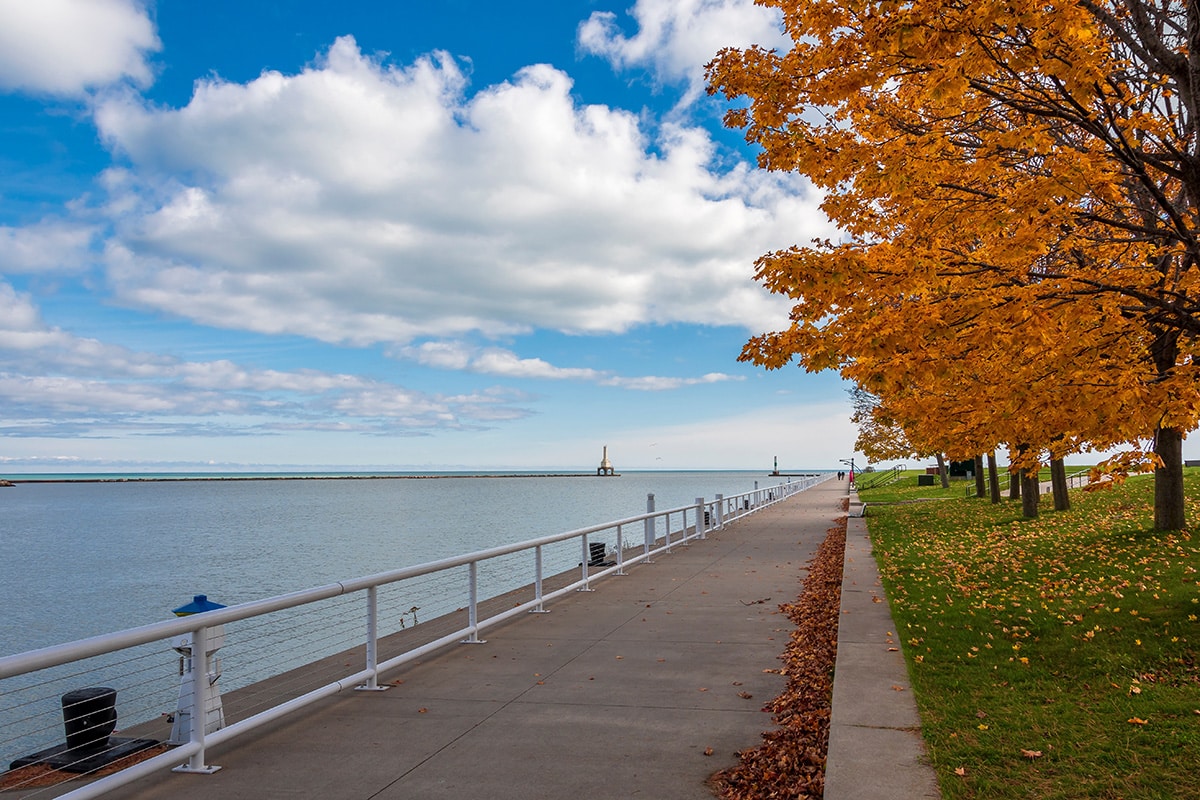 Port Washington is a wonderful Lake Michigan town brimming with family-friendly activities. This port city is home to a historic lighthouse that looks over the harbor from a breakwater path. All along the main downtown streets, boutique shops and storefronts entice visitors. Make time for a stroll through Bernie's Fine Meats, where locally made Wisconsin cheeses and meats will make your mouth water.
Port Washington's idyllic Lion's Den Gorge Nature Preserve is a lovely place to spend an afternoon. The preserve features boardwalk trails, wildflowers that bloom in the spring and summer, and cliffside views of Lake Michigan's blue waters. When your tummy starts to grumble, head over to Twisted Willow, an all-American restaurant serving farm-fresh dishes, or the Schooner Pub for seafood and lake views.
Related Read: 8 Best Camping Spots in Chequamegon-Nicolet National Forest
3. Traverse City, Michigan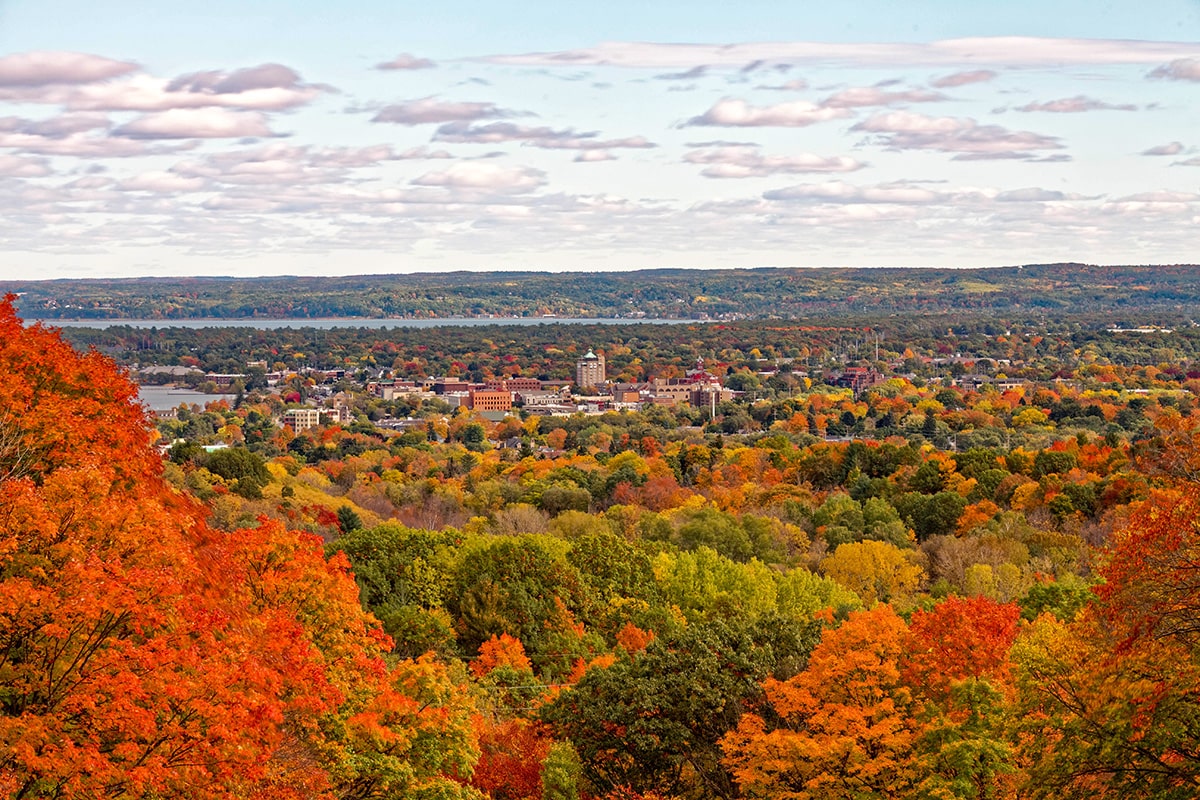 Outdoor lovers can find a lot to love while visiting Michigan's scenic Traverse City. Tucked along the shores of Lake Michigan's Grand Traverse Bay, the city is a stone's throw from the Sleeping Bear Dunes National Lakeshore, famous for towering bluffs and boardwalk trails. This lovely northern Michigan getaway is also the country's largest producer of tart cherries and hosts the National Cherry Festival every June.
Even if visiting outside of festival season, eating and drinking all things cherries are a must! Not to mention, Traverse City is one of the Midwest's top wine regions. So, making time to hop along the Leelanau Peninsula Wine Trail or stopping by local faves like Shady Lane Cellars and Left Foot Charley are excellent ways to experience Traverse City.
Related Read: 10 Refreshing Michigan Swimming Lakes for a Summertime Dip
4. Door County, Wisconsin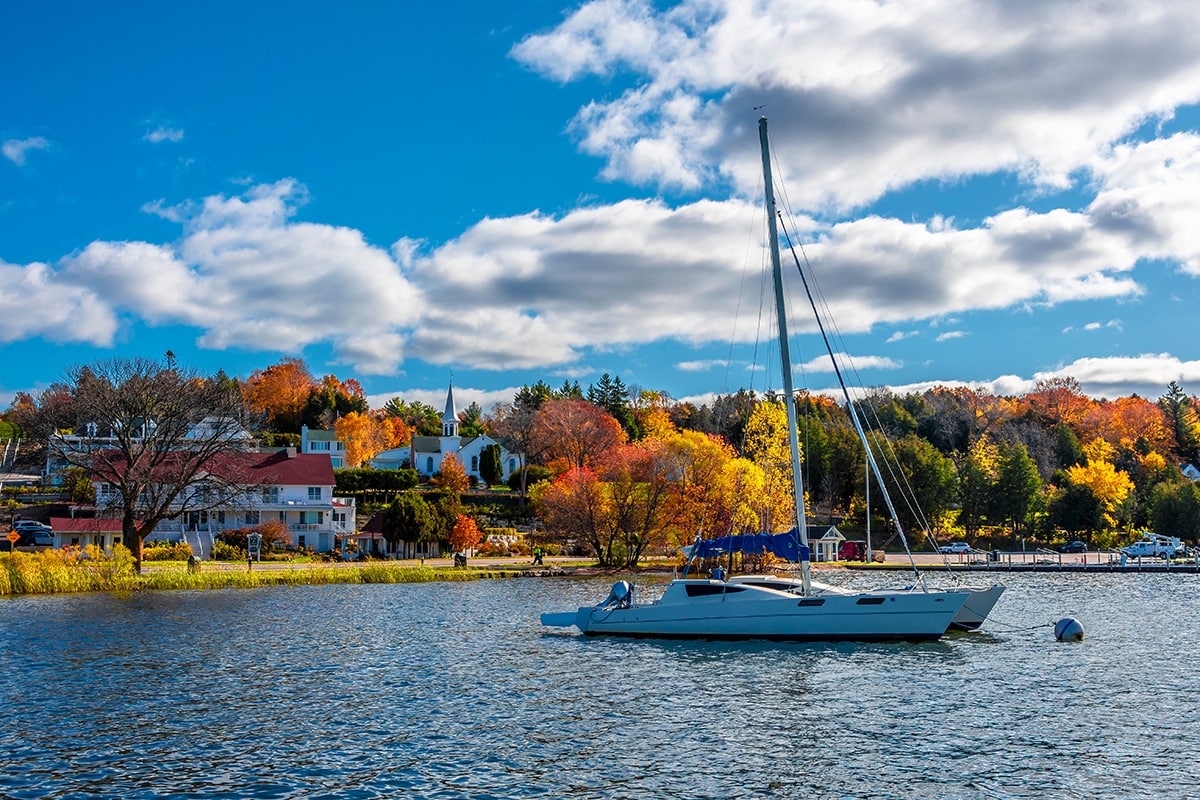 Lovingly referred to as Wisconsin's thumb, Door County is a beautiful vacation region comprised of many small coastal towns. The peninsula is set along Green Bay and Lake Michigan, and is best known for its rolling vineyards, craggy cliffs, and sandy beaches.
The county's famous Peninsula State Park  offers outdoor fun where visitors can beach, hike, golf, paddle, and more, all within the bounds of one protected stretch of Lake Michigan shoreline. Indulging in local treats like cherries, wine, and fish boils is a tasty way to get acquainted with the region. Pelletier's Restaurant & Fish Boil offers one of the best in the county. Some of the most beautiful places to stay in Door County include the charming towns of Sister Bay, Fish Creek, and Egg Harbor.
Related Read: 6 Homey Campervan Rentals in Milwaukee Perfect for Any Escape
5. Holland, Michigan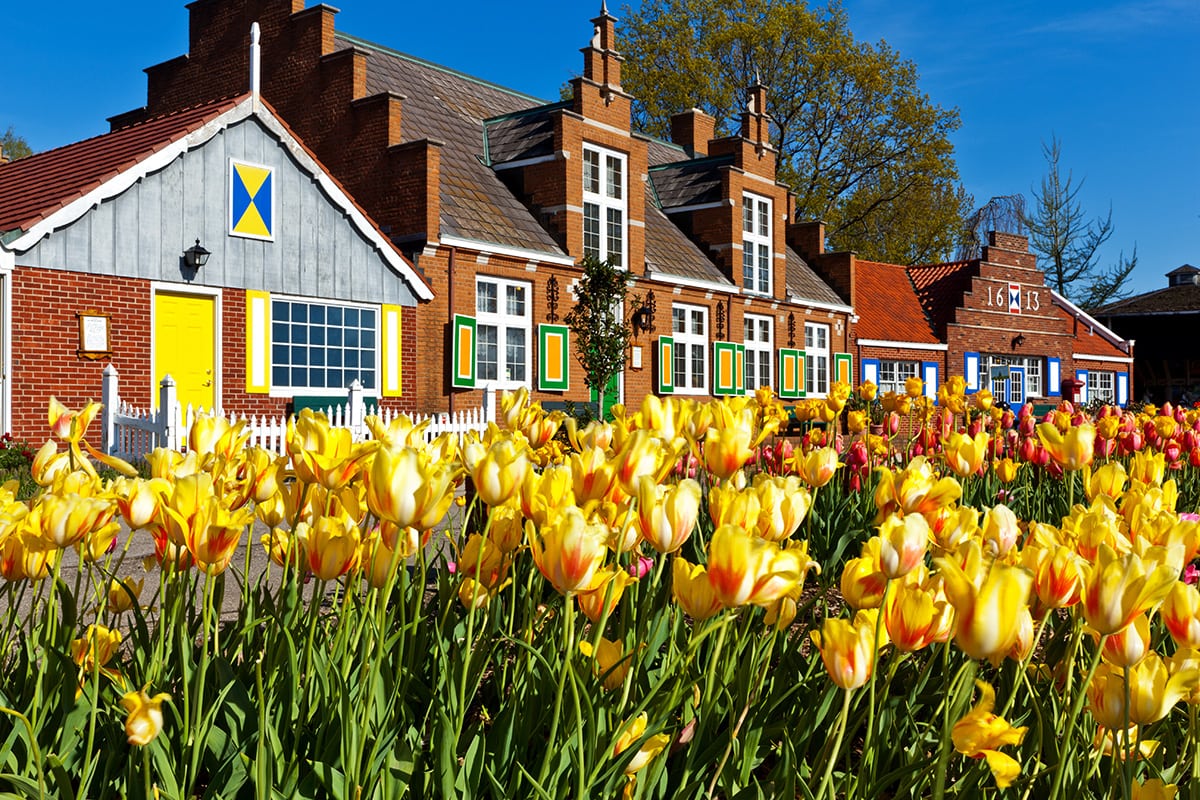 Although not directly on Lake Michigan, Holland is a charming small town just a short drive from the Great Lake. The heart of the city was built along Lake Macatawa and is known for its cobblestone streets and quaint mom-and-pop shops. No visit to Holland is complete without a visit to the Holland State Park, where camping, recreation facilities and sandy beachfront offer plenty to do to fill a day.
Near the park, the city's iconic 1870 Big Red Lighthouse sits proudly on the mouth of the Holland Channel and is one of Michigan's most photographed landmarks. And, of course, visiting the Nelis Dutch Village is a fantastic opportunity to learn about the city's namesake and cultural ties to the Netherlands.
Related Read: The Best Great Lakes Islands for a Scenic Midwest Vacation
6. Indiana Dunes National Park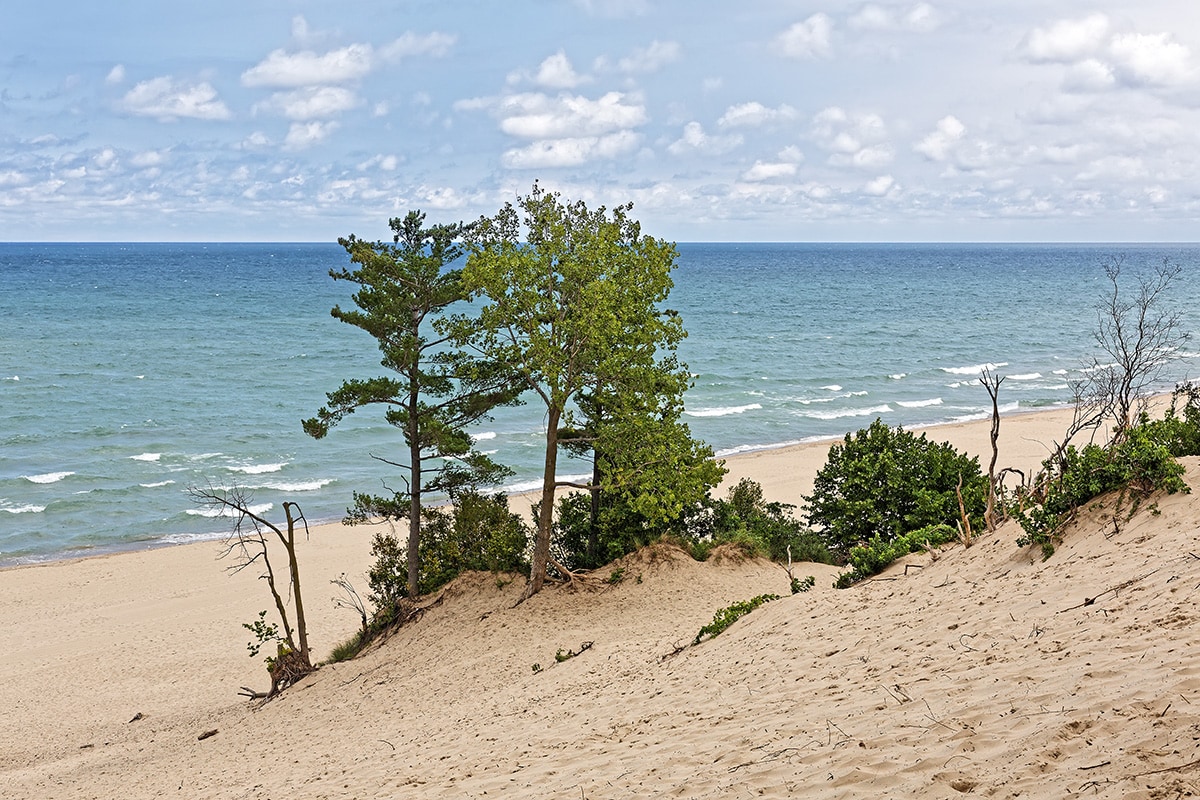 With only 45 miles of Lake Michigan coastline in the state, the Indiana Dunes National Park is one of the best, if not the only, way to experience the waters of Lake Michigan in Indiana. Although not technically a small town, this national park has just about everything you need for an outdoor-centered visit including a modern campground, shower facilities, and easy access to a convenience store.
Outside the sand dunes and stretch of beaches, the park features excellent birdwatching and miles of hiking trails. Those up for a bit of exercise should take on the 3 Dunes Challenge, a steep climb to the top of the area's three tallest sand dunes.
Related Read: 5 Epic Campervan Rentals Near Madison, Wisconsin
7. Mackinaw City, Michigan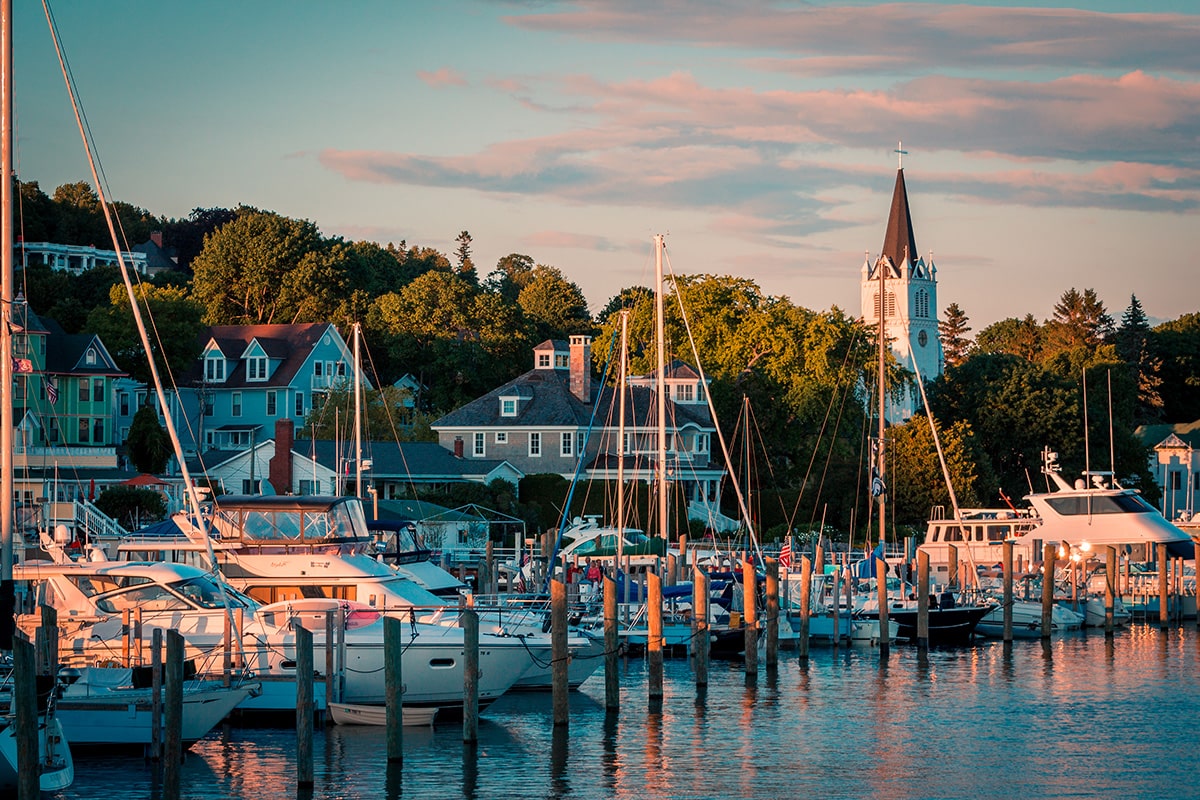 Situated on the northernmost point of Michigan's lower peninsula, Mackinaw City offers a classic "up north" experience. The city straddles where Lake Michigan and Lake Huron meet and acts as the gateway to the scenic Upper Peninsula. One of its top attractions includes Colonial Michilimackinac, a historic French and British fort dating back to 1715.
At the Headlands International Dark Sky Park, visitors can marvel at the untouched Lake Michigan shoreline and insanely clear star-gazing in the evening, where it's sometimes possible to catch sight of the Northern Lights. Additionally, no trip to Mackinaw City is complete without taking the ferry to Mackinac Island, a beloved Michigan vacation spot famous for fudge and pretty scenery.
Related read: 9 Romantic Getaways in Michigan For Lovers (of Adventure)
8. Grand Haven, Michigan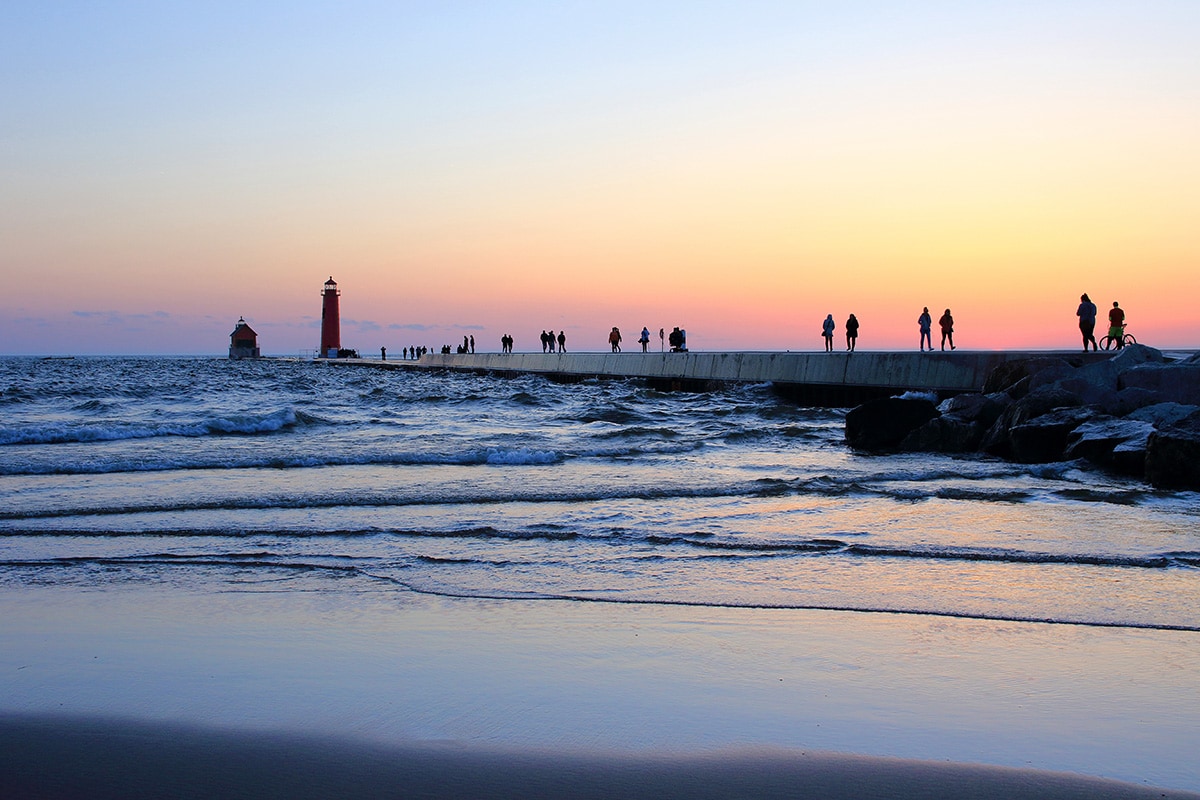 Skip the hassle of traveling all the way to Cape Cod and book a getaway to the charming coastal town of Grand Haven. This Michigan beach town features long stretches of beaches and a public pier that come alive in the summertime. At the Rosy Mound Natural Area, you can enjoy miles of forested hiking trails that pass impressive sand dunes and up-close views of the water. Anglers can hop aboard a fishing charter and cast their line to catch coho and chinook salmon or bass.
Grand Haven's famous boardwalk is also worth visiting, stretching 1.5 miles and lined with local shops and restaurants. While you're there, snap a photo of the bright red Grand Haven Lighthouse that dates back to 1839. For a taste of local flavor, head to top restaurants like The Paisley Pig Gastropub and The Kirby House, where the atmosphere is cozy, and the food is delish.
9. Green Bay, Wisconsin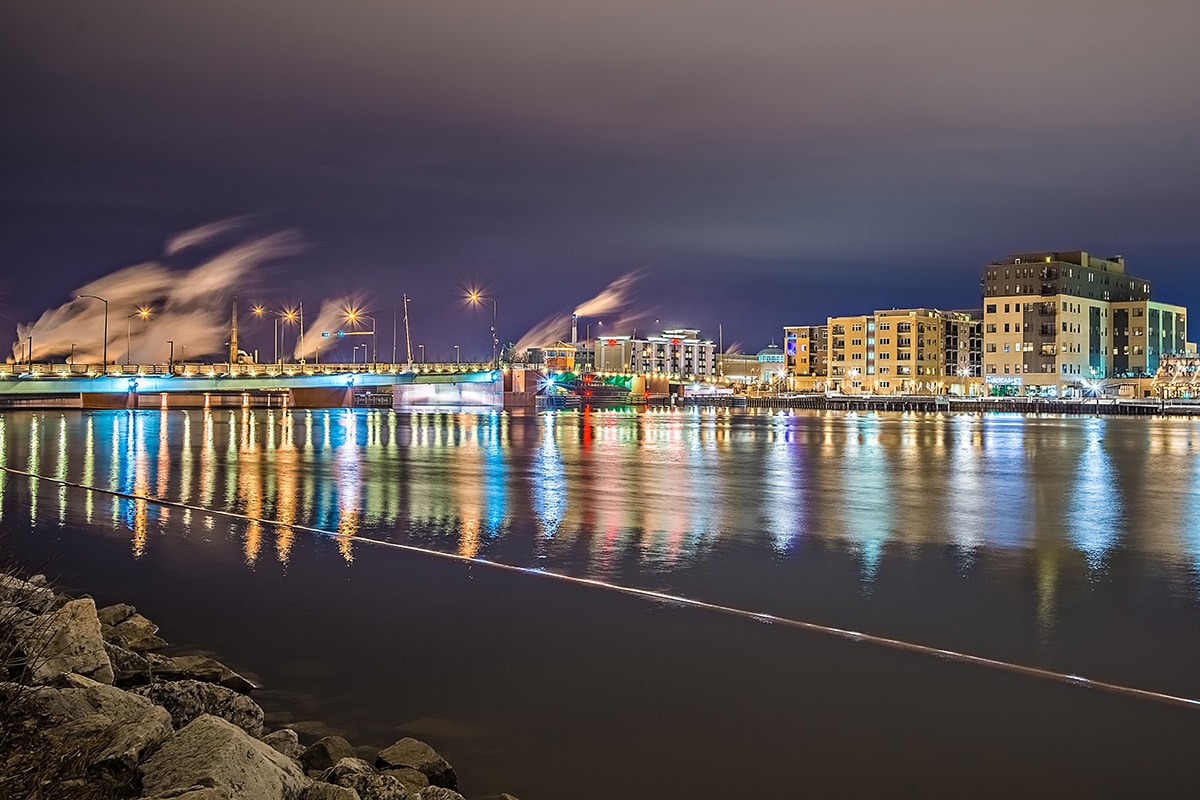 Green Bay is one of Lake Michigan's largest towns, situated along the bay by the same name. Locals in Green Bay bleed green and gold for Wisconsin's beloved Packers, and you can feel this pride in every corner of the city. So it's no surprise that some of the best things to do in Green Bay include touring the historic Lambeau Field and taking in fresh air at Titletown, a Parker's themed outdoor area.
Outside of football, The National Railroad Museum entices visitors interested in learning more about the U.S's vast railroad history. The Oneida Nation Museum is another excellent establishment dedicated to the region's first inhabitants. Some top places to grab a bite include Titletown Brewing Company, a brewpub in an old train depot, and Kroll's East, a family-run joint that's been whipping up American favorites in Green Bay for decades.
10. Sheboygan, Wisconsin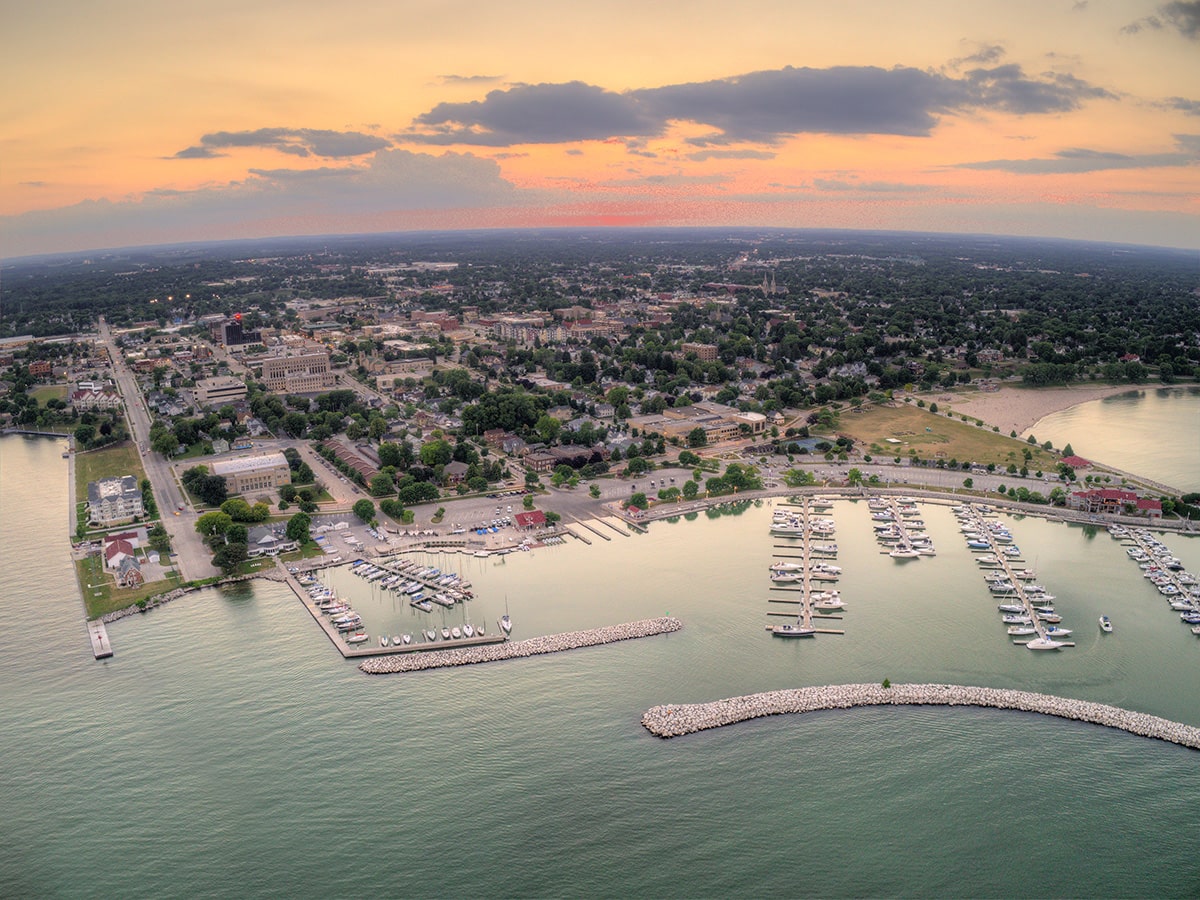 Surf's up in Sheboygan, a hub for freshwater surfing on the waters of Lake Michigan. Beginners can rent a board and try their hand at Sheboygan's surf without the stress of tall waves or circling sharks. It's also possible to rent sailboats, paddle boards, and other water gear along the lakefront for even more water-based adventure.
One of Sheboygan's best beaches can be found at the idyllic Kohler-Andrae State Park, a beautiful park home to the famous Cordwalk Trail. This small city is also known for its top-rated golf courses, pretty green spaces, and relaxing spas. If you have time, a day trip to experience the natural beauty of nearby Elkhart Lake is also a must!
11. Wilmette, Illinois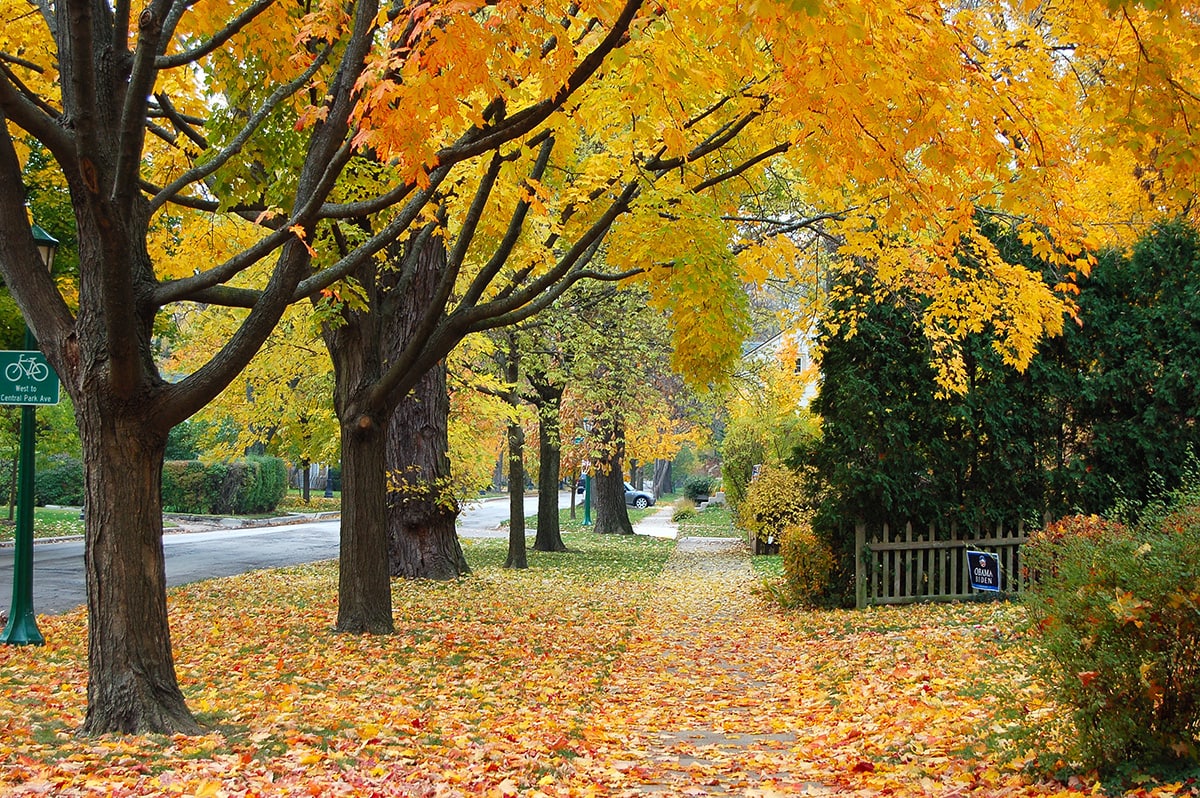 Located 25 minutes north of The Windy City lies the charming mid-sized city of Wilmette. This lovely lakefront suburb boasts architectural beauties worth seeing including the Grosse Point Lighthouse and Bahá'í House of Worship, the oldest Bahá'í temple still standing.
In the summer, head over to Gillson Park, a reserve where a clean and quiet stretch of beach features concessions and picnic areas. Other natural wonders in Wilmette include the Elmwood Dunes Preserve and the Skokie Lagoons, two small slices of untouched wilderness. The Northwestern University campus lies not far from Wilmette in Evanston, a vibrant suburb of Chicago noted for its lively college atmosphere.
Related Read: 10 Romantic Getaways Near Chicago, Illinois
Explore Washington
Get epic travel ideas delivered to your inbox with Weekend Wanderer, our newsletter inspiring thousands of readers every week.
---