We research, evaluate and select travel destinations based on a number of factors, including our writers' experience, user reviews and more. We may earn a commission when you book or purchase through our links. See our editorial policy to learn more.
---
Lying just to the west of the Continental Divide, Jackson Hole is surrounded by some of Wyoming's most stunning mountains.
That means that Jackson Hole isn't a city, but rather, a 13-mile-wide and 48-mile-long valley — with the town Jackson as the hub. Even if you haven't been there, you've probably seen it before, since more than 20 feature films were shot in Jackson Hole, including "Shane," "The Pursuit of D.B. Cooper," and "Django Unchained."
The area's stunning mountain terrain makes Jackson Hole a haven for outdoor adventurers and wildlife enthusiasts, since the valley is home to deer, elk, bison, moose, grizzly bears, bald eagles, and even the very occasional wolf or two. Skiing is the main draw in the winter, while the warmer months bring opportunities for hiking, whitewater rafting, fishing, and much more.
In the town of Jackson, you'll find the famous town square and antler arches, as well as shopping, dining, entertainment, and nightlife. The Million Dollar Cowboy Bar is one of the most famous ski bars in the west.
For the best place to base yourself for during your Wyoming getaway, check out the best Airbnbs in Jackson Hole rounded up on the list below, ranging from budget-friendly to downright luxurious.
Related: How to Spend One Day in Grand Teton National Park, Wyoming
1. Abode at Moosehead Cabin
Why you should stay: A lux log cabin minutes from Wyoming's most epic ski resort.
Sleeps: 8
Minimum stay: 5 nights
Rates from: $468/night
If you're looking for the traditional log cabin experience, look no further: the Abode at Moosehead Cabin is it. Nestled in the trees on the hillside above Teton Village, it's just a two-minute walk from the slopes of Jackson Hole Resort, Wyoming's most famous ski resort.
After a day of play, come back and relax in the soothing hot tub, cozy up to the warmth of the stone fireplace and enjoy spectacular mountain views. It's pricey in the peak of winter, but it sleeps a decent-sized crew.
Check Availability
2. Baitshop Cabin
Why you should stay: Impressive amenities inside and out and a quick walk to downtown.
Sleeps: 6
Minimum stay: 1 night
Rates from: $359/night
The Baitshop Cabin is just steps from downtown Jackson Hole and the historic town square where you can watch Old West shootouts, hitch a ride on a stagecoach, and saddle up to the famous Million Dollar Cowboy Bar. You'll be close to skiing at Snow King Mountain and Jackson Hole Resort, too.
The cabin itself includes a wood-burning stove, full glass doors for an abundance of natural light, and a deck for relaxing while watching for wildlife like deer or hey, maybe even a moose. When the weather allows, spend the evening outside enjoying a little al fresco dining.
Check Availability
3. Colter Log Cabin at the Elk Country Inn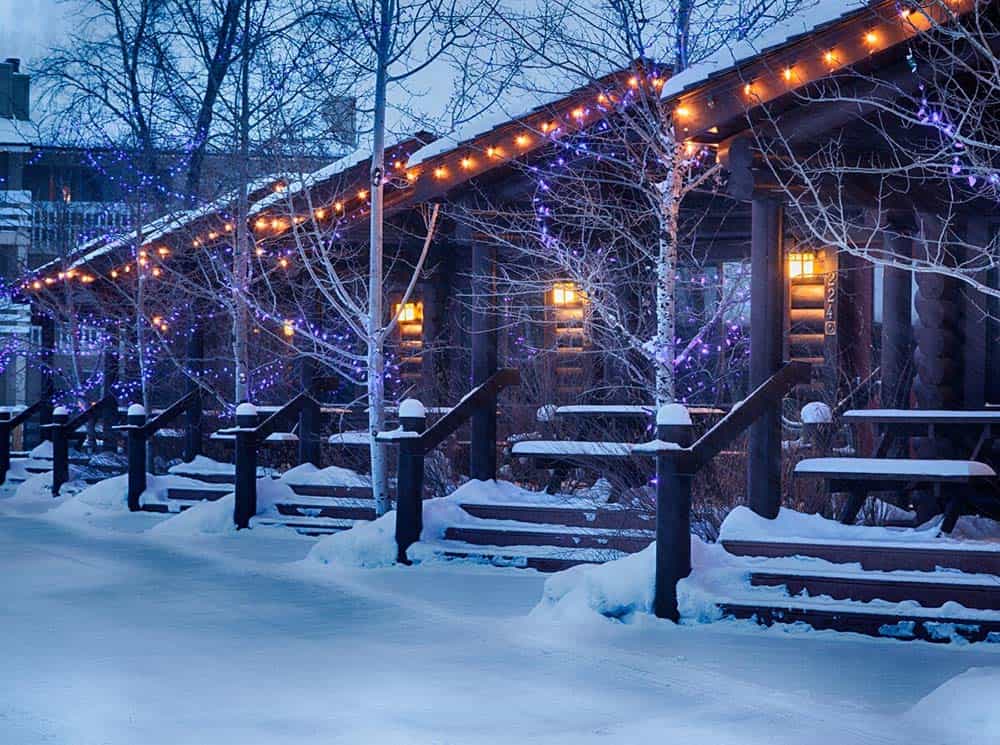 Why you should stay: Affordable luxury in a real log cabin with free breakfast and ski shuttles.
Sleeps: 5
Minimum stay: 1 night
Rates from: $178/night
The Colter Log Cabin is part of the Elk Country Inn. While you'll be in your own separate structure, you'll enjoy the amenities of the inn, which includes free breakfasts, access to a free ski shuttle, an indoor/outdoor pool, laundry facilities, a fitness center, and more.
Inside, the decor includes historic Jackson Hole photos and a full kitchen for making the perfect après-ski meat and cheese spread. In addition to the convenience of a ski shuttle, you're also within walking distance to downtown, which helps make your evenings extra fun.
Related Read: 11 Amazing Wyoming Cabin Rentals To Warm Your Soul
4. Sheepherder Wagon
Why you should stay: Why glamp in a tent when you could glamp in an ol' timey wagon?
Sleeps: 2
Minimum stay: 1 night
Rates from: $225/night
This authentic sheepherder wagon is an insulated, canvas-covered wagon that offers the perfect mix of camping and luxury, complete with spectacular mountain views and access to a hot tub. While there are no cooking facilities, breakfast is included in the rate and there's a shared lounge with coffee and tea, a microwave and mini-fridge, and dishes. A private bathroom is just steps away in the main house.
The property is a bit outside of town so it's one of the best Airbnbs in Jackson Hole if you're keen to spot grazing wildlife.
Check Availability
5. Luxe Penthouse
Why you should stay: A high-end penthouse with ski resort views from the private hot tub.
Sleeps: 4
Minimum stay: 1 night
Rates from: $553/night
Look forward to soaking in a hot tub on a wrap-around deck while gazing out at magnificent views of Snow King Mountain from this luxurious penthouse. It sits on the third-floor of the Pearl at Jackson, steps from the town square and shuttle routes. It's pricey, but if you're not concerned about the cost, it's one of the most luxurious Airbnbs in Jackson.
The stylish space comes with a host of amenities and special touches. Enjoy everything from the flat-screen TV above an ambient fireplace to tall windows for marveling at the views from inside. Because it's part of a resort, you'll get access to benefits like complimentary breakfast, a day spa, and a concierge who can help you plan tours or airport transportation.
Check Availability
6. Outpost: Four Seasons II C6
Why you should stay: A steal of a price for nine people, especially considering the million-dollar views.
Sleeps: 9
Minimum stay: 1 night
Rates from: $178/night
The Four Seasons II C6 offers mountain living in Teton Village, ideal for a large family or friends traveling together with plenty of space and magnificent views of Sleeping Indian Mountain. It's just a five-minute walk to the lifts and includes a hot tub for a relaxing soak as well as a stone fireplace. It's a fabulous place to come back to after a day of skiing (or anything else outside, for that matter.)
The kitchen is well-equipped for preparing your own meals, and in the summertime, you can look forward to grilling out on the deck while keeping an eye out for moose that occasionally roam through the neighborhood.
Check Availability
7. Charming Log Cabin
Why you should stay: A remote, dog-friendly stay on a private horse farm.
Sleeps: 5
Minimum stay: 4 nights
Rates from: $134/night
If you want to be immersed in the wilderness, this dog-friendly log cabin nestled in the woods, surrounded by national forest and wildlife, is sure to be your favorite of the Airbnbs in Jackson Hole. As it's located on a horse property, you can spend time hanging out with the animals, too.
While you might think you'd have to sacrifice amenities for the low price tag, this cabin offers all the comforts of home and then some, from a well-appointed kitchen to laundry facilities. It's also only a quick drive to downtown Jackson, so it's still a good spot to stay if you want to have dinner out one evening or swing by a cafe for breakfast.
Check Availability
8. Shooting Star Cabin
Why you should stay: A mountain dream home just outside Grand Teton National Park.
Sleeps: 12
Minimum stay: 1 night
Rates from: $779/night
Gather up your friends and family for an unforgettable stay in Jackson Hole with luxuries and plenty of space indoors and out at the Shooting Star Cabin.
From the inside, enjoy chats around the wood-burning fireplace and stunning mountain views showcased by huge windows. Outdoors, take advantage of the private hot tub – it's especially memorable while gazing up at the brilliant night sky after dark.
Check Availability
9. Queen Studio Log Cabin
Why you should stay: Lots of privacy, an ideal location, and a long list of amenities at a value price.
Sleeps: 3
Minimum stay: 1 night
Rates from: $114/night
This cozy studio log cabin is an ideal place to snuggle up and watch the snow fall or basecamp for quick access to the summertime rodeos without breaking the bank. You'll have plenty of privacy nestled in the evergreens. It has the feel of a remote cabin, yet it's within walking distance to everything in town.
If you have one, you can bring your furry best friend as the cabin is dog-friendly. While there, you'll be able to take advantage of the long list of amenities the property offers, including free Wi-Fi, a swimming pool, a hot tub, a fitness center, and a complimentary ski shuttle.
Check Availability
10. Modern Mountain Loft
Why you should stay: Gorgeous and perfectly located condo with a breathtaking mountain-view balcony.
Sleeps: 2
Minimum stay: 1 night
Rates from: $270/night
The beautifully designed Modern Mountain Loft includes lots of special touches and luxurious amenities. The private balcony features awe-inspiring mountain views, ideal for unwinding with a glass of wine after a day of adventure. While restaurants and shops are just steps away, you'll have all you need to prepare your own meals, too.
Some of the other highlights that make this one of the more standout Airbnbs in Jackson are an "instant" fireplace and large flat-screen TV with cable and an Amazon Firestick, on the off-chance you can tear yourself away from the view.
Check Availability
Plan Your Jackson Hole Trip
More Incredible Stays
Get epic travel ideas delivered to your inbox with Weekend Wanderer, our newsletter inspiring more than 10,000 readers every week.
---