We may earn a small commission when you make a purchase or booking through our links. Read our editorial policy to learn more.
---
Book a weekend stay in one of these unique Airbnb rentals, and you'll quickly see how Montana earned its nickname of the Big Sky State.
Montana holds a special place in the hearts of outdoor enthusiasts. It's home to the fabled Yellowstone and Glacier National Parks, 10 pristine National Forests, and a rugged, mountainous landscape that offers just about every outdoor-minded activity that you can dream of. Whether you're into fishing, rafting, hiking, hunting, biking, skiing, or rock climbing, the Treasure State has you covered.
The best way to experience Montana's namesake big skies is with a tent or camper (in our humble opinion, at least), but if roughing it isn't exactly your cup of tea, don't worry — Airbnb and VRBO offer thousands of vacation rentals across the state that'll take your glamping game to the next level.
To help jump-start your search, we've put together a list of the most unique vacation rentals across the great state of Montana that are sure to draw your attention. Take a look at our favorite properties, and if you're brave enough to hit the "book now" button, share your adventure with us (and your fellow adventurous travelers) on Instagram using the hashtag #findyourterritory.
1. The Meadowlark Treehouse
Why you should stay here: A truly epic treehouse that takes glamping to new heights (pun intended).
Sleeps: 4
Minimum stay: 3 nights
Pets allowed: Yes
If the picture alone doesn't make your heart skip a beat, then the Meadowlark Treehouse isn't for you. And that's totally fine for the rest of us who are already daydreaming about epic glamping weekends here, as this place books out months in advance.
The Meadowlark Treehouse sits on seven wooded acres near the gateway to Glacier National Park, where you can find adventure in every direction. Bring the right gear and you can spend your time fishing, boating, whitewater rafting, paddleboarding, kayaking, biking, hiking, horseback riding, rock climbing, golfing, and (pause to catch your breath) skiing/snowboarding.
When you're not outside experiencing the best that Montana has to offer, you'll find plenty of space to relax at the treehouse. Enjoy your coffee on one of the expansive decks, tell stories around the campfire, or catch some Z's on the unbelievably comfortable Tempur-Pedic mattress in the master suite.
Check Availability
2. Creekside Hideaway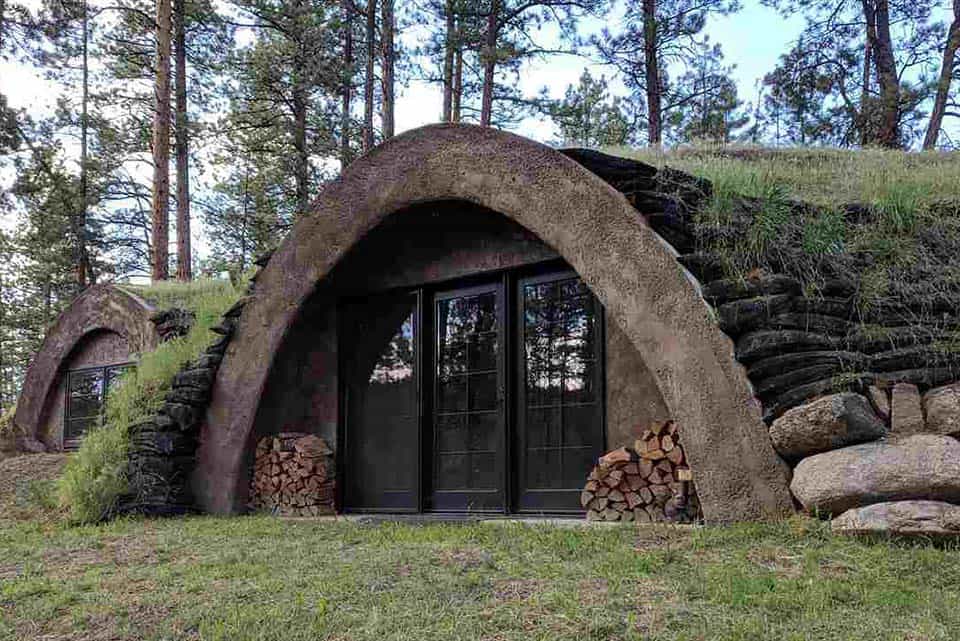 Why you should stay here: An authentic earth home that'll pique your curiosity and deliver a truly unique stay that you'll be talking about for years to come.
Sleeps: 12
Minimum stay: 2 nights
Pets allowed: No
The Creekside Hideaway is as grounded as it gets, but you won't be living like hippies in the 60s here. Step inside and you'll be amazed by the modern Scandanavian decor and thoughtful architecture. There's a secret bedroom behind a hidden passageway, four full-size sleeping nooks, and a luxurious shower that you'll access through a massive tree trunk.
When you're not exploring every nook and cranny inside this curious abode, grab your hiking shoes and head outside to explore the gorgeous natural scenery that surrounds the Creekside Hideaway.
Check Availability
3. Tilting Tree Cottage
Why you should stay here: A nature retreat that's about as simple and grounded as it gets.
Sleeps: 2
Minimum stay: 1 night
Pets allowed: No
The Tilting Tree Cottage at Sage Mountain Center is a single-room abode, handcrafted with cordwood, strawbale, and recycled materials. It's an ideal off-grid retreat for anyone looking to connect with nature and rediscover themselves in a quiet, serene natural setting that's far removed from the busy world.
You won't find any modern luxuries here, but that's kind of the point. The good news is that you'll have full access to all of the amenities at Sage Mountain Center, including a yoga space, large communal dining and living areas, several gardens, a quarter-mile Baltic labyrinth, and miles of hiking trails.
Check Availability
4. Glacier Glamping Tipi
Why you should stay here: Put a twist on the modern glamping getaway with an authentic Native American tipi.
Sleeps: 2
Minimum stay: 1 night
Pets allowed: Yes
Already did the whole glamping tent experience and looking for something new? Try switching gears with an authentic Native American tipi.
Much like glamping in a walled tent, the Glacier Glamping Tipi delivers comfortable accommodations with modern bathroom facilities that make the great outdoors enjoyable for everyone.
Step inside the tipi and you'll find a cozy full-size bed, a powerful propane heater for warmth, and electricity. Nearby there's a shared bathroom facility and communal kitchen, and the campground provides fire pits, lawn chairs, hammocks, bicycles and more for your entertainment.
Check Availability
5. The Big Red Caboose
Why you should stay here: After an exhilarating day exploring Flathead National Forest or Glacier National Park, spend your evenings winding down in an old-school train car that's been converted into a simple glamping cabin.
Sleeps: 2
Minimum stay: 1 night
Pets allowed: No
Speaking of kids-at-heart, here's another unique vacation rental that's perfect for those of us who were obsessed with trains as a child (for the record, I'm raising my hand here). The Big Red Caboose is an authentic train car that's been remodeled into a tiny home, and thanks to the active train tracks nearby you'll often feel like you're chugging away in an old school train car.
Even better, this unique vacation rental is surrounded by the mountains and woods of Flathead National Forest, delivering a gorgeous natural scenery that's begging to be explored by adventurous travelers.
Step inside this converted train car and you'll discover a quaint, simple interior with five single beds and a fully-stocked kitchenette. There's no WiFi or cell service, making this a great destination to go off-the-grid and reconnect with nature (while also kindling the excitement of your inner child).
Check Availability
6. Honey's Place
Why you should stay here: A century-old barn that's brimming with rustic charm and sweeping country views.
Sleeps: 6
Minimum stay: 1 night
Pets allowed: No
Originally constructed in 1915, this historic barn was renovated into a handsome vacation rental in 2015. You'll find it on a 20-acre farm in Northwest Montana, surrounded by thousands of acres rich farmland and conveniently located near Glacier National Park.
Honey's Place can accommodate up to six guests between one queen and three full-size beds. There's a fully stocked kitchen where you can prepare your meals, a washer & dryer for laundry, and a beautiful 2nd story deck where you can soak up the views with your morning coffee.
When the weather gets chilly, fire up the wood-burning stove to keep warm inside, or grab your swimsuit and relax in the four-person hot tub outside.
Check Availability
7. Airstream in Paradise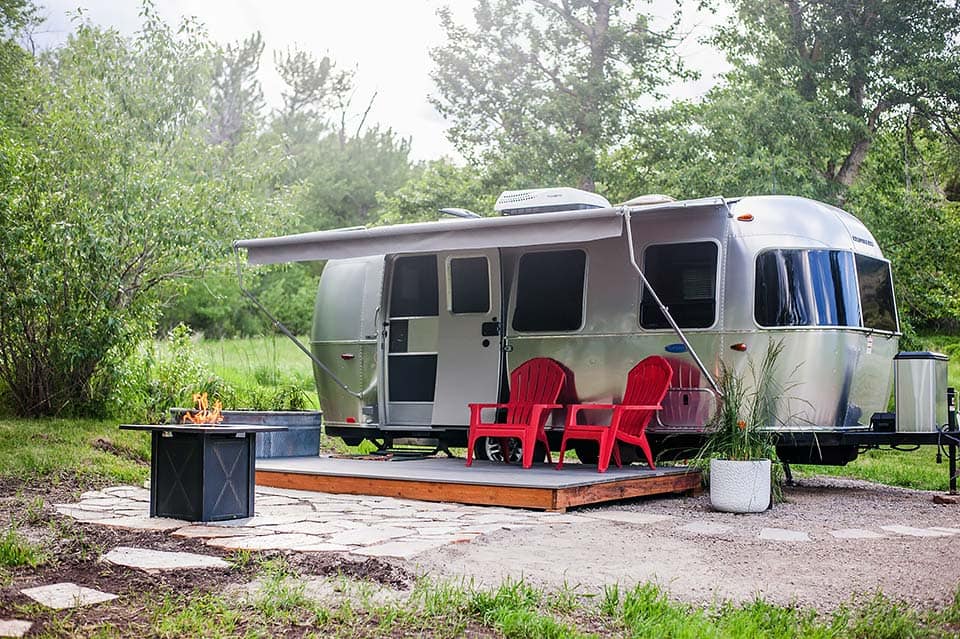 Why you should stay here: If you're looking for a classic American vacation, it's hard to beat a weekend an Airstream.
Sleeps: 2
Minimum stay: 1 night
Pets allowed: No
Planning a camping trip in Montana? Consider upgrading from your tent and cot to the Airstream in Paradise, and you'll enjoy a glamping experience that delivers vintage American charm with all of the modern luxuries you need for a weekend in the woods.
The Airstream in Paradise looks like it's straight out of the 20th century, but it's actually a brand-new 2019 model. You'll enjoy modern heat and A/C, a cozy queen bed, 40 gallons of water for hot showers, and a fully stocked kitchen.
When you're not relaxing in the Airstream or toasting marshmallows beside the fire pit, you'll have access to five acres of private land to hike and explore. Follow the nature walk along the dry creek bed, then take an afternoon nap in the hammock when your legs need a rest.
Check Availability
8. The Shire of Montana
Why you should stay here: A Tolkien fan's wonderland with luxury accommodations for the grown-ups and a magical landscape for the kids to explore.
Sleeps: 3
Minimum stay: 2 nights
Pets allowed: No
The Shire of Montana is more than just a unique vacation rental. Sure, it's a great place to rest your head at night and relax with your family, but the real magic is all on the outside.
In addition to crafting a quaint country cottage that looks right at home in the Shire, the hosts have pieced together a magical landscape filled with miniature accommodations for dwarves, trolls, and more. It's sure to keep the kids entertained for hours, and guaranteed to bring a smile to any kid-at-heart adults who enjoyed reading The Hobbit and The Lord of the Rings.
Check Availability
9. Under Canvas
Why you should stay here: A modern glamping experience that makes camping fun for everyone.
Sleeps: 2-6
Minimum stay: 1 night
Pets allowed: Yes
If you haven't heard of Under Canvas yet, add them to your shortlist of go-to travel brands to trust. These guys specialize in glamping resorts that bridge the gap between the great outdoors and those of us who prefer soft beds and indoor plumbing, and they're easy to find with 7+ resorts across the United States.
You'll find two Under Canvas resorts in the great state of Montana, one just outside of Yellowstone National Park, and the other adjacent to Glacier National Park. Both offer similar glamping experiences with safari-style canvas tents, in-tent fireplaces for heat, luxury bedding, shared bathrooms, and daily housekeeping.
Check Availability
More Unique Rentals Across the American West
Sign up for our free email to join thousands of readers getting epic travel, hiking, camping and gear ideas every week.
---