We research, evaluate and select travel destinations based on a number of factors, including our writers' experience, user reviews and more. We may earn a commission when you book or purchase through our links. See our editorial policy to learn more.
---
Whimsy and fantasy abound in the endless sea of forests that blanket Maine's landscape, so why not spend a night in an epic treehouse?
About seventy-five percent of Maine is covered in forests. With that statistic, there's no doubt that treehouses are the perfect getaway for anyone who visits Vacationland.
If you're heading up to stay in the great wide north country, you might get a glimpse of Maine's most famous ungulate: the moose. If you'd rather stick to the tourist hotspots like Acadia National Park, you'll see miles of seaside beauty. Or, maybe you want to stick closer to the cities to eat at the state's iconic seafood restaurants.
Whatever region you choose, there is no better way to get lost in the magic of Maine than from your very own treehouse because sleeping amongst the trees is a tranquil and serene experience you'll never forget.
1. The Woods
Why you should stay: private access to Lake Pennesseewassee.
Nearest town: Norway
Sleeps: Up to 4 guests
Minimum Stay: 2 nights
Rates from: $650/night
The perfect combination of rustic charm and refined taste is found within the walls of The Woods. Despite its vague name, the treehouse features prominent details throughout its interior. From the brass fixtures, the cozy breakfast nook, the charming barn doors, and the quaint entryway complete with buckets to store all of your outdoor gear.
But the best amenity? The fireplace, which is a hearty and warming addition, perfect for cold autumn and winter evenings. Every nook and cranny has been thoughtfully designed and created with intention. The Woods is also located less than an hour away from hiking trails and ski resorts.
Check Availability
Related read: 8 Spectacular Glamping Spots Near Acadia National Park, Maine
2. Luxurious Treehouse near Acadia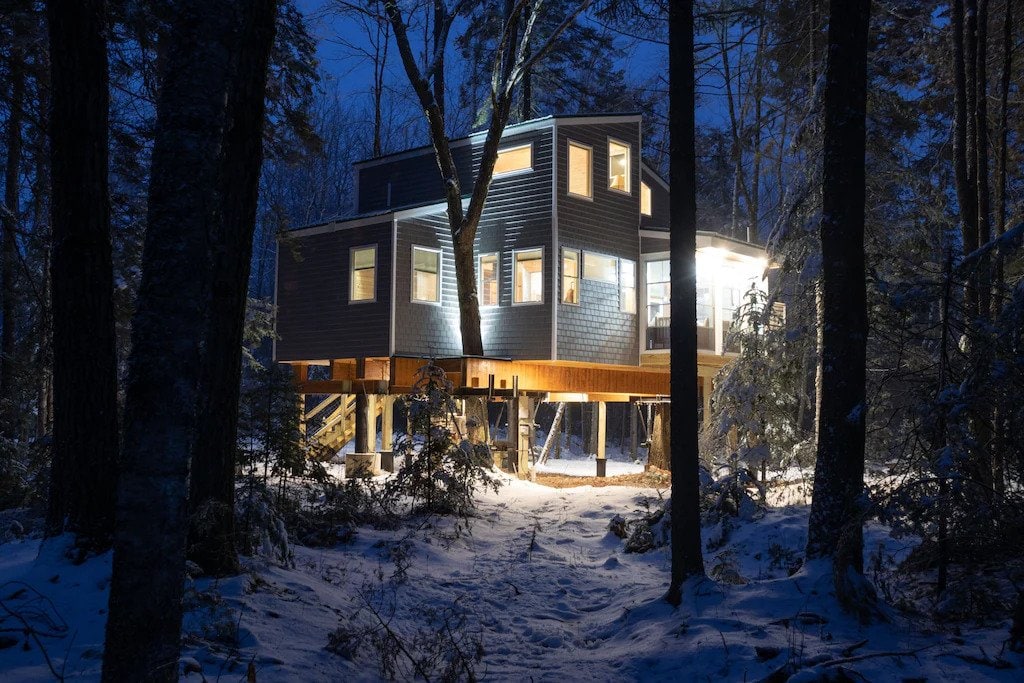 Why you should stay: an outdoor shower and a bench made out of moose antlers.
Nearest town: Ellsworth
Sleeps: 6 guests
Minimum Stay: 2 nights
Rates from: $369/night
Nestled amongst tall birches and white pines, this beautiful two-story treehouse will leave you breathless. The house is full of unique touches including a narrow, spiral staircase leading to one of the bedrooms and an ample amount of woodland-themed decor like lanterns, antlers galore, and wood walls.
Adding to the luxury, the enormous, jetted tub will make you want to soak in its suds all day long. If that wasn't enough, there's also an oversized steam shower AND a sauna. Plus, it's located only about 35 minutes from Bar Harbor and Acadia National Park. Is there anything else to say except book this place now?
Check Availability
Related read: 10 Must-Do Activities During the Fall in Maine
3. Moonlight Treehouse
Why you should stay: add on the pontoon rental for a really good time.
Nearest town: Belgrade
Sleeps: 4 guests
Minimum Stay: 2 nights
Rates from: $636/night
There is no bad time of year to stay at the Moonlight Treehouse. Summertime brings flowers and pollinators to the land while autumn boasts some of the most gorgeous fall foliage you will ever see. But even in the winter, visitors can ice fish on the lake or simply relax.
The treehouse blends rustic charm with luxurious features that were hand-picked by the owners to showcase their love of nature. From the double French doors to the mesmerizing loft design, this home will leave your jaw dropped. If you're more of the outdoorsy type, why not spend your evening in the private outdoor hot tub that overlooks the woods?
Check Availability
Related read: 7 Drop-Dead Gorgeous National Parks in the East
4. TreeYurt
Why you should stay: the best place for a "poo with a view".
Nearest town: Cumberland
Sleeps: 3 guests
Minimum Stay: 2 nights
Rates from: $109/night
It's a treehouse! No, it's a yurt! Wait, it's a TreeYurt? That's right. Why not have the best of both worlds and stay at both a yurt and a treehouse all in one go? The TreeYurt is also a great choice for visitors who really want to feel like their camping off the grid.
Unlike other treehouses, there is no massive bathroom or gorgeous kitchen. Instead, you're greeted by a mini fridge, a small electric burner, and a few pans and mugs. The space is heated by a wood-burning stove, and, yes, you will have to use an outhouse with a camp toilet. But honestly, that's all part of the fun!
Check Availability
Related read: Top 10 Romantic Getaways in Vermont to Keep the Romance Fiery
5. The Bungalow and Treehouse
Why you should stay: the best chance for viewing seals.
Nearest town: Bar Harbor
Sleeps: 5 guests
Minimum Stay: 6 nights
Rates from: $214/night
Alright, alright – so this place isn't technically a treehouse (despite it being called The Bungalow and Treehouse), but it could, arguably, be called a rockhouse since it's built on the edge of a rock cliff.
The unique architectural design more than makes up for the fact that it isn't bolted onto tree trunks. Nature and modernism blend together in the home's unique and stunning design, combining large windows and sweeping patios with wood walls and outdoor-inspired upholstery.
This rental is technically two buildings booked together – one is The Bungalow and the other is The Treehouse. The sloping hillside below The Treehouse gives the illusion that you are sitting among the trees (hence the name), and best of all, you get ocean views!
Check Availability
Related read: 11 Best Glamping Destinations in Maine
6. BREEZE
Why you should stay: be at eye level with the resident barred owls.
Nearest town: Appleton
Sleeps: 2 guests
Minimum Stay: 2 nights
Rates from: $204/night
BREEZE is one of the most picturesque treehouses in all of Maine. Those with a fear of heights might want to think twice before booking their stay here as this treehouse is truly up in the canopy. The sweeping views and immersion in nature will make you never want to leave your dwelling. But if you do, head to the private sauna shed or the wood-fired cedar hot tub to soothe your muscles after a long day on the trails.
The treehouse comes with a kayak, perfect for the nearby Pettengill Stream, and there are also trails heading to Newbert Pond. It's the perfect spot for anyone who wants to get out and explore the Maine woods.
Bonus: there's an actual toilet, not just a compost one. This is a true rarity in the treehouse world.
Check Availability
Related read: 9 Romantic Getaways in Connecticut to Turn up the Heat
7. Souhegan
Why you should stay: the treehouse has not one but two suspension bridges.
Nearest town: Georgetown
Sleeps: 4 guests
Minimum Stay: 3 nights
Rates from: $338/night
What looks to be straight out of The Lost Boys' home, Souhegan is great for anyone who wants to get lost in a fairytale. Thankfully, Peter Pan will be nowhere to be found when you stay here.
But you will find serenity and solitude in every corner. There are multiple buildings: one is the master bedroom as well as the dining/kitchen areas while the other is a living space perfect to relax with a good book.
But the real treasure is the short, suspended walk to the other platform which houses a wood-fired cedar tub. Most treehouses that have hot tubs opt to keep them on the ground. But not this place! Soak in the healing waters while still admiring the incredible views from Souhegan.
Check Availability
Related read: 9 Beautiful Spots to See Fall Colors in Maine
8. The Canopy Treehouse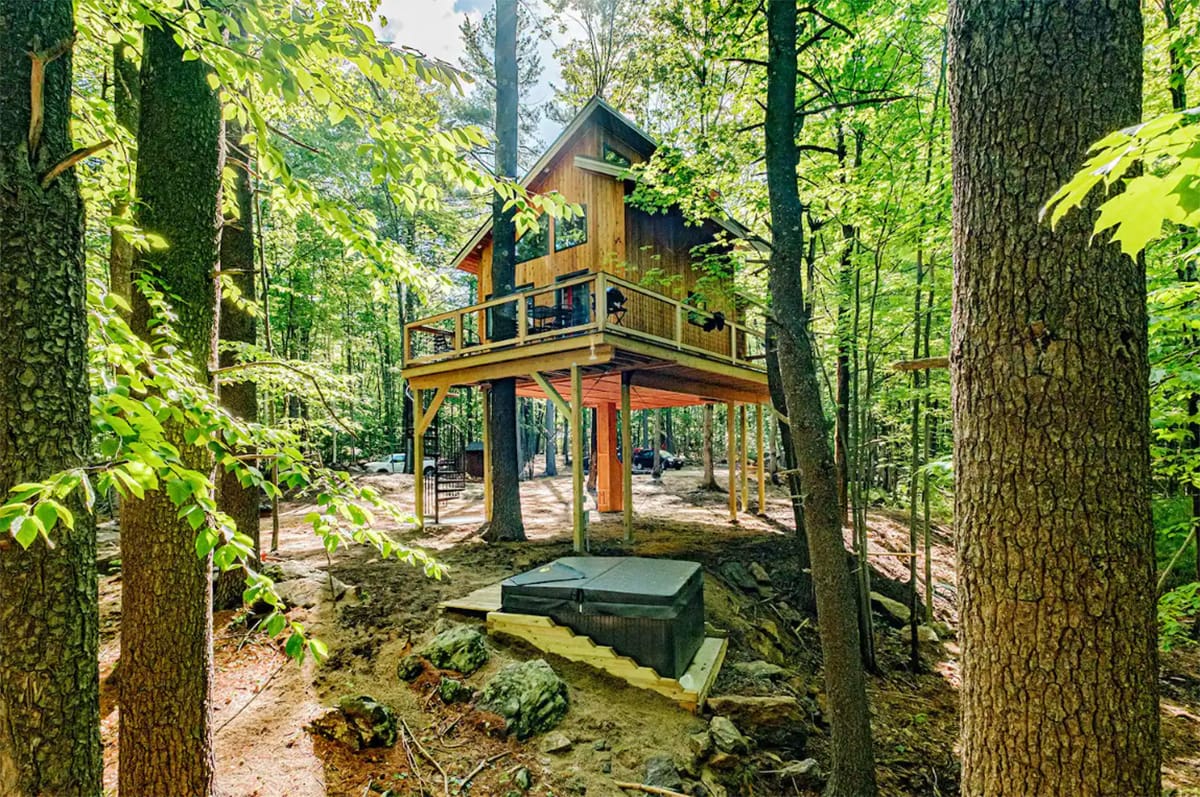 Why you should stay: a perfect combination of city-life luxury and backcountry ambiance.
Nearest town: Sanford
Sleeps: 4 guests
Minimum Stay: 1 night
Rates from: $449/night
Whether it's the retro, ruby-red refrigerator, the copper tea kettle, or the live-edge headboard, The Canopy Treehouse has a lot of personality. The butcher block countertop and the acorn cabinet knobs bring the rustic feel of a treehouse to life, but then add on the stainless-steel appliances and high-end rainfall showerhead and you've got yourself a five-star hotel room.
Plus, the soothing, private hot tub allows you the space to have a personal spa day without shelling out big bucks, all while looking out at the woods and the nearby Littlefield Pond. It's the best of both worlds!
Check Availability
Explore More New England Adventures
Get epic travel ideas delivered to your inbox with Weekend Wanderer, our newsletter inspiring thousands of readers every week.
---