Territory Supply is reader-supported and may earn a commission when you book or purchase using our links. Learn more about our editorial policies here.
---
Known as the Garden City, Missoula is nestled in the Montana Rockies, located at the confluence of three rivers and surrounded by seven wilderness areas.
The stunning natural surroundings make this town ideal as a base for enjoying many outdoor adventures, including some of the world's best fly fishing along with hiking, biking, boating, and kayaking in the summer.
In the winter, head to Montana Snowball just over 13 miles north for skiing and other snow fun. The downtown area offers plenty too, with three distinct shopping districts, local museums, art galleries, breweries, trendy cafes, fine dining restaurants and more.
No matter what you plan to do while in Missoula, these Airbnbs can complete the puzzle for a perfect escape.
Related Read: 12 Stunning Airbnbs & Vacation Rentals in Bozeman, Montana
1. Blackfoot Basecamp
Why you should stay: Direct water access + two homes, ideal for a big family get-together or a fishing trip!
Sleeps: 10
Minimum stay: 1 night
Rates from: $514/night
The perfect retreat, Blackfoot Basecamp includes two cottages on five acres with direct access to excellent wade fishing on the Blackfoot River with its classic trout water habitat, renowned as one of the best fly fishing rivers in the world. In the summer, it's warm enough for a refreshing dip, and fans of 1992's "A River Runs Through It" might be interested to know that it was spotlighted in the film.
Along the shores of the river you can hang out in the hammock with a good read or gather around the fire pit roasting marshmallows with a backdrop of the rushing water. Other highlights include a hot tub, indoor fireplaces and two propane grills for your cookouts. All this, and when you want to dine out or enjoy the attractions, downtown Missoula is just a 10-minute drive away. The Catalyst Cafe is the place to go for breakfast (offered all day) while the Pearl Cafe is highly-rated for its fine dining evenings of delicous indulgence.
Check Availability
Related Read: 6 Gorgeous Treehouse Rentals in Montana
2. Reclaimed Spacious Tiny Home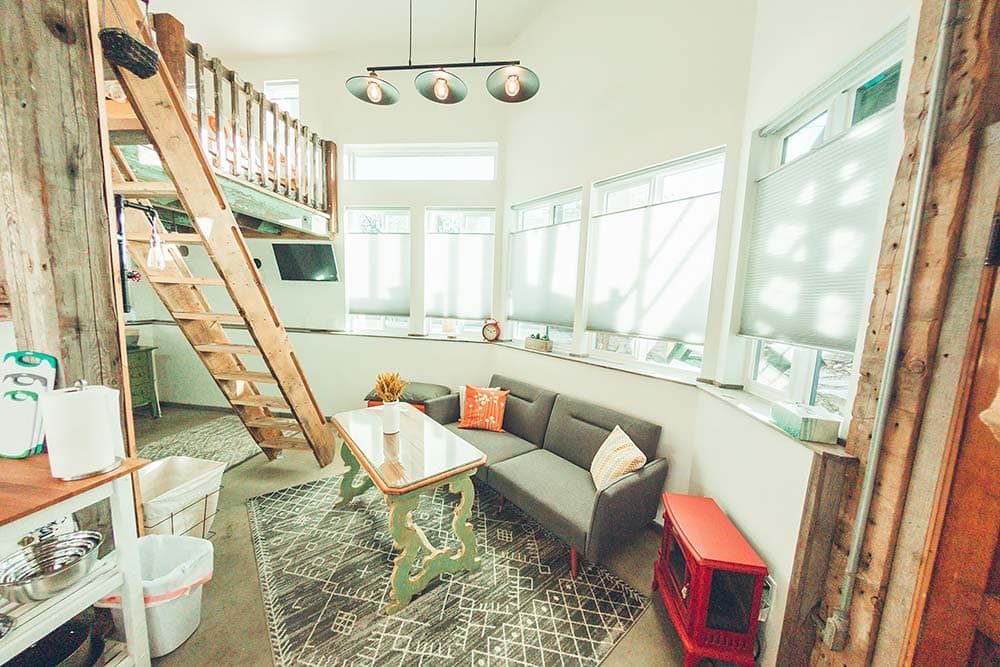 Why you should stay: Steps from the Missoula River Trail at a bargain price
Sleeps: 4
Minimum stay: 1 night
Rates from: $98/night
This tiny home offers the chance to find out what "small footprint" living is all about. It's located just a block from the Missoula River Trail which travels to multiple parks and scenic sites, including the overlook at Brennan's Wave where you can watch the surfers and kayakers battle a man-made wave. While it may be tiny, it feels more spacious than it is thanks to the vaulted ceilings — plus it even has a washer/dryer and full kitchen with a dishwasher along with Netflix/OnDemand.
Check Availability
Related Read: 6 Epic Backpacking Routes in Glacier National Park, Montana
3. Luxury '76 Airstream
Why you should stay: A unique stay in an ideal location for enjoying city and outdoor attractions
Sleeps: 2
Minimum stay: 1 night
Rates from: $74/night
Available year-round, this cool Airstream is worth booking in every season. It's located near the Clark Fork River and Blue Mountain Recreation Area with a network of over 40 trails providing views of the Missoula Valley, Rattlesnake and Sapphire Mountains, yet downtown is only six miles away. In the winter you can be snowshoeing or cross-country skiing in just minutes at the Pattee Canyon Recreation Area — after you're back you can warm up around the outdoor fire if the snow isn't too deep, or head inside, snuggling up under the down comforter.
While this may be a small space, it's stylish and comes with all the essentials. There's a full kitchen that even has a Nespresso Coffee Bar, a Smart TV, and Wi-Fi, all that while being perfectly cozy for a couple – and, at a very budget-friendly price too.
Check Availability
Related Read: 11 Extraordinary Glamping Stays Near Glacier National Park, Montana
4. Private River Dome
Why you should stay: A unique stay in an ideal location for enjoying city and outdoor attractions
Sleeps: 2
Minimum stay: 1 night
Rates from: $74/night
The Clark River Landing is a private river dome that sits right along the Clark Fork less than 10 minutes from downtown. Glamping at its best, you'll have direct access to the water in a secluded setting that's ideal for escaping the chaos of the real world by disconnecting from those electronic devices and reconnecting with nature. But if you really have to "break that bubble," cell service is available. It includes a hot plate, some basic utensils, cookware and coffee, while a restroom is just steps away.
"The dome space is super cozy, the bed is especially cush! The riverfront view is gorgeous and the property is incredibly peaceful! Highly recommend!"

Check Availability

Related Read: 9 Epic Glamping Sites Near Yellowstone National Park
5. Classic Cabin
Why you should stay: You'll feel like you've stepped into a postcard-perfect scene
Sleeps: 4
Minimum stay: 1 night
Rates from: $127/night
While it's just 15 minutes from the airport or town, this beautiful rental is the quintessential log cabin most people envision, crafted from huge hand-hued logs and surrounded by peace and tranquility. It's nestled in the woods on a one-acre meadow and includes large picture windows for gazing out at the serene views, with a bubbling creek providing the soundtrack. Keep an eye out for the wildlife, including lots of deer, wild turkey, and even the occasional black bear.
While you might want to just forget about screens and gaze out at the scenery instead, a TV with Netflix and Wi-Fi are included, along with everything else you need to feel at home.
Check Availability
6. Modern Farmhouse
Why you should stay: Award-winning Riverfront Neighbhood gem with lots of space at a value rate
Sleeps: 8
Minimum stay: 1 night
Rates from: $199/night
Built in 2019, the Modern Farmhouse was the winner of the 2019 Parade of Homes People's Choice Award. It was designed to be a vacation rental, with features that guests are sure to appreciate, It also boasts an ideal location in the Riverfront Neighborhood within easy reach of downtown and many of the other popular spots between the Clark Fork River and South 6th Street W. Enjoy the modern/industrial feel, an abundance of natural light, comfy couches for lounging, and radiant heat floors in the bathrooms so your toes will be toasty warm during the chillier months of the year.
When the weather is pleasant you'll enjoy the lovely backyard/patio space, a fire pit and gorgeous gardens. The hospitable hosts will treat you right and they even throw in river tubes, town bikes and paddle boards for guest use.
Check Availability
7. Beautiful Apartment Near Downtown
Why you should stay: Pet-friendly with a fully fenced-in yard and multiple complimentary extras
Sleeps: 3
Minimum stay: 1 night
Rates from: $91/night
It's not easy to find a place that allows pets, and even harder to find one with a fenced-in yard, but this studio apartment checks both those boxes. But you don't have to be a dog lover to enjoy this great space — it offers a cozy, quiet setting at the right price. It's also in an ideal location about six blocks from downtown within walking distance of it all, from restaurants and bars to the University of Montana.
Despite the value price there are several special extras included like popcorn, face masks in the bathroom (which includes a tub!), and fabulous local teas. Your favorites are best sipped while relaxing on the comfy couch in front of the gas fireplace.
Check Availability
8. Historic Riverfront Home
Why you should stay: Right off the river trail with tubes for floating on the Clark Fork included.
Sleeps: 6
Minimum stay: 1 night
Rates from: $116/night
Enjoy a quiet setting and a historic Montana home by booking this rental. While it may be over 120 years old, it was renovated to include all the modern amenities while retaining its character and charm. Plus, you'll be within a short walk to groceries at the Good Foods Market, the Clark Fork River, downtown and the Hip Strip, a popular Missoula shopping destination. it comes with four river floating tubes so you can spend those warm summer days on the water.
And, while you're here, your favorite spots are likely to be the back deck and porch, perfect for sipping your morning coffee and alfresco dining in the evening.
"Great place to stay in Missoula, walking distance to everything we needed and more. Tips on places to eat were spot on, everything was delicious. House was beautiful. Would stay again!"
Check Availability
9. Central Missoula Apartment
Why you should stay: Quiet setting, budget-friendly and close to it all + spectacular mountain and sunset views
Sleeps: 2
Minimum stay: 1 night
Rates from: $65/night
This super cute studio apartment has a patio that's perfect for unwinding while gazing out at the peaks of several mountains or watching a sunset. It's within walking distance of breweries, shops, and restaurants, plus there's a bus stop only steps away that makes it easy to get to just about anywhere else you want to go.
Beautifully designed, the space itself is one you'll look forward to returning to, with everything well thought out. The host provides plenty of local tips along with  all the fixings for coffee, a bowl of snacks and an ultra comfy bed. Those who are sensitive to noise will really appreciate the quiet at night too.
Check Availability
Plan Your Next Adventure
Sign up for Weekend Wanderer, our free email newsletter offering thousands of readers epic travel and airbnb ideas every week.
---