We research, evaluate and select travel destinations based on a number of factors, including our writers' experience, user reviews and more. We may earn a commission when you book or purchase through our links. See our editorial policy to learn more.
---
Take a gander at the magnificent painted landscape of Grand Canyon, and you'll quickly see why it's one of the greatest natural wonders in the world.
You can't beat the views from atop Grand Canyon, but you're missing half the fun if you don't venture below the rim. Hiking down South Rim trails like South Kaibab and Bright Angel — some of the most breathtaking trails in the country — is the best way to get an up-close look at the canyon's unique rock formations, fossils, wildlife, flora, and cultural history.
That said, Grand Canyon is so vast that it can be intimidating to plan a good hiking trip on your own — especially when you're thinking about a multi-day trip.
You'll need to have advance permits set up to camp below rim, and if you're venturing beyond the corridor trails means you'll need to know the locations of springs and potholes to get your water. The details of planning a Grand Canyon backpacking trip are many.
Ignoring these details can lead to consequences ranging from fines if caught camping illegally all the way to death if you can't find water on a hot canyon day.
Fortunately, there are a number of professional outfitters who offer guided hiking tours of Grand Canyon. These companies handle all of the planning and logistics so you can just focus on having a good time. They'll provide a professional guide to lead the way, keep you safe, and educate you on your surroundings along the journey.
Whether you're looking for an afternoon jaunt at the South Rim, a full-day excursion at the North Rim, or a week-long tour from rim to rim, we've got you covered. Here's a list of the top outfitters who offer hiking tours at Grand Canyon, along with a brief overview of the day hikes and multi-day tours that they offer.
Related Read: Essential Guide to Hiking the Grand Canyon Rim-to-Rim
1. Wildland Trekking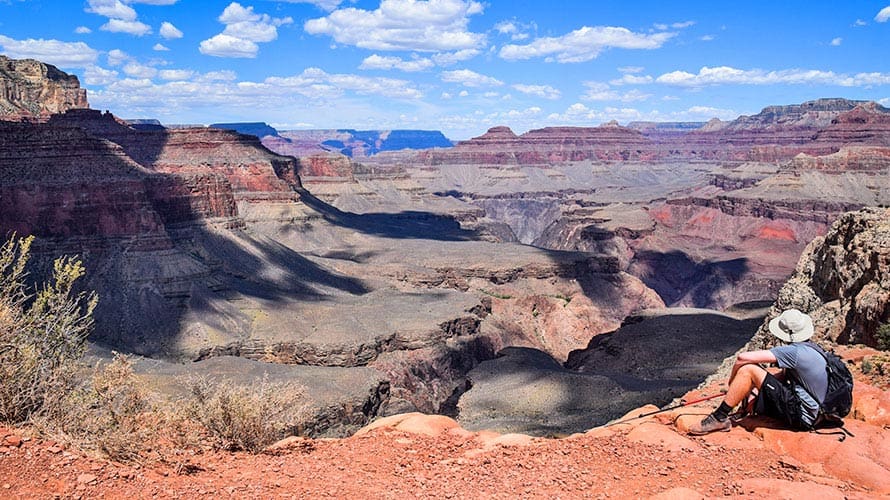 Wildland Trekking is one of the best outfitters in the business. They host over 10,000 guests each year across the globe, and are the #1 rated tour company on Trip Advisor for Grand Canyon.
When booking a hiking tour with Wildland Trekking, you're guaranteed a small group of 5-12 hikers, exceptional certified guides, top of the line gear, and fresh, delicious meals. Their hiking tours are all-inclusive, so you don't have to worry about a thing with these guys.
Related Read: An Adventurous Los Angeles to Grand Canyon Road Trip Itinerary
Day Hikes
Wildland Trekking offers 5 options (plus a Grand Canyon-Sedona combo) for their day hikes at Grand Canyon. Each comes with trail snacks, a picnic lunch, a backpack, trekking poles, and of course, a professional guide to take you below the rim.
For the best views, stick with their most popular hike — the South Kaibab Tour. You'll enjoy stunning views every step of the journey as you hike along an exposed ridge into the depths of Grand Canyon, traversing one of the most photographed trails in the country.
For a full-day adventure with round-trip pickup from Flagstaff and Sedona, try the Grand Canyon Discovery Tour. You'll get to experience a full day at the South Rim, including a hike along the South Kaibab Trail and stops at nearby viewpoints. Time permitting, the tour may conclude with a stop at Grand Canyon Village, a recommended museum, or the Desert View Watchtower (depending on the group's preference).
Planning a family hiking trip? Book the Bright Angel Tour. Treading in the footsteps of the prehistoric Native Americans, you'll follow an ancient trail through the Bright Angel Fault. It's the easiest trail that descends far below the rim, with multiple turnaround points if you need to shorten the journey.
Are you a fan of the old west? Check out the Grandview Trail Tour. Following an ancient trail that was rebuilt in 1892 to access the Last Chance Copper Mine, you'll pass by mining relics on the way to viewpoints with far-reaching vistas and magnificent Grand Canyon scenery.
Finally, for those who are seeking the most remote guided tour, we recommend the Tanner Trail Tour. It's a serious day hike that descends 2-3 miles along an old mining trail that was once part of the Horse Thief Trail. In return for a challenging hike, you'll enjoy quintessential Grand Canyon views without the crowds.
Related Read:  How to Avoid the Crowds at the Grand Canyon South Rim
Multi-Day Hiking Tours
If you're looking for an authentic multi-day camping experience, check out the North Rim Basecamp Tour or the South Rim Basecamp Tour. The former takes you to remote areas with fantastic views, where you'll enjoy relative solitude with about 10% of the foot traffic that the South Rim sees.
The latter features picturesque views, fossils, geologic phenomena, Native American history, mining ruins, and dripping desert oases, with access to showers and comfortable camping facilities.
For the glamping crowd, Wildland Trekking organizes three multi-day tours that include lodging.
The Grand Circuit is their most popular multi-day hiking tour, letting you experience both rims and Lee's Ferry on a five-day adventure.
If you're short on time, check out the Phantom Ranch Tour, available in 2-day and 3-day itineraries. Both family-friendly trips feature backcountry lodging at the historic Phantom Ranch and pack mules to carry your personal items. The return journey follows the popular Bright Angel Trail past Indian Gardens.
Looking to hit the Grand Canyon highlight reel? Try the Best of Grand Canyon Tour. In addition to challenging day hikes that take you halfway down the canyon, you'll visit the best Grand Canyon museums and visitor attractions, including dinner at the famous El Tovar Hotel.
Related Read: 12 Magical Glamping Sites Near the Grand Canyon South Rim
2. Arizona Outback Adventures
Arizona Outback Adventures (AOA) is another all-star in Grand Canyon hiking tours. They've been recognized by major publications like National Geographic, Outside Magazine, Conde Nast Traveler, and Sunset Magazine, and they're perennial favorites on Tripadvisor.
AOA delivers unique outdoor educational experiences led by exceptional adventure tour guides. They'll ensure you have comfortable accommodations, whether you're camping or spending the night in a lodge. Their meals and snacks are delicious, and they pride themselves in providing flexible dietary options for their guests.
Related read: 6 Breathtaking Hikes on the Grand Canyon's North Rim
Multi-Day Hiking Tours
The Classic Phantom Ranch Hiking Trip provides the perfect introduction to one of the world's most spectacular natural wonders. You'll take the South Kaibab Trail to Phantom Ranch, the only lodge at the bottom of Grand Canyon. After spending two nights at the lodge, you'll return on the Bright Angel Trail. The standard trip is four days, or you can opt for the shorter 3-Day Phantom Ranch Hiking Trip.
Looking for a full rim-to-rim experience? AOA offers 3-day and 5-day rim-to-rim tours, both featuring a mix of camping and lodging at Phantom Ranch. There's also the Classic 5-Day Grand Canyon Hiking Tour, delivering a highlight reel of trails and viewpoints as you visit the South and North Rims and camp under the stars along the way.
If you'd rather focus on one location than hike from rim-to-rim, consider the 3-Day South Rim Tour or the Four-Day North Rim Tour. You'll find these are significantly more affordable, as you'll be spending the night at a basecamp instead of glamping at Phantom Ranch.
Finally, there's the Grand Canyon Lodge Custom Adventure. Offering three and four-day itineraries, these custom hiking tours include lodging at a historic park lodge — coveted accommodations that often book months or even years in advance. It's a little pricey, but the chance to stay in a Grand Canyon lodge is a special, once in a lifetime experience.
Related Read: What to See on an Awesome Phoenix to Grand Canyon Road Trip
3. OARS
When it comes to organizing and executing guided nature trips, there are lots of good companies, a handful of great ones, and a select few legendary outfitters. OARS is definitely the latter.
OARS has been named the Best River & Sea Outfitter on Earth by National Geographic Adventure, and one of the top two outfitters in the world by Outside Magazine. They're routinely recognized as best in class by Sunset, National Geographic Traveler, Afar, and Conde Nast Traveler.
Multi-Day Hiking Tours
The Grand Canyon Rim to River Hiker takes you to one of the deepest parts of the canyon and includes an overnight stay at Phantom Ranch. You'll start by exploring Walnut Canyon, Sunset Crater, and Wupatki National Monuments before taking the South Kaibab Trail down to the ranch. After a night of well-earned R&R, you'll ascend the canyon along Bright Angel Trail. The final day includes a hike along the rim, providing plenty of opportunities to snag the perfect photo from a number of picturesque viewpoints.
For a complete bucket list adventure, book the Grand Canyon Rim to Rim Hiking Trip to experience the full grandeur of Grand Canyon from end to end. Starting at the North Rim, you'll walk across the footbridge at Navajo Bridge in Marble Canyon before visiting Point Imperial Overlook. Descending North Kaibab Trail, you'll enjoy panoramic vistas of the canyon before reaching Phantom Ranch, where you'll spend two nights. The final leg of the journey climbs Bright Angel Trail to the South Rim, where you'll spend a full day exploring picturesque viewpoints.
OARS specializes in rafting trips (no surprise given the name), so it's worth checking out their Grand Canyon rafting tours, too.
Related Read: 10 Best Backpacking Trips in Grand Canyon National Park, Arizona
4. All-Star Grand Canyon Tours
All-Star Grand Canyon Tours is a small outfitter based in Flagstaff that specializes in guided tours at Grand Canyon and the Four Corners region. It's a guide-owned company, so you're guaranteed to have a fully invested, professional guide for your tour.
When Ben Murphy started All-Star Grand Canyon Tours, it began with a simple idea — what can we improve? Leveraging his extensive guiding experience and local knowledge, Murphy came up with a list of improvements for staffing, cuisine, accommodations, transportation, and customer service.
Based on the company's stellar online reviews and Tripadvisor Certificate of Excellence for seven years running, we'd say Murphy hit the mark with those improvements.
Day Hikes
For the Beginners Tour, All-Star hits the highlights of the Grand Canyon South Rim along the South Kaibab Trail. Possible stops include Grand Canyon Village, Yavapai Point, Mather Point, Grandview Point, Moran Point, the Tusayan Ruins, Lipan Point, and Desert View.
All-Star keeps things flexible for their Intermediate Tour. Based on the experience and physical ability of the group, you'll choose from South Kaibab Trail, Grandview Trail, Hermit Trail, or Bright Angel Trail. You're guaranteed a day on the trail, and the flexibility is great for repeat visitors who don't want to hit the same popular trails every time.
Finally, the Advanced Tour is built for experienced hikers who want to head deep into Grand Canyon to remote locations. These tours are 100% flexibile, so you can book a specific trail or route with All-Star when you call to schedule your tour.
5. Four Season Guides
Four Season Guides is a local outfitter that's been running Grand Canyon tours since 1999, making them one of the longest continuously operating guide services in Grand Canyon. They guarantee excellent gear, unbeatable customer service, amazing food, dedicated guides, and small groups with personalized attention.
Day Hikes
Four Season Guides offers six day hikes ranging from 3 to 8 miles. For beginners, there's the ever-popular South Kaibab Trail, Rim Trail, and a general sightseeing South Rim tour. Intermediate hikers can do an extended South Kaibab Trail or the Hermit Trail. For advanced hikers, there's the challenging Grandview Trail to Horseshoe Mesa.
Multi-Day Hiking Tours
Four Season Guides offers five multi-day hiking tours ranging from 3 – 4 days, with lodge-based stays for glampers and traditional camping for those who prefer to sleep under the stars.
The Grand Canyon Explorer Tour provides a deep dive into Grand Canyon, featuring the South Rim, North Rim, and beautiful Marble Canyon. You'll spend one night in a lodge, and two nights at a basecamp at the North Rim. Upgrade to the Grand Canyon Complete Tour and you'll hit the same stops with a lodge in Marble Canyon as your basecamp all three nights.
Want to beat the summer heat and the crowds? Book a four-day adventure on the North Rim Basecamp Tour. You'll enjoy the park's best views from a remote location with 90% fewer people and significantly cooler weather. The trip culminates with a float down the Colorado River through Glen Canyon.
New to Grand Canyon? Try the three-day Bright Angel Loop Tour, and enjoy hiking with a lighter pack as a team of mules carries your heavy gear down to the basecamp. You'll head down South Kaibab Trail to the Colorado River and Phantom Ranch, where you'll spend two nights at the Bright Angel Campground. After exploring nearby trails, viewpoints, and hidden secrets, you'll head back up the canyon on Bright Angel Trail.
Okay glampers, it's your turn. Book a spot on the Phantom Ranch Hiking Tour and you'll spend two nights at the historic Phantom Ranch at the bottom of Grand Canyon. On the way down, you'll enjoy spectacular views of Pipe Creek Canyon, Cremation Canyon, the North Rim, and Inner Gorge. After exploring the area around Phantom Ranch for a few days, you'll head back up on Bright Angel Trail.
6. Grand Canyon Conservancy Field Institute
For hikers who appreciate the educational value of a guided tour as much as the scenery, you can't beat a day hike led by the Grand Canyon Conservancy Field Institute. Their expert staff of instructors includes professional historians, archaeologists, biologists, geologists, artists, and National Park Service resource specialists, so they know a thing or two about Grand Canyon geology and history.
The Grand Canyon Conservancy Field Institute (formerly the Grand Canyon Association) has been educating visitors about Grand Canyon since 1993. They offer more than 360 classes and guided tours each year to over 3,100 visitors.
Day Hikes
The Grand Canyon Conservancy Field Institute's most popular day hike is a family-friendly tour called Meet the Canyon. An expert guide will lead you along Bright Angel Trail, educating you on the ancient rock formations and fossils, local wildlife and plant life, and Native American history. You'll visit the historic Kolb Studio just beneath the rim, and enjoy sweeping views of Grand Canyon from start to finish.
Over the summer (June — August), the Grand Canyon Conservancy Field Institute offers another day hike called the North Rim Explorer. This hiking tour follows the North Kaibab Trail at the secluded North Rim, where you'll enjoy cooler weather and significantly fewer crowds. The tour includes stops at Coconino Overlook and Supai Tunnel.
7. Pink Adventure Tours
Most famous for their "Pink Jeep" four-wheeling excursions, Pink Adventure Tours offers a fun and family-friendly hiking options at the South Rim. Their 3-Hour Hermit's Rest Hike & Jeep Grand Canyon Tour offers a 1-mile round-trip hike down the Hermit Trail to see ancient marine fossils, plus stops at viewpoints like the Yavapai Geology Museum. Pink also offers a sunset version of this tour — and a killer sunset at the Grand Canyon will make an already awesome trip even better.
If you're looking for the most leisurely of "hiking" tours, consider Pink's Trail of Time Walking Tour, which traverses a paved section of the Rim Trail. This easy 2-mile stroll will treat you to epic views from the South Rim, plus a hands on look at the wide variety of ancient rocks and fossils that make up the Canyon's immense landscape.
8. Canyon Dave Tours
For a day tour that hits all the best sights with minimal walking, we highly recommend the Ultimate Tour from Canyon Dave Tours. Our Managing Editor Jake Case used to work as a guide for this outfitter, and he wholeheartedly recommends Canyon Dave for folks who are interested in sightseeing with a focus on natural history and geology.
The Ultimate Tour starts at the South Rim, where you'll walk to the pine-forested ledges of Yavapai Point. From here you'll be able to see the Colorado River, Phantom Ranch, and the mules traversing Bright Angel Trail.
After discussing the natural history and geology of Grand Canyon, you'll walk a bit of the level Rim Trail to see the diverse plant life and wildlife that calls Grand Canyon home.
Canyon Dave Tours provides lunch at a local restaurant, then you'll finish the afternoon visiting one or more popular viewpoints (depending on time and traffic). The best time for photos is at the final viewpoint, when the shadows deepen in Grand Canyon and more wildlife emerges. Your guide will deliver a final presentation on the geology of Grand Canyon as you soak in the best views in the park.
More Grand Canyon Resources
Sign up for Weekend Wanderer to join 10,000+ readers getting epic travel ideas every week.
---