We research, evaluate and select travel destinations based on a number of factors, including our writers' experience, user reviews and more. We may earn a commission when you book or purchase through our links. See our editorial policy to learn more.
---
Upstate New York is known for the Catskills and Adirondacks, both reliable strongholds in the East Coast camping scene. But these glamping experiences go way past pitched tents and fire circles.
This list includes an impressive array of latticed yurts, safari tents, and even a tiny house built on a rock. And you can choose just how removed from society you want to be: some stays are nestled miles into the woods with ample acreage and privacy, while some are tucked in the owners' backyards.
But every single listing offers cozy comfort, scenic beauty, and a the perfect background for a unique story to tell jealous friends and coworkers back home.
So grab some hiking boots, a bag of charcoal, your favorite enamel coffee mug, and probably some bug spray, because the mighty trees, babbling streams, and starry night skies of New York's wild spaces are waiting.
Related read: 10 Glamping Spots Near NYC for a Wooded Escape
1. Secluded Yurt Near Waterfall
Why you should stay: A bright and artsy interior that'll make you forget you're "camping."
Nearest town: Ulster Park
Sleeps: 4
Minimum stay: 1 night
Rates from: $210/night
With the backsplash tile in the kitchen, the unique paintings, and other colorful eye-catching accents, it's obvious the details are in the decor (and vice-versa) in this 30-foot yurt.
But perhaps the most noteworthy detail of all is the 120 acres of wooded property available for your exploration, blessing guests with the sound of a babbling waterfall during wetter times of the year.
There's one queen-sized bed and two twin pullouts, creating a comfortable space for a family of four. The full bathroom is inside the yurt, meaning you don't have to venture outside for a hot shower. The kitchen is fully equipped and ready for a family meal indoors, while a propane grill and expansive patio beg you to eat outside on the partially-covered porch.
Check Availability
Related Read: 9 Incredible Places to Stay in Old Forge, New York
2. Bellfire Tipi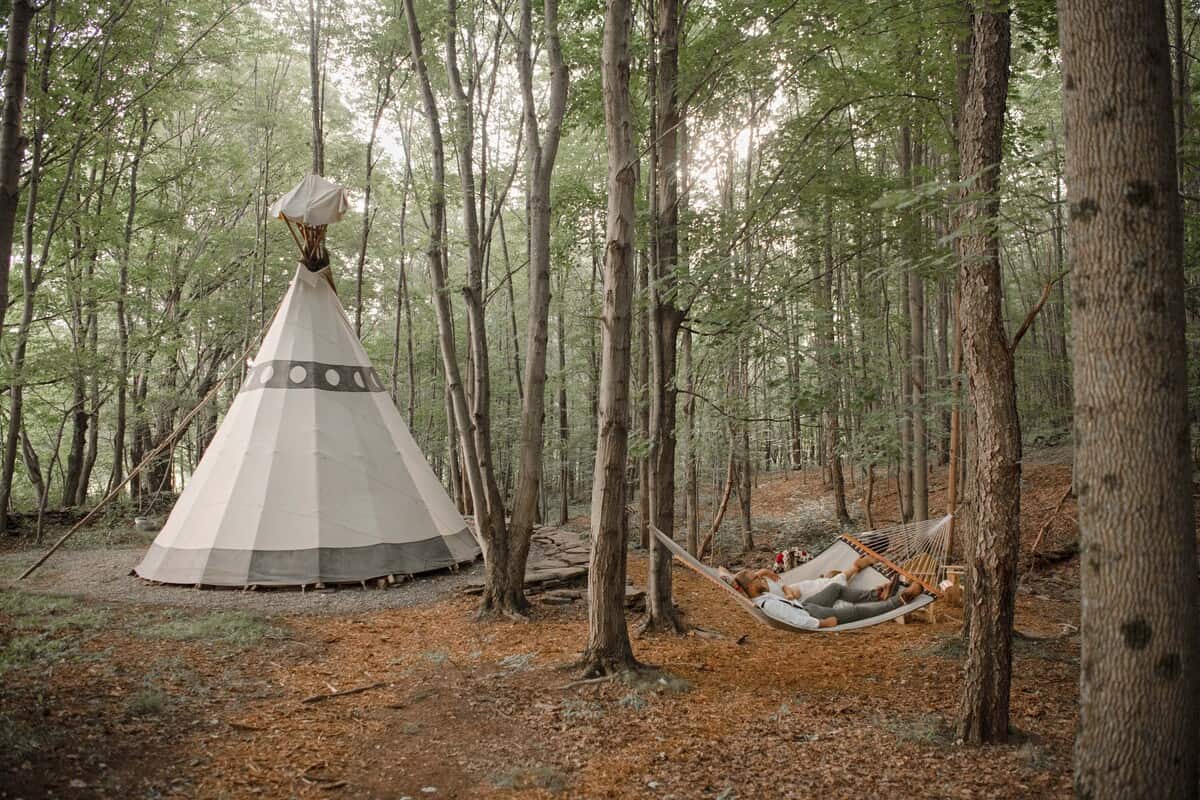 Why you should stay: Let the fire pit warm your outside while the ambience warms your soul.
Nearest town: Roxbury
Sleeps: 2
Minimum stay: 2 nights
Rates from: $170/night
While the romantic connection between the couple in the photos isn't a guaranteed part of the stay, this tipi still looks like something out of a movie set or a history textbook. The stately chiminea in the middle of the tipi will certainly help to keep you warm during cold nights, especially with the help of a cup of tea from the kitchenette and the plethora of dreamy blankets and throws. There's no electrify or Wi-Fi, so bring a backup phone charger if you have one.
Bathroom amenities include an outdoor solar-heated shower and a charmingly crooked outhouse built by the owners. Both are a short walk away from the tipi, so plan on visiting during warmer months if you want to avoid being chilly.
The hammock and firepit are immediately outside, providing more options for relaxation. Get a tutorial from the hosts on how to close the smoke flaps in case rain starts coming down, but otherwise, enjoy the view of the famously starry skies of Meeker Hollow.
Check Availability
Related Read: 11 Beautiful Cabin Rentals in the Adirondacks
3. Mariaville Goat Farm Yurt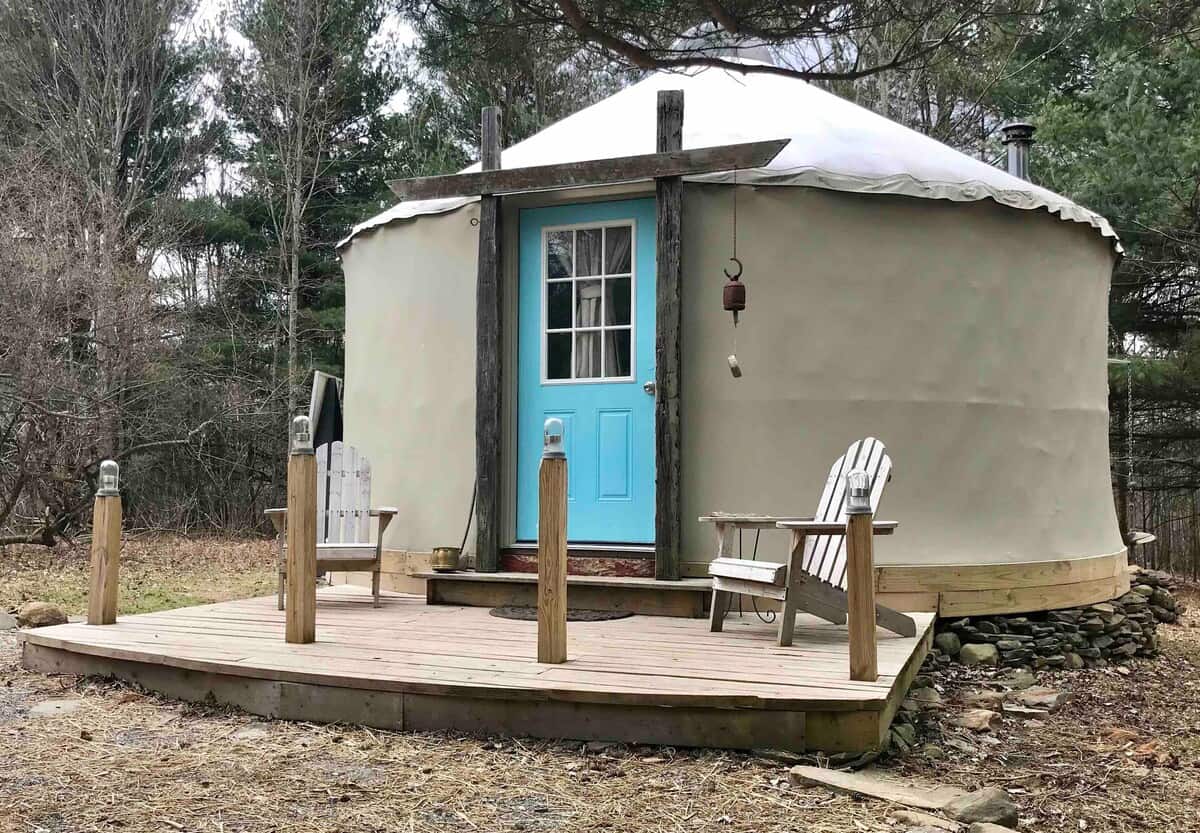 Why you should stay: Glamping and goat yoga? Sold.
Nearest town: Pattersonville
Sleeps: 4
Minimum stay: 1 night
Rates from: $95/night
Look for the yurt with the Tiffany-blue door and listen for the bleating of nearby baby goats to know you've arrived. This glamping experience is located on an off-the-grid farm, which means unmatched privacy and warm hospitality from the hosts, both two- and four-legged.
A queen-sized bed under a mosquito net folds out of the wall for maximum sleeping comfort. Enjoy the funky outhouse built from repurposed wood and the outdoor shower, heated with solar power. The wood stove has an oven attached to keep both you and your food toasty, and clustering around the fire pit outside for s'mores is heavily encouraged. as well. And whatever you do, don't miss goat yoga at noon on weekends.
Check Availability
Related Read: 10 Best Spots for Snowshoeing in Upstate New York
4. The Stargazer at Gatherwild Ranch
Why you should stay: The adult version of the pillow-and-blanket forts of your childhood.
Nearest town: Germantown
Sleeps: 2
Minimum stay: 2 nights
Rates from: $175/night
The Stargazer is just one of a collection of glamping experiences at Gatherwild Ranch, so be sure to explore your options before committing. If Indiana Jones were to go on a Bohemian getaway, he'd definitely stay in a place like this.
The tent feels like a teepee thanks to the bell shape and central support beam, but the loose canvas flows more like sails on a boat. Either way, the space screams cozy and semi-luxurious.
You have your own outdoor bathroom within a few steps of the tent's platform, and a small fire pit that will keep you warm while you stare at the night sky.
The tent's opening is even strategically aimed east, so you can pull back the flap and watch the sun creep up. The funky outdoor kitchen has everything you could possibly need to chef up a cup of tea or a farm-inspired meal.
Check Availability
5. Loomis Lair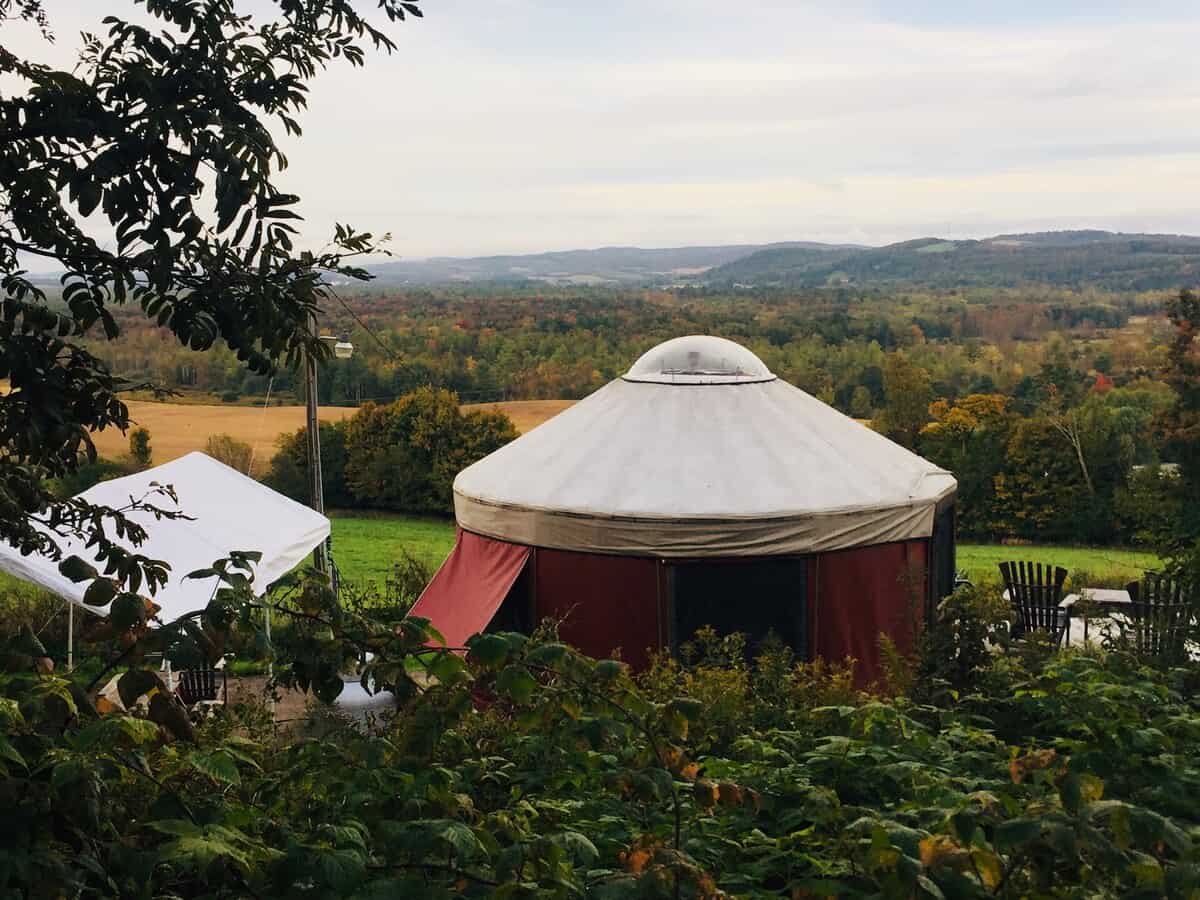 Why you should stay: Live like an outlaw near Nine Mile Swamp.
Nearest town: Waterville
Sleeps: 2
Minimum stay: 2 nights
Rates from: $133/night
For those who prefer their yurts above the clouds, this cozy experience with 80 acres of privacy is for you. And for the history buffs, the space is named after a famous family of outlaws whose homestead was located here before vigilantes burned it down in the 1860s. So you'l literally be walking (sleeping?) on history.
The futon couch folds out into a queen-sized bed and the accompanying chair folds out into a twin, so this small yurt actually fits a comfortable amount of sleeping space. The full bathroom is indoors, and the patio and Adirondack chairs make the perfect place to look out over a valley of foliage in the fall.
You have the entire space at your disposal for exploring. With this much privacy, it's no wonder why the famous Loomis Gang chose it for their hideout.
Check Availability
6. Mountainside Hideaway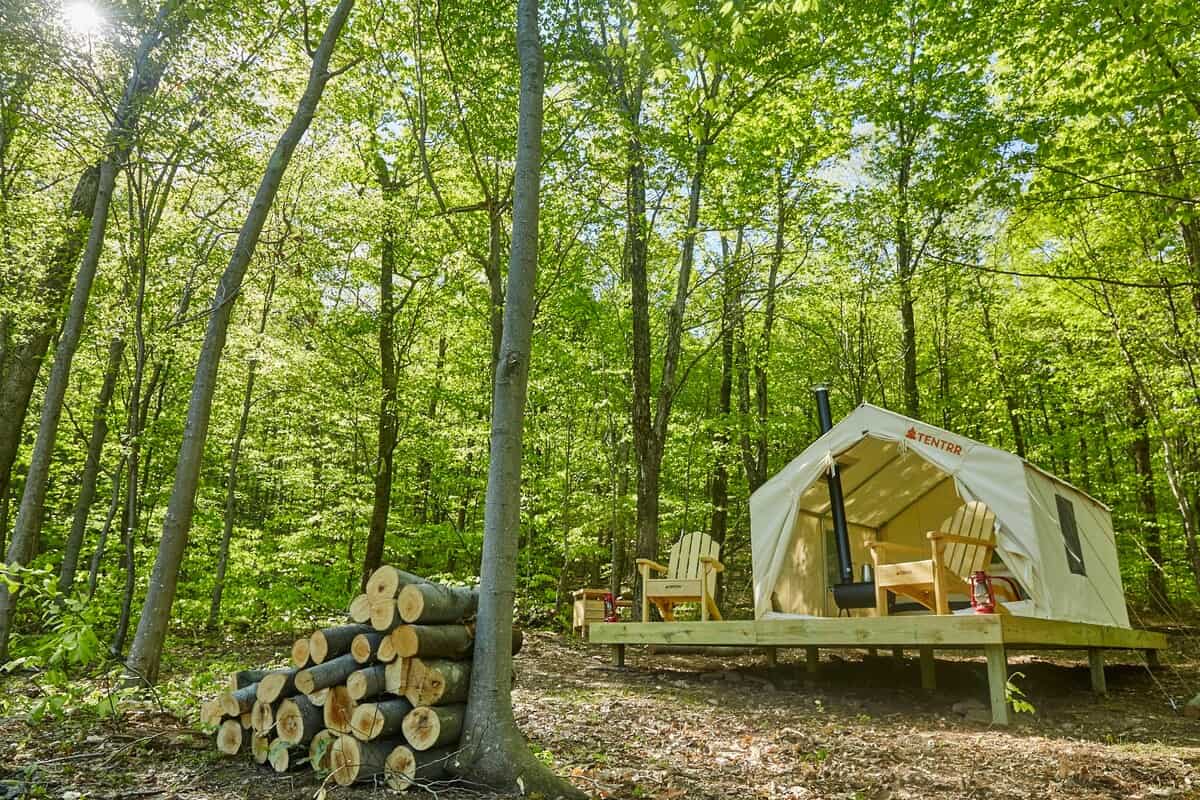 Why you should stay: For those who want to "rough it" while glamping in New York.
Nearest town: Bearsville
Sleeps: 2
Minimum stay: 1 night
Rates from: $151/night
These glamping accommodations are simple, but all of your rustic needs will be met with the queen-sized bed, wood stove, lanterns, lounging chairs, and outdoor dining area with charcoal grill. This spot is perfect for seasoned glampers who prefer the bare necessities so they can better connection with the surrounding environs.
Even though the spot is remote, you can still drive right up to the tent site, so pack everything your happy camper heart desires.
If you choose to travel during the warmer months, fishing and searching for nearby swimming holes will keep you busy during the day. During colder months, warm yourself with physical exertion by hiking around in the Catskills.
Or drive 10 minutes south to explore the groovy location of Woodstock, where thousands of people would have likely killed for as nice of a camping setup as the one you snagged for the weekend.
Check Availability
7. Luminous Yurt and Healing Retreat
Why you should stay: A peaceful handmade yurt (with an optional energy healer, no less.)
Nearest town: Saratoga Springs
Sleeps: 2
Minimum stay: 1 night
Rates from: $175/night
Here's yet another glamping spot that could be a movie set. Travel to a state of zen without even leaving New York in this inhabitable piece of art. The red latticed skeleton of the yurt is hand painted with bright patterns, just one unique detail in a house full of many – it's a feast for the eyes.
Dreamy wall hangings and tapestries decorate the interior, illuminated by the skylight. And don't worry about access to Wi-Fi – this is an authentically Mongolian yurt with authentically American Wi-Fi (and air conditioning.)
There's an outdoor shower with a sliding barn door built into the large fence surrounding the property. Otherwise, the bathroom is located on the first floor of the host's house, which is just a few short strides away from the entrance to the yurt.
But even with this proximity to the house, the bridge crossing the coy pond will make you feel like you're over the river and through the woods from the rest of humanity. Meditate next to the warmth of the pellet stove before bedtime.
Check Availability
8. Upstate Yurt
Why you should stay: Squeeze the whole family under one canvas roof.
Nearest town: Accord
Sleeps: 6
Minimum stay: 4 nights
Rates from: $175/night
Unlike most of these other glamping opportunities that only fit a few people, this spot two hours north of New York City will accommodate a larger family, so grab your kids or a gang of friends for a week away. On the first floor, a queen-sized bed with a privacy curtain creates a pseudo-suite.
Two twin beds and one double bed nestle together in the loft, and hammocks always make for a great night's sleep, too. All guests share an indoor bathroom with a claw-foot tub.
The outdoor kitchen with full-sized grill, extra refrigerator space, and four-burner gas stove would accommodate a yurt edition of Iron Chef, so be sure to bring plenty of your own food for patio feasts. The indoor kitchenette and dining area are also large and comfortable enough for chaotic kid breakfasts before a day of running around outside.
As for the private swimming hole in the nearby river, complete with a sloping waterfall, the pictures are worth a thousand words, even though they likely don't do this bucolic beauty enough justice.
Check Availability
9. TËME at Wolf Hollow Camp
Why you should stay: A safari tent deep in the Catskills that supports a great cause.
Nearest town: Andes
Sleeps: 2
Minimum stay: 2 nights
Rates from: $200/night
Live among towering pine trees and croaking frogs in this custom-made tent for two. Wolf Hollow offers all of the essentials and a few unique, resourceful details that would impress any backcountry excursioner.
The small Goal Zero generator powers an interior light and a phone charger, if necessary. When your caffeine craving inevitably hits in the morning, heat your water in the cask with spigot attached to the wood stove.
A spring-fed shower with a stone floor and propane water heater is built into the trees and enclosed in a privacy stall. The composting toilet gets its own shack with a skylight overhead and a precious little outdoor handwashing station.
Both are shared by another tent, located far enough away to maintain privacy but close enough to house members of the same party. And when you book a stay, give yourself a pat on the back: part of the proceeds go to the Catskill Forest Association.
Check Availability
10. A Cabin On The Rocks
Why you should stay: You might say this cozy shack has a rock-steady foundation.
Nearest town: Potsdam
Sleeps: 2
Minimum stay: 1 night
Rates from: $125/night
Forget the treehouse fad: this spot could make rockhouses all the rage in 2021. With one single bed and one futon that pulls out from under the bed, this 80-square-foot glamping experience is best for two people who don't mind snuggling, or one person who needs some time away from the distractions of the world.
Other interior amenities include a desk, a microwave, and tasty spring water. Have your own outdoor spa experience with a partially fenced claw-foot tub that opens out to the trees and a recently built Finnish steam sauna.
The woodland simplicity of this experience has some modern updates to make it more comfortable. The outhouse resembles that of any old-fashioned campsite, but the composting process keeps the smell controlled.
The outdoor table with patio umbrella is nestled in the ferns but still has access to Wi-Fi. So grab your cast iron skillet for fire pit cooking and aim your vehicle north toward this "rock for the ages."
Check Availability
More Amazing Glamping Inspiration
Get epic travel ideas delivered to your inbox with Weekend Wanderer, our newsletter inspiring more than 10,000 readers every week.
---