Washington is a dream for road trippers, with landscapes that include volcanoes, rocky mountains, ocean, and high desert.
Whether you have a weekend or an entire week to spend in the state, one of these scenic drives in Washington will almost certainly be the highlight of your trip, especially if you make a few stops along the way. No matter which you pick, rest assured you'll be driving through the scenic vistas the Pacific Northwest is known for.
When most people think of Washington, they probably think of rain, thick moss, and deep forests. But actually, more than half of Washington is desert. The Cascade mountains act as a buffer, creating a rainshadow across the eastern side of the state.
The eastern side is much less populated than the more metropolitan western side. But the small towns and vast mountain ranges make the east side of Washington well-worth a leisurely drive.
The Evergreen State's diverse landscapes make it one of the most exciting states to explore, and these scenic drives in Washington traverse mountain passes and deep canyons. Read on to discover the perfect scenic drive for your adventure.
Related Read: When is the Best Time of Year to Visit Seattle?
1. North Cascades Highway: Highway 20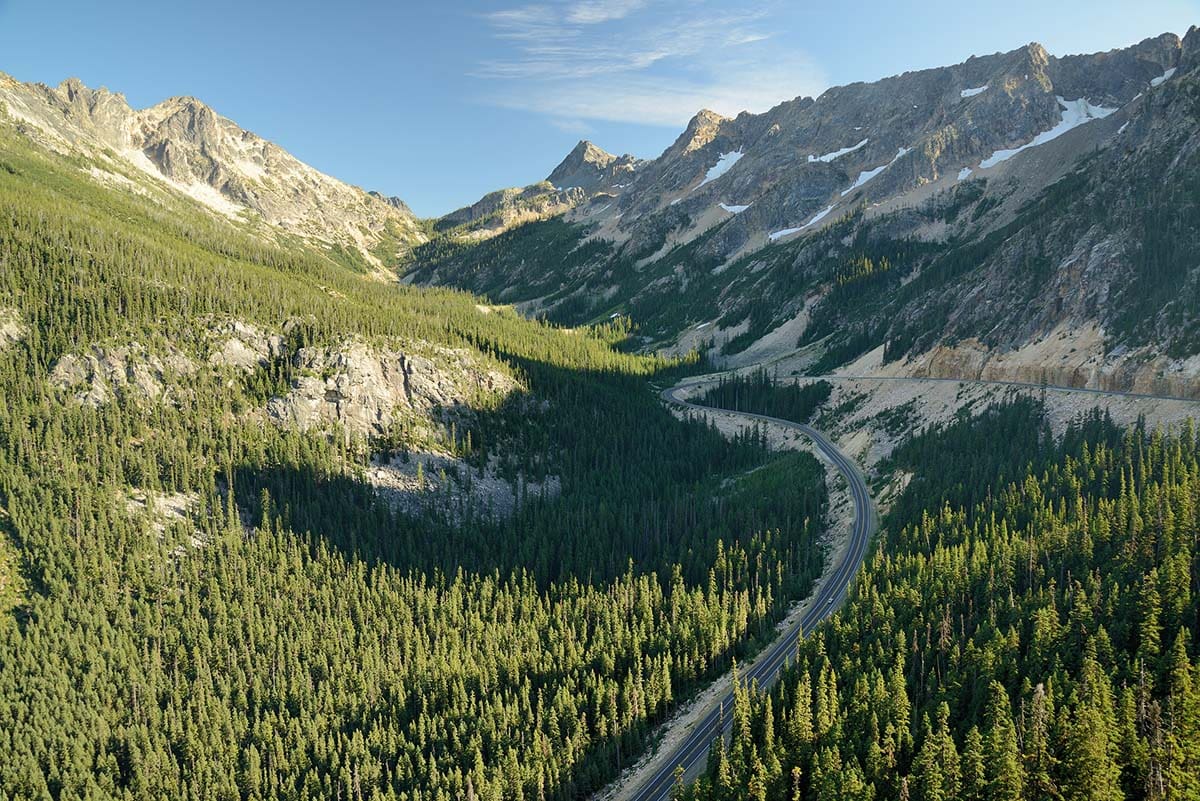 Why should you go: Mountain views abound as you drive through the northwestern-most national park in the US.
Distance: +/- 125 miles
Drive time without stops: 2 hours, 30 mins
When I think about what my favorite drives in Washington are, the first thing that comes to mind is the North Cascades Highway. The first time I drove this road from Sedro-Wooley to Mazama, the sun was just about to set, and the rocky peaks of the North Cascades lit up gold with evening light.
This beautiful highway passes through the underrated North Cascades National Park. It includes countless opportunities to stop for a hike or explore further up gravel and dirt roads. It's only about three hours from Seattle but feels fairly remote. Great stops to make include Diablo Lake (a bright blue lake with mountain views) and the hairpin turns on Washington Pass, many of which have shoulder pull-overs. After the pass, you'll head down to Mazama and the Methow Valley.
There are not many stopping points with food or amenities along the highway, so make sure to get gas and snacks before you leave Sedro-Wooley (or wherever you start). You can also stop at the park visitors center (just before Newhalem).
Otherwise, the best stop is the real gem of a town on the other side of Washington Pass: Mazama. The small town at the base of the Cascades is where you'll find the adorable Mazama General Store, which is a must-stop for baked goods, homemade gifts, and other assorted knick-knacks.
Related Read: A Winter Guide to Visiting Olympic National Park
2. Mount Baker Highway: Highway 542
Why should you go: Great views of Mount Baker and even a peek at Canada.
Distance: +/- 60 miles
Drive time without stops: 1 hour, 30 mins
Just a bit further north than the North Cascades Highway is the Mount Baker Highway. It's the northernmost highway in Washington, and from the peaks surrounding the road, you can even get glimpses of Canadian peaks.
However, this Washington scenic drive doesn't cross the Cascades or go anywhere other than Mount Baker, so as the name implies, it's all about the scenery. Highway 542 starts in Bellingham (a medium-sized college town on Bellingham Bay) and dead ends at Artist Point, a trailhead and lookout with 360-degree views of Mount Shuksan and Mount Baker. The only reason to drive this road is to hike, visit Mount Baker Ski Resort, or just enjoy the views while cruising along.
Make sure to stop in the small town of Glacier at the Wake 'n' Bakery, a coffee shop with excellent baked goods and breakfast burritos. Otherwise, download a map of Mount Baker National Forest in advance to look up options for hiking, biking, skiing, and paddling along the route.
Related Read: 9 Best Hikes in Washington State for Epic Outdoor Adventures
3. Olympic National Park Loop: Highway 101
Why should you go: Ocean, rainforest, and mountains, plus the northwesternmost point in the US.
Distance: +/- 340 miles
Drive time without stops: 6 hours, 50 mins
While you could technically make this scenic Washington drive in a day, it's worth at least a weekend, if not longer, to fully experience the beauty of the Olympic Peninsula. From lush rainforests to glacier-capped peaks to endless ocean, Olympic National Park has it all. The Hoh Rainforest is especially amazing.
Driving on Highway 101 along the coast affords spectacular views, but head to Cape Flattery if you want to stand literally on the edge of the country. It's also a great spot to watch for whales. Or stop in Forks (of "Twilight" fame), then head to La Push for more views of the wild PNW coastline, rocky tidepools, and spectacular sunsets.
You'll want to leave plenty of time to make frequent stops, take a day hike, kayak in one of the many lakes in the area, and just enjoy the scenery. So you may want to consider camping somewhere along the drive (though remember this can also be one of Washington's rainiest scenic drives, so make sure you have a good waterproof wind fly).
Related Read: 12 Best Washington Coast Camping Spots for a Peaceful Trip
4. Stevens Pass: Highway 2
Why should you go: Mountain and forested views along an easy drive from Seattle.
Distance: +/- 100 miles
Drive time without stops: 2 hours
Highway 2 is a popular route for those making the trip to the Bavarian-themed town of Leavenworth in the eastern Cascades. Highway 2 begins just north of Seattle, making this an easy last-minute scenic drive if you're near the Seattle metro area.
This drive winds through lush western Cascades forests and through the towns of Monroe, Sultan (stop at the Sultan bakery!), Gold Bar, Index, and Skykomish. Stop and hike Wallace Falls or Lake Serene or head up to Stevens Pass for winter skiing or tons of summer and fall hiking options. Views of Mount Baring and Mount Index fill the skyline once you hit Gold Bar, and mountains follow your journey over the pass and down into Tumwater Canyon outside of Leavenworth.
Related Read: 10 Marvelously Unique Places to Stay in Washington State
5. Mountain Loop Highway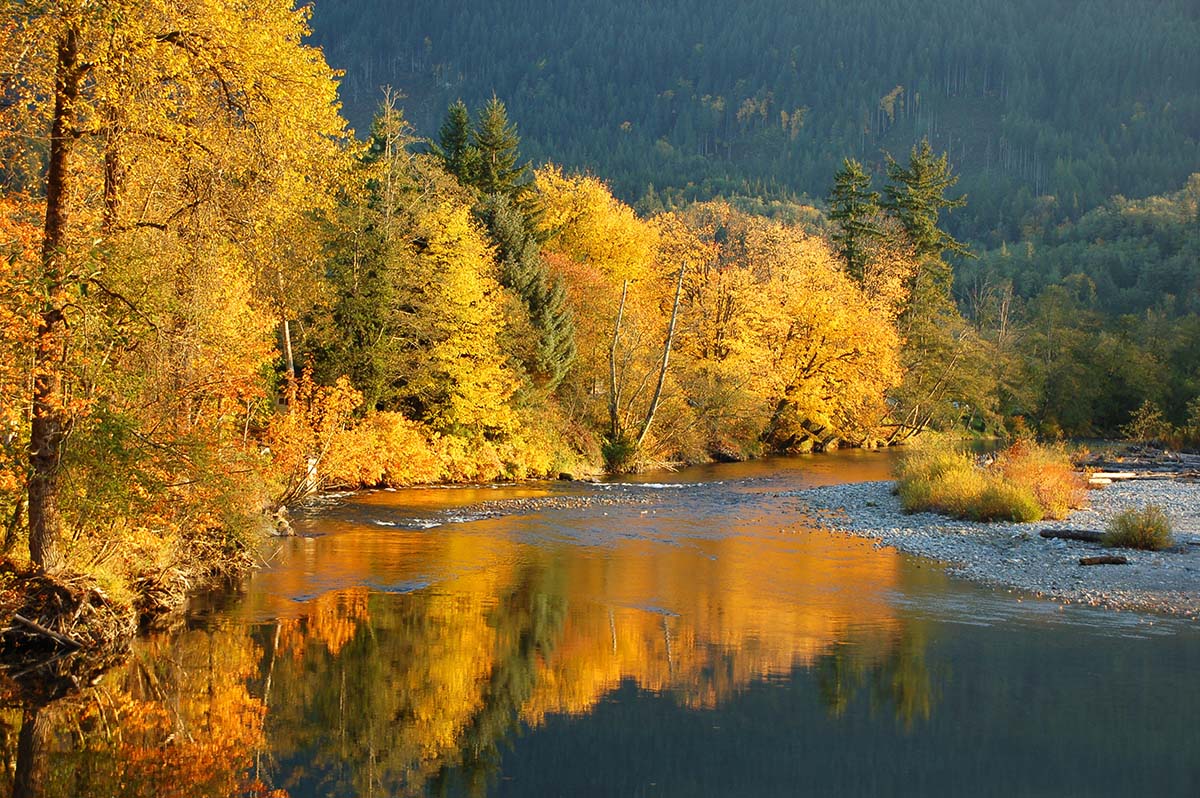 Why should you go: Epic day hikes in a totally doable day trip.
Distance: +/- 82 miles
Drive time without stops: 2 hours, 20 mins
Head from Arlington to Darrington on highway 530 as it follows the meandering Stillaguamish River. You'll have views of Whitehorse and the White Chuck Mountains on the right on the way to the small town of Darrington, which has just about every outdoor activity you could imagine. Seriously — look at their tourism website.
Then head south, and the road will turn to gravel as you head up to Barlow Pass as it nears remote Glacier Peak — one of Washington's tallest mountains.
The Mountain Loop Highway is one of the best Washington scenic byways for hiking, with some of the most popular trails being Blanca Lake, Mount Pilchuck, and Lake 22. But it's hard to make a bad choice, so any hike you choose will be pretty amazing.
This loop makes a great day trip, or you could camp in the mountains to sneak in a second hike the next day before driving home.
6. Chuckanut Drive
Why should you go: A short drive with beautiful ocean views and lush forests.
Distance: +/- 25 miles
Drive time without stops: 45 mins
Start in Burlington and head west on Highway 11 through farmlands with views of Mount Baker to the east (on a clear day). Stop in Edison at the fantastic Breadfarm Bakery to pick up some snacks, the head north on Chuckanut Drive, where the speed limit slows and your ocean views begin.
You'll drive by plenty of pull-outs that make great places to eat lunch with views over the Samish Bay toward the San Juan Islands. When you pass dozens of cars lined up along the road, you're probably at the trailhead for Oyster Dome, a 5-mile hike to a great view over the coast. Once you get into Larabee State Park you'll have plenty more options for other trails, like the short trail to Clayton Beach through forests that seem straight out of "Jurassic Park."
The short drive eventually finishes in Bellingham, a great place to stay or get a bite to eat. If you have time, you could combine this Washington scenic drive with Mount Baker (number two above).
Related Read: 12 Romantic Getaways in Washington to Take Your Sweetheart
7. Columbia Gorge Highway: Highway 14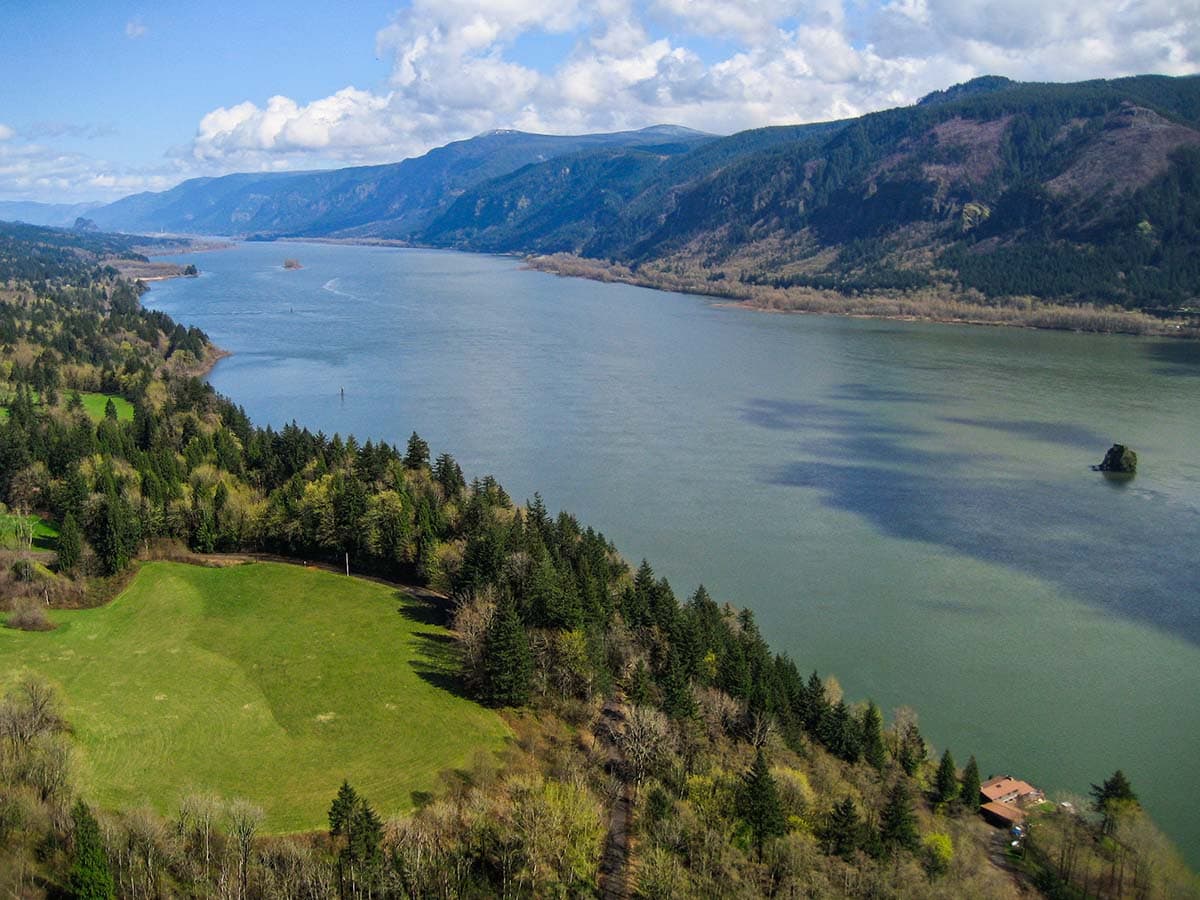 Why you should go: Pass waterfalls, lush forest, cliffs overlooking raging rivers, and even a historical site.
Distance: +/- 105 miles
Drive time without stops: 2 hours
The Columbia River separates Oregon from Washington and includes scenic drives on either side of the river. The Oregon side includes stops like Multnomah Falls and Hood River, but the Washington side feels more like the road less traveled compared to the busy highway of I-84.
Stop at Bonneville Dam to learn about the hydroelectric energy that powers the area, or Beacon Rock for a short but steep hike to a great view over the river valley. Further along is White Salmon, a small town with wineries, biking trails, and no shortage of on-the-water activities like whitewater rafting, paddling, and fly fishing. After White Salmon, keep going on Highway 14 to find petroglyphs at Columbia Hills (remember to leave no trace), the Maryhill Museum, and the Stonehenge replica.
From there, you can turn around and take the Oregon side back to Vancouver, Washington. You can also continue on the drive north to Goldendale or south toward Bend.
Related Read: 15+ Must-See Columbia River Gorge Waterfalls
8. Chinook Pass Scenic Byway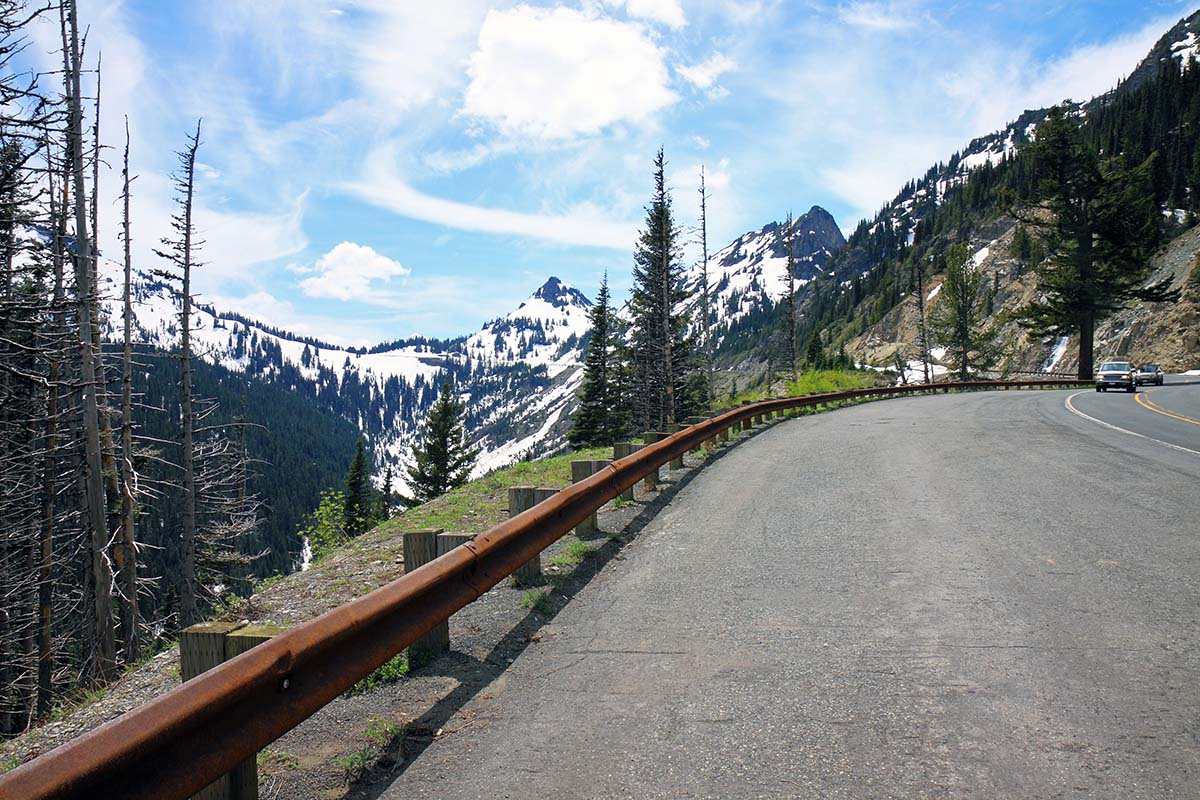 Why you should go: For a taste of nearly all Washington's landscapes, starting in the east.
Distance: +/- 101 miles
Drive time without stops: 2 hours, 10 mins
Start on the Chinook Pass Scenic Byway in in Yakima in Eastern Washington to visit the second-largest mountain in the contiguous United States. Make sure to stop at Tipsoon Lake to get iconic photos of Mount Rainier, then head to the Sunrise Visitor Center to visit or hike in the national park.
To finish the trip, you could head west to Enumclaw (just east of Tacoma) to experience western Cascade forests and farmlands; don't miss a stop to try the homemade cider at Rockridge Country Market. Or take Cayuse Pass through the park to link up with Highway 12 over White Pass to make a scenic loop back to Yakima with more mountainous driving.
Check road conditions in advance when planning this Washington scenic drive, as Chinook Pass is only open during the summer months. That's typically May through November, but it changes every year.
9. Yakima River Canyon Scenic Byway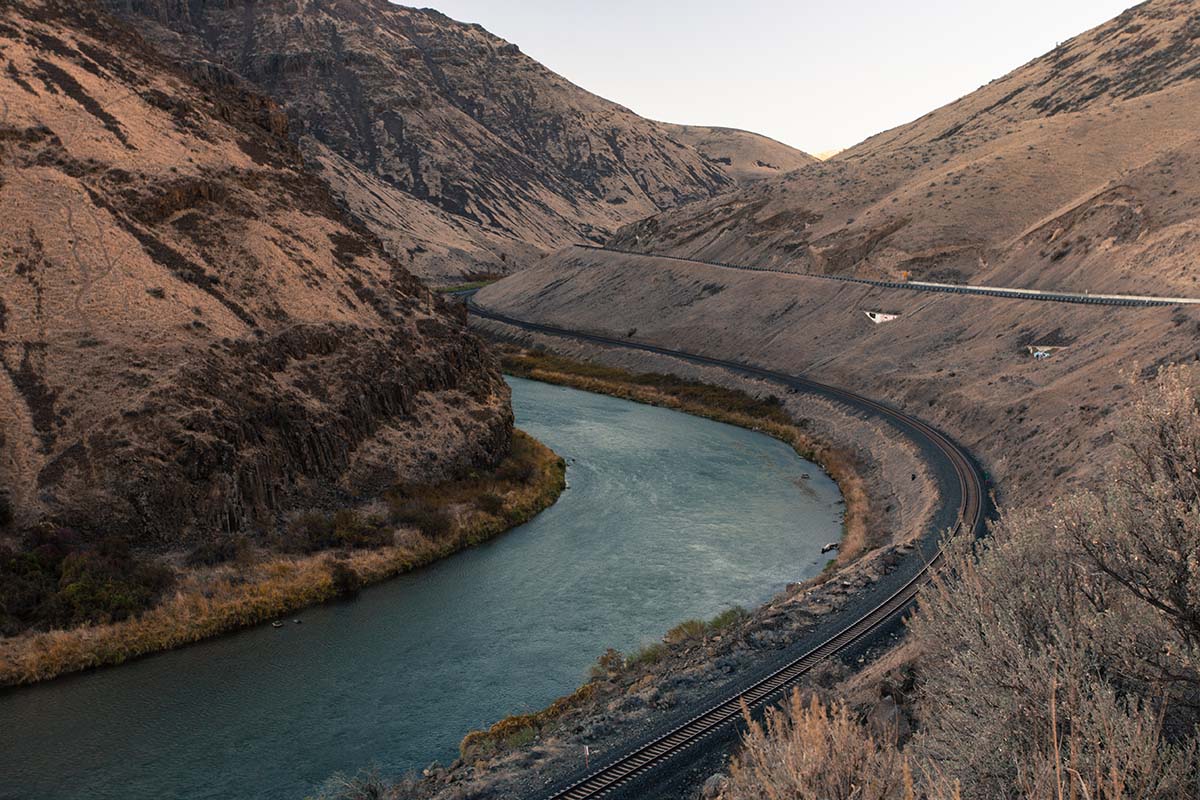 Why you should go: Follow a winding river through Washington's less-crowded desert landscapes.
Distance: +/- 36 miles
Drive time without stops: 1 hour
Take this short, scenic drive to experience the beauty of the desert in Eastern Washington. The drive from Yakima to Ellensburg along the Yakima River passes basalt cliffs, rolling desert hills, and the winding river.
Stop at the ​​Umtanum Creek Recreation Area to hike or have lunch, or choose many other scenic viewpoints along the drive. Make sure to pick up apples or other fruit from a farm stand along the way, as this area of Washington produces the majority of the apples sold in the US.
If you're doing this drive from the north, stop at the Yakima Canyon Interpretive Center to chat with staff about the best places to stop, catch the fall foliage, or look for wildlife along the route.
10. Coulee Corridor National Scenic Byway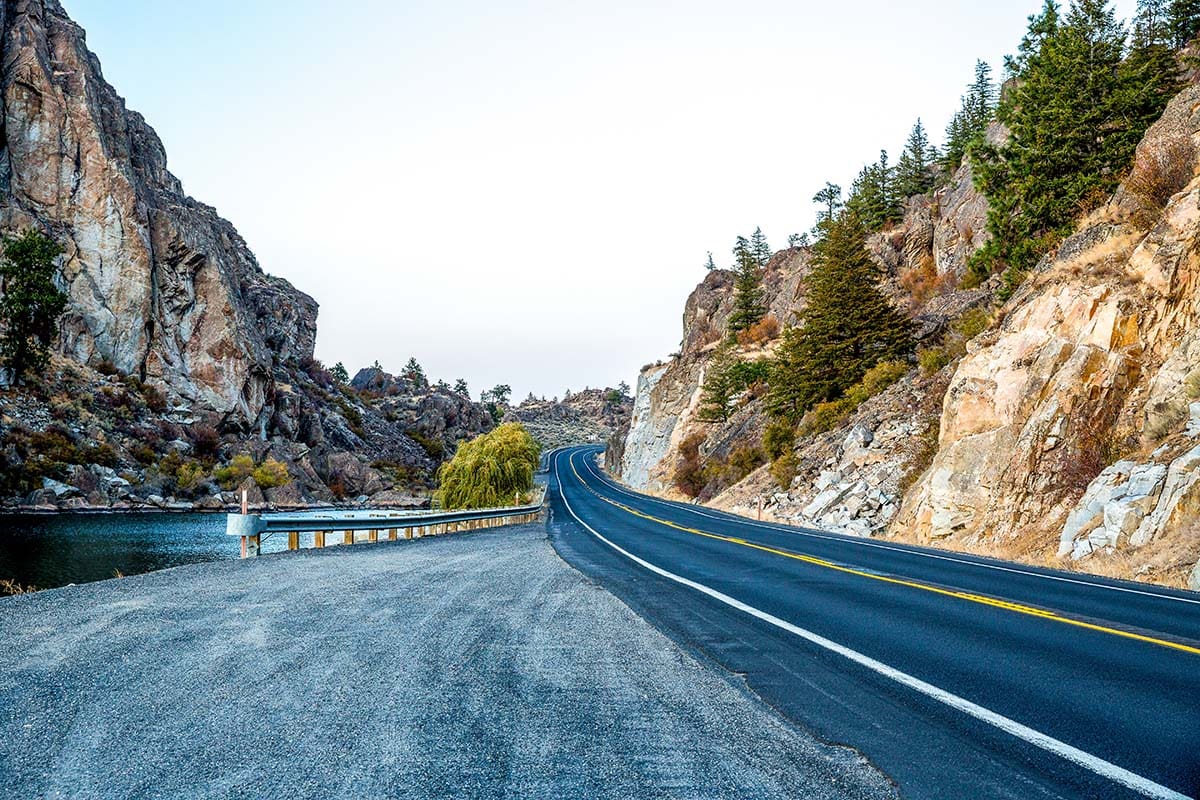 Why you should go: See landscapes and lakes carved out during the last ice age.
Distance: +/- 145 miles
Drive time without stops: 3 hours
Most people don't think of desert when they think of Washington, but the dry parts of the state are beautiful and well-worth a visit, especially with the blue rivers twisting through the desert canyons. This scenic byway takes you on a trip through time as you explore terrain shaped by flooding during the last ice age. Basalt cliffs line the tops of the plateaus while the scents of sage and juniper fills the air. Stop by the Columbia National Wildlife Refuge for a quick hike or paddle.
This journey takes you from the town of Othello along the northern stretches of the Columbia River to the Grand Coulee Dam, north to the town of Omak. From there, you could head west into the Methow Valley to visit the small towns of Twisp and Winthrop (a quirky "Wild West" town with mercantiles and photo ops), then link to the North Cascades Highway (number one above) to keep the stunning scenery going.
Explore More in Washington
Sign up for the Weekend Wanderer to join thousands of readers getting epic travel and gear ideas every week.
---