Arizona's creeks, rivers and lakes offer thousands of miles of beautiful waterfront exploration and a nearly endless amount of camping opportunities.
The only problem, then, is deciding which areas to explore. We've put together a list of some of the best places to camp in Arizona near water, from winding desert rivers to pristine lake camping in Arizona that manages to fly under-the-radar.
Whether you're looking for a prime fishing spot, a place to let the kids swim or just need to reset to the sound of babbling water, we've got you covered.
We've organized Arizona's waterfront camping options into five regions in the state: Central Arizona, Eastern Arizona, Northern Arizona, Southern Arizona and Western Arizona. Under each region, we've listed the general area of each camping spot.
Central Arizona
Central Arizona is a mostly arid region with broad desert valleys rugged mountain ranges. Two major waterways, the Salt River and the Verde River, form oasises in the desert, while man has damned these rivers to form some of the largest reservoirs in the state: Roosevelt Lake, Canyon Lake, Apache Lake, Saguaro Lake, Bartlett Lake, and Horseshoe.
North west of Phoenix, Lake Pleasant makes for a convenient oasis just outside the city while a lone wolf named Alamo Lake can be found out a few hours further.
Copious campgrounds can be found along the lakeshores, plus a few small collections of campsites along the Lower Salt River as it exits Saguaro Lake's Stewart Mountain Dam and meanders below the iconic Bulldog Cliffs toward Phoenix.
Bill Williams River Valley
Alamo Lake State Park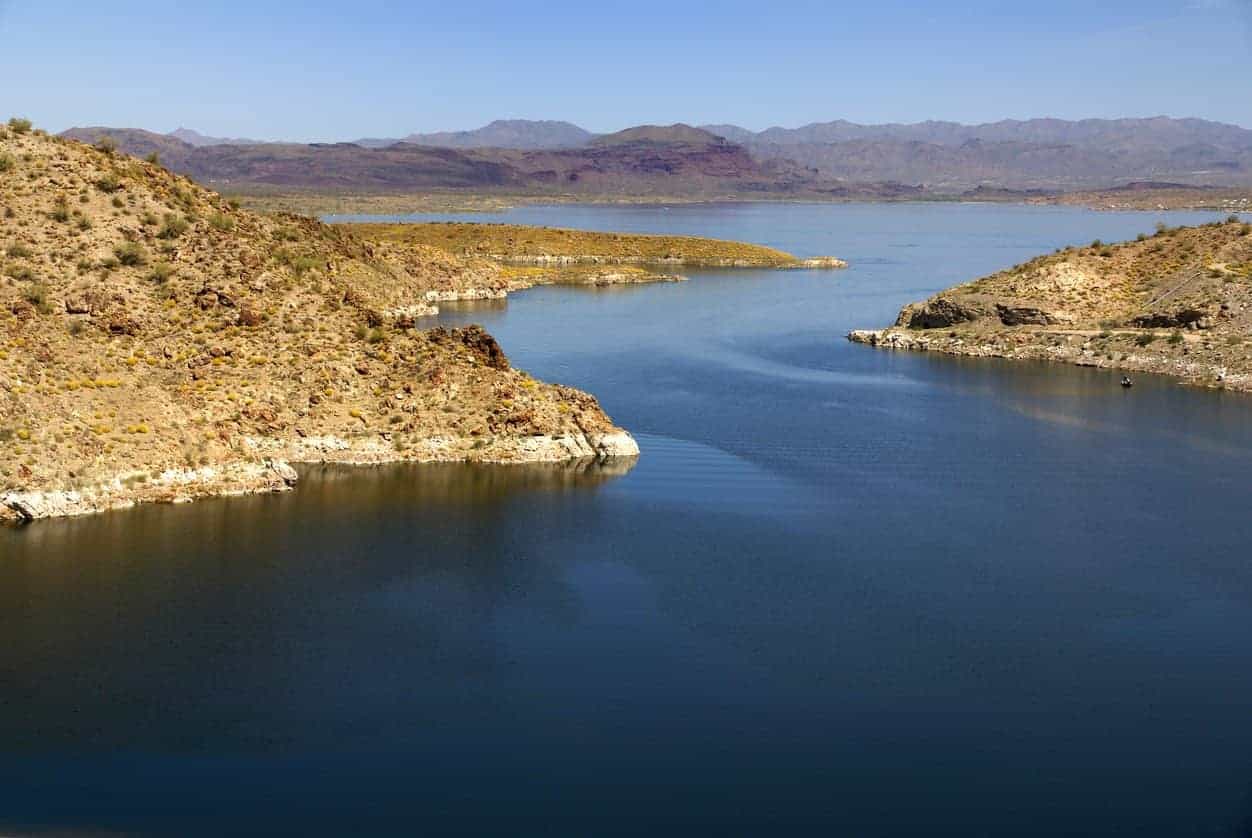 Surrounded by Mesquite, Palo Verde and other desert scrub, Alamo Lake offers remote, quiet lakefront camping in west-central Arizona. Alamo Lake forms where the Big Sandy River and Santa Maria River come together in the Bill Williams River Valley.
Today, it's one of the more remote lakefront camping spots you'll find in central Arizona, and one of the state's premier bass fishing destinations (you'll also find sunfish, crappie and Tilapia here). On the south side of the lake you'll find five campground areas and four basic cabins that overlook the lake.
To get as close to the water as possible, Campgrounds B and E offer great lakeside views, but you'll find the other areas are just a short stroll from the water. Each campground offers different features and amenities, from full electric and water sites to less expensive dry camping sites. There are also RV sites with full hookups and dump stations.
With its visitor center, store, facilities and water activities, Alamo Lake is a popular spot for families, anglers and those looking to rough it in style. Two paved boat ramps offer lake access for non-motorized boats, and restrooms and showers are located at multiple campground locations.
Hundreds of miles of OHV trails outside the park's boundaries are popular for dirt bikes and quads, and a bar and grill at The Wayside Inn a few miles away offer a pleasant oasis from the heat during summer months. The lake's at least 40 miles from any large cities, making it ideal for stargazing and wildlife viewing.
Link: Alamo Lake State Park
---
Lower Salt River
Coon Bluff
For some folks in Arizona, tubing the Salt River is a local pastime, and Coon Bluff is an ideal spot to camp overnight on this lower section of the river. From May to September, this site is for day use only because of the crowds and its popularity as a river access point.
But from October to May — considered the "offseason" — you can camp here overnight on the weekends. There are five picnic tables and a few paved pathways, toilets but no drinking water. It's a great place to set up shop for the weekend and fish, paddle or view wildlife, including birds and wild horses.
A Tonto Pass is required to camp here, and you'll want to know the rules for the area: no glass containers, no motorized boats. It gets busy during the summer, so plan your day trips accordingly, and consider a visit in the offseason to enjoy the quiet, tranquil desert before things get wild in the summer.
Link: Coon Bluff
---
Lower Verde River
Bartlett Flat Shoreline Area
Bartlett Flat Shoreline Area is located on the west side of Bartlett Reservoir, a 12-mile long man-made lake northeast of Phoenix. Bartlett is the second largest lake in the Phoenix area and was the first reservoir constructed on the Verde River, completed in 1939.
This site offers dispersed camping on the shoreline and primitive lake access for small boats, though the use of trailers isn't recommended. The shoreline area for camping can change due to the lake's water levels, which you can check here. There are no designated sites or amenities, and availability's on a first-come, first-serve basis.
Bartlett Flat is the northernmost of several shoreline areas that look out over the expansive 2,815-acre lake and the rugged Mazatzal Mountains in the distance. The site's open year-round and offers basic facilities like vault and portable toilets. The lake's stocked with bass, crappie, sunfish and other species, making it an excellent choice for anglers.
You'll need a Tonto Daily Pass or Discovery Pass to camp here, which can be purchased at Bartlett Vista or from local vendors.
Link: Bartlett Flat Shoreline Area
---
Lower Verde River
Box Bar Shoreline Area
There's a 40-mile stretch of the Verde River below Camp Verde designated Wild and Scenic, but even below the reservoirs to the south, the Verde offers plenty of untamed recreational activities. One of the Verde's easier-to-access waterfront camping spots is Box Bar Shoreline Area south of Bartlett Reservoir.
Located 13 miles north of Fountain Hills, this shoreline area offers primitive camping with no designated spots or reservations. According to the Forest Service, the best sites include "the shaded areas along the west side of the parking area," and once you're out there, you'll see why families choose this location. It's tucked away into the trees but still affords excellent waterfront views of the Verde.
The water can move fast at this spot on the river, and it's a great place to put in a canoe or kayak if you're looking to paddle downstream. The beach area is ideal for kids and anglers, and the Verde's home to several species of fish, including rainbow trout and bass.
Each time we've visited, we've paddled a few miles down the river and over the years have seen some awe-inspiring river bends and stretches of desert that we consider highly underrated. Depending on the season, you may see bald eagles and other wildlife as well.
Its proximity to the city and cool-flowing water make Box Bar an excellent —and popular — choice in the summer, but be sure to arrive early if you're planning on snagging a good spot for the weekend. You'll also need a Tonto Daily Pass or Discovery Pass whether you're there for the day or staying overnight.
Link: Box Bar Shoreline Area and River Access Point
---
Lower Verde River
Catfish Point Picnic and Dispersed Camping Area
Catfish Point lies just below Horseshoe Reservoir and Dam on the Verde River, where you'll find dispersed camping spots among mesquite trees and desert brush. It's a popular spot for anglers and paddlers tackling the stretch of river between Horseshoe Reservoir and Bartlett Reservoir.
There aren't any facilities save for a few vault toilets, and no trash service means everything brought in must be packed out. The water level can determine what's available for camping on the banks, which varies with the season and is dependent on how much water is released from the dam.
The Verde River is home to catfish, crappie, bass and bluegill, and although there aren't any boat ramps, you can put in non-motorized boats like kayaks and canoes.
Link: Catfish Point Picnic and Dispersed Camping Area
---
Lower Verde River
Mesquite Campground
The aptly named Mesquite Campground lies south of Horseshoe Reservoir on the Verde River, tucked in between shady groves of mesquite trees. It offers more than 10 camping sites with picnic tables and fire rings, though some reports claim the area is now considered dispersed camping.
Either way, you can find comfortable sites all along the Verde's banks, and availability of spaces may depend on the river's water level.
Motorized boats aren't allowed here, but it's an ideal stretch for canoes and kayaks. A swift-moving current makes the Verde River a fun paddling destination, but the Forest Service only recommends the water for strong swimmers.
Sites here are $10 per night and require campers to pack out what they bring in. It's a mellow campground that puts some distance between you and Horseshoe Dam to the north, so if you're looking for something quiet on the Verde between the two reservoirs, Mesquite is a solid bet.
Link: Mesquite Campground
---
Lower Verde River
Ocotillo Boat Launch
Horseshoe Reservoir is 60 miles northeast of Phoenix and has one boat ramp at Ocotillo Boat Launch. It's also a great place to camp for the weekend, with primitive camp sites and no facilities – not even restrooms.
This low-key shoreline area is ideal for small boats (nothing over 25 horsepower is allowed on the lake) and quiet days in the desert. The lack of facilities and crowds makes for good wildlife viewing, good fishing (bass, crappie, catfish) and reliable waterfront solitude.
The reservoir offers 27 miles of shoreline and plenty of dirt roads and trails to explore, but the lack of water and restrooms means you'll need to come prepared, especially during summer months. Use of the boat ramp can depend on the lake's water level, which you can check here.
Ocotillo doesn't have trash cans or service, so everything you bring must be packed out. For those willing to camp with just the basics, this shoreline area is an excellent retreat from the bustle of the metro area.
Link: Ocotillo Boat Launch
---
Lower Verde River
Riverside Campground
Riverside Campground is a quiet site on the Verde River just below Bartlett Reservoir and its dam. It offers solid views of the dam and surrounding desert, and the water is consistent throughout the year, making it ideal for anglers and those looking to camp near water in the summer.
Only non-motorized boats like canoes and kayaks are allowed here, so it doesn't get loud, though it can fill up during prime camping season. There are 12 units with picnic tables and fire rings, and everything's available on a first-come, first-serve basis.
Fishing and bird watching are popular activities at Riverside, with trout, bass and catfish in the Verde River and all kinds of birds — including bald eagles — in the surrounding area. There are no trash services, so there's a strict "pack it in, pack it out" policy, and sites are $10 per night.
The water here can be murky depending on the season and current weather conditions, but it's a great place to set up a quiet camp and enjoy the desert just north of the city.
Link: Riverside Campground
---
Lower Verde River
SB Cove Shoreline Area
If you're exploring Bartlett Reservoir's 33 miles of shoreline and more than 2,800 surface acres of water, SB Cove Shoreline Area on its western shore makes for an ideal base camp. It offers primitive beachfront camping on a comfortable pebbly shore with impressive views of mountains and desert terrain.
Camping sites are dependent on the lake's water level, which you can check here. Higher lake levels may limit what's open, but there are plenty of shaded spaces back from the shore that offer respite from the heat. Sites aren't designated, so you'll have your choice of where to set up shop.
SB Cove offers portable toilets and more facilities are available at Bartlett Marina a few miles south. The lake is a cool, relaxing place to camp and typically doesn't get overcrowded, though there is a boat launch at Yellow Cliffs just north of the site.
Camping here requires a Tonto Daily or Discovery Pass and a watercraft sticker if you're bringing a boat. There's plenty of fishing to be had from the shoreline as well, with bass, crappie and catfish in the lake.
Link: SB Cove Shoreline Area
---
Roosevelt Lake
Bermuda Flat Shoreline Area
If you're looking for a family-friendly shoreline in Arizona, consider the peaceful atmosphere at Roosevelt Lake's Bermuda Flat Shoreline Area. Located on the northwest side of Arizona's largest lake, the site offers breathtaking, colorful views of the Sierra Ancha mountains and Four Peaks Wilderness Area.
The gentle slope of the shore makes Bermuda Flat ideal for family activities, and miles of grassy waterfront offer an ideal launchpad for any small-craft water sport.
Mesquite trees provide natural shade and places for wildlife to rest. Kick your feet up in a hammock or chair and enjoy shoreline fishing for bass, crappie and other fish. You can also picnic and enjoy other water activities without worrying about larger watercraft cramping your style. Unpaved launch ramps are available for small motorized and non-motorized boats.
A Tonto Daily Pass or Tonto Discovery Pass is required at Bermuda Flat and the open season is February 16 to November 14. The lake's water level determines how much dispersed camping space is available, and campers should use caution during storm season, as this area is prone to flash floods.
Link: Bermuda Flat Shoreline Area
---
Roosevelt Lake
Cholla Bay Day Shoreline Area
The Cholla Bay Day Shoreline Area is located along the shore of the largest lake in Arizona, Roosevelt Lake. The closest towns to this area are Punkin Center and Roosevelt and the site itself is in the Sonoran Desert.
From the grounds, you can see the Sierra Ancha Mountains and vegetation in the area includes saguaro cacti, desert broom, mesquite, and more. The open season for this area is November 15th through February 14th every year.
Visitors may stay up to 14 days but when the lake level is high, the shoreline area may be closed. The internal roads surrounding the site are unpaved, so keep this in mind depending on your vehicle and always drive carefully. In addition, the site sizes and availability can vary depending on the lake levels.
You will find regulations posted around Cholla Bay day areas on bulletin boards. Keep a close watch on the weather as flash floods are a risk. Try to camp out of flash flood areas for your own safety. The site doesn't have water but there are portable toilets available for visitors.
A Tonto Daily Pass or Discovery Pass is required for this location, along with a Watercraft sticker if you want to bring a boat.
Link: Cholla Bay Day Shoreline Area
---
Roosevelt Lake
Grapevine Group Campground
Grapevine Group Campground is located on the southern shore of Roosevelt Lake and includes 9 separate loops for groups of up to 100 people. Each loop offers between 12 and 18 individual sites along with toilets, water, shelters, picnic tables and fire rings.
The campground also offers a playground, playing fields, hiking trails, a paved boat ramp and plenty of shoreline to explore. If you're looking to be as close to the water as possible, consider the Goose loop. Coot and Mallard Loops are also close to the water, and Pintail and Heron Loops are set further back, though they still offer excellent view and lake activities.
The large loop-style campsites are ideal for big groups, weddings, reunions and other events. There's ample parking and room to let loose without feeling crowded by neighbors. At 2,200 feet, the campground gets hot in the summer but nights are pleasant and offer stunning views of the surrounding wilderness areas.
You can make online reservations for Grapevine at least four days ahead of your trip and up to one year in advance. The camping fee is based on the number of people in your group ($75 per night for less than 50, $150 for 50 to 100). A Tonto Pass is required, and a watercraft sticker if you're hitting the lake with a motorized or non-motorized boat.
Link: Grapevine Group Campground
---
Roosevelt Lake
Cholla Campground
Cholla Campground sits on the northwestern shore of beautiful Roosevelt Lake. This family-friendly campground offers a scenic day at the lake and relaxing evening on the beach without leaving the desert.
There are 206 campsites at Cholla Campground, each equipped with a fire ring, grill, and picnic table. The campground is the largest solar-powered one in North America, which allows for the well-kept showers and flushable toilets. These amenities make the camping experience even more enjoyable for campers of all ages.
There is a fee of $20 per site for an individual site, or $40 for a double campsite. However, seniors and Access Interagency Pass Holders receive a 50% discount. Campers pay the fee at the campground's fee machine.
Roosevelt Lake is central Arizona's largest lake (13,000 acres) and home to bass, catfish, sunfish, and crappie (in the spring). Cholla Campground offers access to a paved boating ramp and fish cleaning stations. Families feel comfortable at the kid-friendly beaches and playgrounds, and pets are also welcome.
Link: Cholla Campground
---
Roosevelt Lake
Frazier Horse Camp
Frazier Horse Camp was the first lakeside equestrian camp built in the southwest region by the Forest Service, and today remains a popular camping destination for those looking to ride the nearby Arizona Trail. Its 11 camp sites include ramadas, fire pits, picnic tables and nearby water and toilets.
Horse pens and stock water are available for your horse friends, and the wide-open layout of the campground offers plenty of room for campers and animals alike. Campers can get to a section of the Superstitions' passage of the Arizona Trail by taking Cottonwood Canyon Trail south from the campground, where you'll find plenty of desert to explore.
Campsites are $10 per night for single-unit spaces, and there's a large group site nearby for large parties.
Link: Frazier Horse Camp
---
Superstition Mountains
Upper Burnt Corral Shoreline Area
Just north of Burnt Corral Campground you'll find Upper Burnt Corral Shoreline Area, a wash that empties into the southside of Apache Lake. Like Lower Burnt Corral, this area offers dispersed, desert-wash camping without designated sites like the campground, but does offer excellent shoreline stays depending on the water level.
Upper Burnt Corral is the northernmost camping area on Apache Lake proper — you'll find Three Mile Wash between Apache and Roosevelt Lake, but by then the Salt River is considerably narrower after passing through through Roosevelt Dam.
There are no amenities except toilets, so stock up on water and supplies before you reach this stretch of the Apache Trail. You'll need a Tonto Pass to camp here and a watercraft sticker if you're hittin' the lake. Like other washes in the area, this area fills up fast in warm weather because of its easy access to the water, so consider coming early — in the week or morning — to get a prime spot.
Link: Upper Burnt Corral Shoreline Area
---
Superstition Mountains
Burnt Corral Campground
Burnt Corral Campground is set on Apache Lake's northeast shoreline, just six miles from Roosevelt Dam. The lake is one of four reservoirs in the Salt River Project and is formed by Horse Mesa Dam.
Located in the Tonto National Forest, Burnt Corral's 82 developed campsites offer amazing views of water, wildlife, canyons, and desert mountains at 1,900-foot elevation.
Campers can enjoy fishing, boating, wildlife viewing, canoeing, photography, exploring, picnicking, and riding bikes in the area. The grounds are ideal both for solo campers and families, as each campsite is equipped with a grill, fire ring and table.
Burnt Corral is open year-round, thanks to mild Sonoran Desert winters. The grounds are highly accessible and don't require four-wheel drive vehicles. Drinking water is available at the campground and an accessible toilet building offers composting and vault toilets.
The site has a boat ramp, some supplies, rentals, and dog lovers will appreciate that it allows pets. A Tonto Daily or Discovery Pass is required to camp here, and watercraft must have a Tonto sticker.
Link: Burnt Corral Campground
---
Superstition Mountains
Apache Lake Marina and Resort
Apache Lake Campground offers primitive beach camping within the Apache Lake Marina and Resort, considered one of the area's most "complete" lake facilities. Instead of designated sites, the campground offers dispersed camping along the south shore of Apache Lake, along with picnic tables and fire pits.
You can camp here for an affordable $5 daily rate, and the marina also offers RV camping with full hook-ups. The resort is under permit by the Forest Service but doesn't require you to purchase the Tonto Pass, though you'll need one if you decide to camp along the shores outside of the resort.
Known as the "hidden gem of the Salt River Lakes," Apache Lake is the second largest reservoir on the Salt River (formed by Horse Mesa Dam in 1927). Its 41 miles of shoreline offers plenty of hiking, camping, fishing and wildlife viewing opportunities, and the marina's campground is a great way to experience the lake while still having facilities nearby.
It's about a two-hour drive from the Phoenix metro area, but feels more remote once you've rambled down the historic Apache Trail (State Route 88).
Link: Apache Lake Campground
---
Superstition Mountains
Bagley Flat Campground
Saguaro Lake's sole designated campground is only accessible by boat, making it one of the more unique lake camping spots in Arizona. It's on the eastern side of the lake just before the canyon narrows to become the Salt River between Saguaro and Canyon Lake, so it's a remote, quiet area away from the crowds.
The sites here are first-come, first-serve and offer basic amenities like grills and picnic tables. There's a small dock for boats and plenty of shade under the surrounding mesquite trees once you're on land. It's about a four-mile boat ride to get to Bagley Flat if you're starting from the marina on the westside of the lake.
Saguaro Lake is the westernmost of the Salt River reservoirs and because it's the closest to Phoenix, it can get busy in the summer months. Camping at Bagley Flat, however, lets you enjoy close-to-the-city shoreline camping at a relatively hard-to-access spot on the lake. Summer months on the lake can be brutally hot, but spring and fall are comfortable times to scout out a spot at Bagley Flat.`
To camp here, you'll need a Tonto Pass and watercraft sticker.
Link: Bagley Flat Campground
---
Superstition Mountains
Canyon Lake Marina and Campground
Canyon Lake is the smallest of the Salt River reservoirs and offers stunning views of cliff walls and tranquil waters. The rugged terrain on the north side of the lake makes for limited camping, but the marina and campground on the south side offer plenty of opportunities to enjoy the area.
The marina's campground includes 18 tent sites, 28 RV sites and room to roam, with a grassy area and beach that's ideal for families. Each site includes a picnic table, grill and fire ring, and shower facilities make this a great spot for extended stays. Boaters can camp out on the water, and there's also a day use area for those just passing through.
With its facilities and proximity to the city, Canyon Lake campground is a great spot for families, but it fills up fast, especially during peak summer and holiday weekends. You can make reservations up to 90 days in advance, and pets are allowed (two dogs per site). To make reservations, call (480) 288-9233 or click the link below.
Link: Canyon Lake Marina and Campground
---
Superstition Mountains
Crabtree Wash Shoreline Area
Crabtree Wash is a low-key alternative to nearby Apache Lake Marina & Resort, and although it's close by, this shoreline area still feels quiet and secluded.
Dispersed camping sites are spread over the shoreline's beach area and back through the wash among the desert brush, so whether you want to be beachside or tucked away on shore, you'll find something comfortable, though it does get busy on summer weekends.
Crabtree Wash is great for campers and families who want the facilities and convenience of being near the marina and its supplies, but don't want to camp within the resort's boundaries. You'll need a Tonto Daily or Discovery Pass and a Watercraft sticker if you're on the lake, and the camping itself is relatively primitive, so expect a few portable toilets, some makeshift fire rings and plenty of beautiful desert scenery.
Link: Crabtree Wash Shoreline Area
---
Superstition Mountains
Davis Wash Shoreline Area
Davis Wash Shoreline Area is a popular summer haunt for fisherman and families looking for simple shore camping on Apache Lake. The wash is on the eastern shore of the lake and spills into a small inlet just east of Mazatzal Bay.
The area's ideal for beautiful desert camping, fishing, wildlife viewing and hiking the miles of rocky shoreline. It gets crowded during the warmer months, but the area features plenty of dirt roads worth exploring to find a spot worthy of your needs.
The camping is dispersed and primitive, but there are portable toilets and camping supplies can be had atRoosevelt Marina a few miles up the Apache Trail. The camping season here is considered February to November, and if you want to avoid the crowds, early spring and fall are great times to visit.
You'll need a Tonto Daily or Discovery Pass to camp, and a Watercraft sticker if you're hitting the lake.
Link: Davis Wash Shoreline Area
---
Superstition Mountains
Lower Burnt Corral Shoreline Area
Lower Burnt Corral is the southernmost of the Burnt Corral sites on the northeastern stretch of Apache Lake, and it's a quiet, dispersed camping area that offers excellent views of the lake and the rugged mountains beyond.
It's a first-come, first-serve area that lies just below the designated Burnt Corral Campground, and offers some shady primitive sites and other open beachfront sites. The area is closed during monsoon season, as the campground is located on the wash for Burnt Corral Creek, which can flood during summer storms. In general, the availability for the site is March to June and September to November.
There are trash bins on site, but the Forest Service recommends packing out what you bring. To snag one of the better sites, come midweek or early on a Friday, though the Burnt Corral Campground just above offers more than 80 campsites if you can't find anything in the lower section.
A Tonto Daily or Discovery Pass is required to camp here, and campers with boats will also need a watercraft sticker.
Link: Lower Burnt Corral Shoreline Area
---
Superstition Mountains
The Point Boat Dock
The Point Boat Dock is the only designated campground — and toilet — on the upper portion of Canyon Lake before it narrows into the Salt River just west of Apache Lake. It's a small, three-site campground that's only accessible by boat, making it one of the more secluded camping spots in the Salt River area.
It's a three-mile boat ride from the Palo Verde recreation site to Point Boat Dock, and this route offers excellent views of the lake's canyon walls and rock faces. The sites are available on a first-come, first-serve basis with no trash service (pack it in, pack it out), so you'll get the essentials — toilet, grill, picnic table — but little else. Still, for many boat-in campers, that's more than enough to enjoy a long weekend on the lake.
You'll need a Tonto Pass and watercraft sticker to stay here, and although the sites are set up for overnight camping, Point Boat Dock is also used as a day area with a courtesy dock for those just taking a break from the water.
Link: The Point Boat Dock
---
Superstition Mountains
Three Mile Wash Shoreline Area
Three miles south of Roosevelt Dam, you'll find Three Mile Wash Shoreline Area on the south side of the Salt River (Apache Lake section). This small day-use and overnight camping area offers excellent waterfront spots for those who get there early.
Because it's a wash, you can park right next to the water and wherever you'll camp, though spots are dispersed and available on a first-come, first-serve basis. Easy water access makes this spot popular in summer months, but you can beat the crowd and snag a good site midweek or early in the morning on the weekends. Offseason, this is a great place to enjoy cooler weather and the quiet shores of the Salt River between reservoirs.
A Tonto Pass is required to camp here, and you'll need a watercraft sticker if you bring a boat. The only amenities are portable toilets, but you can drive up north a few miles to Roosevelt Marina to get water and supplies.
Three Mile Wash may be small, but it's become a go-to spot for campers all over Arizona looking for family-friendly, casual camping right on the water.
Link: Three Mile Wash Shoreline Area
---
Upper Salt River
Diversion Dam
East of Roosevelt Lake, a small diversion dam regulates the flow of the Salt River as it passes through the desert. This has become a go-to river camping spot in the region, and the Diversion Dam area offers five river access points: EADS Wash, HZ Wash, Eucalyptus, Diversion Dam and the Rafter Take-Out spot at the State Route 288 bridge.
In total, these river access points offer a wide area to explore, hike and drive around to find dispersed camping sites. The Rafter Take-Out spot is ideal for portaging the Diversion Dam, and is considered a day-use area, but west of there you'll find plenty of areas to set up camp.
Depending on your access point, you'll find toilets, parking lots and other facilities. The fishing here is solid — bass, crappie and catfish — and only non-motorized boats are allowed, so it stays quiet and peaceful even when it gets busy during warmer months.
There's no permit required to camp here, and the Forest Service notes that it is prone to flash floods, so keep an eye on the season and weather when planning your visit.
Link: Diversion Dam
Eastern Arizona
Eastern Arizona is defined by the cool, high elevation forests of the White Mountains. The wettest part of the state, many areas in the White Mountains average over 100 inches of snow per year. As such, the White Mountains have a lot to offer for summertime camping with lots of lakes, never-ending stretches of forest, and plenty of camping options.
White Mountains
Aker Lake
For high-elevation trout fishing and secluded waterfront camping, check out Aker Lake southwest of Alpine in the Apache-Sitgreaves National Forest.
This small catch-and-release fishing lake offers a few dispersed camping spots around the lake that offer seclusion and forest wilderness away from the crowds. Aker Lake (sometimes referred to as Akre Lake) is stocked with Apache trout and Arctic grayling, and allows for artificial lure fishing with single barbless hooks.
At 9,000 feet, Aker Lake is surrounded by aspen and conifer forest, and you can explore the area with the Aker Lake Trail, which takes you around the lake and over to Hannagan Campground a few miles away.
According to the Forest Service, the camping spots here are usually open due to its remote location, so if you don't mind the drive, it's a great last-minute escape for the weekend when most lake camping spots will be booked.
Link: Aker Lake
---
White Mountains
Blue Crossing Campground
At more than 6,200 feet, Blue Crossing Campground is nestled at the base of Big River Valley. It's an ideal place to camp in the spring and fall, while the creek can run low or dry in late summer. Here you can take advantage of roaming off the beaten path just several miles from the Arizona-New Mexico border.
Blue Crossing offers four campsites with two featuring Adirondack-style shelters. This site offers access to Blue Range Primitive Area via the Tutt Creek Trailhead, where you can walk the interpretive path leading to a petroglyph site with informational panels.
Restrooms are available, as well as picnic tables, fire rings and camping trailer accommodations. ATV use is allowed and there are opportunities to catch rainbow trout and brown trout as well as other river varieties. There is no fee to camp at Blue Crossing Campground.
Link: Blue Crossing Campground
---
White Mountains
Pacheta Lake
This camping area at 8,500 feet is located deep in the White Mountains. A backcountry spot with rough roads that does not see much traffic, Pacheta Lake offers some of Arizona's best chances to see wildlife and pristine wilderness. Pets are allowed here but they must be on a leash or restrained.
Trailers and boating are allowed, and amenities include water, vault restrooms, grills, camping tables and fire rings. Permits are required for camping and fishing. They can be purchased at the White Mountain Indian Tribe found at Hon-Dah, Reservation Lake or McNary for both.
Pacheta Lake is a 68-acre catch & release fishing area. Stocked with trout, anglers often reel in 12 – 18 inch rainbow or brown trout. In peak summer season, a 16 – 18 inch rainbow or brown is not uncommon. Fishing here is well-known to be fantastic even during the off-season. Big Lake Store is nearby for basic gear, fishing supplies, firewood, gas and propane.
Link: Pacheta Lake
---
White Mountains
Big Lake Recreation Area
Few lakes in Arizona have as many camping options as Big Lake, located south of Greer in the White Mountains. This high-elevation (9,100 feet) lake is known for its trout fishing, but five campgrounds along the southern shore also make it one of the premier waterfront camping areas in the state.
Brookchar Campground offers the best waterfront camping sites, and Rainbow Campground is the largest camping area, with more than 150 sites and plenty of amenities.
Grayling Campground offers more seclusion, while Cutthroat Campground is a small, tent-only area that's more under-the-radar. Apache Trout Campground offers excellent sites for small and large groups, and enough amenities to make camping comfortable for visitors of all ages.
The Big Lake Visitor Center Interpretive Site offers the chance to learn more about the area, which is surrounded by beautiful rolling meadows and forests of pine, Douglas fire and aspen. Big Lake is also a great spot to set up camp to check out other lakes and hikes in the area, including Crescent Lake and Basin Lake to the northwest.
The lake allows non-motorized boats and is home to several types of trout, including Apache, rainbow, cutthroat and brook trout. Big Lake Tackle and Supply on the southwest side of the lake stocks all types of food, supplies and equipment, and there's plenty of hiking to be had in the area, including Thompson Trail #629 to the west.
The campgrounds are open from May to October and close during the winter, when access to the lake is limited by snow. Sites fill up fast during peak summer weekends, so reserving spots in advance is the best way to go.
Link: Big Lake Recreation Area
---
White Mountains
Drift Fence Lake Campground
Drift Fence Lake Campground is on the far eastern side of the Fort Apache Indian Reservation, home of the White Mountain Apache Tribe. The lake and adjacent campground are located about 30 miles south of Greer, just below Reservation Lake.
The small, quiet lake is surrounded by ponderosa pine and aspen, and throughout the year offers a quiet alternative to the more crowded Mogollon Rim lakes. The campground's serviced during the main camping season from April to November, but campers can get permits and camp year-round, though you must pack out what you bring in during the offseason.
Because the campground is on White Mountain Apache tribal lands, you'll want to be familiar with theirrules and regulations. Camping permits start at $9 per day and you're only allowed to camp within designated camping areas.
Drift Fence Lake offers seclusion and pristine wilderness at 8,000 feet, and according to the tribe, it doesn't reach max capacity even during holiday weekends, though you'll want to plan ahead just in case. Campsites are available on a first-come, first-serve basis, and the road from Reservation Lake to here can get rough, so keep an eye on your tires – and the weather.
Link: Drift Fence Lake Campground
---
White Mountains
Greer Lakes Campgrounds
Greer Lakes comprises three lakes off the Little Colorado River just north of downtown Greer: Bunch Reservoir, Tunnel Reservoir and River Reservoir. Two campgrounds in the area offer easy access to these lakes, as well as nearby Benny Creek.
Benny Creek Campground is located on the north end of Bunch Reservoir on a natural bench overlooking Benny Creek. It offers group campsites for up to 24 or 32 guests, depending on the site, though smaller groups also take advantage of the excellent camping here. Group sites 19 through 22 are closest to Benny Creek, but farther from the reservoirs. You can make online reservations for Benny Creek Campground here.
Just west of Bunch Reservoir is Rolfe C. Hoyer Campground, a large area with nearly 100 campsites. It's a bit farther from the reservoir, but still close enough to casually explore all of the Greer Lakes and nearby hikes. Hoyer Campground has great amenities — showers, toilets, amphitheater, firewood — and offers quiet camping among pine and aspen. You can make online reservations here.
The camping season at both campgrounds is typically May through October, and if you can deal with the rainy season, June to August is a great time to escape the heat of lower elevations.
Links: Benny Creek Campground and Rolfe C. Hoyer Campground
---
White Mountains
Reservation Lake
Just south of Greer, you'll find horseshoe-shaped Reservation Lake, a beautiful high-elevation (9,500 feet) lake at the eastern border of the Fort Apache Indian Reservation. The reservation is home to more than 1.5 million acres of wilderness, and Reservation Lake is one of its crown jewels: surrounded by forest and rarely at full capacity, even on holiday weekends.
You'll find the lake's campground on the south shore, and although it's serviced from April to November, you can camp all-year as long as the road's accessible. The campground includes more than 50 sites with picnic tables and fire rings, and you'll be able to stock up on fishing supplies at the lake's store.
Because this area's farther from the main freeways in Arizona, the crowds are light and it's generally easy to snag a site on a first-come, first-serve basis. Review the White Mountain Apache Tribe's camping regulations before heading out and buy a $9 permit online in advance.
This area is some of the most immaculate wilderness in Arizona, and it's more than worth the trek out beyond the familiar haunts of the Mogollon Rim to ditch the crowds and traffic.
Link: Reservation Lake
---
White Mountains
East Fork of the Black River
Just west of Alpine, the East Fork of the Black River snakes through its narrow, steep walled valley. Mimicking the river's contours, Forest Road 276 follows alongside the East Fork for 6.5 miles, providing access to six primo creekside campgrounds.
The campgrounds line the eastern bank of the stream from north to south: Diamond Rock, Aspen, Deer Creek, Racoon, Horse Springs, and Buffalo Crossing. By and large, these campgrounds have about a handful of sites each — they're a perfect match if you're looking for near solitude combined with campground amenities and idyllic mountain scenery. A riparian system rarely seen in Arizona, expect to see the likes of alders, cottonwoods, and high-altitude hardwoods along this 8,000 foot-high waterway.
Open from May to October, all campsites are first-come first-served with prices ranging from $14–16/night, or $7 with an Interagency Senior pass.
Link: East Fork of the Black River
Northern Arizona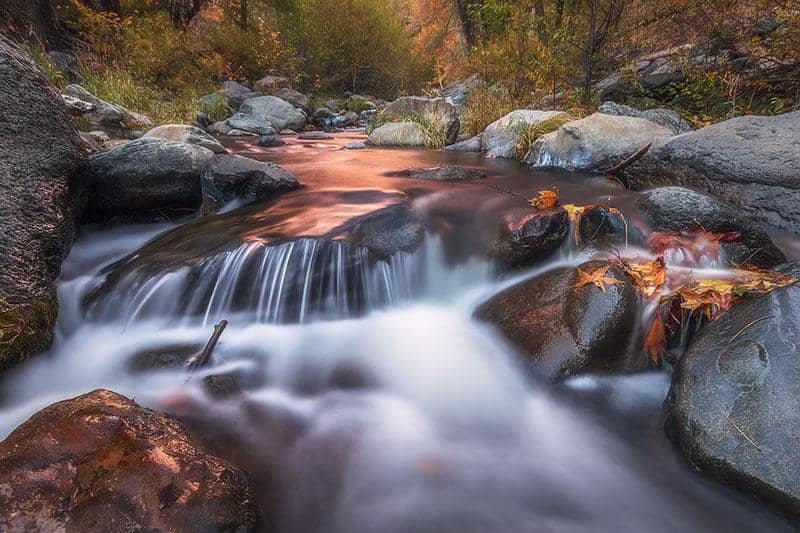 From forested lakes to spring-fed creeks and red rock canyons, Northern Arizona is prime country for summertime camping near water in Arizona. Look for high-altitiude lakes surrounded by pine forests near Flagstaff, Williams, and the Mogollon Rim while Sedona, Oak Creek Canyon, and the Verde Valley have your back for amazing digs along creeks and rivers.
Didn't snag a Northern Arizona campsite in time? Check out our favorite Flagstaff cabin rentals, or cozy cabins in Williams for more outdoor travel ideas.
Flagstaff
Ashurst Lake Campgrounds
Located just southeast of Flagstaff, Ashurst Lake offers captivating views of the San Francisco Peaks and relaxing high-elevation scenery among juniper and pinyon pine trees. The 229-acre lake is flanked on the west by Ashurst Campground and on the east by Forked Pine Campground, together offering 50 single-unit sites for tents and trailers up to 35 feet.
Campsites include tables, fire pits and grills, and each campground has drinking water and toilets. A single boat ramp is located on the west side of the lake.
Ashurst is often windy due to the area's flat, wide hills, and it's the perfect place to spot wildlife like bald eagles, osprey and other migratory birds. Trout, bass, catfish and pike make the lake an excellent fishing destination, adding to the slow, laid-back atmosphere.
Both campgrounds offer superb waterfront sites, as well as others tucked further back into the brush and trees. Dispersed camping is allowed, but you must camp at least one mile from either campground.
Unlike nearby Lake Mary, Ashurst Lake maintains its water levels even through dry spells, making it one of the more reliable bodies of water in the area. The main camping season is May to October, though you can visit and use the grounds year-round as long as road conditions allow it. The campground fee is $18 for the first vehicle and $8 for the second. Day use of the area is available for $8.
Link: Ashurst Lake Campgrounds
---
Mogollon Rim
Chevelon Canyon Lake
Legend has it, back in the 1800s a trapper named Chevelon got lost scouting in the Mogollon Rim. In an effort to survive, he ate some deadly roots and died right on the creek.
Today, both the creek and the canyon bear his name, and the secluded area has become a popular place to explore. In the summer, the 22-mile drive and hike in Mogollon Rim country takes hikers through thick ponderosa pine forests home to wildlife including brightly-colored birds, fish, elk, black bears and mountain lions.
The views on the Mogollon Rim are nothing short of stunning, as they include vast forests along with pinyon pine, juniper and other types of foliage. There is no direct vehicle access to the lake. Small boats are allowed at Chevelon Canyon Lake (8 HP or less).
Chevelon Canyon Lake camping sites are available on a first-come-first-serve basis. Amenities include tent and trailer sites along with picnic tables, firepits and toilets. There is no fee to camp at Chevelon Canyon Lake.
Link: Chevelon Canyon Lake
---
Mogollon Rim
Bear Canyon Lake
While Woods Canyon Lake and Willow Springs Lake receive the brunt of the crowds with easy access right off Highway 260, the nearby Bear Canyon Lake is a little more intimate. On a holiday weekend it can still get busy with Phoenicians beating the heat, but it's definitely more remote than its busier cousins.
This 60-acre lake occupies a shallow, forested canyon at 7600 feet above sea level. It's a quarter mile walk from the parking lot to the water and there's no boat ramp, so all watercraft must be carried in, definitely cutting down the number of boats on the lake. With a maximum depth of 50 feet (relatively deep for a Rim Lake), the water stays pretty clear, making for a sweet High Country kayaking destination — especially with only light boat traffic.
The primitive campground is set back from the water about a quarter mile as well, and is repeatedly described by the Forest Service website as "rustic." As such, it's accessed via a dirt road, has no drinking water and no garbage service, and requires no fee. This one's first-come first-serve, so you better roll in early (like Thursday) if you wanna grab a spot on a summer weekend.
Compared to the much more popular Woods Canyon Lake, this one is like Woods' handsome yet rugged brother who's kind of shy and hangs out in the corner during a party but is super cool if you make the effort to introduce yourself to him. So if you're in the mood to rough it up at one of the wilder Rim Lakes, Bear Canyon is good 'un.
Link: Bear Canyon Lake
---
Mogollon Rim
Christopher Creek Campground
There's no shortage of great campgrounds in the Mogollon Rim Country, but when it comes to creekside digs, Christopher Creek Campground is in a league of its own. Tucked away in a forested canyon just south of Highway 260, this 43-site campground hits a nice mix of accessibility, amenities, and gorgeous surroundings.
Let it be known, Christopher Creek is the name of both the creek and a small village across the highway from the campground. Just a five minute drive from camp, it's a quaint little burg with convenience market great for refilling your cooler's ice supply or replacing the bottle of ketchup you left at home. If your camp cooking isn't up to snuff, there's even a couple of restaurants here: Landmark at the Creek and Creekside Steakhouse and Tavern.
Back at camp, this mile-high facility is set in a narrow flat on the banks of the creek. Old-growth ponderosa pine tower overhead. About a dozen of the sites are creekside — paradise on earth if you can snag one. And even if you're camped back in the forest, the creek is only a two minute walk away and offers numerous fishing and swimming holes, plus lots of room for exploration downstream.
All of the sites are available via reservation, which is an absolute must on the weekends, especially to get a creekside spot. There's even a 25-person group site available (yep, it's creekside too). Standard sites cost $20/night or $75/night for the group site.
Link: Christopher Creek Campground
---
Mogollon Rim
Knoll Lake
With a whopping 22 miles of dirt road on the drive in, Knoll Lake is by far the most secluded of the Rim Lakes, but that doesn't mean it's not popular. Sitting pretty in a mixed-conifer clad ravine at 7,300 feet, this high country jewel is quite the destination on summer weekends. The scenic 75 acre lake is favored by trout fisherman and features a small forested island — a rarity in the Arizona mountains.
Appropriately, the campground sits on a knoll just above the lakeshore. This 33 unit campground is first-come first-served and operates May through September. Because of its remote location, one might luck out and snag a site here when the other Rim Lake campgrounds are booked up.
The forest surrounding lake also has copious options for dispersed camping in the case you don't need to have access to a vault toilet. Don't sleep on the nearby Mogollon Rim either. FR 300 is an awesome backroad scenic drive and accesses lots of options for hiking, exploring, and sightseeing. And if you're willing to track down a dispersed site with a view looking off the rim, you'll have the best campsite in the high country.
Link: Knoll Lake Campground
---
Mogollon Rim
Sinkhole Campground
Of all of the Rim Lakes, Willow Springs Lake is the largest (150 acres) and the most accessible — Highway 260 snakes through the woods about a quarter mile from the shore.
It's a gem of lake too. Split into two forest-lined arms, it's 60-foot average depth creates a deep-blue color not commonly seen in this region. Truth be told, this might be the most beautiful lake on the Mogollon Rim, and the fishing ain't too shabby either.
While the nearby Woods Canyon Lake gets most of the camping traffic ('cause it's gotta a bunch of big ol' campgrounds), Willow Springs is pretty busy with day-use, but provides a mellower camping experience with just a single nearby campground. Enter the Sinkhole Campground, a small 26-site facility just a third of a mile from the water.
Tucked in a stand of ponderosa pine, this campground's got a nice mix of amenities, including a picnic table and fire ring at every site. It's just a short walk to the lake, and there's also easy access to the General Crook National Recreation Trail — an epic but low impact ramble along the edge of the Mogollon Rim. Yep, this campground's got a lot going for it.
At this paved access campground, half the sites are walk-up, the other can be reserved via Recreation.gov. Like most places, it's a crap-shoot to snag a walk-up site on a summer weekend, but if you pull it off, you'll feel like a lottery-winner. Current fee is $18/night plus an additional $9 for an extra car.
Link: Sinkhole Campground
---
Mogollon Rim
Woods Canyon Lake Campgrounds
With a whopping five established campgrounds within a mile of its shores, Woods Canyon Lake is the most popular camping destination in the Mogollon Rim Country. Every summer weekend, hundreds if not thousands of campers enjoy the cool weather and pine forests lining the 55 acre lake. Spillway, Aspen, and Woods Canyon Group Campgrounds are the three most convenient to the lakeshore.
Despite the crowds here, Woods Canyon has some perks, especially for families. Not only is the lake beautiful (with copious opportunities for fishing and wildlife viewing), but also features a flat and easy 5.5-mile loop hike circumnavigating the lake. It's only a short 1-mile walk from the main campgrounds down to the spectacular Mogollon Rim Vista as well.
While 27 first-come first-serve sites are available at the Aspen Campground, most of the lake's campsites are available via advance reservation. If you're looking to go over the weekend, plan ahead and book a site through Recreation.gov at any of Woods Canyon Lake Campgrounds. Go mid-week for a better chance at avoiding the bustle and getting a walk-up site on short notice.
Link: Woods Canyon Lake Recreation Area
---
Mogollon Rim
Chevelon Crossing Campground
Chevelon Creek runs quietly through the campsites at Chevelon Crossing Campground. The campground houses seven sites equipped with fire rings and picnic tables. There is no fee to stay at the campground; however, the campground does not offer any amenities other than vaulted toilets. The sites are available on a first-come, first-serve basis.
As you explore the many hikes along Chevelon Canyon, you will need to pack your own water, as there is no potable water provided at the campground. The nearest town to restock on supplies is 20 miles away. There are no trash services at the campground, so be prepared to pack out whatever you bring in.
What this campsite lacks in size and amenities, it makes up for in tranquility. The campground's solitude offers a great chance to see the wildlife of the Apache-Sitgreaves National Forest. The location also provides the opportunity to peacefully fish for trout in nearby Chevelon Canyon Lake.
Link: Chevelon Crossing Campground
---
Prescott
Lynx Lake Campgrounds
At 5,500 feet, Lynx Lake is located in the cool pine forests near Prescott Valley. The area features numerous trails designed to accommodate mountain biking. Hiking is also available with numerous trails including opportunities for panning gold and other minerals. Horseback riding is also allowed here and bird watching is known to attract visitors every year.
Individual camping areas and RV spots (22-40 feet) are available, as well as group camping areas with bathrooms. Lakes and ponds are stocked with trout and a valid fishing license is required. No swimming is allowed (people or dogs) and boat motors are limited to electric models only. Lynx Lake North Shore Store and Marina offers fishing and basic supplies, bait, paddle boat and canoe rentals and firewood.
Lynx Lake Campground is the closest to the shore, while Hilltop Campground is just a half-mile south of the lake. Eagle Ridge Group Campground is located a quarter-mile southwest of Lynx Lake.
Link: Lynx Lake Campground
---
Sedona & Oak Creek Canyon
Pine Flat Campground
The northernmost of the Oak Creek Canyon campgrounds, Pine Flat Campground occupies — you guessed it — a flat stretch of canyon bottom home to a stand of old-growth pine trees. But the scenery here isn't just Ponderosas. Oak Creek's nearby waters feed a luscious mix of sycamore, ash, alder, and other hardwoods. Explore the creek in early summer and you might even catch a glimpse of blooming yellow columbine.
There's also great hiking in the area, especially the Cookstove Trail — accessed on the east side of Highway 89A at the north end of the campground. This short but steep hike climbs 700 vertical feet up a nearby canyon wall with stunning views the whole way up.
18 of the campgrounds 56 sites can be reserved in advance on Recreation.gov. Come early in the morning to even have a chance at a walk-up site, even on weekdays. The campground is directly adjacent to the highway, so expect to hear road noise at all campsites, with the ones closer to the road featuring headlights of passing cars illuminating your tent throughout the night.
Link: Pine Flat Campground
---
Verde Valley
Dead Horse Ranch State Park
Dead Horse Ranch State Park is located on the Verde River. It has 10 miles of hiking trails, picnic areas, 23 sites for group camping, and 150 camping sites. The area covers 423 acres and offers access to theCoconino National Forest via the Dead Horse Trail System. This park is open all year with operating hours from 8 in the morning to 10 at night. The park store and visitor center is open from 8 a.m. to 4:30 p.m. every day.
There is a $7.00 fee per vehicle and a $3.00 fee per bicycle or individual. Cabin reservations may be madeonline or over the phone at (520) 586-2283 and come with a $5.00 reservation fee.
The cabins come with cooling, heating, electricity, and are fully furnished. They also come with a picnic table, fire ring, and barbecue. However, campers need to bring linens as these are not supplied. Showers are located a short walk away from the cabins. Reservations cost $60 a night and the stay limit is 14 nights per month.
Dead Horse Ranch State Park also has 100 RV sites available. Most of these sites can house 65-foot trailer or truck rigs and motorhomes up to 40 feet in length. The sites include 30/50-amp service and potable water for guests. Reservations for the RV sites also include a $5 fee.
Link: Dead Horse Ranch State Park
---
Williams
White Horse Lake
White Horse Lake offers quiet camping southeast of Williams, near Sycamore Canyon Wilderness. The small lake includes more than 90 camping sites, many of which can be reserved online. The rest of the sites are available on a first-come, first-serve basis.
The campground lies at about 6,600 feet and is surrounded by forests and open meadows. Nearby canyons, hiking trails and watering holes offer plenty of wildlife viewing, hiking and mountain biking opportunities. A mellow lakeside trail provides excellent lake views and connects to other routes in the area.
A small paved boat ramp allows for kayaks, canoes and boats with small electric motors, and the lake's home to trout, bass and catfish. The campground has basic amenities — compost and pit toilets, garbage service — and during the summer food vendors may be in the day use area.
The season for White Horse Lake Campground is May through September, and summer weekends are a great time to enjoy the high-elevation scenery and occasional rain showers. Even when it heats up around the state, the nights here are cooled by mountain breezes off the lake.
Link: White Horse Lake Campground
---
Williams
Kaibab Lake
Kaibab Lake lies in the pine forest right off of Highway 64 just north of Williams. An easily accessible fishing lake close to town, this is a popular spot for after-work locals and out-of-town weekenders alike. The fishing is good, the scenery is great, and the campground is one of the most comfortable in Arizona.
There's nothing worse than a cramped campground, and Kaibab is the opposite. Every single site is open, spacious, and set among majestic old-growth ponderosa pine. It's just a short walk to the lake, and other attractions are an easy drive away.
Bearizona Wildlife Park is a five-minute drive south, and another five minutes gets you into lively downtown Williams. And if you're looking for a lakeside campground within striking distance of the Grand Canyon, Kaibab Lake is only an hour drive from the South Rim.
Kaibab's 73 campsites are available via reservation at a rate of $20-40/night for standard sites and $80-204 for the two group sites. Expect the campground to operate from May 1 until September 30, and at full capacity every summer weekend.
Link: Kaibab Lake Campground
---
Williams
JD Dam
JD Dam Lake is a six-acre lake located in Coconino County, Arizona. It lies near the Sycamore Point turnoff. Located seven miles from Whitehorse Lake, fishing here comes with a no-exceptions catch-and-release policy. There are also plenty of opportunities to witness the local wildlife in their natural habitats.
The 6-acre lake has been adopted by the fly fishing club in Flagstaff and is good for boats with one-horsepower motors. While fishing, you will find a variety of fishes, including Rainbow Trout, Sunfish, Pike, Bass, and Brown Trout. While spinning, baitcasting and fly fishing will score you a higher chance of getting a good bite. The leaky dam has been renovated recently and the lake level is now back to normal.
Camping is allowed outside of a quarter-mile radius around JD Dam and the facilities provided in the area are an outhouse with trash receptacles and parking space. The whole area offers a scenic view, especially at sunset and sunrise when the water level is normal.
The road to Sycamore Point overlooks the Sycamore Canyon Wilderness that offers a spectacular sight. The American wilderness, whose key elements are freedom and solitude, has been woven in the country's literature, art, history, and folklore.
Link: JD Dam
---
Winslow
McHood Park Campground
McHood Park Campground offers free waterfront camping just six miles south of downtown Winslow below the Little Colorado River. Located on Clear Creek Reservoir, the campground offers wide open sites surrounded by rolling hills, and there's plenty of kayaking to be had between the walls of beautiful Clear Creek Canyon.
The campground is run by the City of Winslow and offer free stays up to 14 nights. Camping must be in designated spots, and everything's available on a first-come, first-serve basis. This is a great home base to explore the area, especially on the cheap, and its ideal for those just passing through for a weekend.
There are large pull-through sites available for trailers, but it's dry camping only, so no water or electric hookups are available. Being so close to Winslow makes it easy to get supplies and water, and if you're looking for a slow-paced camping itinerary, this place can hit the spot.
Link: McHood Park Campground
Southern Arizona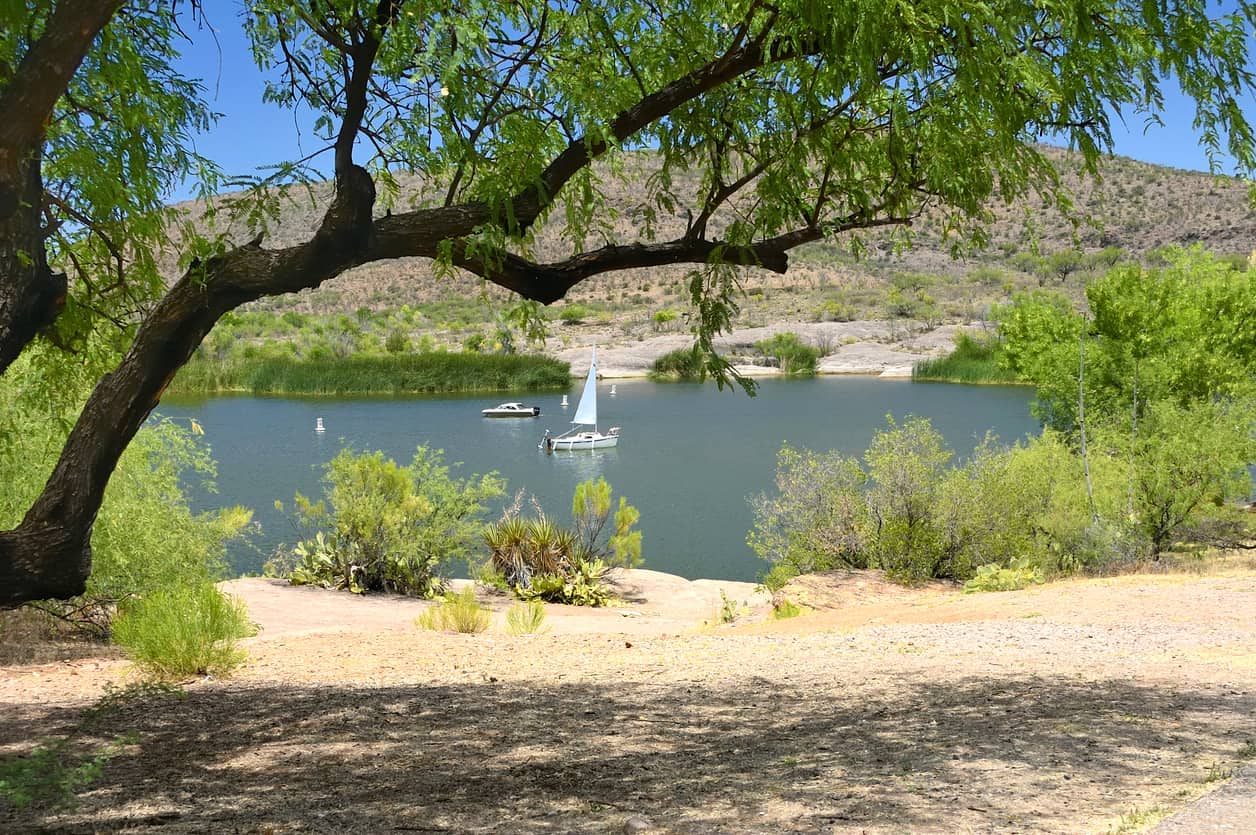 Southern Arizona is defined by the sky islands — a series of forest-topped mountains rising like islands above a sea of arid grasslands and desert valleys. These mountains get more precipitation than the valleys below, making for creeks and occasionally even small lakes forming on their flanks.
Most the the waterside camping in this region means driving hours into remote locations, but it's well worth it to get to the crystal clear waters, beautiful views, and sparse human activity.
Chiricahua Mountains
Cave Creek Canyon Campgrounds
On the eastern flank of the Chiricahua Mountains sits Cave Creek Canyon, a dramatic high desert gorge known to its admirers as "Arizona's Yosemite." Beauty lies not only in it's jagged cliffs, but in the spring-fed stream running through its valley. Arid chaparral and pinyon-juniper woodlands define the canyon walls while a lush riparian zone clings to the creek's banks. This is a land of contrast worthy of exploration.
A lonely road winds up canyon, the perfect access point for campers looking to get away. In the lower reaches of the canyon (elevation 5,000 feet) a trio of campgrounds line the road within a mile and a half of each other. Idlewilde, Stewart, and Sunny Flat Campgrounds each offer their own subtle flavor, but all sit creekside under the shade of iconic Arizona cypress trees. This is a great area if you love easy access to hiking, first-rate birdwatching, and a laid back atmosphere.
Another 3 miles up the road is a more rugged experience. Herb Martyr and John Hands Campgrounds require a high clearance vehicle to access. Under dispersed camping rules, campers here must park in a lot and carry their gear a couple hundred yards to camp. Fees in Cave Creek Canyon vary from free (in the dispersed campgrounds) up to $10 per night.
Link: Cave Creek Road Scenic Drive
---
Huachuca Mountains
Lakeview Campground
In the Coronado National Forest, this 5,400-foot elevation campground is perched on a hill overlooking Parker Canyon Lake, hence the name "Lakeview." From the campsites, it is only a short walk to the lake shore and just a brief cruise by car to reach the boat launch ramp, fishing pier, paved parking area, and paved walking trails. There are boat rental services on-site available to all guests.
The campsites are alluring enough on their own, with seemingly endless amounts of oaks and junipers towering over the units. Although Lakeview Campground is not typically overly crowded, you can expect company from the rich array of wildlife.
Walking along the 5-mile trail that circles the lake, you can expect to see many species of waterfowl that live on the lake or one of the many guests that stopover during migration via the several viewing decks that are along the trail.
Birds of prey, such as Osprey and Bald Eagles, are often sighted along with white-tailed deer and Coatimundi (relative of the raccoon). It should be noted that black bears are also common in this area so it is very important to follow all rules of bear safety with the utmost vigilance for everyone's sake.
There are 65 camp units available year-round. Fees for the units are $10 per night, and no reservations are necessary.
Link: Lakeview Campground
---
Patagonia Mountains
Patagonia Lake State Park
Located in Southeastern Arizona, this desert treasure is tucked away within the Patagonia Lake State Park woodlands area. A premier year-round bird watching spot for birds of prey and specialty birds, the roaming hills that surround the shoreline are also home to whitetail deer and ringtail, coatimundi, javelina, mountain lion, bobcat, gray fox, long-nosed bats, Gila monsters and the occasional western diamond-backed rattlesnake.
The lake's campgrounds overlook the water where anglers can reel in crappie, bass, bluegill, catfish and trout. Additional camp amenities include picnic tables, boat docks, restrooms, showers and fire pits.
There are also 12 boat-in campsites available, and a market located at the boat trailer parking lot where you can purchase fishing licenses, firewood, grocery items, ice cream, soda, beer, wine and other camping supplies. Boat rentals are available at the Patagonia Lake Marina.
Patagonia Lake State Park fills up quickly during the summer, so be sure to call or book ahead during peak season.
Link: Patagonia Lake State Park
---
Safford
Swift Trail Campgrounds
The 28-mile long Swift Trail (Arizona State Route 366) is perhaps the most unique highway in the state. Connecting US 191 to the Mount Graham Ranger Station, this switchbacking gravel byway is home to awesome views and great camping. High atop Graham's western face, a 12-mile stretch of road accesses five campgrounds perched 9,000 feet above sea level.
The first three (Shannon, Hospital Flat, and Cunningham) are located on knolls with foot access of a half a mile or less from the trickling waters of high altitude creeks. Soldier Creek Campground, however, is located just a couple dozen yards from its namesake stream. These creeks are pretty small, and often dry up during extended dry spells, but are gorgeous nonetheless, especially amid green summer grasses and the towering mixed conifer forest.
Campground #5, Riggs Flat Campground, is perhaps the most impressive of the bunch as it's located directly adjacent to the 11-acre Riggs Flat Lake. This reflective wonder is a surprising but welcome sight atop such a rugged mountain, and not a bad place to spend an afternoon fishing.
All of the Mount Graham campgrounds charge $10 per night and are open mid-April to mid-November. Hospital Flat also offers a group site (fifty person max) available via advanced reservation only. The area offers tons of epic hiking options, such as the Grant Creek Trail.
The Swift Trail and it's campgrounds are closed until further notice due to the 2017 Frye Fire. Contact the Coronado National Forest for more information.
Link: Swift Trail Scenic Drive
---
Tumacacori Mountains
Arivaca Lake
Arivaca Lake is a quiet, 90-acre fishing and camping spot some 50 miles south of Tucson and a few miles north of the Mexico border. The area has a long-recorded history — native populations have lived in the area for centuries, and Father Eusebio Kino visited in the 1600s — and the region is still dotted with abandoned mines and working cattle ranches.
Primitive camping and fishing is the name of the game at Arivaca: aside from restrooms and a basic boat ramp, there's not a lot going on, but that's why many locals dig the area. There aren't any designated campgrounds, but dispersed camping is allowed. Pack out what you bring in, and be sure to take plenty of water during warmer months.
Its distance from Tucson and out-of-the-way location keep it low-key, and visitors are often impressed by the wildlife — deer, coyotes, bobcats, mountain lions, javelina — and stargazing. The bass fishing is solid, but the shore can get overgrown with weeds and desert brush, so anglers recommend using a boat to get to avoid the mess. From the lake, beautiful rolling hills make up the horizon and if you have a less is more camping philosophy, you'll appreciate the simplicity of an overnight stay here.
Link: Arivaca Lake
Western Arizona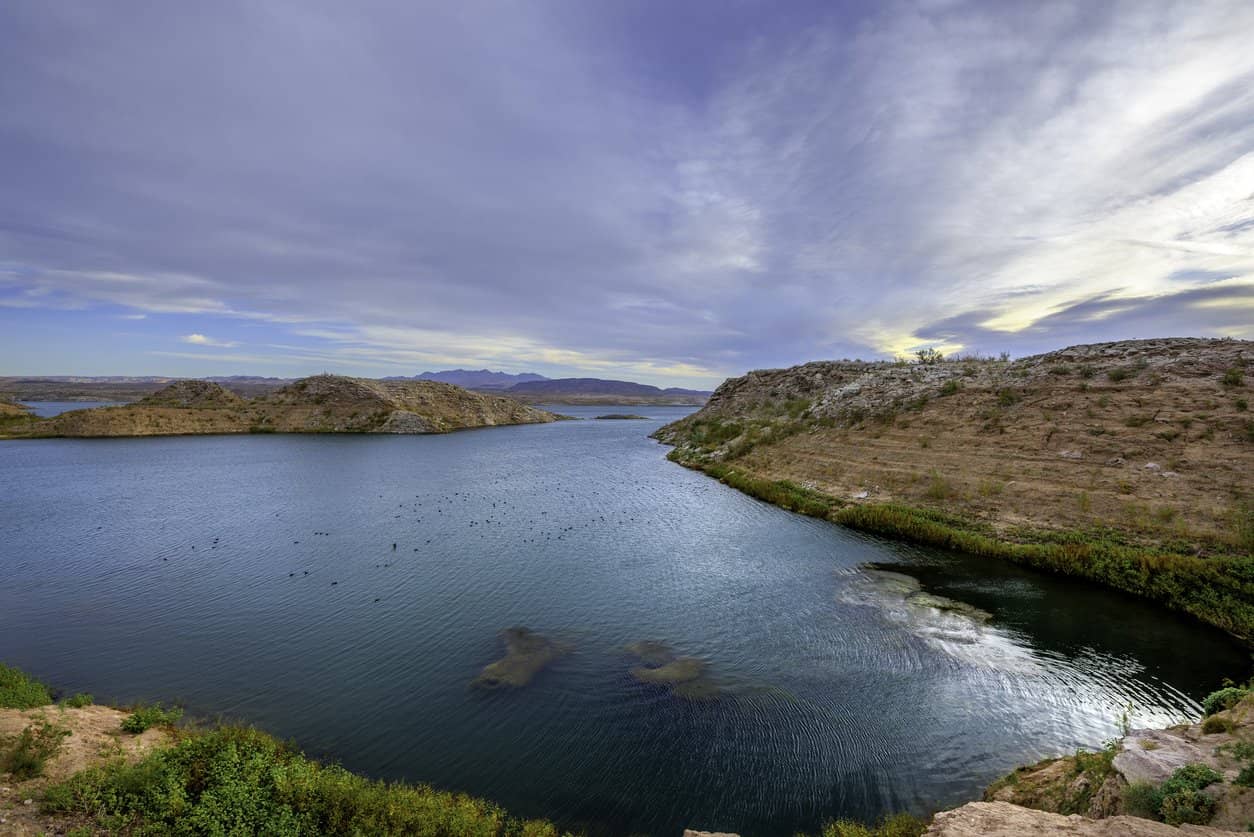 Western Arizona is defined by the parched climate of the Colorado River Valley. Fortunately, the Colorado River itself — defined as an exotic river — is readily available to cool off campers. With established campgrounds at Willow Beach and Lake Havasu, you can pull up with your tent or an RV to enjoy the sunny weather and limitless water sports possibilities.
Lake Mead
Willow Beach Campground
The National Park Service calls Lake Mead National Recreation Area the country's "most diverse" rec area thanks in part to more than one million acres of beautiful desert and canyon landscape. It's also home to Willow Beach Campground, on the Arizona shore of the Colorado River just south of Lake Mead.
Willow Beach is a great spot to check out northwest Arizona and Nevada – it's 45 minutes from Vegas and about 3.5 hours from Grand Canyon National Park. Views of the Colorado River and Black Canyon from the beach are stunning, and with more than 200 miles of shoreline in the area, there's no shortage of places to explore.
The campground includes 28 RV sites, 9 tent sites and creature comforts for days: WiFi, showers, laundry facilities, a restaurant and convenience store means you won't have to leave it you don't want to. A marina, boat ramp and watercraft rentals make it easy to cruise the river and reach stretches of remote shores that you couldn't get to otherwise.
Willow Beach makes a great base camp for extended stays in the area, and you can get a discounted weekly rate of $150 for a tent site and $270 for an RV site. You can make reservations online with the link below.
Link: Willow Beach Campground
---
Lake Havasu
Cattail Cove State Park
The modest 450-foot elevation of Cattail Cove makes it ideal for the boat-accessible sites. There are 61 campsites at Cattail Cove State Park, 28 of which are accessible only by boat. Unlike many State Park campgrounds, Cattail Cove includes loads of features including a cleaning station for fish, toilets, firepits, water, showers, RV hookups and a dump station.
The 2,000-acre park features an impressive shoreline that is a haven for water sports enthusiasts. The waters of Cattail Cove include dozens of fish species including bluegill, catfish, crappie and bass. Ideal for the entire family including pets.
Cattail Cove State Park also offers a swimming area with a boat dock and expansive views of the Whipple Mountains. Camping is available all year round for $15 – $26 per night, plus a $10 – $15 park entrance fee. Reservations can be made for a $5 non-refundable fee per campsite.
Link: Cattail Cove State Park
We make every effort to keep this information up-to-date, but occasionally camping spots, conditions or other factors change. If you see outdated or inaccurate information, feel free to let us know here!