Arizona's creeks, rivers and lakes offer thousands of miles of beautiful waterfront exploration and a nearly endless amount of camping opportunities.
The only problem, then, is deciding which areas to explore. We've put together a list of some of the best places to camp in Arizona near water, from winding desert rivers to pristine lake camping in Arizona that manages to fly under-the-radar.
Whether you're looking for a prime fishing spot, a place to let the kids swim or just need to reset to the sound of babbling water, we've got you covered.
Related Read: 9 of the Best Places to Camp Near Sedona, Arizona
Need More Camping Ideas?
Check out Camping Near Water in Arizona: 58 Beautiful Places to Camp Near Lakes, Rivers, & Creeks, our in-depth ebook covering the best near-water camping in the Grand Canyon State.
The 155-page guide includes:
helpful maps and GPS coordinates
beautiful photography
comprehensive info on campsite amenities
tips on the best times and seasons to visit
Grab your copy of Camping Near Water in Arizona here.
About the Weather
There's more or less two types of camping in Arizona: desert and high country.
Most desert camping is along the shores of reservoirs, and can be done year round. However, summer camping in the desert is hot, so you'll want to plan to be in the water most of the day, and be prepared with plenty of water, shade, and sunscreen for your group.
Winter, spring and fall in the desert usually offers more pleasant temperatures, but it's usually too cold to swim, so most desert lakes are busiest when temperatures are over 100 degrees. If you're willing to stay dry, winter camping in the desert offers greater chances for solitude.
In contrast, the high country is too cold for the average camper during winter (and the campgrounds close down, so dispersed camping is the only option). But in spring, summer, and fall, many desert dwellers escape to the high country to get out of the heat. If you live in Phoenix, Tucson, or another desert city, be sure to pack warm clothes, sleeping bags, blankets, etc. as the chill of a high country night may catch you off-guard.
Of course, the "high desert" transition between the two climates makes things interesting. In places like Dead Horse Ranch State Park, summer temperatures often top 100 degrees, but may also see snowfall or frigid cold come winter. Always check the weather, and check it often, before leaving for your trip.
For more options, check out the best camping in Arizona, near water or not. And if you're looking for places to swim for the day, check out our favorite Arizona swimming holes.
Related read: 7 Spectacular Places to See Arizona's Fall Colors
1. Alamo Lake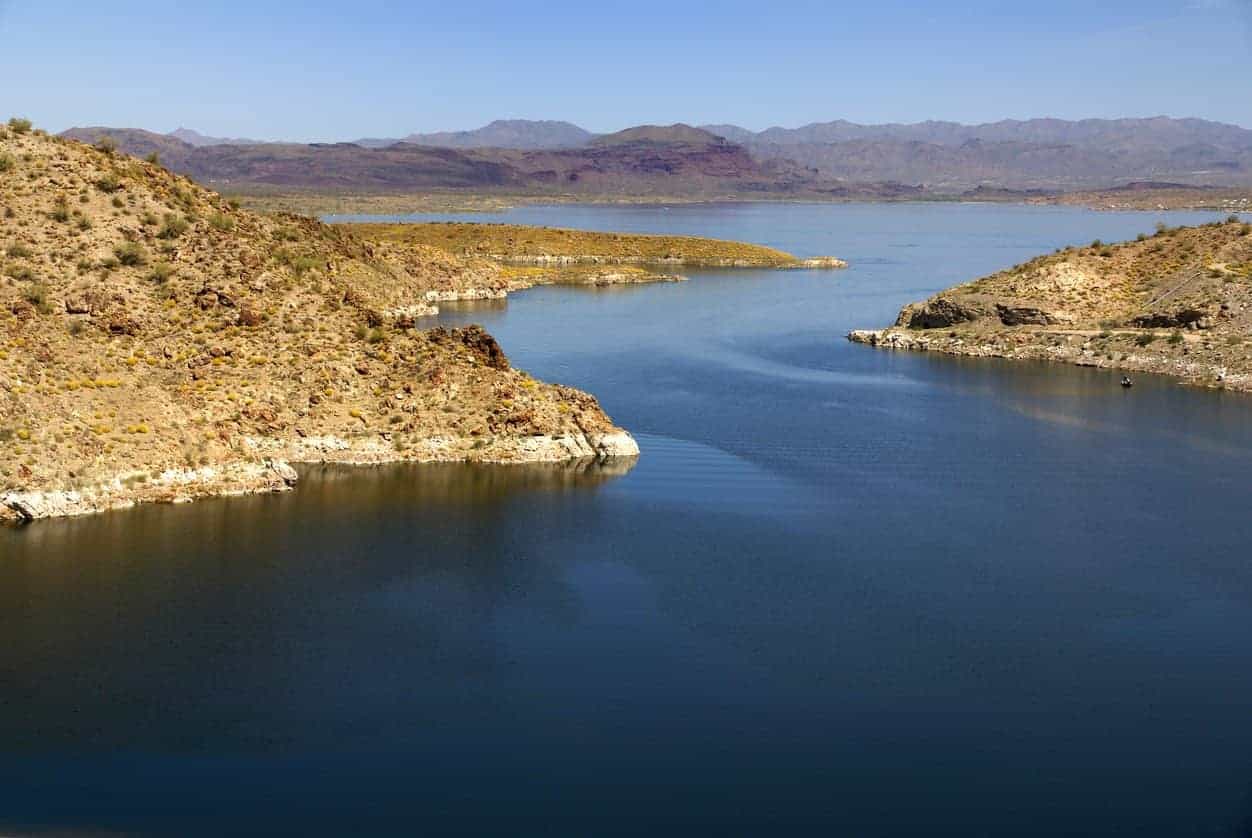 Why you should camp here: Quiet yet accessible lakefront camping far from civilization amid the desert scrub — with supreme bass fishing.
Reservations accepted: Yes
Best season: Spring, Summer, Fall, Winter
Campsite type: RVs, Tents, Cabins
RV hookups: Yes
Alamo Lake State Park sits in a remote corner of Western Arizona, but offers plenty of accommodations with five campground areas and four basic cabins that overlook the lake.
To get as close to the water as possible, Campgrounds B and E offer great lakeside views, but you'll find the other areas are just a short stroll from the water. Each campground offers different features and amenities, from full electric and water sites to less expensive dry camping sites. There are also RV sites with full hookups and dump stations.
Two paved boat ramps offer lake access for non-motorized boats, hundreds of miles of OHV trails outside the park's boundaries, and a bar and grill at The Wayside Inn a few miles away offer plenty of activities to choose from. The lake's at least 40 miles from any large cities, making it ideal for stargazing and wildlife viewing. Reserve your campsite at Alamo Lake here.
Related Read: 8 Best Lake Havasu Camping Spots for Water-Filled Adventure
2. Apache Lake
Why you should camp here: Stunning scenery and tons of dispersed camping options at a picturesque desert lake.
Reservations accepted: Yes (Apache Lake Marina RV Park Only)
Best season: Spring, Summer, Fall, Winter
Campsite type: RVs, Tents
RV hookups: Yes (Apache Lake Marina RV Park Only)
Apache is known as the "Hidden Gem of the Salt River Lakes." Camping wise, it offers a variety of options while feeling plenty remote and typically staying less crowded than its sister lakes like Canyon Lake, Saguaro Lake, and Lake Roosevelt.
The others offer great camping and amazing scenery as well, but there's something extra special about pitching a tent on the Apache Lake shoreline. There's no denying the incredible views you'll get of Painted Cliffs soaring above the lake's deep blue water.
For those that like to rough it for real, Apache delivers with plenty of dispersed "shoreline area" camping at Upper Burnt Corral, Crabtree Wash, 3 Mile Wash, and Davis Wash. There's a dispersed camping area at Apache Lake Marina too, while also offering up more developed RV sites with hookups (reserve here). Burnt Corral Campground rounds out the options as another well-developed spot with amenities.
Don't forget to purchase a Tonto Pass before you camp — unless you're staying at the privately-held Apache Lake Marina.
Related read: 7 Best Campervan Rental Companies in Phoenix
3. Big Lake
Why you should camp here: Enjoy stunning scenery and great trout fishing at one of Arizona's largest high altitude lakes.
Reservations accepted: Yes
Best season: Spring, Summer, Fall
Campsite type: RVs, Tents
RV hookups: Yes
Perched at 9,100 feet above sea level and surrounded by rolling meadows and evergreen forest, Big Lake is a big, beautiful lake known for its trout fishing. And a whopping five campgrounds along the southern shore also make it one of the premier waterfront camping areas in the state.
Brookchar Campground offers the best waterfront camping sites, and Rainbow Campground is the largest camping area, with more than 150 sites and plenty of amenities.
Grayling Campground offers more seclusion, while Cutthroat Campground is a small, tent-only area that's more under-the-radar. Apache Trout Campground offers excellent sites for small and large groups, and enough amenities to make camping comfortable for visitors of all ages.
Big Lake Tackle and Supply on the southwest side of the lake stocks all types of food, supplies and equipment, and there's plenty of hiking to be had in the area, including Thompson Trail #629 to the west. Big Lake is also a great spot to set up camp to check out other lakes and hikes in the area, including Crescent Lake and Basin Lake to the northwest.
The campgrounds are open from May to October and close during the winter, when access to the lake is limited by snow. Sites fill up fast during peak summer weekends, so reserving spots in advance is the best way to go.
Related read: 11 Best Camping Apps for Wildin' in the Woods
4. Greer Lakes
Why you should camp here: Decompress at this idyllic White Mountain destination with plenty of camping and glamping opportunities.
Reservations accepted: Yes
Best season: Spring, Summer, Fall
Campsite type: RVs, Tents, Cabins
RV hookups: Yes
Greer Lakes comprises three lakes off the Little Colorado River just north of downtown Greer: Bunch Reservoir, Tunnel Reservoir and River Reservoir. Two campgrounds in the area offer easy access to these lakes, as well as nearby Benny Creek.
Benny Creek Campground is located on the north end of Bunch Reservoir on a natural bench overlooking Benny Creek. It offers large group sites and smaller individual sites too. Group sites 19 through 22 are closest to Benny Creek, but farther from the reservoirs. You can make online reservations for Benny Creek Campground here.
Just west of Bunch Reservoir is Rolfe C. Hoyer Campground, a large area with nearly 100 campsites. It's a bit farther from the reservoir, but still close enough to casually explore all of the Greer Lakes and nearby hikes. Hoyer Campground has great amenities — showers, toilets, amphitheater, firewood — and offers quiet camping among pine and aspen. You can make online reservations here.
The camping season at both campgrounds is typically May through October, and if you can deal with the rainy season, June to August is a great time to escape the heat of lower elevations.
Related read: 10 Peaceful Cabin Rentals in Greer, Arizona
5. Christopher Creek
Why you should camp here: Relax amid the cool pines and a bubbling mountain creek.
Reservations accepted: Yes
Best season: Spring, Summer, Fall
Campsite type: RVs, Tents
RV hookups: No
There's no shortage of great campgrounds in the Mogollon Rim Country, but when it comes to creekside digs, Christopher Creek Campground is in a league of its own. Tucked away in a forested canyon just south of Highway 260, this 43-site campground hits a nice mix of accessibility, amenities, and gorgeous surroundings.
Christopher Creek is actually the name of both the creek and a small village across the highway from the campground. Just a five minute drive from camp, it's a quaint little burg with a convenience market great for refilling your cooler's ice supply or replacing the bottle of ketchup you left at home. If your camp cooking isn't up to snuff, there's even a couple of restaurants here too.
Back at camp, this mile-high facility is set in a narrow flat on the banks of the creek. Old-growth ponderosa pine tower overhead. About a dozen of the sites are creekside — paradise on earth if you can snag one. And even if you're camped back in the forest, the creek is only a two minute walk away and offers numerous fishing and swimming holes.
All of the sites are available via reservation, which is an absolute must on the weekends, especially to get a creekside spot. There's even a 25-person group site available (yep, it's creekside too).
6. Rim Lakes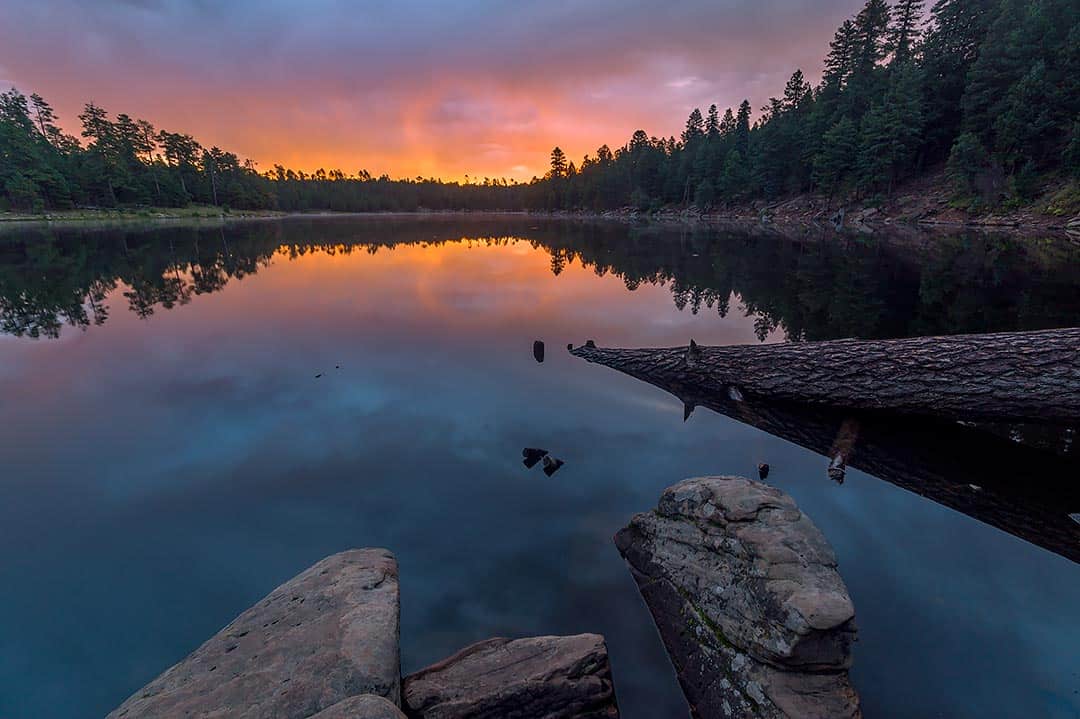 Why you should camp here: Cool summer weather and chill vibes — you choose the lake.
Reservations accepted: Yes
Best season: Spring, Summer, Fall
Campsite type: RVs, Tents
RV hookups: No
Sitting atop the 8,000 foot high Mogollon Rim, the "Rim Lakes" are a popular destination for escaping the summer heat. With dozen of so lakes (depending on which ones you count) to choose from, you can opt for easy access — but be ready for crowds — or go the distance and really get away. There's a ton of places to camp out here, with Woods Canyon Lake boasting three campgrounds by itself.
Located near Highway 260, Willow Springs Lake and Woods Canyon Lake are the easiest to get to but are also the most crowded. Bear Canyon Lake may have the best balance between seclusion and accessibility, but will still attract a weekend crowd. Knoll Lake is by far the most private, but requires 20+ miles of dirt road driving.
No matter which adventure you choose, there's an almost unlimited amount of forest to explore at the Rim Lakes. Our Mogollon Rim Hiking and Camping Guide has more in-depth info, as well as our write-up on day-tripping to Bear Canyon Lake.
7. Oak Creek Canyon
Why you should camp here: Soak up summer creekside in this forested canyon above Sedona.
Reservations accepted: Yes
Best season: Spring, Summer, Fall, Winter
Campsite type: RVs, Tents, Cabins
RV hookups: Yes
While most Sedona visitors flock to classy resorts or high-powered Airbnbs, there's plenty of great camping in the area, especially if you make the drive up Oak Creek Canyon. While the summer heat frequently swamps Sedona proper, it's a little cooler up in the canyon too. You've got 3 awesome campgrounds to choose from: Manzanita, Cave Springs, and Pine Flat.
Manzanita is the closest to Sedona, also meaning the weather is a few degrees warmer, which may not be a benefit in the peak of summer — although it does boast the best swimming holes of the 3 campgrounds. Manzanita is tent-only, so it's the best for those looking for a primitive experience, while RV campers will need to head elsewhere.
Cave Springs and Pine Flat are within 2 miles of each other in the far upper reaches of Oak Creek Canyon. Pine Flat is a family favorite of ours here at Territory Supply, as it sits in a grand ol' stand of mature Ponderosa pine. Both campgrounds are great though, and Cave Springs has the advantage of offering showers. Be sure to snag an advance reservation, especially on weekends.
FYI, These campgrounds are especially great if you're looking to hike, with campground located adjacent to its own trail climbing to the crest of the canyon rim, plus hundreds of miles of sweet Sedona trails within driving distance.
Related read: 10 Best Hotels in Flagstaff for Every Traveler
8. Dead Horse Ranch State Park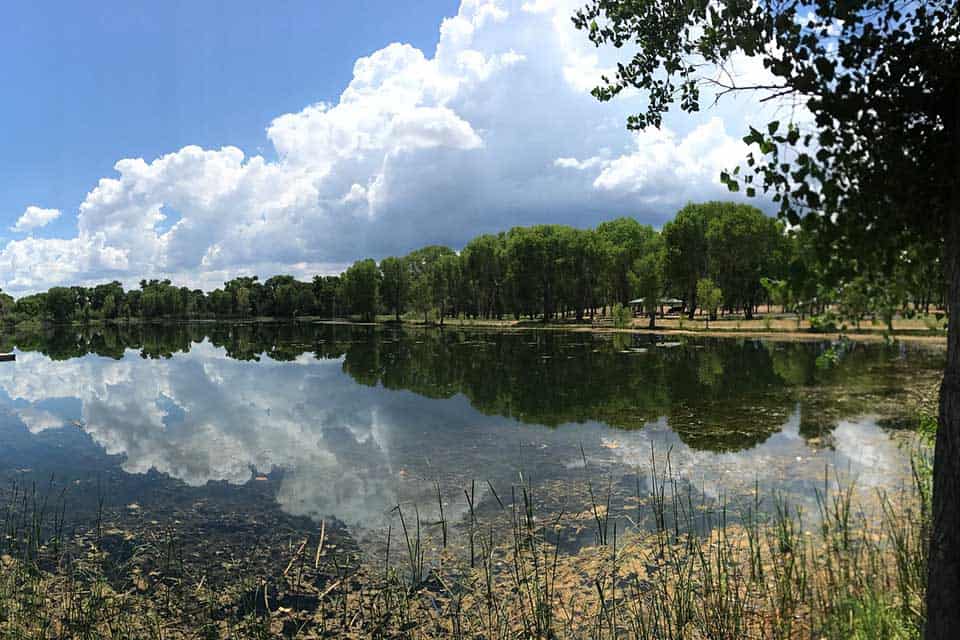 Why you should camp here: High desert camping along the riparian floodplain of the Verde River.
Reservations accepted: Yes
Best season: Spring, Summer, Fall, Winter
Campsite type: RVs, Tents, Cabins
RV hookups: Yes
Located just minutes outside of Cottonwood, Dead Horse Ranch State Park offers up plenty of space for campers of all types. While the campground isn't directly by the water, it's just a short stroll to the banks of the Verde River, as well as a couple of small oxbow lakes — a rarity in Arizona.
Anglers will keep themselves busy here, but with over 10 miles of hiking trails directly accessible from your campsite, you don't have to be into fishing in order to enjoy the area. Also consider a 10 minute drive to Tuzigoot National Monument to visit the ancient Singuan ruins, or a 20 minute drive up the hill to historic downtown Jerome. This is also a great base camp to explore red rock country, just a 30 minute drive from Sedona.
With well over 100 standard campsites plus numerous group sites and cabins in the mix, there's a lot of room, but we still recommend advanced reservations as this place often fills up, especially on those perfect weather weekends.
9. Lee's Ferry
Why you should camp here: Contemplate the towering Vermillion Cliffs, fish in the Colorado River, and watch rafts start their voyage into the Grand Canyon.
Reservations accepted: No
Best season: Spring, Summer, Fall, Winter
Campsite type: RVs, Tents
RV hookups: No
Lee's Ferry is like a mountain pass, but instead between two massive canyons: Grand Canyon and Glen Canyon. Here the Colorado River slices through red, orange, pink, and purple cliffs of epic proportions. The level of desert scenery here is not to be understated!
Besides fishing or watching the big rafts put in the water, there's also excellent hiking nearby. The 2-mile-long River Trail is an easy stroll and must do for anyone staying here. The Spencer Trail is also accessible from camp, and climbs steeply to a commanding view atop the nearby Echo Cliffs.
And it's just a short drive back up the entry road to the Cathedral Wash Trailhead, for a route-finding off-trail excursion down a narrow side-canyon to a beach on the Colorado River.
Don't miss the local history, with historic yet abandoned buildings littering the area — relics from the late 1800s when John D. Lee operated a ferry service here long before modern bridges spanned the river.
Related read: 9 Unique Places to Stay in Arizona for an Unforgettable Vacation
10. Patagonia Lake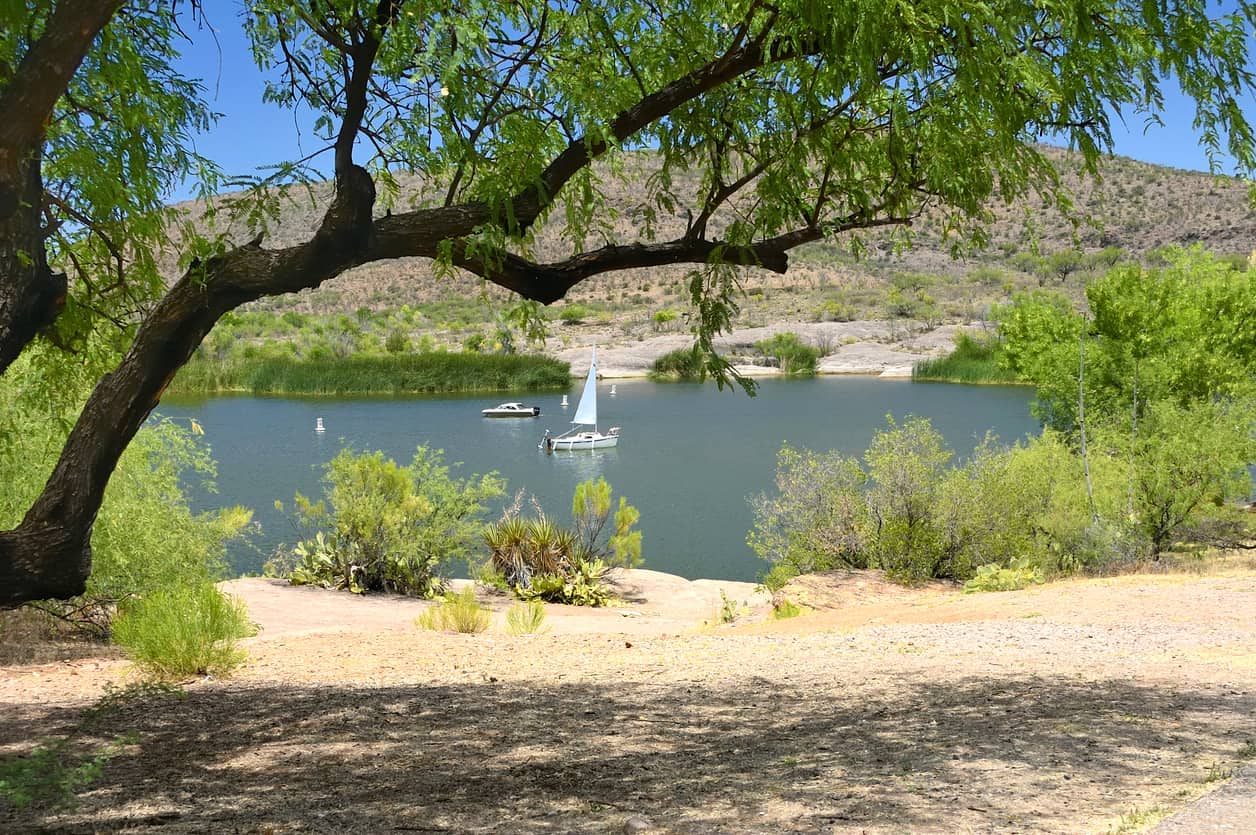 Why you should camp here: Get away from it all at Southern Arizona's favorite desert lake.
Reservations accepted: Yes
Best season: Spring, Summer, Fall, Winter
Campsite type: RVs, Tents
RV hookups: Yes
Located in Southeastern Arizona, this desert treasure is tucked away within the Patagonia Lake State Park woodlands area. A premier year-round bird watching spot for birds of prey and specialty birds, the roaming hills that surround the shoreline are also home to whitetail deer and ringtail, coatimundi, javelina, mountain lion, bobcat, gray fox, long-nosed bats, Gila monsters and the occasional western diamond-backed rattlesnake.
The lake's campgrounds overlook the water where anglers can reel in crappie, bass, bluegill, catfish and trout. Additional camp amenities include picnic tables, boat docks, restrooms, showers and fire pits.
There are also 12 boat-in campsites available, and a market located at the boat trailer parking lot where you can purchase fishing licenses, firewood, grocery items, ice cream, soda, beer, wine and other camping supplies. Boat rentals are available at the Patagonia Lake Marina.
Patagonia Lake State Park fills up quickly during the summer, so be sure to call or book ahead during peak season.
11. Willow Beach
Why you should camp here: Camp by a mellow stretch of the Colorado River in a deep, gnarled canyon.
Reservations accepted: Yes
Best season: Spring, Summer, Fall, Winter
Campsite type: RVs, Tents
RV hookups: Yes
The National Park Service calls Lake Mead National Recreation Area the country's "most diverse" rec area thanks in part to more than one million acres of beautiful desert and canyon landscape. It's also home to Willow Beach Campground, on the Arizona shore of the Colorado River just south of Lake Mead.
Willow Beach is a great spot to check out northwest Arizona and Nevada — it's 45 minutes from Vegas and about 3.5 hours from Grand Canyon National Park. Views of the Colorado River and Black Canyon from the beach are stunning, and with more than 200 miles of shoreline in the area, there's no shortage of places to explore.
The campground includes 28 RV sites, 9 tent sites and creature comforts for days: WiFi, showers, laundry facilities, a restaurant and convenience store means you won't have to leave if you don't want to. A marina, boat ramp and watercraft rentals make it easy to cruise the river and reach stretches of remote shores that you couldn't get to otherwise.
Watch on YouTube
More Arizona Adventures
Check out more of our camping guides for great spots here in the Grand Canyon State:
Sign up for Weekend Wanderer to join 10,000+ readers getting epic travel, hiking, camping and gear ideas every week.
Was this article helpful?
---