There's no shortage of secluded roads and dramatic views in Vacationland — what's hard is choosing which ones to hit up.
Maine, honestly, couldn't be more beautiful. No matter what roads you take, you'll be treated to incredible vistas and scrumptious food. Sure, you can get the usual lobster roll and whoopie pies pretty much anywhere you go.  But what about getting your hands on some of the best blueberries in the country? And don't even bother trying to list all the amazing historical places.
But with the high mountain passes, rocky coastal cliffs, and northern roads, you'll want to keep an eye on the weather. Temperatures are usually much colder in the Pine Tree State and can see freezing overnight temperatures even in the summer. So come prepared with layers for the time you'll spend outside your car. And believe me, you're going to want to park the car and explore some of these incredible places below.
Related Read: 8 Beautiful New Hampshire Scenic Drives Worth Exploring
The Best Maine Scenic Drives
1. Bold Coast Scenic Byway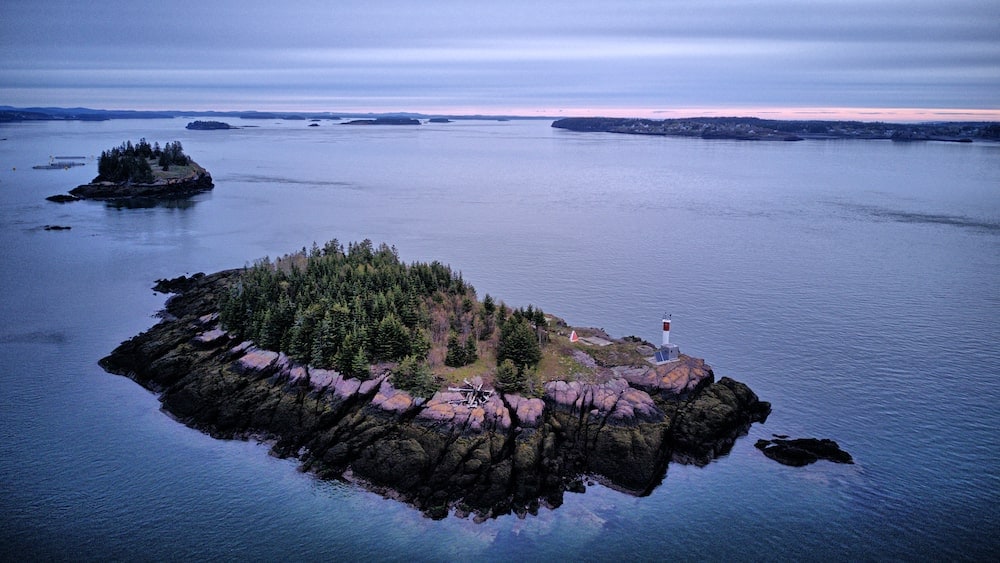 Why you should go: Watch the sunrise in the easternmost point in the country.
Most visitors to Maine make their way up the coast into Acadia National Park. But if you venture north of Mount Desert Island, you'll find a beautiful and often-overlooked part of the state. What you'll find as you start in the community of Milbridge is quaint downtowns and good old New England hospitality.
As you head up the coast, take as many or as little side trips as your heart desires. There are multiple coastal roads off Route 1 that head to tiny fishing villages where you're bound to get some good eats. Stop in at Cherryfield to get blueberries (yeah, don't let the name confuse you) from the "Wild Blueberry Capitol of the World." Make sure to stop at the West Quoddy Head Lighthouse (the easternmost point in the country) when you make it to the town of Lubec.
More Information: Bold Coast Maine or Visit ME.
Distance: 125 miles
Drive time without stops: 3 hours, 30 minutes
Related Read: 11 Amazing Maine Swimming Holes & Swimming Beaches
2. Old Canada Road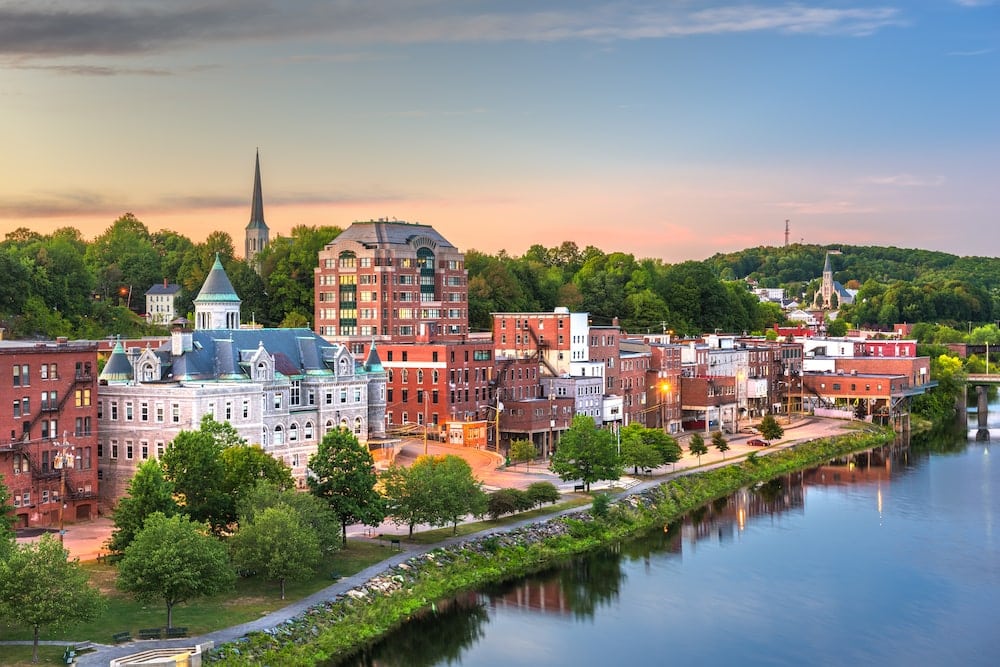 Why you should go: If you're a die-hard history buff (or just enjoyed your AP history classes.)
This road starts on Route 201 in the town of Solon and heads up to – you guessed it – Canada. Shocking, right? Regardless of the severe lack of creativity with the name, Old Canada Road is one of the most spectacular in the state.
You're greeted with views along the Kennebec and Dead Rivers, both of which have huge historic values. The Kennebec River proved to be too much for Benedict Arnold's troops in September of 1775 when he led 1,100 men to attack Quebec City.
You can visit several historical sites related to the famous colonel during the drive. Arnold Pond is on the Dead River, the Major Reuben Colburn House (Arnold's headquarters) is in the town of Pittston along the Kennebec, and Mount Bigelow in Somerset is named after one of Arnold's officers.
If you need a little sustenance while your brain is soaking all the history in, stop by Kennebec River Brewery. Order the Big Mama Blueberry Ale – you won't regret it.
More Information: Kennebec Valley or Old Canada Road
Distance: 73 miles
Drive time without stops: 1 hour, 30 minutes
Related Read: 14 Best Hikes in Maine for Exploring the Great Outdoors
3. Katahdin Woods and Waters Scenic Byway
Why you should go: To see the famous Maine moose (Mooses? Meese?) Anyway, there's a lot of moose here.
It's definitely secluded up in northern Maine and well worth the drive to find some peace and quiet. Unfortunately, if getting out on the trail is in your itinerary, they'll likely be more crowded than the roads – you'll have to go pretty far to find space to yourself. Fortunately, this Scenic Byway goes past some of the area's best outdoor sights, so no need to hit the trails. It starts and ends at Baxter State Park – home to Maine's highest peak, Mount Katahdin.
If you're just driving through, there are plenty of stops to make along the way to get the full outdoorsy effect. Start out at Togue Pond in the state park and head towards Millinocket. Go north on route 11 and take in the panoramic views of the famed mountain from Ash Hill. Then head back west into Katahdin Woods and Waters National Monument to explore the Katahdin Loop Road. You'll end your drive at the Matagamon Gate in Baxter State Park.
More Information: Woods & Waters or Visit ME.
Distance: 90 miles
Drive time without stops: 2 hours
Related Read: Must-See Stops on a Boston to Bar Harbor Road Trip
4. Schoodic National Scenic Byway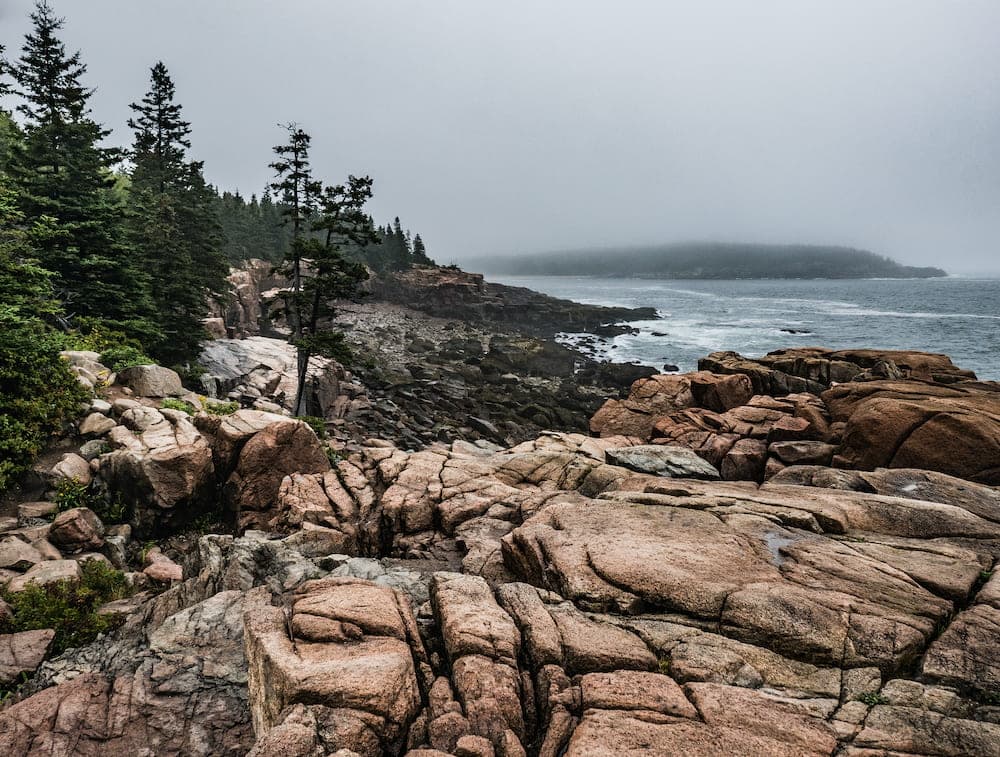 Why you should go: Visit Maine's only national park without (most of) the crowds.
Visit the less crowded (and only mainland portion) area of Acadia National Park by heading along the Schoodic National Scenic Byway. While everyone else is headed into downtown Bar Harbor and Mount Desert Island (where the bulk of the park is), you'll head north to Schoodic Point. It's one of the best scenic byways in Maine for beating the crowds – Acadia gets very busy.
This is a short drive, although not the shortest on the list but make sure to give yourself plenty of time to explore all the lighthouses, blueberry fields, lobster shacks, and fishing towns along the way. Favorite spots include watching fishermen come in after their morning hauls in Winter Harbor, the quaint town of Corea, and the reversing falls at Tidal Falls Preserve.
More Information: National Park Service or Explore Maine.
Distance: 30 miles
Drive time without stops: 1 hour
Related Read: The 10 Best Pet-Friendly Cabin Rentals in Maine
5. Million Dollar View (a.k.a. Route 1)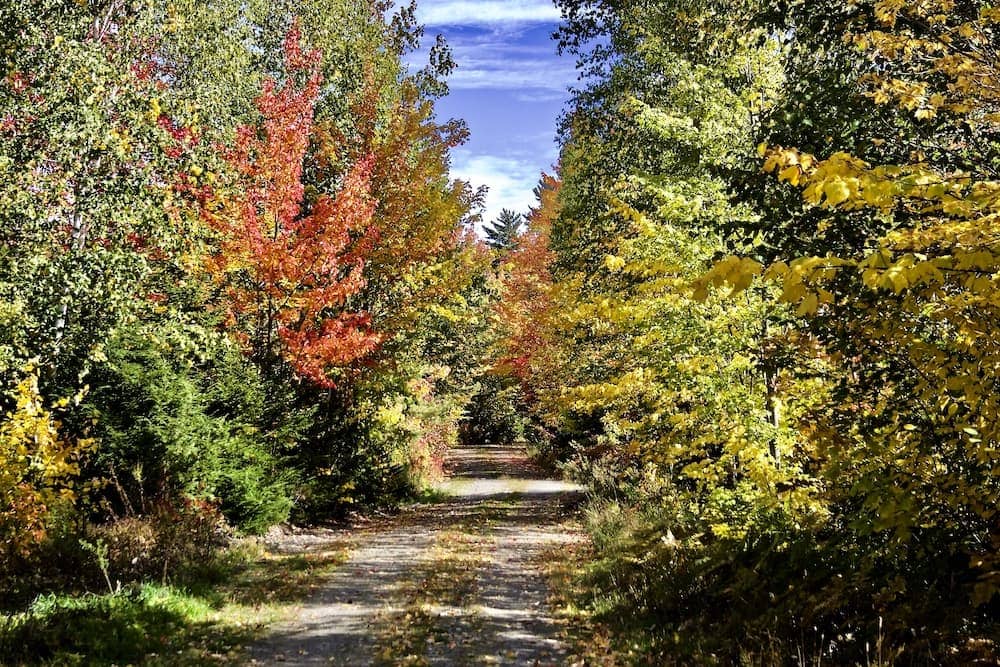 Why you should go: Excellent fishing and access to paddling.
Starting in Danforth on Route 1, the Million Dollar View Road is the shortest scenic drive in Maine on this list. It might only be eight miles long, but the hype lives up to its name. The drive takes you past the Chiputneticook lakes, which are home to dozens of excellent fishing holes. There are multiple pull-offs to enjoy the scenery both to the east into Canada and the west towards Mount Katahdin.
Not into fishing? Just carry your kayak or paddleboard as you'll find plenty of opportunities to get on the water. Birdwatching, too, is popular, as are cross-country skiing and snowshoeing in the winter. You'll drive past Canoe the Wild in case you'd rather take a guided tour. The byway ends at Peekaboo Mountain, where travelers can continue on into New Brunswick to visit our northern brethren.
More Information: Explore ME.
Distance: 8 miles
Drive time without stops: 10 minutes
Related Read: 10 Super & Secluded Maine Cabin Rentals
6. Acadia All-American Road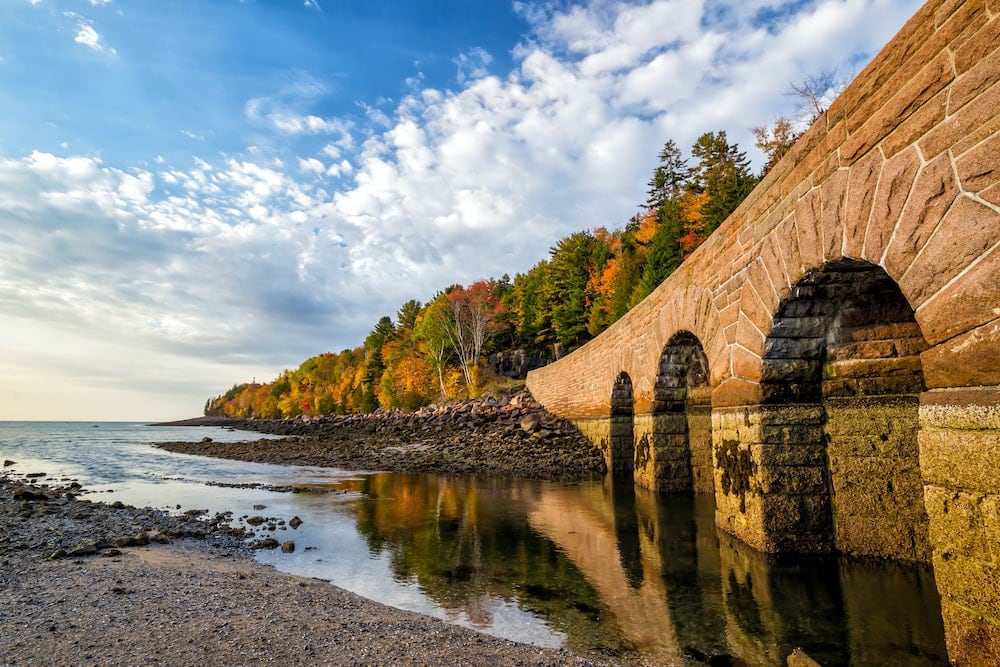 Why you should go: The perfect drive through Acadia National Park's highlights.
If you're looking for solitude, this is not the road to take. The Acadia All-American Road follows Route 3 along 40 miles through Acadia National Park and traverses several historic carriage roads. Mount Desert Island (where most of Acadia is) and the actual national park are the two most frequented spots in the state. So expect a lot of people no matter the time of year you go.
The route itself brings you from the mainland and crosses over onto the island. Stop in at Bar Harbor before continuing the drive (or better yet, stay there). Make sure to allow yourself plenty of time to get out of the car and check out at least one of the many hikes within the park. For the more adventurous explorers, bring your bikes and ride the 45 miles of historic carriage roads closed to cars. If you don't want to drive this busy route, take the free Island Explorer instead to create less congestion in the park.
More Information: Explore ME or National Park Service.
Distance: 31 miles
Drive time without stops: 1 hour, but realistically, more like 3–4 with park traffic
Related Read: 12 Glamping Escapes in Maine for Your Next Adventure
7. The Golden Road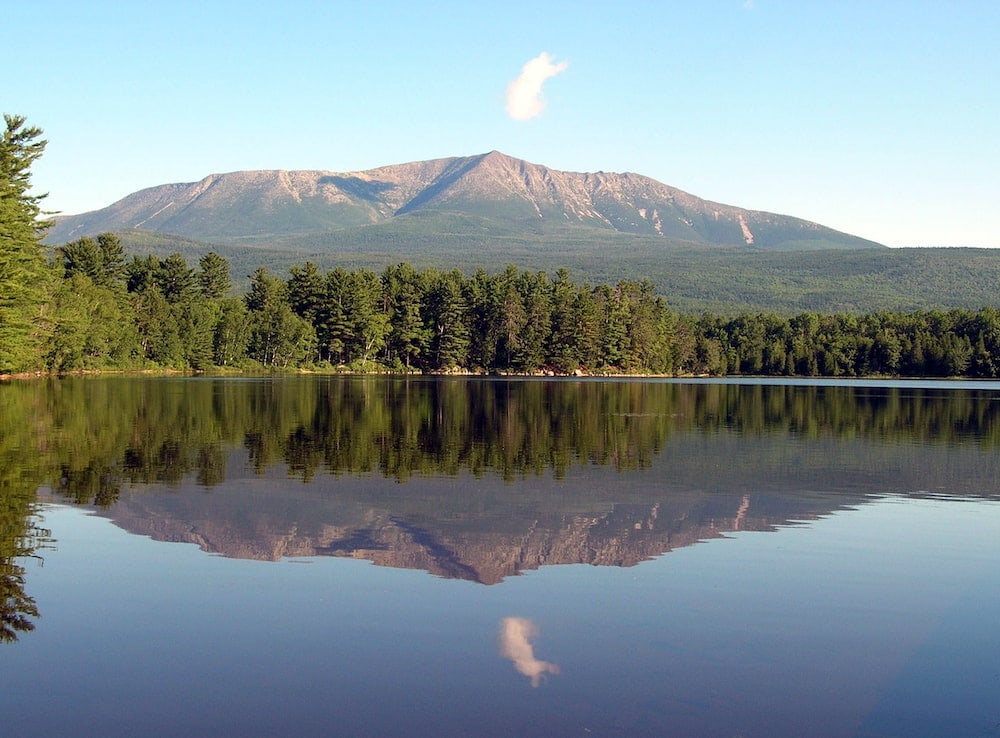 Why you should go: Spot elusive wildlife on the most remote scenic drive in Maine.
Depending on who you ask, the Golden Road got its name one of three ways. One is that it cost a fortune to make (something along the lines of a million dollars per mile.) Another is that the dust from driving gives off a golden hue when driving on it (be warned: it's mostly unpaved.) Or it could be that it just runs through a naturally beautiful area that shows off the richness of Maine's environment. Take your pick on which history you'd like to believe.
Regardless of the name, the Great Northern Paper Company owns the entirety of the road. However, they allow public use of their logging road from Quebec to Millinocket, ME. There are dirt roads galore off the Golden Road.
You might get lucky and catch a glimpse of all the wildlife that call the northern woods their home like moose and black bear. You'll even get several chances to view the northern terminus of the Appalachian Trail (Mount Katahdin). Want to hike? No problem? Stop at a trading post? You'll pass a few. However, the main stretch of the road is pretty remote, so expect unpaved driving, poor cell service, and a few narrow sections that'll make you say "this can't be right, right?"
More Information: Town of Millinocket.
Distance: 120 miles (give or take, there are several different routes)
Drive time without stops: 5 hours
Related Read: 9 Must-See Waterfalls in Maine You Can Hike To
8. Rangeley Lakes Scenic Byway
Why you should go: Views on views on views.
Do you like crystal blue lakes? Or perhaps alpine vistas are more your thing? How about wildlife viewing in dense forests? Waterfalls? Well, as luck would have it, the Rangeley Lakes Scenic Byway contains all that and more. There isn't enough space to write out all the places to stop and enjoy the view along this incredible scenic drive in Maine.
The drive is chock-full of pullouts with sweeping vistas, but the best is the Height of the Land overlook. From the viewpoint, you can take a deep breath, stretch your legs, and enjoy the backdrop of Mooselookmeguntic Lake and the White Mountains. When you're done, pick your jaw up off the ground and continue back in your car.
Travelers with eclectic taste should visit the Wilhelm Reich Home and Museum to learn about the history of a strange psychiatrist that used to live there. Among his many inventions banned by the FDA, the cloudbuster is worth noting. He claimed it created rain using "orgone energy" and acted similarly to a lightning rod. Spoiler: there is no evidence it actually worked. But walking through his observatory will give you a glimpse at his strange research.
To end your journey, you're greeted with the 54-foot-tall Smalls Falls. It's worth the quarter-mile hike to the falls.
More Information: Federal Highway Administration or Explore ME.
Distance: 52 miles
Drive time without stops: 2 hours
Related Read: The 9 Best Hikes Near Portland, Maine
Find Your Next Maine Adventure
Sign up for Weekend Wanderer, our free email newsletter offering thousands of readers epic travel and gear ideas every week.
---