We research, evaluate and select travel destinations based on a number of factors, including our writers' experience, user reviews and more. We may earn a commission when you book or purchase through our links. See our editorial policy to learn more.
---
As a gateway to Rocky Mountain National Park, Estes Park is a charming Colorado town with no shortage of wonderful things to do for nature lovers.
It's not just the close proximity to RMNP that makes Estes Park so unique, although the 5 to 10 minute drive to the entrance is hard to beat. It's also the enticing local breweries, fantastic eateries, and the popular Estes Park Aerial Tramline that make it the perfect place to stay.
Visitors have their pick from secluded cabin getaways, modern city condos and Airbnb rentals that offer quiet seclusion close to the city. Luxury amenities such as hot tubs, fireplaces, and sweeping views of the surrounding mountain ranges are nearly guaranteed to make your trip memorable.
So gather your loved ones and dust off your hiking boots! Let's get into our list of the best Airbnbs in Estes Park for any Rocky Mountain National Park adventure.
Related Read: 10 Epic Things to Do in Rocky Mountain National Park
1. Cabin Chalet
Why you should stay here: A spacious cabin chalet within walking distance to the Rocky Mountains National Park boundary.
Sleeps: 8
Minimum stay: 3 nights
Pets allowed: no
If you're looking for a supremely private and rural escape to nature, look no further than Cabin Chalet. With a big wraparound deck and unobstructed mountain views of Longs Peak, this large property sits only a quarter of a mile away from the national park boundary, making it all too easy to simply walk in and enjoy the Rockies.
The cabin has everything you need to enjoy the best of the outdoors. Its secluded area allows for great wildlife viewing, clear stargazing at night, and picnicking in the outdoor rec pavilion complete with ping pong table.
This three-bedroom space comfortably hosts eight guests and is designed with the mountains in mind. After your busy day in the Rockies, unwind in front of the large screen TV, with fast WiFi and a roaring fire in the antique wood-burning stove.
Check Airbnb Availability
Related Read: 9 Estes Park Cabins with Hot Tubs for Soakin' in the Mountains
2. Riverside Cabin
Why you should stay here: Rustic luxury on the river with an outdoor hot tub, BBQ, and fireplace.
Sleeps: 6
Minimum stay: 3 nights
Pets allowed: no
This newly renovated three-bedroom Riverside Cabin is located within walking distance of downtown Estes Park. It's the perfect place for fishing enthusiasts looking to stay near the Big Thompson River without being too far from the city.
Guests can enjoy the outdoor hot tub for post-hiking relaxation as well as the gazebo and picnic area for grilling. Avoid the hassle of getting stuck in traffic on the drive into the park, and opt instead to take the free shuttle bus located just a half-block away from the property.
Quiet tranquility is guaranteed at this riverside cabin, as parties and loud noise aren't allowed in the area.
Check Airbnb Availability
3. Downtown Luxury Loft
Why you should stay here: Get the best of both worlds in this modern luxury loft while escaping into nature.
Sleeps: 4
Minimum stay: 2 nights
Pets allowed: no
Enjoy the best of the idyllic outdoors during the day, and come home to this downtown luxury loft in the evening. Boasting an impressive view of the Big Thompson River, this loft is very close to Elkhorn, the main city street in Estes Park. Here the city's best restaurants and shops are just minutes away.
Inside, the loft's high ceilings, wood floors, fireplace, and balcony welcomes guests with open arms. The large windows allow natural light to pour into this open concept Airbnb. The loft has a master bedroom that very comfortably sleeps two guests as well as a pull out sofa bed in the living room for two additional guests.
Check Airbnb Availability
4. Downtown Estes Park Condo
Why you should stay here: Modern condo near downtown Estes Park that's great for families and kids.
Sleeps: 8
Minimum stay: 1 night
Pets allowed: no
What makes this Downtown Condo so special is not only its open concept and aesthetically pleasing design, but also its convenient location.
Situated just a half block away from the edge of downtown, you can easily walk to nearby restaurants, local parks, and shops, all while avoiding the noise and congestion of city streets. The close location also means zero hassle trying to find a parking space when visiting downtown.
The apartment's style is contemporary-meets-mountain with pine furnishings and a gas fireplace that'll keep you toasty warm in the cold months. Its fully equipped kitchen allows for freshly cooked meals at home, and the condo comfortably hosts up to eight guests via three bedrooms and a pull-out sleeper sofa.
Check Airbnb Availability
5. Historic Downtown Cabin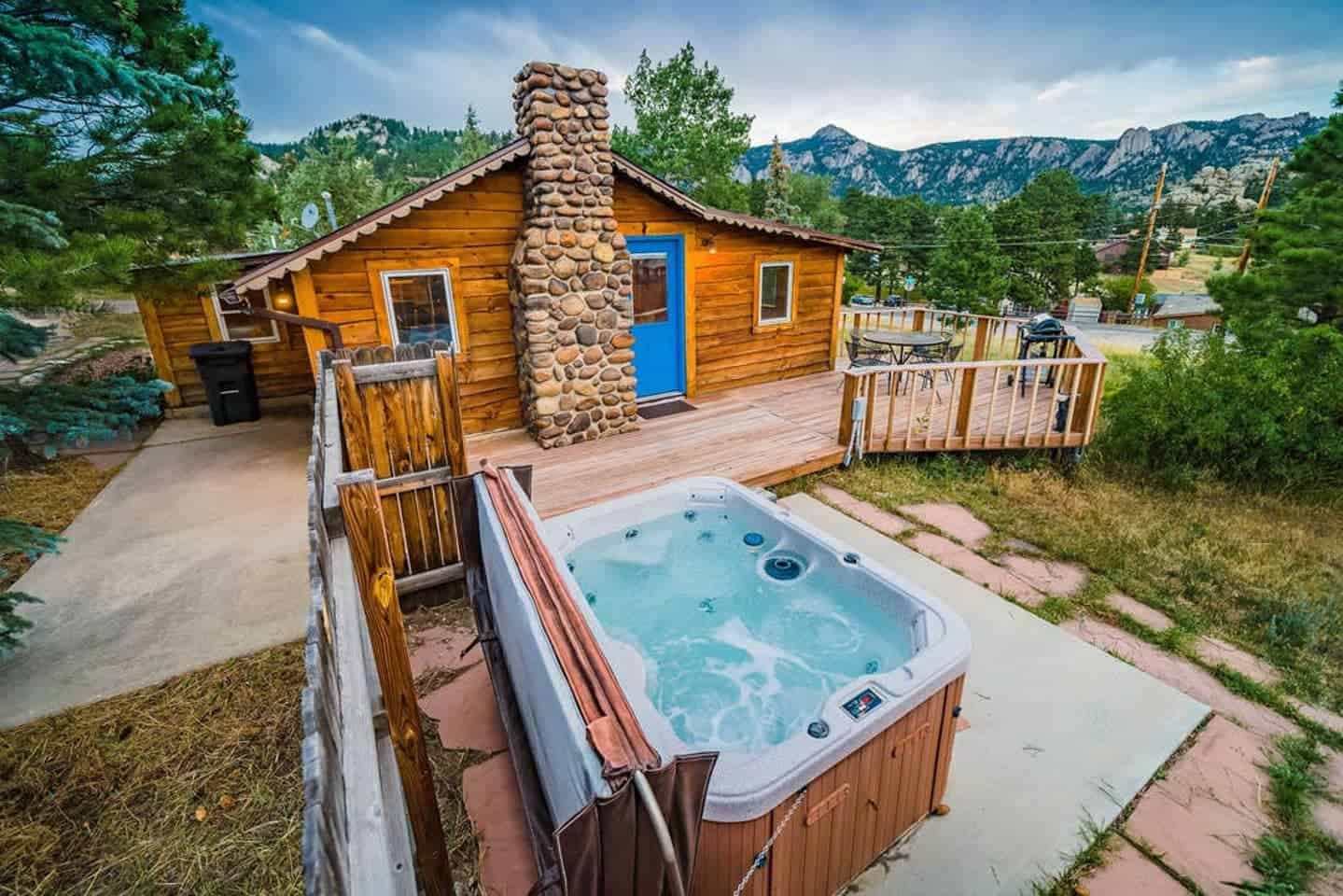 Why you should stay here: A historic cabin escape in the heart of the city.
Sleeps: 4
Minimum stay: 4 nights
Pets allowed: no
It's not every day you can stay in a Historic Downtown Cabin within walking distance to the city. Located on a hillside overlooking the surrounding areas, the sweeping views of Lumpy Ridge from the deck help make this cabin extra special.
Built in the 1800s, this 100-plus year-old rental exudes vintage charm from the gleaming wooden architecture to the quaint decor of the cabin. Stay warm and cozy with the electric fireplace and whip up your own home-cooked meals in the comfort of the kitchen. Although it's not a completely secluded stay, there is a fence that surrounds the property for added privacy.
Check Airbnb Availability
6. 1914 Cabin
Why you should stay here: Step back in time in this fully restored vintage cabin that's steps away from Big Thompson River.
Sleeps: 6
Minimum stay: 4 nights
Pets allowed: no
The 1914 Cabin is an old vintage home that has been lovingly renovated and cared for throughout the years. Nestled amongst the trees across from Big Thompson River, the feeling of serenity is unavoidable. The wraparound deck offers fantastic views of the surrounding peaks and native wildlife.
Up to six guests may stay in this beautifully accented wooden home. A few of the available amenities include a private fireplace in the master bedroom, a lofted sleeping area, a grill, and a fully-equipped kitchen. You can easily hike into the national park from the property via Beaver Meadows or Eagle Cliff Mountain trail.
Check Airbnb Availability
7. Prospect Woodlands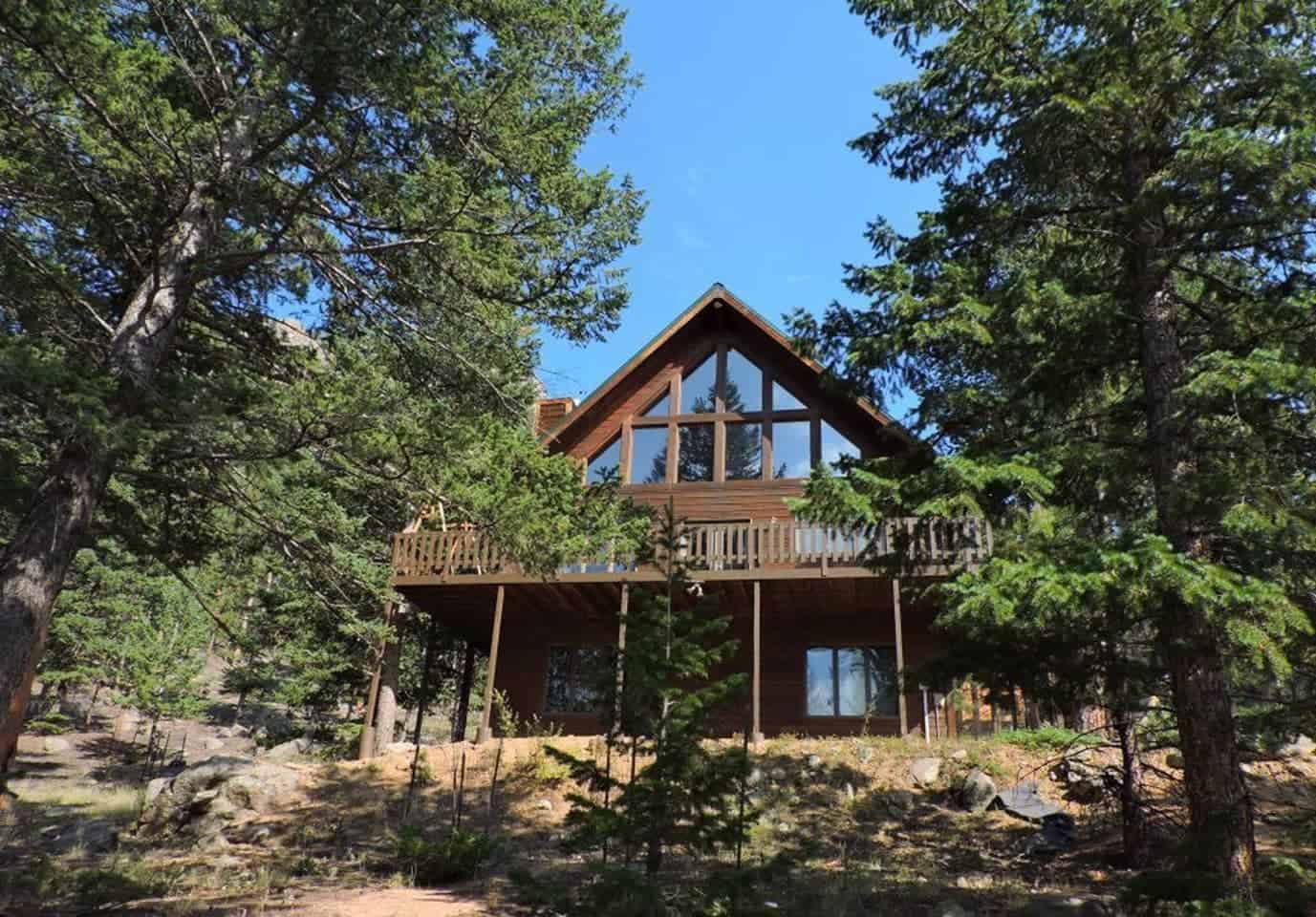 Why you should stay here: Secluded A-frame with stunning mountain and forest views.
Sleeps: 8
Minimum stay: 3 nights
Pets allowed: no
Prospect Woodlands is a beautiful A-frame wooden cabin located on three acres of private wooded land. Located just a short five-minute drive from downtown Estes Park, you'll feel immediately immersed in nature as you venture down the quiet country road leading to the property. The trip is so rural that you'll want to have a 4WD vehicle in the winter.
As you step inside, guests are immediately greeted by large floor to ceiling windows and impressive views of the Continental Divide. Take a step outside onto the large and spacious deck to enjoy the sunshine and fresh air – a perfect place to unwind after an active day outside.
With a fully equipped kitchen, natural gas mock fireplace, and all the amenities needed for a warm and cozy cabin stay, Prospect Woodlands is a perfect mountain destination for families and large groups of friends.
Check Airbnb Availability
8. Little Red Cabin
Why you should stay here: Quaint and quiet cabin with excellent wildlife viewing.
Sleeps: 4
Minimum stay: 1 night
Pets allowed: no
The Little Red Cabin is a charming Airbnb in Estes Park. Built in the 1950s, this colorful property is a no-frills getaway. Guests can enjoy a fantastic opportunity to reconnect with nature and spot native Colorado wildlife such as deer, elk, and even bears.
The charm continues inside with eye-catching wooden walls and mountain decor. The cabin has one bedroom with additional sleeping space for two more people if necessary. Guests can cook their own meals in the well-stocked kitchen and wash laundry as needed with the onsite washer and dryer.
The Little Red Cabin does not have A/C or a dishwasher, making it an authentic rustic getaway in the mountains.
Check Airbnb Availability
9. Beautiful Log Home
Why you should stay here: A secluded and uniquely designed log home surrounded by the great outdoors.
Sleeps: 10
Minimum stay: 3 nights
Pets allowed: no
Make your mountain getaway even more special by staying in this rustic beautiful log home. Not only is this Airbnb a genuinely unique log cabin experience, but it also has a spectacular view of both Longs Peak and Mount Meeker from the large outdoor deck.
The open concept design and large windows allow natural sunlight to fill the room, and there are four spacious bedrooms that allow a stay for up to ten guests. Enjoy the relaxing jacuzzi tub in the master bedroom as well as the large hot tub on the back patio that seats seven.
Located just a 10 to 15 min drive from Estes Park, this log home is a great escape for large groups.
Check Airbnb Availability
10. Mary's Lake Getaway
Why you should stay here: A rural private suite overlooking Mary's Lake that fishing enthusiasts love.
Sleeps: 6
Minimum stay: 1 night
Pets allowed: no
Mary's Lake Getaway is a rural private suite on the ground floor of a large beautiful wooden complex. Located on the outskirts of Estes Park, guests enjoy the surrounding countryside and hillside views overlooking Mary's Lake. If you're interested in fishing, this getaway may be for you.
The hosts have furnished the suite with unique log furniture, and have provided guests with a fully equipped kitchen. The large open living room with fireplace is sure to create memorable evenings after long days of hiking.
This suite has a private entrance where up to six guests can freely come and go. Mary's Lake Getaway is a great option while visiting Estes Park and the Rocky Mountains.
Check Airbnb Availability
Plan Your Trip to Estes Park, CO
Armed with a cozy and comfortable stay for your visit to Estes Park, you're free to start planning your nature adventure! We recommend checking out a few of these fun things to do in the area.
Explore More of Colorado
Get epic travel ideas delivered to your inbox with Weekend Wanderer, our newsletter inspiring more than 10,000 readers every week.
---