Thankfully, finding great hiking near Tucson isn't a challenge!
There are an endless number hiking trails in and around Tucson for any level of hiker. Beautiful views in both the cactus-clad foothills and high-mountain forests can be found in the surrounding Santa Catalina Mountains and Rincon Mountains, but you can also find a few trails closer to the city for a quick jaunt as well.
With the incredible variety of terrain, there's something in the Tucson area for everyone. Birders, hikers, trail runners, and the like will find that Tucson's hikes offer more biodiversity, breathtaking views, and adventure than almost any other city.
No matter what kind of adventure you're looking for — no matter the time of year — a hike in Tucson will provide!
Note: On hikes in the Sabino Canyon Area or Saguaro National Park, dogs are not allowed and be prepared to pay an entrance fee. Catalina State Park also has an entrance fee, but allows dogs. Dogs are not allowed in Pusch Ridge Wilderness.
1. Bear Canyon Trail to Seven Falls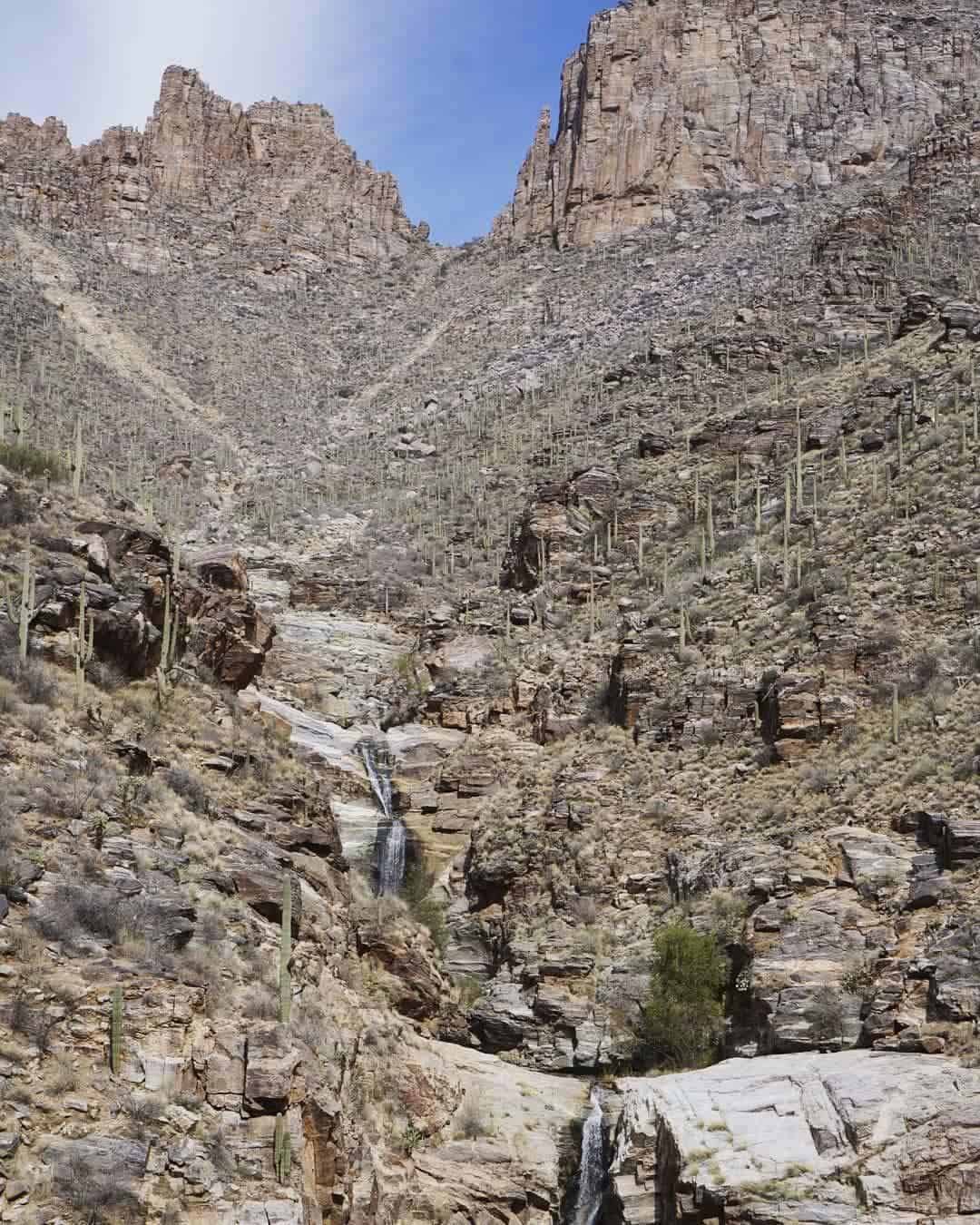 Why you should go: The most popular trail in Tucson is well worth the end-reward.
Difficulty: Moderate
Distance: 8.5 miles
Elevation Gain: 1,062 feet
This classic Tucson hike in the Sabino Canyon Recreation Area leads to the ultimate culmination of a mesmerizing waterfall. You'll want to prepare ahead of time for water crossings by checking the water levels at the falls by calling ahead.
You should also come wearing waterproof boots, too, to avoid sopping wet feet after your first water crossing. Feel free to pack extra water shoes for your final destination if you plan to stick around and hang out near the falls.
The first six water crossings are roughly within a half-mile of each other, but the seventh water crossing is the one you'll want to keep an eye out for. People often get lost here, so be sure to cross the seventh water crossing that will lead you to a fork in the trail. Head left and you'll be on your way to the falls!
The best time to make the trek to Seven Falls is winter to early spring as the falls are fed by winter snowmelt and early-season rain and you'll find them ebbing and flowing accordingly.
2. Blackett's Ridge Trail
Why you should go: Get a Sabino Canyon experience with less crowds and spectacular ridgetop views.
Difficulty: Challenging
Distance: 6 miles
Elevation Gain: 1,765 feet
The Blackett's Ridge Trail is full to the brim with saguaros and mountain views. This trail is a must-see as it gives you a beautiful view of Coronado National Forest and the surrounding area. The trail is rather rocky and the elevation gain of nearly 2,000 feet will have you huffing and puffing as you make your way to the summit.
Since this trail is on a ridgeline, you'll find that there isn't much shade to keep you out of the hot sun, so you'll most definitely want to pack enough water — at least 4 liters — especially in warm weather.
This trail is well-known for its wildflower blooms and native wildlife, so many come to witness the birds sing and desert tortoises make their commute.
Not sure if you want to make the jaunt up Blackett's Ridge? Just listen to Anne's review: "Great views of Tucson and surrounding mountains all the way up this steep, rocky hike. Getting to the summit was definitely worth the climb."
3. Wasson Peak Trail
Why you should hike here: "The best loop trail in the Tuscon Mountains" gives you the highest view in Saguaro National Park West.
Difficulty: Moderate
Distance: 7.9 miles
Elevation Gain: 1,765 feet
In Saguaro National Park, you won't be shocked to find that there are endless saguaros waiting for you to pass by on your way up the Wasson Peak Trail . This trail is moderately steep with some rocky parts at the beginning and end. It offers great views of the surrounding mountains, desert vegetation, and wildlife if you're lucky enough to catch a glimpse.
Wasson Peak is the highest peak in Saguaro National Park West (i.e. the Tucson Mountains District), so you'll have 360-degrees worth of desert vistas to take in and see what the park has to offer from a bird's eye view.
Like most desert trails, there isn't much shade to give you a reprieve during the warm weather months. To avoid being beaten down by the sun, on the way down feel free to venture down Hugh Norris and Gould Mine trails to catch a break from the blazing heat.
With stunning mountains surrounding you, the scent of desert wildflowers floating in the air, and views of one of the most incredible saguaro forests, you'll be hard-pressed to find a better desert flora hike in the Tucson area.
Related Read: 12 Best Hikes in Arizona, From Desert to Tundra
4. Honey Bee Canyon North Trail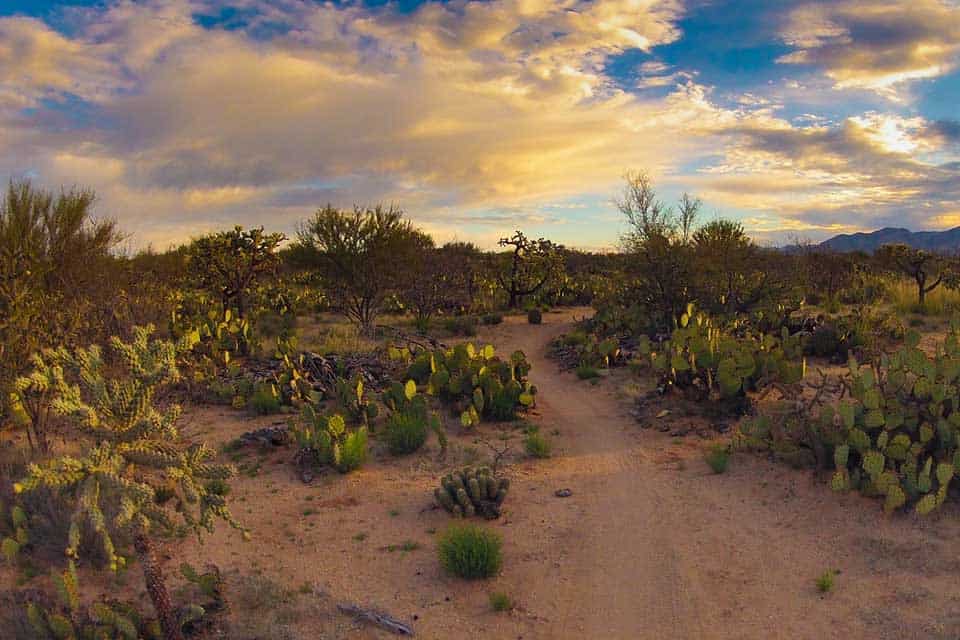 Why you should hike here: Is a quick out and back, half-paved trail that features desert flora, petroglyphs, and impressive sunset views.
Difficulty: Easy
Distance: 2.3 miles
Elevation Gain: 114 feet
You'll find yourself down in the wash for most of the Honey Bee Canyon's North Trail, but you'll have views of Pusch Ridge to keep you entertained as you walk through the sandy desert. Many trail runners love this hike because it's easy on the knees with sand beneath your feet.
At the end of the trail, you'll be met by a wall of petroglyphs. A fan favorite is the owl petroglyph that delights young and old hikers alike. Birders, dog lovers, hikers, and trail runners all find joy in this trail as it's quick, easy, and rewards with breathtaking views.
5. Sunset Trail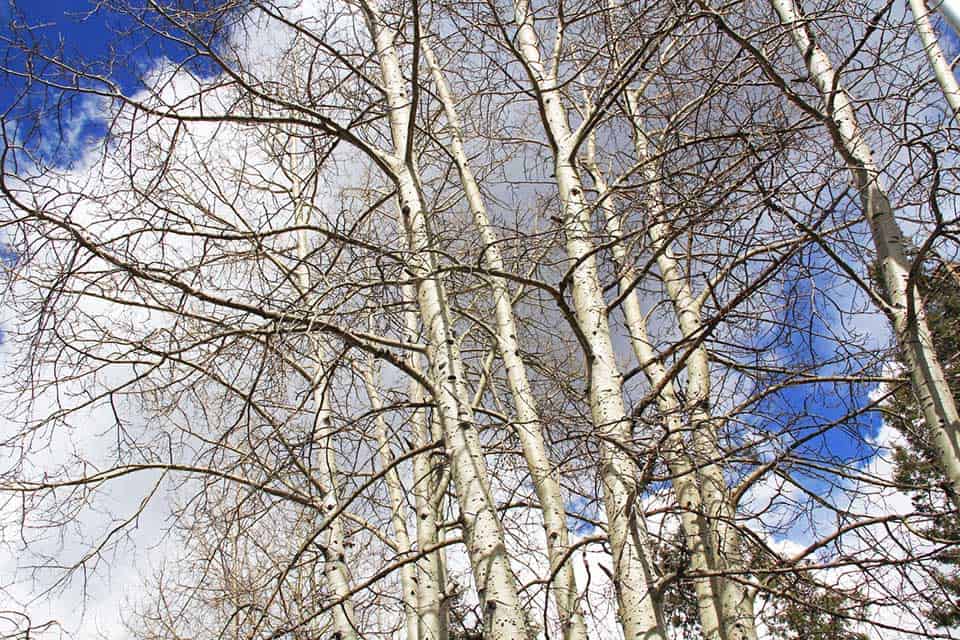 Why you should hike here: Witness the glory of the sun settling in for the night high on Mount Lemmon.
Difficulty: Easy
Distance: 2.7 miles
Elevation Gain: 387 feet
A quick jaunt down Sunset Trail will leave you speechless if you visit at the right time as you overlook a mountain valley covered in forest. This little nook in the mountains is the perfect place to settle in for a sunset picnic and witness the world as it slows down.
From the trailhead, you'll find that the trail is relatively easy with a few large steps here and there as you descend down near the valley's elevation. As you continue down the trail past the valley, you may see water here and there with mini waterfalls pouring over rocks and fallen tree limbs. Depending on the time of year, the surrounding mountains may be snowcapped or wildflowers may be growing on either side of the trail.
On the way back, you'll find yourself huffing and puffing a bit as you climb the elevation you dropped on the way in back towards the parking lot. But not to worry, Mount Lemmon's Sunset Trail provides epics views that don't disappoint, so it's always worth it in the end.
6. Romero Canyon Trail to Romero Pools
Why you should hike here: From water to cactus to mountains, you'll get a taste of everything you need to energize you for 5.5 miles of hiking and still leave with a smile on your face.
Difficulty: Moderate
Distance: 5.5 miles
Elevation Gain: 1,322 feet
This trail can be busy on the weekends, but it's worth the drive out to Catalina State Park all the same. Though challenging with the elevation, the trail gives you much more than just a walk through a cactus forest. If you decide to bring your dog along for the hike, you will only have access to the trail up until the Coronado National Forest (Pusch Ridge Wilderness) boundary so keep your eyes peeled to avoid disturbing wildlife like Bighorn Sheep that live in the area.
Depending on the season, you may need to come across water crossings, so be prepared to get your feet wet as you make your way to the pools. Beyond the first wash, you can expect a relatively steep and rocky climb that will lead you to your final destination.
The Romero Pools feature tiny waterfalls and offer you a chance to cool off after a few hours of hiking in the Arizona sun. Water levels are dependent on the season and recent rainfall, so be sure to check in with the latest weather reports if you're just visiting the area to avoid missing out on the pools at their finest.
You'll spend several hours hiking up and down this trail, but all the views it offers will be difficult to find in one place anywhere else.
More Arizona Adventures
Sign up for our free email to join thousands of readers getting epic travel, hiking, camping and gear ideas every week.
Was this article helpful?
---