No wonder Vermont is called the Green Mountain State — more than 75 percent of it is covered in forest.
The number of places to find peace and solitude in Vermont's public lands is endless. There are more than 400,000 acres within Green Mountain National Forest, which covers a large portion of the southern part of the state. There are also an astonishing 55 state parks in Vermont.
It's also perfectly acceptable to camp anytime of year in Vermont — in fact, it's encouraged! Vermonters love being outside and you'll find lots of locals up for winter camping (depending on where you are in the state, of course). That said, summer and fall are usually the best times to camp. Fortunately, there are hundreds of free camping spots in Vermont.
You can camp for free at any of the sites below, but you may still want to snag an interagency pass and a Vermont State Park pass before heading out on your adventures so you're set for entering parks and parking at trailheads.
Otherwise, to take advantage of these free sites, just make sure you're prepared to be in the backcountry. Fortunately for Vermont adventurers, the state does not charge for backcountry rescue. (That doesn't mean you should want to use it, though.) Weather in the Green Mountains can be rugged and unpredictable, so be as prepared as possible. Download or pick up any maps prior to your adventure, pack more food than you think you'll need, and make sure to always follow Leave No Trace principles.
By the way, if you plan to spend a lot of time exploring all the free places to camp in Vermont, consider becoming a Green Mountain Club member. The club's mission is to protect and maintain the state's Long Trail and surrounding Green Mountains through education and stewardship. Becoming a member both supports the club's work and gets you access to free overnight stays along the Long Trail and special deals on merchandise.
Related Read: 10 Supremely Secluded Cabin Rentals in Vermont
Leave No Trace While Camping
It's always important to Leave No Trace when camping, but especially in undeveloped areas, which most of Vermont's public lands are. A few rules specific to Vermont include:
Camp at least 100 feet from any water source
You must also be 200 feet from any trail or property line
Camping is only allowed up to three consecutive nights on Vermont's Department of Forests, Parks, and (up to two weeks on Vermont Department of Recreation land)
Make sure to check the management agency's website prior to any trip to ensure a safe and fun experience for every participant
1. Vermont Distillers
Why you should camp here: You'll never run out of moonshine.
Reservations accepted: No
Best season: Spring, summer, fall
Campsite type: RVs/self-contained only
RV hookups: No
Okay, it may be technically a parking lot, but it's a really nice parking lot. The catch is you have to camp in a self-contained vehicle, meaning no tents (including rooftop tents). But the flip side is that there's plenty of space for big RVs. But if you're lucky to snag a spot, you can spend the evening across the street at Vermont Distillers, sipping cocktails and trying their various spirits.
Just make sure you don't drink too much in case you want an early start. Hogback Mountain Conservation Area and Molly Stark State Park are two nearby options for adventuring. On a clear day, you can see Vermont, New Hampshire, and Massachusetts from the conservation area's famous "100-mile view".
2. Bear's End/Forest Road 71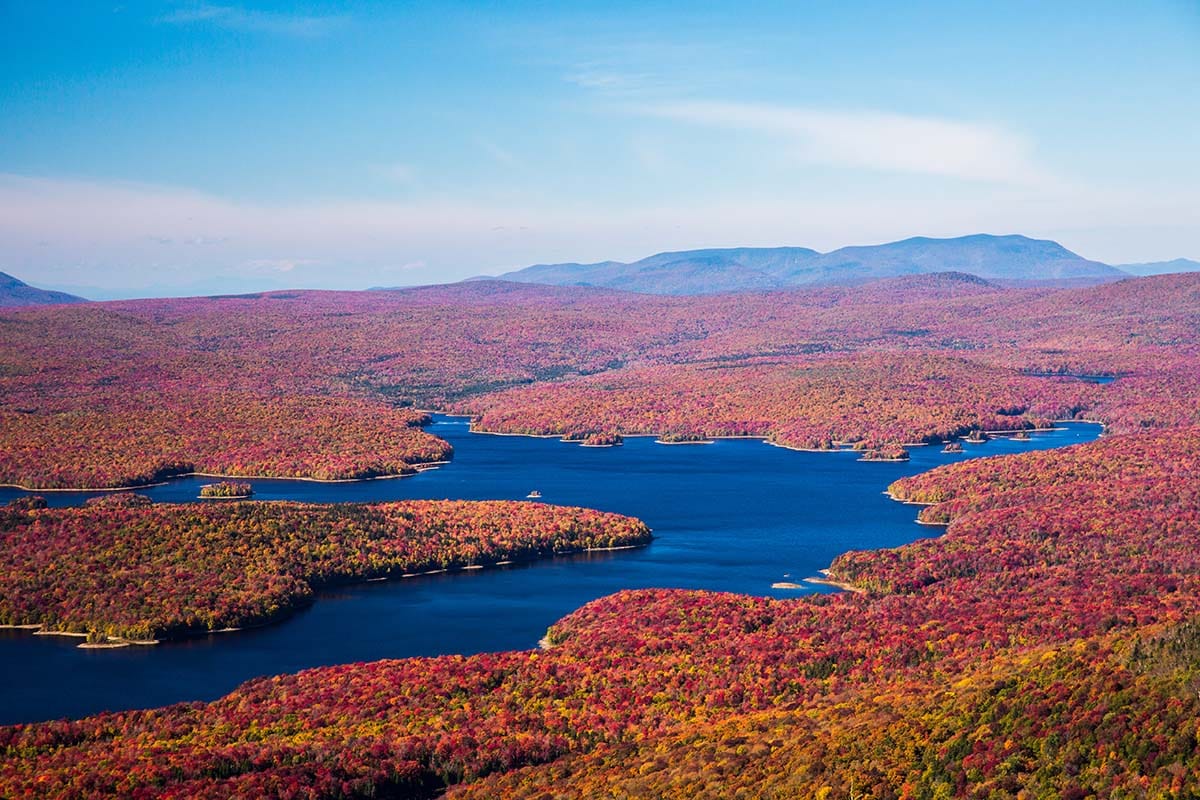 Why you should camp here: If you're planning to spend all day on the water.
Reservations accepted: No
Best season: Spring, summer, fall
Campsite type: Tent, car camping, small pop-ups
RV hookups: No
Bear's End just one of the multiple places to boondock within Green Mountain National Forest. The drive to the sites is notorious for washboarding and deep ruts, so make sure your vehicle and camper can manage. The road can be practically impassable during and just after a rainstorm, so watch the weather. Driving on it when it's muddy will just make it worse.
Bring your canoe and kayaks as there are several small lakes nearby plus the larger Somerset Reservoir. For this specific free camping site in Vermont, you need to bring all your own drinking water since filtering from the reservoir isn't allowed.
Related Read: 10 Best Hikes in Vermont for Woodsy Explorations
3. Somerset Airfield
Why you should camp here: Camping in southern VT near rivers (and a pit toilet).
Reservations accepted: No
Best season: Spring, summer, fall
Campsite type: Tent, car camping, RV
RV hookups: No
Unlike most Vermont dispersed camping spots, Somerset Airfield is a bit more developed. The area is small with only 10 first-come, first-served sites. This is a great site for families as it has both a permanent toilet and is fairly removed from most other sites. Your kids can be as loud (within reason though) as they'd like without disturbing too many other people. No kids? No problem — your crew can also feel free to be a little more noisy or stay up a little later without disturbing your fellow campers. You'll probably also see a lot of car campers along the road.
Shaftsbury is a pretty sleepy little area near the border with New York, so grab supplies in the nearby town of Wilmington — Ratu's Liquor Store sells excellent craft beers from VT breweries.
4. Stratton-Arlington Road
Why you should camp here: For unbeatable access to the Long Trail.
Reservations accepted: No
Best season: Spring, summer, fall
Campsite type: Tent, car camping, RV
RV hookups: No
Known to locals as the Kelley Stand Road, this backcountry road is a top choice for dispersed, free camping in Vermont. You can camp pretty much anywhere along the road, and most places will put you really close to the Long Trail in case you're planning to day hike sections of it. If you want more privacy, just drive down one of the spur roads.
5. Appalachian Trail/Long Trail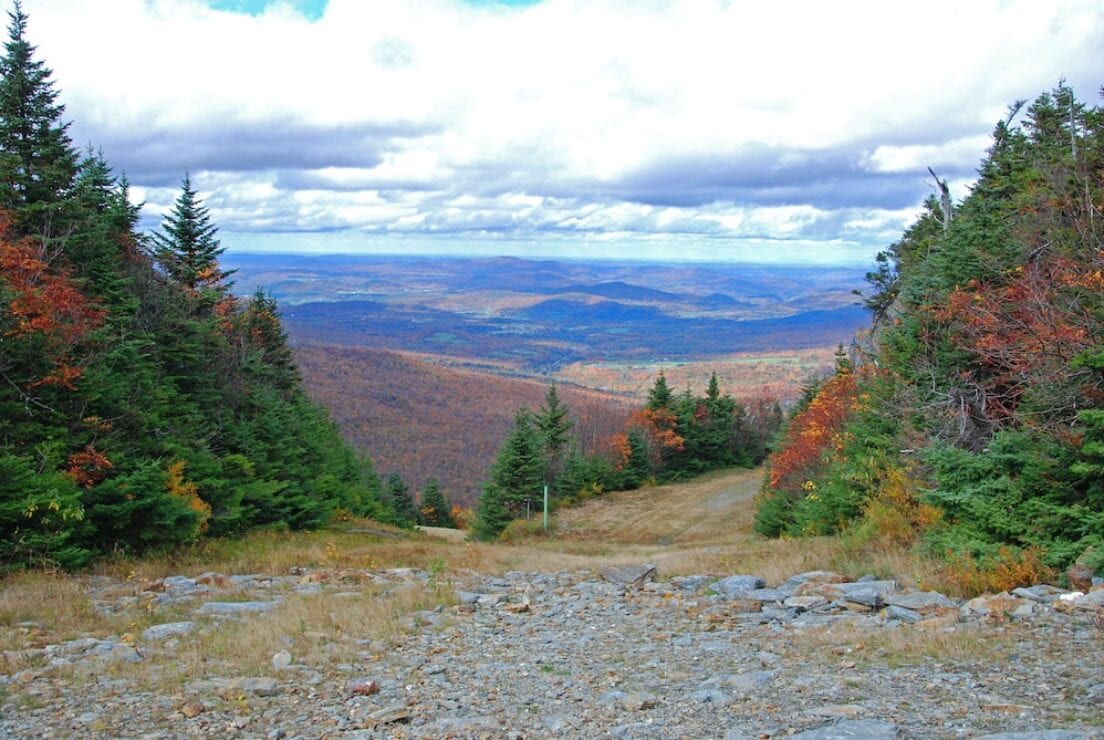 Why you should camp here: Walk-in camping along Vermont's most famous trail.
Reservations accepted: No
Best season: Summer
Campsite type: Walk-in tents, cabins
RV hookups: No
Setting up camp along the Appalachian Trail takes a bit more work than most of the other free camping places in Vermont on this list, but the benefit is you get to be deep in the woods with only other hikers. The Appalachian Trail is 2,190 miles long, and the 150 miles in Vermont are known as The Long Trail. You can camp at any of the 70 overnight sites along the trail for $5 a night (or free, if you're a Green Mountain Club member). Some of the sites have huts or cabins, but they're first-come, first-serve (as are all the sites) so be sure you have a tent in case the cabin is full.
6. Bingo Brook Road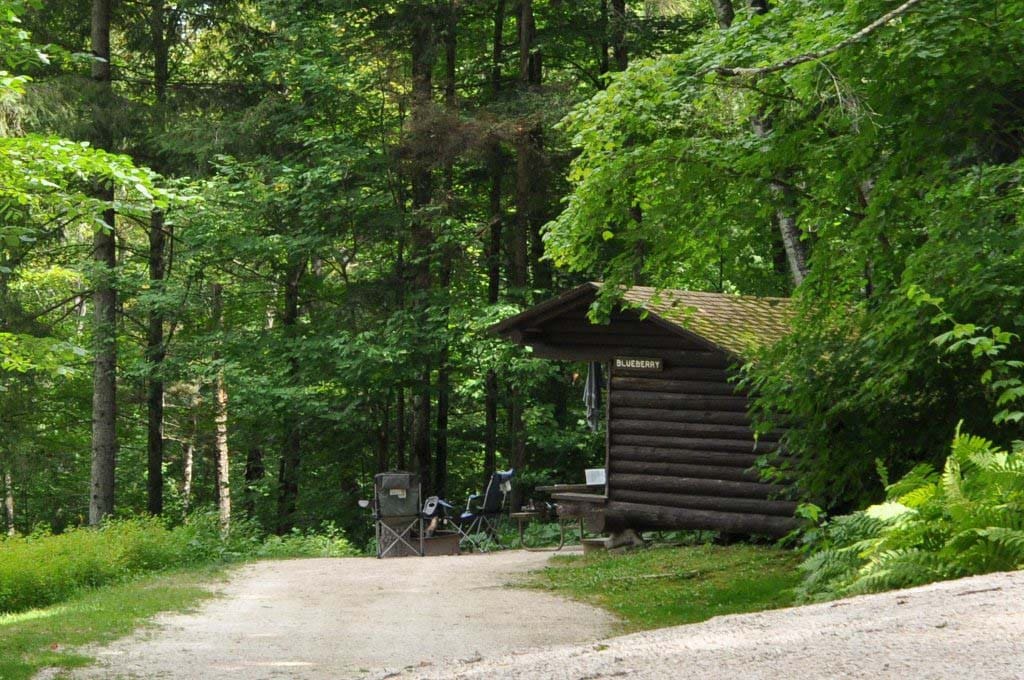 Why you should camp here: Just a hop, skip, and a jump from Vermont's largest state park.
Reservations accepted: No
Best season: Spring, summer, fall
Campsite type: Tent, car camping
RV hookups: No
Interestingly enough, the FDR-era's Civilian Conservation Corps built a lot of the roads in Vermont, including Forest Road 42/Bingo Brook Road. A bulletin board at the beginning of the road points out where the designated sites are, which campers have to stay in. You'll be fined if you try to camp somewhere else, so stay within the lines.
Make sure to stop by Coolidge State Park for the best views in the state. You can also camp in one of the park's lean-tos for $28 a night (make sure to reserve in advance). The sweeping views of the Black River Valley and surrounding Green Mountains are unparalleled.
Explore More Near Vermont
Sign up for the Weekend Wanderer to join thousands of readers getting epic travel ideas every week.
---