We research, evaluate and select travel destinations based on a number of factors, including our writers' experience, user reviews and more. We may earn a commission when you book or purchase through our links. See our editorial policy to learn more.
---
Experience a quieter side to the Aloha State with a quaint and private cabin rental.
When you think of Hawaii, pristine beaches and tropical rainforests probably come to mind — as well as busy resorts and hoards of tourists. But that's not all the Hawaiian archipelago has to offer.
For a unique way twist on the island experience, opt to stay in an incredible cabin rental in Hawaii to get a more  authentic taste of the state. Whether you're seeking a haven in the mountains, a coastal escape, or a stay surrounded by striking lava fields, there's a cabin rental in Hawaii that will fit the bill.
These nine cozy cabin and cottage rentals in Hawaii will show you a side of America's 50th state most tourists never get to see.
Related Read: 12 Quaint & Quirky Cottagecore House Rentals Across the U.S.
1. Boutique Beachside Cabin
Why you should stay: Beautiful studio cabin in a quiet neighborhood very close to Makaha Beach.
Location: Waianae, Oahu
Sleeps: 4
Minimum stay: 3 nights
Rates from: $237/night
At this boutique beachside cabin, you get it all: mountain views, a spacious backyard, and an oceanside locale on the west coast of Oahu. This studio cabin features a partially partitioned bedroom with a king bed as well as a pull-out sofa bed. A bright and airy atmosphere coupled with stylish interior design offers a cozy and glamorous stay.
This Oahu property also boasts multiple places to relax out in the fresh island air. That includes a balcony off the living room with a picnic table and partial ocean views, and the grassy yard has a stone patio with plush seating, a fire pit, a bar top, and a grill. It's less than a 10-minute walk to Waianae (though Waikiki Beach is about an hour away).
Check Availability
Related Read: 10 Romantic Getaways in Hawaii for a Tropical Retreat with Your Boo
2. Kealakekua Bay Cottage
Why you should stay: Remote hillside cottage with an open-air kitchen and fresh tropical fruit.
Location: Honaunau-Napoopoo, Hawai'i (Big Island)
Sleeps: 2
Minimum stay: 3 nights
Rates from: $250/night
This Hawaii cabin rental is all about peaceful solitude. The Kealakekua Bay cottage is on the western coast of Hawaii's Big Island, reached via a short drive along a quiet, private road.
The interior is simple and homey, and guests get a covered balcony with bar seating, a grill, and front-seat ocean views. And if you want to maximize your time outside, take the stairs to the second outdoor seating area and whip up a meal in the outdoor kitchen.
This part of the island is about 30 minutes from the Kona International Airport and is famous for dolphins and snorkeling. Nearby attractions that shouldn't be missed include the Captain Cook Monument Trail and Kealakekua Bay State Historical Park.
Check Availability
Related read: 8 Treehouse Rentals in Hawaii That'll Elevate Your Tropical Getaway
3. Laukapu Forest Cottage
Why you should stay: Unique Hawaii cabin rental not far from popular attractions like the Thurston Lava Tube and the Kilauea Volcano.
Location: Volcano, Hawai'i (Big Island)
Sleeps: 2
Minimum stay: 2 nights
Rates from: $180/night
The Laukapu Forest Cottage is a delightful place to stay on Hawaii's Big Island. It boasts beautiful woodwork and all the comforts of home, including a well-appointed kitchen, laundry facilities, and a fabulous lanai.
"From the moment you park your car, you realize you are entering something really special. Every piece of this cottage, including furniture, has been lovingly built by the owner."
Perhaps the most incredible part of this Hawaii cabin rental is the 70-foot wooden footbridge the hosts lovingly refer to as a "Work of Heart." Since it's a studio space, it's a nice alternative to a more expensive hotel room for two people, especially if you want your own private space.
Check Availability
Related Read: 11 Awesome Waterfall Hikes on Oahu, Hawaii
4. Pu'u O Hoku Sunrise Cottage
Why you should stay: Traditional cottage on a ranch-resort overlooking Halawa Bay.
Location: Molokai, Hawai'i (The Big Island)
Sleeps: 4
Minimum stay: 1 night
Rates from: $350/night
The Sunrise Cottage is a traditional two-bedroom Hawaiian cabin that dates back to the 1930s. This haven on Hawaii's "Friendly Isle" oozes rustic charm and is inspired by the surrounding tropical landscape.
You won't find a Wi-Fi signal while visiting the ranch, allowing you to fully disconnect and take in the sights and sounds. But this won't be the best cabin rental in Hawaii if you need to work on vacay.
Scenic destinations such as Moaula Falls and Hālawa Park are near the cottage, and the working Pu'u O Hoku Ranch covers 14,000 acres of rich biodynamic farmland guests are welcome to explore. The ranch also offers fantastic amenities such as an outdoor swimming pool, yoga deck, and a ranch store with fresh produce.
You can also volunteer at the ranch if you're interested in a longer stay.
Check Availability
Follow 'em: @PuuOHokuRanch
5. The Cottage at Ohia Place
Why you should stay: Hilltop cottage with million-dollar views and lush gardens.
Location: Kalaoa, Hawai'i (Big Island)
Sleeps: 2
Minimum stay: 5 nights
Rates from: $225/night
The Cottage at Ohia Place is a romantic getaway on the side of Mount Hualalai, not far from the Honua'Ula Forest Reserve. Expect upscale elements like hardwood floors and granite accents in the kitchen.
Sloping ceilings with exposed wooden beams show off impeccable interior design and create a vibe similar to what you'd find in a more expensive, modern resort.
Guests of this cottage will probably want to spend most of their time on the covered porch with ocean views or in the well-manicured yard, furnished with a dining table for al fresco meals. The swimmable shores of Magic Sands Beach Park and the incredible snorkeling of Kahaluu Beach Park are about a 20-minute drive away.
Check Availability
6. Kipuka Cottage
Why you should stay: Rustic, artsy escape in the Hawaiian jungle near Volcanoes National Park.
Location: Volcano, Hawai'i (Big Island)
Sleeps: 4
Minimum stay: 1 night
Rates from: $165/night
Sunshine and jungle views abound at the Kipuka Cottage, a unique Hawaii cabin rental that offers a semi-remote getaway, though it's really only about 30 minutes from attractions in Hilo.
Reviewers love the tall ceilings with mesmerizing asymmetrical lines, as well as the expansive windows. Other unique elements include a spiral staircase up to the sleeping loft, a wood stove, and eclectic art.
Though this cabin is probably best for two, there's a futon in the living room to accommodate an additional pair. Plan to spend most of your time on the covered lanai — it's a relaxing place to sit and look out onto the thick trees and tropical plants surrounding the home.
This is a great place to stay if you plan to see the spectacular sights of Volcanoes National Park as it's less than a 10-minute drive.
Check Availability
Follow 'em: @KipukaCottage
7. Hawaiian Dream Temple
Why you should stay: Japanese-inspired yurt just off of the famous "Road to Hana."
Location: Pauwela, Maui
Sleeps: 6
Minimum stay: 2+ nights
Rates from: $399/night
Escape to the northern shores of Maui at the Hawaiian Dream Temple. The incredible circular home isn't technically a yurt, but it's yurt-style, though the décor is inspired by Japan and the Pacific.
It sleeps six, but note that you can bring a seventh and eighth guest if they're kids. But you'll have to pay $25 per night per kid, and they'll be sleeping on a pull-out couch in the bedroom.
Otherwise, the two bedrooms and a futon in the living room should be enough room for six adults to enjoy the beauty of Maui. An expansive wraparound deck surrounds the cabin and is furnished with ample seating and a private hot tub so everyone can be outdoors together.
Guests also enjoy access to the owner's freshwater swimming pool and yoga pavilion. Kuau Bay Beach and Hookipa Beach Park are two popular attractions less than five miles from this stunning cabin rental.
Check Availability
8. Crater Rim Cabin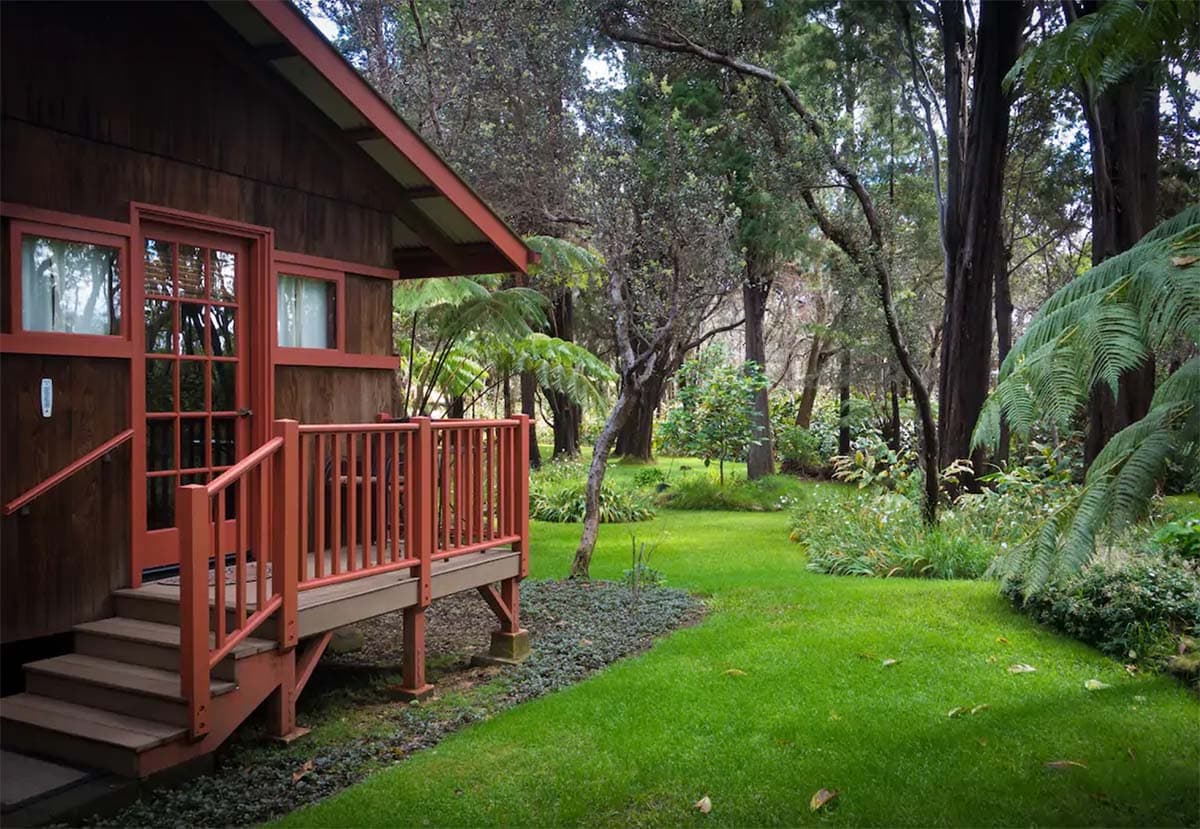 Why you should stay: Richly decorated cabin near Volcanoes National Park for travelers who prefer cooler temperatures.
Location: Volcano, Hawai'i (Big Island)
Sleeps: 2
Minimum stay: 2 nights
Rates from: $219/night
The Crater Rim Cabin is a homey oasis in the heart of Hawaii's striking lava fields. It's not far from natural attractions like the Halema'uma'u Crater and the Kilauea Overlook, so nature lovers will be stoked on the unique beauty that surrounds the property.
This owners also provide some thoughtful touches like complimentary breakfast supplies and travel guides and are happy to make recommendations on dining and activities.
"We appreciated the unique craftsmanship and design of the cabin as well as its top-notch cleanliness and many thoughtful amenities provided by Barry and Jim."
During your stay, you'll find this region can become quite chilly thanks to its high elevation, but fortunately, the home has heated blankets and a gas fireplace to keep you toasty warm.
Check Availability
9. The Sea Glass Cottage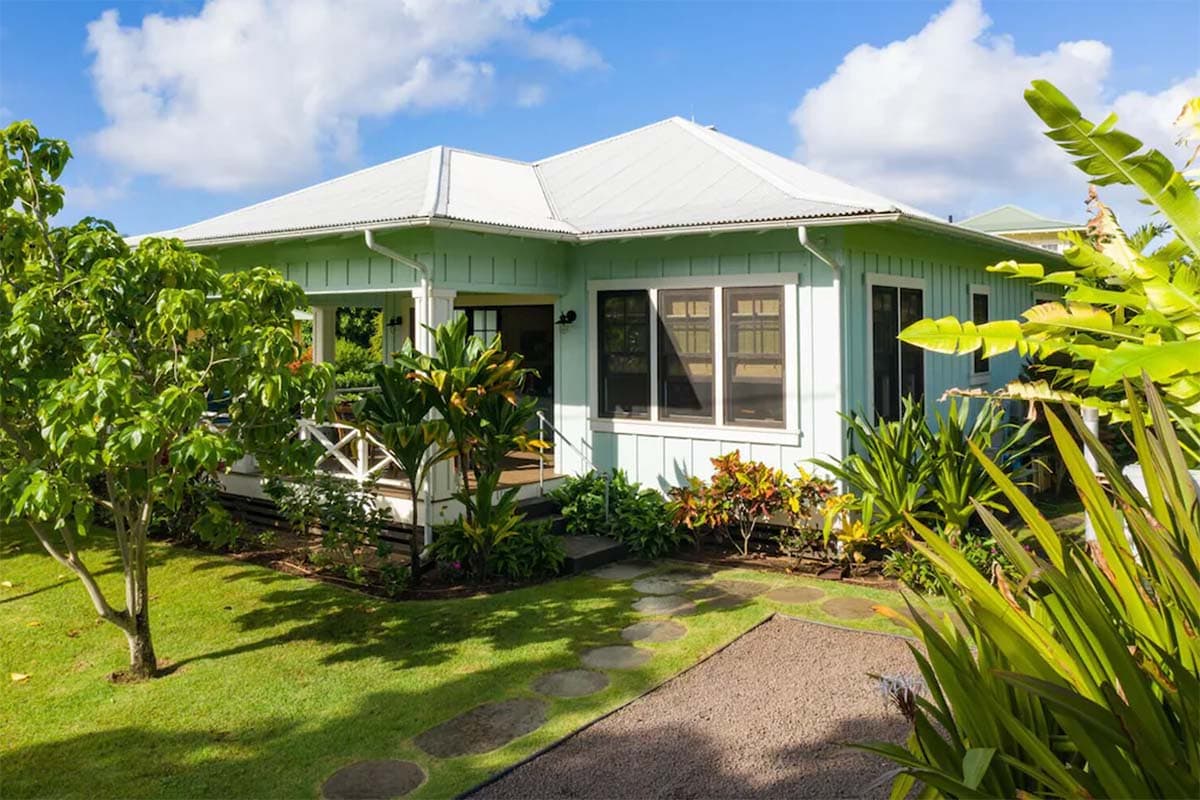 Why you should stay: Modern Koloa cottage within walking distance to Poipu Brennecke beaches.
Location: Poipu Beach, Kauai
Sleeps: 4
Minimum stay: 3 nights
Rates from: $500/night
The Sea Glass Cottage is a recently updated vacation rental that melds traditional Hawaiian cottage-core with contemporary design elements. The home has two large bedrooms with en-suites, each of which has a walk-in shower.
The contemporary living room opens to a spacious lanai via a beautiful folding glass door, so it's easy to let the island breezes flow through the home.
Out on the covered lanai, a dining table provides a lovely place to dine al fresco. There's also a separate seating area with plush patio furniture perfect for a morning cup of Kona coffee. And the outdoor shower makes it easy to rinse off after a long day at the beach.
Speaking of beaches, you can walk to Poipu Beach, which is popular with monks seals. And there are more than a few restaurants and bars at the beach, some of which are in very high-end hotels.
Check Availability
Explore More in Hawaii
Sign up for Weekend Wanderer to join thousands of readers getting epic travel ideas every week.
---