Discover the very best of Music City, where country music, hot chicken, and southern comforts welcome you with open arms.
As a city most famous for its lively music industry and whiskey-filled nightlife, you might be surprised to find that's not all this cultural metropolis has to offer visitors. Nashville is also home to an impressive culinary scene, a rich and diverse history, and beautiful green spaces around the Cumberland River and throughout urban parks. It's no wonder so many rentals are available, and it can be hard to know exactly which are the best Nashville Airbnbs.
During your visit, take time to learn more about the legacy of the U.S. Civil Rights Trail that runs through Nashville. A visit to Andrew Jackson's presidential home or the Grand Ole Opry to discover the profound musical heritage of this capital city are also popular activities.
But before you don your cowboy boots and pack your bags, here are 12 of the best Nashville Airbnbs guaranteed to help make your trip memorable.
Related Read: 12 Gorgeously Secluded Tennessee Cabin Rentals
1. Downtown Condo
Why you should stay: Stylish one-bedroom condo in the heart of Nashville
Sleeps: 4
Minimum stay: 1 night
Pets allowed: no
Colorful textures, exposed brick, and thoughtfully put together patterns come together to create a vibrant and cozy Nashville getaway at the downtown condo.
The apartment has one bedroom with a queen bed, a well-stocked kitchen, and a full bathroom. In the bright living room, crank up the tunes on the record player or lounge peacefully on the plush couch (perfect for lazy mornings!) If you need additional sleeping space, the sofa opens up to a mattress for two.
Check Availability
Related Read: 13 Relaxing Cabins in Tennessee with Hot Tubs
2. Eastside Loft
Why you should stay: Boutique-style accommodation in the quiet and historic Cleveland Park neighborhood
Sleeps: 4
Minimum stay: 2 nights
Pets allowed: no
No detail has been overlooked at the Eastside Loft, where guests can enjoy the pleasures of home without sacrificing the luxury of a hotel stay. You'll find mid-century modern furniture, a unique fireplace, and vintage accents worthy of a Pinterest board in the living room. And the sparkling clean kitchen features tall ceilings and a subway tile backsplash, plus a french press with complimentary beans for your morning fix.
The bathrooms are stocked with high-end towels and shampoo, conditioner, and body wash, so you don't have to worry about toting around heavy toiletries. And the recently updated bedroom has a new Tuft & Needles mattress for a very peaceful night's sleep.
Check Availability
Related Read: 12 Scenic Weekend Road Trips from Memphis, Tennessee
3. Bohemian Luxe Apartment
Why you should stay: An artfully decorated, one-of-a-kind Nashville Airbnb for three in The Nations neighborhood
Sleeps: 3
Minimum stay: 1 night
Pets allowed: no
If you live for unique and trendy interior design, look no further than the Bohemian Luxe Apartment. Beautiful sliding farm doors connect the bedroom to the living room, furnished with white wing chairs and macrame decor.
Attached to the living room is a well-appointed kitchen complete with a Nespresso machine, all the essential supplies for cooking, and a record player so you can jam out while you cook and relax. There are also washing and drying machines onsite for any laundry needs during your visit to Nashville.
Check Availability
Related Read: 8 Best Resorts in Tennessee for Every Traveler
4. Tiny House
Why you should stay: A magical tiny home experience custom tucked into a quiet backyard just 10 minutes from downtown
Sleeps: 4
Minimum stay: 2 nights
Pets allowed: no
Plucked from the pages of a fairytale, this Nashville tiny house is homey and oh-so-dreamy. The hosts thoughtfully designed every detail to maximize the space for ultimate comfort for four guests. One of the first things to catch your eye are the kitchenette's mint green cabinets and bronze accents, though the dark wood ceiling beams are pretty darn trendy, too.
A matching (and beautiful) dark wood ladder leads to a lofted queen bed overlooking the room. Natural light shines over a sofa bed in the living space that serves as the perfect spot to watch TV or project your favorite movie on the overhead projection screen.
Check Availability
Related Read: 8 Dreamlike Treehouses in Tennessee
5. Downtown Apartment
Why you should stay: Access to impressive amenities including a shared workspace, swimming pool, and an outdoor balcony
Sleeps: 4
Minimum stay: 1 night
Pets allowed: no
Stay just five minutes from some of the area's best nightlife in this super cool downtown apartment. When you step inside, you'll immediately notice the lobby's playful and modern decor. The trend continues into the building's various workspaces, perfect for those who need to work while visiting the city.
The actual apartment is a sparkling one-bedroom with contemporary design. The unit has a spacious floor plan facing away from the street to guarantee quiet from the noisy city streets outside. In addition to a roomy living room and bedroom with a queen bed, there's an air mattress for additional guests. Check-in is via the secure and convenient Latch App, so there's no need to worry about keys before settling in.
Check Availability
Related Read: 9 Unique Places to Stay in Gatlinburg, Tennessee
6. Secluded Cabin
Why you should stay: Stay in a cabin in the forest while having downtown is only a short drive away
Sleeps: 4
Minimum stay: 1 night
Pets allowed: yes
Enjoy the tranquility of nature and the lively attractions of the city in this newly renovated secluded cabin constructed from reclaimed materials. The home sits on 42 acres of lush trees, creating a private and quiet place to stay. Natural light shines in from the floor-to-ceiling windows in the living room, recreating the magic of the forest in your own cozy cabin.
This Nashville cabin has two bedrooms and one bathroom to comfortably accommodate a family or group of four. There's a keyless entry on the front door so you can get settled as soon as you arrive.
Check Availability
Related Read: 8 Impressive Glamping Spots Near Nashville, Tennessee
7. Greenwood Guesthouse
Why you should stay: A cozy guesthouse with its own private fenced in yard and hot tub for six
Sleeps: 6
Minimum stay: 1 night
Pets allowed: no
The Greenwood Guesthouse is a small but mighty 700-square-foot home for six tucked behind the hosts' main residence, but with the privacy of a standalone property. Guest reviews often mention how comfortable the king bed is, and the location is fantastic at just 10 minutes away from most Nashville attractions.
There's also a sleeping loft upstairs with two full-size beds to comfortably accommodate an additional four guests, making this guesthouse an excellent option for a friends' weekend trip to Nashville (or a bachelorette party!) But the best part is definitely the private hot tub out back where you can relax after a long day of exploring the area.
Check Availability
Related Read: 7 Awesomely Pet-Friendly Hotels in Nashville, Tennessee
8. 12 South Modern Cottage
Why you should stay: Recently renovated home with new and attractive decor and a spacious yard in the middle of the city
Sleeps: 4
Minimum stay: 1 night
Pets allowed: yes
Kick back and relax in the 12 South Modern Cottage, a cozy one-bedroom Nashville Airbnb rental you and three friends can enjoy all to yourselves. Expertly curated furniture and decor make you feel right at home, and you'll love the rental's tall ceilings, exposed brick, and wooden beams. Start your mornings in the cute kitchen nook with all the essentials, including a stovetop, microwave, and (of course!) a coffee maker.
The sunlit bathroom has a clawfoot bathtub for those who appreciate a good bubble bath. The property even has a spacious yard with a fire pit in one of the city's most popular neighborhoods. You can easily walk to charming cafes, restaurants, and attractions in The Gulch and downtown Nashville from the front door.
Check Availability
Related Read: The 12 Best Spots to See Tennessee's Fall Foliage
9. Nashville Cottage
Why you should stay: A spotless and beautiful pet-friendly cottage home near Vanderbilt and Lipscomb Universities
Sleeps: 8
Minimum stay: 2 nights
Pets allowed: yes
This cottage is certainly one of the best Nashville Airbnbs available if you have plans to visit Vanderbilt or Lipscomb University campuses while in town, The Nashville cottage is in a fantastic location only minutes from both schools and the best eateries in Green Hills.
The home has an outdoor screened-in patio with french doors opening to the living room (that means you can sit outside without pesky bugs.) The rental accommodates eight guests in three bedrooms and two bathrooms, creating an ideal space for visiting families.
Check Availability
Related Read: What to See & Do on a Nashville to Gatlinburg Road Trip
10. Dolly's Tennessee Whiskey
Why you should stay: A trendy loft with fun details within walking distance to downtown Nashville
Sleeps: 8
Minimum stay: 2 nights
Pets allowed: yes
This trendy downtown loft is so visually stunning that it's been featured in music videos and TV shows, and it's not hard to see why — an eye-catching, 18-foot-tall reclaimed wood accent wall and vibrant red spiral staircase make this place very special. The rental has three bedrooms (one of which is a converted dining nook) and the primary bedroom is on the first floor.
Upstairs, you'll find a second bedroom and an outdoor balcony overlooking the neighborhood. World-famous Broadway Street and the honky-tonk bars that made Nashville famous are just four blocks away.
Check Availability
Related read: Your Guide for the Ultimate Atlanta to Nashville Road Trip
11. The Revelry at 1865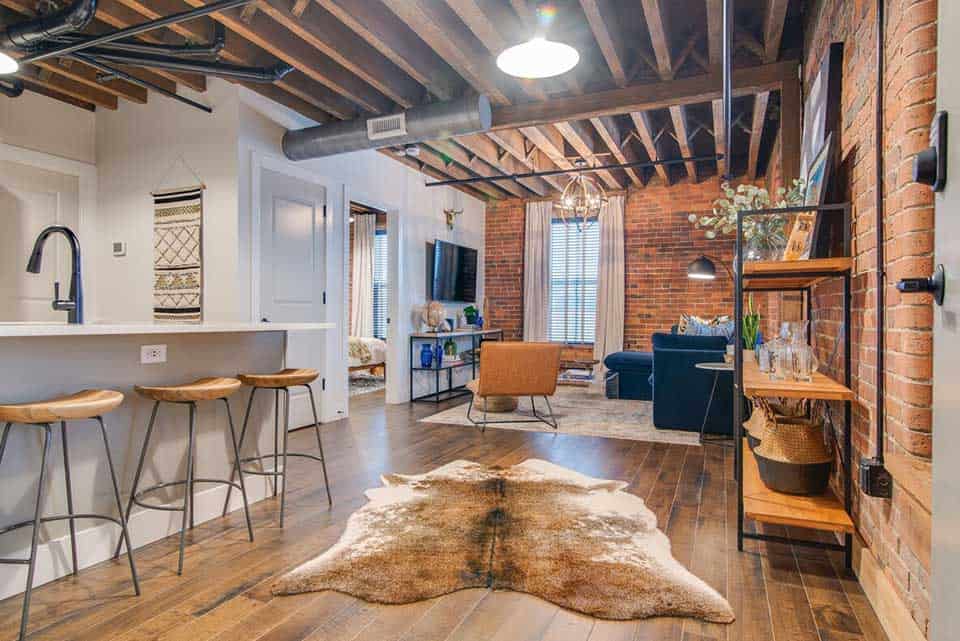 Why you should stay: A brand-new condo with a community swimming pool, outdoor bar, free parking, and an observation deck with skyline views
Sleeps: 4
Minimum stay: 2 nights
Pets allowed: no
The Revelry at 1865 is one of the best Nashville Airbnbs for anyone who loves luxury, set in a brand new and artfully decorated condo located in a historic building dating to the 1800s. And the nightlife of Broadway street is just two miles away – a short drive or Uber ride away.
The hosts made sure to provide everything you'll need for your stay. You can expect toiletry essentials, cleaning supplies, basic spices, coffee, and a welcome bottle of wine. They also offer concierge services so you can arrive to a full fridge (or a romantic set up!) The hosts are willing to arrange whatever you might need or want in advance of your stay.
Check Availability
Related Read: What to See and Do on a Chicago to Nashville Road Trip
Plan Your Trip to Nashville, Tennessee
Now that you've sorted through the best Nashville Airbnbs for your trip, it's time to sort out your itinerary. Here are some of the best things to do and places to see in Nashville.
You can't come to Music City, U.S.A, and not check out the Ryman Auditorium, Country Music Hall of Fame and Museum, and the Grand Ole Opry, where history and music are still made to this day.
Take a stroll around Centennial Park to see a replica of the Greek Parthenon.
Sample local cuisine like Tennessee hot chicken, meat and three dishes.
Make the rounds to Nashville's best distilleries.
Bar hop on Lower Broadway, Tennessee's answer to Bourbon Street, and listen to live music, sip local libations, and check out classic honky-tonk bars. 
Explore Nashville's unique neighborhoods , including 12 South, Green Hills, Hillsboro, and of course, downtown.
Find fresh air at the city's best parks like Radnor Lake State Park, Friends of Warner Parks, and Sevier Park.
Go back in time and learn about Tennessee's history along the U.S. Civil Rights Trail, at Andrew Jackson's The Hermitage (presidential home), and Belle Meade Plantation.
More Trip-Planning Inspiration
Get epic travel ideas delivered to your inbox with Weekend Wanderer, our newsletter inspiring more than 10,000 readers every week.
---